National Science Week is an annual celebration of science and technology. This year, the event will run from the 11-18 August. This event is designed for everyone and provides a fantastic opportunity to encourage an interest in science and incite our younger generation to become fascinated by the world we live in. The school theme for National Science week is 'Game Changers and Change Makers'. This topic can lend itself to anything science related. We have come up with some fun, exciting and engaging ideas that you could do with your students to encourage that love of science!
National Science Week Activity Ideas for the Classroom
Science Inspired Photo Booth Props
These science-inspired photo booth props are the perfect addition to your National Science Week celebrations. Let your students have some fun with these cute illustrated images.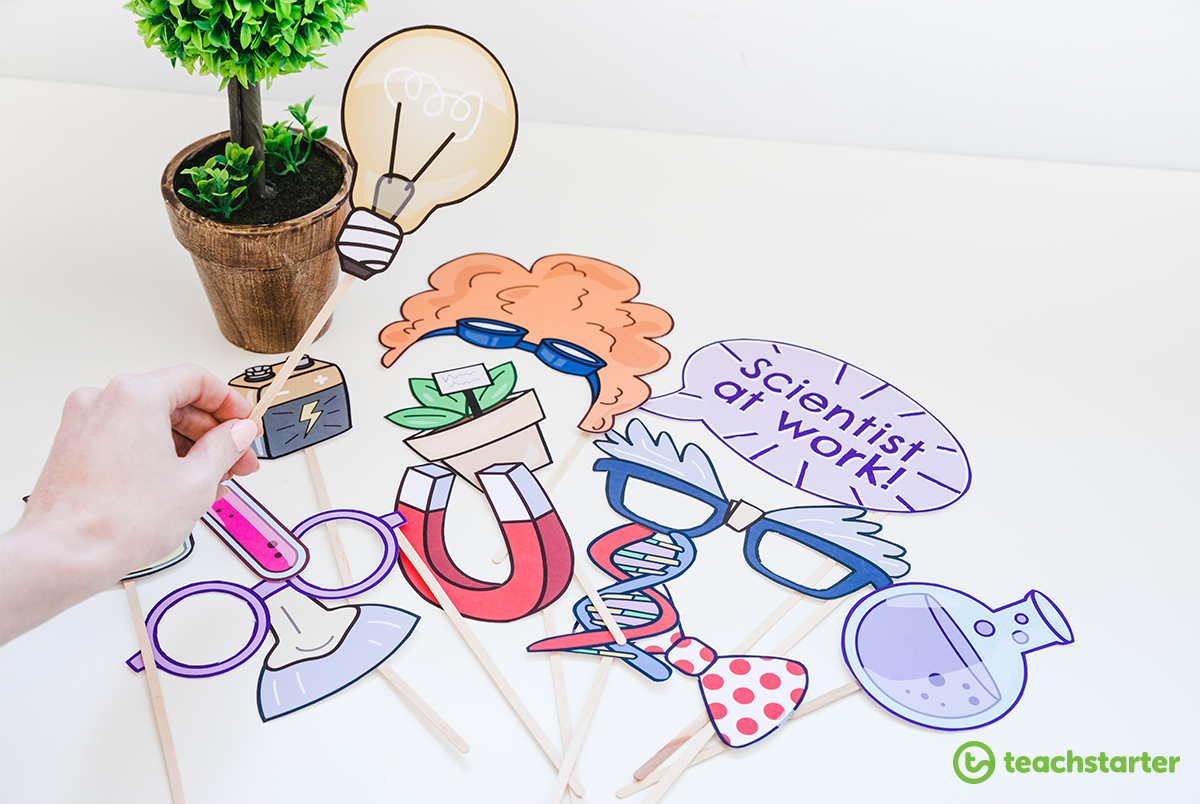 Science Experiments Using Everyday Products
We have developed three science experiment booklets that are perfect for the busy teacher! All three experiments are simple to do and use everyday items. These experiments will have your students gasping with excitement and have them begging to do more, which is what National Science Week is about, right?
Why not set up a Science Morning and invite your students' parents to have fun with science!
Science Experiment 1 – Make an Eggshell Disappear (Chemistry)
This fun classroom science experiment is one of the simplest of them all! All you need is some white vinegar, a raw egg and a glass jar!
Your students will learn all about the chemical reaction that occurs when you put an egg into vinegar and leave it overnight. This chemical reaction makes the egg shell disappear but will leave the rubbery membrane, keeping the egg intact.
For a simple description of the chemistry involved, the equipment required, the method and further questioning for your students, download our Make an Eggshell Disappear – Science Experiment Booklet.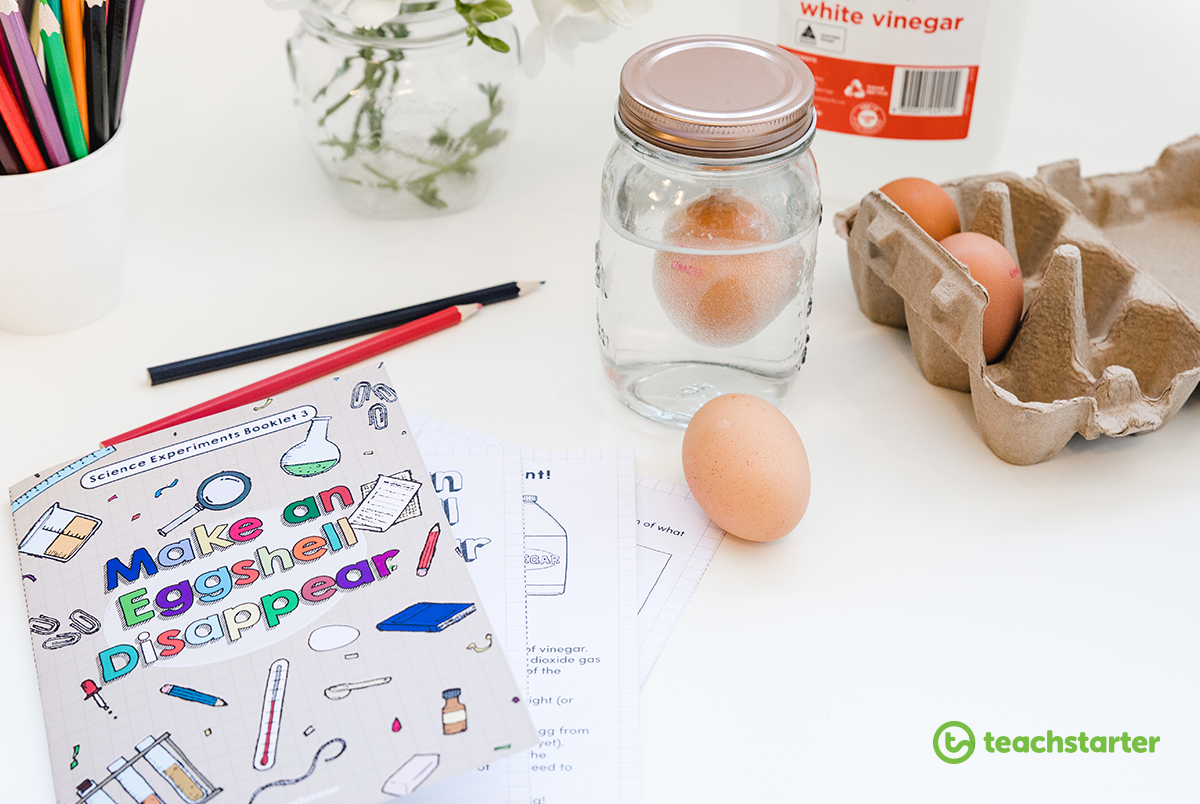 Science Experiment 2 – Make a Rainbow with Water (Physics)
Everyone loves a rainbow! Students learn all about density in this experiment. They will use different measurements of sugar to create a variety of densities of coloured water. Eventually, they will be able to layer water on top of water, creating a rainbow tower. Sounds like fun, hey?
Again this experiment only requires water, food colouring, sugar and some different glass jars! To read all about it, download our Rainbow Water Density Tower – Science Experiment Booklet.

Science Experiment 3 – Capillary Action of Water in Flowers (Biology)
This is always a class favourite! Students learn about how water gets from the bottom of a flower stem all the way to the petals by putting them into coloured the water!
Download our Capillary Action of Water in Flowers – Science Experiment Booklet. In our 'Take it Further' section of the science booklet, get students to research early botanists.

Create a Science Journal with your Students!
Get your students completing their very own 'lab report' and creating a science journal with our printable Science Journal Templates.
This resource is something that can be created and used throughout the school year when going through the scientific method with your students.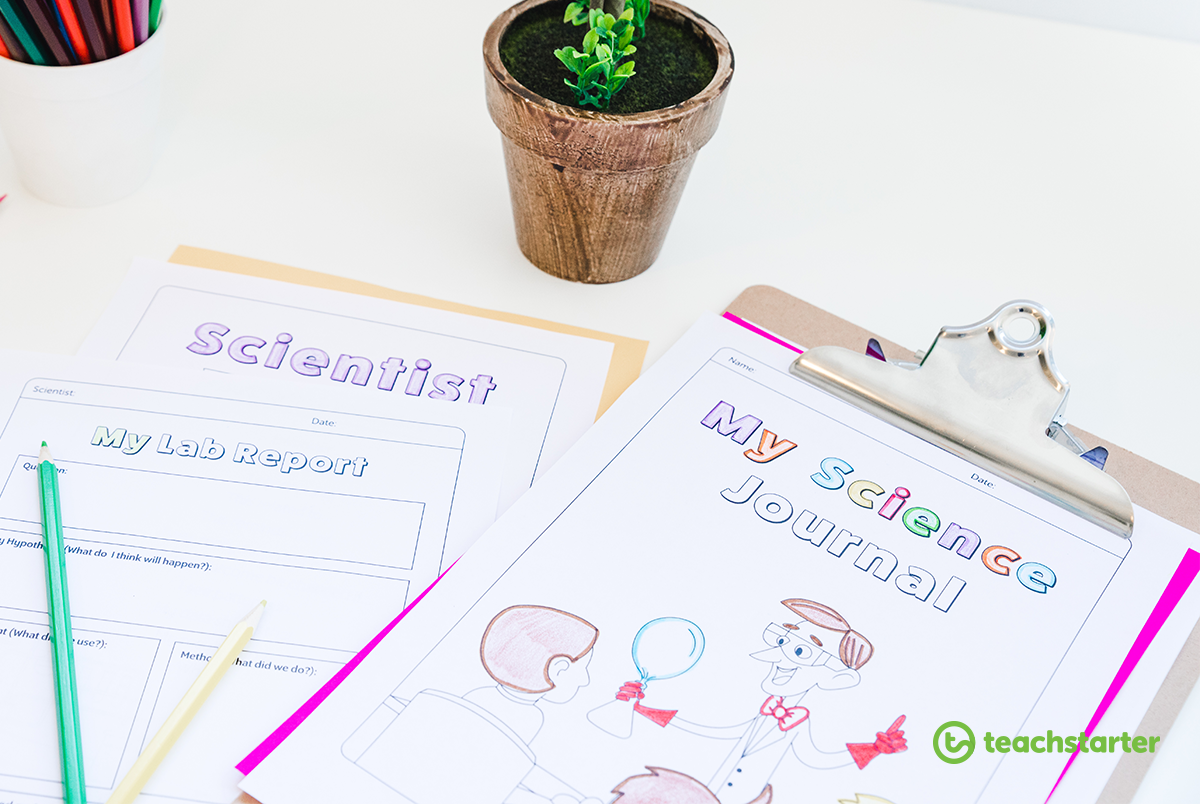 We hope that these science resources inspire you to have some fun with your students this National Science Week. For more awesome science resources, check out our National Science Week Resource Collection.