Setting up a reading corner for your class? Not quite sure where to start? Our round-up of inspirational book nooks will have your class happy to be reading – in no time!
1. Boho Neutrals Reading Corner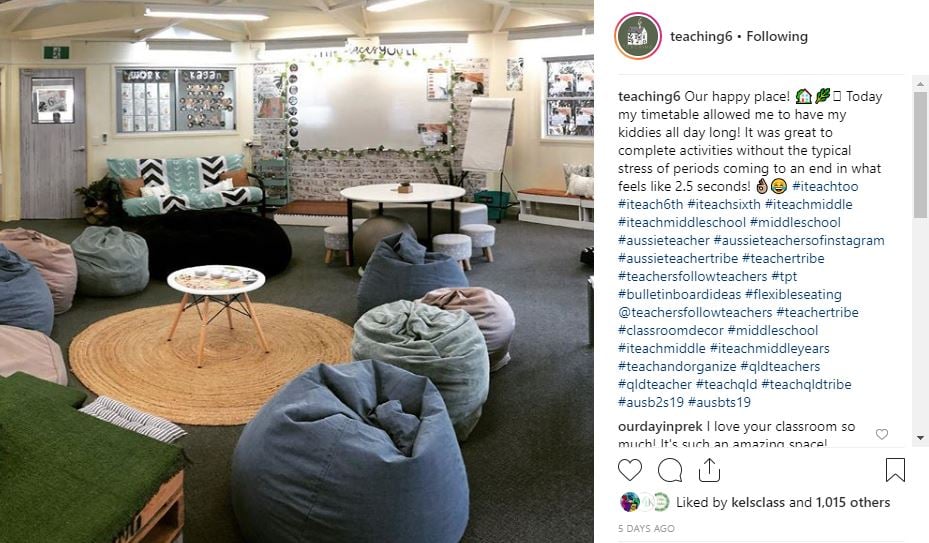 This stunning reading space belongs to a very lucky grade six class and their teacher. With an earthy, boho feel, it's the perfect area to encourage pre-teen students to pick up a book. The circle of bean bags provides a sanctuary for quiet reflection, and doubles as a space for group discussion. This Boho-Neutrals reading corner theme lends itself perfectly to an upper primary classroom! Our Pastel Flags Classroom Theme Pack is the perfect addition to this style of reading corner!
2. Cardboard Box Reading Corner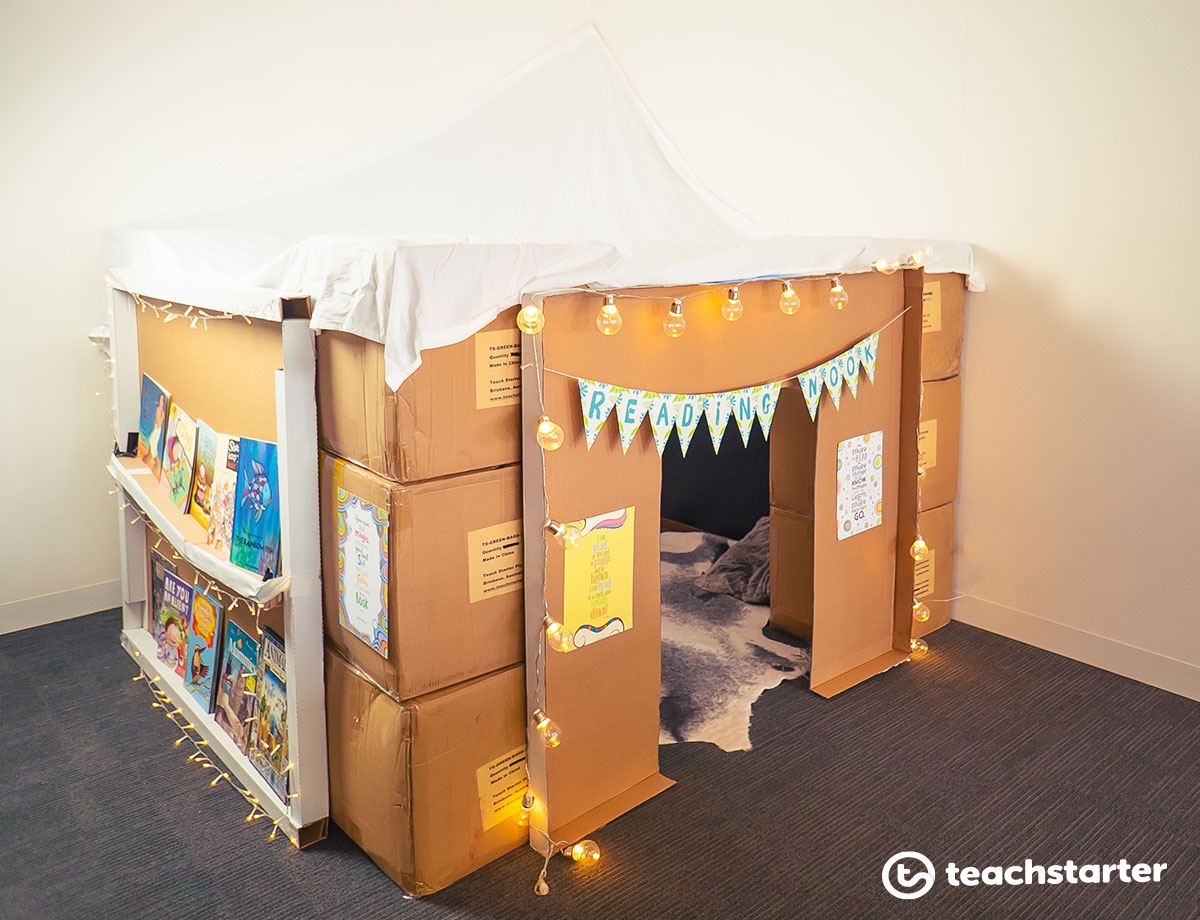 Teachers are resourceful and thrifty, so the cardboard box reading corner may appeal to your style and budget! Emblazoned with twinkly fairy lights and a book shelf made entirely out of recycled cardboard, this beautiful nook is inviting and warm. Inside, there are inspiring and thought-provoking reading quote posters, which are FREE! Imagine crawling in and curling up with a good story! You can read more about this beautiful cardboard box reading nook here!
3. Enchanted Forest Reading Corner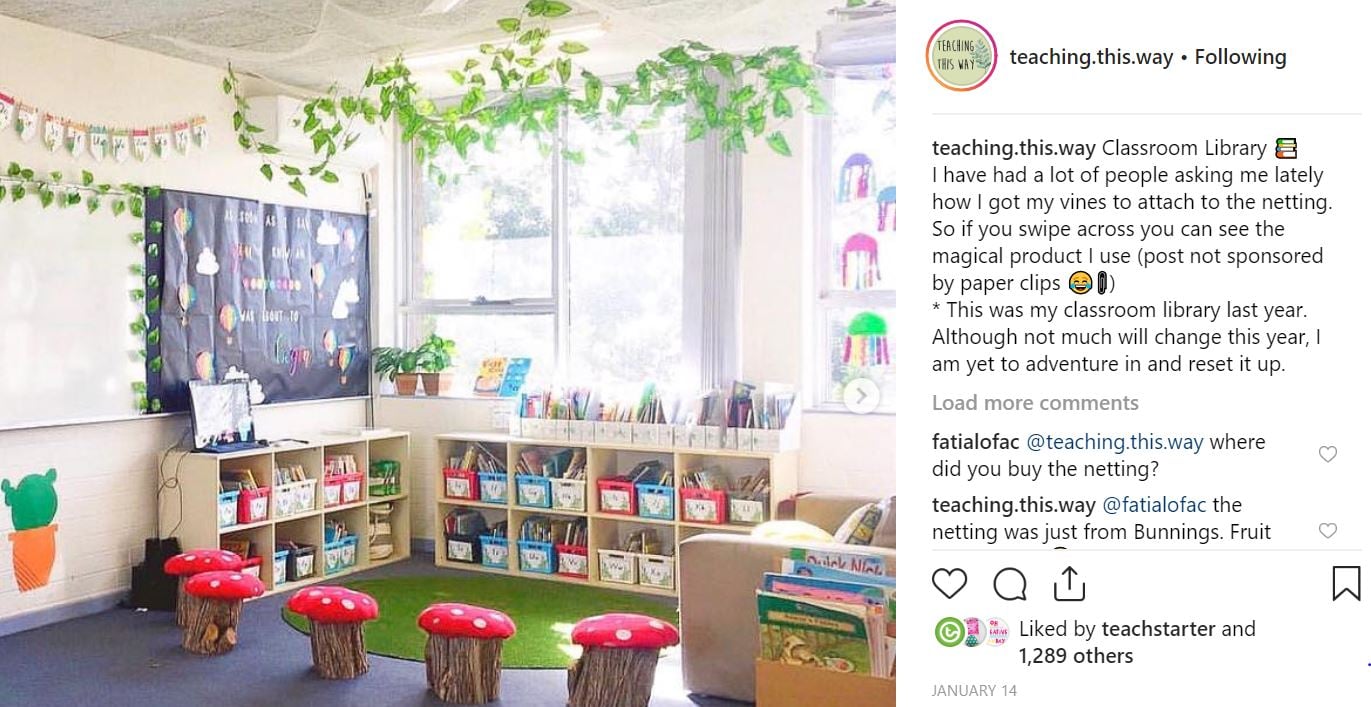 Neutral wood grain cabinets, texts organised alphabetically, mushroom stools and a canopy of green vines: this reading corner is total #classroomgoals! Nicole, the teacher, says she suspended the netting and greenery using wire paper clips, hooking them into the lightweight roof tiles.
4. Rainbow Reading Corner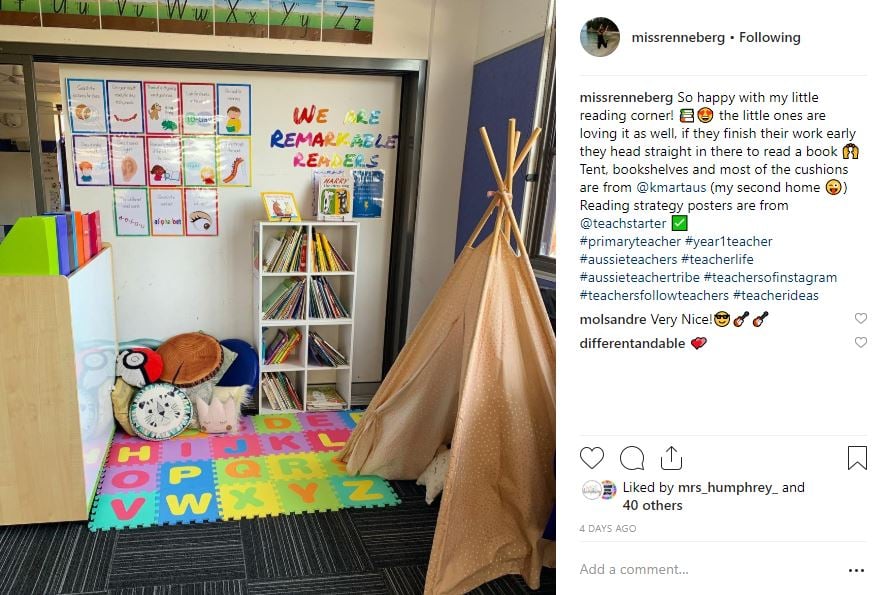 How gorgeous is this rainbow-themed reading corner! Did you know that the rainbow is the next big trend in classroom decoration for 2019? I've spotted the alphabet foam play mat at Kmart for a bargain price of $15! Also, check out our Reading Strategy Posters looking so at home up there on the wall! Use our beautiful Rainbow Name Tags as labels to organise your book boxes!
5. Poet-Tree Reading Corner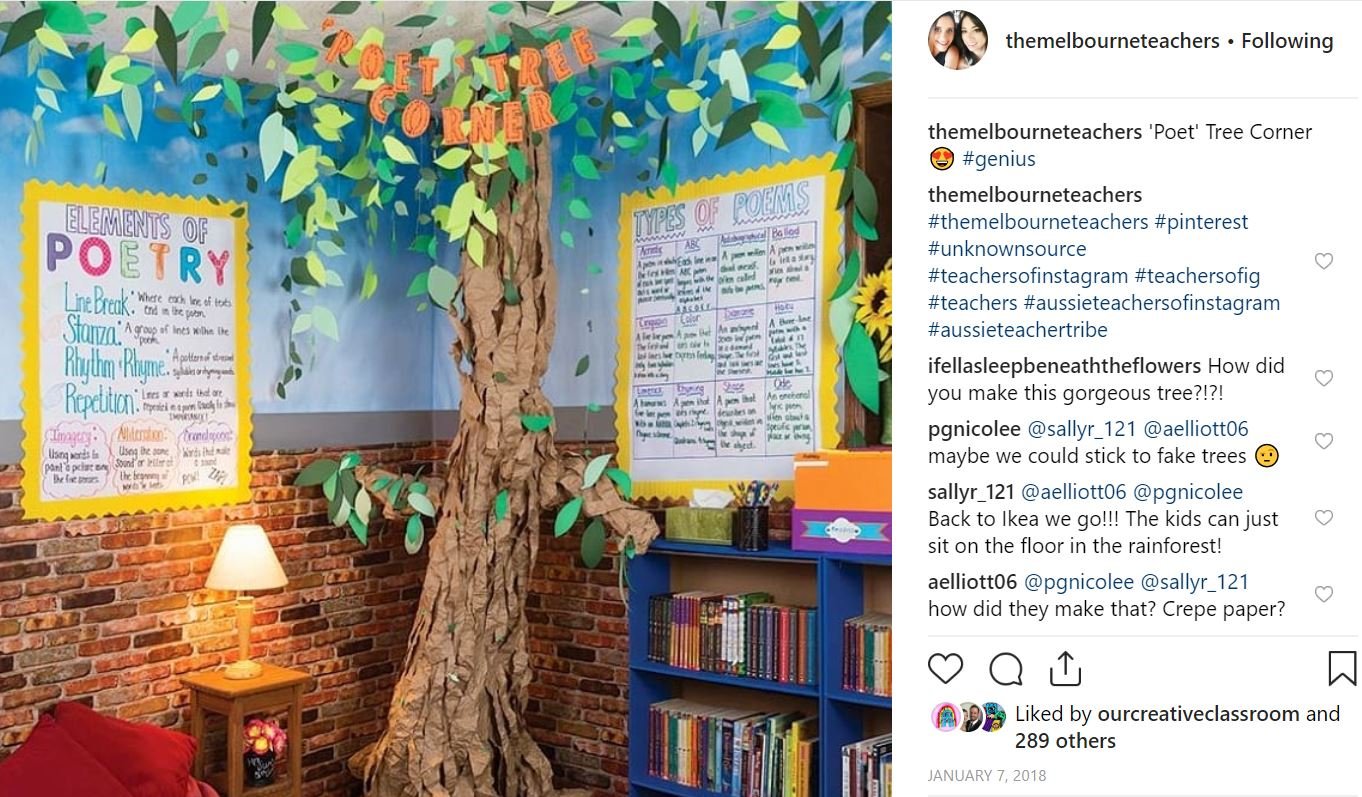 If you're teaching a poetry unit this year, take a leaf out of The Melbourne Teachers' book and set up a Poet-Tree reading corner. How delightful! In another example of using creativity and cleverness, these teachers have made a retreat for their students to immerse themselves in literature! Check out that amazing tree, made from brown paper. You could use our FREE Gratitude Leaves Template to decorate your Poet-Tree!
6. Tropical Reading Corner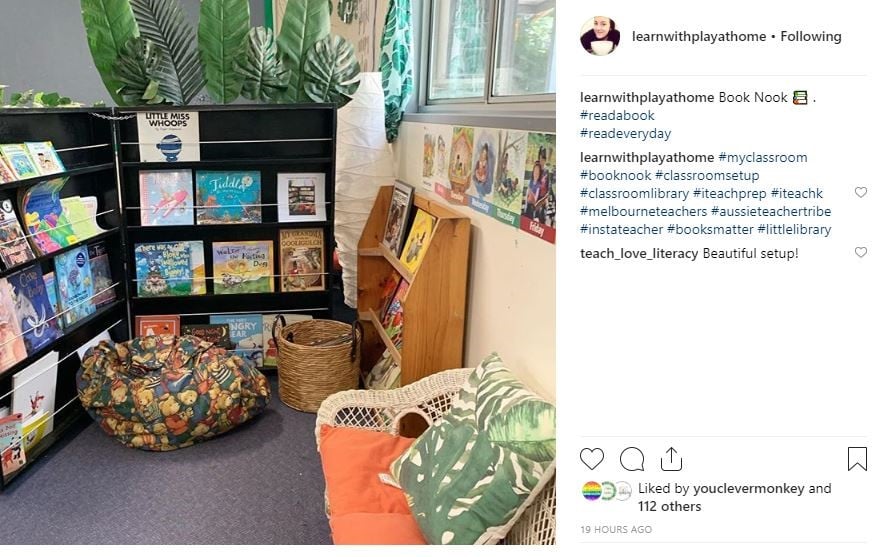 To recreate this gorgeous, leafy reading corner, head to our White Lush Leaves Classroom Theme Pack without delay! If you've got some students who need a bit of motivation, take a look at this great blog about how to engage reluctant readers!
7. Green and Serene Reading Corner
This light-filled, airy reading corner is bright and beautiful. The classroom teacher, our very own Emma, utilised a piece of astro-turf for a whimsical floor, and gorgeous faux greenery to create a relaxing, low-maintenance space. Colourful throw cushions make for comfy, casual seating!
8. Pretty in Pastel Reading Corner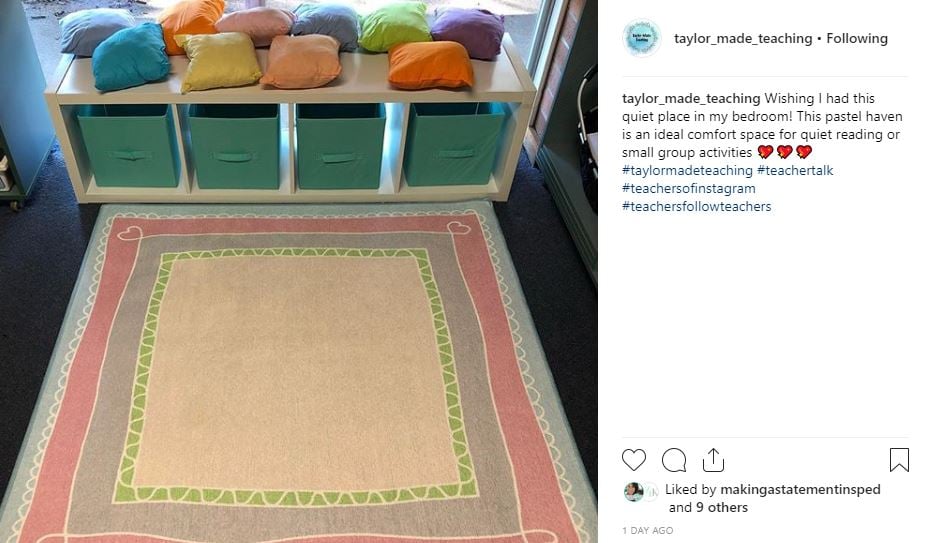 Simple, yet functional, this book corner is soft and relaxing. The Kallax Cube Storage from Ikea is an affordable option for storing books and classroom resources, at $60. If you decided to later change up your reading corner theme colours, you can simply purchase new storage box inserts, as they're inexpensive. A huge rug is also a great investment, and if you have the space, your whole class can enjoy a story in the reading corner together!
9. Books are the Best Gifts Reading Corner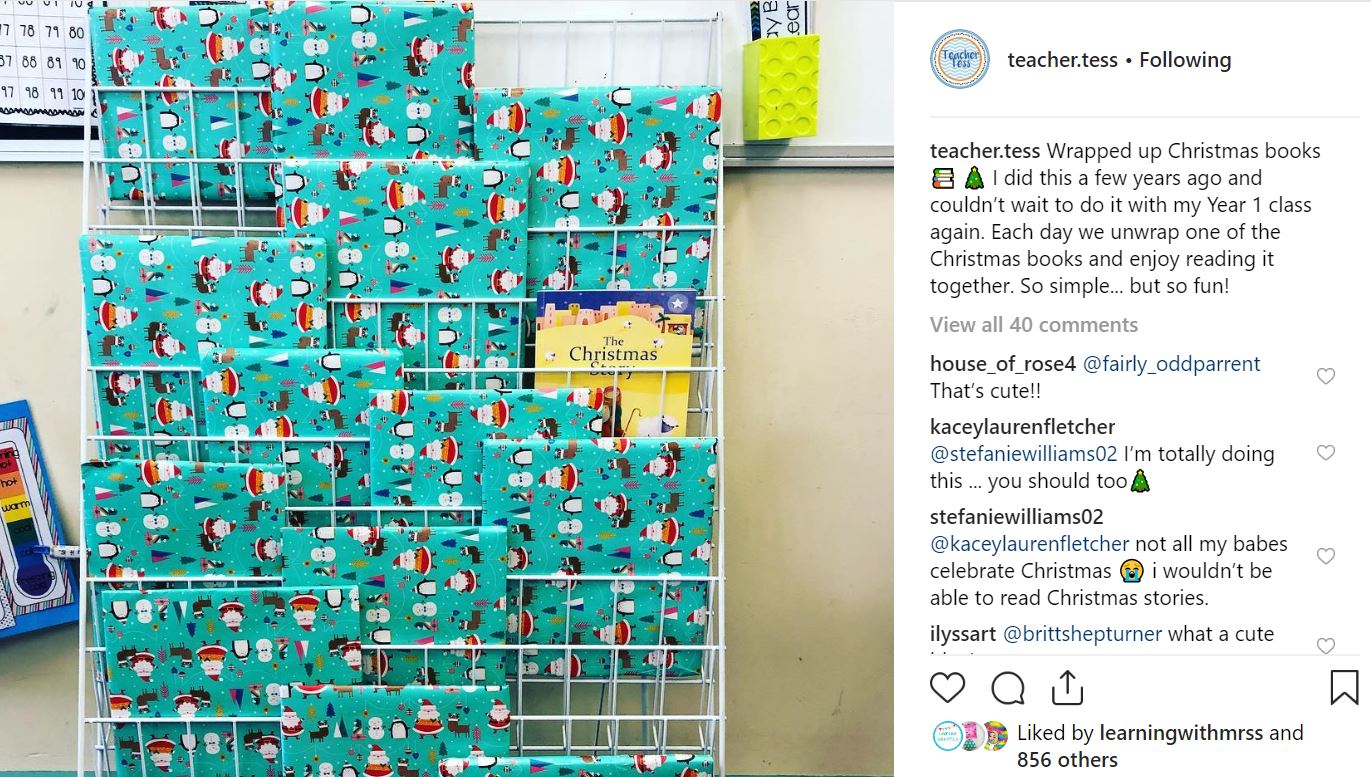 Here's one to keep up your sleeve for December! This clever teacher has her reading corner all wrapped up – literally! Nearing the end of the year she decided to gift wrap 25 books in Christmas wrapping paper, to enjoy as an advent calendar of sorts, with her students!
We hope you enjoyed our selection of lovely reading corners!
We love to share our teachers' ideas, so if you're feeling generous, #teachstarter on Instagram for a chance to be featured!