Do you love a teacher desk as much as I do? For me, a teacher desk is a haven for beautiful (mostly unnecessary), stationery. After all, bits and bobs need a home, right? But, what if I told you that many teachers have successfully gone #deskfree and are loving it? This idea is not new. What's more, it is proving to be a highly popular choice among teachers.
It got me thinking – what would the benefits of ditching the teacher desk be and what would you do with all the bits and bobs?
Why Teachers Are Ditching Their Desk
If you sit down at your desk right now, have a look around… create a pile of things that haven't been used all year, or that really don't NEED to do your job. Surprised?
Yes, there is, of course, going to be items that you will need to have on hand in the classroom – we have a solution for this later in the blog. But, going desk free is actually do-able, liberating and there are a number of benefits too. Still unsure? Stay with me…
(1) More Space and Flexibility
Most of the old school teacher desks are big and cumbersome. Surprisingly, even though you are just getting rid of one piece of furniture, you'll notice straight away the extra learning space you'll create by ditching your desk. Whether you are trying out flexible seating in the classroom or using student desks, removing the large teacher desk will give you more space to set up your classroom the way you want!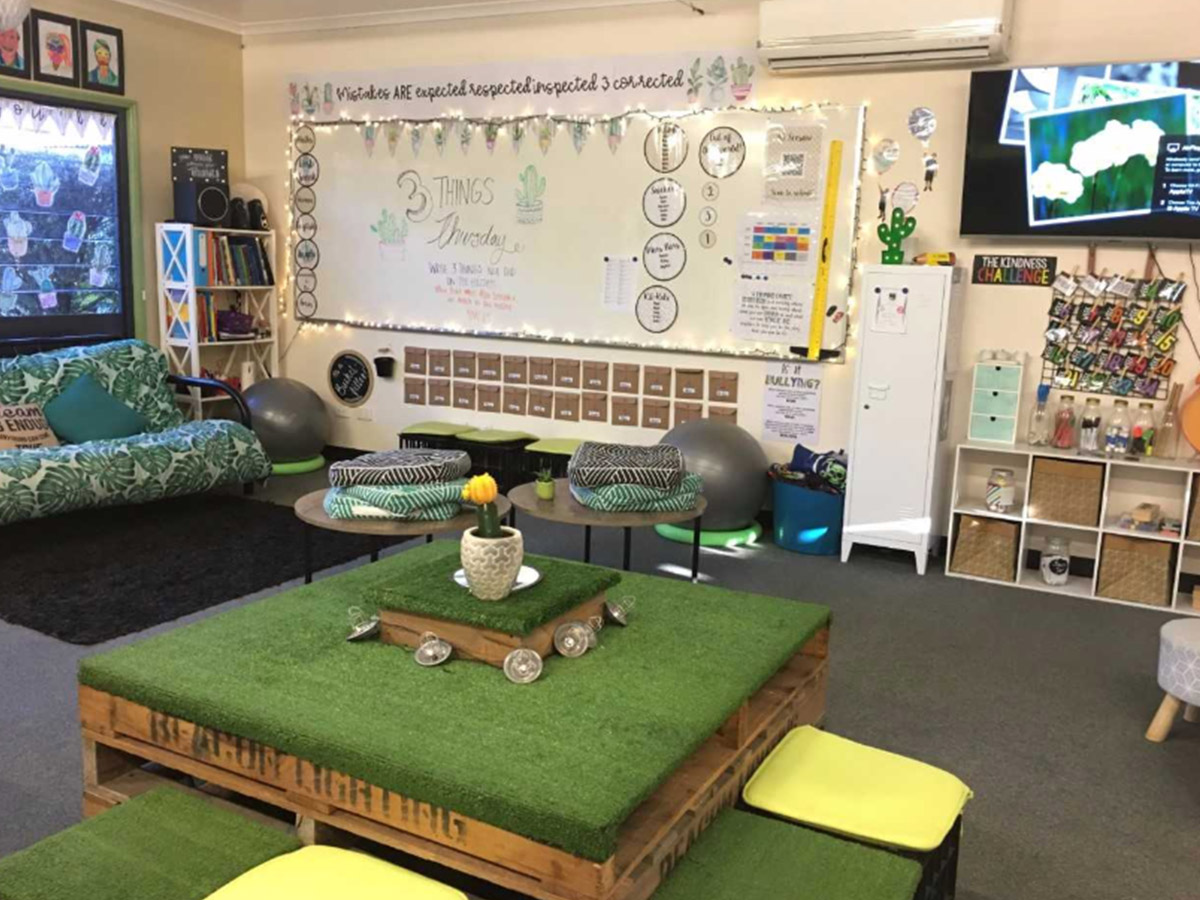 (2) Limits Clutter and Prevents Paper Mountains
Let's face it – the teacher desk, most of the time, is just a giant surface for clutter. Not to mention the paperwork that comes across a teachers desk daily. When I was teaching I had all the right intentions to keep my desk in an organised state – but it never stayed like that.
No need to spend your Friday afternoons cleaning your desk when you don't have one to worry about!
(3) Gets You Out and Social
Ok, you won't have a problem picturing this…
The craziness of the morning session is over and the kids are happily out playing. You grab your lunch and without hesitation sit back at your desk to eat your lunch and start to mark the pile of books from the morning sessions work. Here's the thing – the work can wait (it'll be there when you get back – I promise).
Without a desk – you are more likely to head up to the school staffroom and have a break away from the classroom. This is good for you mentally and also allows you to have more professional conversations with your colleagues. You'll be surprised how much better you'll feel by having a small break and debriefing with another teacher!
Spend some time talking to other adults! You'll feel rejuvenated!
(4) Removes a Barrier
As teachers, we know the importance of having a student-centered classroom. For some teachers, who don't necessarily use their desk during the day, this may not become an issue. For me, when I was teaching I would often find myself heading over to my teacher desk and getting caught in the habit of teacher-to-student engagement from my desk. My desk sort of became a 'safe' zone. By removing my teacher desk, I may not have fallen into this trap!
Sarah from @teacherishappy also shares a similar experience…
(5) Ups Your Step Count!
So, it's a well-known fact that teachers step count is up there with the highest numbers of steps in a day.
But, imagine what ditching your desk would do to your step count? Aim to break records…
Going Desk Free – Tips and Desk Alternatives
(1) Storage Solutions for Desk Free Teachers
You now have an excuse to get one of the famous Ikea trolleys for teachers (The Raskog). You may have seen these delightful little storage trolleys on the #teachergram.
Pair it with some of those colourful drawers that you can get at most cheap shops and you have a place to store all of those essential items you may need to access throughout the school day!
We love this set up by @thatcrazycreativeteacher.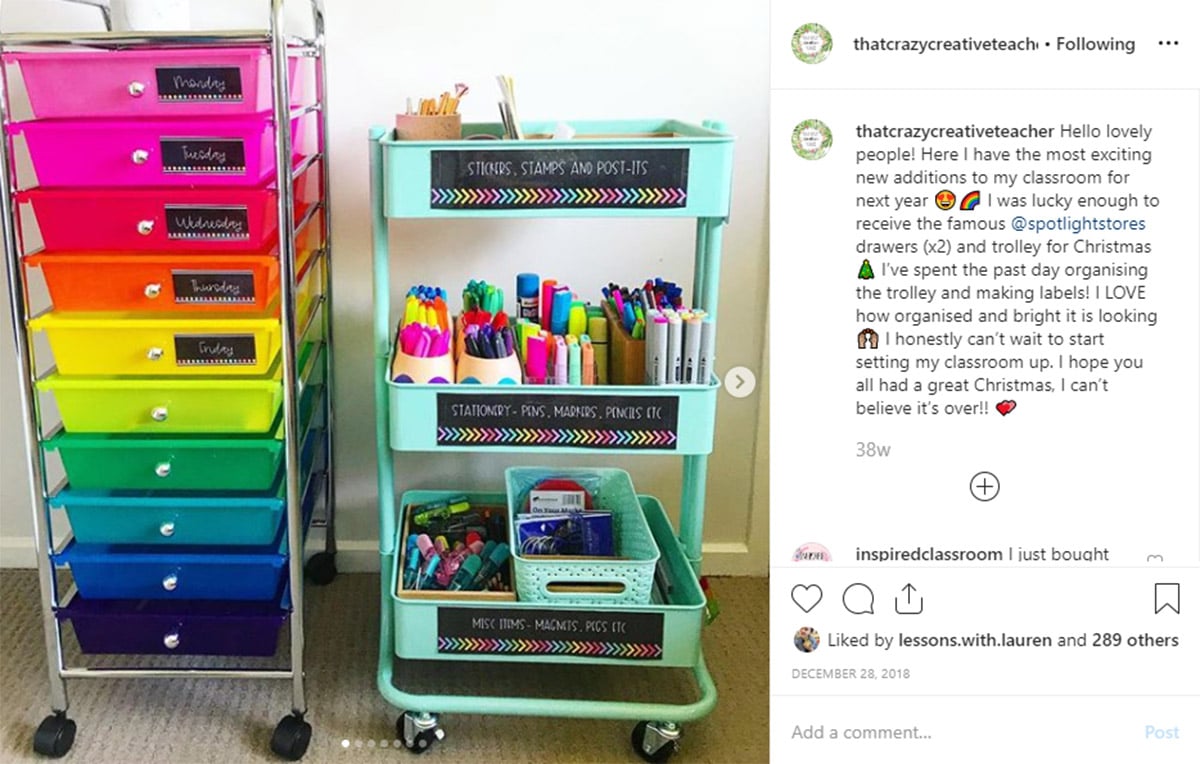 (2) Get a Super Comfy Teacher Chair
We're not saying you have to be on your feet all day! For those times you need to sit down – make sure you have a super comfy 'teacher chair' in your classroom.
There's no need to break the budget either – @r8chie re-covered her teacher chair and we absolutely love it!!

(3) DIY Teacher Apron
This idea may change your life in the classroom! Create your very own teacher apron that can store all of those necessary items that would have otherwise gotten lost on top of your teacher desk!
(4) Standing Desk / Teaching Pod
Do you still have a computer to store somewhere but willing to give up the old school teacher desk? @teacherishappy has just gone desk free and she is using a teaching pod!
Check out her set up…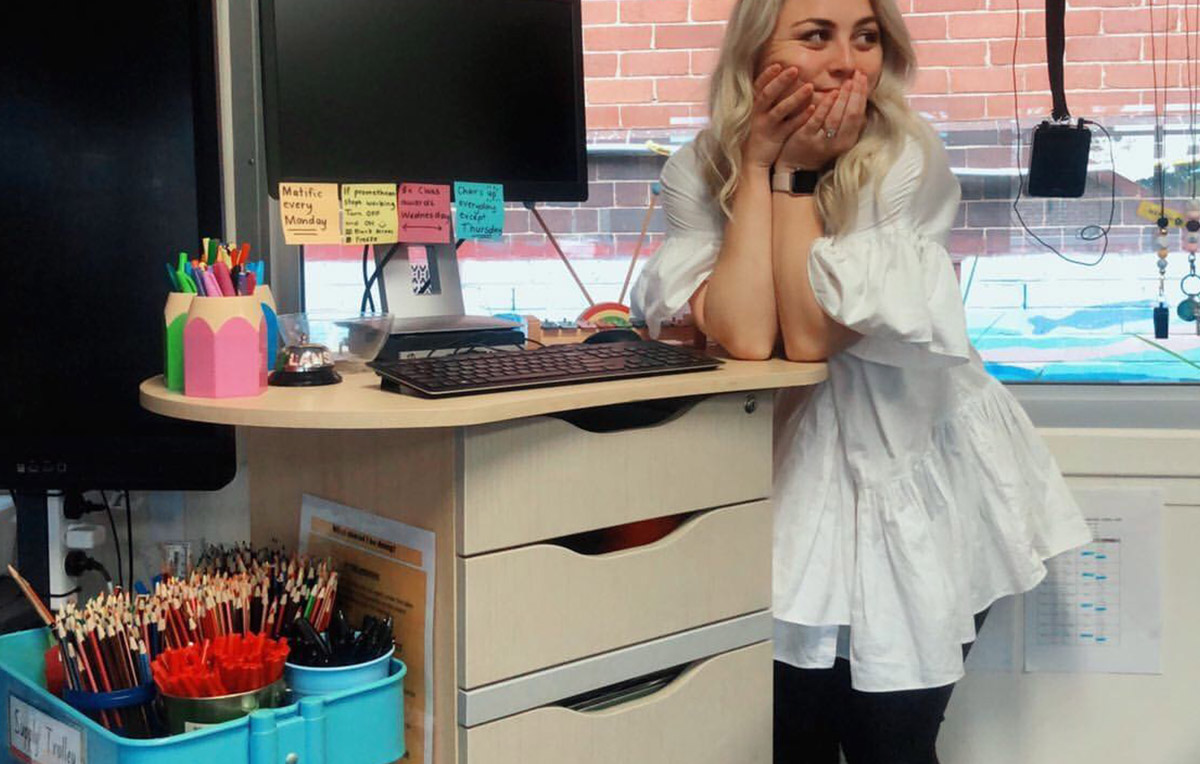 The lovely Sarah has also shared her experiences with why she decided to go desk free in a video on her YouTube channel.
Another teacher from the #teachergram community has gone desk free and this is her set up.
Hot tip from @giftedandtalentedteacher is to get a standing desk to get the best of both worlds!

When All is Said and Done!
You do you boo! At the end of the day, we think teachers with desks and teachers that have gone #deskfree are all amazing!! We hope this blog has given you something to think about. If you decide that your teacher desk is still purposeful and helping you be the best teacher you can be! Keep the desk. Georgia from @teach.tea.type loves using her teacher desk:
"I think teachers, as professional workers, deserve a space to perform administrative tasks and organise their work… it is a valuable part of the classroom"
If you have been thinking of giving away the traditional teacher desk set up… be brave and give it a shot!
Cover image: ViDi Studio/Shutterstock.com