Are you looking for ways to deliver more engaging science lessons or searching for light and sound science activities? Perhaps it's not on the agenda right now, but it would be a smart move to make a big and bright note of these teaching ideas and put them up your sleeve for later. This blog features just one of our amazing unit plans for teachers to use in the classroom.
In our super busy classrooms, the science curriculum can often fall low on our list of priorities. This is when you need help from Teach Starter to plan, prepare and deliver engaging science lessons that include easy to do investigations and experiments. Our Resource Team have been working hard to design and create new Science Teaching Resources that are curriculum aligned.
Here is a sneak peek into two tried and tested light and sound science experiments included as part of our new Light and Sound Unit Plan. 
All our unit plans are available on our Plus plan, or you can purchase individual resources and unit plans.
Thinking Like a Scientist
Do you find that most of your students appear to be interested in doing science activities (especially experiments), but may not make the connection between science and their own lives?
Scientists want to know more about the world. They like working out why things happen. They like to look at the world around them. So a great place to start your light and sound science unit is by spending time thinking about how a scientist thinks.
We have made it easy foryou and your class to explore the basic aspects of science experiment design and how scientists think, by creating aThinking Like a Scientist PowerPoint.This20 slide teaching presentation has been created to introduce your students to the scientific method and to explore the basic aspects of science experiment design.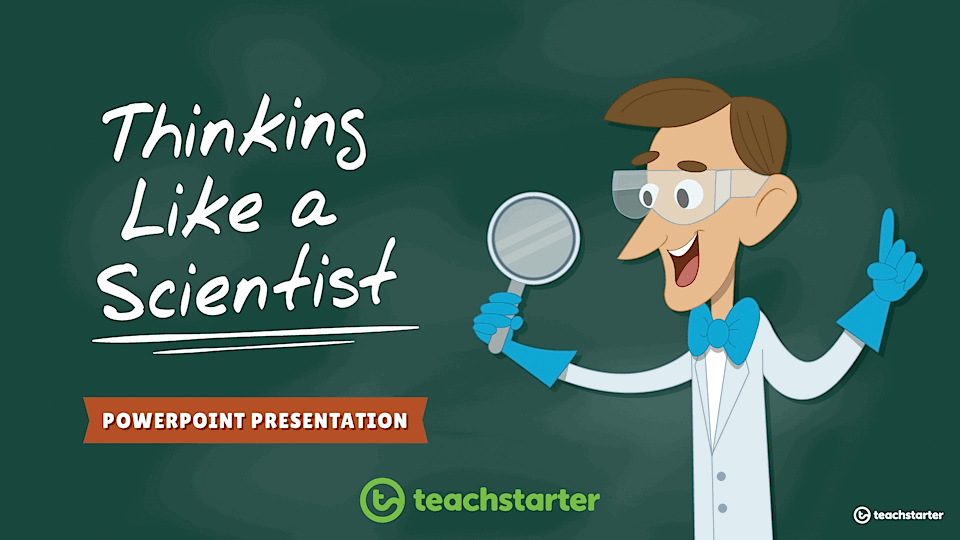 The Scientific Method
Is your classroom science display looking tired and sad? Update and refresh your classroom look by downloading The Scientific Method Poster – Lower Grades.
Display one of these bright and informative posters in your classroom to remind your students to apply the scientific method in the wonderful world of Science.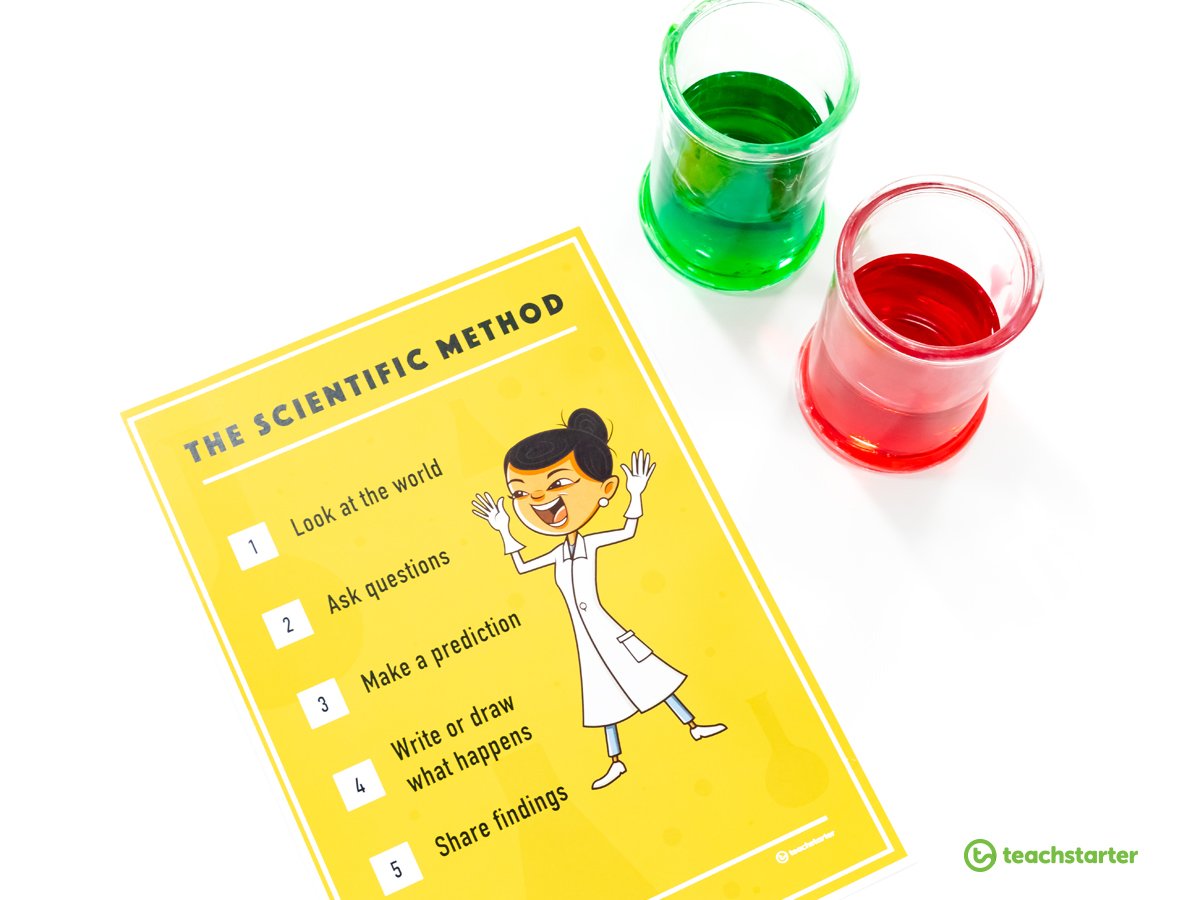 Are you an upper years teacher? We have created The Scientific Method Poster – Upper Grades version of this poster to extend your students' knowledge and understanding of the scientific method. The seven steps included on this upper years poster include:
Look at the world
Ask questions
Form a prediction
Collect and record data
Interpret results
Draw conclusions
Communicate findings
Create a Light and Sound Science Word Wall
Using scientific vocabulary is an important part of teaching Science. Give your students access to the language that they need to use during your light and sound science unit by creating a science word wall.
Print, laminate and display thesesoundword wall cards in your classroom.
There is a blank sheet provided at the end for any extra words that your students may want to add.
Light and Sound Science Unit
The next thing you need is a comprehensive Light and Sound Unit Planthat covers it all.Our light and soundscience activities have been created to develop inquiry skills, to nurture little scientistswho like working out why things happen and enjoy looking at the world around them.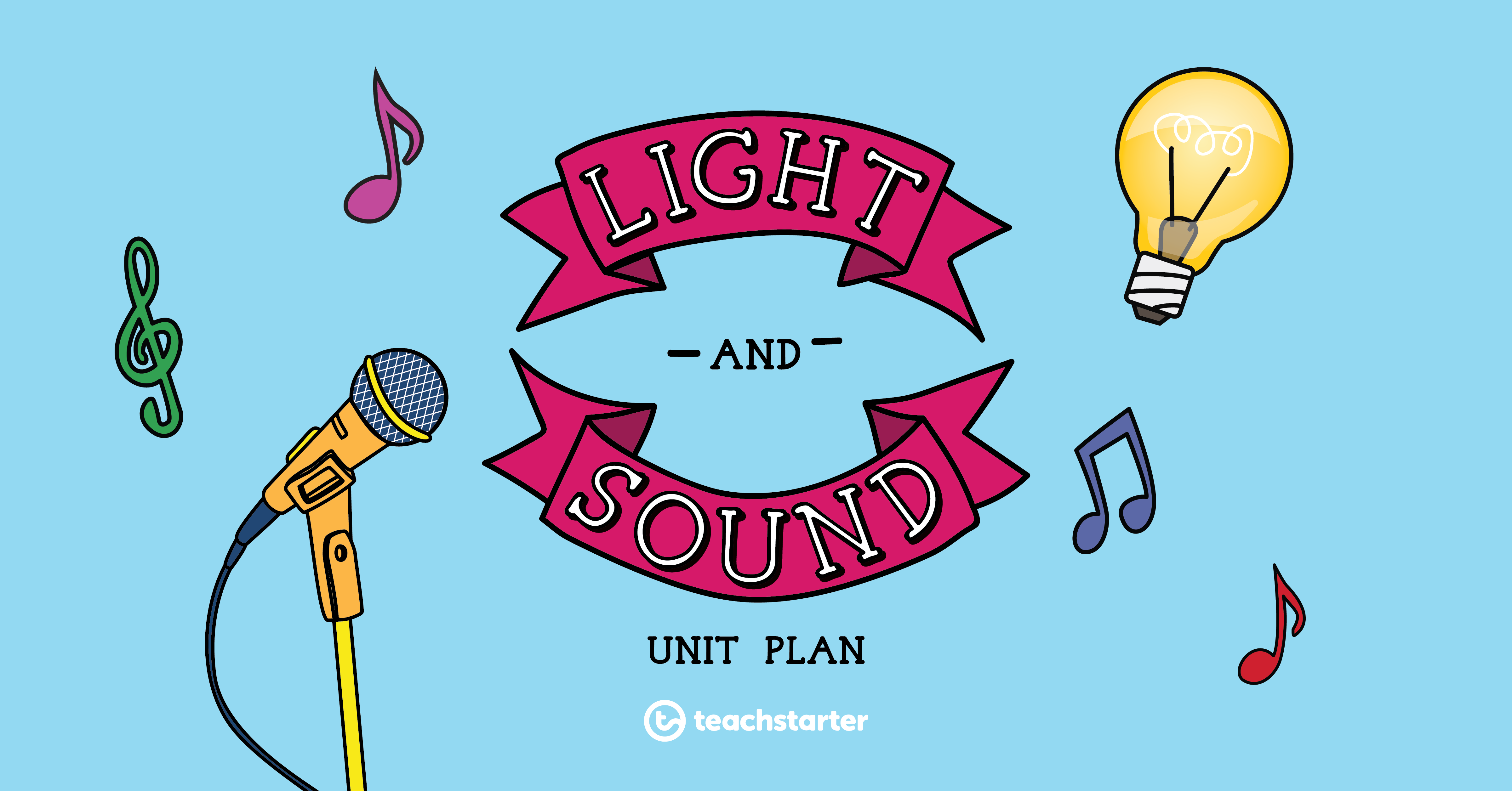 Our new lower years Physical Sciences unit addresses the concepts of light and sound and how they are sensed. It includes two science experiments, science task cardsthat are ideal to use for rotational activities and worksheets. Over the course of eight lessons, students respond to questions, make predictions, and participate in guided investigations of everyday phenomena.
Read on to find out about some of the features of the light and sound science activities in this Science Unit…
Let the Sun Shine In
This is how we roll. Lesson 2 of our Light and Sound Unit Plan features the Shakira – Try Everything (Official Video).Who would have thought that this videowould include so many different light sources?
This lesson hook is sure to grab the attention of your class and to get them asking questions about light.
Here's how to get your students thinking about sources of light…
Ask your students to watch the video carefully and to keep a list of all the things that are making light.
As a class, share observations of light sources e.g. electric lights, TV screen, computer screen, alarm clock, police lights, headlights, street lights, sun.
Make a class list and create your own light word wall.
Psssssst…Don't forget to undo any misconceptions about objects that reflect light such as glittery clothes and water.
For more lesson hook ideas read our blogLesson Hook Strategies to Launch Learning.
No Light, No Sight
Check out the scientific investigation in Lesson 3. Download ourWhat's in the Box? – Worksheetfor a hands-on light and sound science activity that explores how light is required in order to see.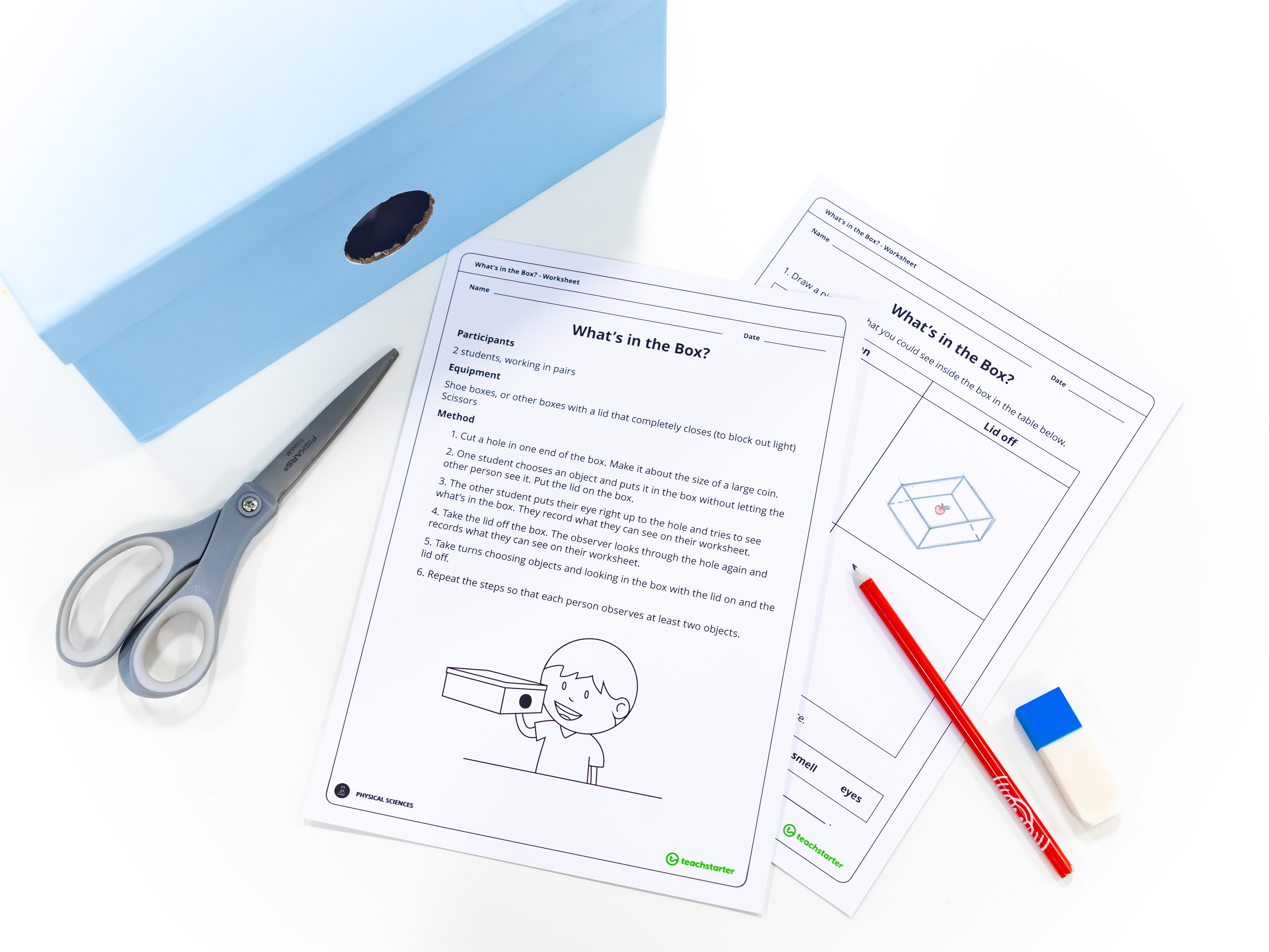 Here's how to do it:
1. Cut a hole in one end of the box. Make it about the size of a large coin.
2. One student chooses an object and puts it in the box without letting the other person see it. Put the lid on the box.
3. The other student puts their eye right up to the hole and tries to see whats in the box. They record what they can see on their worksheet.
4. Take the lid off the box. The observer looks through the hole again and records what they can see on their worksheet.
5. Take turns choosing objects and looking in the box with the lid on and the lid off.
6. Repeat the steps so that each person observes at least two objects.
Light and Sound Science Experiment Time!
Are you looking for light and sound science experiments?
Look no further! Lessons 4 and 8 of our Light and Sound Science Unit feature simple science experiments that your students will love.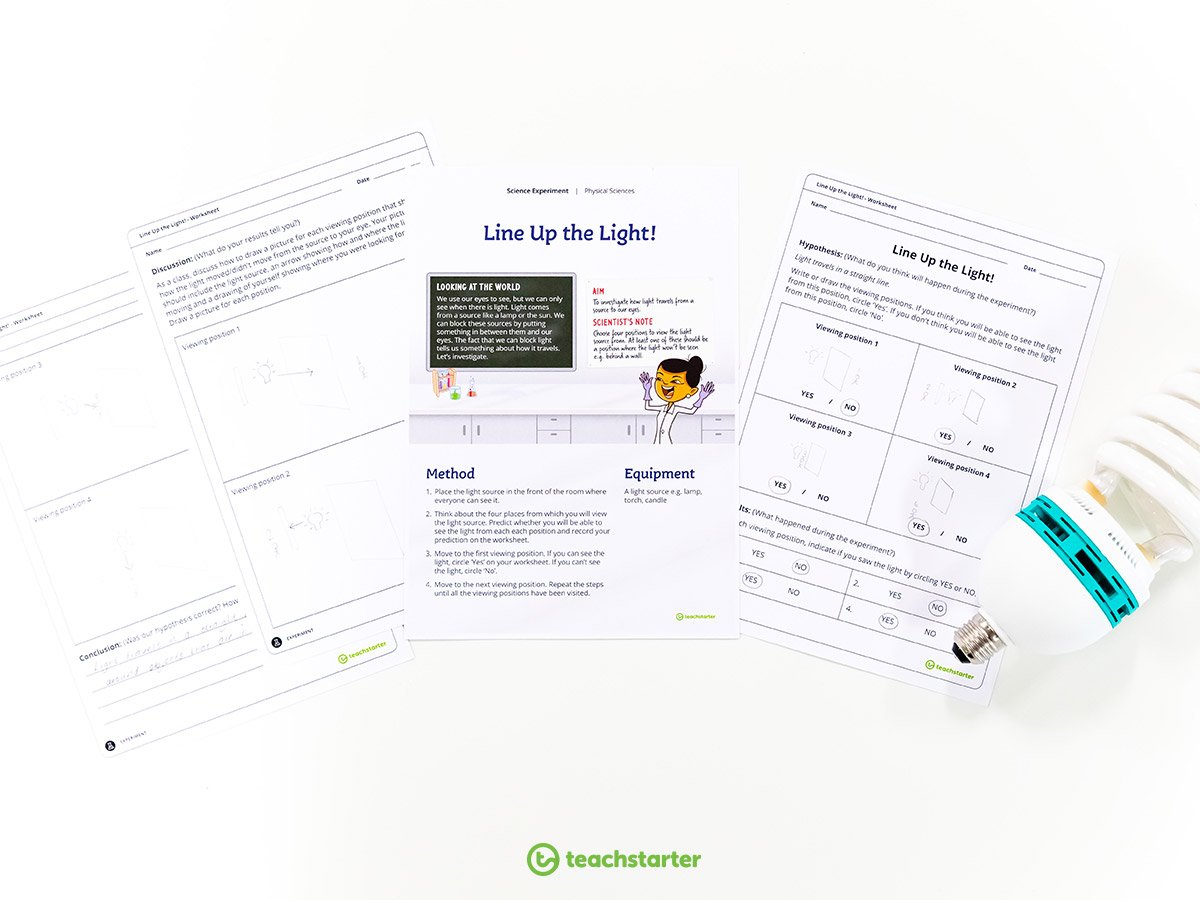 Â
Download our Science Experiment – Line Up the Light!to give your students the opportunity to explore how light travels. Students investigate how light comes from a source like a lamp or the sunand how we can block it by putting something between it and our eyes.
Next, students use what they have learned to make a conclusion about how light travels.
Students follow thescientific methodto conduct the experiment in small groups, then complete the worksheet provided.
Cmon, Feel the Noise
Students love rotational activities. Don't miss out on our newInvestigating Sound – Science Task Cards.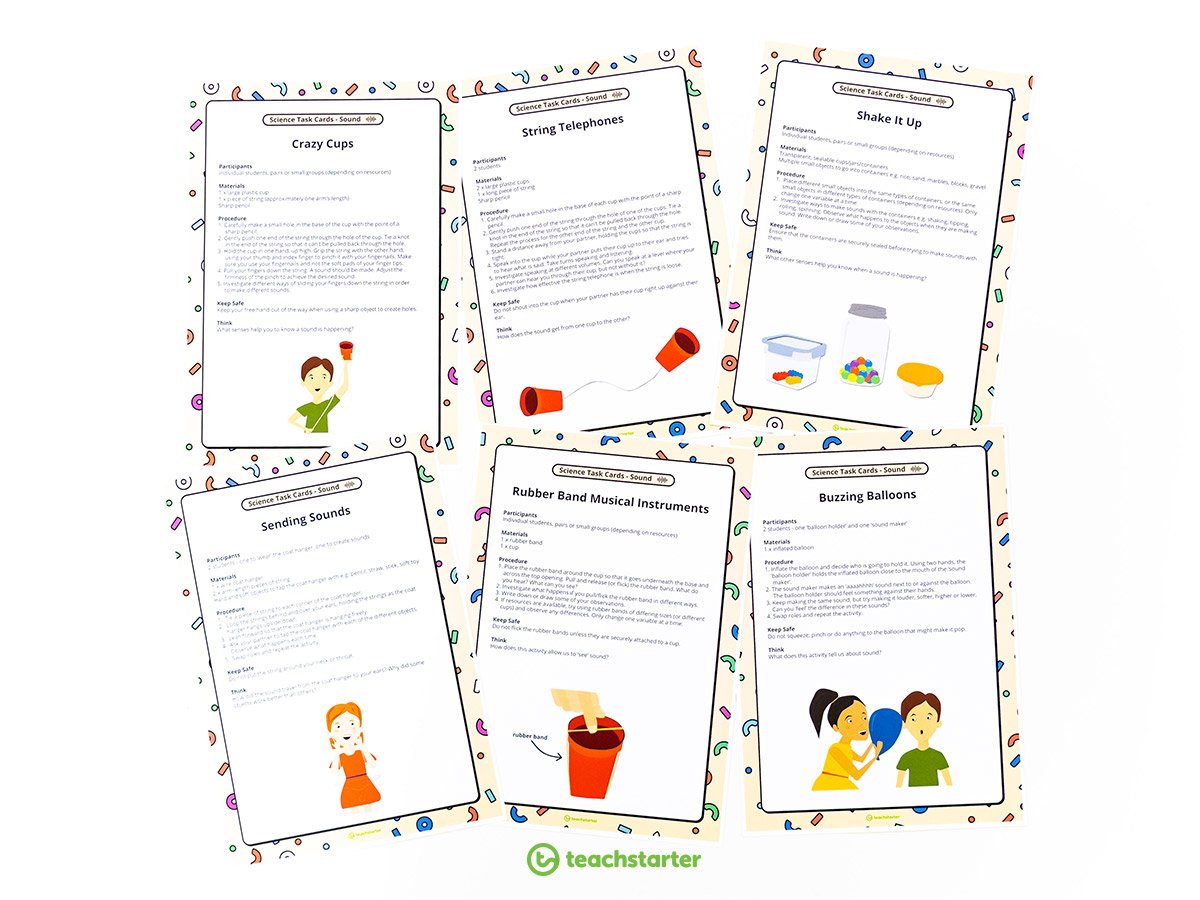 This set of six task cards includes the following fun investigations:
Buzzing Balloons
Rubber Band Musical Instruments
Shake It Up
Sending Sounds
String Telephones
Crazy Cups
Design a Musical Instrument -Assessment Task
This comprehensive and jam-packed Light and Sound Unit Plan includes a Design a Musical Instrument Worksheet thatis ideal to use as an assessment task.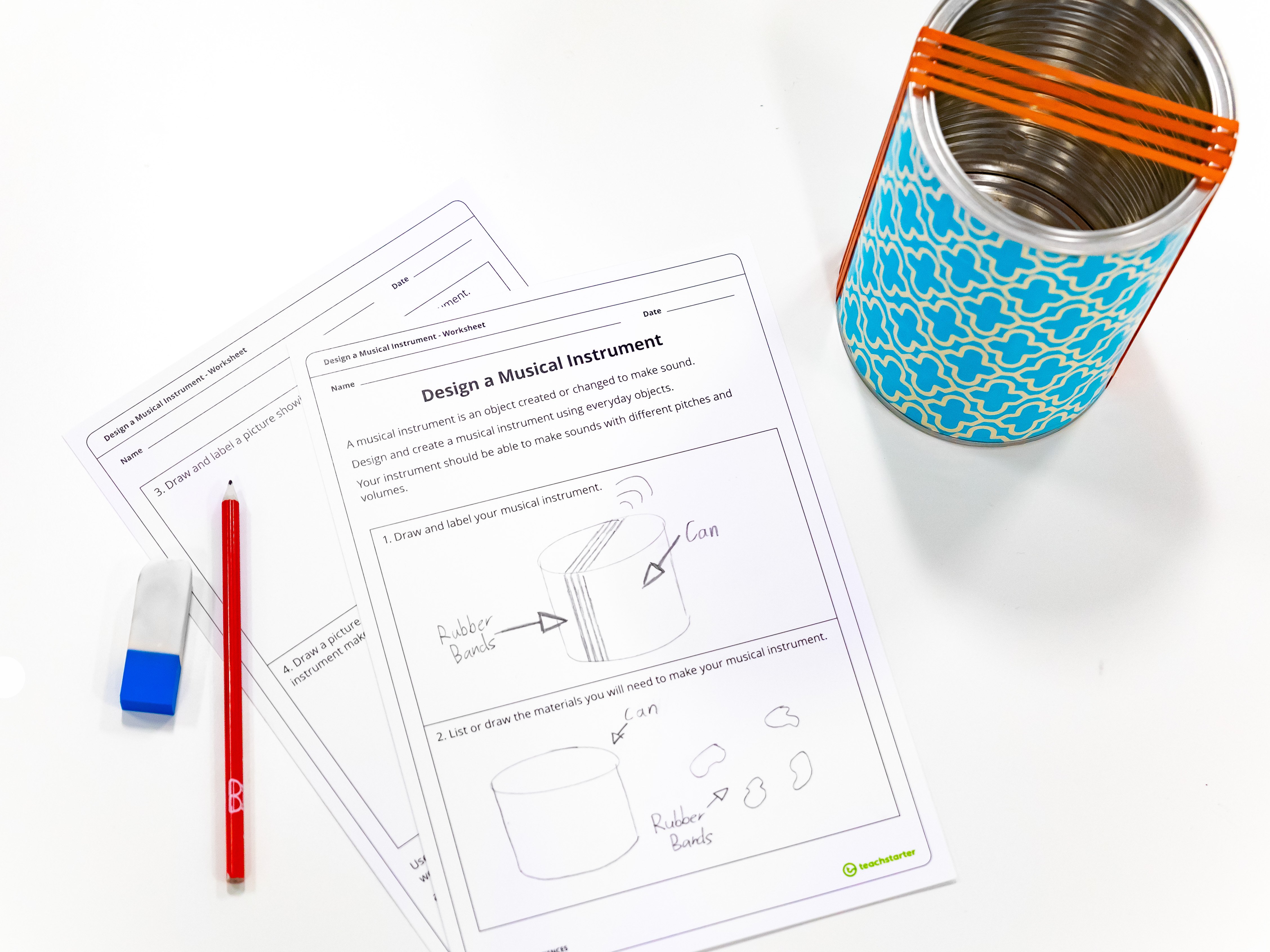 Students are to imagine, design and create a musical instrument using everyday materials. They need to make their instruments in such a way that either the pitch or volume of the sound can be changed. They are encouraged to test and refine their instruments as part of the design process.
Here at Teach Starter, we are passionate about doing more to inspire junior school students to be scientists who want to know more about the world.
Let's make it our intention to make the teaching and learning of Science a top priority. Your students will love you for it!
Share your science experiences on Instagram #teachstarter.