Finding age-appropriate teaching resources for older students who are working to consolidate their knowledge and understanding of phonics can be a challenge. This brand new Transport Themed Phonics Teaching Resource Pack has been designed in a way that is sensitive to the needs of older students who may be lacking confidence or feel that the resources that they usually get to work with are too "babyish".
When you download the full resource pack you'll find the following resources:
Phonics Flashcards and Progress Tracker in Skateboard, Scooter and Motorbike themes
Word Building Mats in Skateboard, Scooter and Motorbike themes
Digraph Road Trip Board Game
Choose Your Favourite Mode of Transport
By providing the three different transport options in the word building mats, flashcards and phonics trackers, students can draw upon their personal interests. This helps to inspire learning and also contributes to intrinsic motivation. However subtle these choices may seem to us as adults, some students will really benefit from being provided with this choice.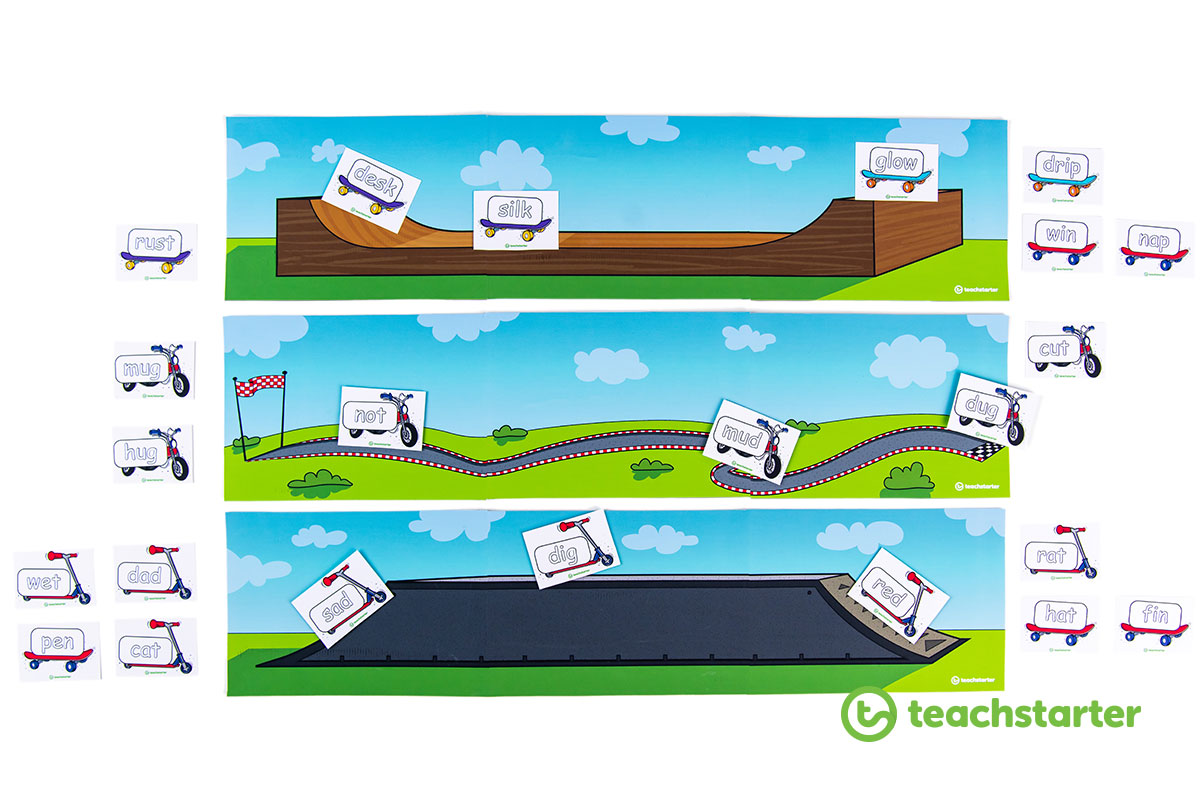 The three versions of these flashcards and progress trackers include CVC, CVCC and CVVC words, as well as a visual tracker that helps students to see their own progress.
The Skateboard Phonics Flashcards come with a skate ramp tracker, the Scooter Phonics Flashcards a scooter ramp tracker and the Motorbike Phonics Flashcards a motorbike track.
How to Use the Visual Trackers
Print, align the three pages and laminate the scooter ramp.
Place a small number of flashcards at the start of the ramp and move the flashcards to the end of the ramp when they have been mastered.
---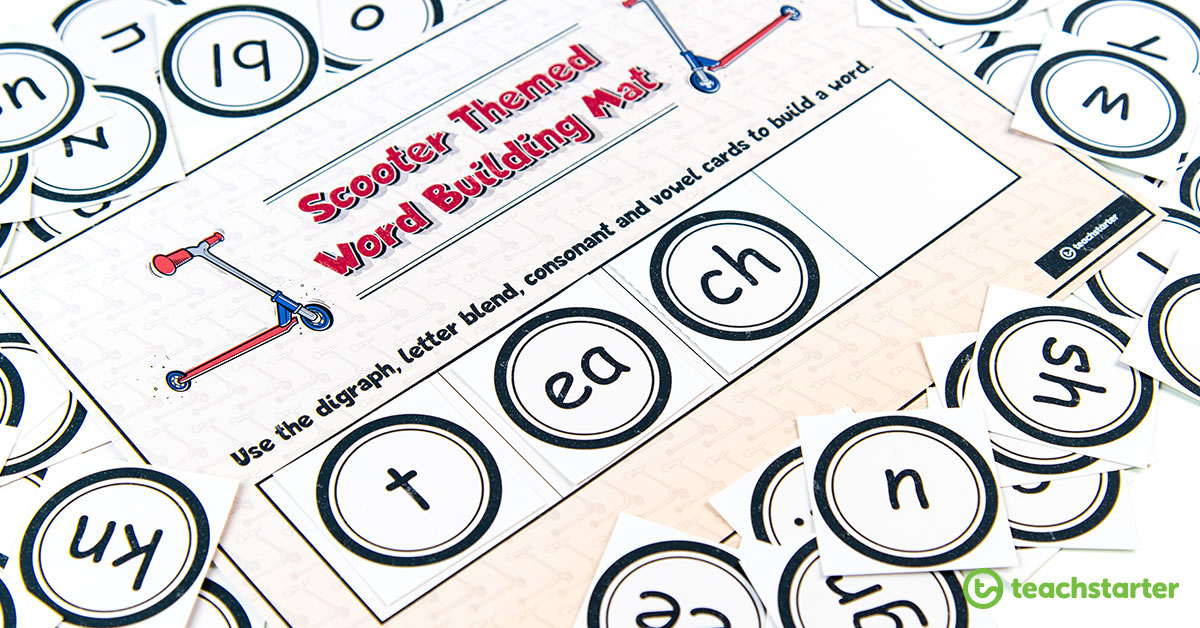 These downloads include a comprehensive set of vowel, consonant, blend and digraph cards that students can use when learning how to build and segment words using knowledge of phonemes, blends and digraphs.
Similar to the flash cards and trackers, these word building mats are available in three designs:
---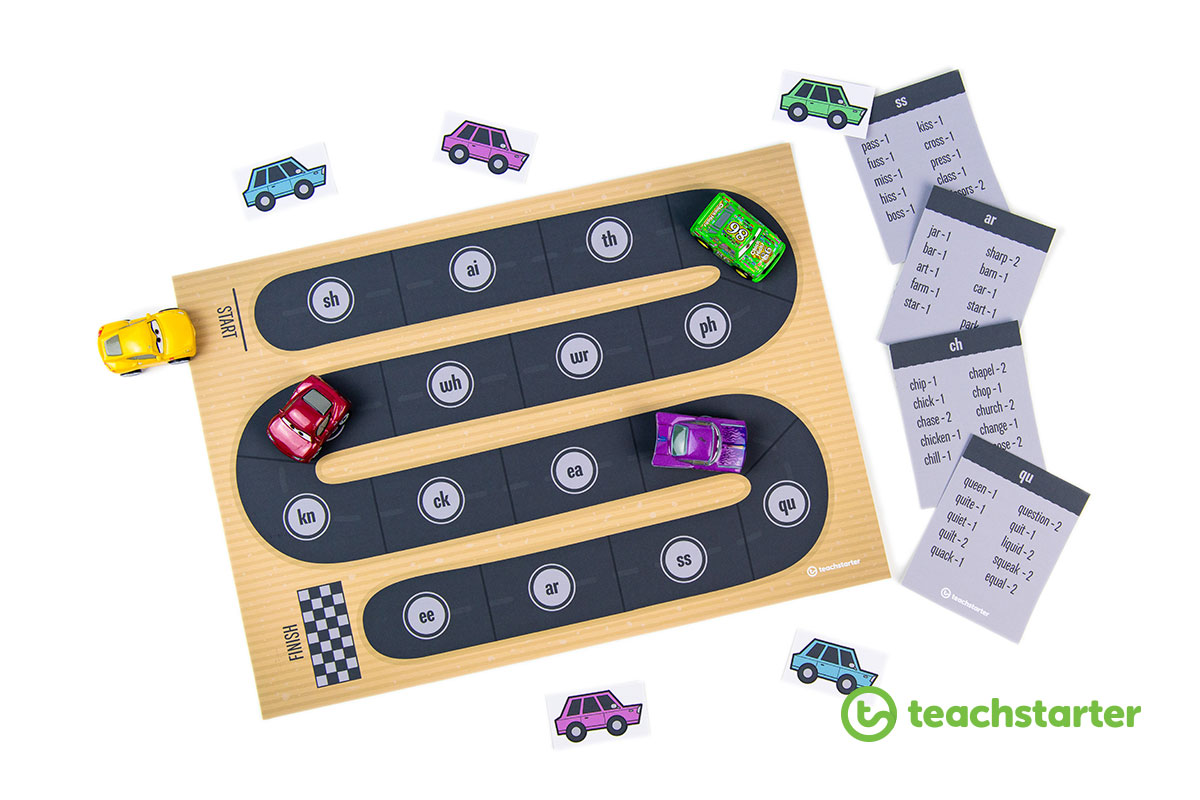 This Digraph Road Trip board game is great for when students are learning about digraphs and how to use a dictionary. It is perfect to use with a small group during literacy rotations, or for teachers to play with students when working one-on-one.
When playing the game students may like to use their own cars instead of counters! Again, a seemingly subtle accommodation to make, but one that can make a big difference to some students' level of engagement with the learning activity.
---
For more information about teaching phonics in the classroom, take a look at the following blog posts: