A mini book that allows students to compare the capacity of various containers.
Use this teaching resource when exploring the capacity of containers.
How to create this resource
Print the PDF on A4 paper, then slice each page in half horizontally. Staple the pages together to create a booklet of A5 size.
A little book, but a lot of learning!
Each page of this mini book contains two images. The students must circle the container that holds more or less (depending on the question).
When answering the questions, it is important to remind your students to visualise the actual size of the container. The images in the book are not drawn to scale.
The final two pages ask the students to draw containers based on various parameters, e.g. draw a container that holds more than a drinking glass.
This resource provides plenty of colouring opportunities to assist with your students' fine motor skills.
Looking for a resource to consolidate this concept?
Look no further! Our interactive PowerPoint quiz is a perfect accompaniment to these mini books. Access this via the thumbnail below.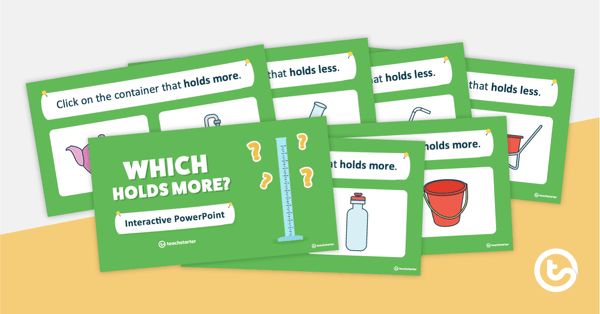 teaching resource
An interactive PowerPoint quiz that asks students to compare the capacity of various containers.