Whether you believe in Valentine's Day in the classroom or not. It is a nice way to celebrate love, friendship, and kindness with your students. Here are some cute Valentine's Day classroom craft activities that you can do with your students.
---
You're a Hoot – Valentine's Gift Bag
This is simple to do and lots of fun! I would suggest making a couple of templates for your students to trace around. Especially for younger students.
Encourage your students to pick different colours – or even create their own owl using different sized heart shapes!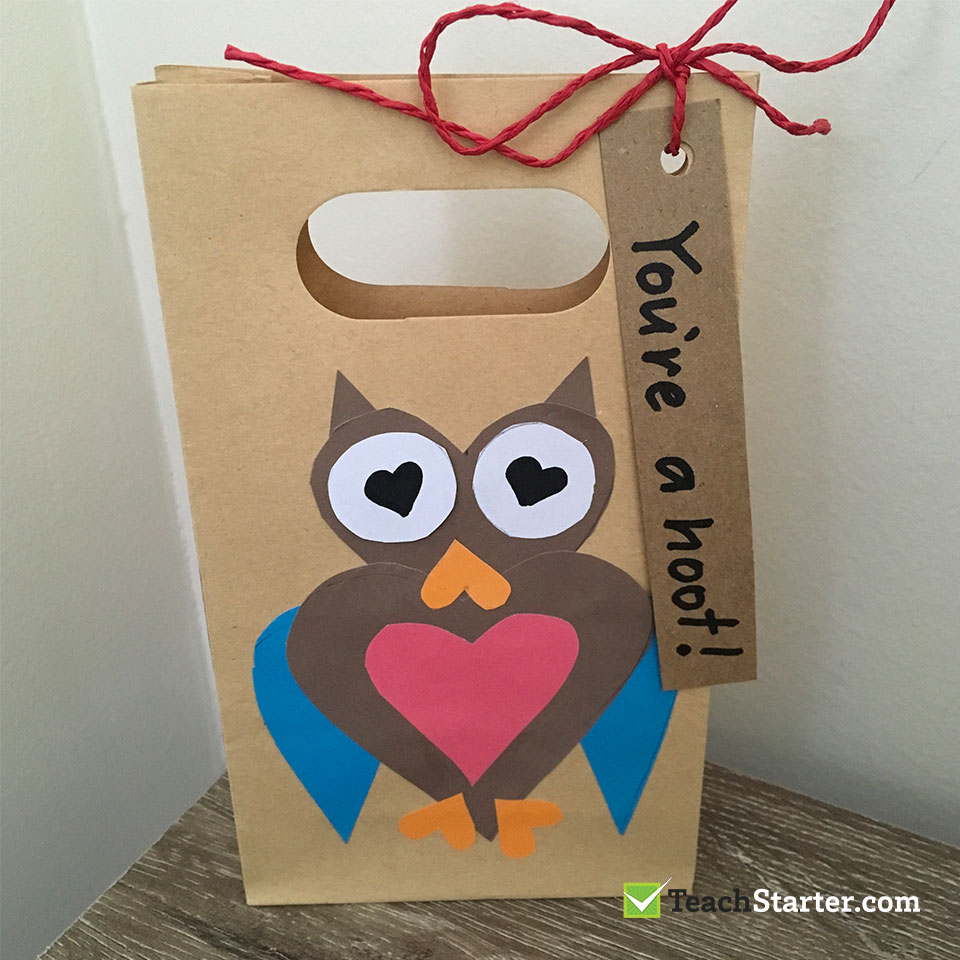 ---
Heart Threading – Valentine's Card
This is a great activity to develop fine motor skills.
Provide your students with a heart shape. Depending on the skill level of your students, you can do the hole punching or they can do it around the edge of the heart.
Students then thread coloured cotton weaving it between the holes around the heart.
Next, use small scrunched up balls of red tissue paper to fill the middle of the heart. Creating these small balls with tissue paper is a fantastic way to build the muscles in little fingers!
You can leave it at that, alternatively, you can turn it into a Valentine's Day card.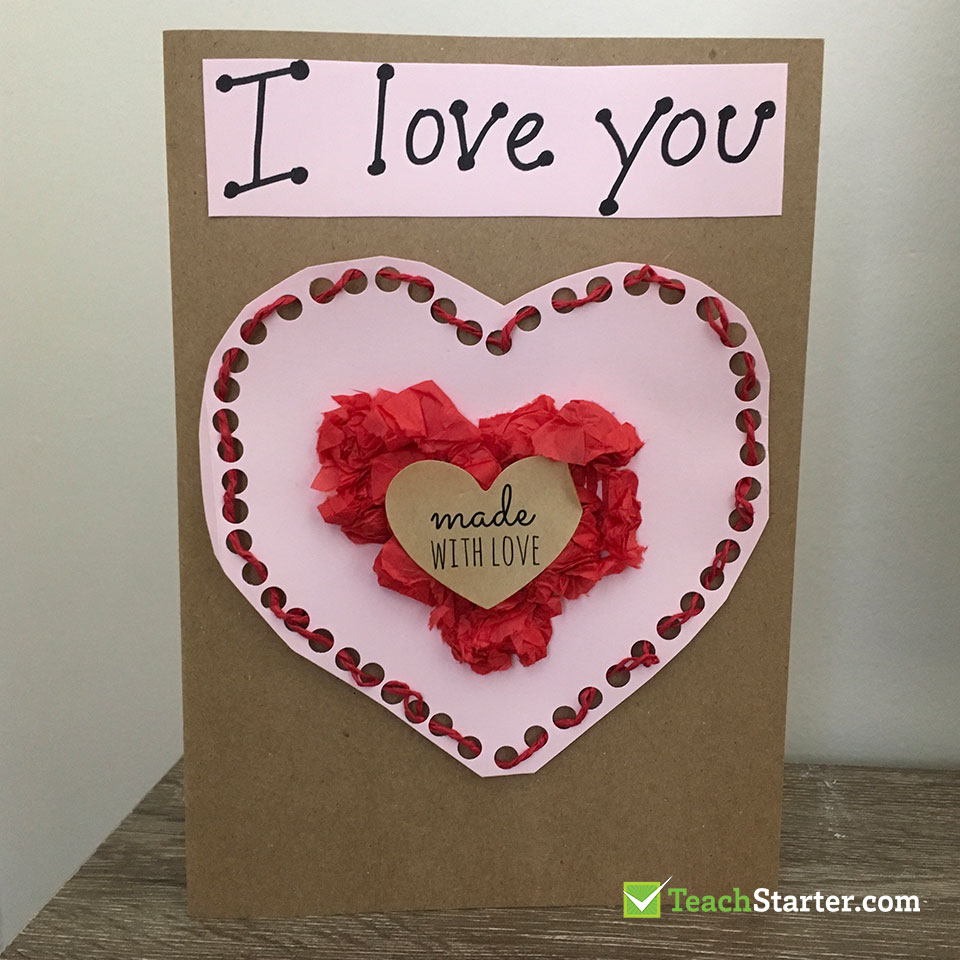 ---
You're Grrreat! – Valentine's Gift Bag
Another gorgeous design for a gift bag. Why not do some baking with your students and make some delicious treats to put inside the bag.
This tiger design is super easy to create. One big heart for the body, a middle size heart for the face, two smaller hearts for the ears and half a heart for the tale.
Don't forget a little black heart for the nose!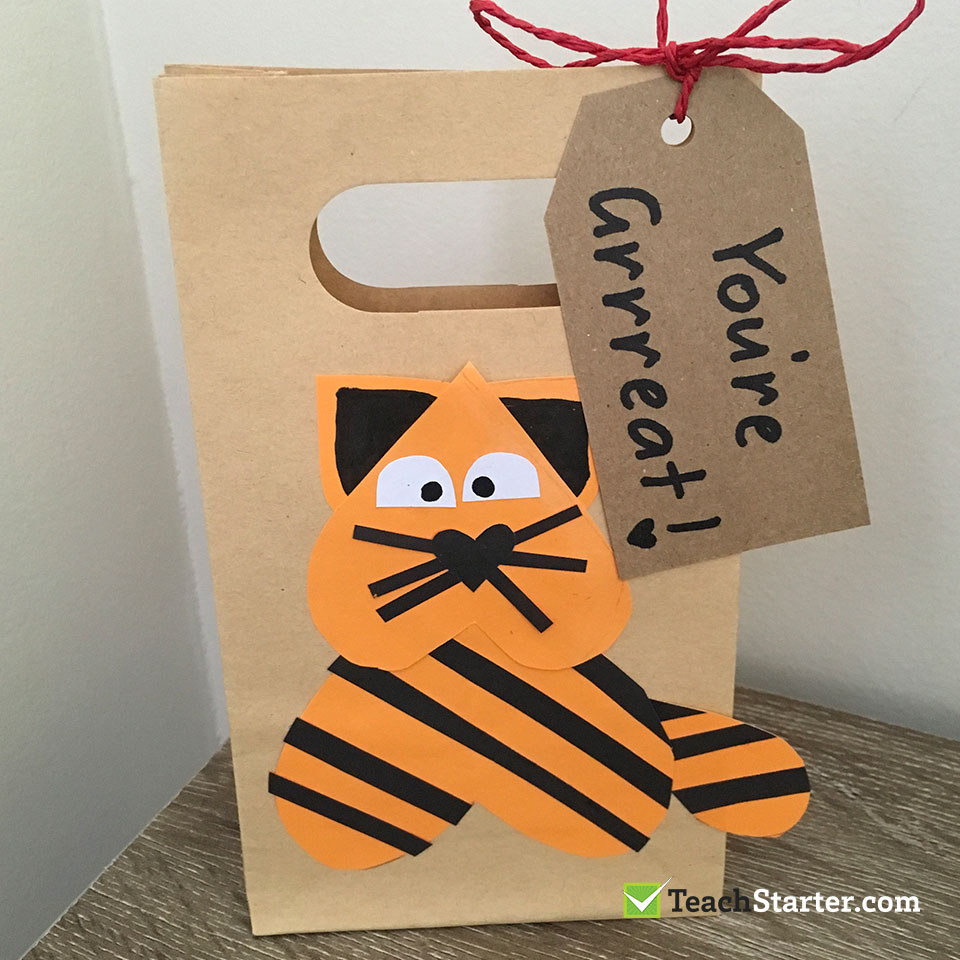 ---
You're Out of This World – Valentine's Card
Using our You're Out of This World Valentine's Day Card template, print out the full-colour card for students to write in. Alternatively, you can choose to allow your students to get creative.
Use the black and white copy for you students to colour, or use the words at the top of the page and have your students create their very own alien in space!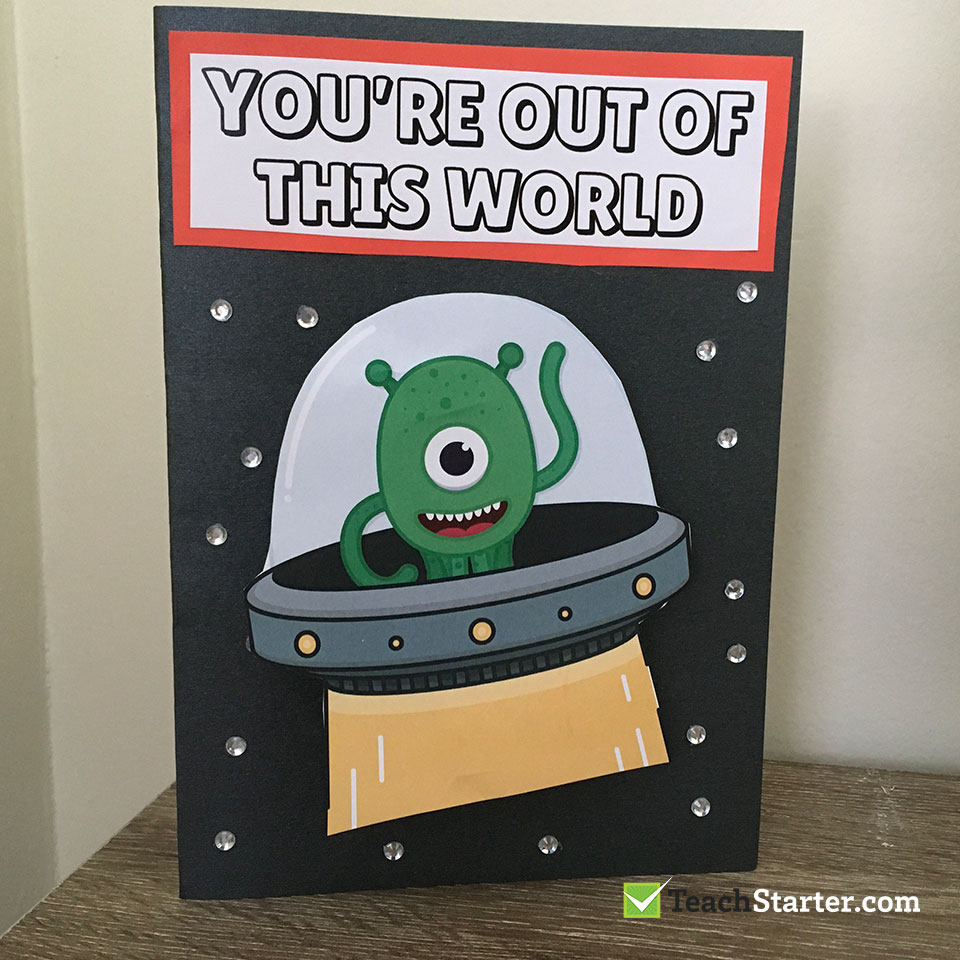 ---
Heart Book
This is a nice activity to celebrate friendship. Why not have your students create this heart book and allow their friends to write nice things in their very own heart booklet.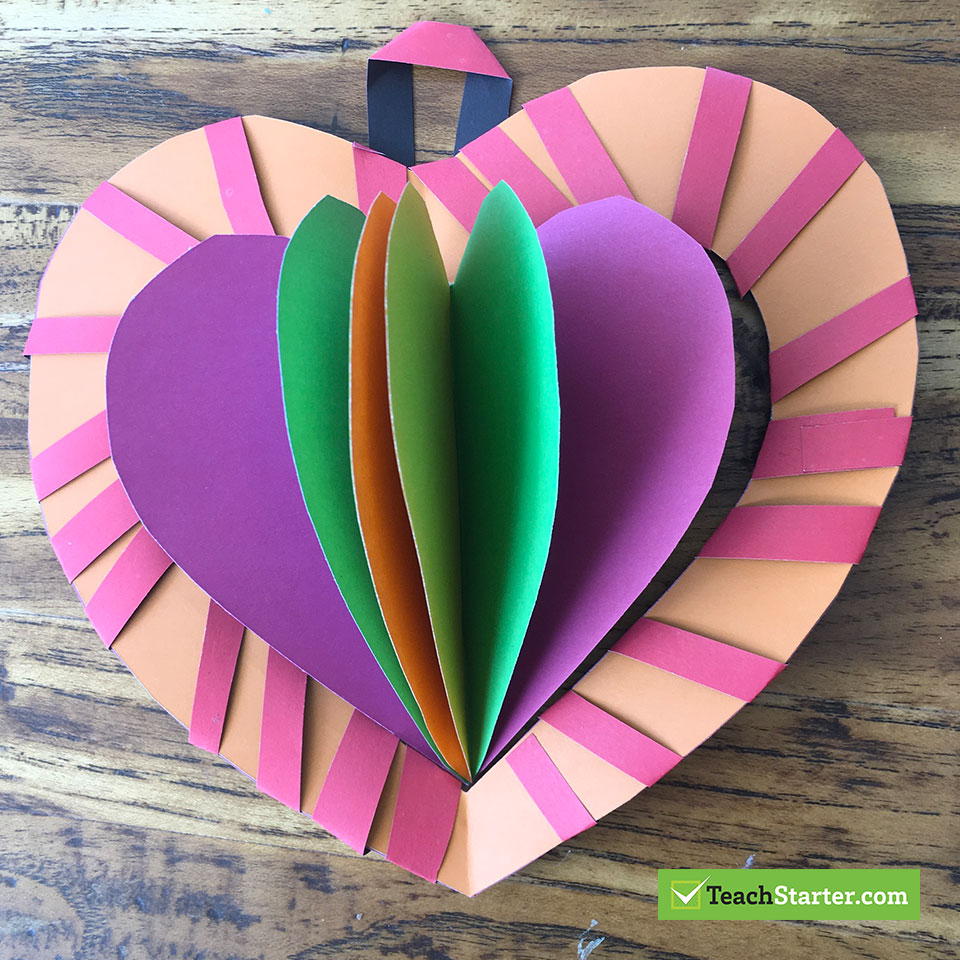 Check out how to make it:
---
I've Got My Eyes On You! – Valentine's Card
Using our I've Got My Eyes On You Valentine's Day Card template, Students can use the full-colour template and write a nice meaningful message for someone special.  Alternatively, they can get creative and create their very own monster!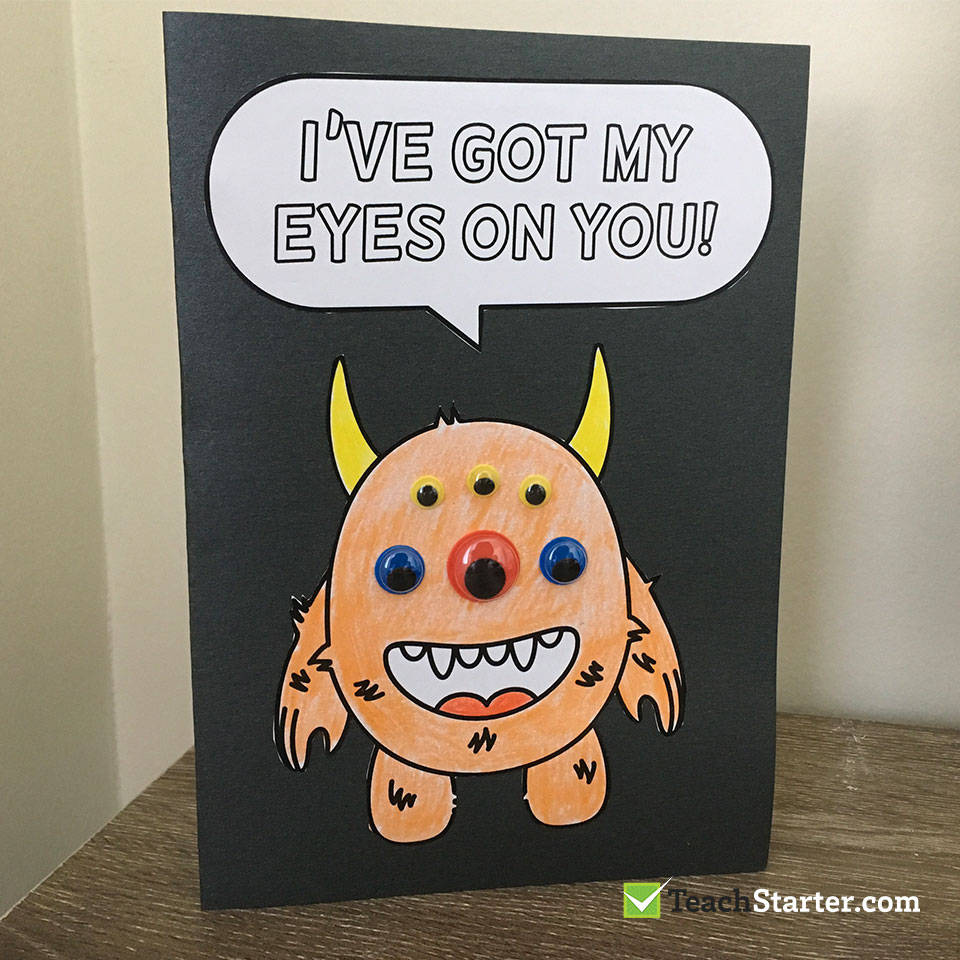 ---
I Love you to Pieces – Valentine's Card
This is one of my favourite cards! Using our I Love You to Pieces Valentines Day Card template, provide students with small square pieces of tissue paper to stick inside the heart. These become the 'pieces' of the heart. So cute!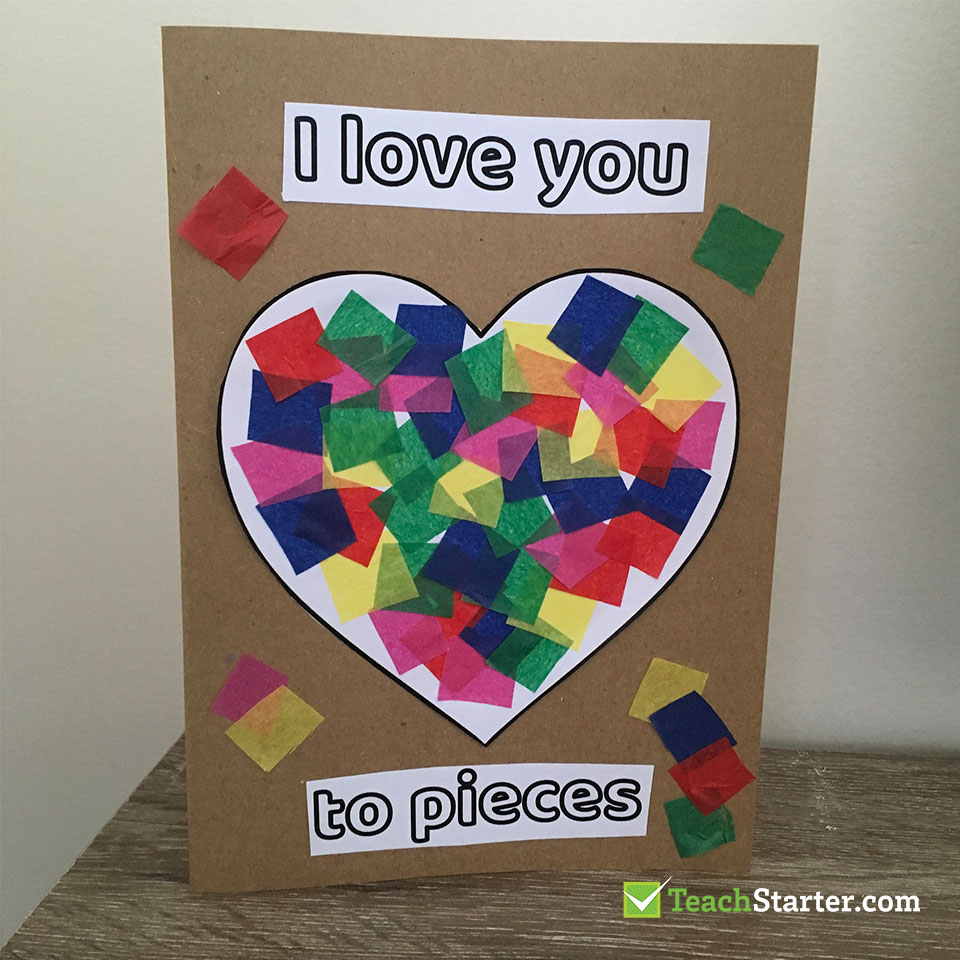 ---
Heart Window Decoration
Create this gorgeous heart window decoration for the classroom, or for students to take home for someone special.
I used the heart template in the 'I love you to Pieces' card and traced the heart onto some black card. Next, I drew a smaller heart inside, and used this as a guide to cut the middle out!
Using clear contact, stick a piece on one side of the heart so that the sticky bit comes through the middle. Students then stick small pieces of tissue paper all over the inside.
Once this is finished, stick another piece of clear contact on the other side. It doesn't matter if it goes over the edge of the heart as this is very easily to trim off once the students have finished.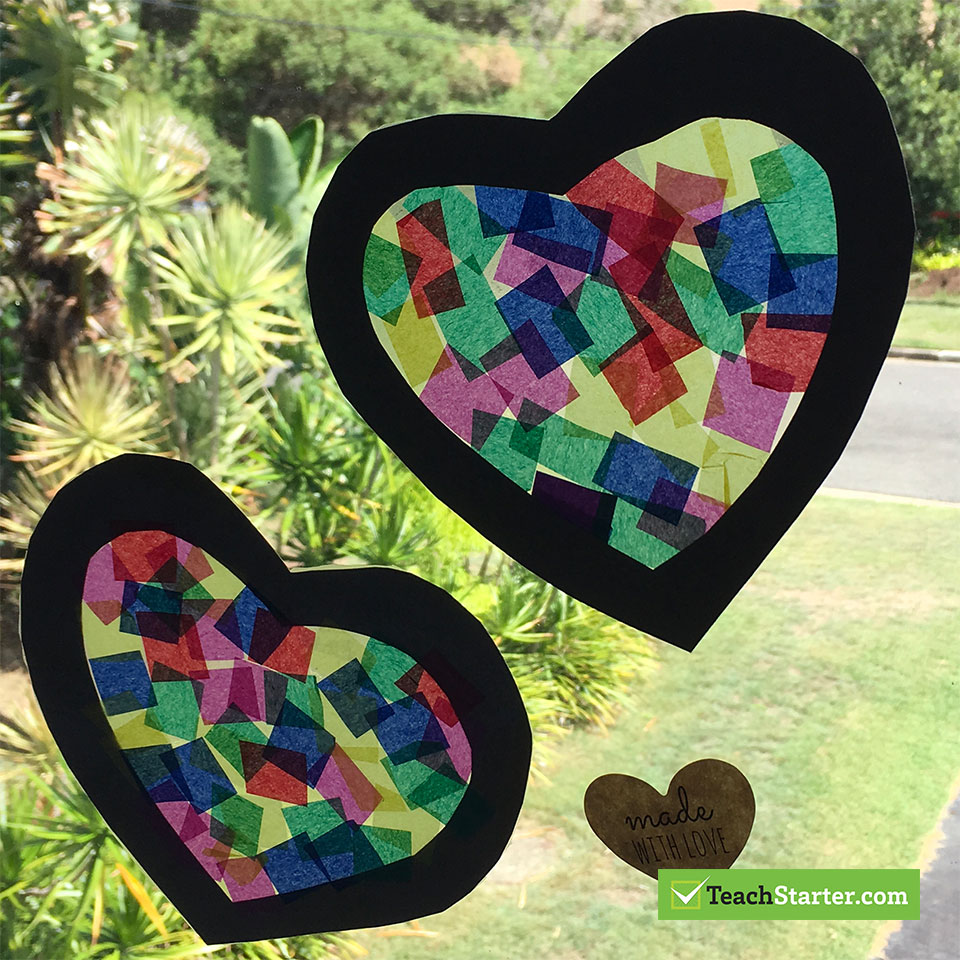 ---
Bee Mine! – Valentine's Gift Bag
This is the cutest!
Create a bee using different sized hearts! For younger students, I would definitely recommend using some templates for them to trace around.
The older kids can use this picture to create their very own bee!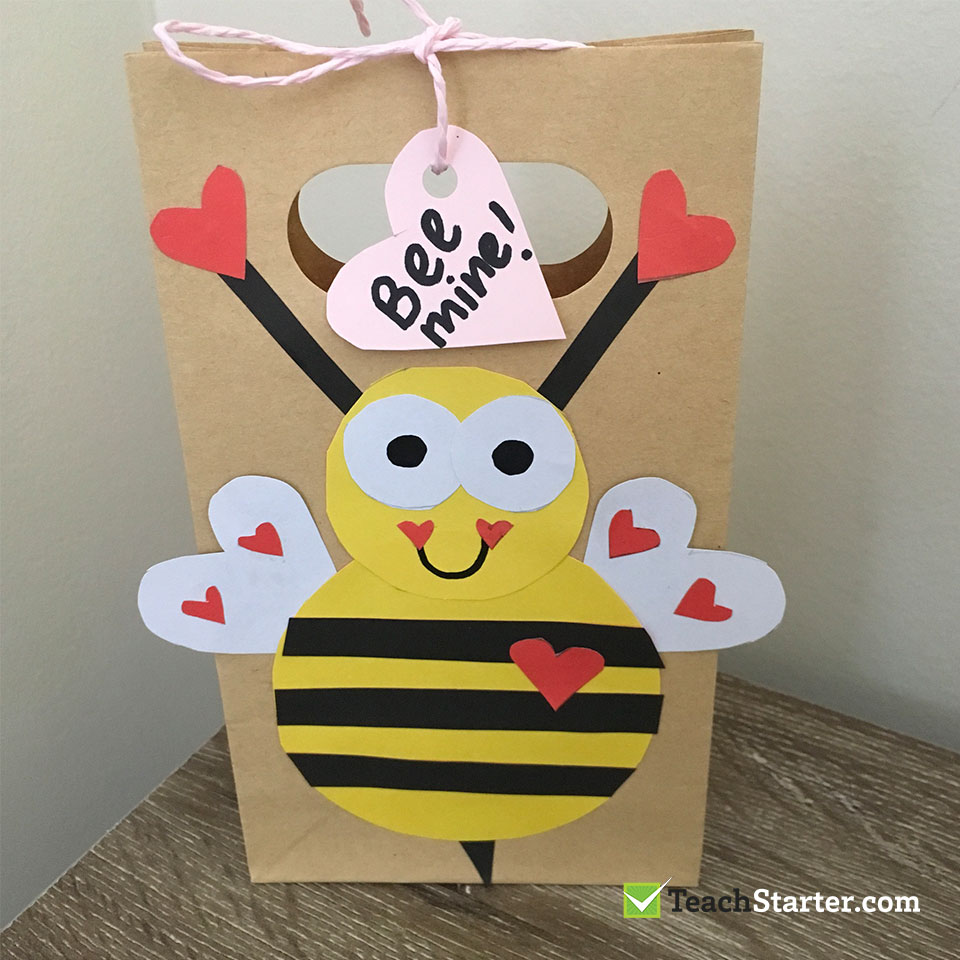 ---
Notes of Kindness
This is a cute activity if you just want to celebrate friendship in the classroom! Students can pick classmates' names from a jar and write a nice note of kindness.
You may like to create a kindness tree display in the classroom for students to always be reminded of what others think.
You could use our Random Acts of Kindness Calendar, start it on Valentines Day and celebrate kindness for the rest of the month!
---
More Activities and Decorations