It's that time of year when we start thinking about Valentine's Day craft ideas for the classroom. We've put together some of our favorite crafts, many of which have educational applications too!
Valentine's Day Craft Ideas for the Classroom
Heart Window Decoration
Looking to decorate the classroom for Valentine's Day and teach kids about translucent, transparent, and opaque in one shot? Creating faux "stained glass" hearts combines a Valentine's Day craft for the classroom with a hands-on lesson that shows how beams of light are impacted by different materials.
How to make faux stained glass hearts:
Print out our heart template (it's free to download!) and trace it onto a piece of black cardstock.
Draw a smaller heart inside, and cut out the inside heart to create a frame.
Stick a piece of clear contact paper on one side of the heart so that the sticky side comes through the middle.
Trim off any excess contact paper.
Have your students stick small pieces of tissue paper all over the inside of their hearts, completely covering the sticky side.
Once they've finished covering the contact paper, cover the tissue paper with another piece of contact paper.
Trim off any excess.
You can now hang your students' hearts on the classroom window and make observations about how the different materials — the glass of the window, the dark cardstock, and the tissue paper — impact the light waves. Students can record what they see happening, what they think is happening, and what they're wondering about!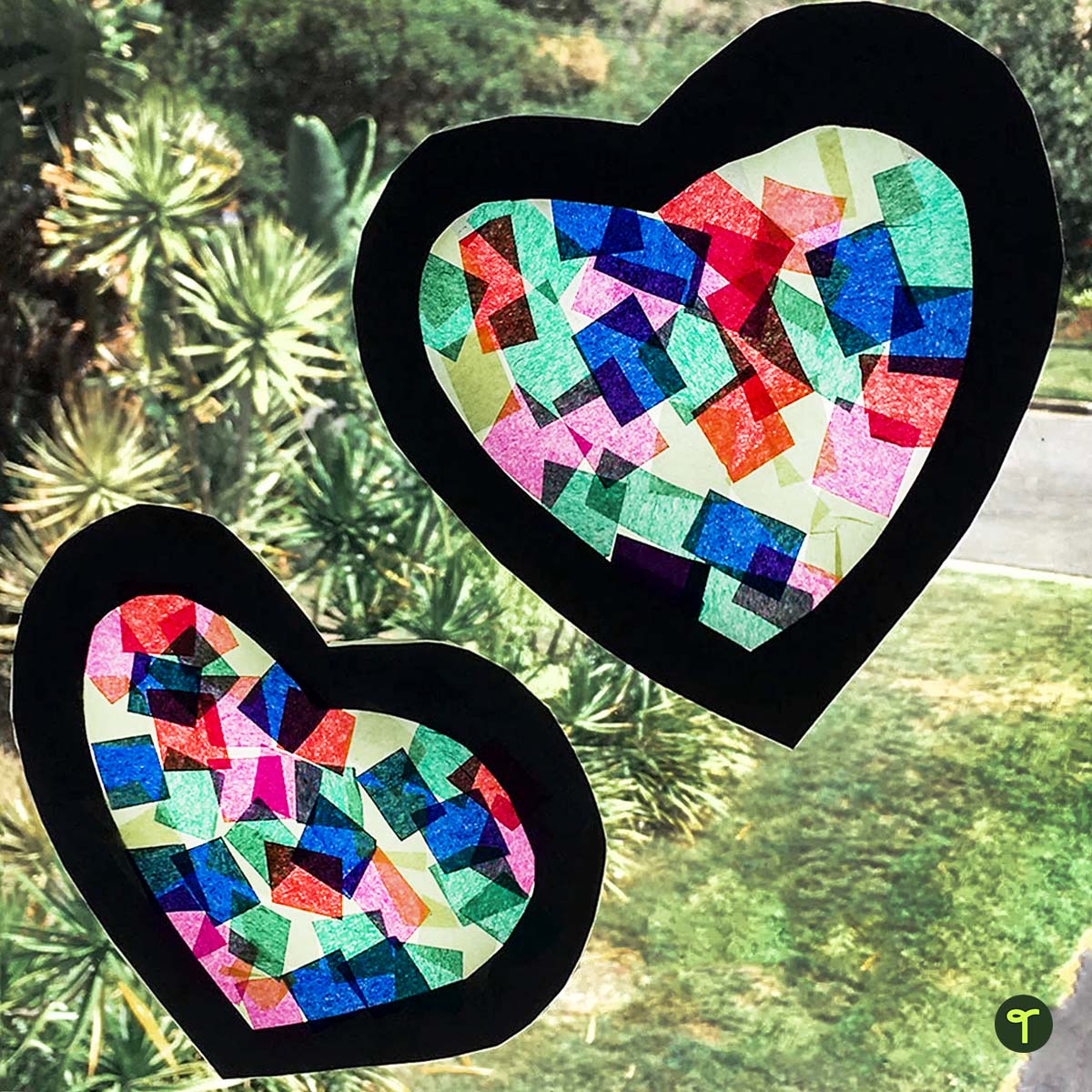 Heart Book
Another favorite Valentine's Day craft idea for the classroom is a heart book. They're a little more complicated to make (check out our video for the full details), but they're a great lesson in symmetry!
Once they're done creating their heart books, turn it into a social-emotional growth opportunity. Students can pass them around the room, and their classmates can write one positive thing about them in the book.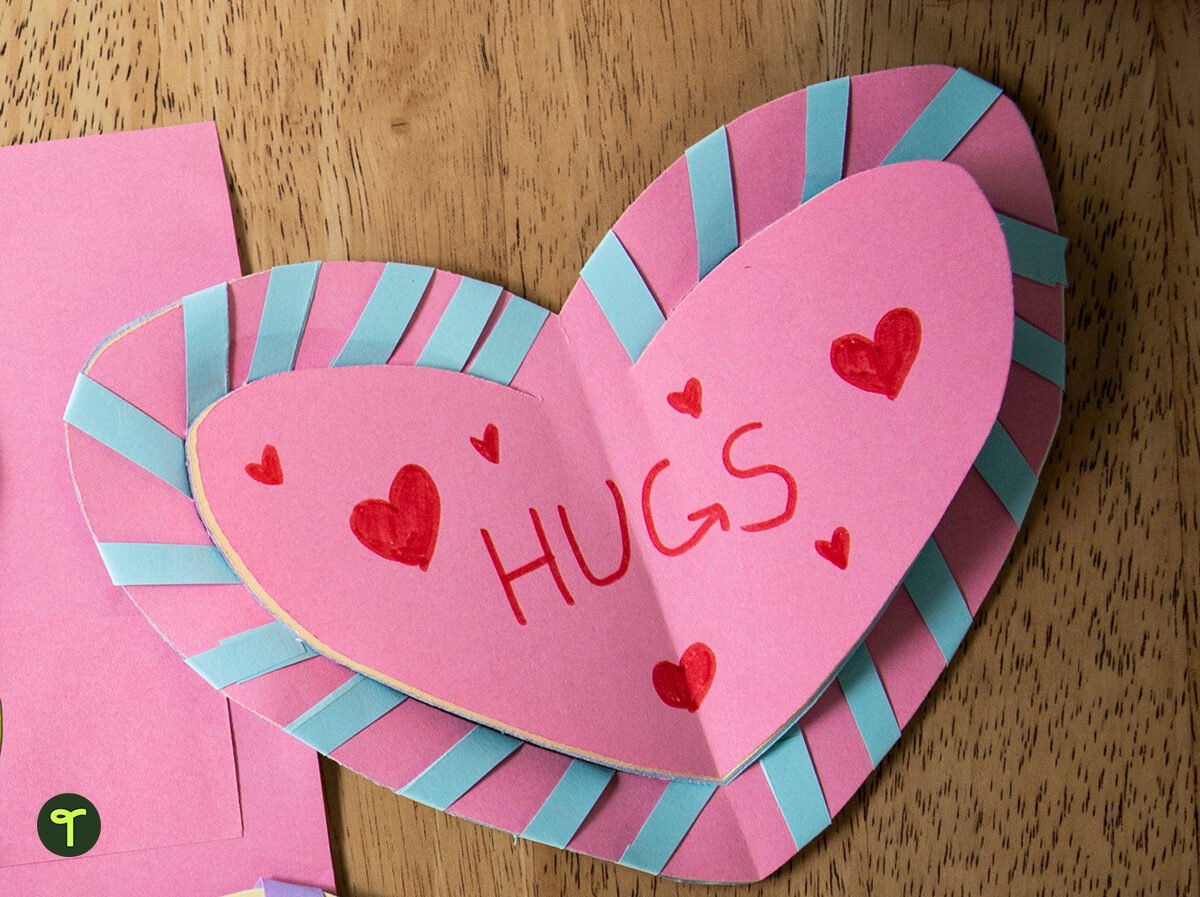 ---
I've Got My Eyes On You! – Valentine's Card
Will you be doing a Valentine's Day card exchange in the classroom this year? Turn the card exchange into a writing activity by creating your own cards with this monstrously fun I've Got My Eyes On You Valentine's Day Card Template or the You're Out of This World Valentine's Day Card template.
Having students make cards for classmates and practice writing fun letters is a good way to ensure every child gets a Valentine, and no one is left out.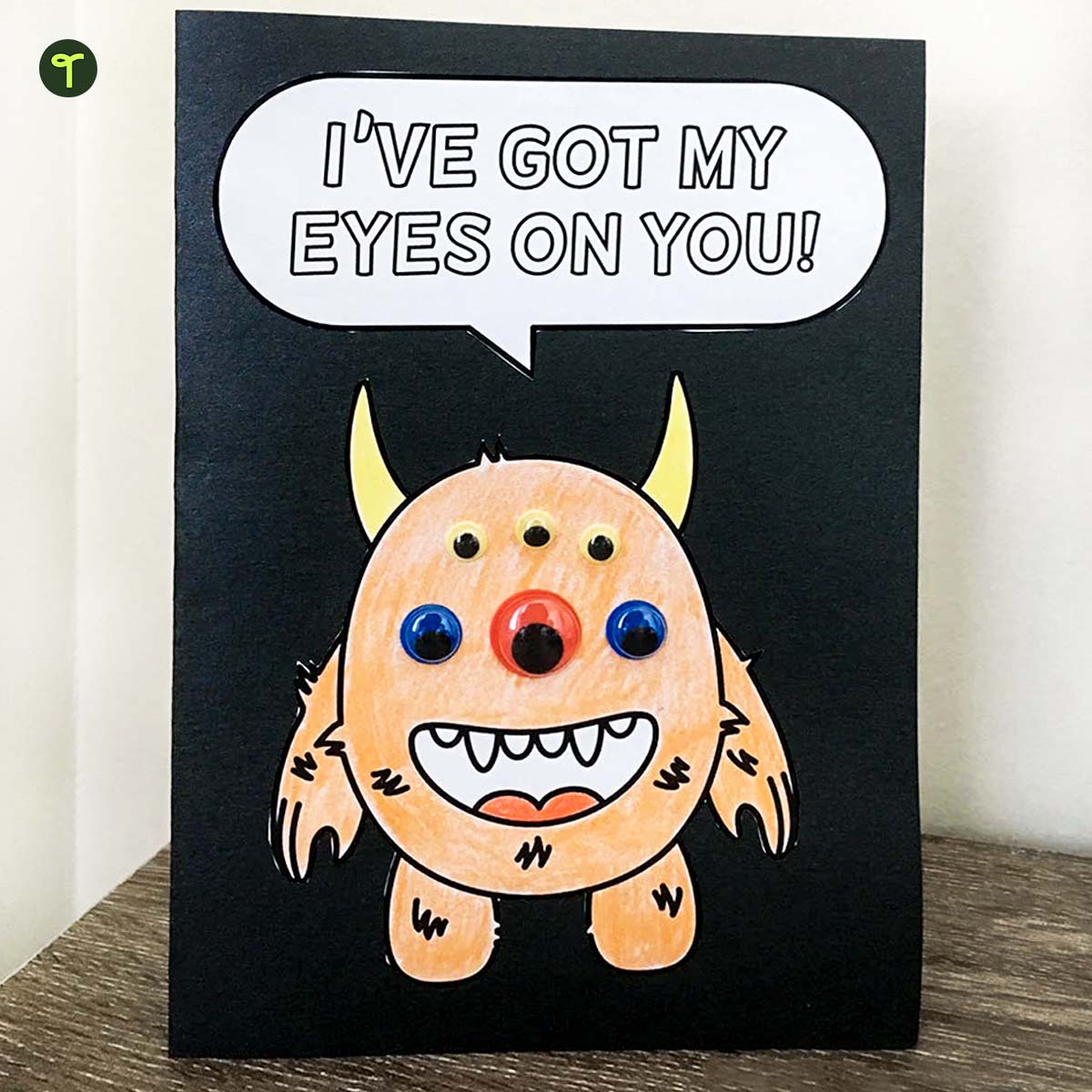 Valentine's Day Bags
Keep the classroom neat and tidy with their own Valentine's Day bags to collect and then carry home their loot. We love this fun idea for telling your students they're a hoot! Don't want to start from scratch? Try these bee and fox bag templates.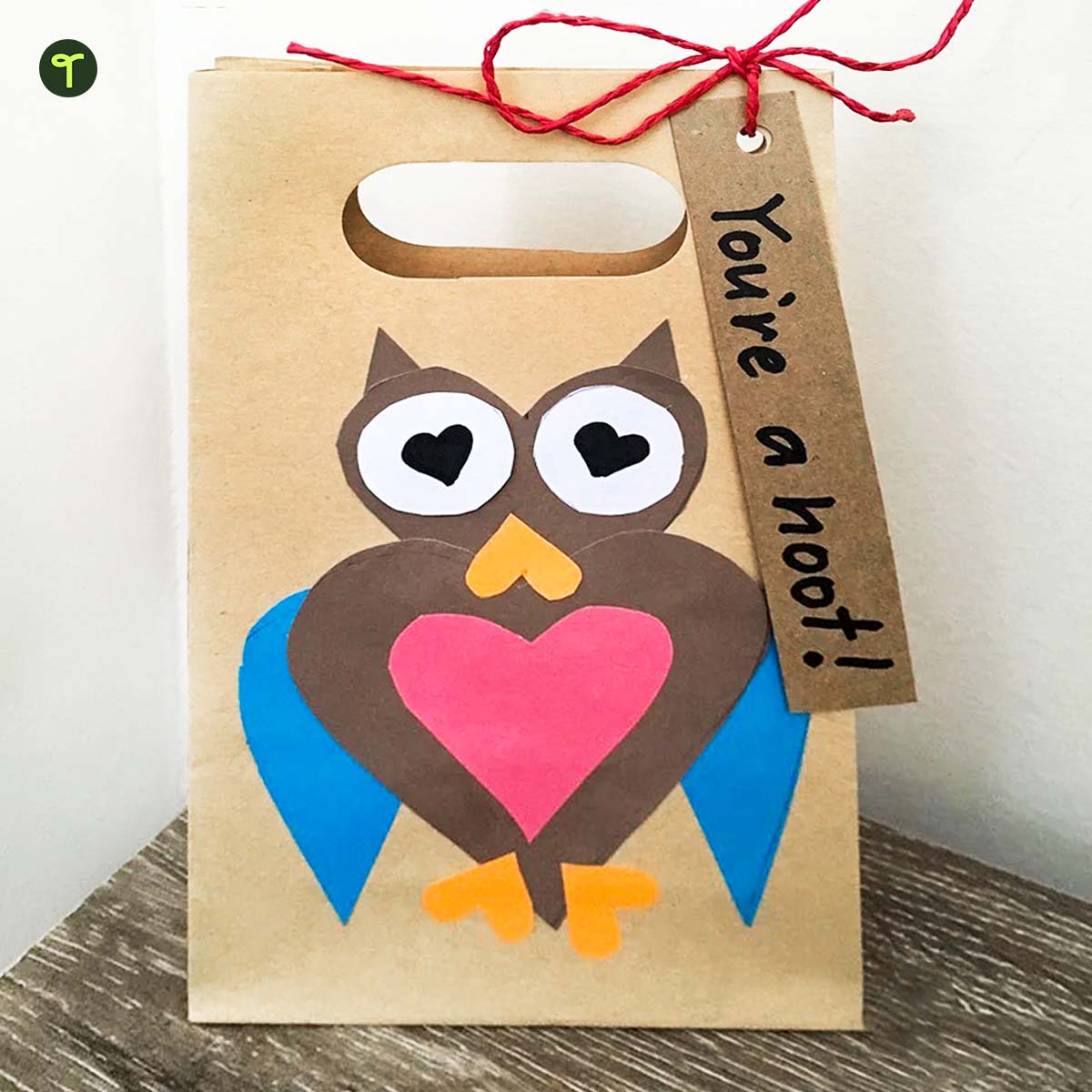 ---
Heart Threading
Develop fine motor skills while creating a gift for your students to bring home to a loved one.
Print the free Heart Template on cardstock, cut it out, and punch holes around the edge of the heart. Using a piece of yarn, have your students thread in and out of each hole around the heart. Make sure you tape the end of the yarn to the back of the heart before the student begins threading, and tape the end to the back when they have finished the last hole.
Once they have finished threading the yarn, have them ball up pieces of red tissue paper to fill the middle of the heart. Not only does it make the heart a bit more festive, but it is an easy way to build the muscles in your students' fingers!
You can leave it at that, or you can turn it into a Valentine's Day card.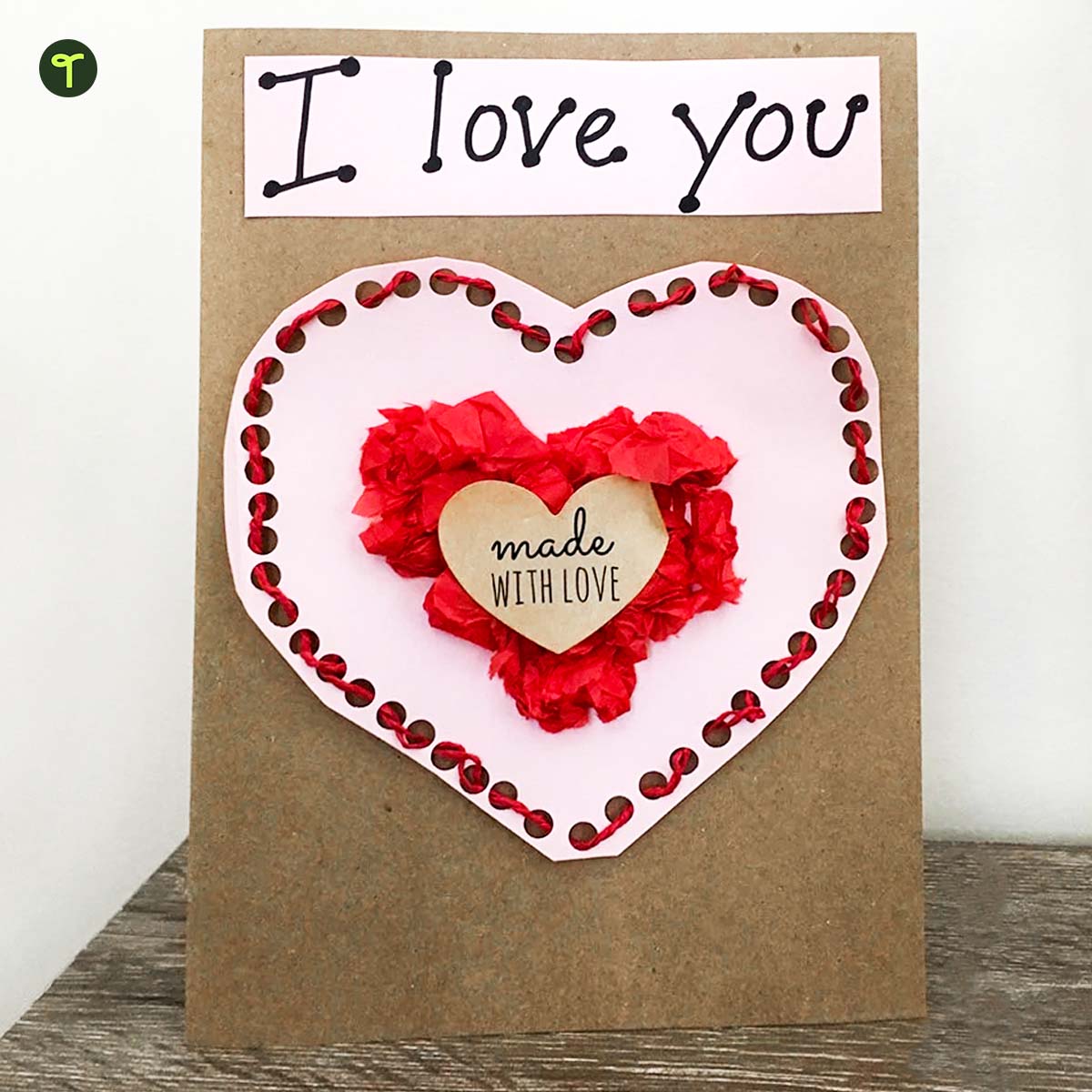 ---
I Love You to Pieces – Valentine's Card
Here's another fun Valentine's Day card idea to make with your class. Using our I Love You to Pieces Valentines Day Card template, provide students with small square pieces of tissue paper to stick inside the heart. These become the 'pieces' of the heart.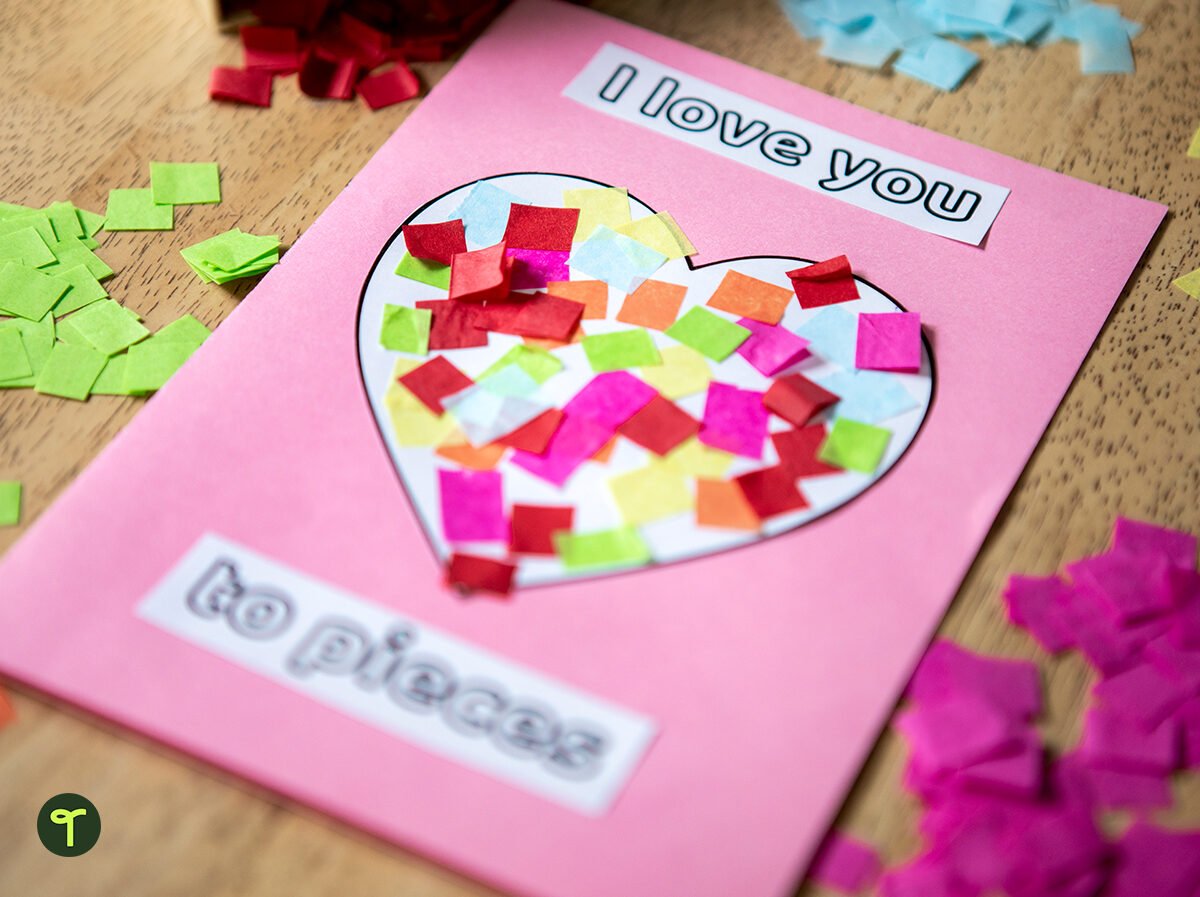 ---