It's that time of year when the teachers on our team start thinking about Valentine's Day craft ideas for the classroom. This is a holiday that can quickly take over if you let it, so how do you balance the fun of a heartfelt celebration with all that you still have to get done in February?
Get ready for the ultimate list of kid-appropriate classroom crafts for Valentine's Day that's been carefully created by our teacher team!
In putting this list together, we had a few criteria. We wanted to develop a list of crafts that:
Wouldn't make too much of a mess in the classroom
Would apply to a variety of grade levels (you'll find stuff for kindergarten, 1st grade, and even those upper elementary grades here)
Won't take too much time out of the school day
Won't cost you an arm and a leg in extra supplies
Will give your students a taste of the joy of this sweet holiday
Nixed from the list were ideas that didn't fit the criteria — which means you aren't going to see those awfully cute hearts one of our teachers used to have her second graders sew because they proved to be too much work in the long run! As a bonus, we did add a few that have educational applications to the list too!
Short on time? Skip straight to Valentine's Day printables.
Valentine's Day Craft Ideas for the Classroom
Heart Window Decoration
Looking to decorate the classroom for Valentine's Day and teach kids about translucent, transparent, and opaque in one shot? Creating faux "stained glass" hearts combines a Valentine's Day craft for the classroom with a hands-on lesson that shows how beams of light are impacted by different materials.
How to make faux stained glass hearts with your students:
Print out our heart template (it's free to download!), and trace it onto a piece of black cardstock.
Draw a smaller heart inside, and cut out the inside heart to create a frame.
Stick a piece of clear contact paper on one side of the heart so that the sticky side comes through the middle.
Trim off any excess contact paper.
Have your students stick small pieces of tissue paper all over the inside of their hearts, completely covering the sticky side.
Once they've finished covering the contact paper, cover the tissue paper with another piece of contact paper.
Trim off any excess.
You can now hang your students' hearts on the classroom window and make observations about how the different materials — the glass of the window, the dark cardstock, and the tissue paper — impact the light waves. Students can record what they see happening, what they think is happening, and what they're wondering about on a see, think, wonder template as part of the lesson.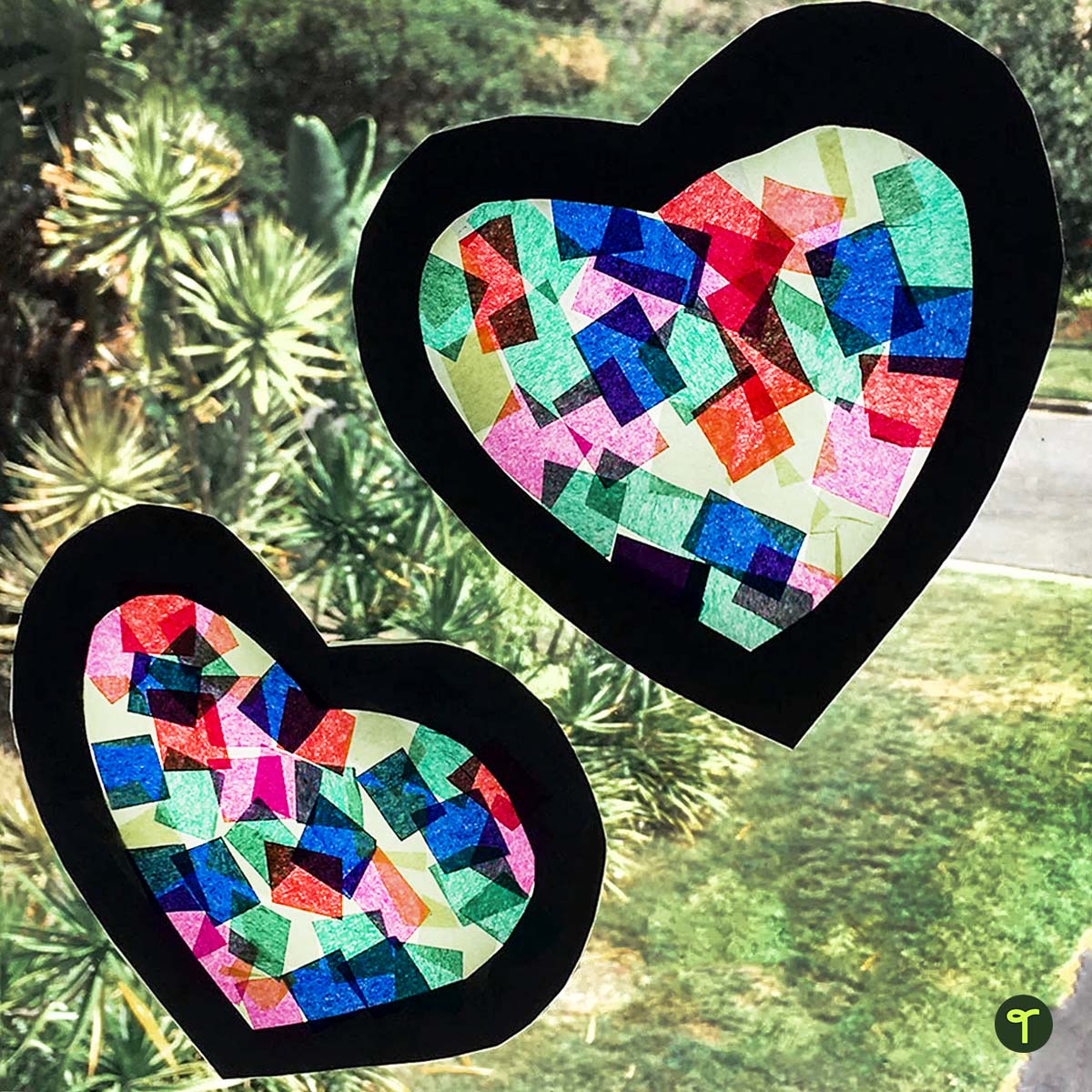 Build Heart Books
Another favorite Valentine's Day craft idea for the classroom among members of our teacher team is this heart book. They're a little more complicated to make than the stained glass hearts, but they're a great lesson in symmetry for your 1st and 2nd graders, and they work for a number of grade levels.
Once they're done creating their heart books, turn it into a social-emotional learning opportunity. Students can pass them around the room, and their classmates can write one positive thing about them in the book. This helps avoid hurt feelings that can occur when students hand out Valentine's Day cards to their peers and encourages empathy in your classroom.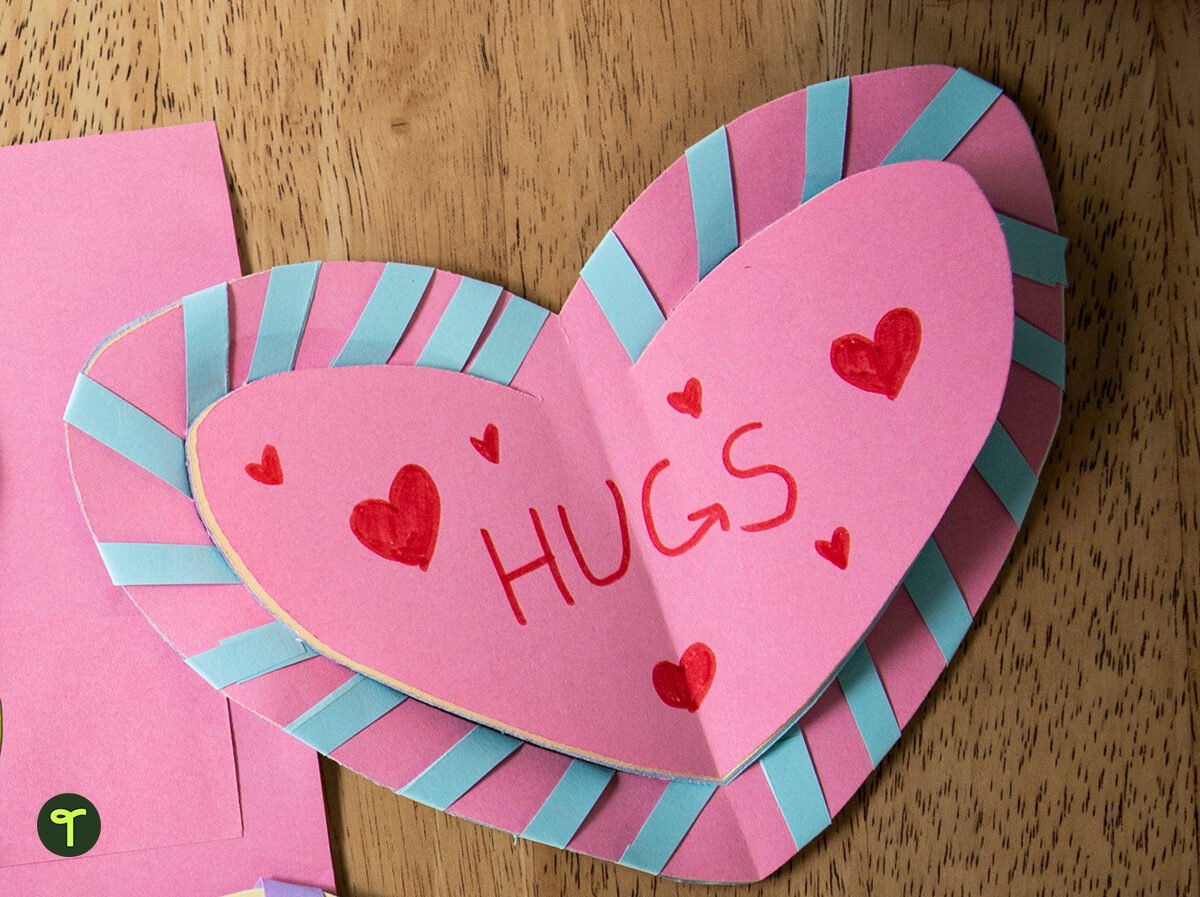 Check out our video for the full details on how to make these heart books, including step-by-step instructions.
I've Got My Eyes On You! Valentine's Card
Will you be doing a Valentine's Day card exchange in the classroom this year? Turn the card exchange into a writing activity by creating your own cards with this monstrously fun I've Got My Eyes On You Valentine's Day Card Template or the printable You're Out of This World Valentine's Day Card template.
Having students make cards for classmates and practice writing fun letters is a good way to ensure every child gets a Valentine, and providing the templates in class helps to ensure even students whose parents cannot afford to purchase cards are included in the festivities.
To make the exchange more equitable and avoid hurt feelings, consider having students choose one name out of a hat. This will be the person they write their card out to, cutting down on all the time that would be spent on making individual cards for everyone.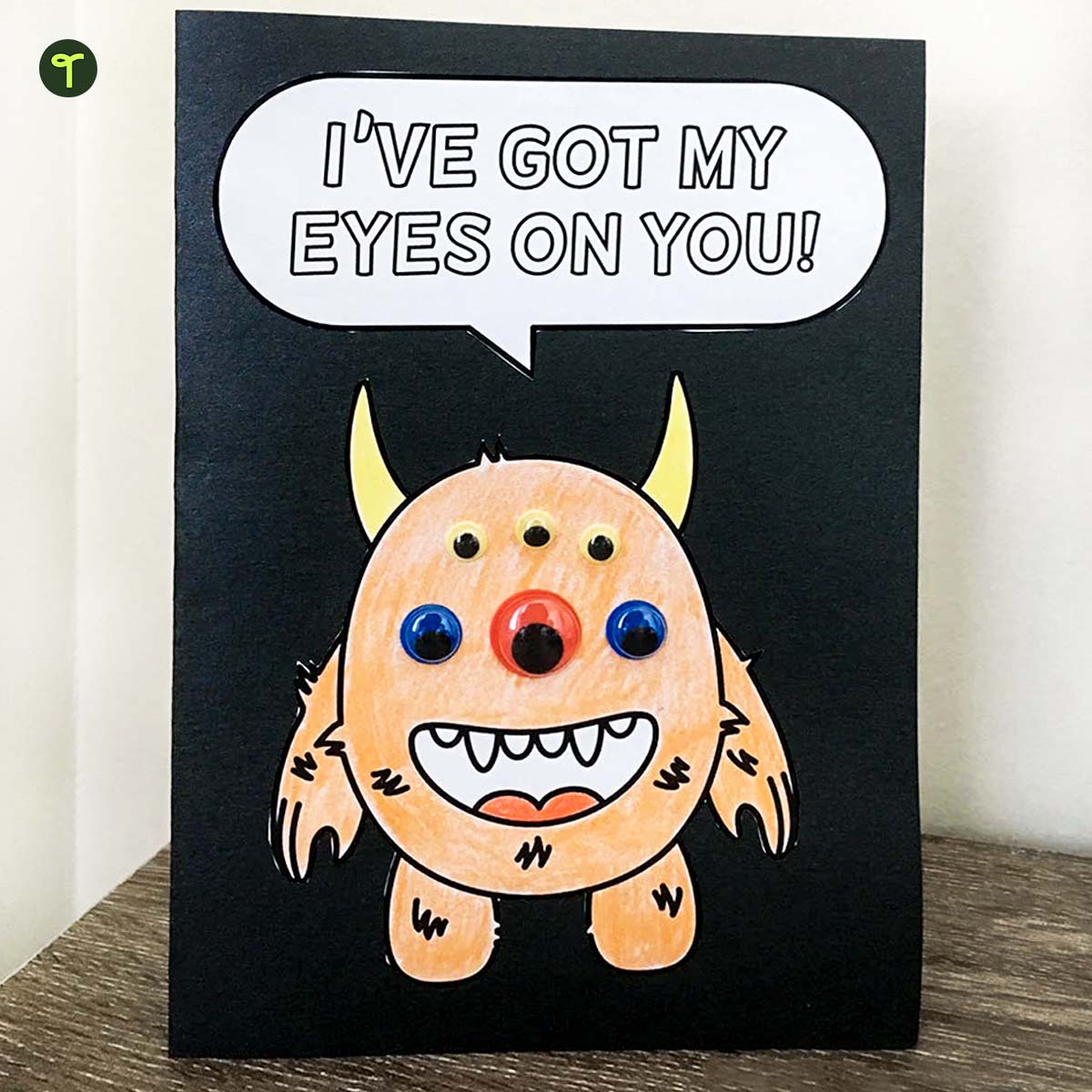 Create Valentine's Day Cardholder Bags
Keep the classroom neat and tidy with their own Valentine's Day bags to collect and then carry home their loot.
Students can make a favorite animal using construction paper and other craft supplies (like the owl below), then paste it to the front of a large paper bag. The bag can be left on the student's desk, and when students arrive in the classroom on Valentine's Day, they can walk around from desk to desk, delivering cards into the waiting cardholders.
Don't have time for students to start designing their own animals from scratch? Try these printable bee and fox bag templates for personalizing their cardholder bags.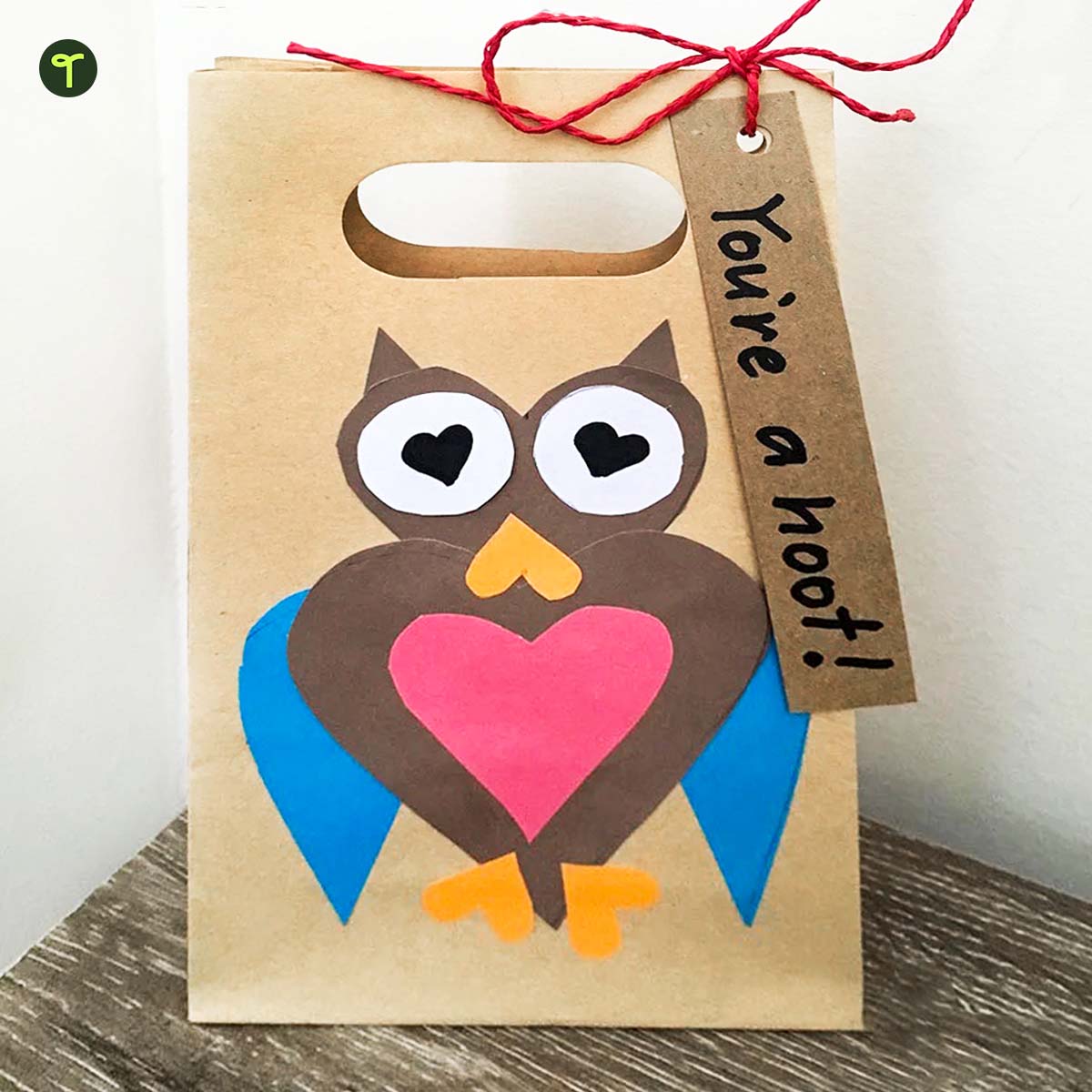 Teach Starter Teacher Tip: If you can't get paper grocery bags, ask students to bring empty cereal boxes into the classroom a few days before the holiday to create their cardholders.
Practice Fine Motor Skills With Heart Threading
Develop fine motor skills while creating a gift for your students to bring home to a loved one.
Print the free Heart Template on cardstock, cut it out, and punch holes around the edge of the heart. Using a piece of yarn, have students thread in and out of each hole around the heart. Make sure you tape the end of the yarn to the back of the heart before the student begins threading, and tape the end to the back when they have finished the last hole.
Once they have finished threading the yarn, have them ball up pieces of red tissue paper to fill the middle of the heart. Not only does it make the heart a bit more festive, but it is an easy way to build the muscles in your students' fingers!
You can leave it at that, or you can turn it into a Valentine's Day card like we did below by mounting the threaded heart on cardstock and adding an "I love you" message.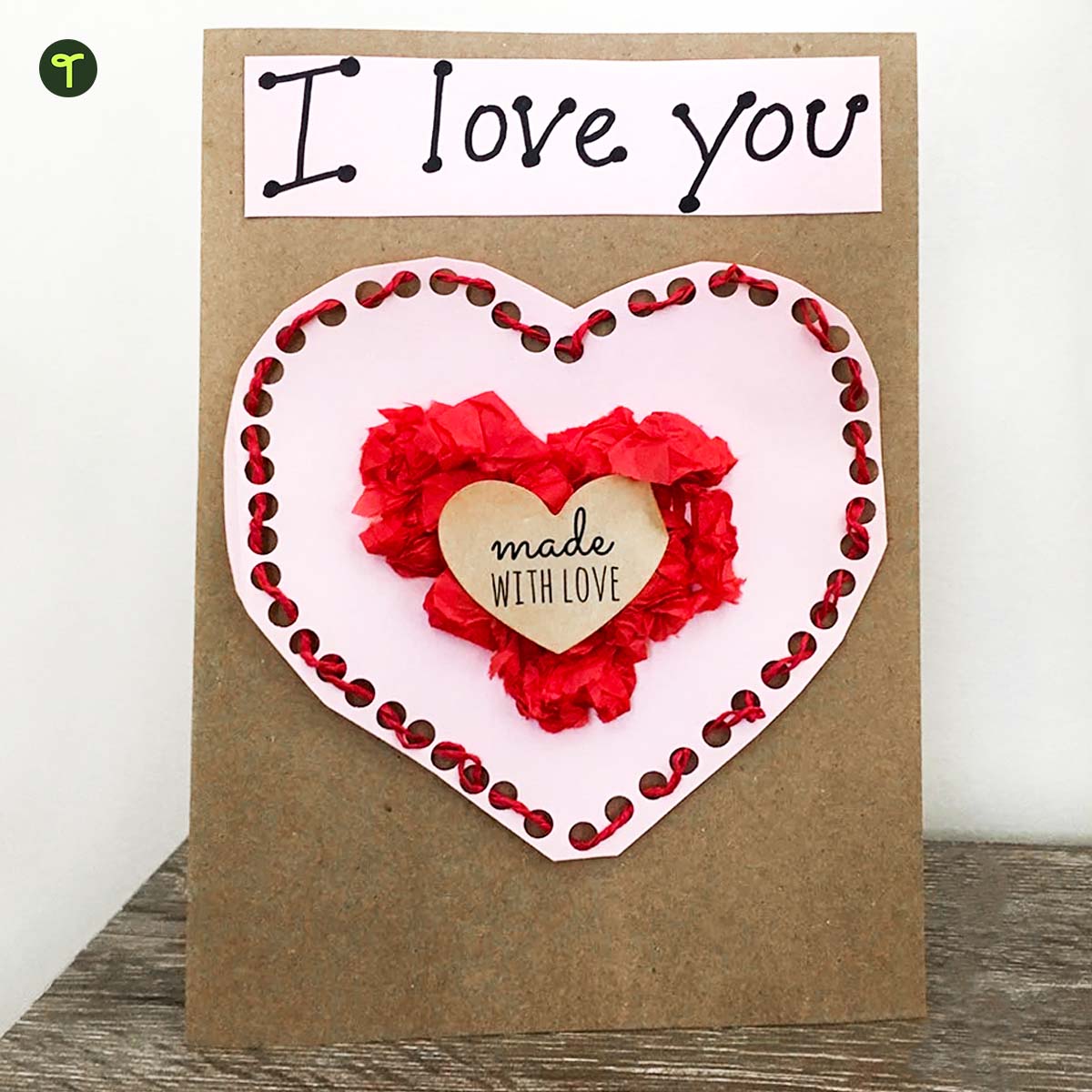 I Love You to Pieces – Valentine's Card
Here's another fun Valentine's Day card idea to make with your class. Using our I Love You to Pieces Valentines Day Card template, provide students with small square pieces of tissue paper to stick inside the heart. These become the "pieces" of the heart.
Once again, this is a craft that can be turned into a writing activity with students drafting messages for a special person at home.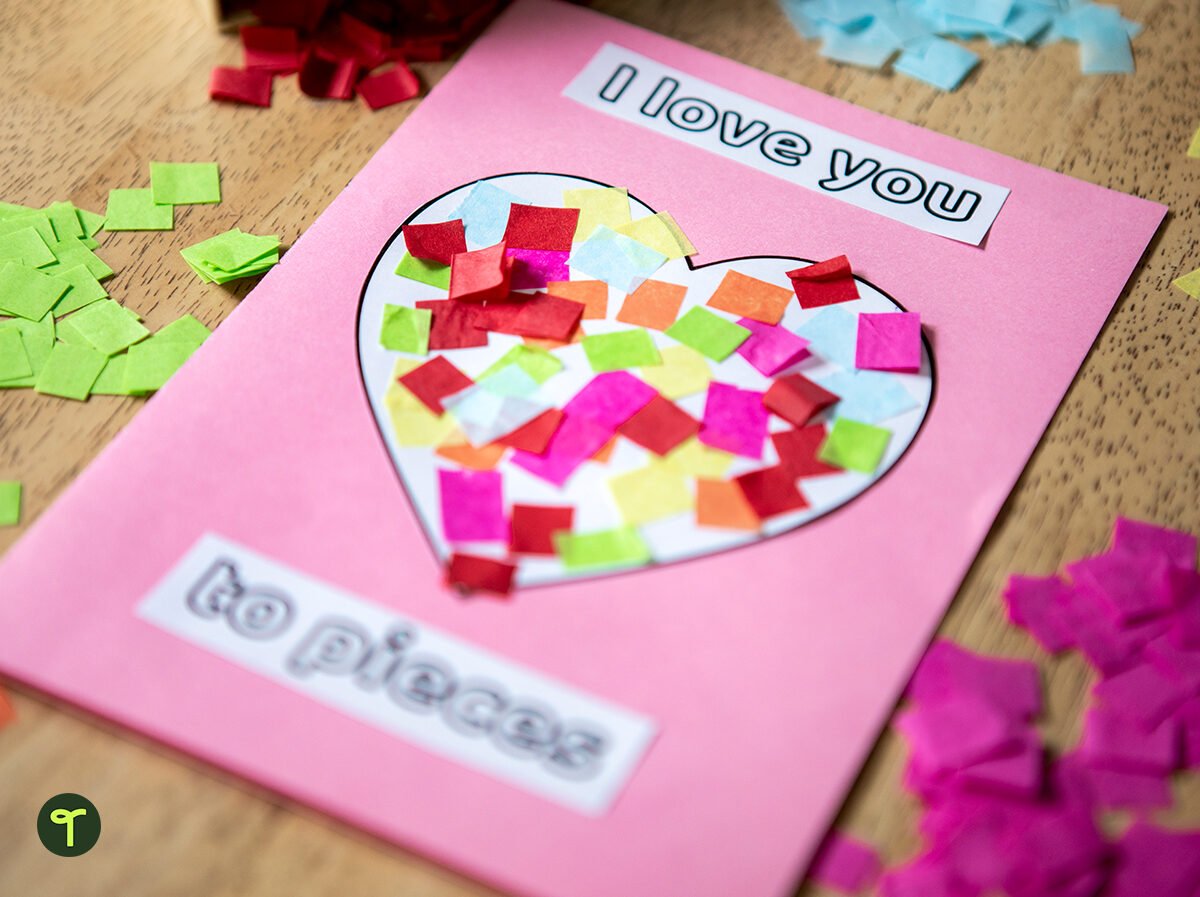 Need more crafty ideas, worksheets, and classroom decor? Check out our full collection of Valentine's Day Resources for the classroom.