"Teaching kids to count is fine, but teaching them what counts is best." – Bob Talbert
International Day of Peace or Peace Day is happening on the 21st of September and what better way to incorporate some peaceful activities into your classroom? Teaching kids about peace isn't just talking about war and conflict. Peace is talking about fairness, justice, inner-peace, respect for the environment and much more.

Joyful Peace Day Activities for Kids
This doesn't need to be a huge lesson. Spend some time talking about what the day is and why it's important. You may even like to read one of the suggested stories at the bottom of this blog and then complete one of these cute classroom craft ideas to display in your classroom as a talking point for visitors to your classroom.
Why not invite the Principal into view the students work and hear what they have to say about International Day of Peace?
(1) Dove + Origami = Peace
The dove is a common bird that has very symbolic history. Many religions and cultures celebrate doves as a symbol of peace. The best part is that doves live all over the world.
Match the dove with the tradition of Japanese paper folding – origami, which has become a symbol of peace because of a young girl named Sadako Sasaki, and you have the ultimate International Peace Day activity. Why not get your students to follow along with this video to create their very own origami dove?
Hint: Pause as each step is completed.
(2) Pinwheels for Peace
Jump on board the pinwheels for peace initiative! This initiative uses a pinwheel as it symbolises childhood or a time when things were simple, joyful and peaceful.
Use our Mindfulness Pinwheel Template and have students create their own pinwheel and write words that relate to peace on the white space. They can even add a wish for the world on the pinwheel. Then 'plant' the pinwheels outside as a whole class or better yet, the whole school. The idea is that the spinning of the pinwheels in the wind will spread thoughts and feelings about peace throughout the country.
Make an impact by 'planting' the pinwheels in the peace symbol shape in the school yard.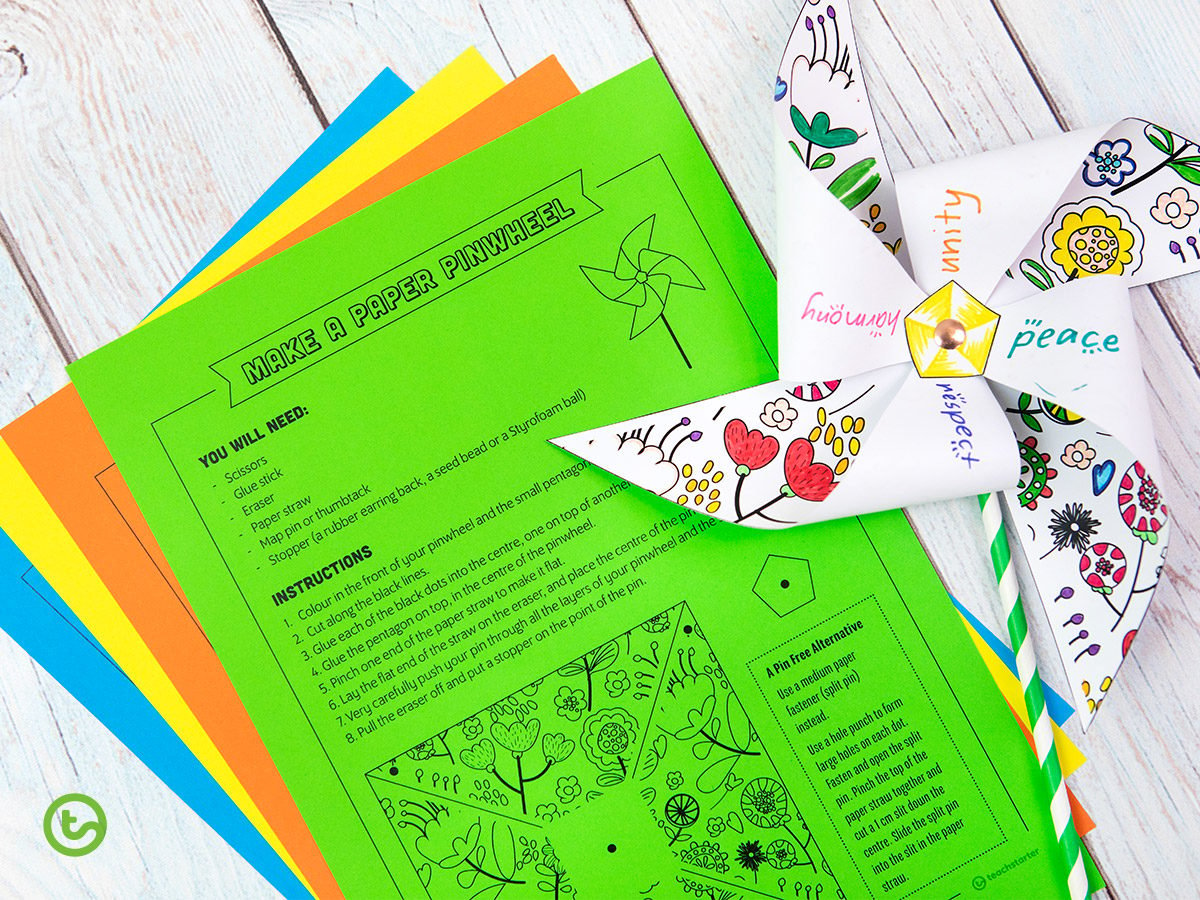 (3) Spread Peace to the Whole School
Apart from a fantastic way to introduce to your students the basic concepts of peace, this very catchy tune is the perfect assembly performance piece. Why not have your students learn this song to perform for the whole school to spread peace? But, be careful – it's super catchy and will be in your heard for days to come!
"One by one in our work and in our play, we are teaching peace by what we do and what we say!"
For the lyrics check out the Red Grammer website.
(4) 'Peace is…' Heart Mobile
Use our Heart Template. Print four hearts for each student on different coloured paper.
Get your students to write what peace means to them on one heart, then stick some coloured streamers or crepe paper on the heart. Fan out the other heart templates at the top to create this gorgeous peace mobile to hang around your classroom.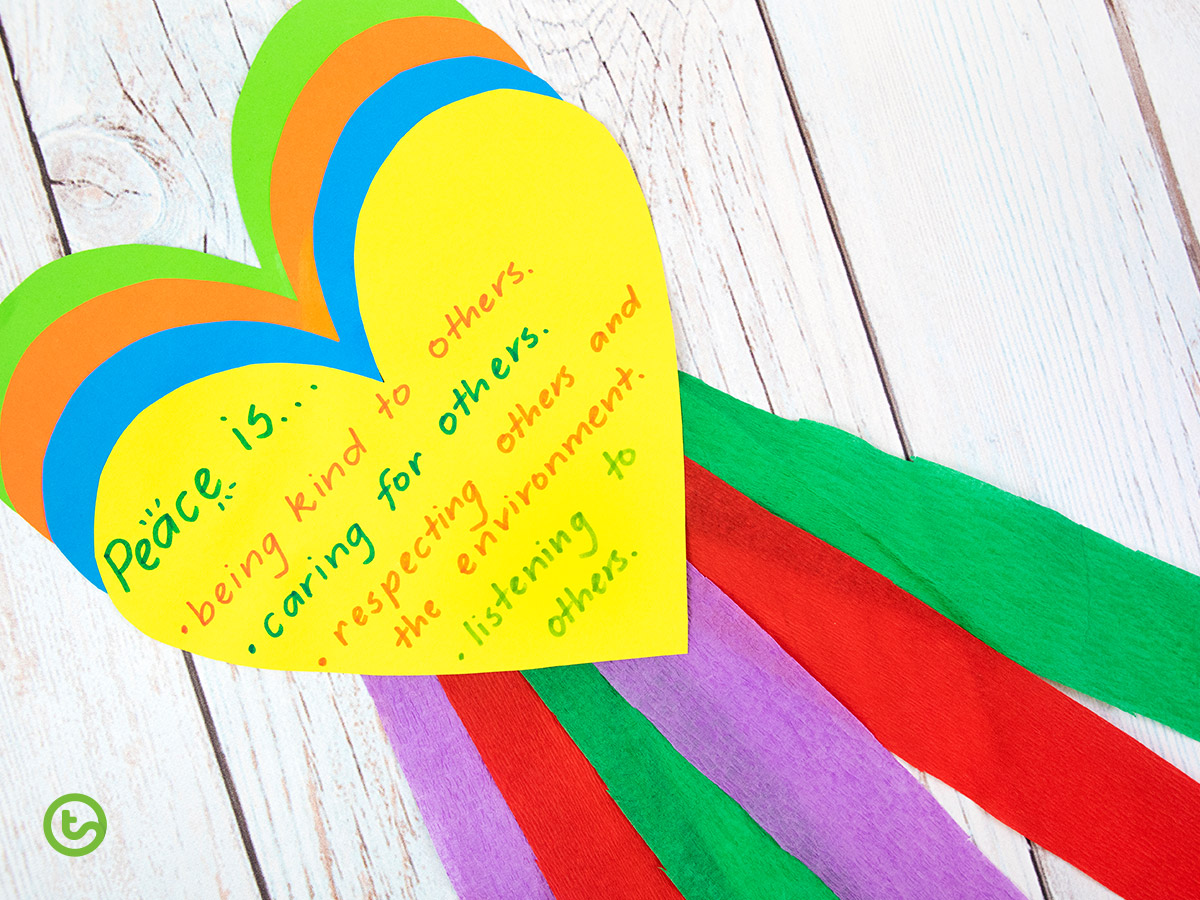 (5) Fingerprint Dove Display
Download our Peace Day Craft Templates and print the dove template on A3 card for this activity.
After discussing peace with your students get them to brainstorm things they could do easily in the classroom or school to commit to peace. Once each student has made their pledge have them add their own fingerprint to the dove to complete a whole class commitment to peace.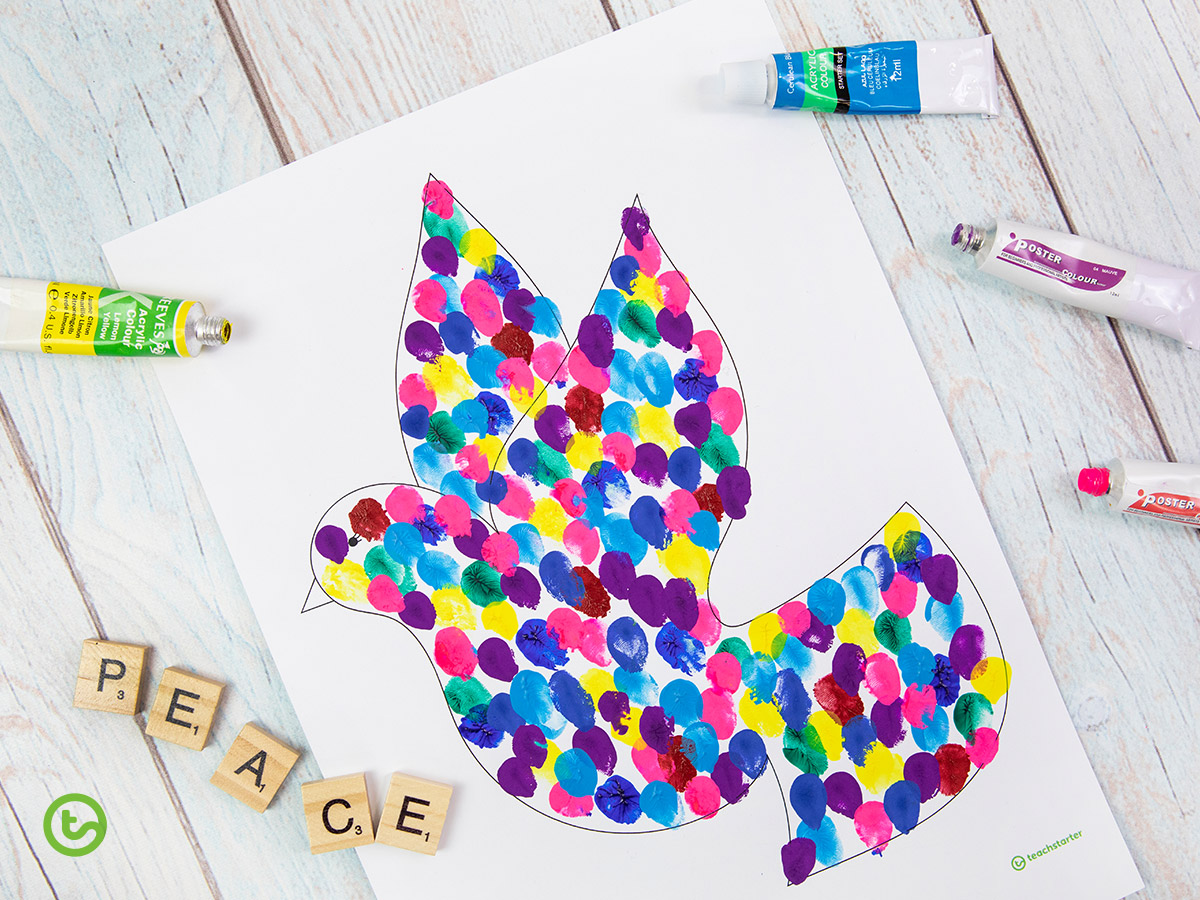 (7) Paper Plate Peace Wreath
Wreaths have much history and symbolism associated with them. They are usually made from evergreens and symbolise strength, as evergreens last even through the harshest of winters.
What you'll need:
paper plates (with middle cut out)
scissors
glue
coloured paper
Download and print out our Peace Day template on coloured paper. Place students in small groups so that they can share a variety of colours to cover their Peace Day paper plate wreath.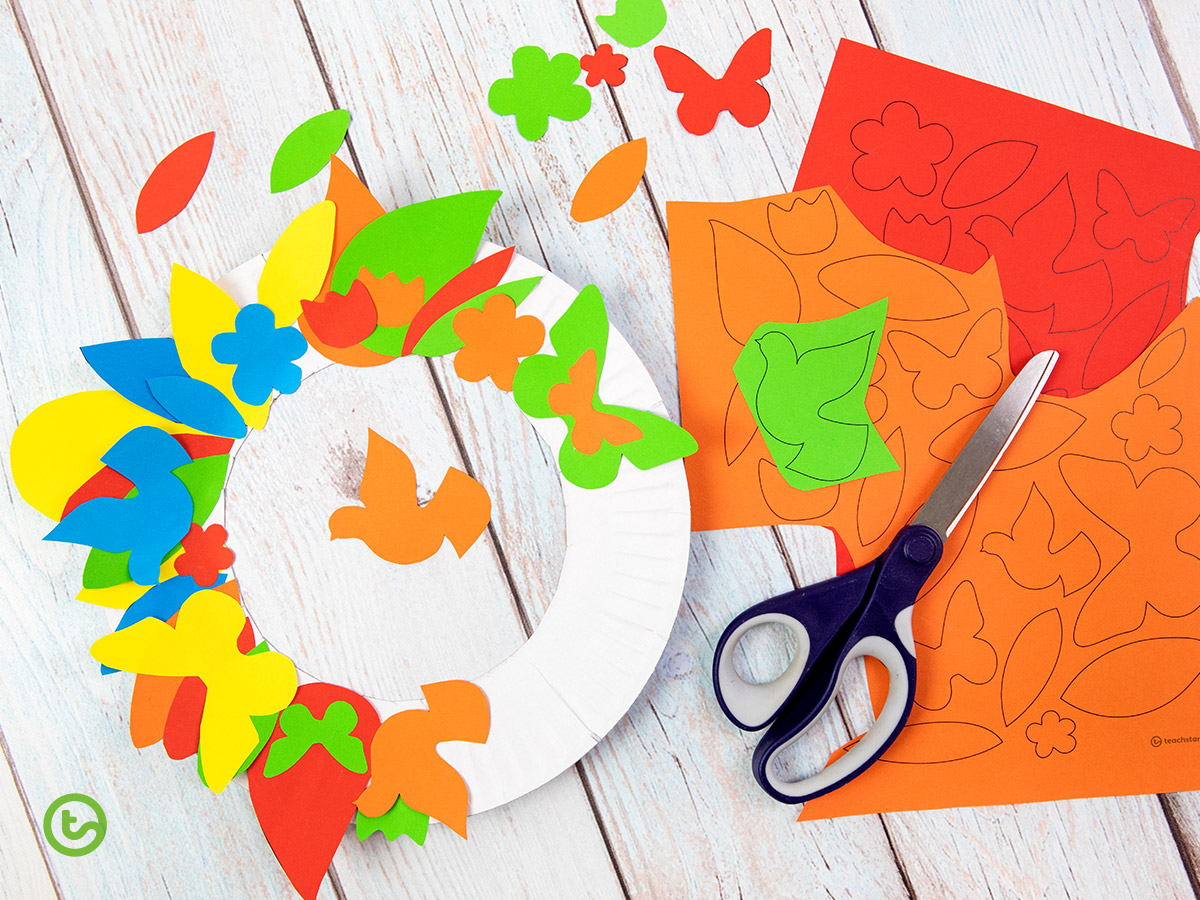 (8) Peace Day Vocabulary Word Search
Create a word wall of words relating to peace that your students can then use in their writing journals. Alternatively, use the words to create a word search with the words associated with peace using our word search widget.

(9) Peace Symbol + Olive Tree Leaves
Print out our peace symbol template that is included in our Peace Day download. You can get your students to decorate the peace symbol as you see fit.
We decided to use an olive tree branch and fill in the template with olive leaves for this very effective combination of peace symbols in one activity.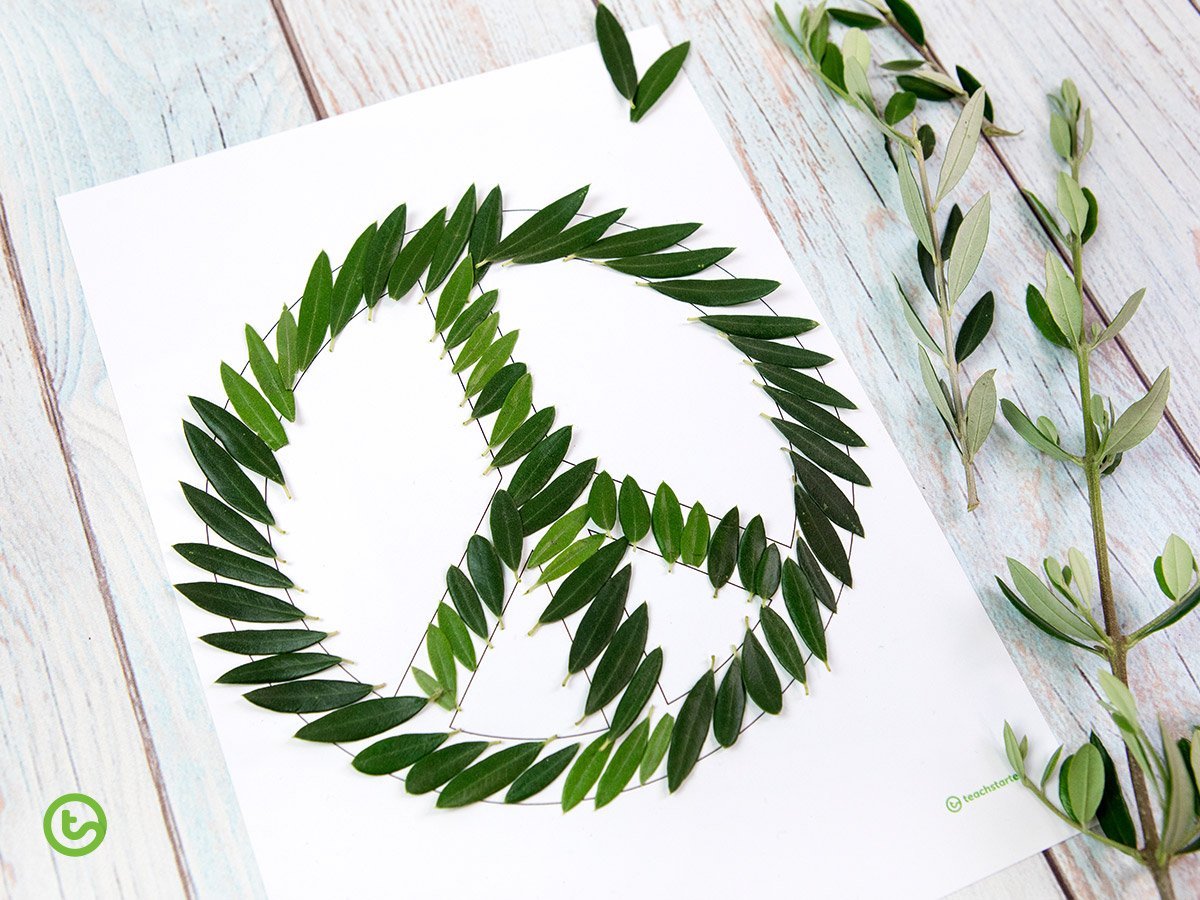 (10) Peace Day Creative Writing Prompts
Get your students to write about peace using a variety of writing prompts. We used our Butterfly tray labels to create these super easy writing prompts you could have ready for your students to use.
Some writing prompt ideas include:
What makes you feel peaceful?
Why is it important to have Peace Day?
Write a poem about what it sounds like, feels like and looks like to be peaceful.
How can we teach people to be peaceful?
Describe peace in five words.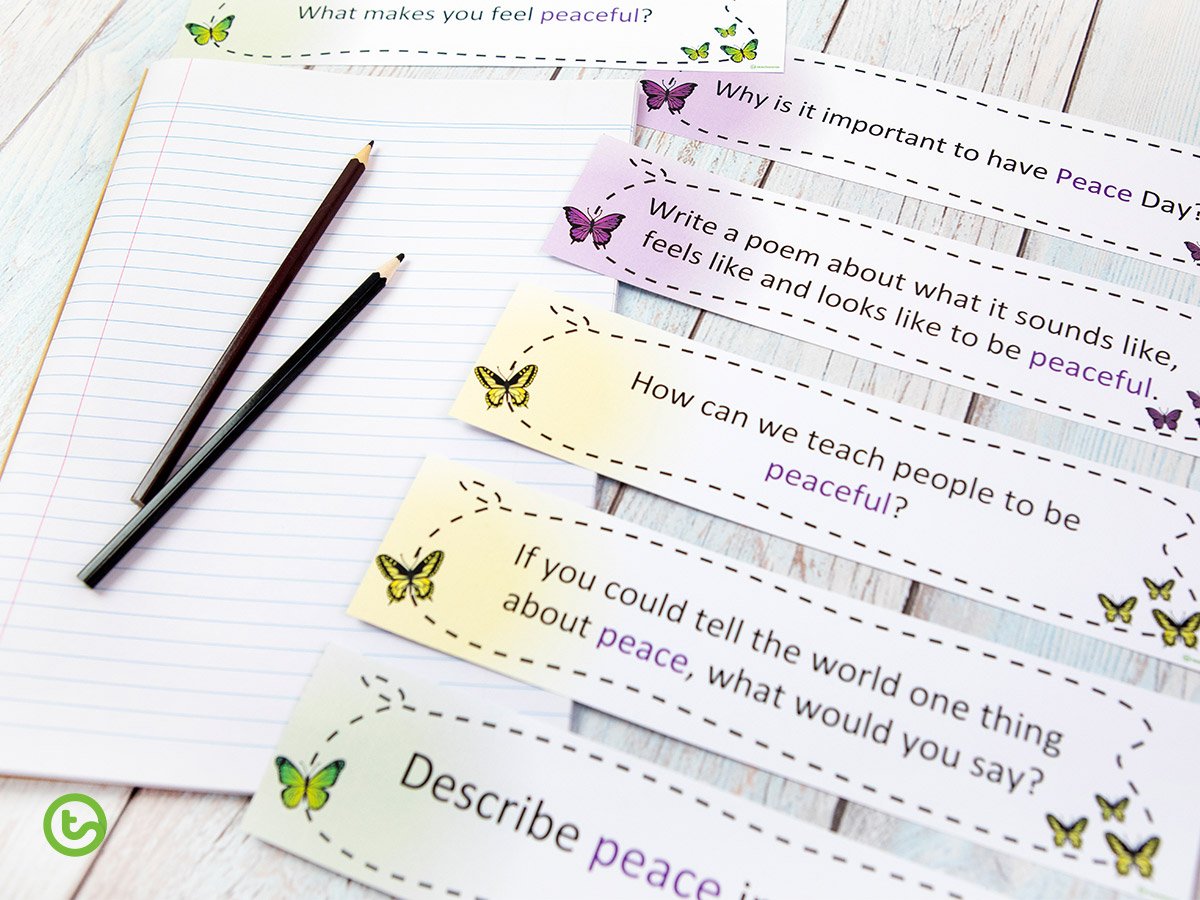 (11) Morning Thoughts
There seems to be more and more 'days' that teachers are encouraged to discuss with their students. It can get really difficult to pick which days you want to focus on in your classroom along with all of the other 'things' you need to teach. This is a neat idea to get your kids thinking about International Peace Day without taking up too much time.
Each morning the week prior to International Peace Day why not write a message and get your students to answer a question relating to peace?
Here's an awesome visual idea by our friend Sarah over at @teacherishappy.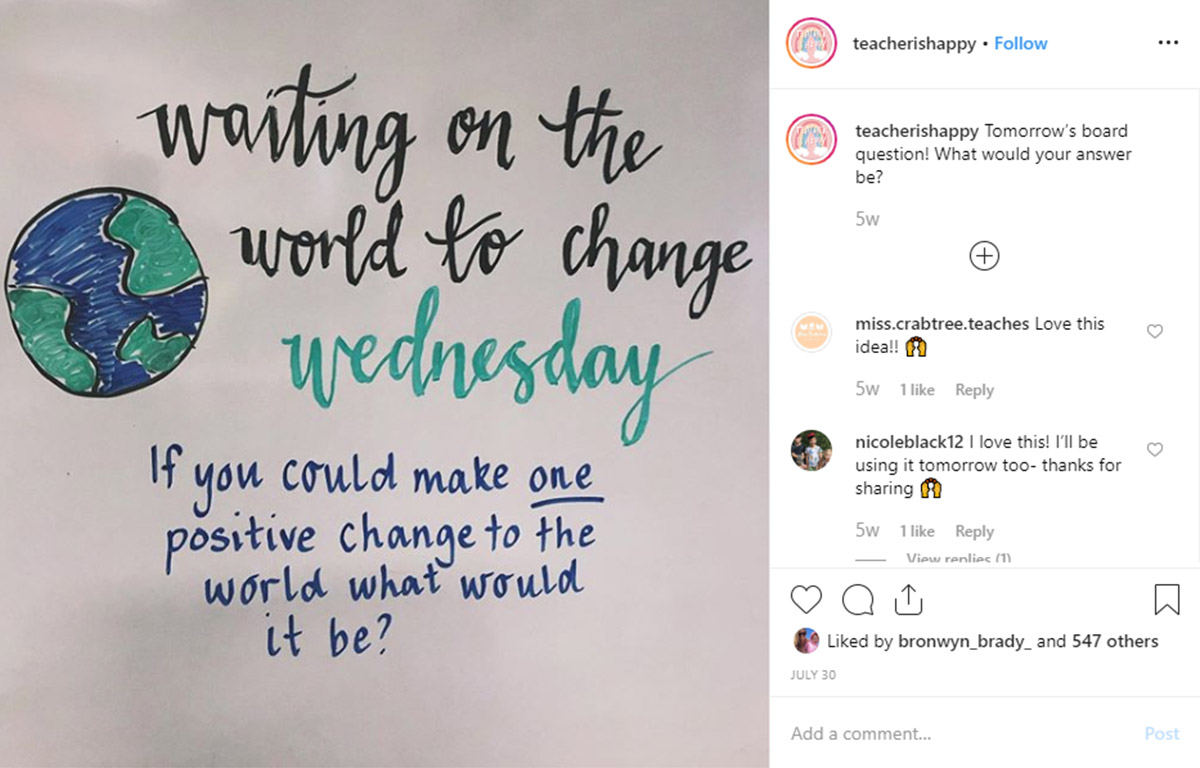 (12) Foster Inner Peace
It's important that children understand inner peace. When children practice mindfulness, they can share their peace with others. We have a huge collection of mindfulness resources for kids to get you going with this idea.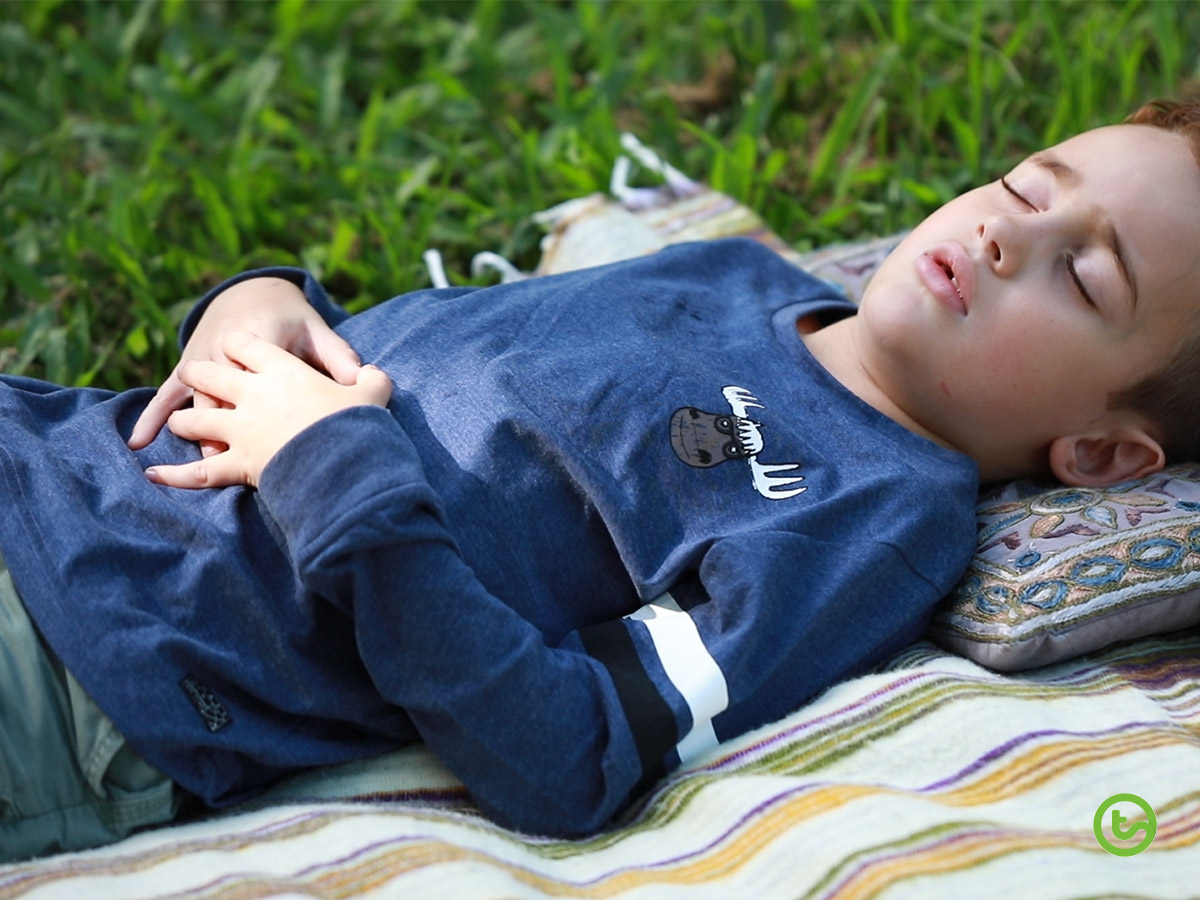 Here are some other tips about teaching kids about mindfulness:
Children's Books About Peace
There are a number of beautiful children's books that can help your students understand the many sides of peace.
Here are three of our favourites: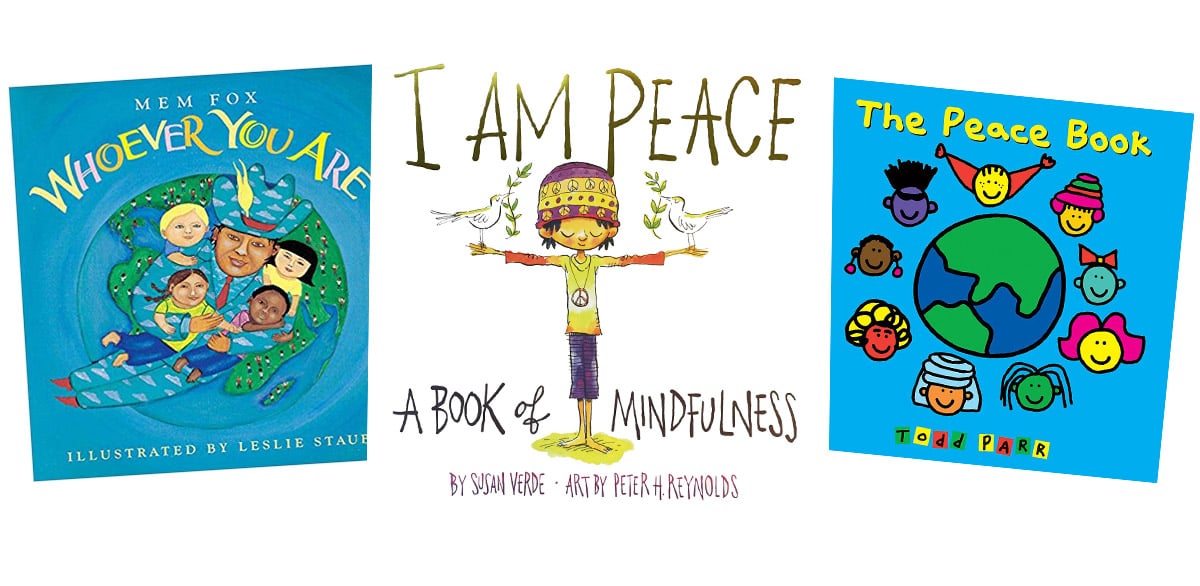 This story weaves its way across cultures and generations, celebrating the bond that unites us all.
When the world feels chaotic, find peace within through accessible mindfulness practice. Susan Verde's gentle narration and Peter H. Reynold's gorgeous illustrations bring mindfulness into a kid-friendly level.
This beautiful story delivers a positive message of peace with bright bold colours and silly scenes. Perfect for young readers, the importance of friendship, caring and acceptance are brought to life.
We'd love to see what you do in your class! Share an image on Instagram and tag @teachstarter for your chance to have your photo featured on our page!