Are you planning on discussing Earth Hour with your students?
Saturday, 28th of March is Earth Hour.  Set up by the World Wildlife Fund, it aims to bring awareness to the issues surrounding the environment.
There are many ways that you can recognise Earth Hour. The most common way to participate, however, is to turn off all your lights for 60 minutes!
Every year, hundreds of millions of people around the world switch off their lights at 8.30pm. They do this to show their commitment to protecting the planet for future generations, and to encourage governments and corporations to increase their efforts to tackle climate change.
Even though it's not during school hours, Earth Hour is a fantastic opportunity to discuss sustainability and energy conservation with your students! Whether you explore these concepts in the lead up to Saturday or use Earth Hour as a launching pad for more studies into environmental awareness, we have the resources for you and your class.
Why Do We Do It?
Teaching students about sustainability and environmental issues is an integral part of every modern classroom. Here at Teach Starter, we are proud to have an amazing array of teaching resources designed to help you encourage your students to become Earth-friendly members of society.
---
Early Years 2020 Classroom Earth Hour Activities
Take a look at these cute and informative Earth Hour Activities for little learners!
Earth Hour Reminder
In the lead up to Earth Hour, have a chat with your students about what the event is and why it's important. Encourage them to discuss Earth Hour with their families and switch off on Saturday night! For your more forgetful students, you may like to put a simple wristband reminder on each child to give them a bit of a brain boost!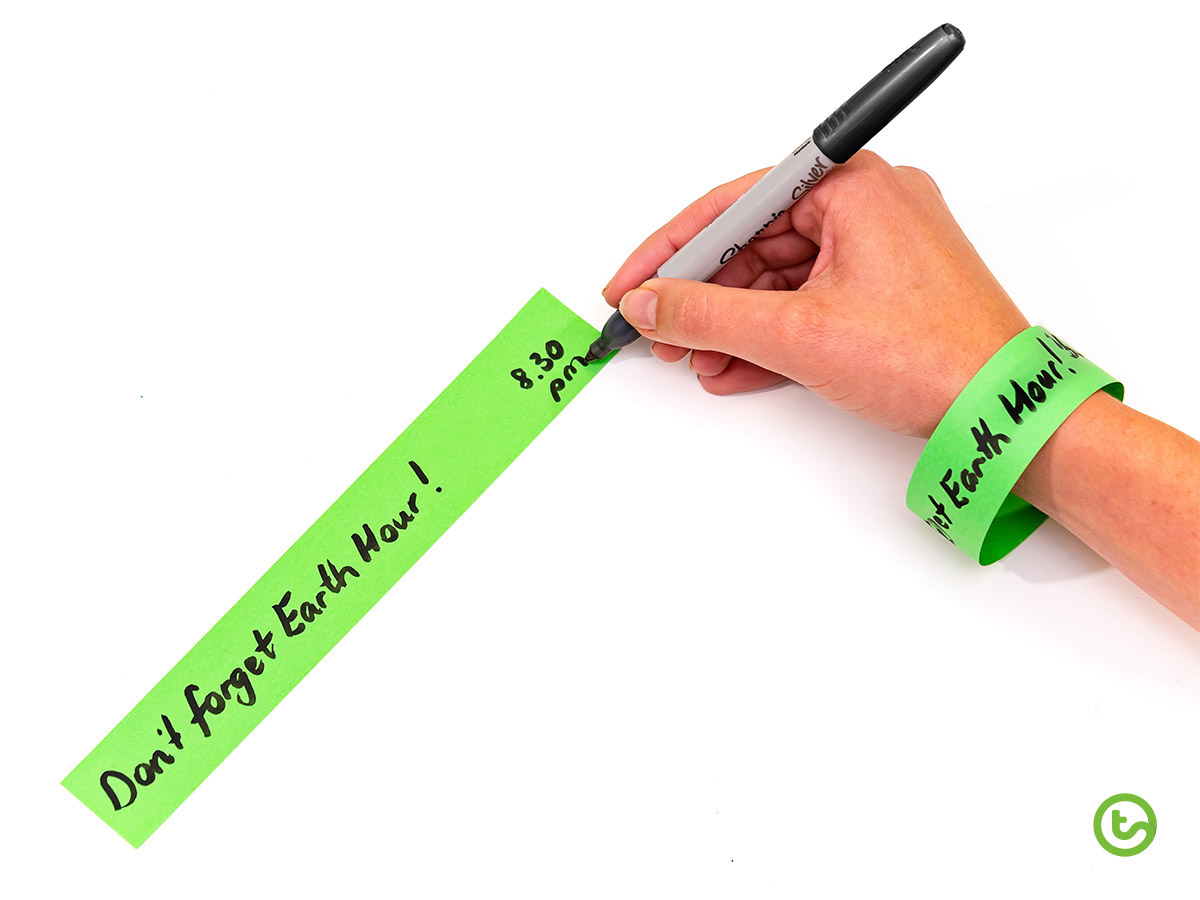 If you're going to be discussing Earth Hour following the event, this will provide your students with a hands-on experience to help them relate to the activities. Sharing a class discussion about how each child participated in the hour can generate ideas about other ways to participate in sustainable practices.
'I love…' Earth Activity
Your students will love to think about the Earth and all the ways they benefit from its natural features! Create a simple Earth Hour Wall display with our Earth Hour Poster and some beautifully heartfelt love notes from your students.
Ask your students to write about what they love about the Earth! I downloaded our Heart Template and printed it half size on blue paper for this easy earth-loving activity.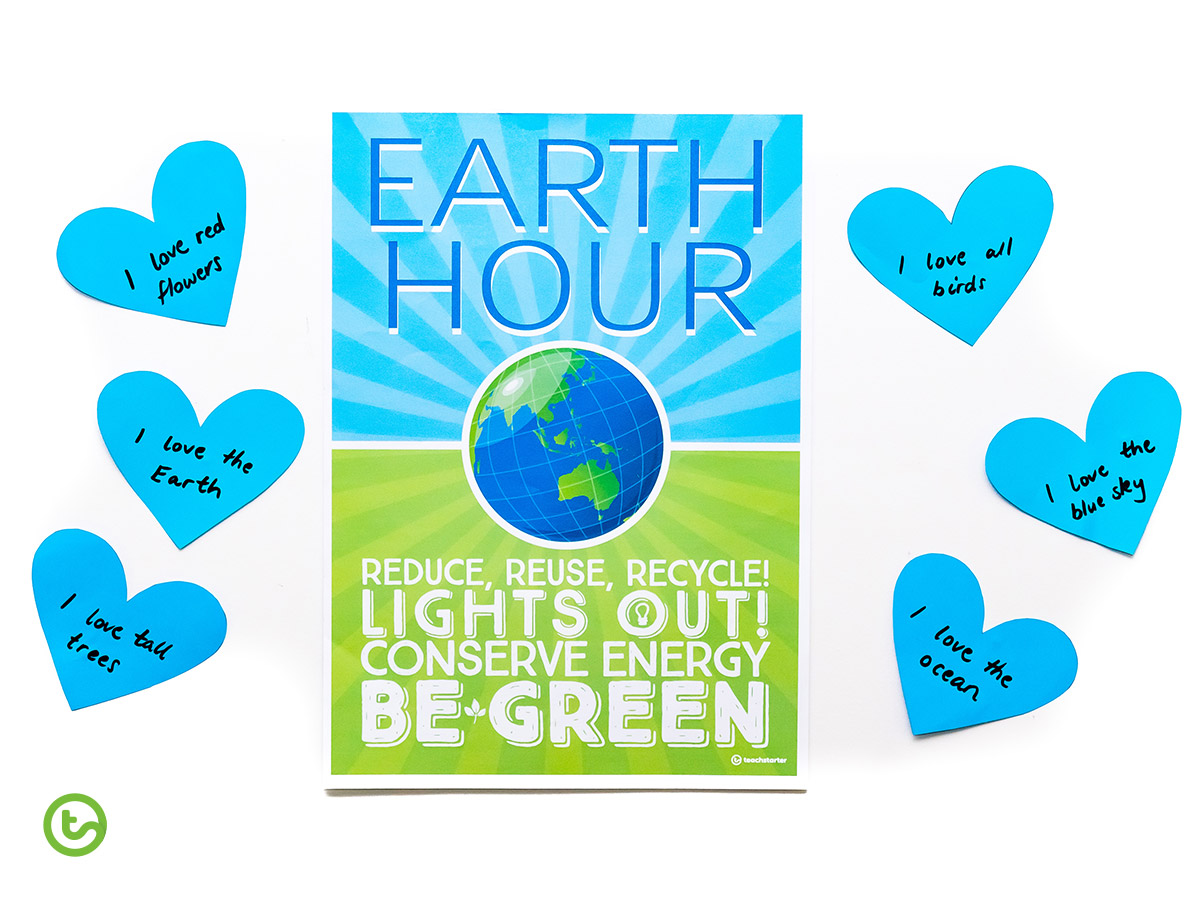 Global Warming Video for Kids
Show your students this gorgeous video about climate change:
Talk with your students about the things they can do to help save the planet and then talk about Earth Hour.
"We've Got the Whole World in Our Hands"
Create a display in your classroom using the heart from the Earth Day template.
Students colour in the heart-shaped Earth and cut it out.
They then trace their hands on coloured paper and stick each hand on either side of the heart.
Such a cute way to make it look like the whole world is in their hands!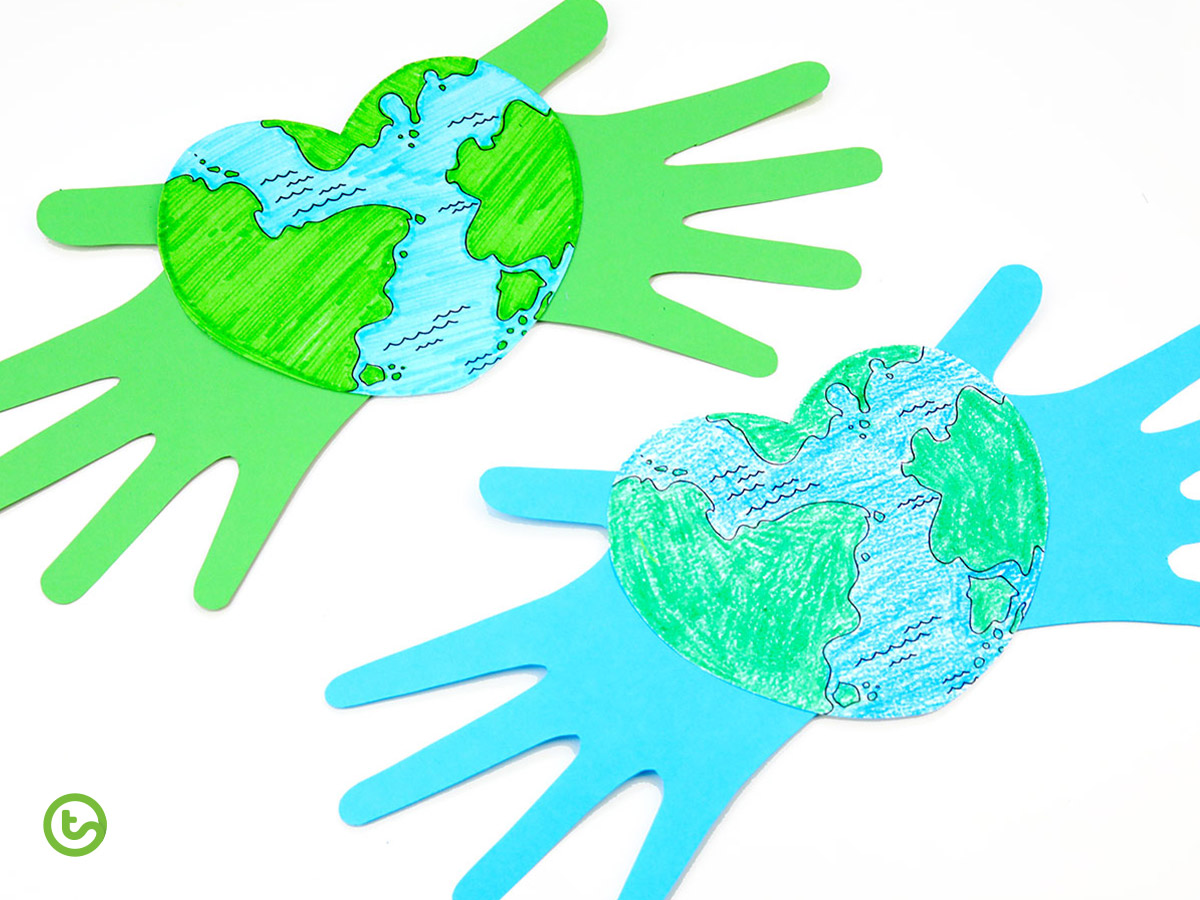 Encourage your students to write what their pledge to the Earth will be and stick these on your Earth Hour classroom display.
Printable Earth Hour and Sustainability Posters
Use our printable sustainability education posters to display around your classroom. Although Earth Hour is primarily to focus on using less electricity, it's a fantastic time to educate and hold discussions with your students about the importance of a variety of good sustainability practises.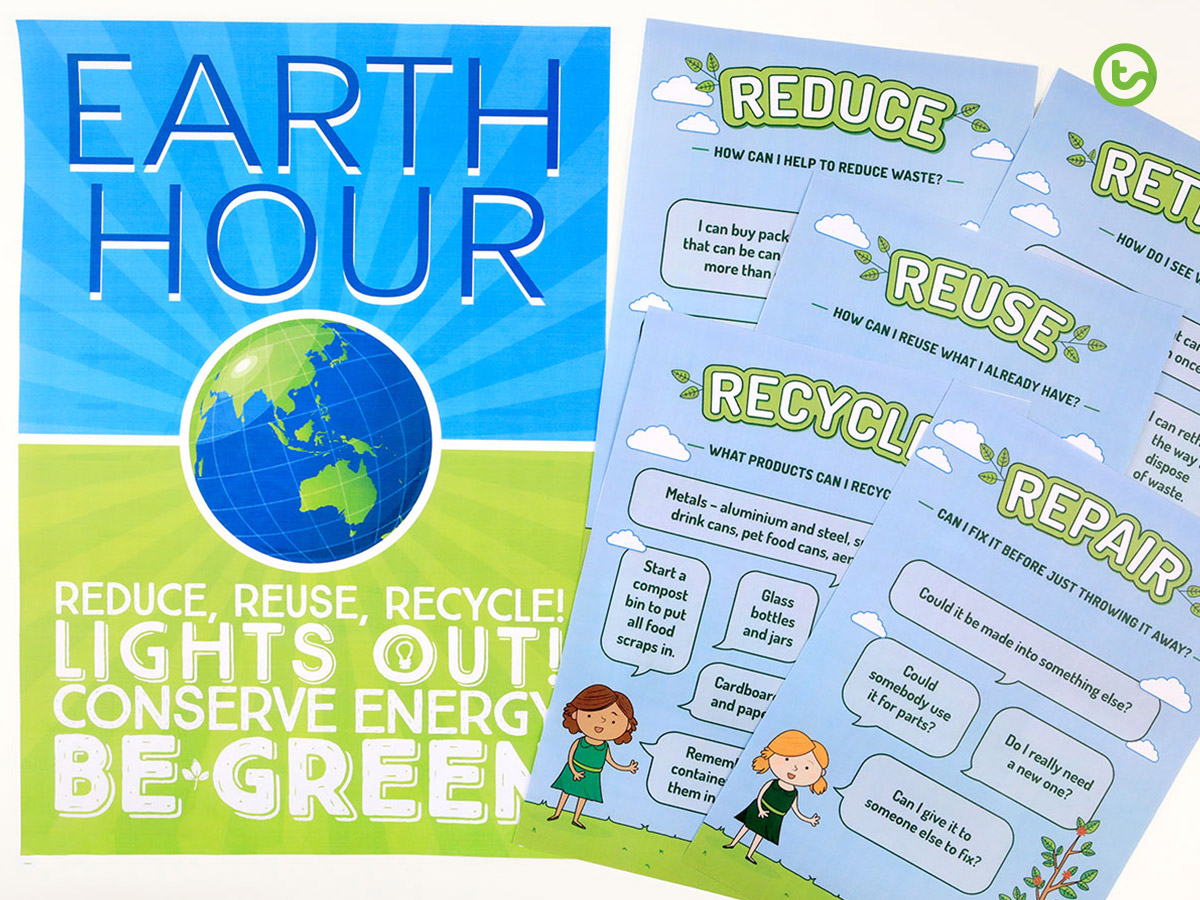 Environmental Awareness Flip Book
This Environmental Awareness Flip Book helps your students understand what is good and bad for the environment.
Students will love creating this gorgeous flip book and sorting images of everyday things into what will make the earth happy and what will make the earth sad.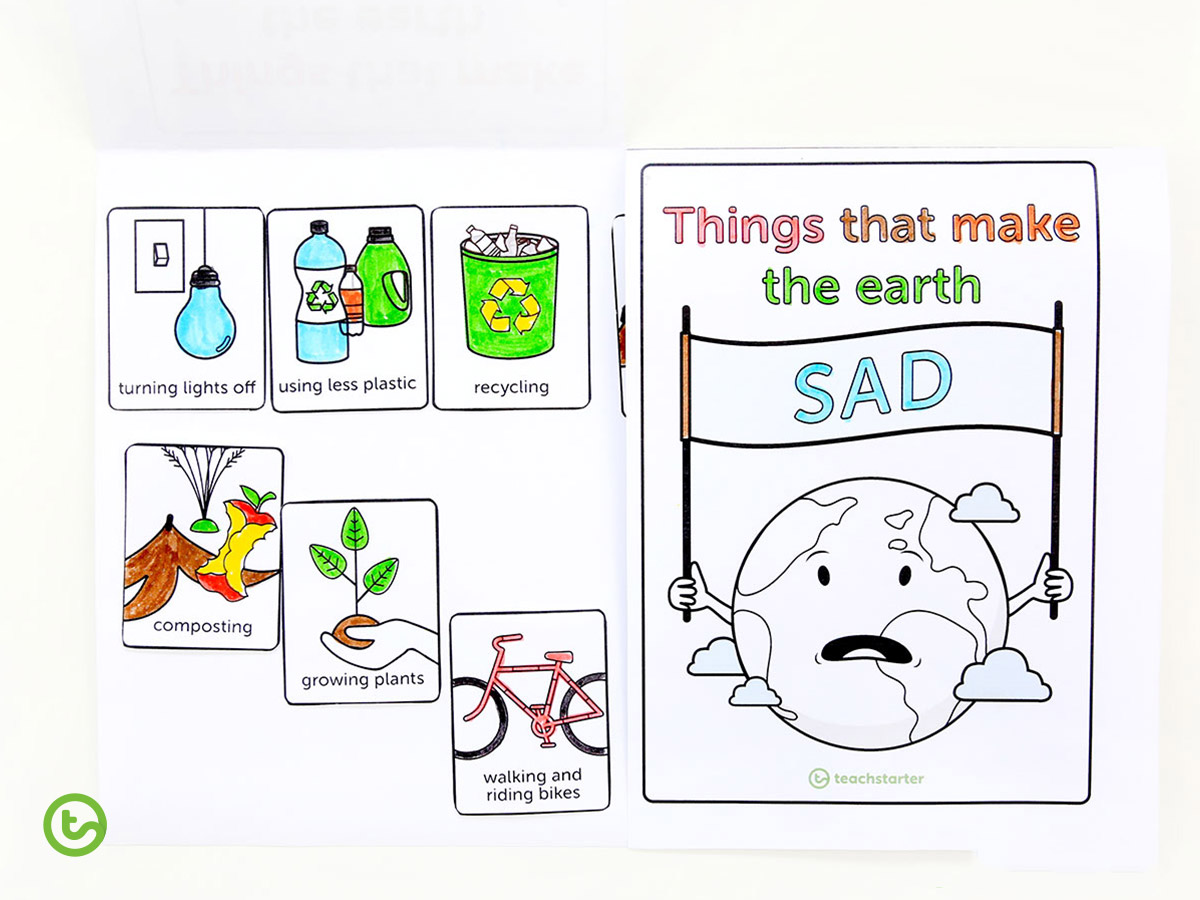 They can then colour the images in their new flip book.

My Promise to the Earth Activity
In this cute activity, students make a promise to the earth by coming up with four different pledges of what they are going to do to save their environment.
This a great activity to discuss different habits that they can change that will help save the planet.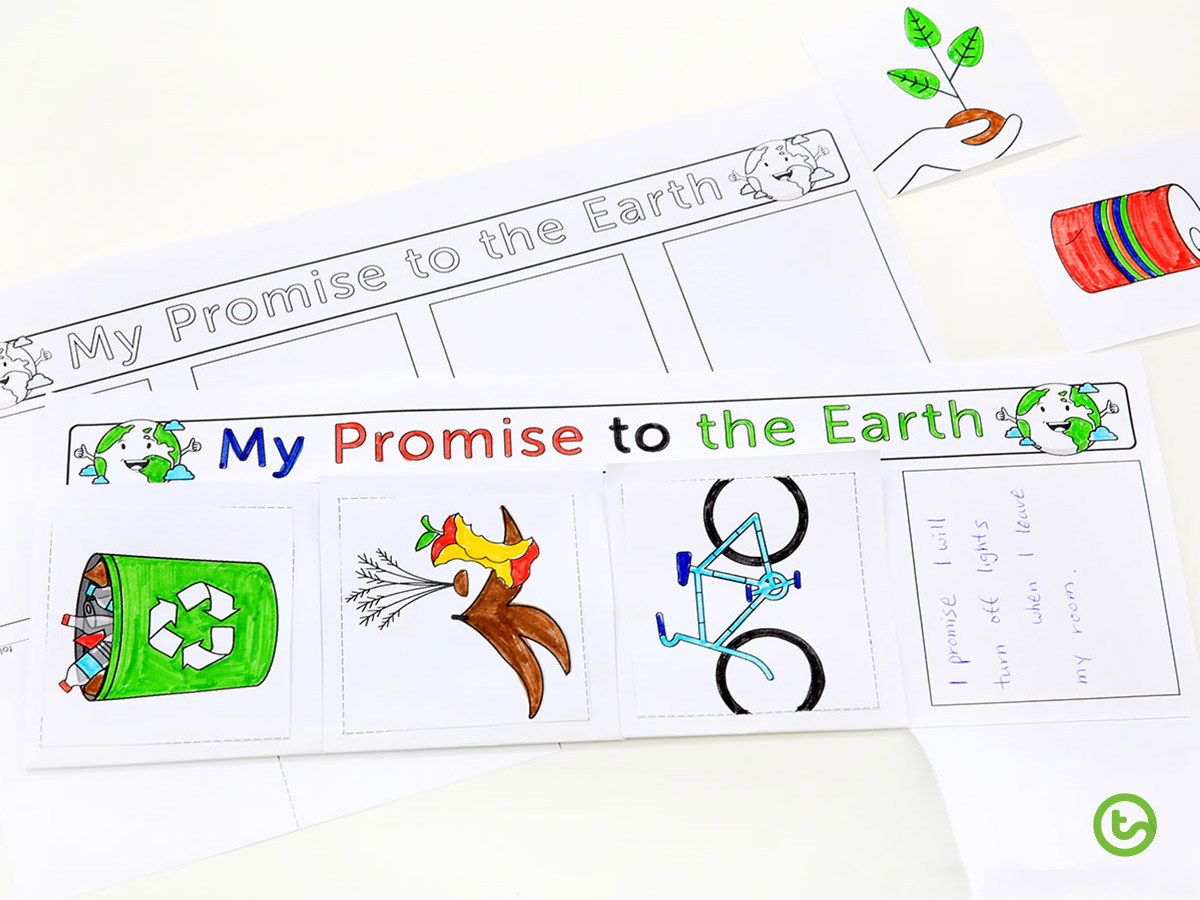 How to use this resource:
Download the My Promise to the Earth Student Template.
Trim the extra section off the left-hand side of the template where it states 'cut'.
Fold the template along the horizontal fold line.
Cut along the three small vertical dotted lines to create four different flaps.
Students pick four pictures that are linked to their own personal promises and stick each picture on the front of each flip section.
Students write what they promise to do under each of the flaps.
They can then decorate and stick in their workbooks.
Pictures to assist students in creating four promises to the earth include
turning the lights off
recycling
growing plants
riding bikes
not composting
picking up litter.
For those wonderful Middle and Upper Years teachers among us, read ahead for some great ideas on how to use Earth Hour as a way to promote sustainability in your classroom.
---
Middle and Upper Years 2020 Classroom Earth Hour Activities
Natural Resource Use in the 21st Century
Your students may not know how exactly turning off the lights can help the Earth. It's tricky to understand the concepts of energy production and emissions without a little bit of background knowledge!
Introduce them to the concept of natural resources with our Introduction to Natural Resources PowerPoint. Our Where Do Natural Resources Come From? Worksheet provides the perfect opportunity to follow up on this activity with a little bit of zooming in!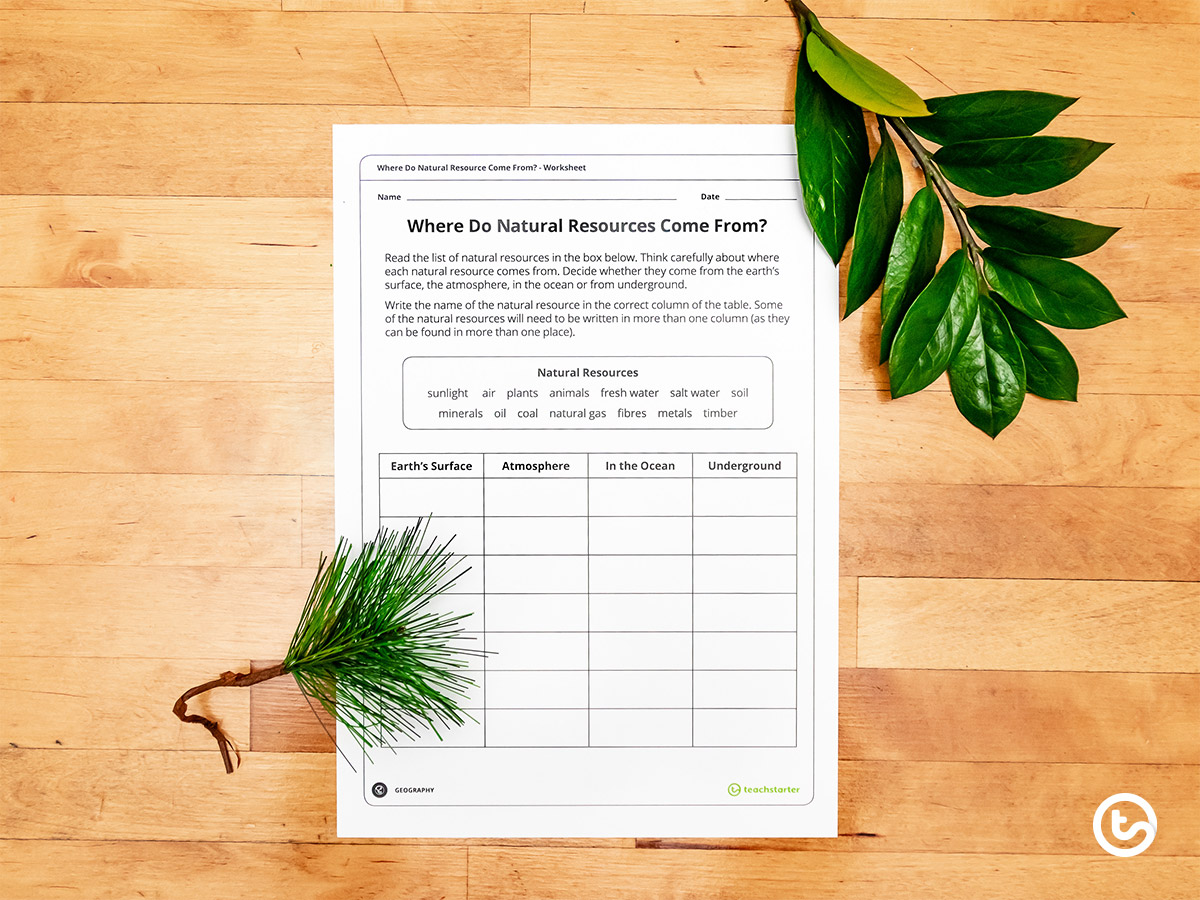 Finally, connect natural resources with energy production with the informative Natural Resource Use in the 21st Century PowerPoint.
Sustainable Use of Earth's Resources
Discussing how natural resources help produce energy to power our homes is the next step! Break down the different types of energy with our Renewable and Non-renewable Energy Posters.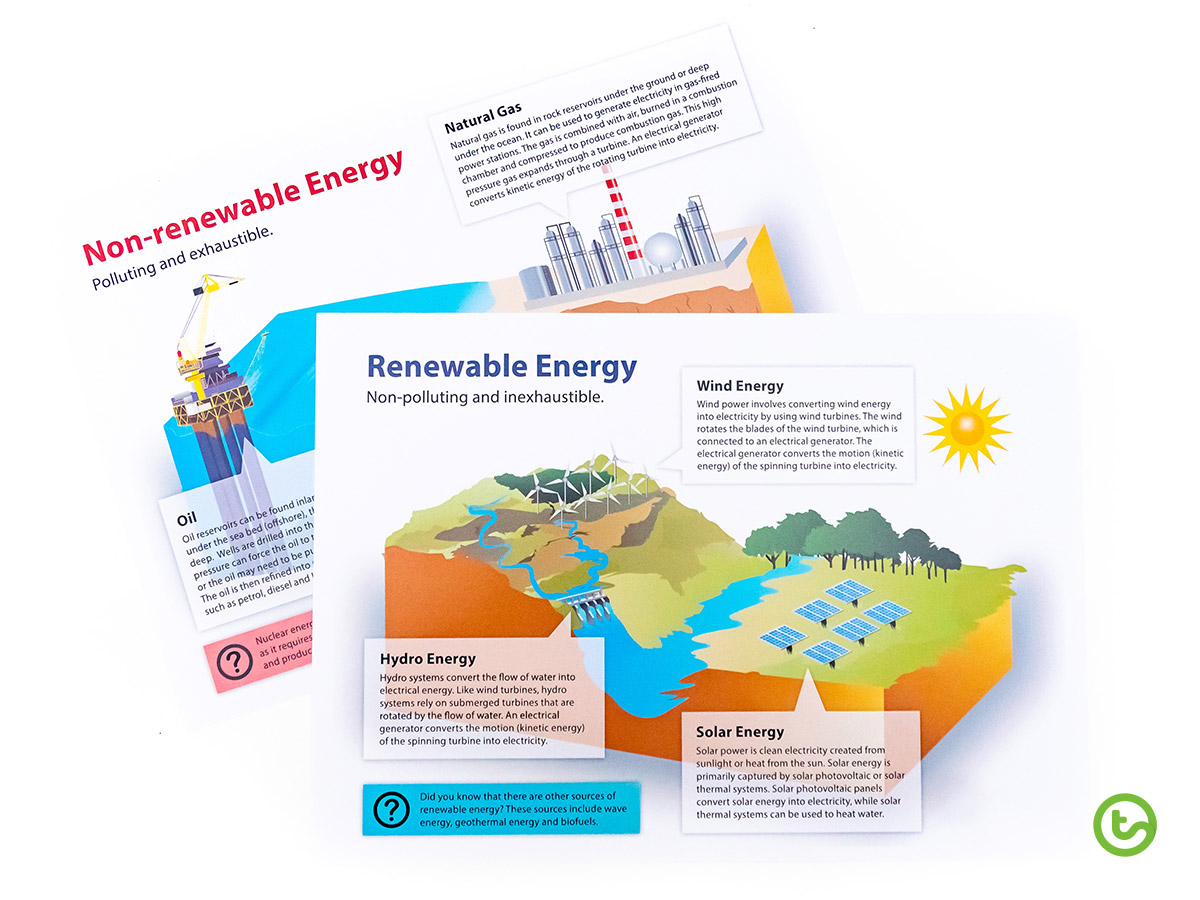 Ask your students:
Which type of energy, renewable or non-renewable, would be better for the Earth? Why?
What would happen if the resources to make electricity ran out?
In what way might turning off the lights affect natural resources on Earth?
What other options might people have instead of turning off the lights?
What other actions might people take to reduce their use of natural resources?
Your students will be able to demonstrate their understanding of renewable and non-renewable sources of energy with the Renewable and Non-Renewable Energy Sort.
Classroom Energy Audit
Once your students have a better understanding of exactly how the Earth helps our homes get electricity, complete your very own Classroom Energy Audit.
In this innovative resource, students will:
observe the lighting, heating and cooling, and appliances in your room
investigate your room's electrical usage
suggest actions to reduce your energy consumption.
Your class will love zooming around their room with their eagle eyes and putting their sustainable ideas into practice!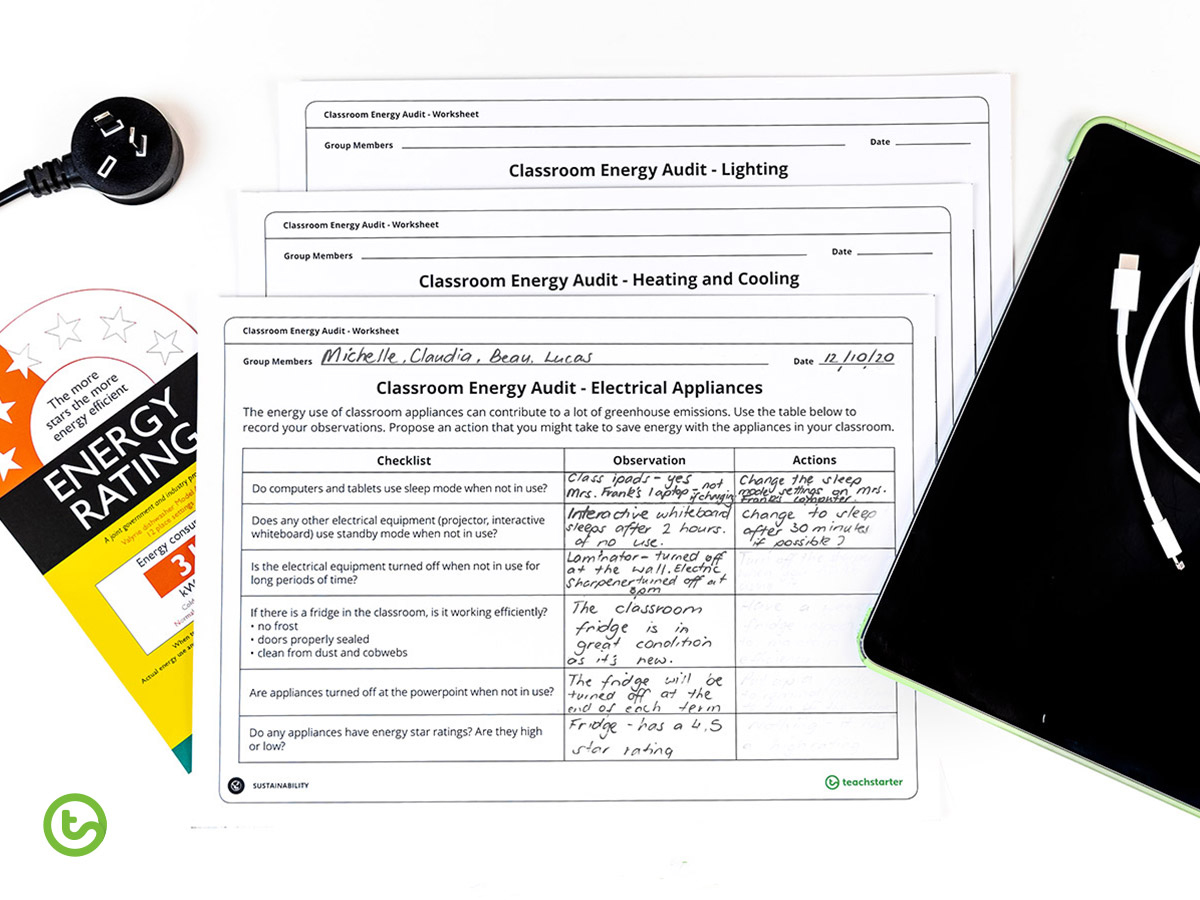 Exploring Other Energy Options
How could we use electricity more smartly?
Explore other options for providing electricity and discuss the benefits of solar energy with your students!
Our It's Electric! Unit Plan explores the science behind electricity and processes behind solar electricity in more detail.
For a fun investigative, one-off activity why not use our Solar Panels – Fact Sheet and Worksheet?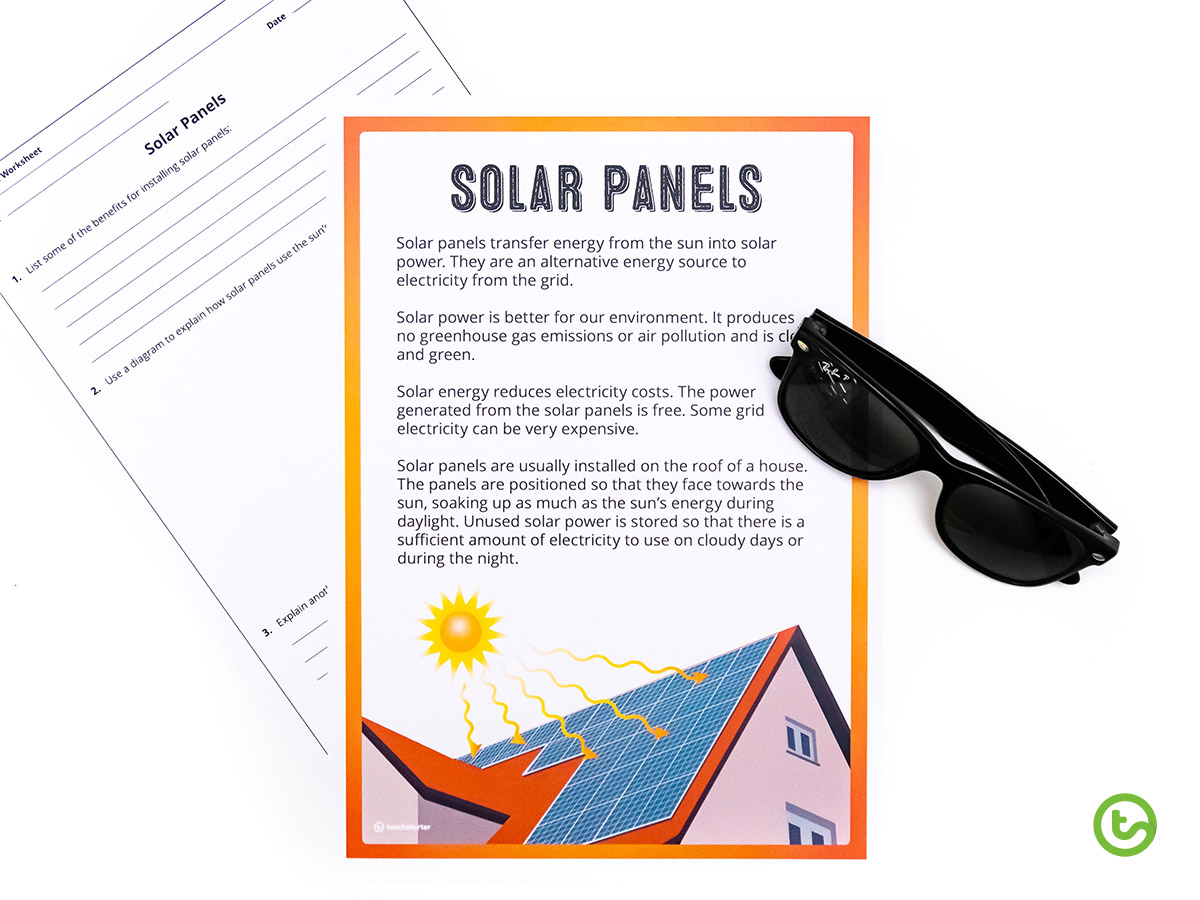 Lead By Example with Sustainability
At the end of the day, the best way to teach your students about sustainable practices is to implement them yourself in the classroom.
Your students will see how easy it is to live a more sustainable lifestyle, and you'll help the planet while you're at it!
Our Free Download: Classroom Practices to Promote A Green Future – A Teacher's Guide is the only handbook you'll need to give you ideas on going green in the classroom.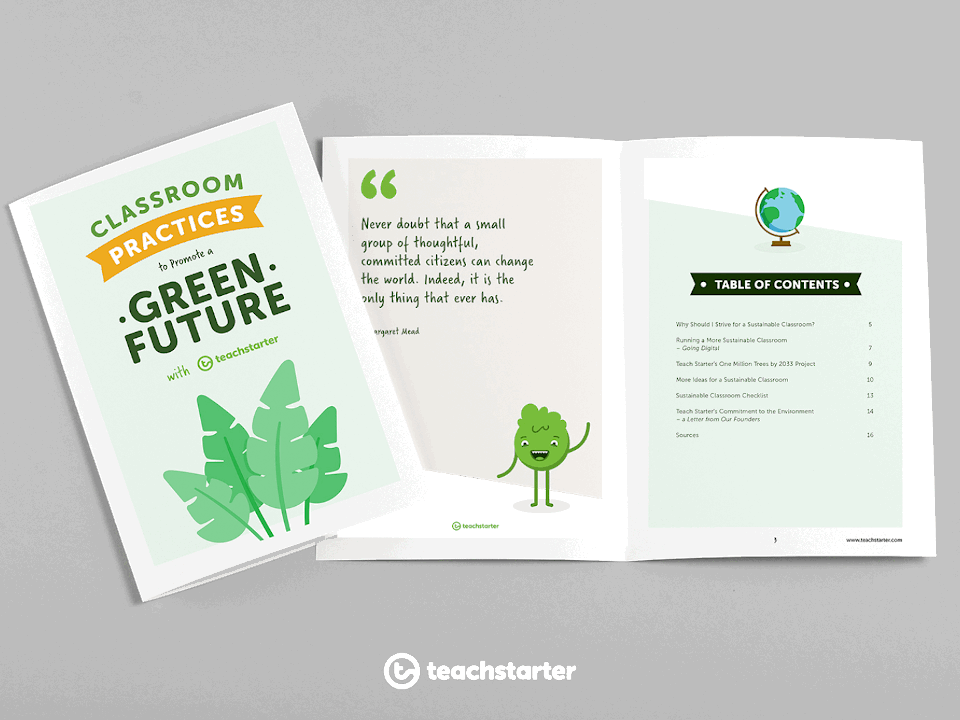 Enjoy a more sustainable classroom, and reap the benefits of sustainably-minded students!
So turn off the lights this March 28th! How will you be talking to your students about Earth Hour?
---