We all know how important it is to teach and learn higher-order thinking. However, what we really need to know is how to do it.
Never fear, help is here. Read on for easy and effective ways to encourage higher-order thinking in your classroom. With a few tweaks here and there, you can integrate opportunities for higher-order thinking into your existing teaching and learning programme.
---
Teach the Higher-order Thinking Process
First things first… it is essential to lay the foundations of higher-order thinking. Therefore, time needs to be spent teaching and learning what each of the higher-order thinking skills is.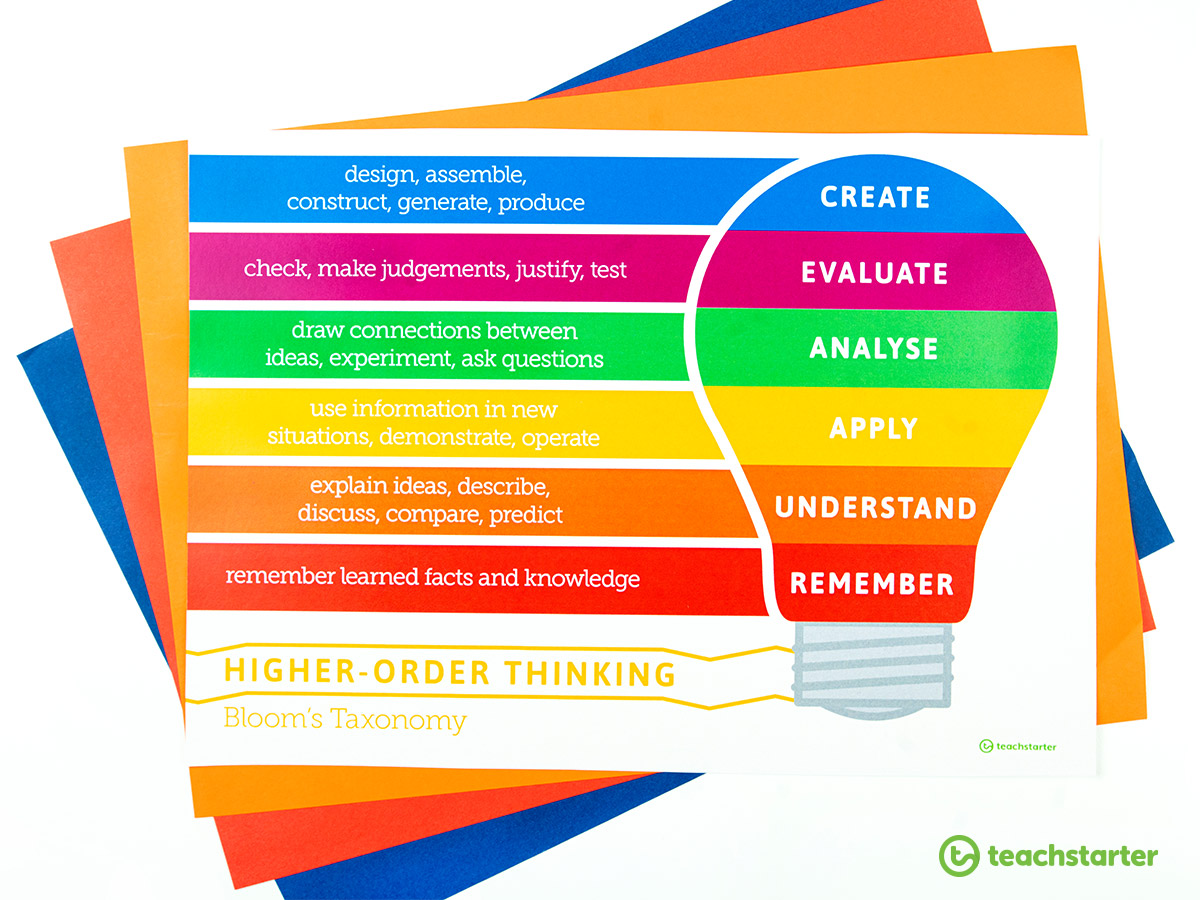 You can make a great start by sharing our new download Higher-order Thinking | Blooms Taxonomy Poster with your class. Explore and discuss the poster, before displaying it in the classroom as a daily reminder. The six higher-order thinking skills to use in conjunction with Bloom's taxonomy are:
Remembering -recalling known facts.
Understanding – explaining ideas or concepts.
Applying – use information in new situations.
Analysing – drawing connections among ideas.
Evaluating – justifying a point of view or decision.
Creating – producing something new or original.
Don't forget that it is important to spend considerable time discussing, modelling and rehearsing what each skill looks, feels and sounds like. As a result, I would recommend focusing on one skill at a time, over a week or two.
For more information on the history of higher-order thinking and why it is important, read my blog Higher-order Thinking in the Classroom (and Why It Matters).
---
Higher-order Thinking Gears
Lower and upper years students will benefit from being shown a visual representation of the higher-order thinking process.
I love to use the analogy of gears or wheel cogs to show how the skills higher-order thinking skills are interdependent. I found this perfect Melissa & Doug – Rainbow Caterpillar Gear Toy for lower years.
I also love this great value pack Learning Resources Gears! Gears! Gears! Super Set – 150 Piece from Target because the colours are perfect. There's enough for the whole class and you'll get heaps of use out of them. For a fun, hands-on activity, provide your students with gears and encourage them to arrange the gears into the correct colour order.
---
Higher-order Thinking Questions and Sentence Starters
Carefully crafted questions create pathways for higher-order thinking in every curriculum subject. Our Bloom's Taxonomy Sentence Starters and Activities Posters are a brilliant way to get started. These posters are ideal to display in the classroom and provide a daily reminder to structure your questions in a purposeful way.
Just to clarify, higher-order thinking can be developed in all curriculum subjects. Are you wondering how that would work in Health and Physical Education? Check out this higher-order thinking question model:
What happened after Josh received the ball? (Remembering)
Who do you think helped him? (Understanding)
What would happen is more players moved to an open space? (Applying)
What conclusions can you make about this level of teamwork? (Analysing)
What choice would you have made? (Evaluating)
What change would you make during our next game? (Creating)
In other words, careful use of questions will draw out higher-order thinking.
---
Higher-order Thinking Desk Plates
Visible learning is all the rage. Our brand new Higher-order Thinking Blooms Taxonomy Desk Plates make higher-order thinking visible. They are perfect to use in any subject area and for pretty much any year level.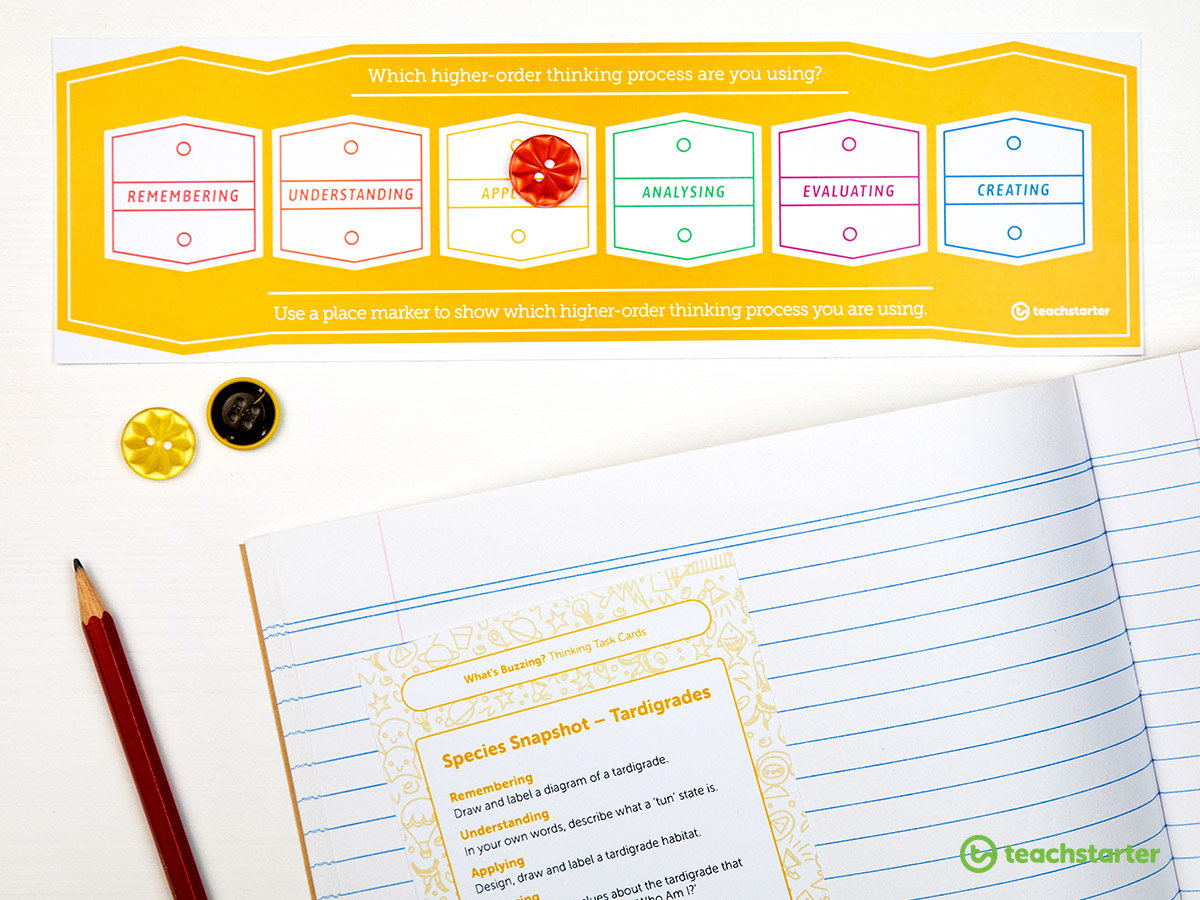 Simply attach the Higher-order Thinking Blooms Taxonomy Desk Plates to student desks using hook and loop dots. During a high-order thinking task, encourage your students to make their thinking visible by placing a  counter on the corresponding skill box. These desk plates will remind your students of the skills that they are required to use and help to keep them on track. They are also a brilliant tool for teacher observation and monitoring student progress.
For more teaching resources that promote visible learning, check out our visible learning collection.
---
Year 6 Magazine – What's Buzzing? (First Edition)
The ultimate Year 6 Magazine – What's Buzzing? (First Edition) is bursting with higher-order thinking opportunity. This beautifully designed and highly informative magazine, What's Buzzing? is a surefire way to liven up your literacy rotations. It is also a brilliant way to encourage upper year students to develop cognitive thinking skills.
Use the magazine in conjunction with our Year 6 Magazine – "What's Buzzing?" (First Edition) Task Cards and let us do the hard work for you. The higher-order thinking task cards included in this teaching resource, clearly define each cognitive skill. The questions have been crafted to challenge your students to remember, understand, apply, analyse, evaluate and create.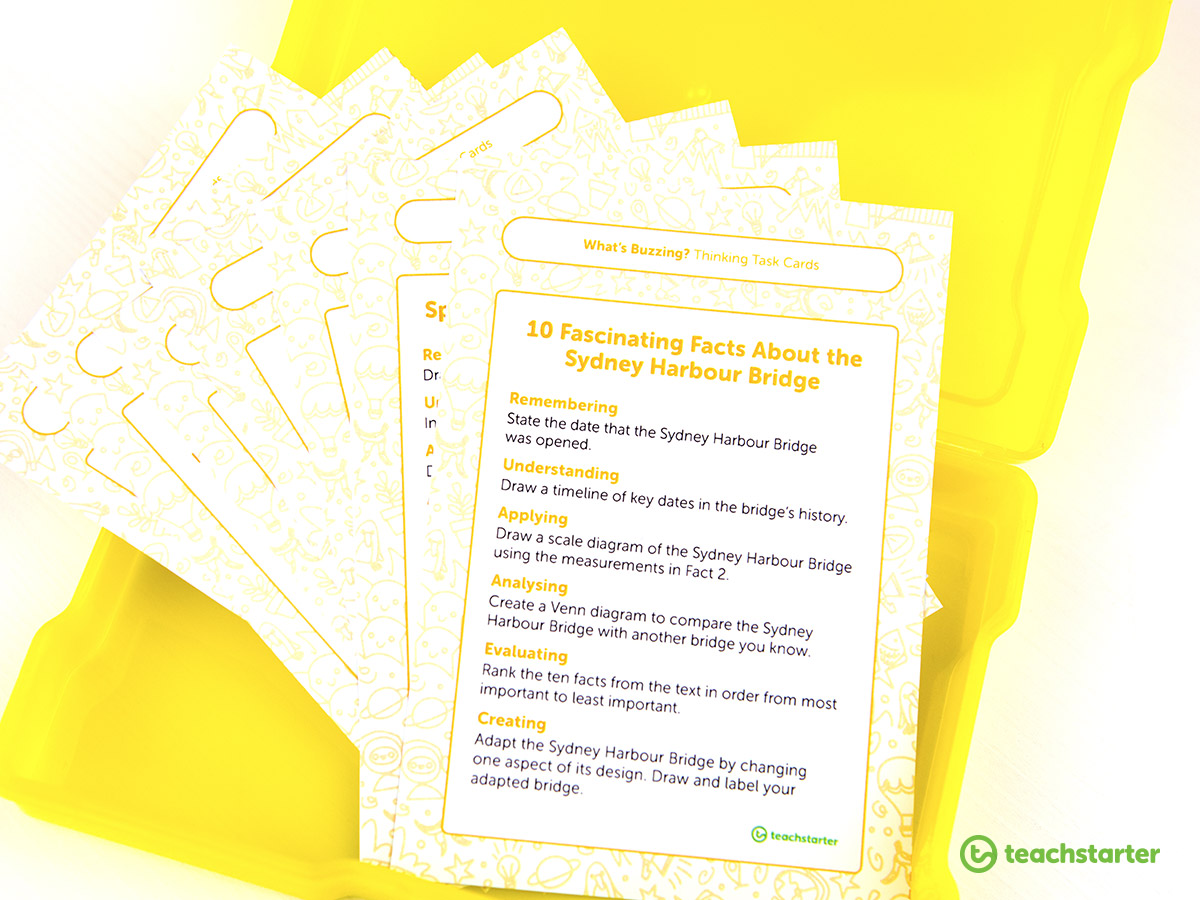 For more information about this game-changing magazine, read Emma's blog (NEW) What's Buzzing? – Magazine for Students.

---
Higher-order Thinking Classroom Display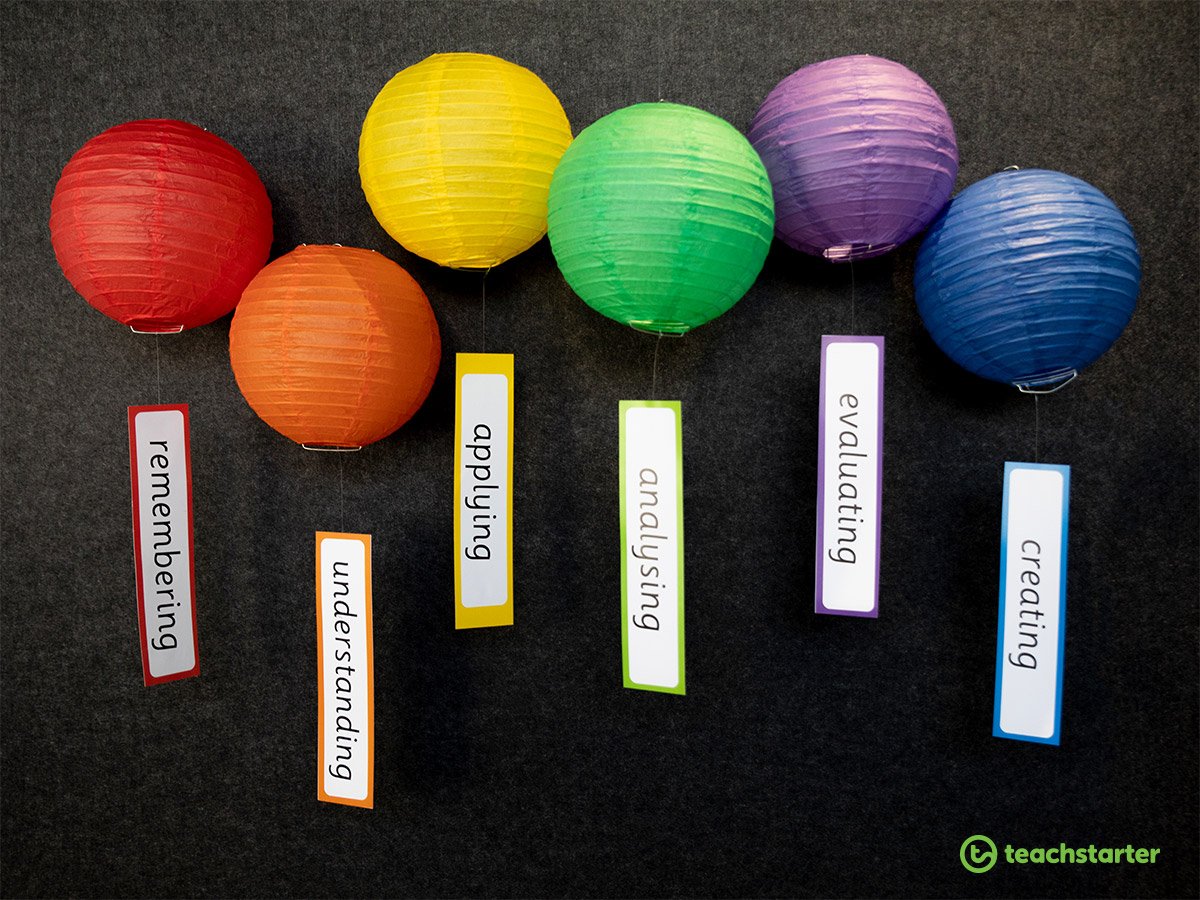 Creating a classroom display is a great way to commit to creating a culture of higher-order thinking. So, create a classroom display that is bright, bold and fun. I used paper lanterns and tray labels from our classroom theme pack collection. Because we all like to make life as easy as possible, don't miss these super handy plain colour classroom theme packs:
---
HOT  Caps
Celebrate student success by awarding students who demonstrate higher-order thinking skills with HOT caps.
You can find cheap and cheerful caps at most discount shops. You could opt for black or white caps to make life easy, or go for different colours, (if you're lucky enough to find them). Why not put out an SOS call to parents for cap donations?
So, when you catch students making an outstanding effort, acknowledge their amazingness with a HOT Cap.
---
Create a Makerspace
A Makerspace is a designated area of your classroom or school in which your students learn to use materials and tools to create something unique.
Designing and creating a Makerspace provides a perfect opportunity to engage in higher-order thinking. Above all, your job is to make the higher-order thinking process explicit.
"Research has shown that Makerspaces are highly effective at developing children's creativity, critical thinking, design thinking and digital skills." – Macquarie University's Department of Educational Studies
For more helpful tips on creating a Makerspace read our blog Tips and Ideas for Creating a Makerspace in the Classroom.
---
Higher-order Thinking Task Cards
Your students will love the independence of using Bloom's Taxonomy Task Cards.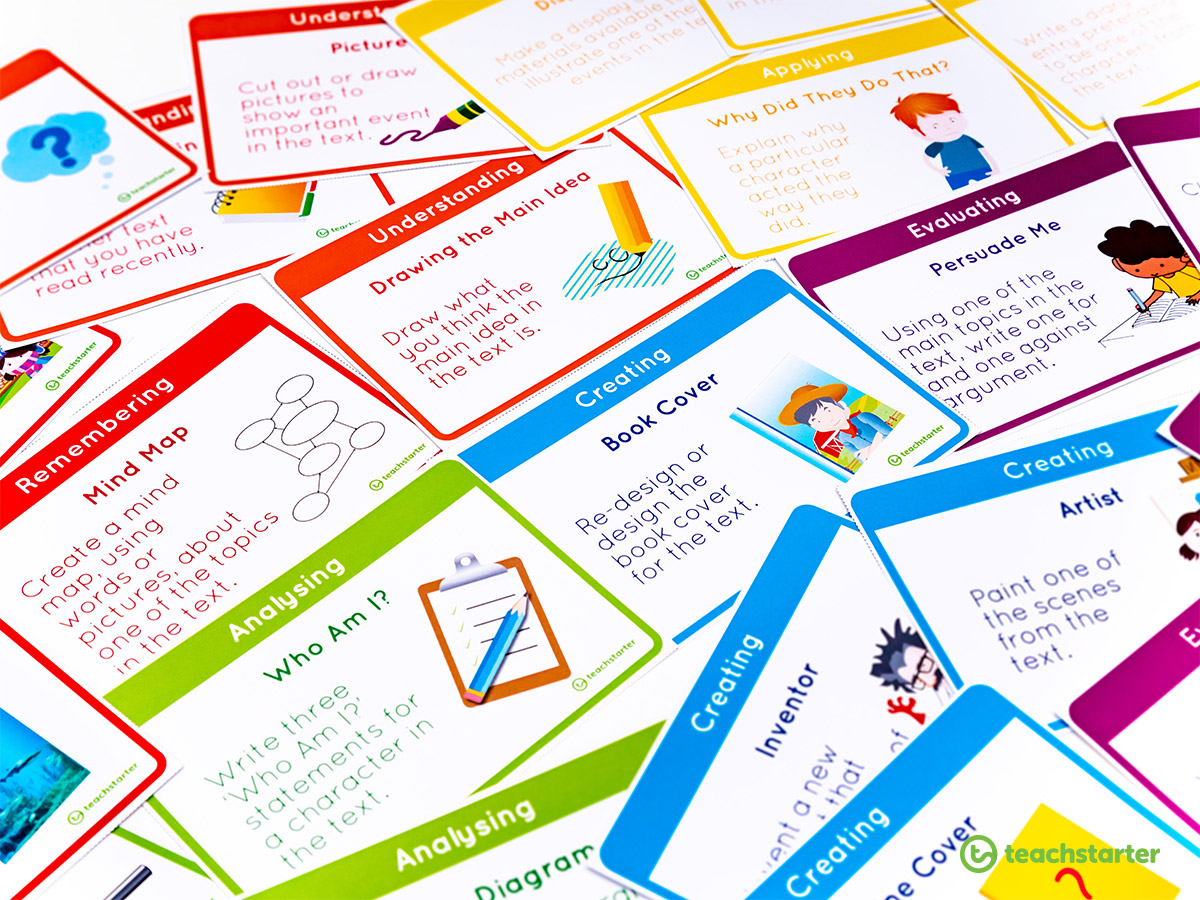 These task cards are ideal to use for fast finishers, as extension activities or for group work. Most importantly, these task cards are curriculum aligned. Also, they are a virtual hug from us to let you know that you've got higher-order thinking covered. All you need to do is select from:
---
To sum it up, with some simple tweaks,  it is easy to fit higher-order thinking into your busy teaching and learning day. It's important to recognise that you're probably already doing it. However, perhaps all you need to do is make it more visible.
How do you teach higher-order thinking in your classroom?
In order for our students to be equipt and prepared to live in the 21st Century, it's critical that we get on board with higher-order thinking. So, it's time to download one of these higher-order thinking teaching resources and make your classroom buzz with curiosity.
Share higher-order teacher wins with your tribe on Instagram #teachstarter