You either love it or you hate it! Halloween is right around the corner and if you're anything like some of my teacher friends, you leave it to the last minute and end up wearing the same costume you wore the last five years in a row or pulling out that witches hat again! We have an idea! Why not dress up as your favorite book character? We have put together some of our favorite book-inspired Halloween costume ideas for teachers!
Don't leave it to the last minute! Have some fun with it – your students will love it.
---
The Rainbow Fish
How stunning does @teachingwithcrayonsandsparkles look?
This looks super fancy but seems pretty easy to make if you have the time. Cut out the scales from fabric and use hot glue to stick them on an old t-shirt.
Get a piece of elastic that will fit around your waist and then cut out strips of different fabric or tulle and tie them on to the elastic to create a skirt!
Get some sparkly face paint and voila. You're done!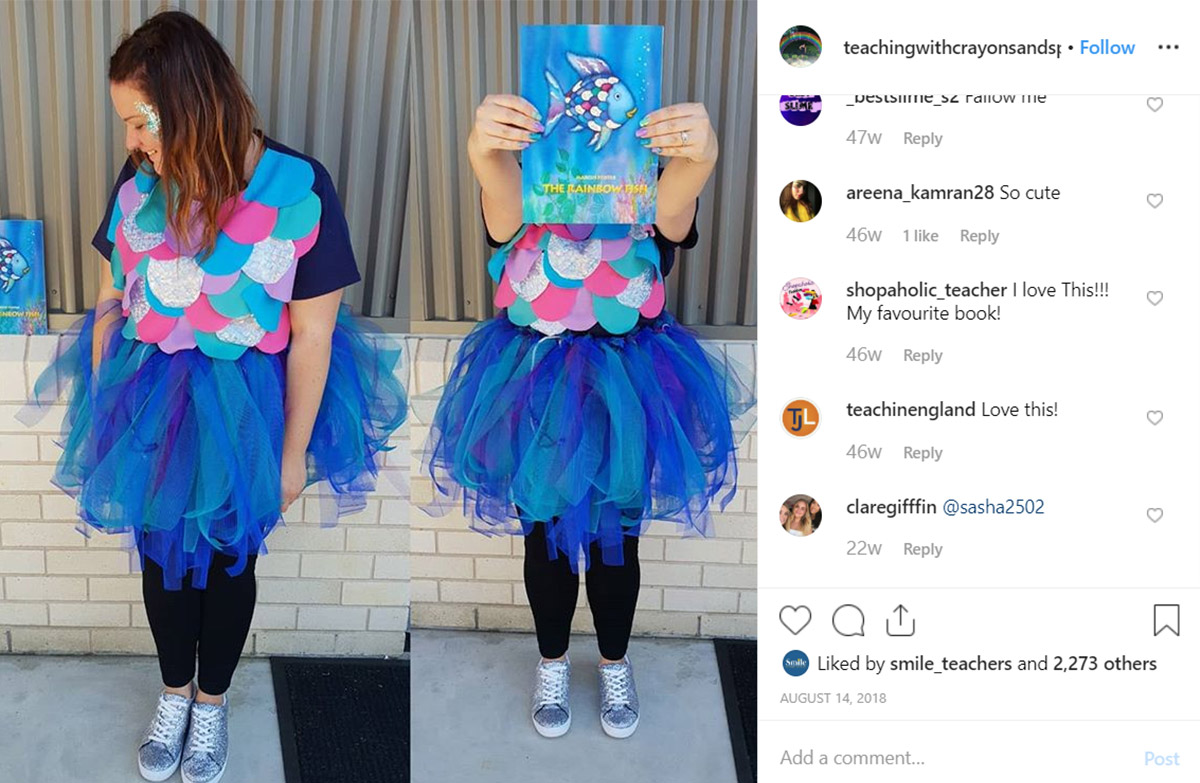 ---
All Aboard! Become Ms. Frizzle from the Magic School Bus
This has to be one of my most favorite shows/books of all time!
We especially love @mandymetts schoolbus bag!
For a home-made hack, create each of the pictures for her dress with coloured paper and stick to a black dress. An orange wig would also do the trick!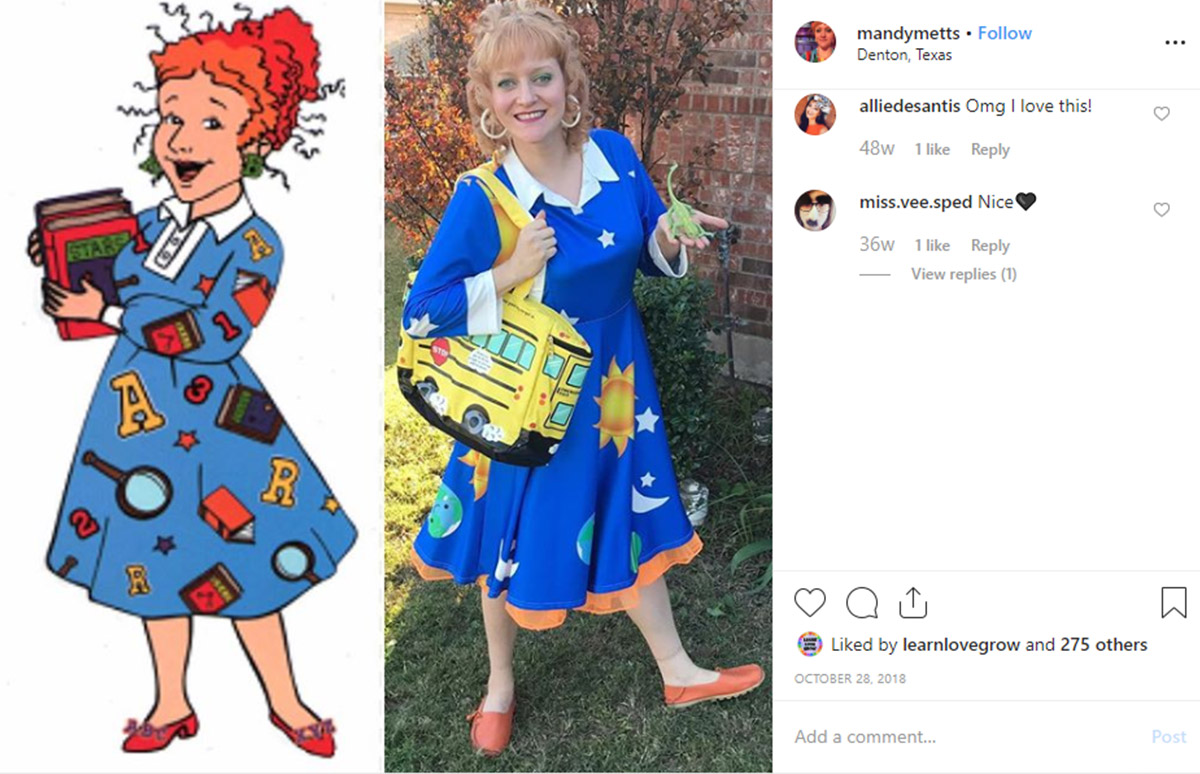 ---
But, Where's Charlotte?
How awesome does this look? @teachingwithmissbee said it was a pretty easy DIY project and she paired it with a sparkly, grey spider in her hair. Her students were very amused with one saying…
"Miss, Charlotte's crawled into your hair!"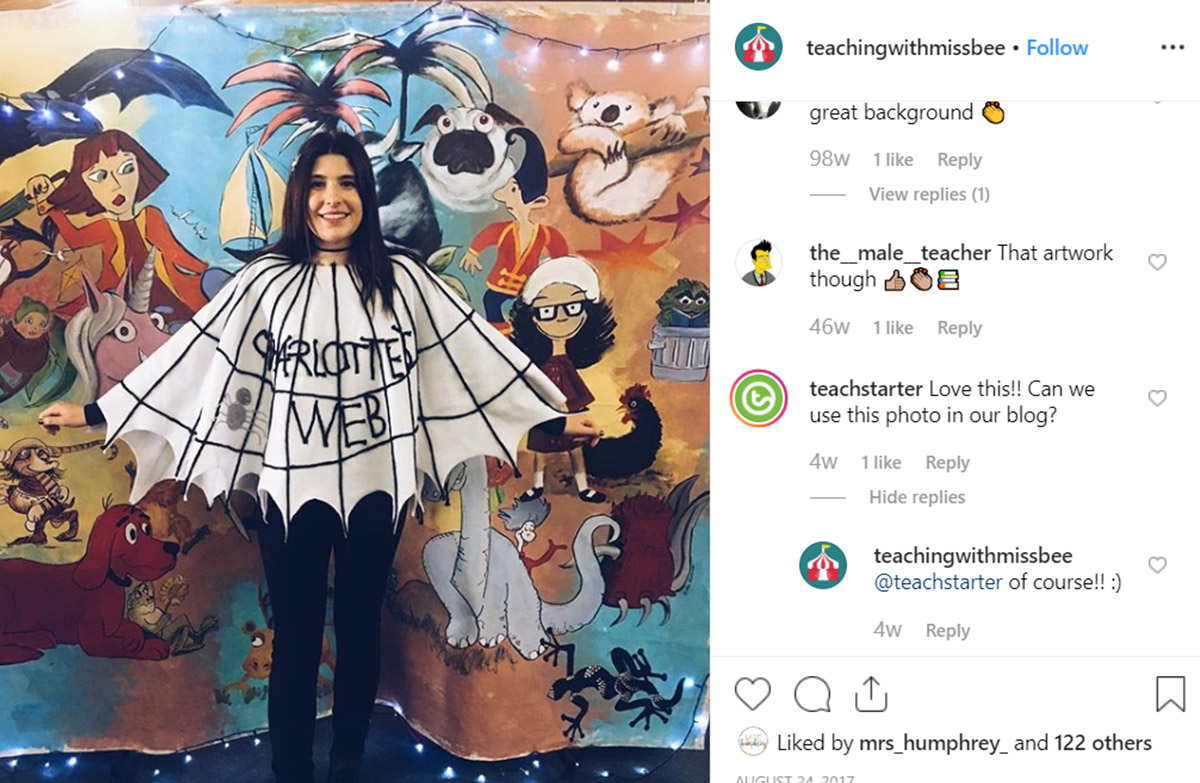 ---
Who Has the Golden Ticket?
Well, Mrs. G from @little_learners_big_ideas certainly has the golden ticket with this awesome costume!
So clever – all you need is some black paint and a piece of cardboard. Voila!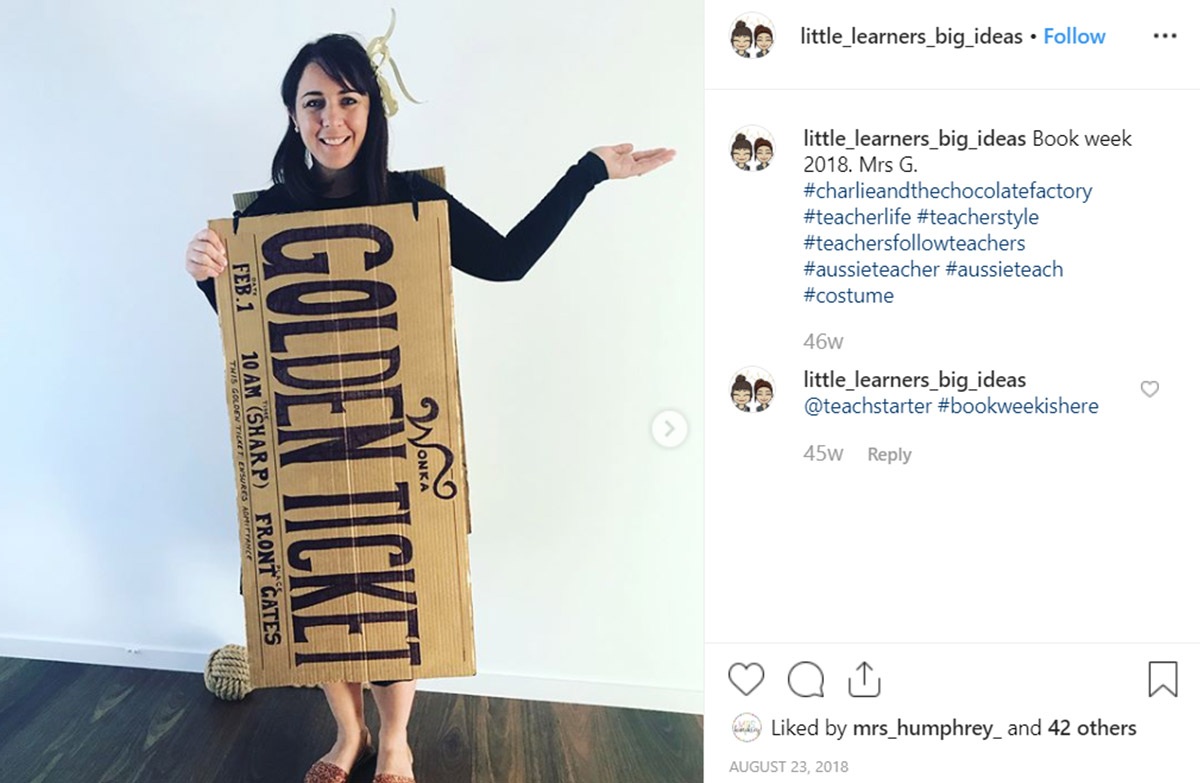 ---
Little Miss Tidy
Any of the gorgeous Little Miss and Mr. Men book characters could easily be created just as @little_miss_cs_classroom has done using some cardboard and extra accessories.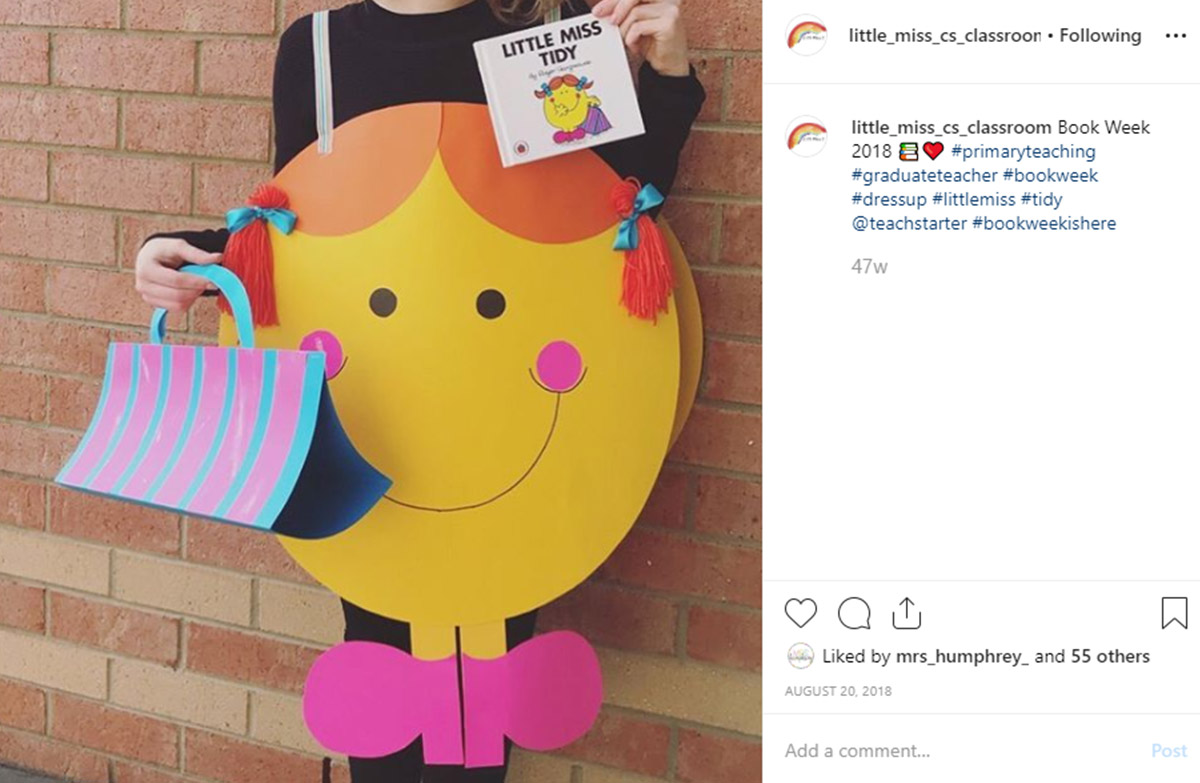 ---
I Quit!
The Day the Crayons Quit is a popular book and how cute does @miss.goodytwoshoes look in her crayon costume with her sign?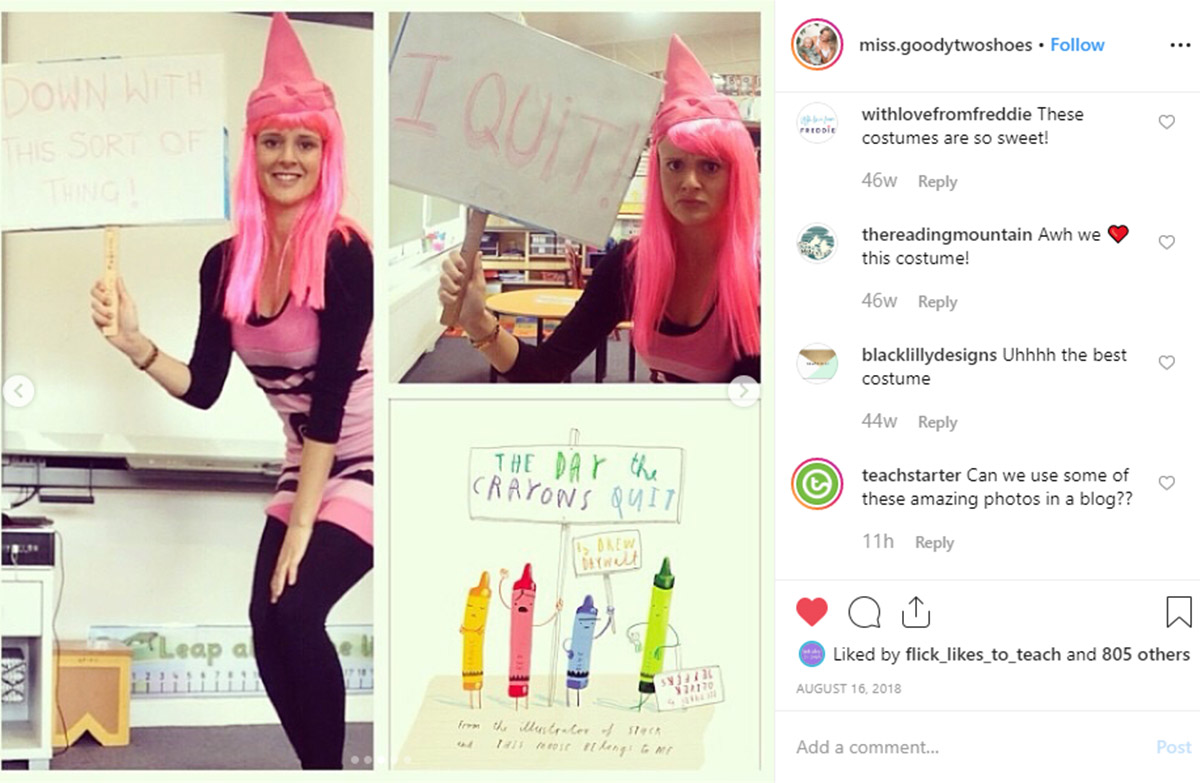 ---
A Fun Fox Costume
This Fox in Socks outfit by @missglamgiraffe is perfect to suit the Dr. Seuss classic story! Some blue socks and gloves, combined with a red t-shirt and pants – and you're ready to go!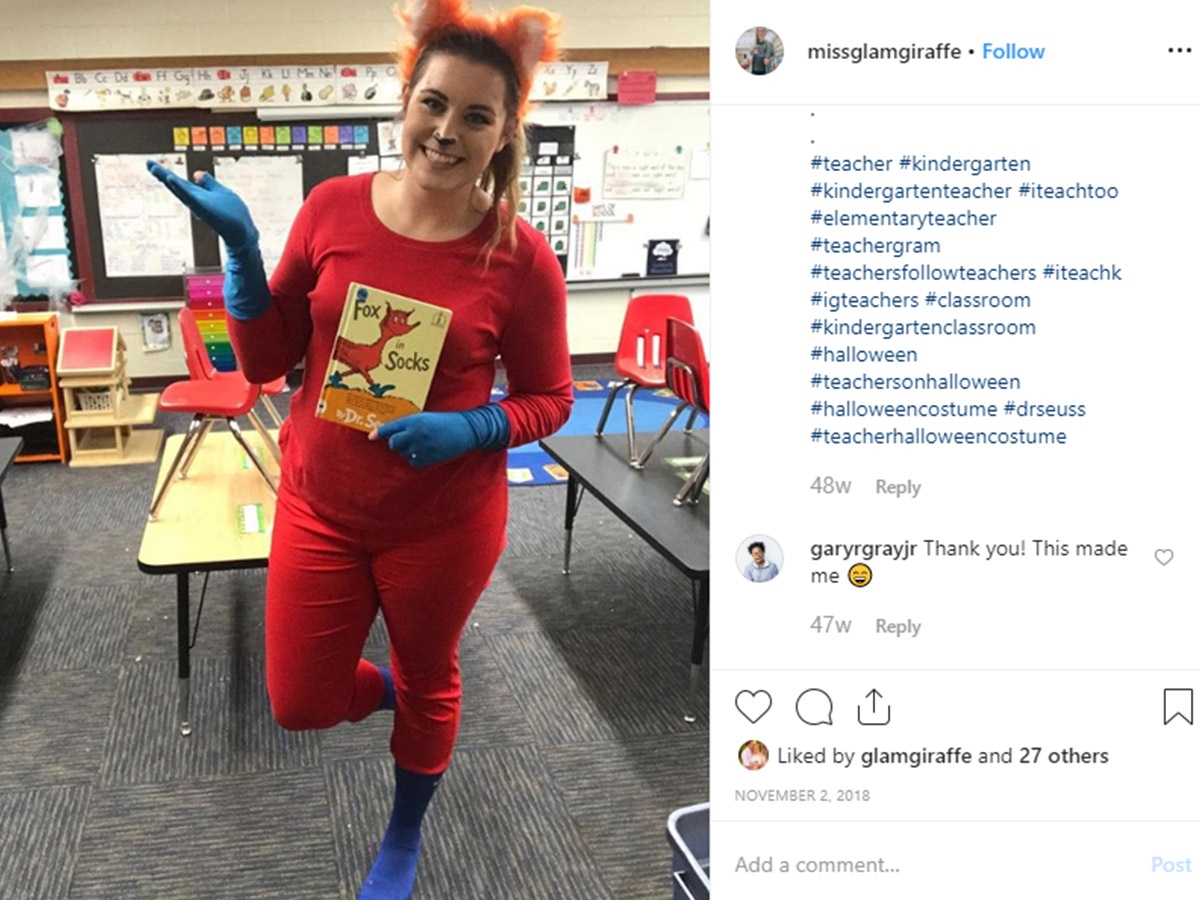 ---
A Bad Case of the…
This amazing outfit put together by @wildnwonderfulteaching wouldn't be complete without the sad facial expression! We love the dedication with this Halloween costume idea…now, just to get over the stripes!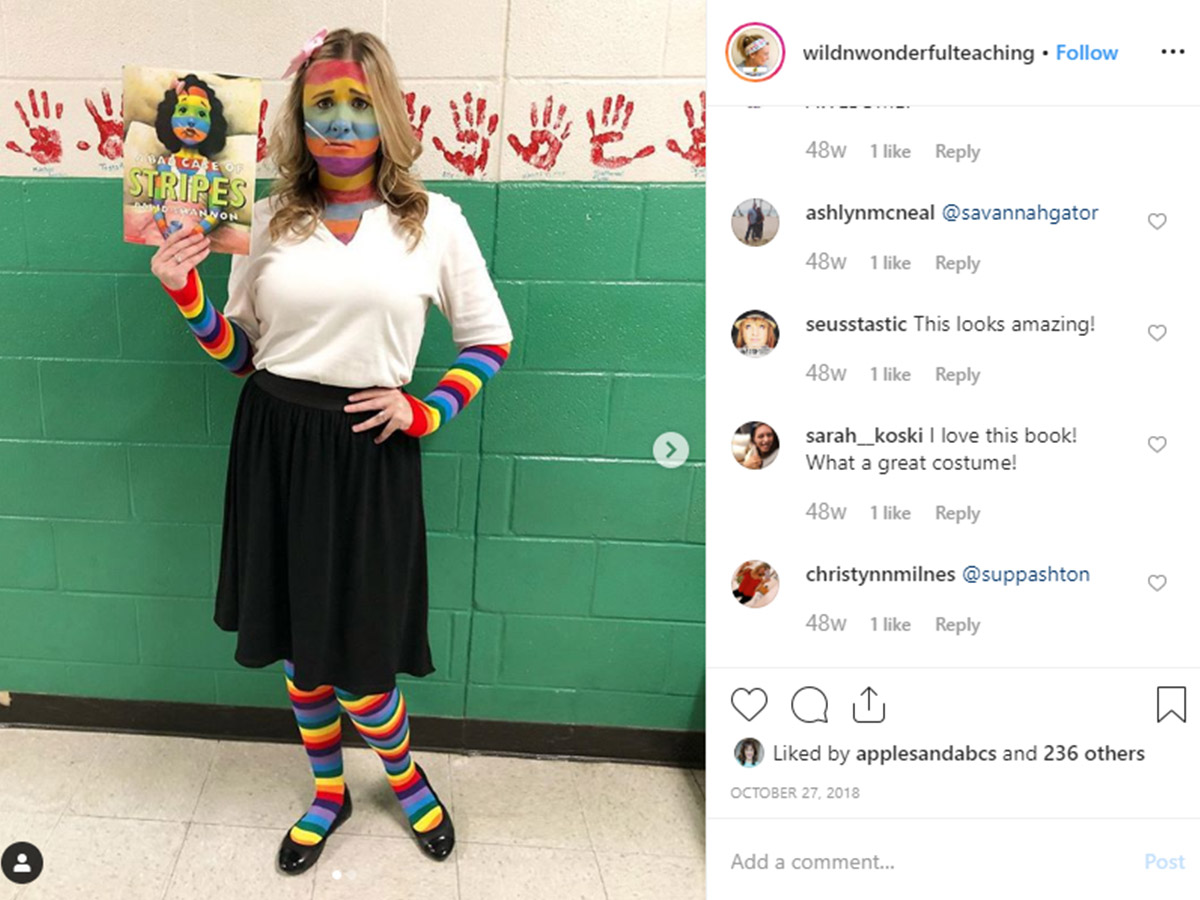 ---
She's Out on Paw-trol!
@theartofliteracy has pulled together this adorable Dog Man costume! With some felt and a little bit of face paint, this is an easy go-to for a comfy costume!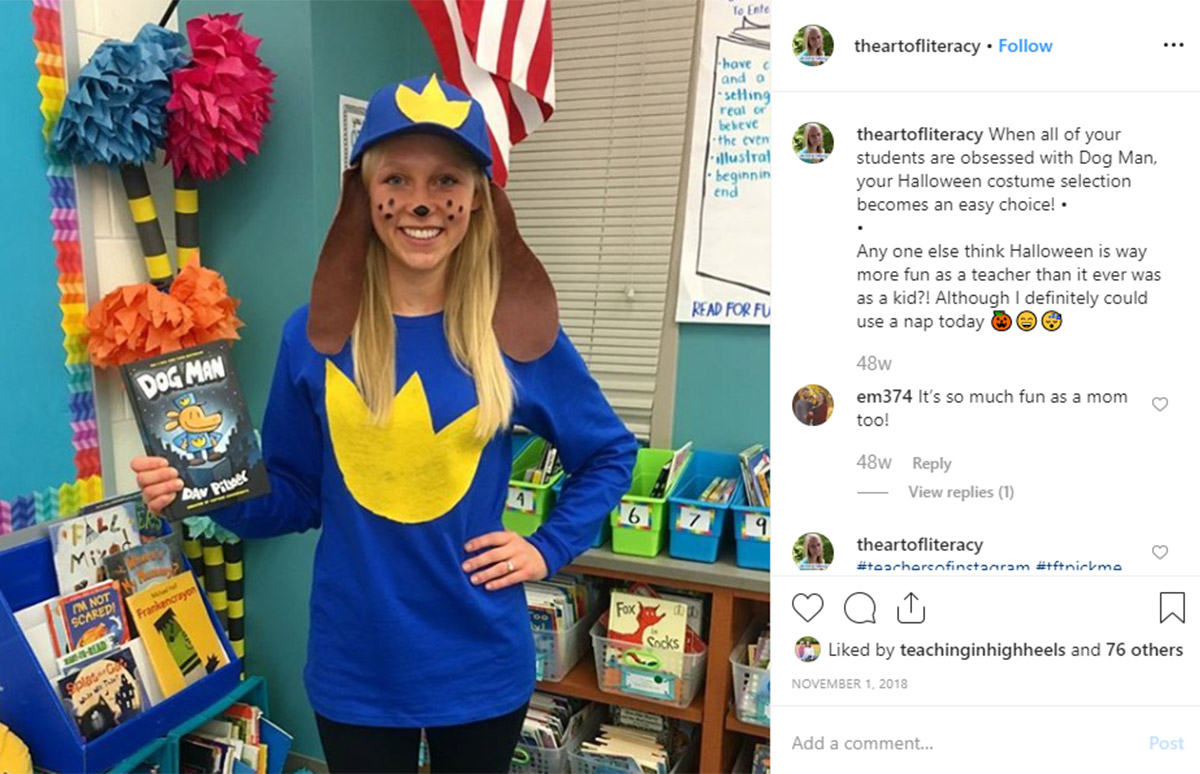 ---
Dragons LOVE Tacos!
These scary dragons are after one thing and one thing only – tacos! We think these adorable dragons might have a more friendly look on their faces once they've filled their stomachs…lucky for them, they've got their meal sorted!
@laurentellsastory also manages to get away with the comfiest costume award! Who doesn't want to wear a onesie to work?

---
Wake Up, Fishie!
This Finding Nemo-themed costume by @teachertarah4 sure made us laugh in the Teach Starter office!
If your students haven't heard the story of Finding Nemo, this may be a great way to introduce them to lessons about courage, perseverance and of course, the ecosystem of a coral reef!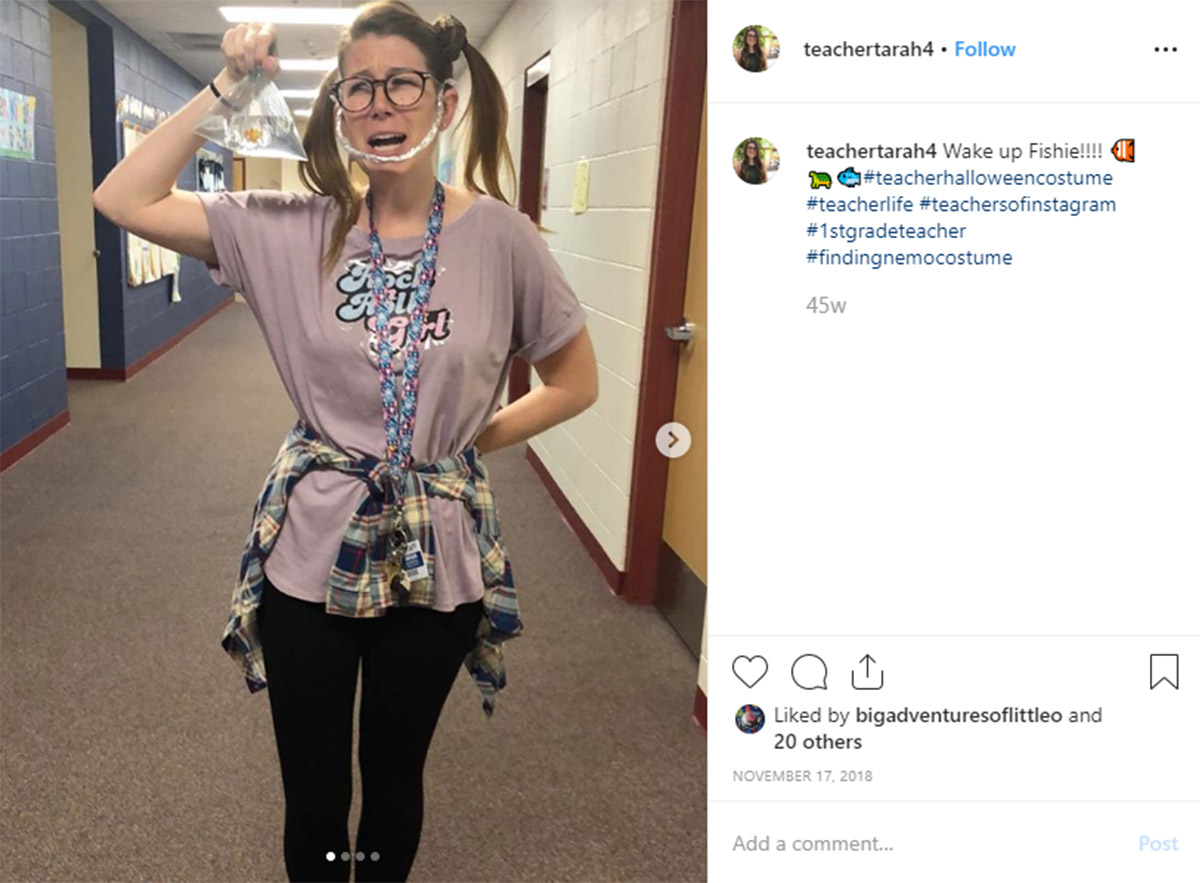 ---
More 'Spooktacular' Halloween Costumes
Teachers of older kids might appreciate these spookier Halloween costume ideas for teachers – they may not be book-related, but they sure are a lot of fun!
The Witches of Elementary School
If your school is open to a little supernatural dress up, then you can't go past these spooky witches! As @triedandtrueteachertips says…it's all about the eye gems!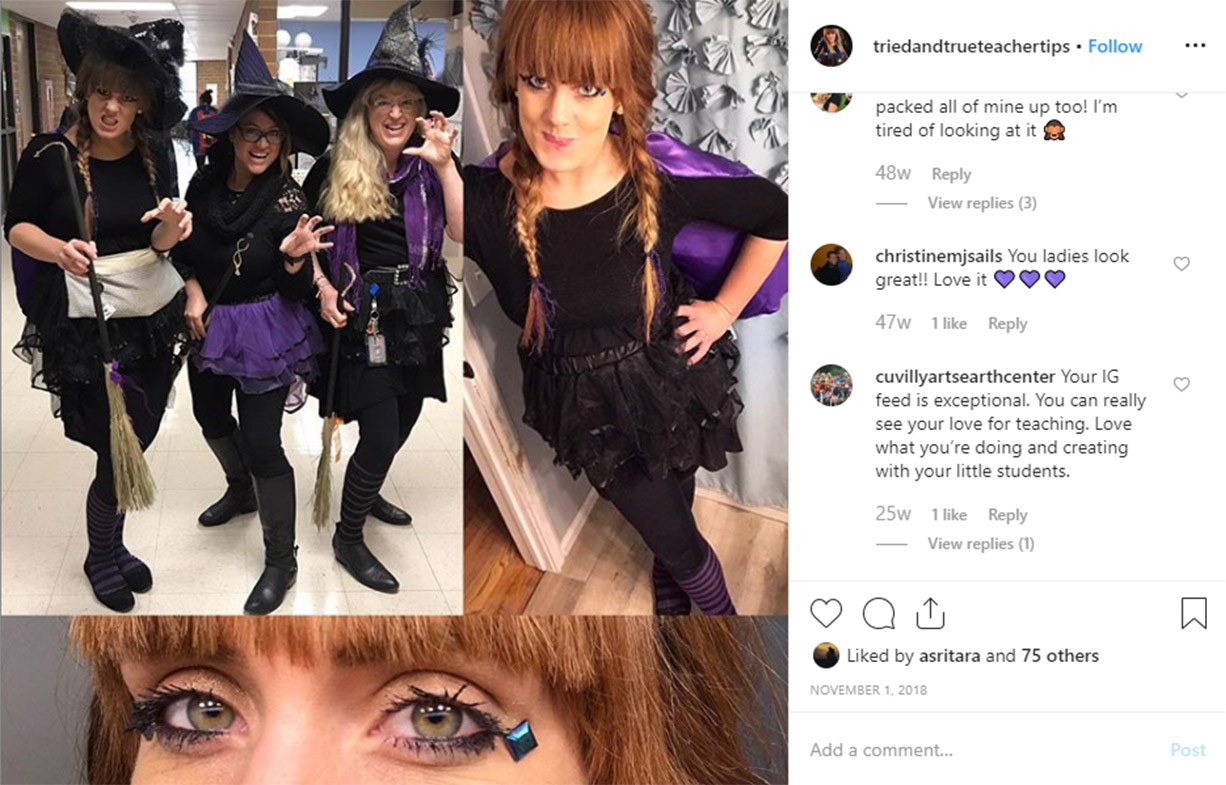 ---
Waiting, Waiting, Waiting…
Do you ever feel as though you're waiting forever for your class to pay attention…?
@thecaffeinatedteacher has put a fun spin on this meme by dressing as a skeleton who's been waiting…let's just say, for a long time… for her class to be quiet!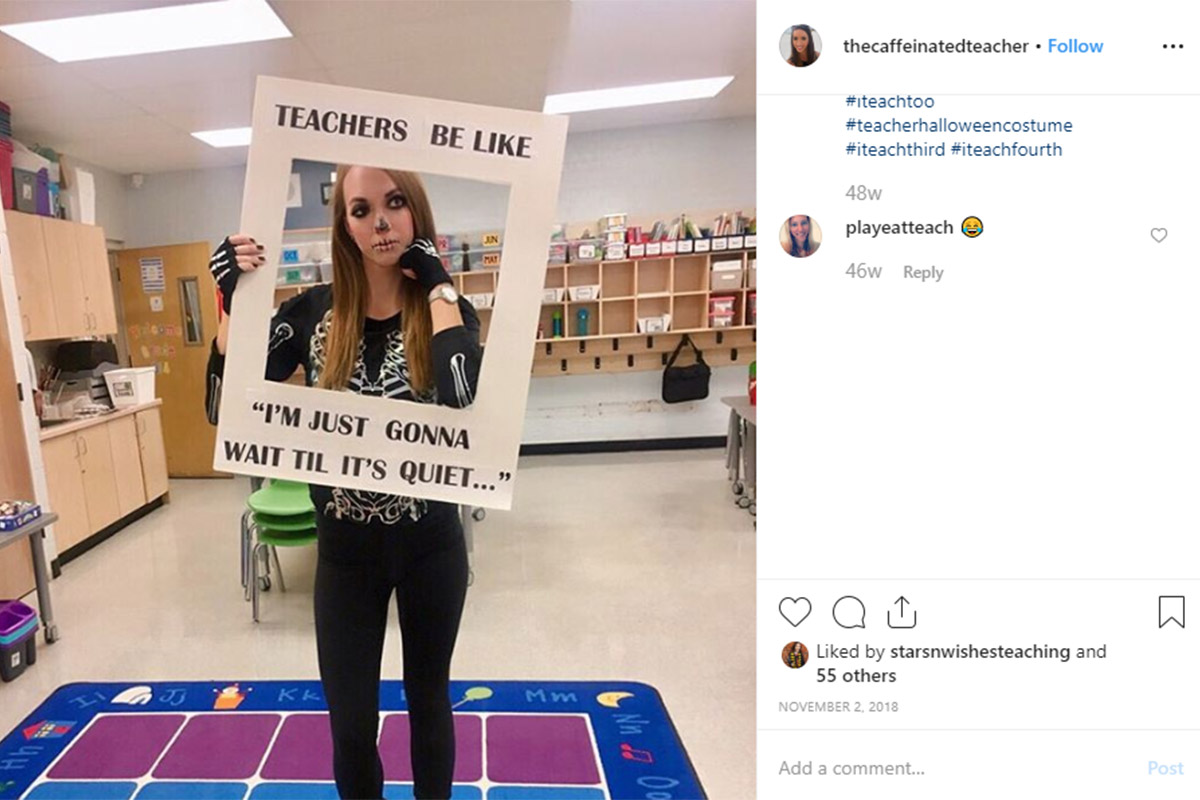 ---
Your Under Arrest!… You're*
The grammar police are here to make sure your writing is safe! They've captured their prisoner and are taking them back to the Department of Corrections!
You've got to love this tongue-in-cheek group costume by @specialed_snapshots!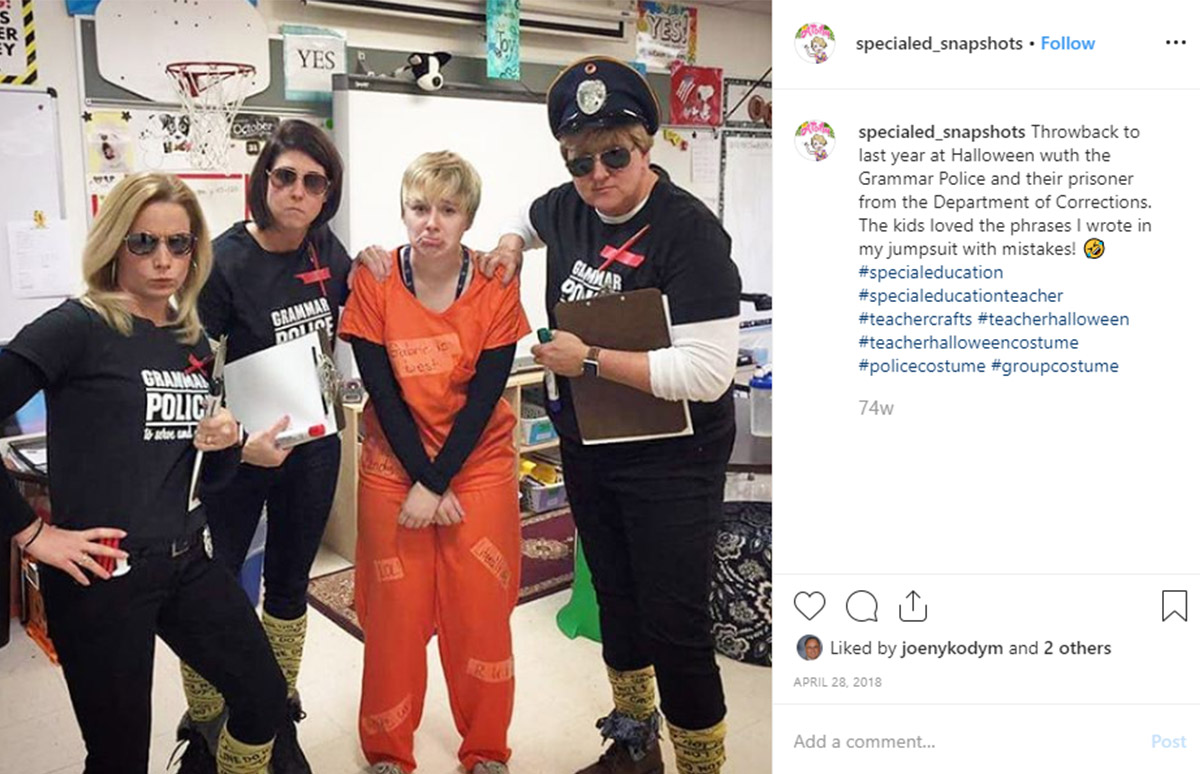 ---
Warning!
There's nothing scarier than a due date!
@mrdtimes3 takes on the role of due date enforcer in his scary Halloween suit! Be warned…due dates are ALWAYS closer than they appear.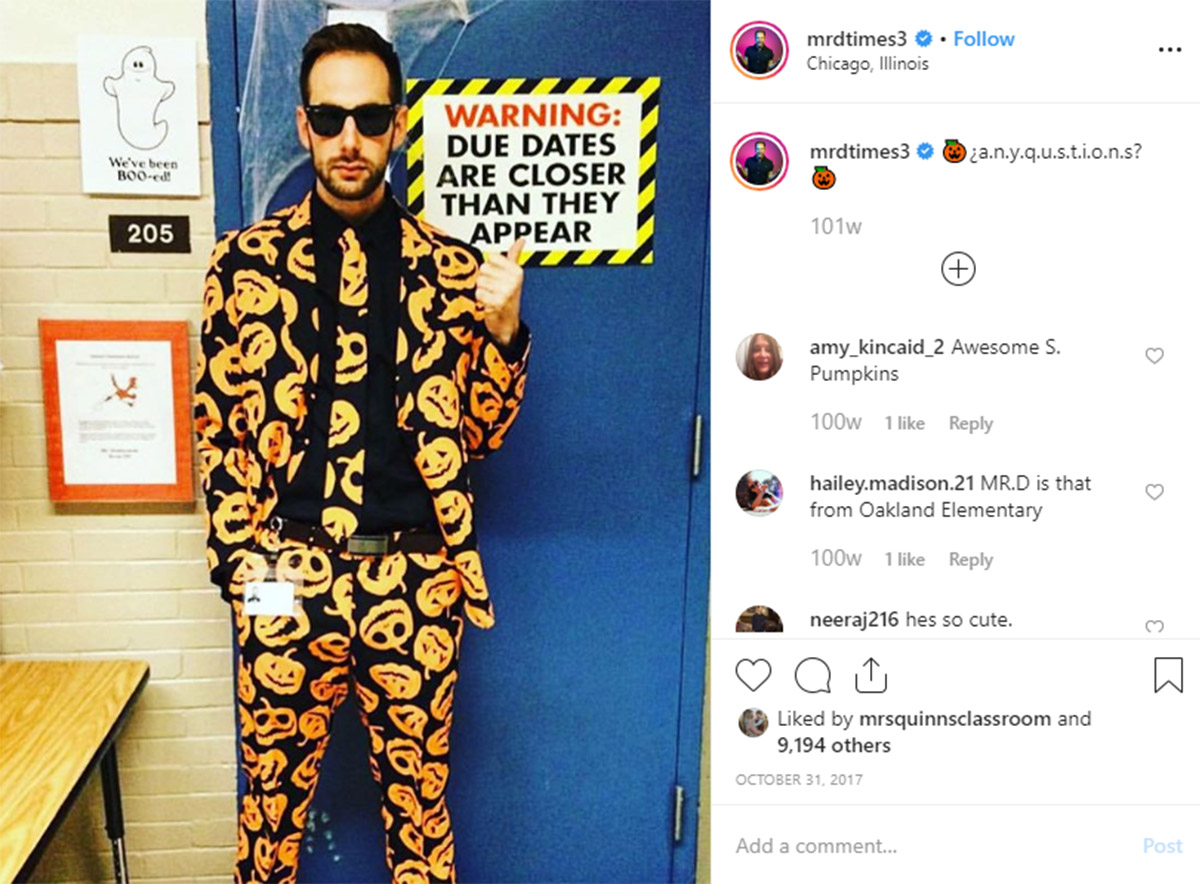 Use #teachstarter and #Halloween when posting your Halloween costumes on Instagram!