Let's be honest here; Book Week costumes are just as (or even more?) fun for teachers as they are for kids! It's a time for teachers to crack out the sequins and sewing kits and bring beloved literacy characters to life. It's like Halloween in August, and we're all for it. Not only is Book Week an excellent opportunity for teachers to get creative for a cause and celebrate a love of reading, but the reaction from students makes it all worthwhile.
With Book Week coming up on August 19, now is the perfect time to start thinking about costume ideas to fit this year's theme of 'Read, Grow, Inspire.' Whether you'd rather pick an outfit from your local party shop or want to get crafty with an easy DIY Book Week costume, we've got you covered. To spark inspiration, the Teach Starter teacher team has rounded up some of our favourite Book Week costume ideas for adults from fellow teachers around Australia. Let's dive in!
Explore our Book Week collection full of worksheets, activities and crafts!
A Note on Book Week Costumes for Adults
When choosing a costume, there are a few things for teachers to keep in mind. As you'll most likely wear your costume all day, it's best to opt for something comfortable and easy to move around. While a slinky, full-body Hungry Caterpillar costume would be super fun, you don't want to end up restricting your movements — think Heidi Klum in her worm costume!
You're probably organising a bunch of interactive lesson plans throughout Book Week, including arts and crafts, which equals glitter, paint and glue — most of which will end up on your costume! So, look for fabrics and materials that are easy to chuck in the wash or spot-clean after any messes.
Book Week Costume Ideas
The Gruffalo
Australian teacher @teacherishappy ventured into the deep dark woods and emerged as one of the main characters from The Gruffalo with this easy Book Week costume idea. Written by Julia Donaldson, The Gruffalo can help teach students essential lessons such as problem-solving, thinking outside the box and building friendships.
The Gruffalo is also an excellent book for lesson planning as students can infer the main characters' feelings when reading along, and it's one of our teacher team's favourite titles for teaching about metaphors and similes or personification!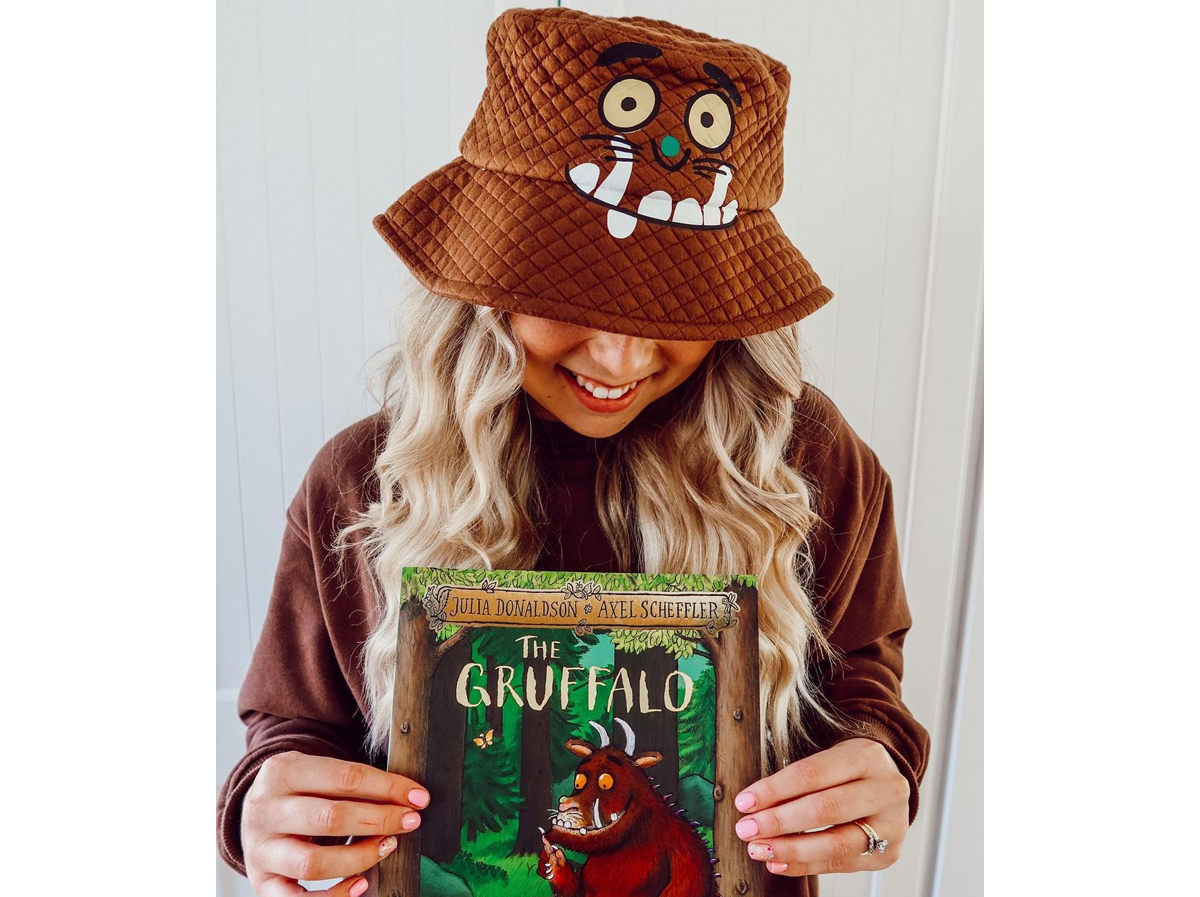 Wally from Where's Wally?
Jump into a world of mystery and become Where's Wally this Book Week! These much-loved puzzle books by Martin Handford provide hours of entertainment and help kids develop concentration, focus and problem-solving.
If you're looking for a fuss-free costume, this is the perfect one for you. This outfit by Gold Coast Year 3 teacher Mrs Strasek (@mrs.strasek) will take you only a short time to make, and you might already have some props in the classroom to use.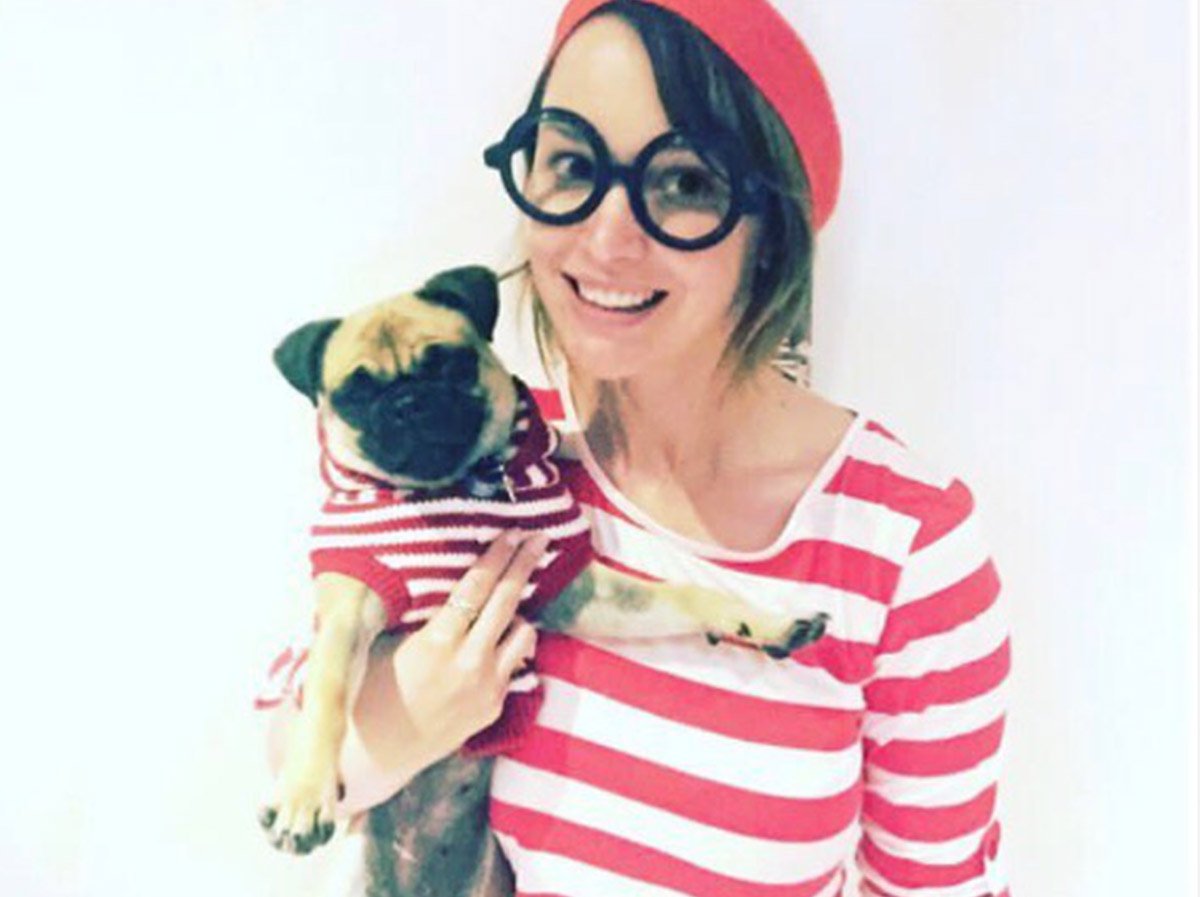 There Was an Old Lady Who Swallowed a Mozzie
Amy from @heyteacherteacher gave us a giggle and a great costume idea with the Old Lady who Swallowed a Mozzie!
Written by P. Crumble, this book is a humorous nursery rhyme with an Aussie twist, making it a fun and easy choice for a Book Week costume. It's also a brilliant tool for teaching primary school students rhyming, language development, sequencing, and memory skills, as the book's character continues to eat larger animals.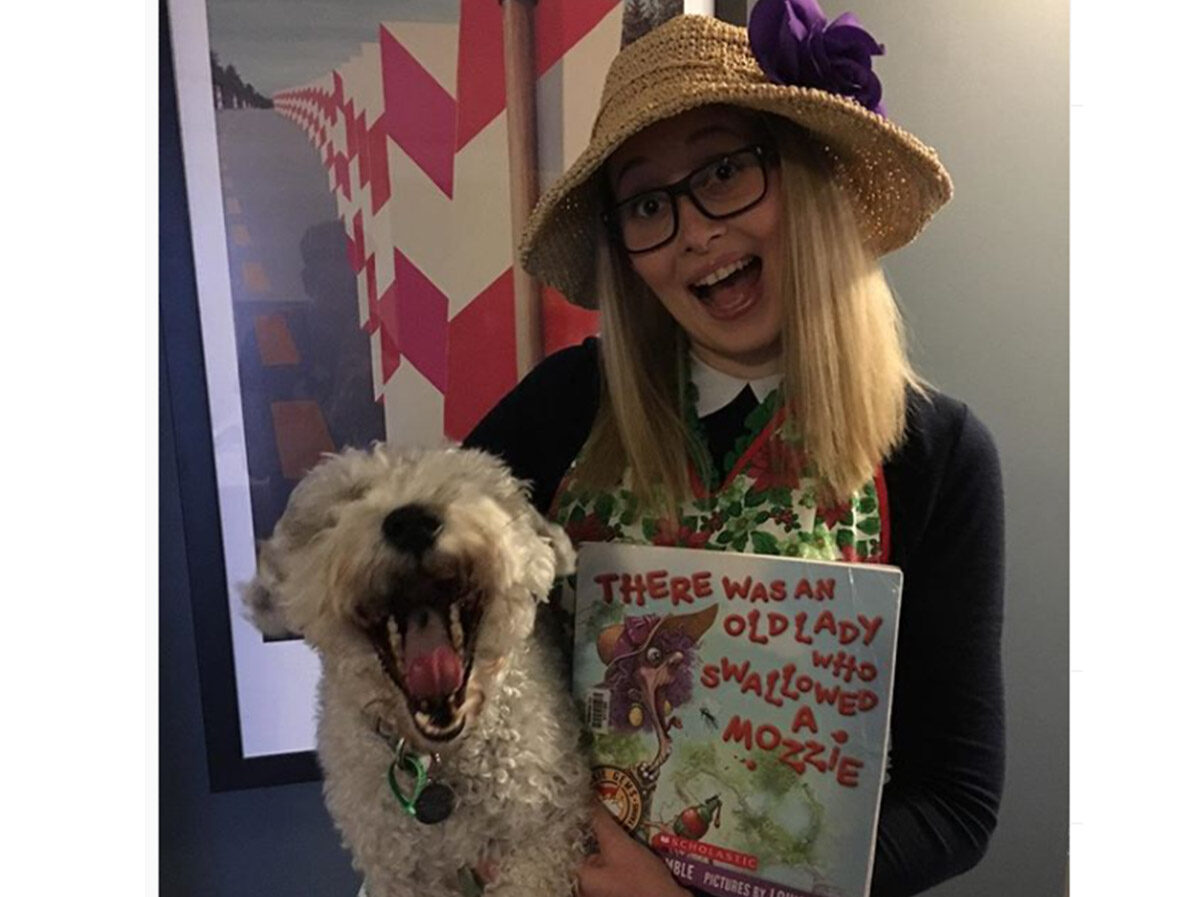 Queen Bees (and Wannabes)
Are you looking to base your costume on a slightly more mature book? That's fine.
Year 6 teacher, Angie @teachingwithpeguins, and her teaching pals took inspiration from Queen Bees (and Wannabes), a 2002 book by Rosalind Wiseman targeted at parents and secondary school teachers. The book addresses the dynamics of girls' social groups and the challenges they face during adolescence. However, there are concepts and insights that primary school teachers can take from the book, including understanding social dynamics, bullying prevention and communication strategies.

Zog the Dragon
Zoom into Book Week like Brisbane dad Jesse (@jesseolds)!
Jesse was inspired by the main character of the picture book, Zog, written by Julia Donaldson. This funny rhyming tale touches on a range of themes that can guide discussions in the classroom, such as perseverance, growing up and following your dreams.

The Rainbow Fish
Many kids and teachers have grown up reading The Rainbow Fish by Marcus Pfister, making it a perfect choice for this year's theme. While the book is visually beautiful to read, it also communicates important messages about teaching kids to share with others to help build happy friendships.
This nostalgic book can be brought to life with sparkly materials and scale patterns, just like this stunning handmade costume by Aussie teacher Tamara (@tamara_263). This is definitely a costume to keep for another occasion!
Harry Potter
The Harry Potter book series transported many readers into a quirky world of witchcraft and wizardry, with plenty of fun characters to portray for Book Week!
This magical costume by Western Australian Year 4 teacher, Miss T (@123withmisst), gives us serious Hogwarts inspiration! We're sure her class would have been blown away by the transformation too, down to every detail. As she said, "Today I got to live out my Book Week dream of being Luna Lovegood…well if she decided to go through an emo phase and dye her hair brown-black!"
As well as awesome costume inspiration, Harry Potter can be used by teachers to put a creative twist on science, literacy and HASS lesson plans. For example, use the books as creative writing prompts to get students to write their own stories set in the wizarding world or imagine new adventures for existing characters.

Little People, BIG DREAMS
Penelope (@misspenelopeteachesme), a Year 3 teacher from Melbourne, and her teacher pals stepped into the shoes of fellow inspiring women from the Little People, BIG DREAMS series by Maria Isabel Sánchez Vegara. These book-inspired costumes absolutely rock.
The biography books for children explore the lives of iconic figures who achieved incredible things yet were once kids with a dream. What a perfect way to celebrate the 'Read, Grow, Inspire' theme! Plus, you can repurpose bits and pieces from your own wardrobe – it's a win-win.
Use our Dream Big! template for your class to learn how to set goals and aspirations.

101 Dalmatians
You might remember 101 Dalmatians as a series of live-action and animated films, but the story is based on a 1956 novel 'The Hundred and One Dalmatians' by Dodie Smith. While Cruella De Vil brings a dark tone to the narrative, portrayals of love and family are strong throughout the book, allowing students to discuss different character traits.
There are also some adorable Book Week costume inspirations to be taken from 101 Dalmatians, like this spotty puppy outfit by Year 2 teacher @teachingwithcrayonsandsparkles. A costume like this one is relatively easy to recreate, too, with the help of an old white T-shirt and some black fabric paint or markers.

Alice's Adventures in Wonderland
Ok, these Alice in Wonderland costumes for adults from year 1 teacher Miss Emily V. (@missemily.v) are some seriously cool costumes! If this hasn't inspired you to get your teacher tribe together and go as themed characters this Book Week, then we don't know what will. You don't have to stop at costumes; you could turn your classroom into a whimsical wonderland, too!
Although a modern film-adaption, this fantasy story was written way back in 1865 by Lewis Carroll and was called 'Alice's Adventure's in Wonderland'. This story has been enjoyed by both children and adults, and explores a number of themes that can be discussed in the classroom such as growing up, curiosity and self identity.

Here's another amazing bunch, including New South Wales teacher Heerthayini (@teacherlifewithheertha), getting into the spirit of Book Week with Alice!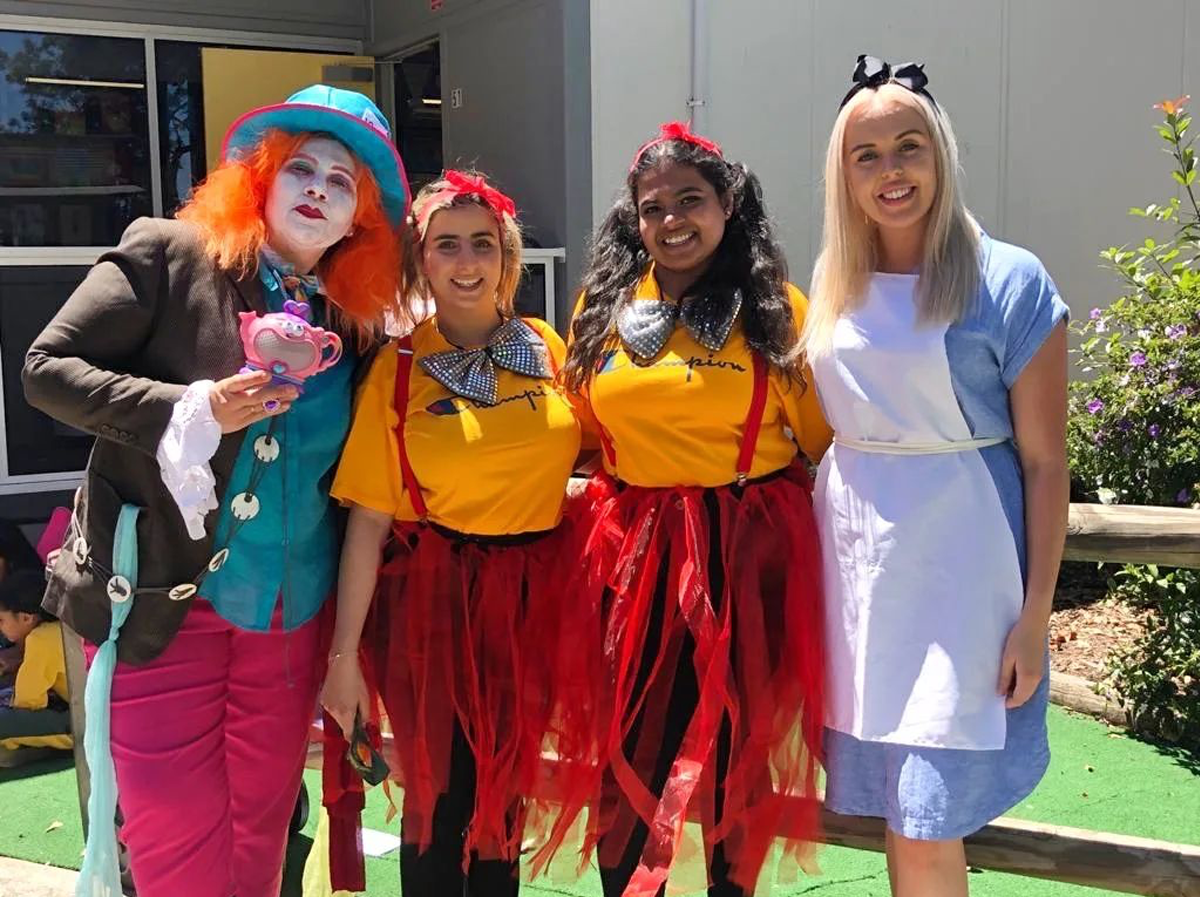 The Very Hungry Caterpillar
The Very Hungry Caterpillar by Eric Carle is a classic! The book is a perfect match for the 'Read, Grow, Inspire' theme, and you can also get creative with costume ideas. The book metaphorically focuses on transformation and personal growth through a little caterpillar blossoming into a butterfly. Teachers can use this book in lesson planning to discuss various topics, such as the life cycle of a butterfly, learning how to count and even nutrition.
Here's Year 4 teacher from the Gold Coast, Miss Wood (@teachwithmisswood), floating around the classroom as a beautiful butterfly. That Very Hungry Caterpillar teddy is the cherry on top – we love it!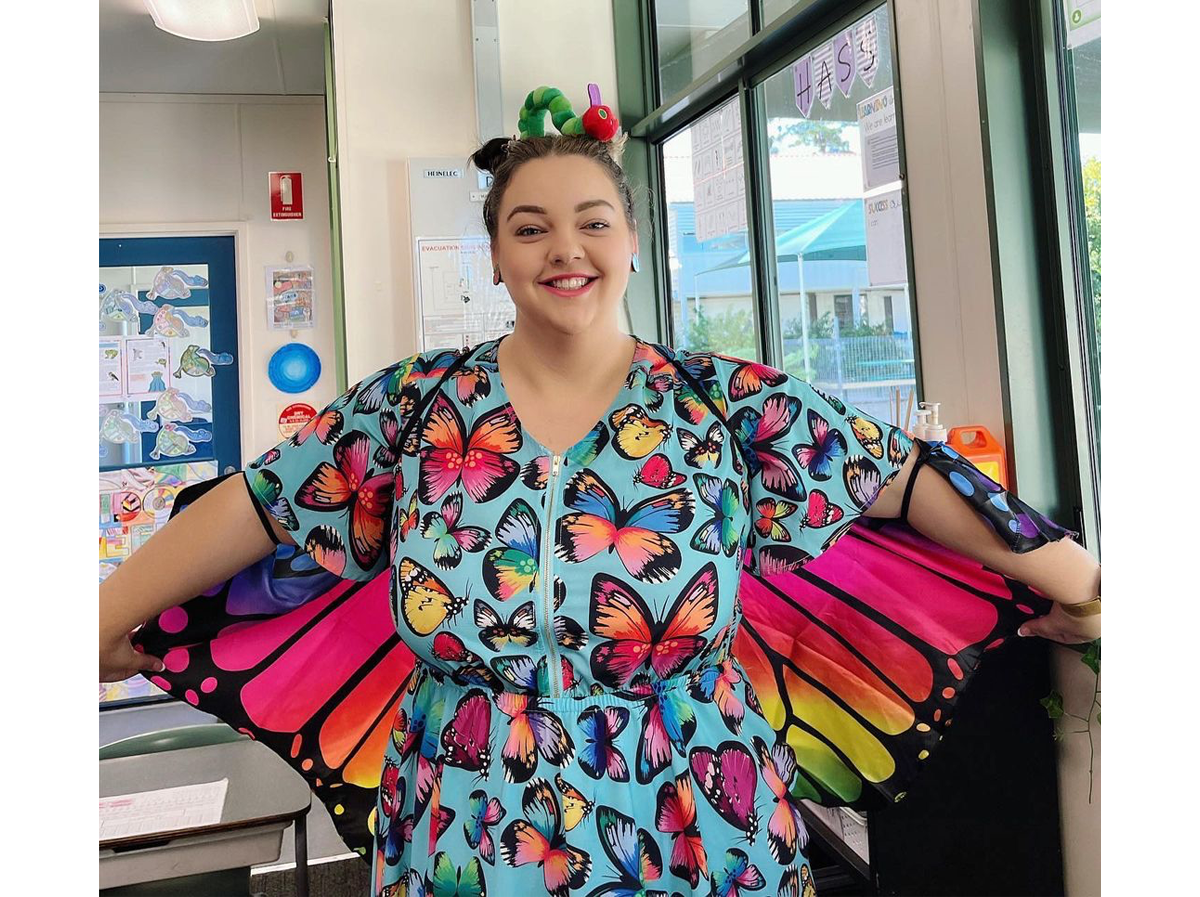 Winnie-the-Pooh
Every year we just get blown away by your Book Week costumes, and we were ceretainly 'wowed!' by this Winnie-the-Pooh costume. Teacher Sam (@cre8tive.classroom) got crafty with her sewing machine to stitch this fantastic bear suit. Top points for repurposing a flower pot as a 'hunny' pot, too!
This loveable book by A. A Milne explores some wonderful themes to help drive discussions in the classroom about friendship, creativity and imagination, and emotions and empathy. For example, after reading Winnie-the-Pooh, get students to explore the range of emotions experienced by the characters in the book, such as happiness, sadness, fear, and frustration, and discuss how they express and deal with their feelings in a group.

Rowan of Rin
Book Week is also an excellent opportunity to use an in-class text as it is not compulsory to use a book from the shortlist. Charlotte from @teachingwith_missm and her Year 4 team dressed up as characters from a book they read in class called Rowan of Rin by Emily Rodda. Teaching year 4 this year? This fantasy novel by an Australian author makes a fantastic novel study, particularly in term 4 when your students will be a bit older.
Explore our jam-packed collection of Book Review Templates for Teachers!

No One Likes A Fart
Are you looking for a fairly easy but attention-grabbing Book Week costume? Here's one for you!
Adriana from @misstrikolas sent us one of her favourite Book Week costumes and we can imagine the choir of giggles amongst her class! To recreate this funny costume, all you'll need is some thick paper, scissors and string.
To take it a step further, No One Likes A Fart is great book to read with your class, followed by discussions around self-worth, respect and acceptance.

It seems that No One Likes a Fart has been popular for Book Week! Here's the lovely Ceri from @ceri.sandford, also dressing up as the character from the book!


The Magic School Bus – Ms. Frizzle
Seatbelts everyone; there's Magic School Bus inspiration incoming. Although some may know it best as a show on Netflix, The Magic School Bus originated as a book by Joanna Cole created to get 6- to 9-year-olds excited about science.
Grade 3 teacher, Amy (@heyteacherteacher), transformed into one of her teacher idols, Ms. Frizzle, for Book Week, and we're big fans. If you want to sprinkle some magic in your classroom, the quirky teacher is an easy costume choice. Just reuse one of your vibrant teacher dresses, throw on some funky earrings, and you are ready to go!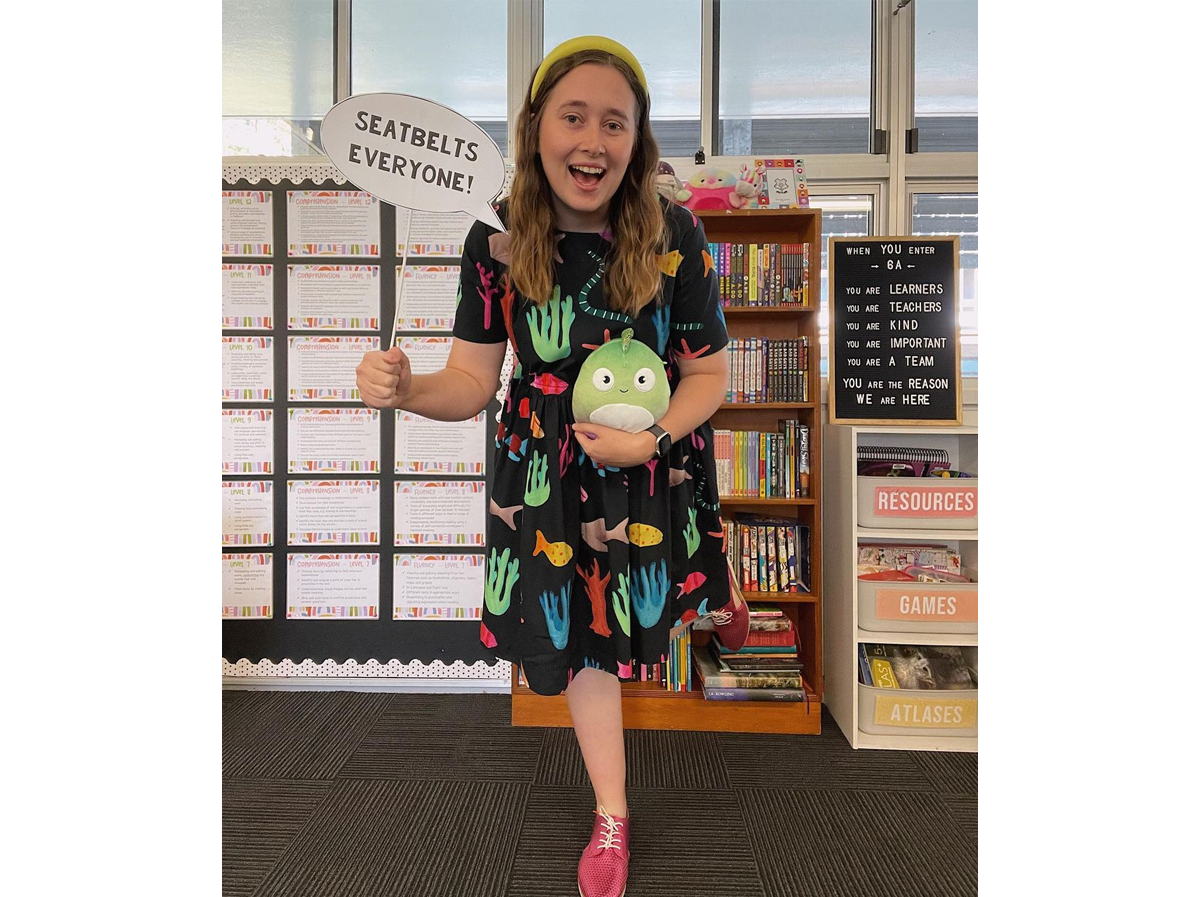 We can't get enough of The Magic School Bus, so here's another costume gem. Year 4 teacher @thetodayteacher also dressed as Ms. Frizzle, complete with a pet lizard and her own magic school bus.

Can't Choose a Favourite Book?
What happens if you can't choose just one favourite book for your costume? You go as them all!
We adore this costume that teacher Lauren from @lessons.with.lauren created for a past Book Week theme, 'Reading is My Secret Power.' But you can use this costume idea for any theme. Lauren used the front cover of her prep class's favourite books and created a dress. How nifty.

Where Is the Green Sheep?
Written by Mem Fox, Where Is the Green Sheep has been a popular pick Book Week adult costume over the years. Perth Grade 6 teacher, Hannah (@missgirlingsclassroom), rounded up her teacher pals (pun intended!) and made the fantastic DIY costumes you see below.
The book they drew from is a beautifully illustrated book and a great read for younger students to help with language development and broaden their vocabulary. Want to add it to your lesson plan? Why not create a class rhyming wall where students identify and add new rhyming words they discover in the book or brainstorm together?

Do Not Open This Book
Do Not Open This Book by Andy Lee will intrigue little readers! Canberra-based kindy teacher @the_good_in_teaching went to Book Week as this little blue character, and so can you! Grab a blue swimming cap, a blue long-sleeve top and stockings. Find some old shorts, a brown belt and black lace-up shoes, and you're ready to go. Just remember the 'Go Read Something Else' sign!
As well as being a fun Book Week costume idea, this book is an excellent tool for students to make predictions and inferences by guessing what the story might be about, judging from the title and making interferences based on visual cues and prior knowledge.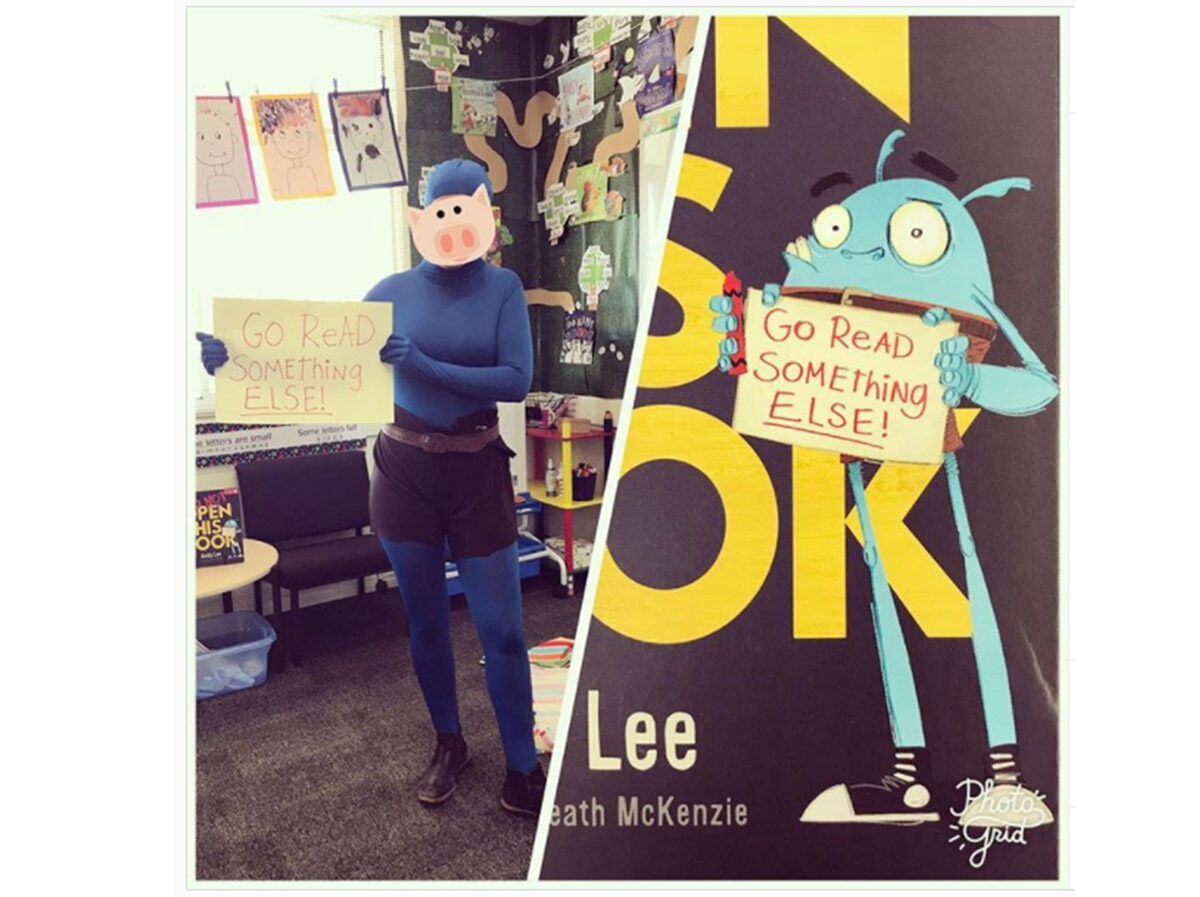 The Day the Crayons Quit
Here's another popular costume choice for a group of teachers! Everyone in your teaching circle can go as a different crayon colour, just like Brisbane teachers Miss E and Miss P (@misseandmissp).
This costume is worth it if you are okay with getting a bit crafty. To help save time, you could stick to coloured cardboard posters together instead of painting each colour. Then, grab some sparkly hats at your local discount variety store to top it off!
The primary moral of The Day the Crayons Quit by Drew Daywalt is about teaching kids empathy and what it's like to walk in the shoes of others, making the book an excellent tool for your social and emotional learning lesson plans.
Use The Day the Crayons Quit in your persuasive writing lessons!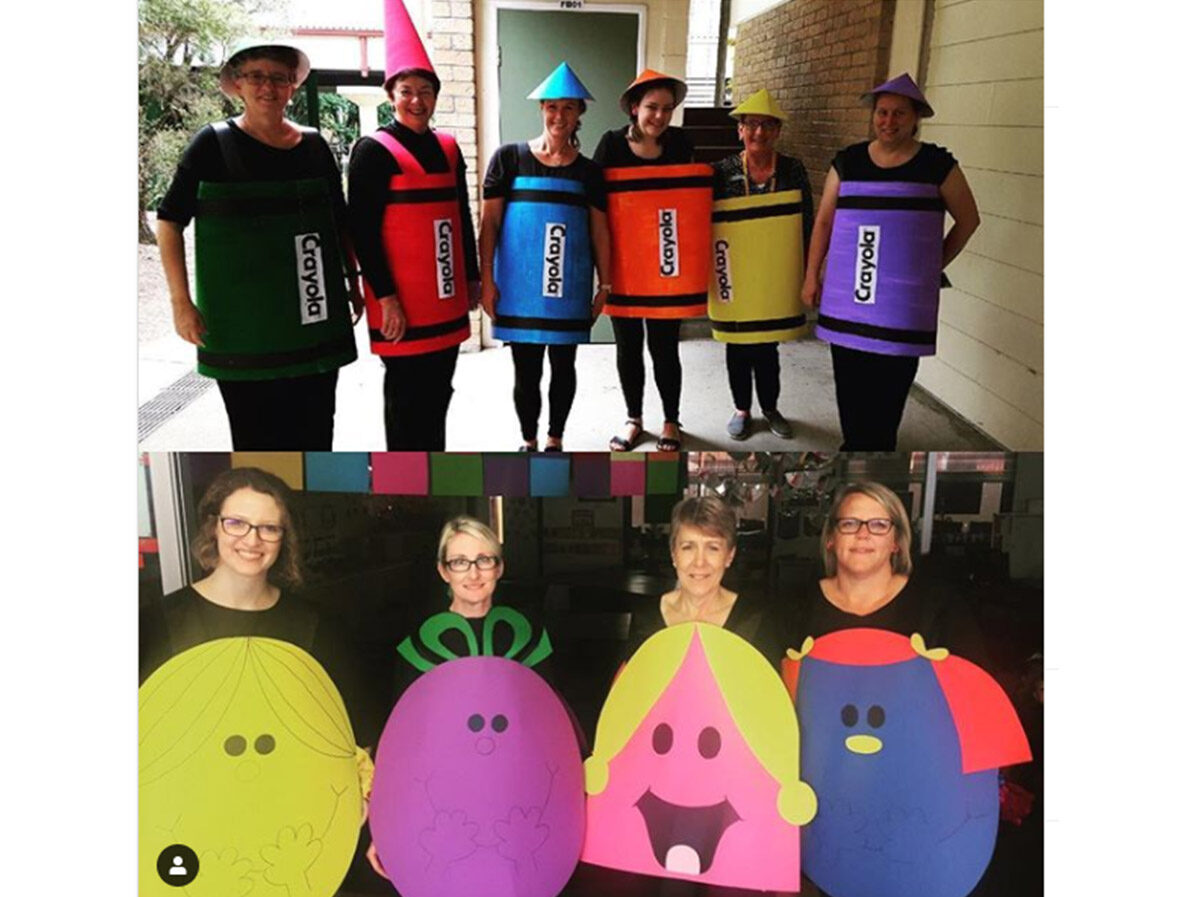 The Wizard of Oz
Although written in 1900, The Wonderful Wizard of Oz by L. Frank Baum is a classic story with themes teachers can draw on today, such as finding courage and building confidence.
Whether you'd rather buy a pre-made outfit from a party store or make a DIY Book Week costume, the book has plenty of fun characters to inspire you, just like St. Mary's Primary School teachers. An ensemble made of aluminium foil would be the perfect Tin Man, or throw on an old plaid shirt and a straw hat to become Scarecrow.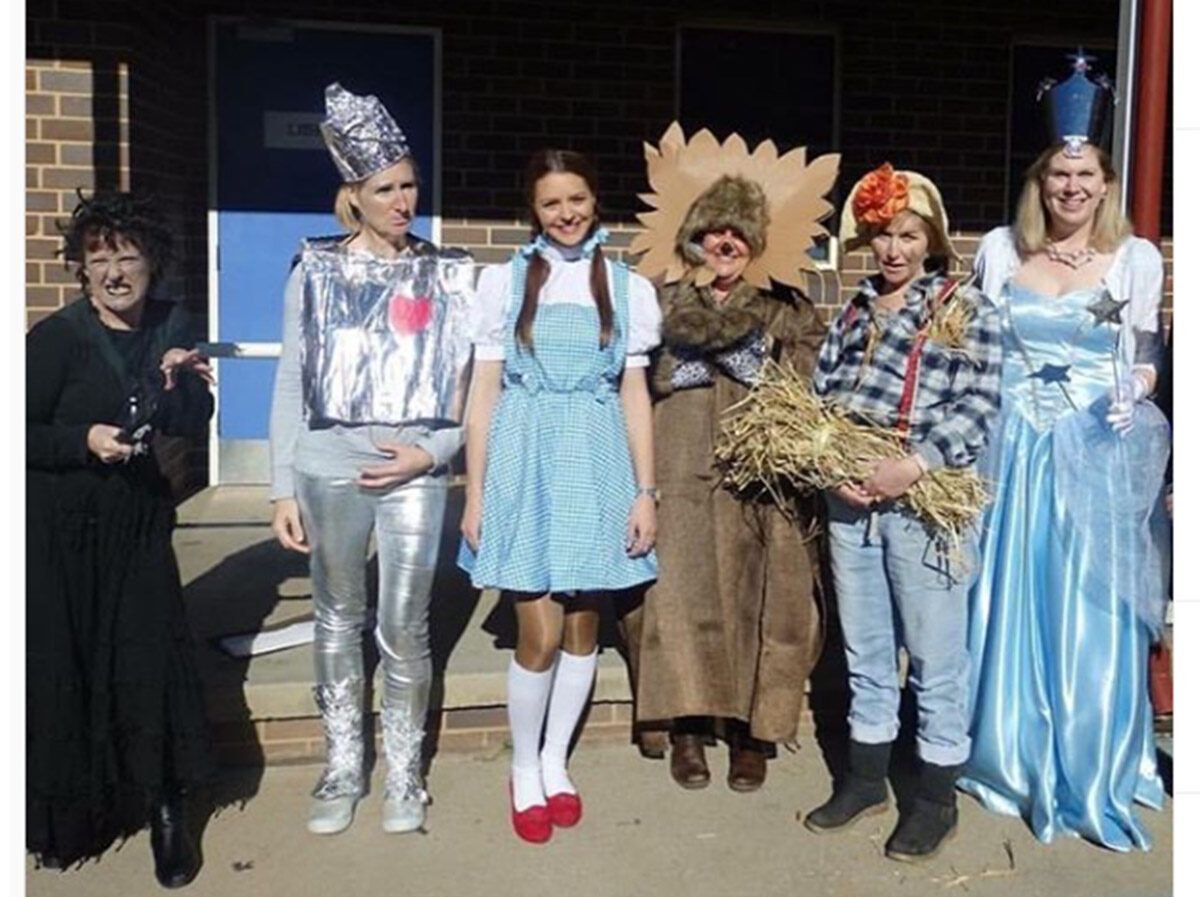 Minions (A Little Golden Book)
Although Minions first appeared on the big screen in Despicable Me, the hugely popular characters have also been portrayed in book form, such as in Minions (A Little Golden Book) by Rachel Chlebowski. These little yellow characters are not just cute; they can also teach kids important life lessons such as staying optimistic, expressing kindness and being a team player.
If you plan to go as a Minion for Book Week this year, check out these fantastic costumes by Grade 5/6 teacher, Rachel (@theselilducklings), and her colleague!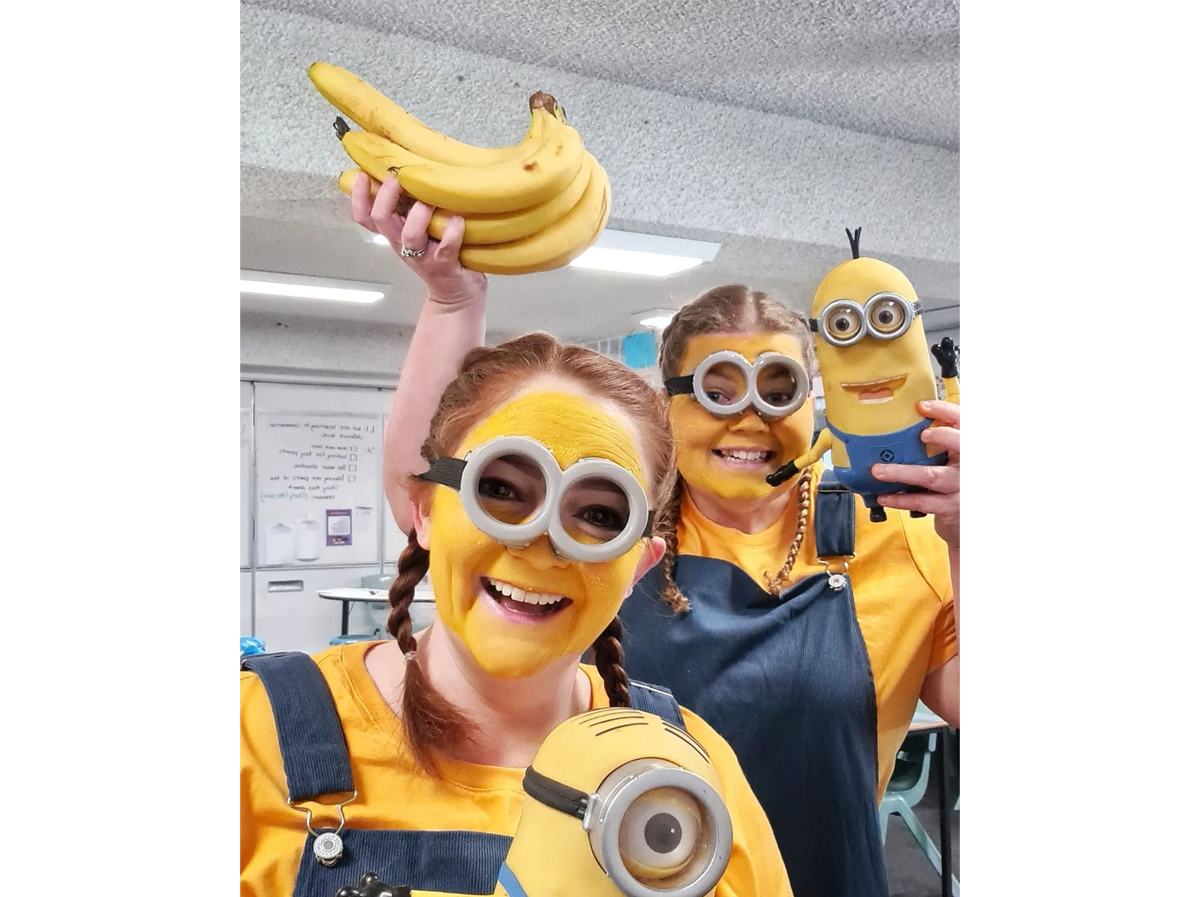 Our Book Week collection is jam-packed with creative and curriculum-aligned printables, worksheets, games, and so much more!