Did you know that Wednesday, March 27th is World Theatre Day?
Initiated by the International Theatre Institute in 1962, World Theatre Day aims to promote and celebrate theatre and the dramatic arts. With it comes an annual World Theatre Day International Message, through which a figure of world stature shares his or her thoughts on the theme of Theatre and a Culture of Peace.
"We gather to weep and to remember; to laugh and to contemplate; to learn and to affirm and to imagine."

Brett Bailey, Stage Director from South Africa, World Theatre Day Message Author 2014
I could not think of a more fabulous reason to celebrate the dramatic arts with your class!
If you're still not convinced, consider the great things that studying theatre can do for your students.
Theatre Arts and Drama:
teach cooperation
teach empathy
build decision-making skills
build confidence
refine presentation skills
encourage self-acceptance and acceptance of others.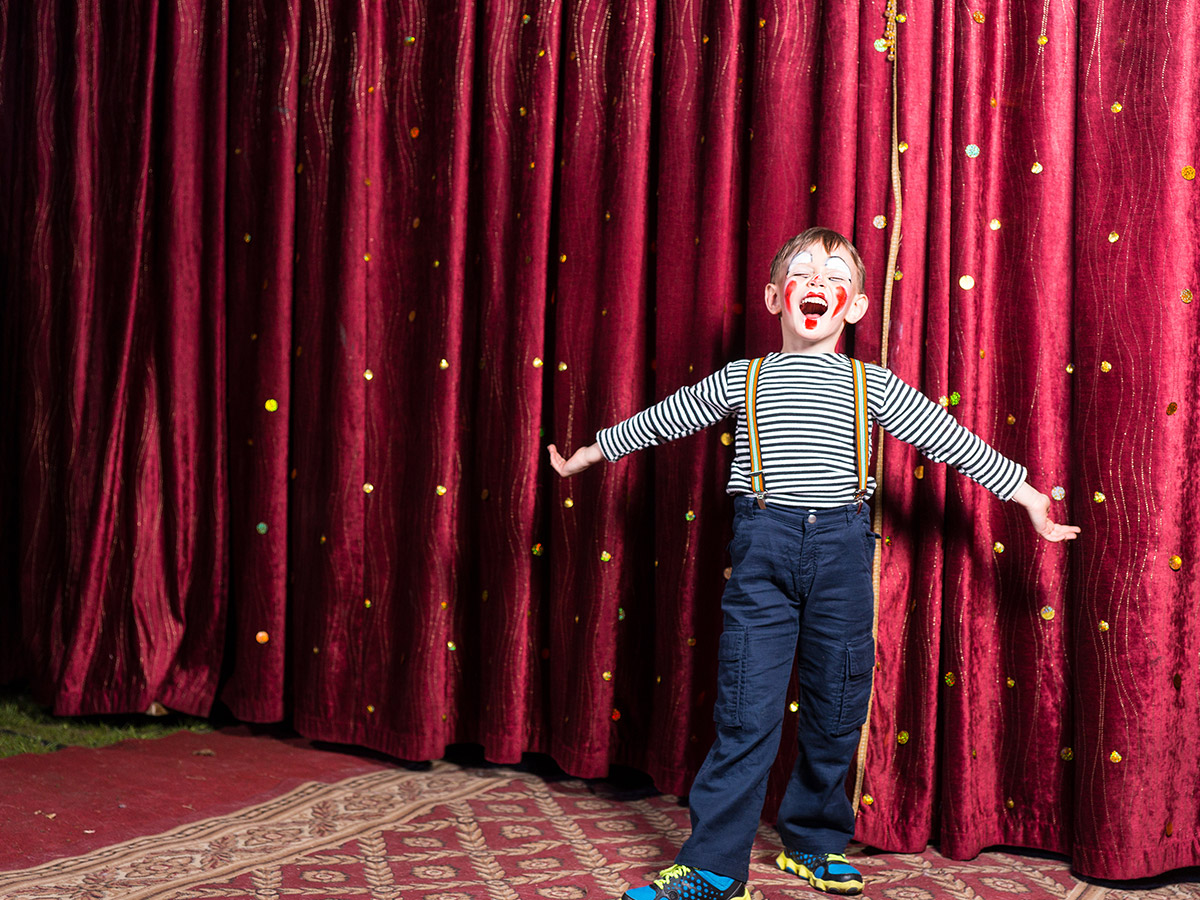 It really is an all-encompassing subject matter! But, often teachers are hesitant to dive into the content because they themselves have had little experience with the subject.
The wonderful news is that there are so many different activities you can do to teach children about the theatre. From history to body movements, there's something for everyone!
World Theatre Day Activities for the Classroom
We have a whole collection of fantastic Drama Resources for you to use! I've chosen to showcase a select few activities, but check out the rest of them to see what other amazing resources are in our Drama Resource Collection.
In the meantime, step into the limelight with these fabulous and fun classroom activities for World Theatre Day!
Warm Up with Drama Games
We have a number of fun and creative Drama Game Task Cards which are the perfect introduction to body movement and improvisation!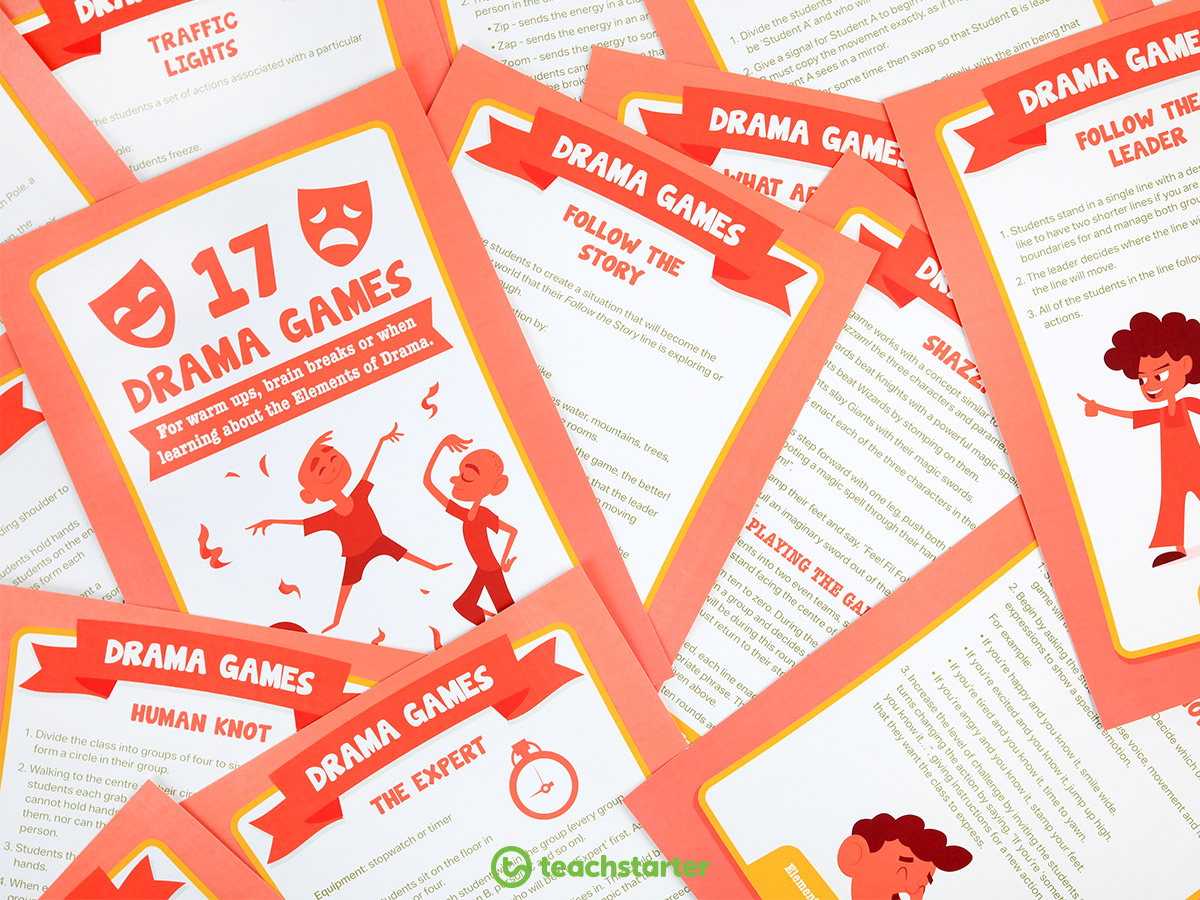 Take a look at my favourites:
A simple game, Yes Let's opens students' minds up to the possibility of using their bodies to create weird and wonderful actions without hesitation! Invite students to complete an action using a phrase that begins with "Let's…" For example: "Let's wobble like a sea jelly!" Everyone energetically replies "Yes, lets!" and all begin to wobble like a sea jelly. The next person in the circle then changes the action, going around until everyone has had a turn.
Divide the students into groups of 3 to 4. Call out a familiar object or scenario (such as the North Pole, a washing machine, at the beach). Count down from ten to zero and then shout 'Freeze!' Each group must arrange themselves into the object, character or situation using their bodies. Give them a thumbs up or thumbs down to show how well they've represented the stimulus!
This game begins with the first student acting out a simple familiar, repetitive action (such as brushing their teeth). The second student asks, "What are you doing?" The first student answers by saying something completely different from the action they're doing! The second student must then mime the new action.
Discuss the Basics of Theatre
We have a number of visually stimulating and informative 'theatre' themed display resources for you!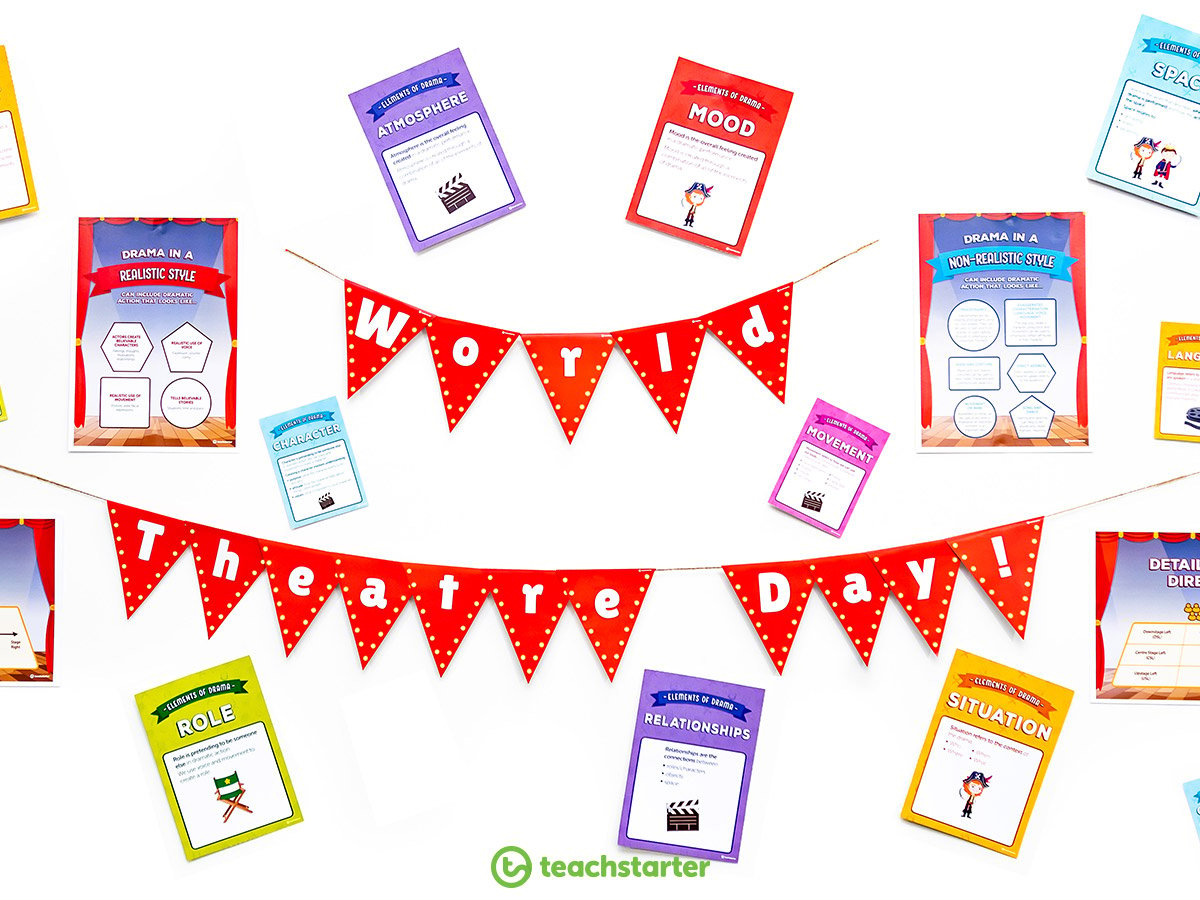 I set up my World Theatre Day wall display banner with our Hollywood – Letters and Numbers Bunting!
Our Lights, Camera, Action – Theatre Word Wall Vocabulary helps immerse your students in theatre-related vocabulary. Display these around your classroom with our Stage Direction Terminology Posters and "What is Drama?" Poster.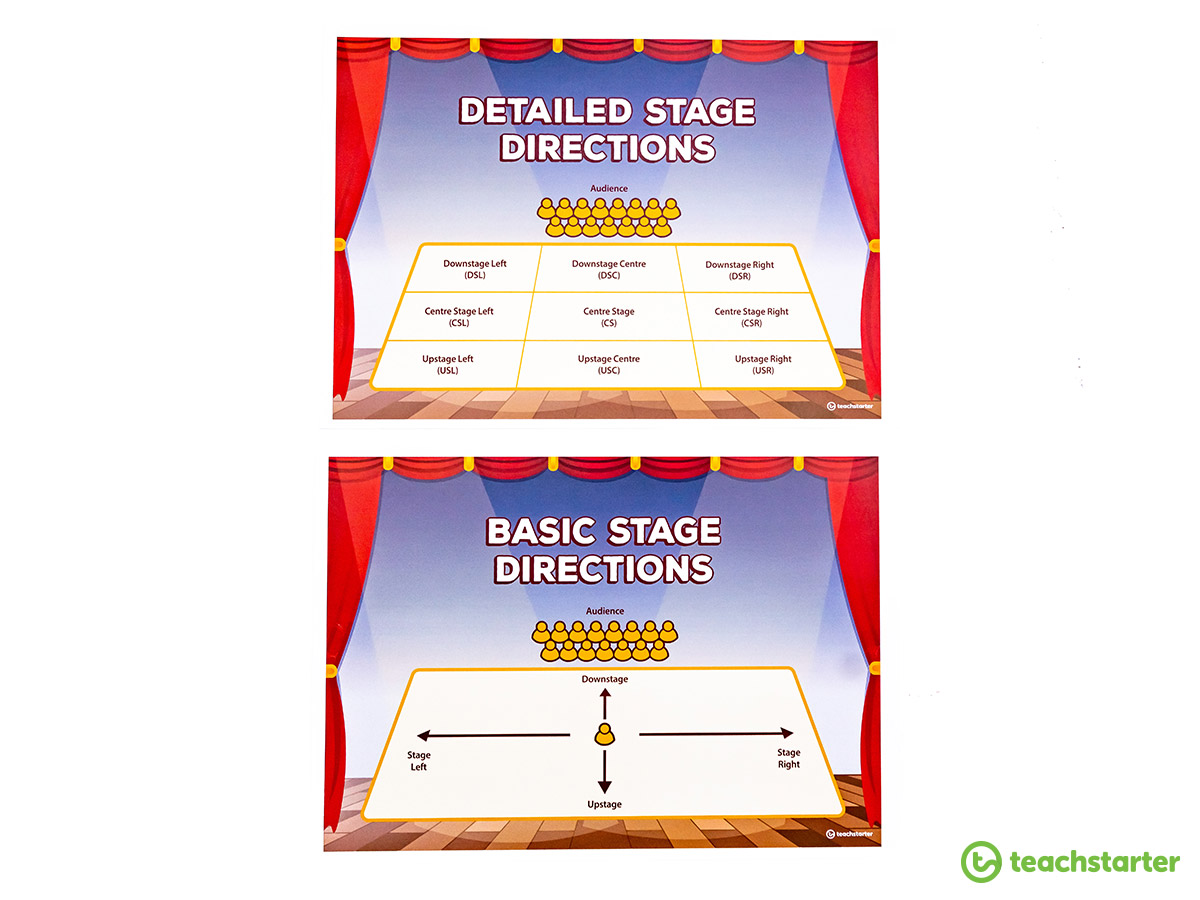 Your class will love learning about the elements of drama with our The Elements of Drama – Information Cards.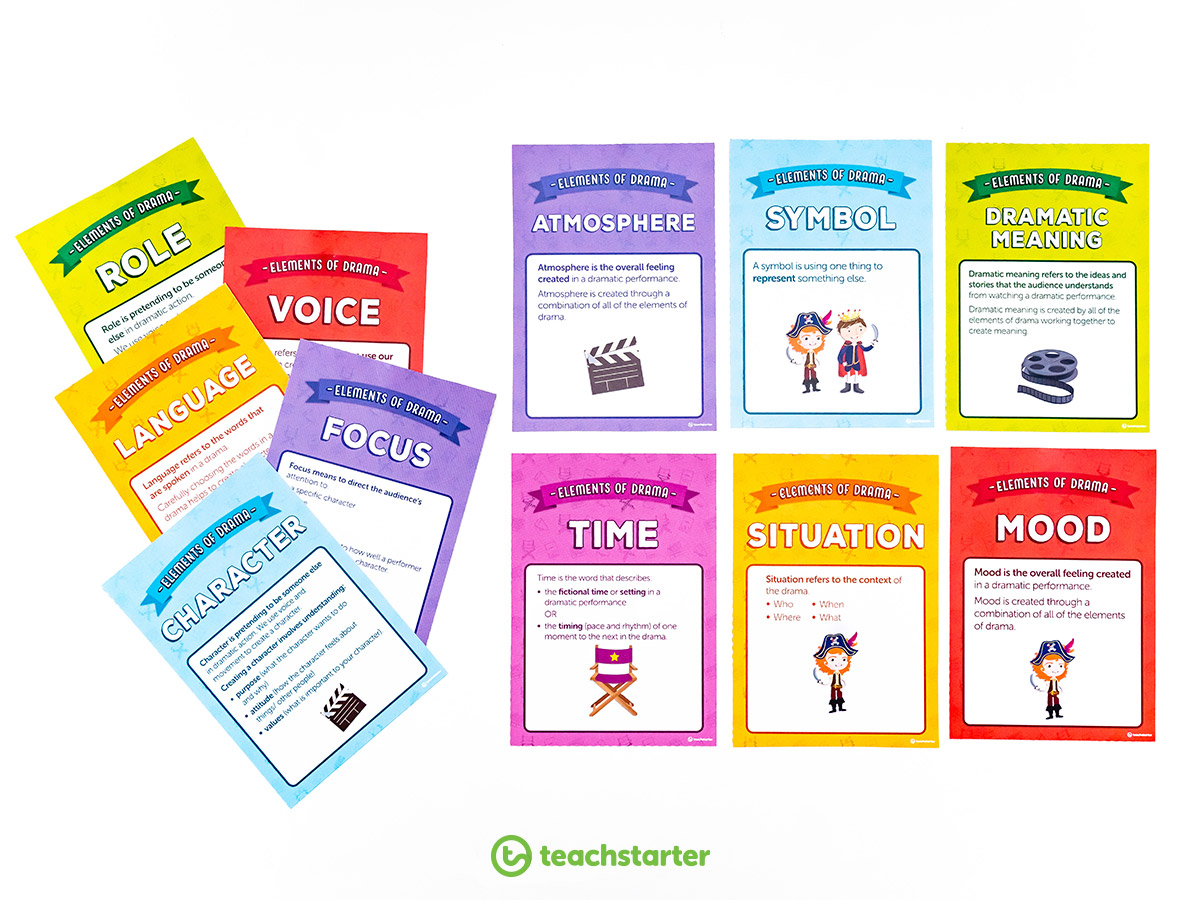 What Type of Drama?
Your students may think they already have a great idea about what theatre and drama is all about!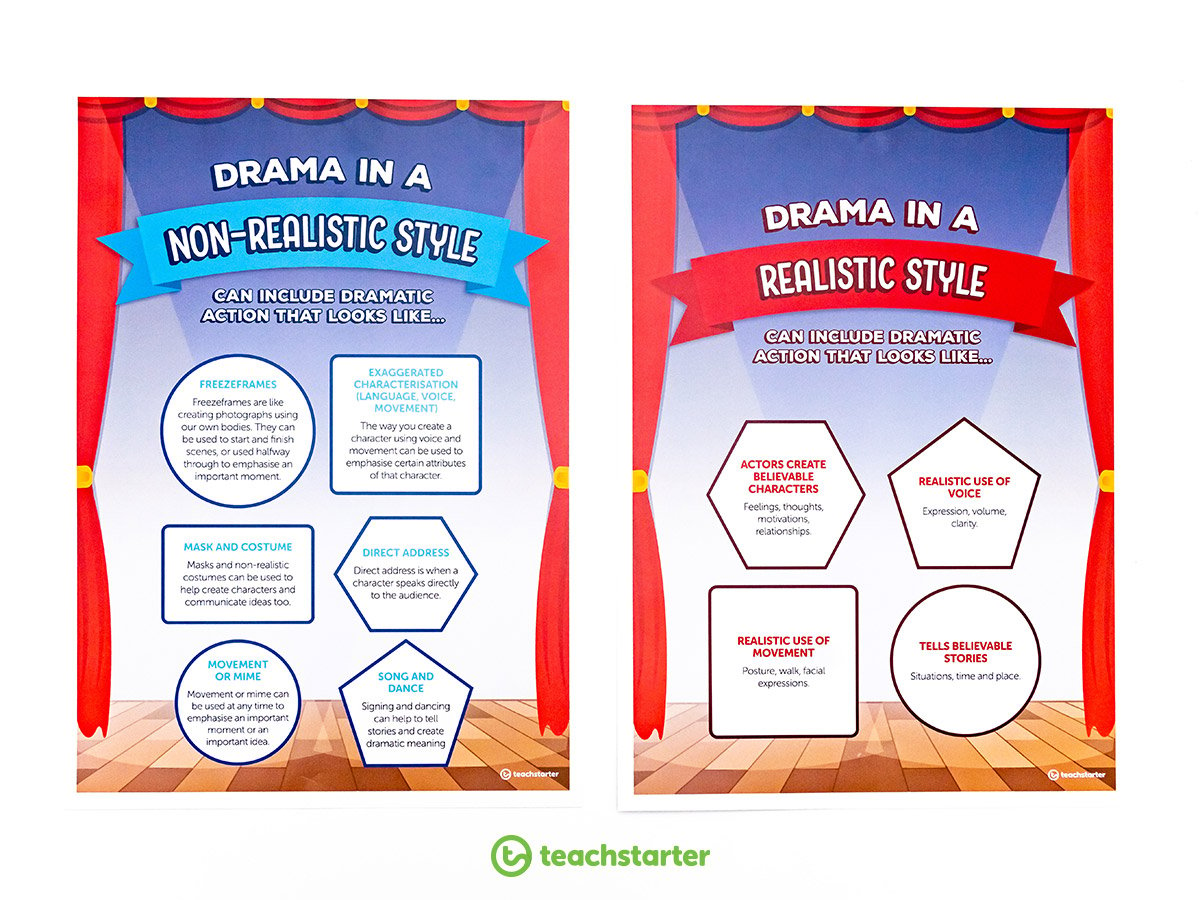 Discuss with your students whether they want to try some drama activities that teach elements of 'Realism Drama' or 'Non-Realism Drama' with our Realism and Non-Realism Performance Styles Posters:
Realism
Drama in a realistic style can include dramatic action that looks like…
Non-Realism
Drama in a non-realistic style can include dramatic action that looks like…
freezeframes: Freezeframes are like creating photographs using our own bodies. They can be used to start and finish scenes, or used halfway through to emphasise an important moment.
exaggerated characterisation (language, voice, movement): The way you create a character using voice and movement can be used to emphasise certain attributes of that character.
mask and costume: Masks and non-realistic costumes can be used to help create characters and communicate ideas too.
direct address: Direct address is when a character speaks directly to the audience.
movement or mime: Movement or mime can be used at any time to emphasise an important moment or an important idea.
song and dance: Singing and dancing can help to tell stories and create dramatic meaning.
Readers' Theatre Scripts
Readers' Theatre is a fantastic way to expose your students to the 'script' text type, while helping your students build fluency, confidence and comprehension.
This reading activity involves reading a script aloud in a small group. A script is the written text for a play or film, where the characters take turns to speak.
Students do not need to perform actions, use props, wear costumes or memorise any lines for Readers' Theatre – their goal is to use vocal expressions and intonations to bring the script alive! However, they can use facial expressions and simple gestures.
Some Readers' Theatre resources even come with character puppet cut-outs so that your students can create a play once they have read the script!
Take a look at our Readers' Theatre Teaching Resource Pack, which contains 33 Readers' Theatre scripts for all ages and abilities! Alternatively, check out some of my favourites below: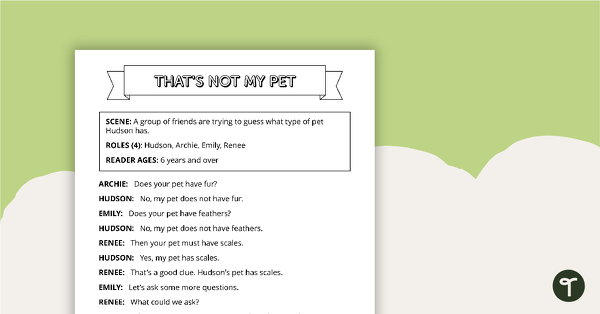 teaching resource
A script which can be used during readers' theatre or Drama sessions, aimed at students 6 years and over.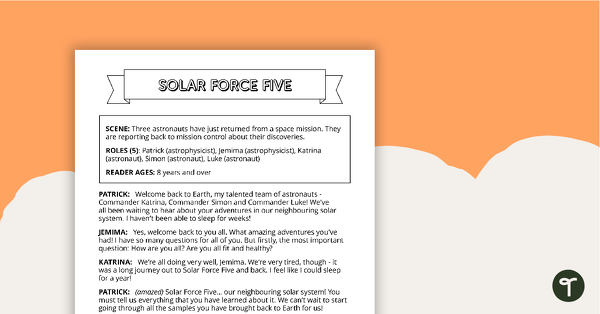 teaching resource
A script which can be used during readers' theatre or Drama sessions, aimed at students 8 years and over.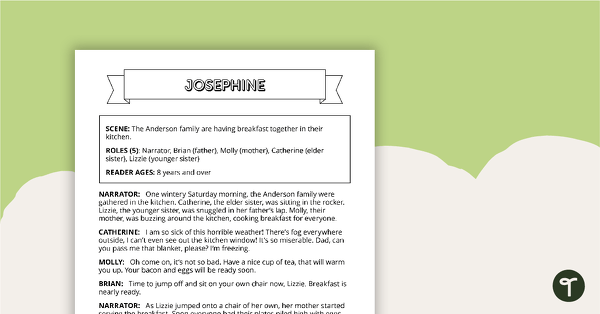 teaching resource
A script which can be used during readers' theatre or Drama sessions, aimed at students 8 years and over.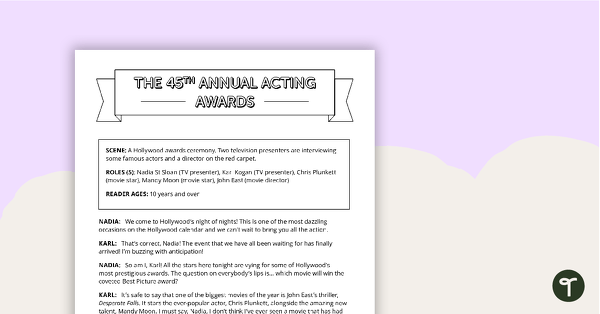 teaching resource
A script which can be used during readers' theatre or Drama sessions, aimed at students 10 years and over.
For more information on Readers' Theatre, read Stephanie's blog – Readers' Theatre – Building Fluency, Confidence and Comprehension.
Write Your Own Script
Once your students have had experience reading scripts in Readers' Theatre, why not have them write their own?
Using our William Shakespeare Play Writing Planning Template, students will have the opportunity to plan their own play script.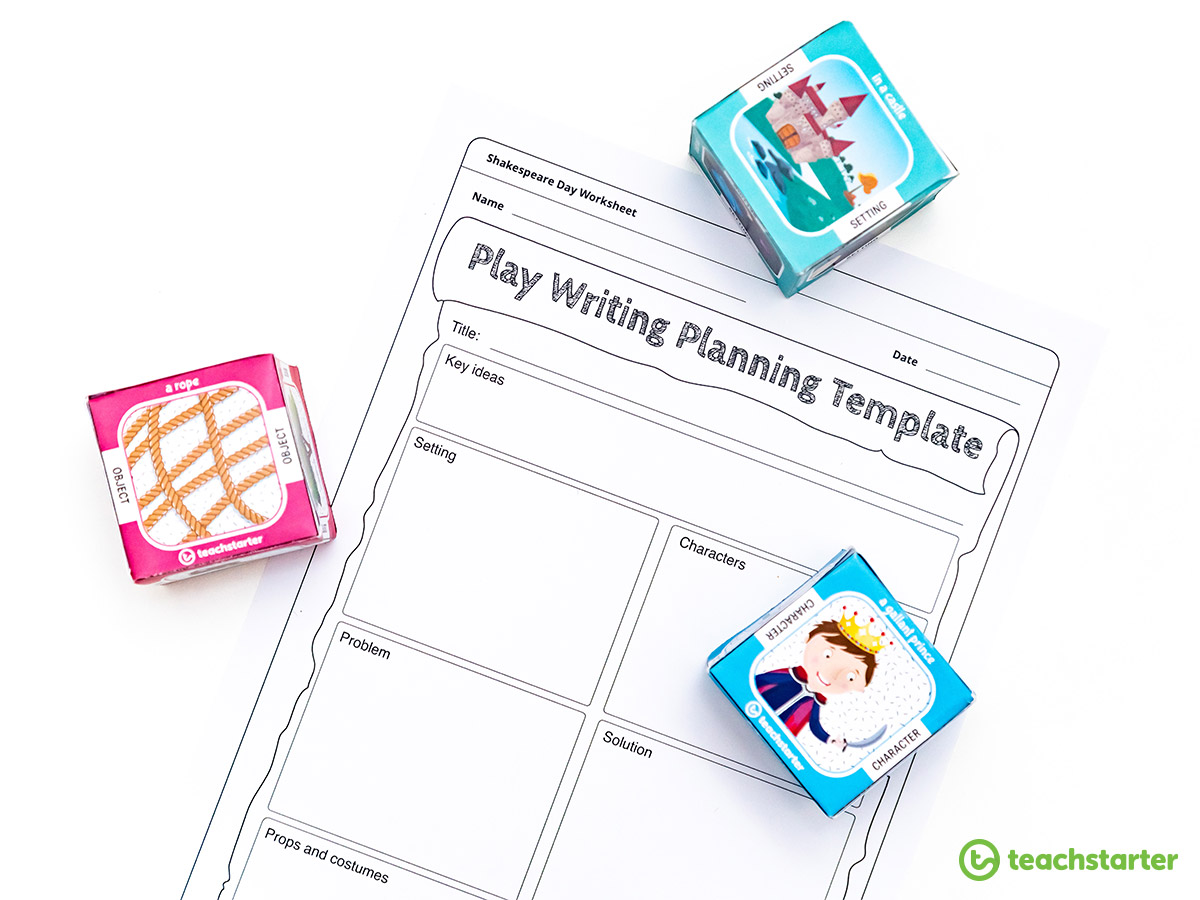 Our Story Building Dice Activity can provide your students with wonderful scriptwriting stimulus.
Print, cut and construct the:
setting dice
character dice
object dice.
Students roll each dice to generate ideas for a story setting, a character and an object to include in their creative scriptwriting.
Once they've created a plan for their play, they can write the stage directions and dialogue!
Finger Puppet Actors
These wonderful Storytelling Finger Puppets Templates make the most amazing script-writing stimulus!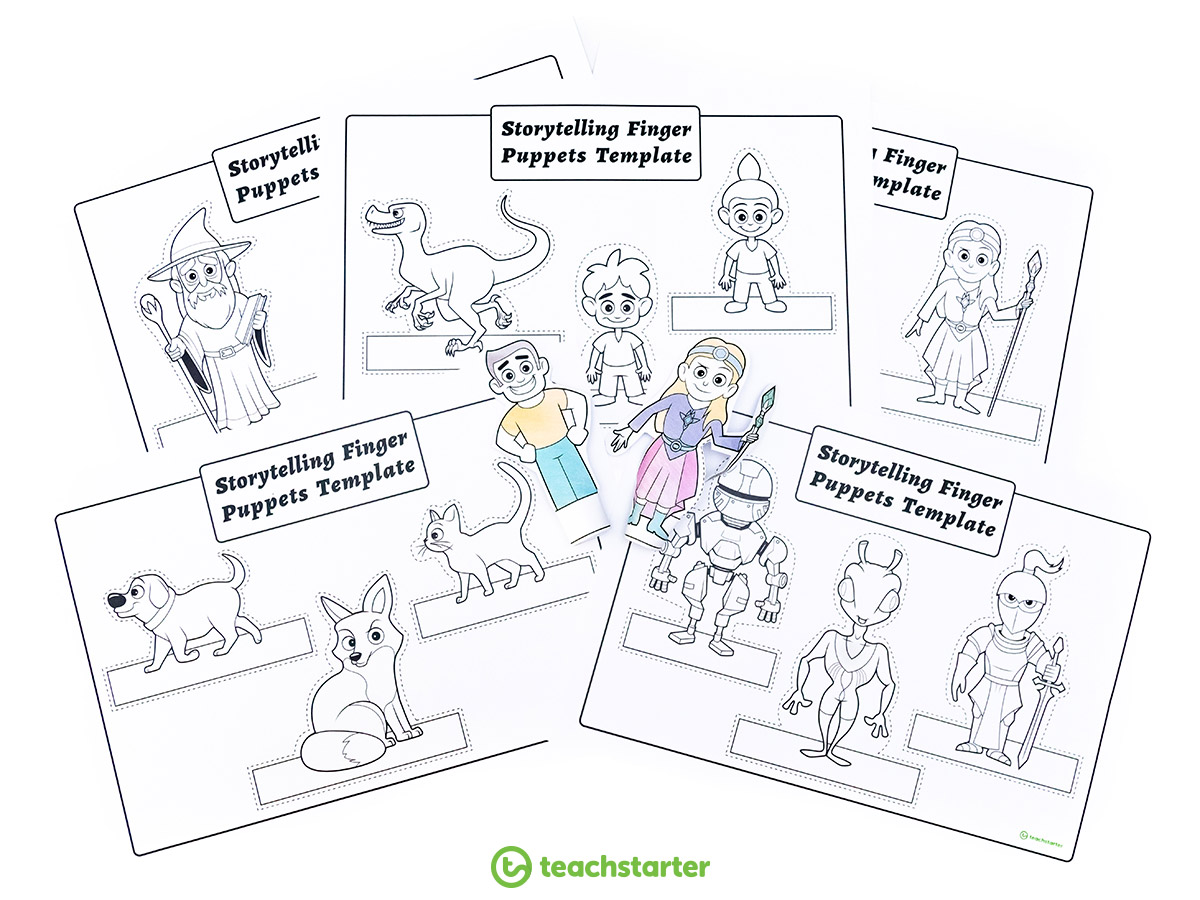 Our talented designer Boaz recently created these puppets for Ali's blog on 10 Inspirational Storytelling Ideas for the Classroom.
Use these creative characters to encourage your students to write a script to re-enact!
Introduce the finger puppets, leaving the name and characteristics of each puppet open to interpretation.
Encourage your students to work in groups to build a script around three or more character puppets.
Have a theatre presentation where each group presents their play to the class using voice and expression to bring the puppets to life!
Shine the Spotlight on Shakespeare
You can't have a day celebrating theatre without learning about one of the greats!
Take your class on a journey to the past with our William Shakespeare Resource Pack.
This magnificent resource includes:
William Shakespeare poster
Shakespeare fact sheet
fact sheets on Romeo and Juliet, Macbeth and The Comedy of Errors with lines and terms from each play.
For a fun introduction to William Shakespeare and associated vocabulary, your students will love to complete the William Shakespeare Word Search.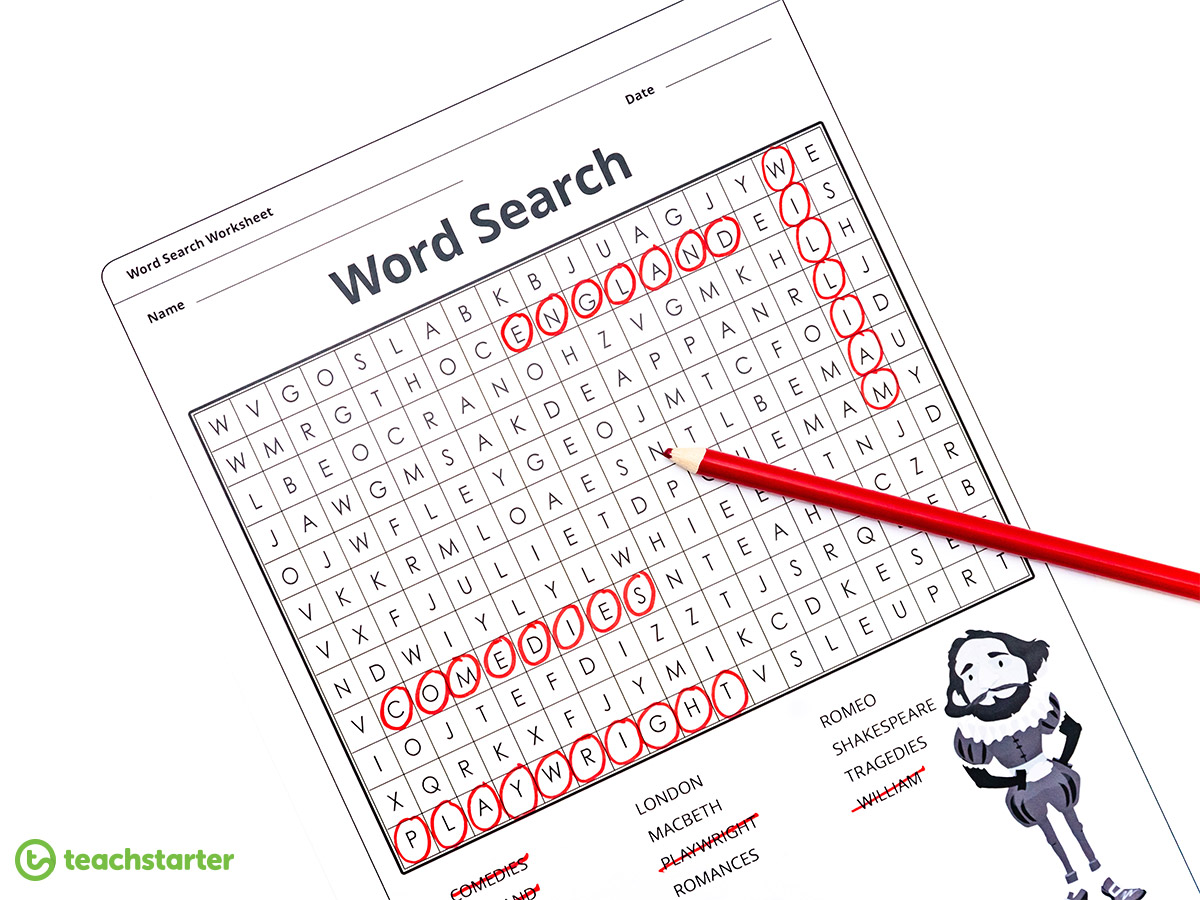 Encourage your class to read through the William Shakespeare Fact Sheet along with doing their own research to complete the William Shakespeare Research Task!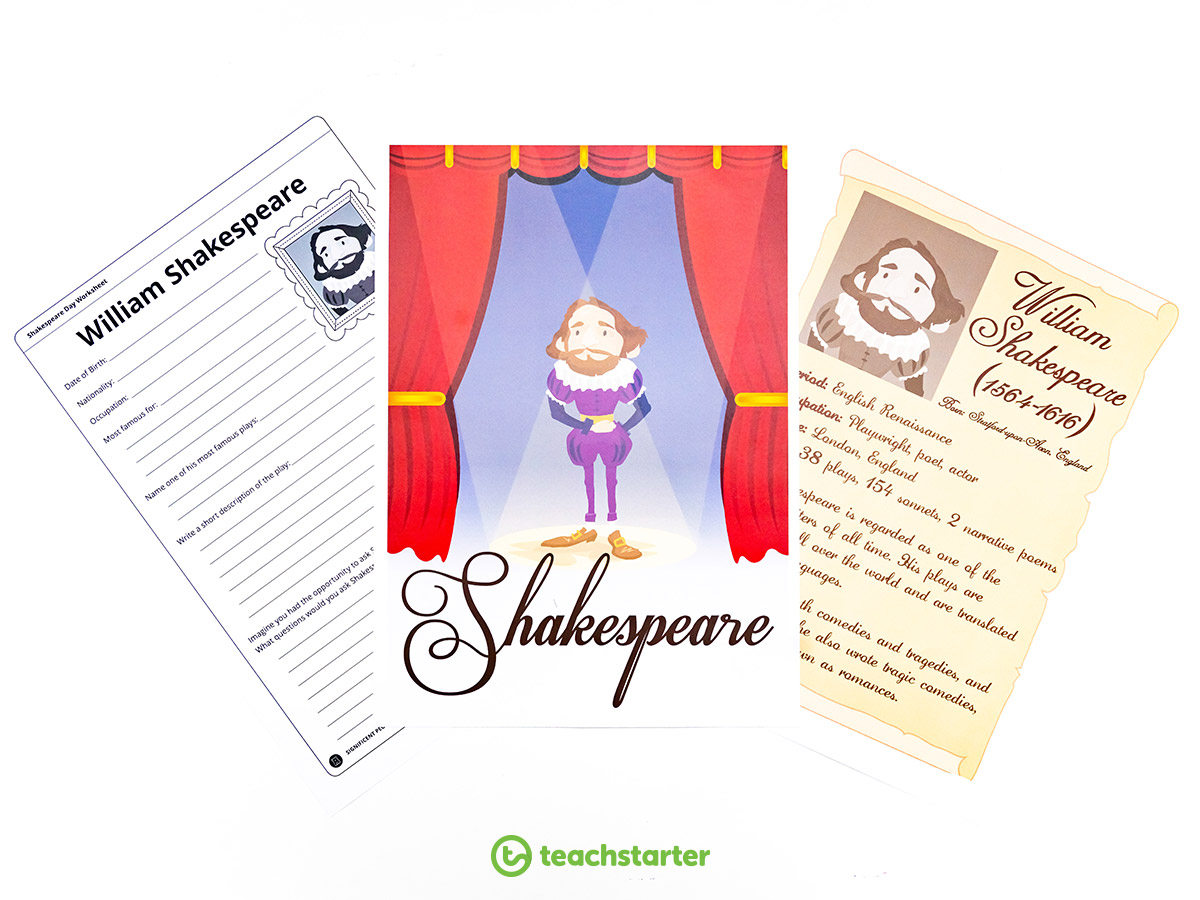 Create an Outdoor Theatre
Once your brilliant little actors have learned all they can about theatre, why not put on a fabulous play to show the culmination of their learning journey!
Your students and their families will love to see their hard work writing scripts and practicing their expression and acting skills with an Outdoor Theatre Day.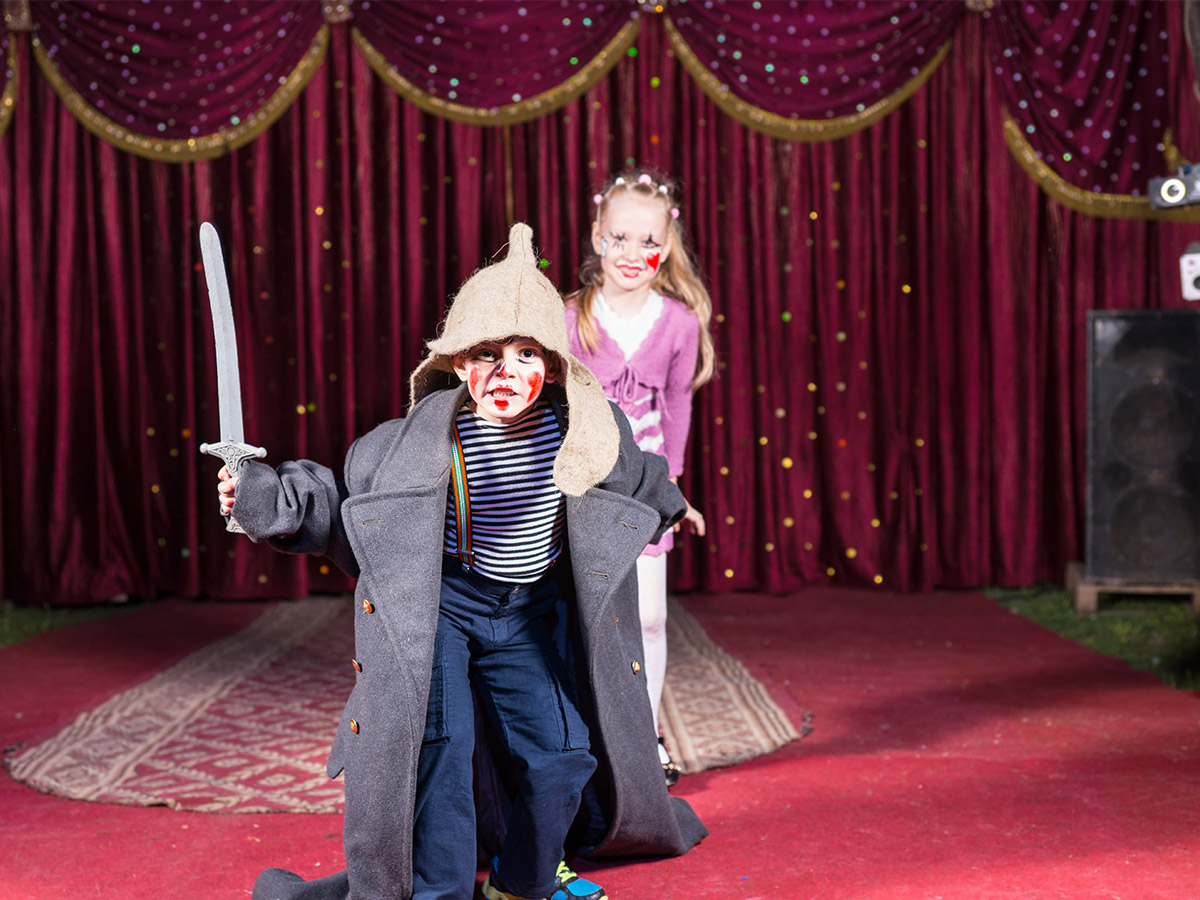 Hang some red curtains and some fairy lights, lay out the red carpet, and ask your students to raid the costume box! Why not make a night of it and have a school community World Theatre Day evening!
We hope your class had a blast and broke a leg with these fantastic drama ideas!
How will you celebrate World Theatre Day?