Both you and your students probably spend more waking hours in your classroom than you do in your respective homes! Which means that although it can seem like unnecessary work (or at least not as pressing as meeting never-ending curriculum and assessment requirements!), it is worth spending a little bit of time thinking about some of the small actions that help to create positive classrooms.
In this post, we'll give you eight different ways you can help to create a positive classroom environment. Some take a little time to set up, and others take no time at all! It's best to think about your class and choose what you think will benefit you and your students the most.
How to Create Positive Classrooms
(1) Keep an Uncluttered Environment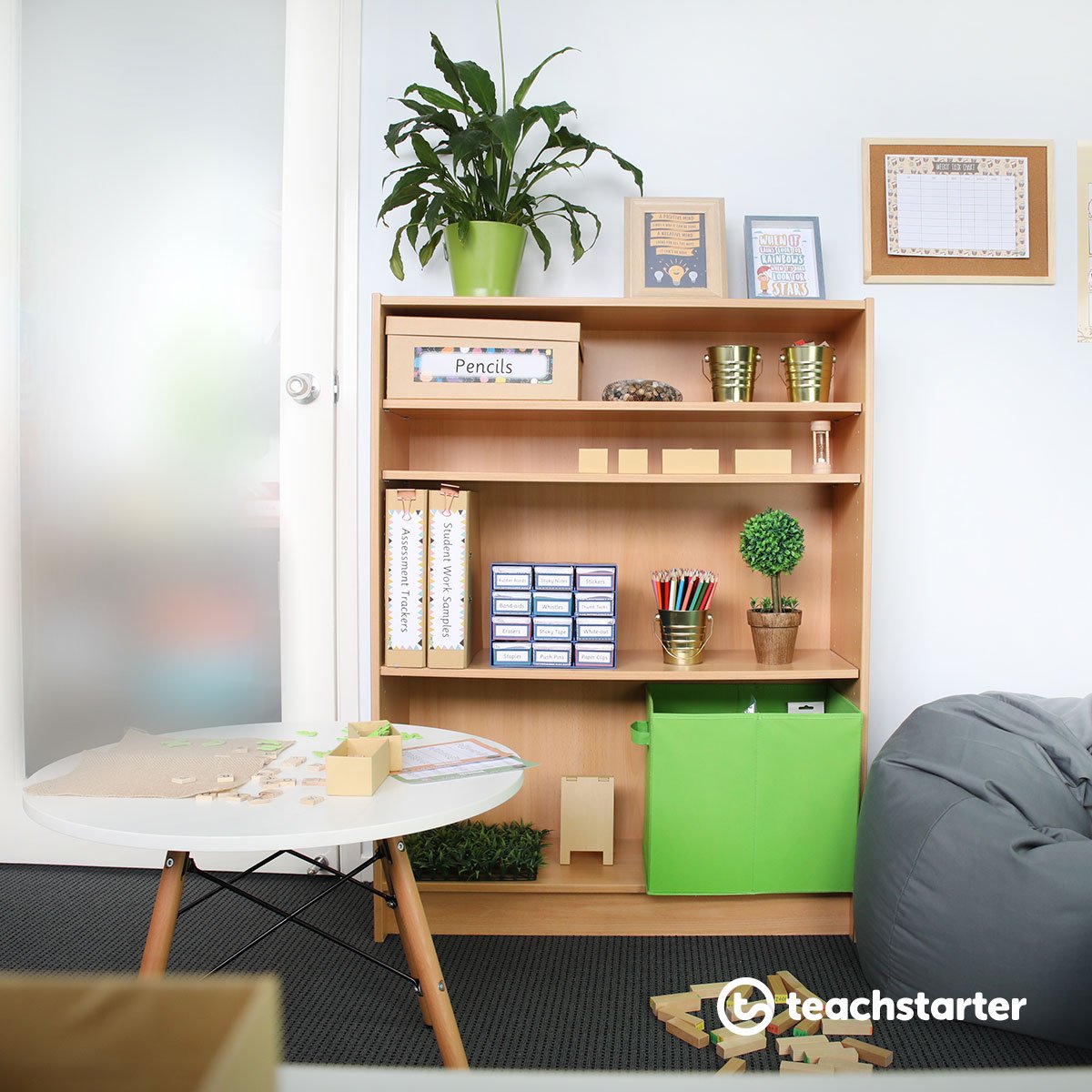 Now, this can seem like a bit of an impossible dream – especially in the early years! However, more and more teachers are taking inspiration from education movements like the Reggio Emilia approach, social influencers like The Minimalists and hashtags like #hygge. Why? Because reducing the amount of external stimuli that enters our brains helps us to focus, reduces anxiety and increasing teaching and learning outcomes.
Having an uncluttered classroom doesn't mean you need to ditch all of your posters, displays and open bookshelves. What it does mean is starting to think explicitly about the value of what you do put up around the place.
Consider one of the following:
Be highly selective about the pictures, posters and decorations you put up around the room
Choose softer, more earthy or pastel colours for displays
Use affordable fabrics like calico hanging over stretch wire to create no-sew drapes for busy bookshelves
Decorate with real-life classroom plants!
We have a few wonderful blog posts with more tips, tricks and ideas for creating an uncluttered classroom.
---
(2) Encourage Student Ownership of the Space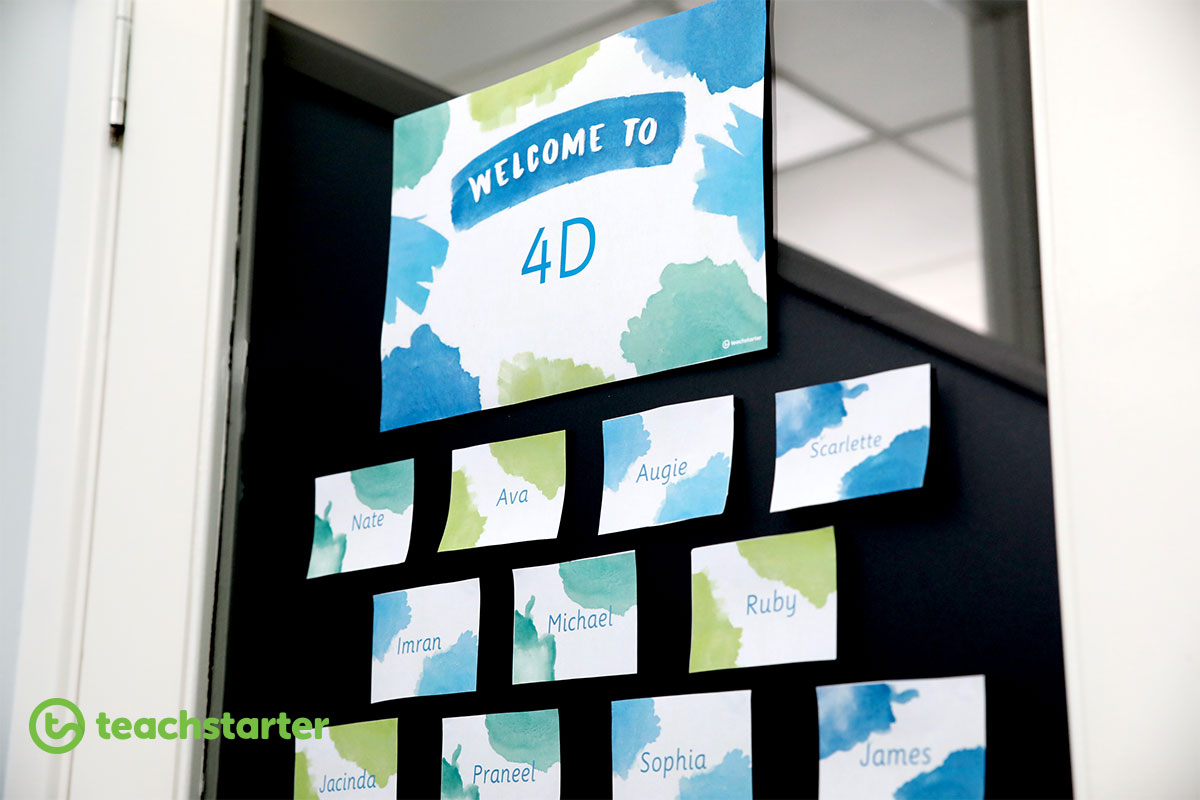 A little while ago we profiled an amazing Year 4 classroom in Western Australia where the students had designed and created their own flexible seating classroom. The student ownership of this space was amazing!
For many reasons, it's not always possible to have your students design their own learning space. But, there are many other simple things you can do to ensure your kids feel as though their classroom belongs to them.
Personalise your students learning space by using one or more of these simple ideas.
Create a customised welcome sign at the entrance to your classroom.
Attach desk plates to student desks if you use a seating plan.
Use the student avatar widget to create little cartoon-like illustrations of your students for use around the room in displays and activities.
---
(3) Create a "Wow Wall"
Another means to increase student ownership of your classroom space is to create a "Wow Wall".
This is a simple classroom display where students can put some of their work up on display.
You may like to select one piece of work that all students have completed or allow students to put up a 'pride piece' every week.
---
(4) Visibly Value Life Outside of School
Providing your students with ways to connect their home life with their school life will increase classroom positivity too. There are many ways you can do this including:
having a weekly 'show and tell' roster with topics related to items and experiences from outside of school
putting family photos on display
creating a 'send us a selfie' wall and invite students to email photos from their outside of school time adventures
inviting parents to help out in the classroom.
Remember, concepts like 'show and tell' and involving parent helpers don't need to be limited to the early years. Parents of middle and upper primary and elementary students will also enjoy the opportunity to connect with their child's classroom and students will always love sharing their favourite personal artefacts and stories!
---
(5) Provide Permanent Positivity and Growth Mindset Reminders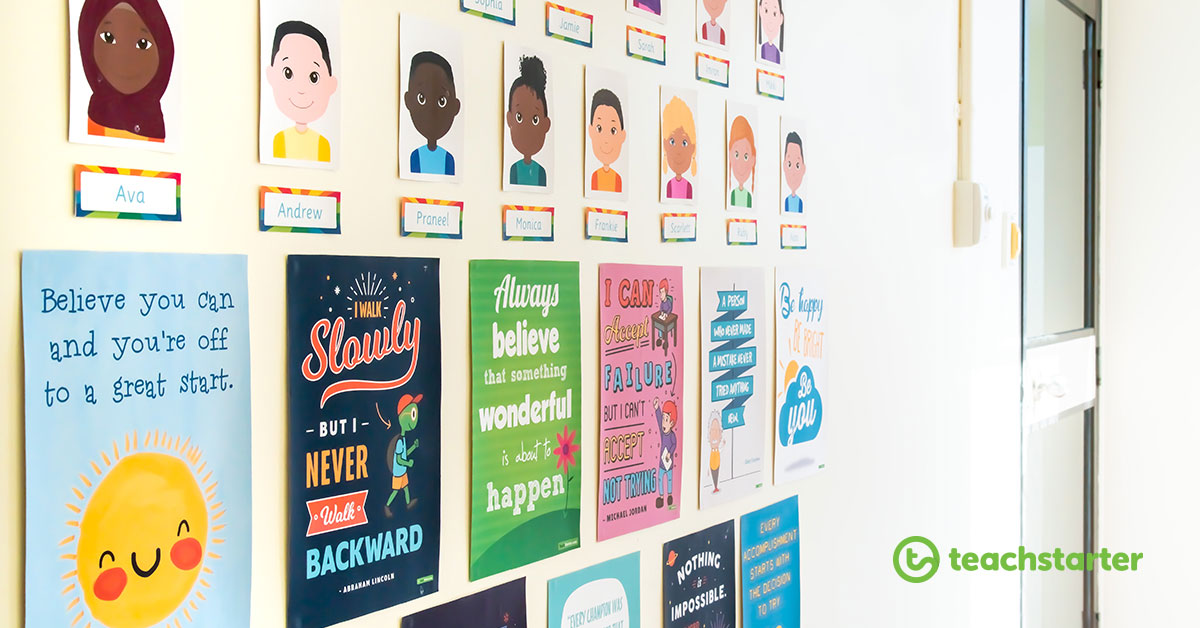 This might sound too simple to be effective, however it is one of the best steps you can take towards creating a positive classroom environment. By choosing one or two positivity or motivational quotes and displaying them in your room, you will be providing your students with a constant reminder of their innate potential.
While students are working, at those little moments in time that they need a mental break from work, they will be able to look around the room and lay their eyes upon the quotes or messages you have selected.
The longer these are up on your classroom wall, the more ingrained the messages will become. Just like repeated exposure to advertising catch-phrases! Here are some of our favourite positivity posters and growth mindset display resources:
---
(6) Dedicate a Space for the Inevitable Negatives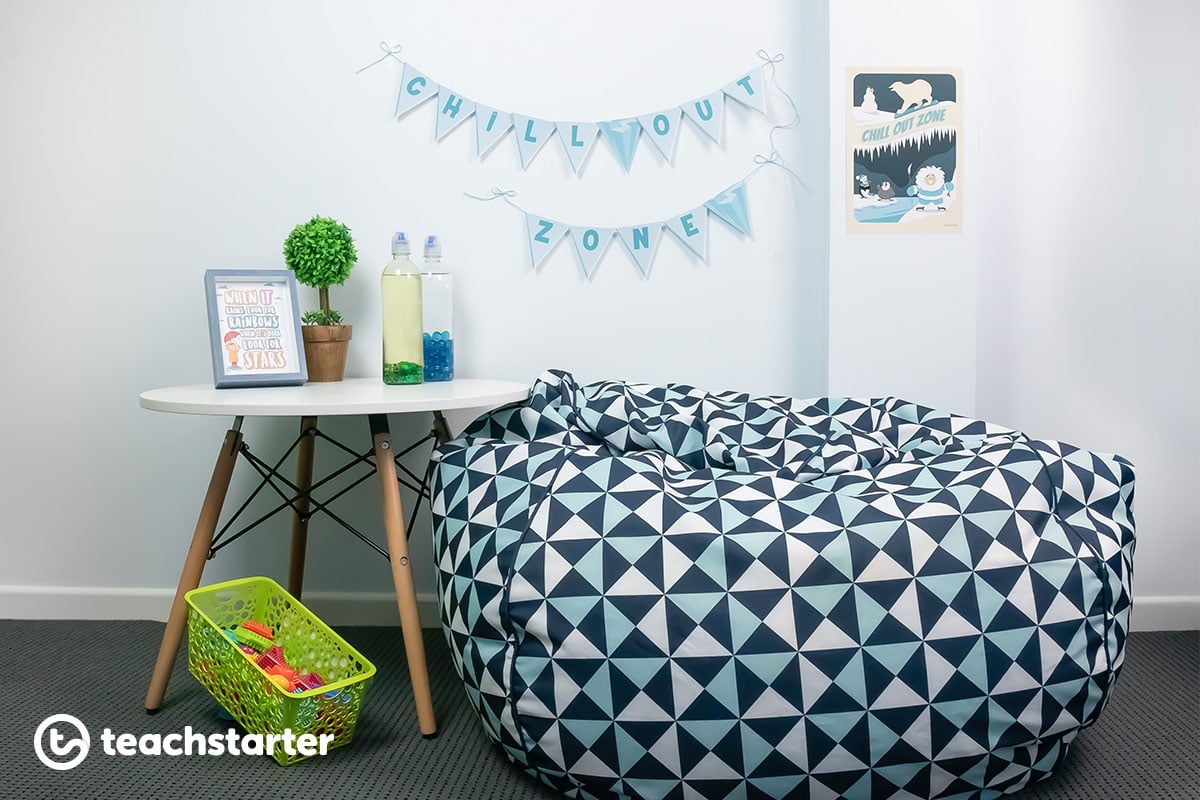 A crucial part of positive classrooms is making space for the negative. Everyone experiences challenging moments, where difficult emotions can get the better of us. Rather than feeling like a positive classroom is full of sunshine, lollipops and rainbows 100% of the time, you will find your students experience more positive wellbeing if they know they can experience these challenging moments in a supported way too!
Create a space for the inevitable negatives to help students learn how to self-regulate their emotions.
This could be a chill-out corner where students can access calming activities like a watching a glitter bottle settle, listening to classical music or blocking out classroom noise with noise-cancelling headphones or doing a puzzle.
Check out our post "Self-Regulating Emotions with a Chill-Out Corner in the Classroom" for more tips and ideas.
---
(7) Provide Active Kindness Encouragers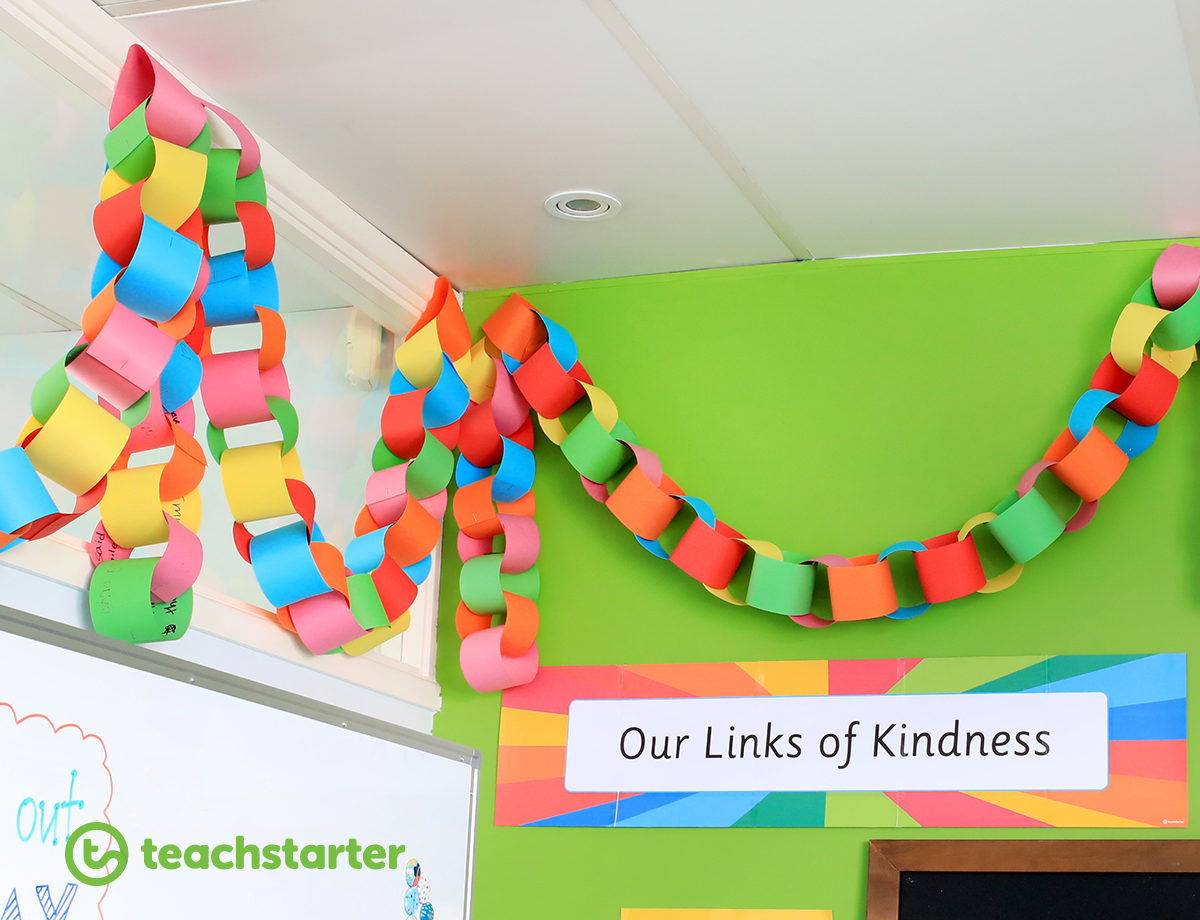 Set up at least one means for students to actively promote kindness in their classroom and around the school.
There are so many great kindness activities that can become and ongoing part of your positive classroom.
Why not try out one of the following ideas?
Here are some printable kindness themed resources to help you set up your active kindness encouragers.
---
(8) Help Students Take Their Positivity Home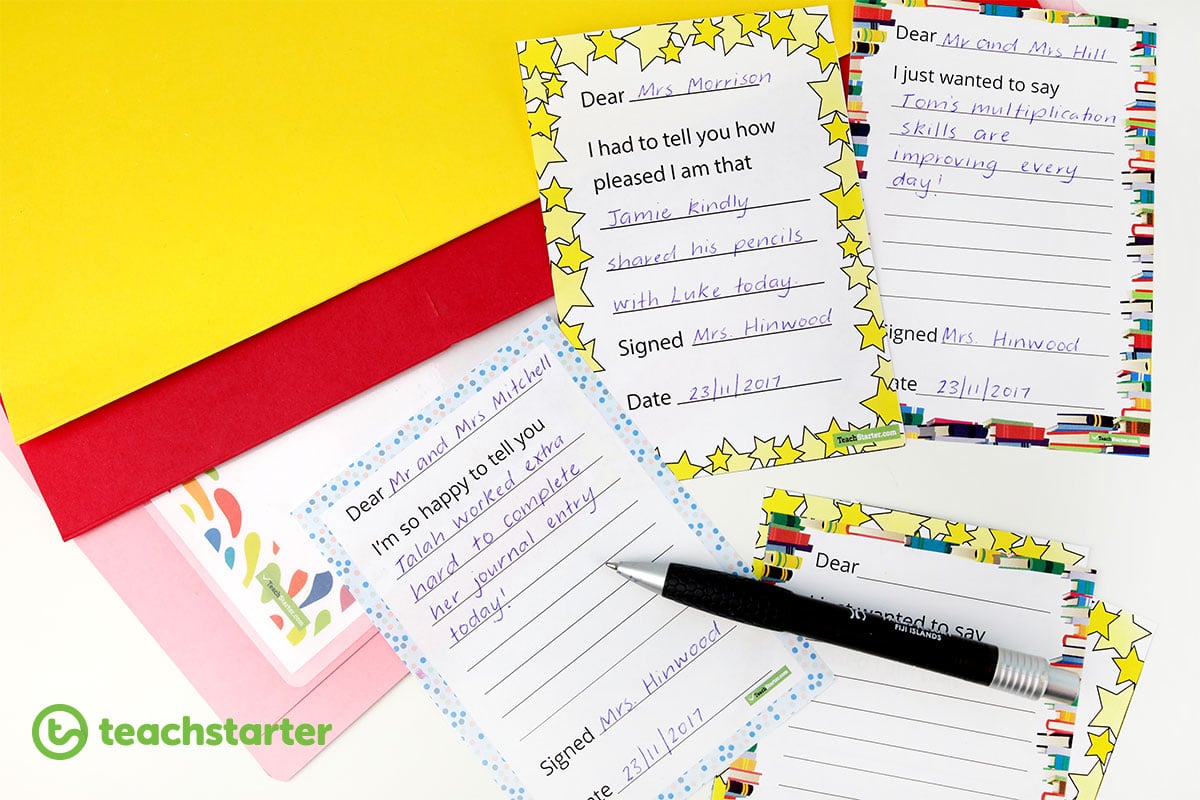 Take some steps towards capturing all of this positivity and sending it outside of the classroom into your students' lives.
Spend five minutes each week writing out a handful of positive parent notes, or sending messages in parent communication apps like Seesaw and Class Dojo. Keep a list of the students you have sent positive notes about to ensure every student receives at least one personal message home each term.
Take a look at our post about how to create a positive parent communication strategy for more resources, tips and ideas.
---
What About Behaviour Management in Positive Classrooms?
These kinds of ideas and activities do go a long way towards creating positive classrooms. However, there is, of course, a large component of positive classroom environments that relies upon setting reasonable expectations for behaviour, communicating these clearly to your students and being consistent in your methods of behaviour management.
You may like to take a look at our behaviour teaching resources, or read through our post about how to use classroom reward systems to develop intrinsic motivation for more tips and ideas about setting up and maintaining classroom rules and expectations.
Do you have an approach to positive classrooms that works for you? We'd love you to share your ideas and experiences in the comments below!