The Seesaw App – Instagram for your Class
The Seesaw app is described as a student-driven digital portfolio. But, from the stories from our Instagram followers, it is much more than that, plus, it's free!
Seesaw empowers students of any age to create, reflect, collaborate and share. It allows for family members to use the Seesaw app to keep up to date with their childs learning, and easily communicate between school and home. With a rating of 5 stars from 590 ratings, you might want to check it out!
"It's like Instagram for the class! Great way to include parents in the learning process!" – Miss Turton (new graduate teacher)
In an age where, as teachers, we are swamped with new apps, teaching programs, teaching resources, digital technologies, curriculum documents etc, it's often hard to work out what to try and what is not worth the time and effort! It appears that Seesaw is absolutely worth a shot!
When I asked our Instagram community about the Seesaw app, I was bombarded with messages about how they currently use this app and how helpful it is in their day to day teaching.
So, I present to you some hints, tips and benefits to using this amazing free resource in your classroom.
---
How to Save on Printing Using the Seesaw App
Let's face it, photocopying copious amounts of worksheets is not great for the environment, plus, don't even mention the line up in the mornings and all the jamming the photocopy likes to do. The Seesaw app has the perfect solution. Simply utilise the drawing tool!
"You can use worksheets and the drawing tool instead of printing them! I've even used some of Teach Starter's worksheets on fractions and the kids simply drew the fraction straight onto Seesaw and shared it. Saves so much paper waste and the parents loved seeing it immediately!"twoteachersoneblog
Seesaw App Classroom Activity Ideas
Use the text feature to send maths word problems to your students and use the emoji tool!
Rather than using worksheets for activities like science labelling you can create real-life examples and students can label their very own photos! It's far more engaging and connects real-life situations to their learning experiences. Brilliant!
Here is another awesome use of the Seesaw app in action. Students have created their own words using playdough. They have then taken a photo and recorded themselves saying each of the words they have created. You could even extend this activity and get them to record themselves using the words in sentences.
Using Teach Starter Resources in the Seesaw App
Here are just a few ways you can easily convert Teach Starter resources into digital fun! These examples were provided to us by miss_smartiepants. The best thing about this is that you can ask the students to record what they are thinking during each activity.
For example, the nouns, verbs and adjectives sort has been transformed from a simple worksheet into an engaging digital resource. As students sort by nouns, verbs and adjectives, you could get your students to record themselves putting each of the words into sentences.
This can then be shared with their parents to celebrate successes.
When you are in the SeeSaw app, you can simply upload a PDF file of a worksheet or activity from your iCloud Drive. Simple. Students then use the drawing tool.
Alternatively, you could take a screenshot of our resources and add it as a photo into the Seesaw app.

Flipped Learning Activities
You can create activities and record the instructions linked to that activity for students to use in self-directed learning! With so many different tools you can differentiate the activities to cater to the varying levels in your class. Your students are able to stop, start and replay the instructions as they need!
If you want to read more about flipped learning, check out our blog –Does Flipped Learning in a Primary Classroom Really Work?
Here is an example from misswalmsleysclassroom of the Teach StarterCartoon Map of Australia resource being used in an activity where the teacher has recorded the instructions and shared with the class on the Seesaw app to use during an in-class flip.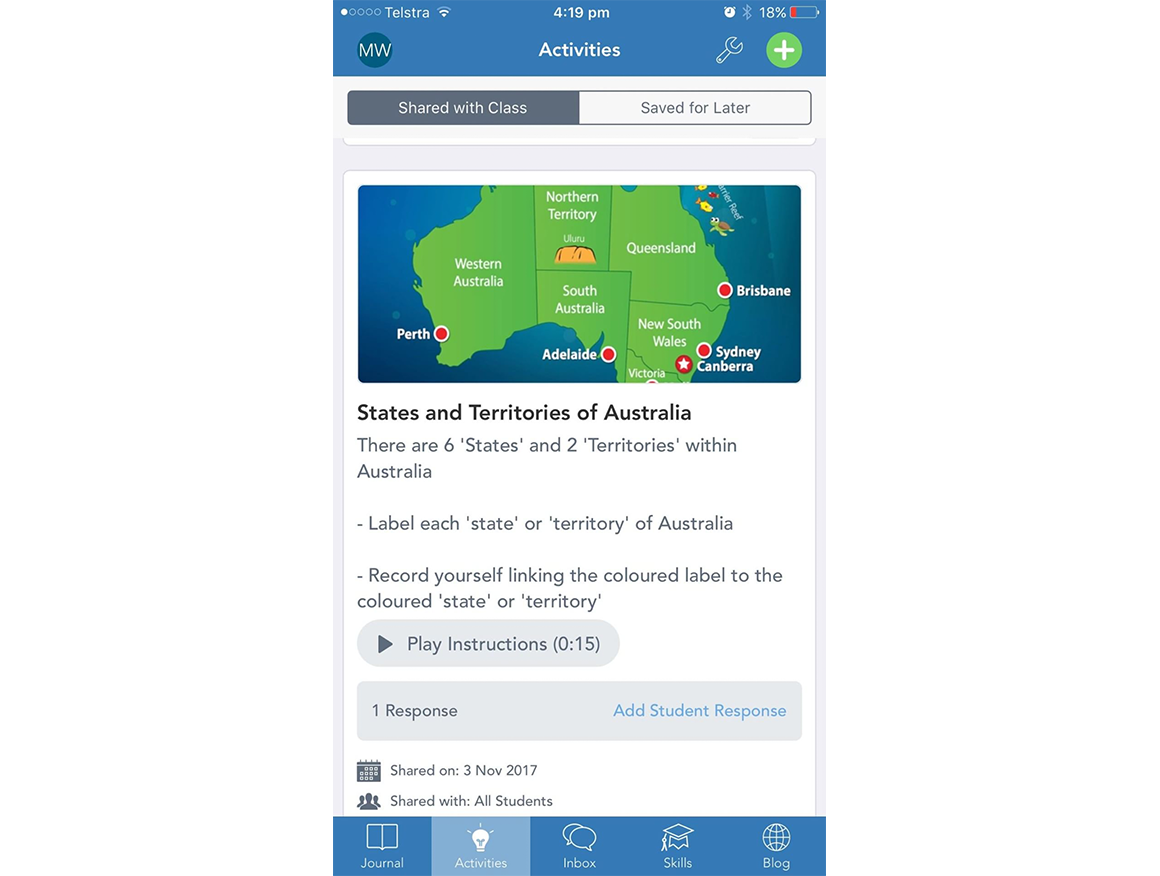 Home-School Communication
The beauty of a digital app like Seesaw is the ease of communicating and sharing students learning experiences with their parents and guardians.
Each student gets their very own profile and can add learning experiences and even record what they have learned during an activity. This can then be shared with their parents.
Parents who have downloaded the Seesaw app will be notified of their own child's work.
All data sent and received is safe and secure.
Parents can comment on the photos as well!
Thanks to teaching_travels for providing this example of one of her students celebrating a success with their parents!
"I also use Seesaw to communicate and share information with parents/guardians. Any photos from incursions or fantastic work their child has completed can be photographed immediately for the parents to see. I love Seeasaw and can't wait for more people to use it!" – misswalmsleysclassroom
Reading and Fluency Tool
This is one of my most favourite tools in the Seesaw app, especially for those children who don't really like to read aloud in front of a group.
"I use Seesaw to record reading over the top of a photo of a text a student is reading. They can then play back and give themselves feedback, as well as getting it from peers, teachers and parents! As we progress through the year, they can look back on their read aloud and set their own goals!" – Emmaline Moore
Students can simply find a quiet space to sit and record their voice as they read aloud to themselves!
Give them a book that is at the right level or even easier for them to practice their fluency and expression!
Get them to work with a buddy to give each other peer evaluations.
"[I love] using Seesaw in the classroom as a reading fluency tool. Getting students to use the audio recording tool to record what they are reading aloud, then playing back to self-correct their expression and fluency." –learningwithmissz
Peer Feedback
"I use this app every day! So versatile and the kids are able to showcase their work. It allows them to be collaborative and creative! By posting their work it saves you receiving 28 emails or airdrops plus allows you to teach effectivepeer feedback. I cannot recommend this app enough." – Stacey

Hot Tips from Teachers
"Use the QR codes for log in – way easier with littlies" – Nikki Hinwood
"Get older kids to work with younger years to teach the littlies how to use it (My Year 4s were obsessed with "teaching" kindy once a week). Make this a real task that the younger class has to complete and get the older kids to step them through the learning and the seesaw process." – Nikki Hinwood
"Use Seesaw in Parent Conferences, it is a great tool to show progress and work samples." – Nikki Hinwood
"When you want to do a Seesaw activity, explain it once really well to one student who can then explain it and demonstrate it to the next." – Renee Dansey
"Teach your students how to upload to their journal early in the year – saves so much teacher time! I taught my F/1s in Term 2." – jemluck
"Hot tip: use Seesaw! I LOVE this app! I don't share it with parents, just use it for digital portfolios. Love how it can be used on shared devices and students can give peer feedback. The draw tool is fantastic for think alouds in guided maths lessons and I love the voice over and annotation tools for photos and explaining work." – learningsampsonstyle
"Teach your students to record their own work from the beginning of the year. Once this is done, the rest comes easy! Even my preps could do this independently! Encourage parents to sign up (it's free!) in order to view their child's work. I highly recommend selecting the option of teacher reviewing work first before it gets posted to home (just in case!)." – franklyteaching
"Get the kids to post the photo of their work with audio commentary. Gives them responsibility and takes a load off you. Also, talking about their work is often better than the final piece and both kids and parents love it!" – Jessica Francis
"Make sure clear expectations are set with parents on what Seesaw is for and how it will be used." – tessteaches
"I use pic-collage to put in pictures and text then upload to Seeasaw. Create a book snap of your favourite page and record yourself reading the text. Share your work on the connected blog. We [share our work] with a few in different states in Australia and in the USA." – cathwilliams05
If you still have more questions, you may like to visit the SeeSaw Help Center.
Do you use the Seesaw app in your classroom?
Tell us your hints and tips in the comments below.