Once you have completed your education degree, the excitement of being a fully fledged teacher is sometimes a mix of emotions! Before you know it, the time has come to find your first teaching contract, a permanent position or anything you can get your hands on! Well, we've done the research for you. This research, mixed with my background in recruitment, my teaching experience and first-hand experience of this process, has led me to come up with some must know, worth a try, give it a go information. Hopefully, these ideas will lead you on the right track to securing your first teaching position!
Do I need a Teaching Portfolio?
After asking current teachers for their advice on creating a teacher portfolio, we received a variety of responses! Some teachers used their portfolio during the interview process while others reflected that they were not asked to present their portfolio. In my opinion, having visual evidence during the interview will only enhance your answers to the questions and show your professional knowledge.
It can be such a nerve wrecking feeling going through the interview process. With this in mind, having something that you can refer to and that gives you inspiration for answers, is an absolute 'must' in my opinion. A portfolio will help boost your confidence knowing that you have something that you can fall back on if you get a little bit of 'interview brain block'. It's a bit like 'writer's block' but worse!
Also, depending on what state you are applying in, a lot of schools will provide you with a couple of questions 15 minutes before the interview so that you can prepare some answers. This is where the portfolio is handy again. Take some trusty sticky notes and write notes and section off parts of your portfolio you can refer to during the answering of these questions.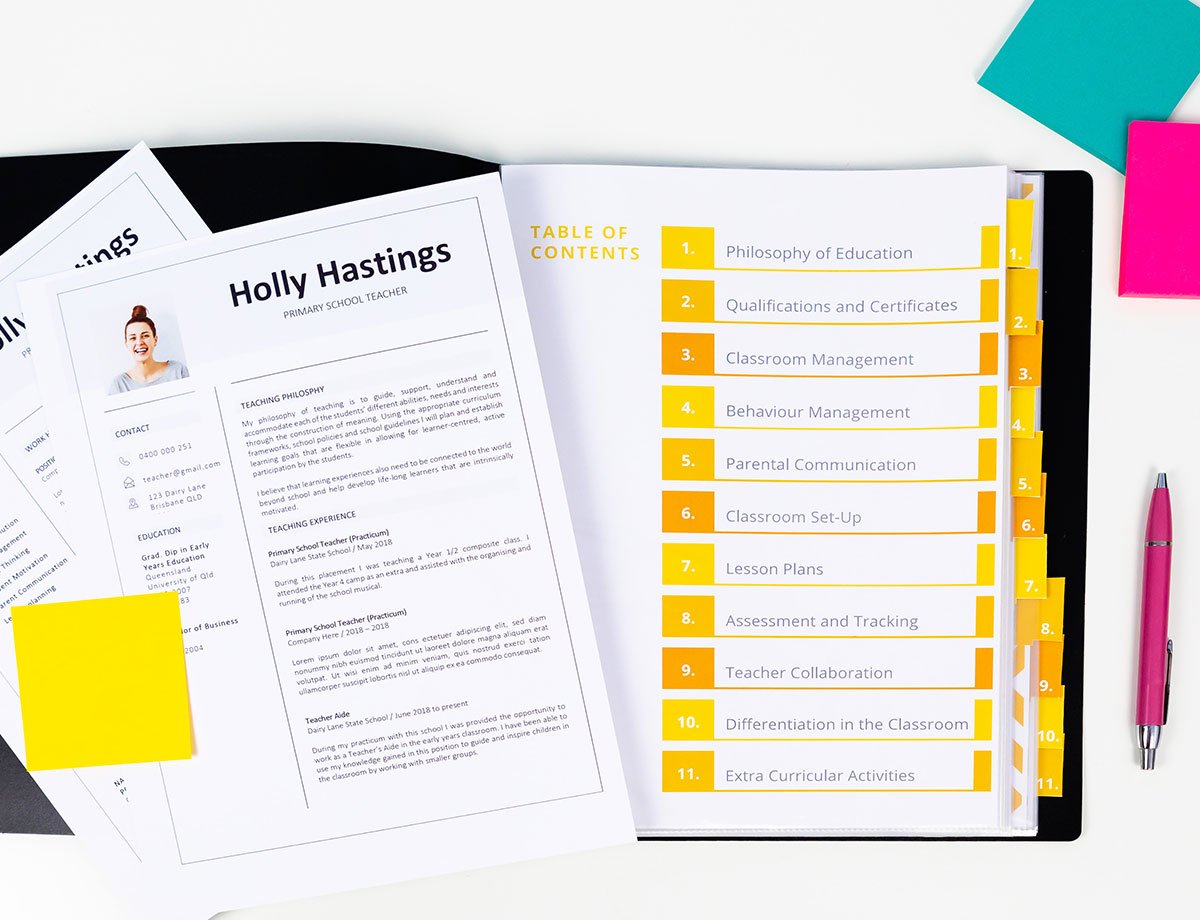 What Do I Put in My Teaching Portfolio?
In our editable teaching portfolio templates we have included the following headings:
Philosophy of Education – this is a true reflection of what you believe. A reflection about your teaching and a way to indicate goals and corresponding actions for you in the classroom.
Qualifications and Certificates – detail all qualifications and certificates that you have received, even if it isn't related to teaching!
Classroom Management – what are your beliefs and strategies for classroom management? Show evidence of this from your recent practicums.
Behaviour Management – what's your behaviour management style? You may like to add photos of things you have implemented during your practicums for this one.
Parent Communication – talk about ways that you communicated with parents during your practicum and how important parent communication is in your teaching. You may like to show an example of a Meet the Teacher letter template that you would send home for parents. Or, perhaps a Classroom Newsletter template you would send home for parents.
Classroom Set-Up – when you enter your very own classroom, how will you set it up? Give reasons for why you believe this is an effective way to set up a classroom.
Lesson Plans – include a couple of lesson plans that you are proud of – it's a good idea if they hit one of the 'teacher hot topics' such as STEM or STEAM.
Assessment and Tracking – include examples of how you assessed students during your prac and how you kept track of their progress while you were teaching.
Teacher Collaboration – include examples of when you collaborated with other teachers/educators during your prac.
Differentiation in the Classroom – include examples of how you differentiated in the classroom. It may be a copy of a lesson plan that you created where you were able to effectively differentiate the activities to suit the needs of the students in the classroom.
Extra Curricular Activities – did you do any extra activities during your prac? Examples could include school camp, interschool sports day. Show your initiative to put your hand up for things in this section.
These are all available in an editable version so you can change the headings as you see fit.
I would strongly suggest using photos in your portfolio where possible. Examples of classroom activities, classroom set-up or anything that you can use to visually show your teaching philosophy and ideas.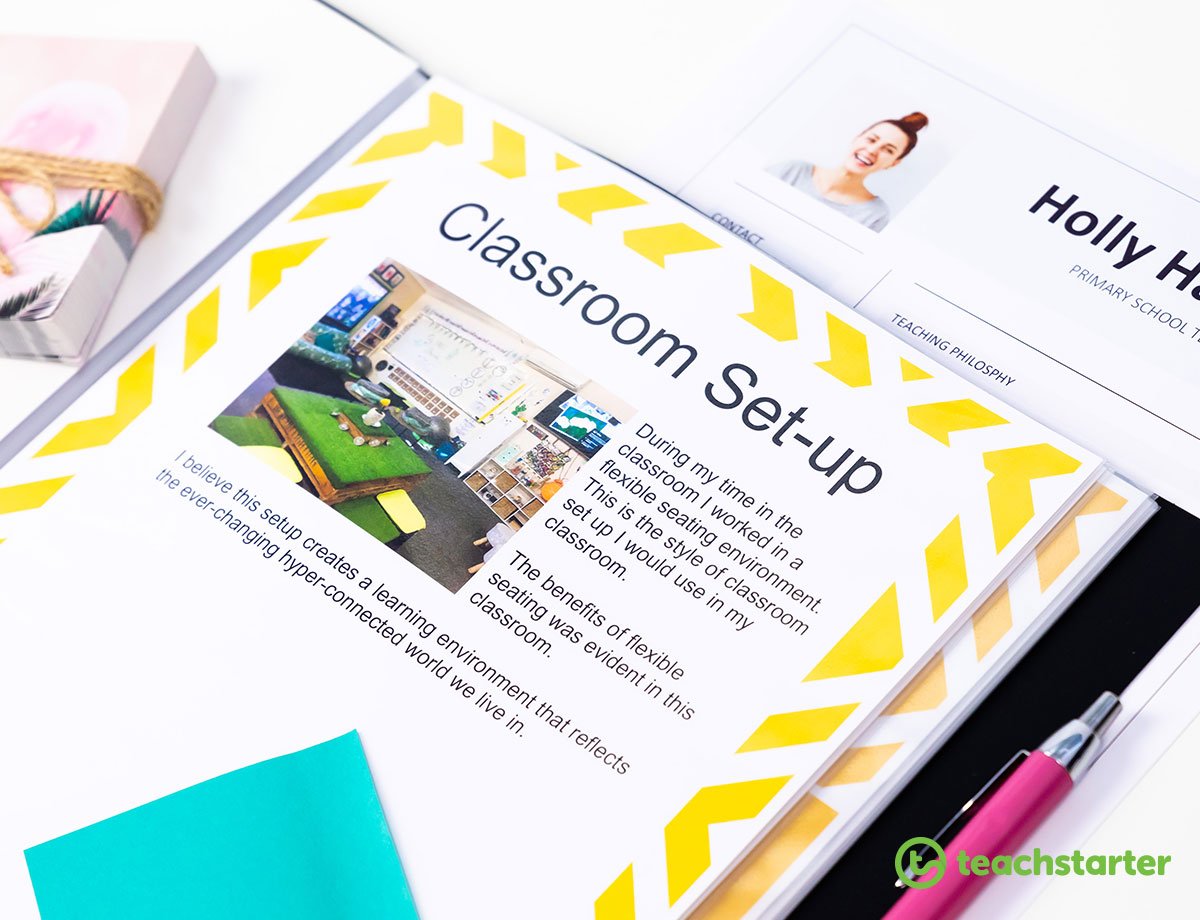 Thinking about signing up to Teach Starter when you do secure a teaching position? You may like to take advantage of our 50% off unique discount code available for graduate teachers. Simply sign up for a free account, download one of the teaching portfolio templates and follow the link on the first page of the download.
How do I apply for Teaching Jobs?
Again, there was a mix of responses for this, and of course, it really depended on what state you lived in, whether you were applying for the state system or private sector. Some people said they just applied online. This is an easy way to find jobs. Simply search for teaching jobs in your state's government webpage or particular private schools you may be interested in applying for more details.
Others said after showing their enthusiasm during their practicum – they were automatically given an interview at that school. Check out our blog, How to Nail Your Practicum as a Student Teacher.
Either way, if there is a particular school you are interested in, drop into the office and hand in your resume, ask for a tour of the school. Don't just do a stock standard cover letter for every school you visit, do your research and tailor the cover letter to suit each school. What is it about that school that makes you want to work there? You may get told, to apply online, which is fine! Say 'no problem at all', leave your resume there and make your face known! You have now shown your enthusiasm for working at that school.
Not sure how to format or set up a cover letter or resume? No worries, simply download our editable resume and cover letter template.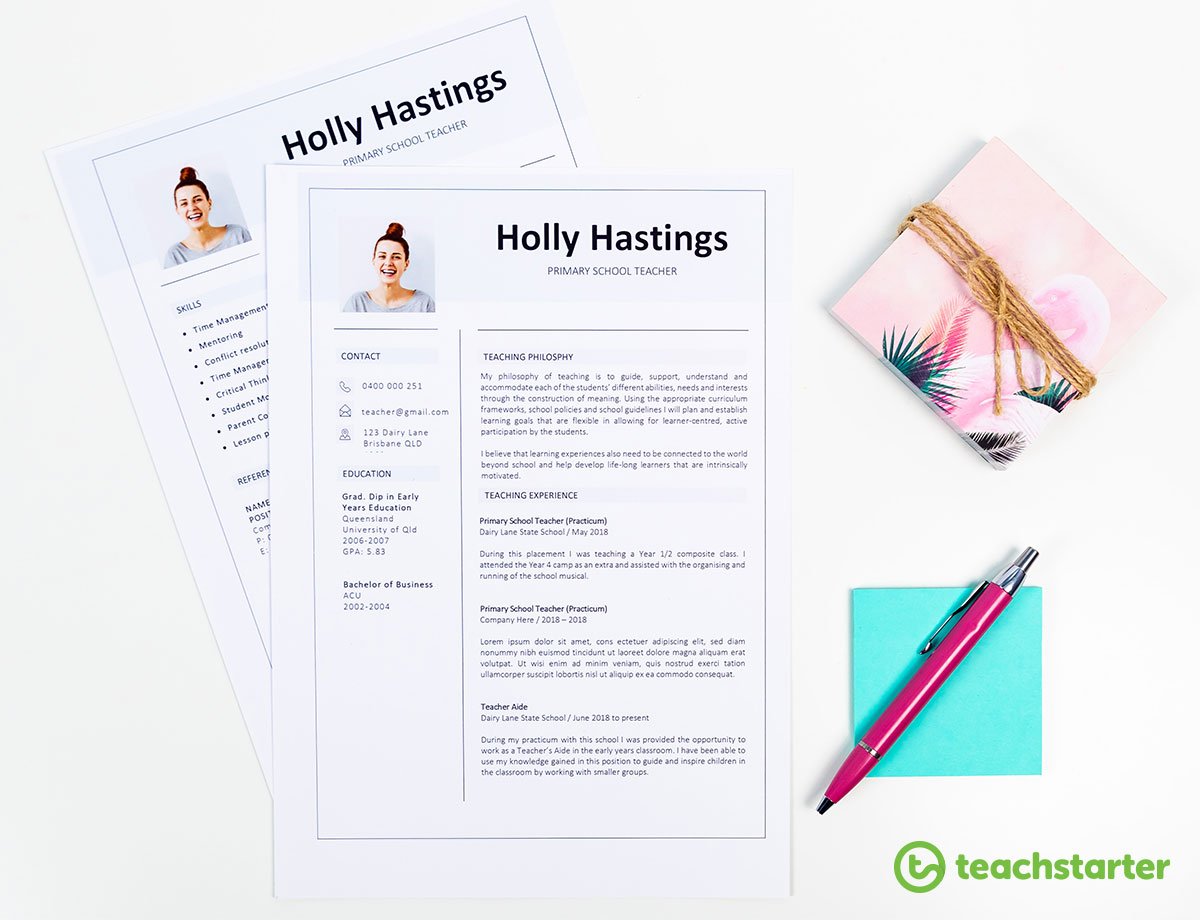 Possible Teacher Interview Questions
This is a tough one, and this list of questions is by no means the bible of questions that you will get asked. However, they are a good starting point to practice with family members. That's right! Give this set of questions to a family member and role play the actual interview! Have your teaching portfolio finished and keep using that to answer these questions – get used to going to it for visible evidence so you don't get to the end of your real interview and realise you haven't even shown your amazing work!
Why did you decide to become a teacher?
What is your teaching philosophy?
How do you incorporate technology in the classroom?
How would you engage a reluctant student?
How do you differentiate in the classroom?
What do you like about our school/district?
Tell me about a successful behaviour management strategy you used during your practicums.
How would you describe your communication style with parents?
What is your passion?
What could you bring to this school that is unique?
What would your classroom look like, what is your preferred layout?
What does a successful lesson look like to you?
During your practicum, how did you group your students in (literacy) and what were the benefits of doing it that way?
Now it's your turn to ask questions. Make sure that you have a list of questions about the school and what opportunities you could gain if you were successful. There is nothing worse than not having any questions about the school or role – you need to show you are keen and interested to know more!
Holly's Top Tips
After you have read all of this blog, your mind is most likely exploding with information! So, here are my top tips:
Be over prepared!
Think confident feelings and act confident (even though you may be shaking in your boots!)
Smile!
If you have a mind blank – use your portfolio!
Be aware of your body language.
Be honest! Tell them you are nervous if you get your words muddled up – it's completely okay!