Are you feeling like your classroom desks could do with a little re-arrangement? Are you about to embark on a new school year in a new classroom? We've all been there. We spend hours upon hours setting up our classroom displays and moving the classroom furniture around multiple times before the children even step foot in the classroom. Then, there's the highly mathematical thought process of re-arranging the desks throughout the year to suit the changing needs of the students in your class. This blog highlights a number of classroom desk arrangement ideas to inspire you!
Classroom Seating Arrangement Ideas
Finding a classroom desk set-up that suits you and your students can be a tricky task. Here are some pros and cons to eight different classroom desk arrangement ideas that have been tried and tested by teachers in the know. Obviously, there are a number of factors that will influence the seating arrangement that will work in your classroom. The main struggle is, of course, the size of the classroom and the furniture you have available to you, etc. However, I'm hoping this list of suggested seating arrangements spark some inspiration to help you get your classroom working.
(1) Grouping
The grouping of student desks in a variety of numbered groups is one option that may work for you and your students in your classroom. This layout is also known as 'pods'.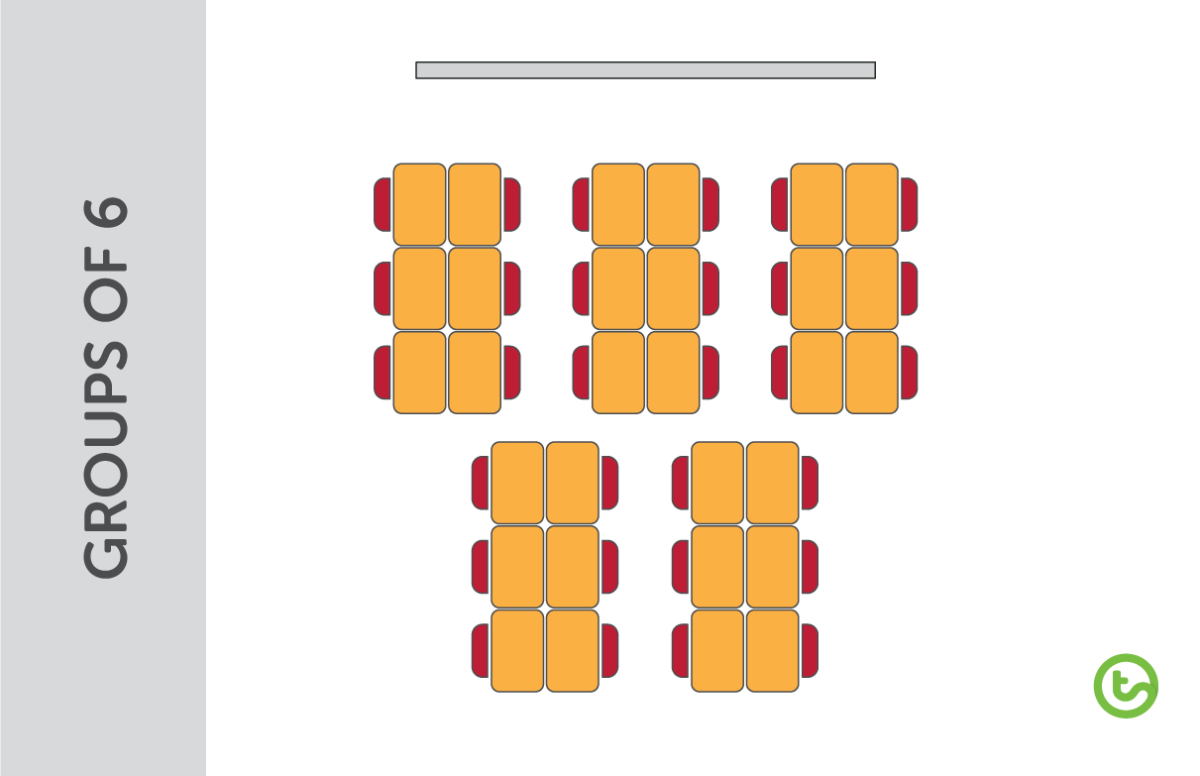 This set-up, of course, lends itself really well to a classroom that does a lot of group work and collaboration. Also, if you are a teacher who finds the competition of 'group points' works well to keep your students on task – this desk layout is a winner! You may like to use some of our grouping posters for the classroom to name your groups and keep track of group points.
Cons to 'pods' desk configuration include:
desks move around easily
can be distracting for some
some children will be side-on to the whiteboard.
(2) Mix it Up
Let's face it, in a classroom of 30 or so students, there are going to be a variety of learning styles and learning requirements. One way to combat this is to mix up the desk arrangement and try to cater to a variety of learning styles and needs.
Another classroom management technique using this desk configuration is to not have 'set' desks.
A bit like flexible seating, students can move around to the desk configuration that is going to work for them for different subject areas. This may be more teacher-directed than student-directed. If you have a small group of students that need a lot of teacher assistance for one subject area you can get them to sit in a desk arrangement such as the small U shape and position yourself in the middle of the U.
The obvious con of this arrangement is that students may not like to be sitting in a different configuration to their friends. Also, can you cater to every students' learning needs?
(3) Flexible Seating
Flexible seating is not a new concept. Teachers either love this concept or they don't. Again, it really depends on the students in your class and what works best for them.
As stated in Cassie's blog, Flexible Seating: Unreal or Unrealistic? Flexible seating gurus say that this form of classroom 'un-seating' better reflects the hyper-connected and every-changing world we live in. That it inherently requires students to master skills such as flexibility, creativity, problem-solving and collaboration.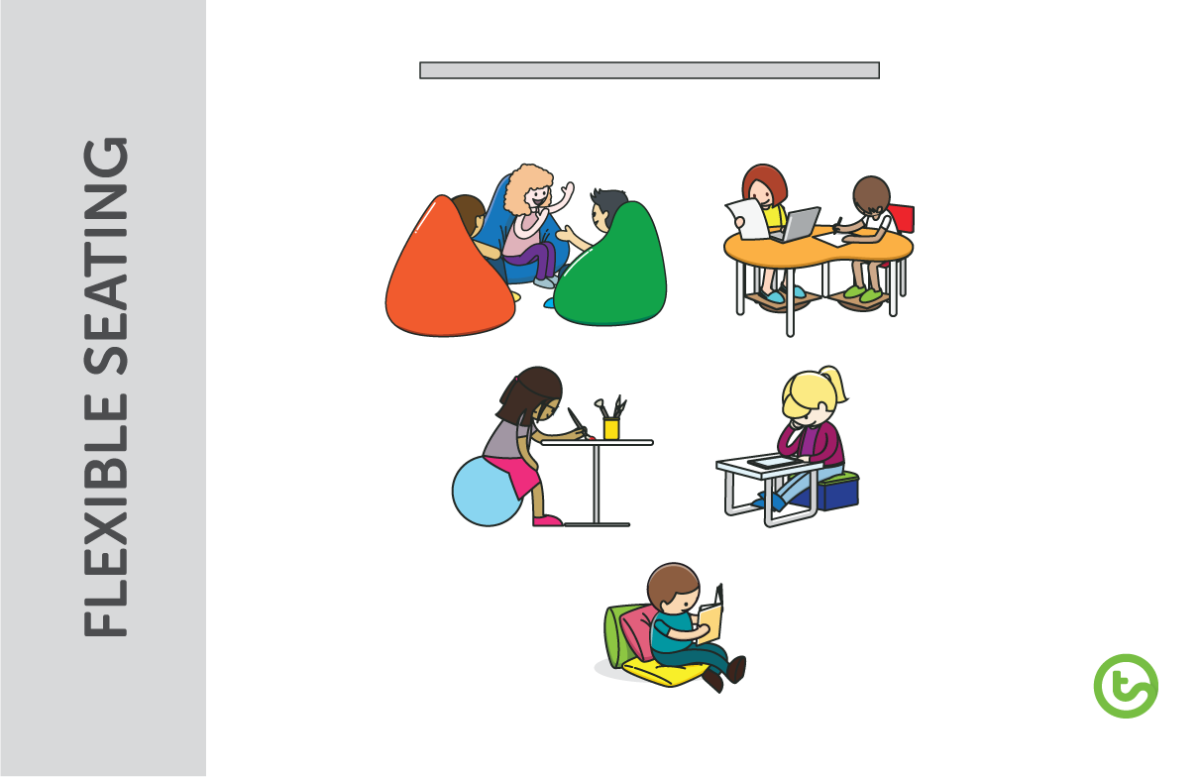 This kind of seating arrangement is an absolute classroom change. If you are thinking of changing to flexible seating it may be an idea to have a bit of a trial period to see if this sort of layout is going to work for your class. Have one 'different' flexible seating option available and see if it's something your students will be able to cope with and will improve their learning environment.
We have some Flexible Seating Expectation posters that would also help with the change over if this is something that you are thinking of doing.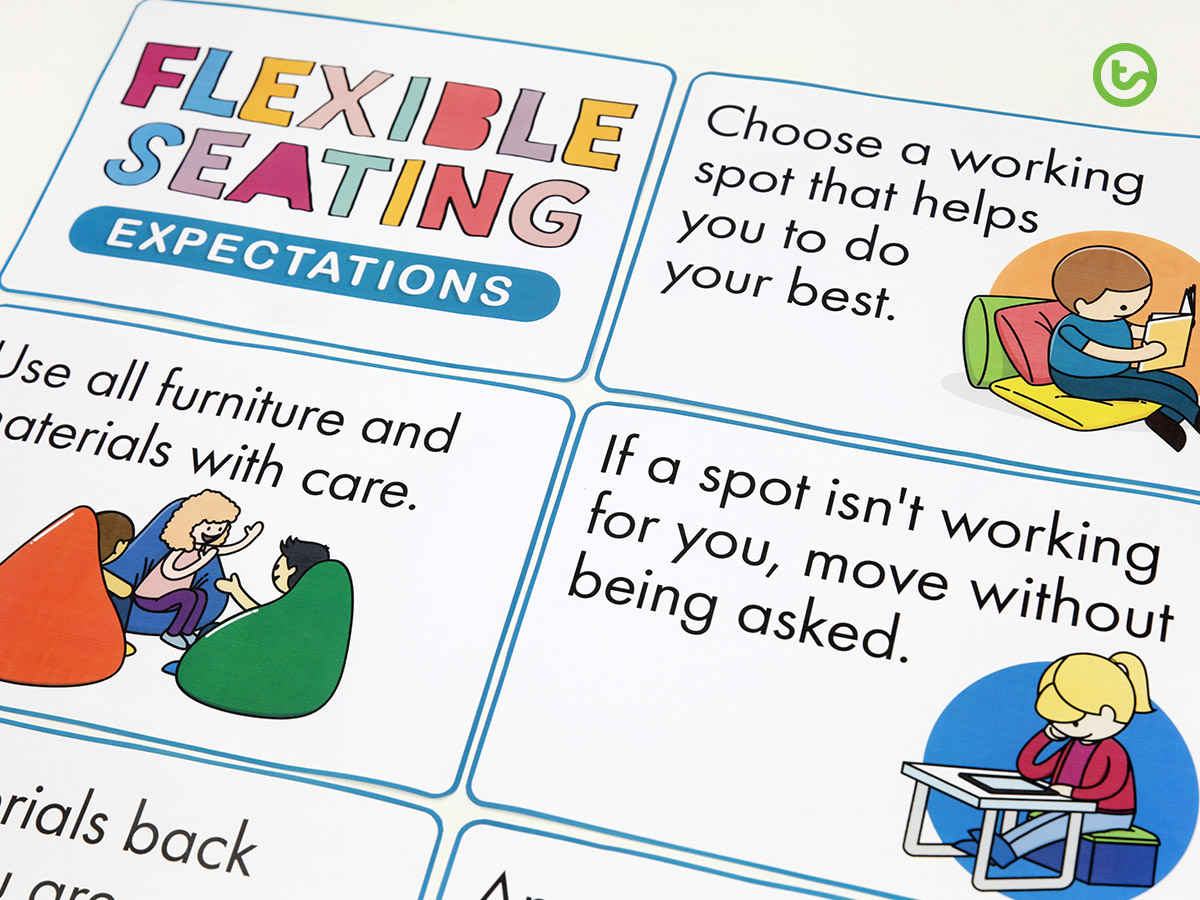 Worried about the cost and how to set it up?
Check out how this teacher and her students designed their own space – A Student-Designed Flexible Seating Classroom Tour. Getting your students involved in the process is another bonus to this seating set-up.
(4) Mini U's
This layout is one that I often used in my early years' classrooms. It had the benefits of easily managing small group work without students being squashed together and meant they had a bit more personal space.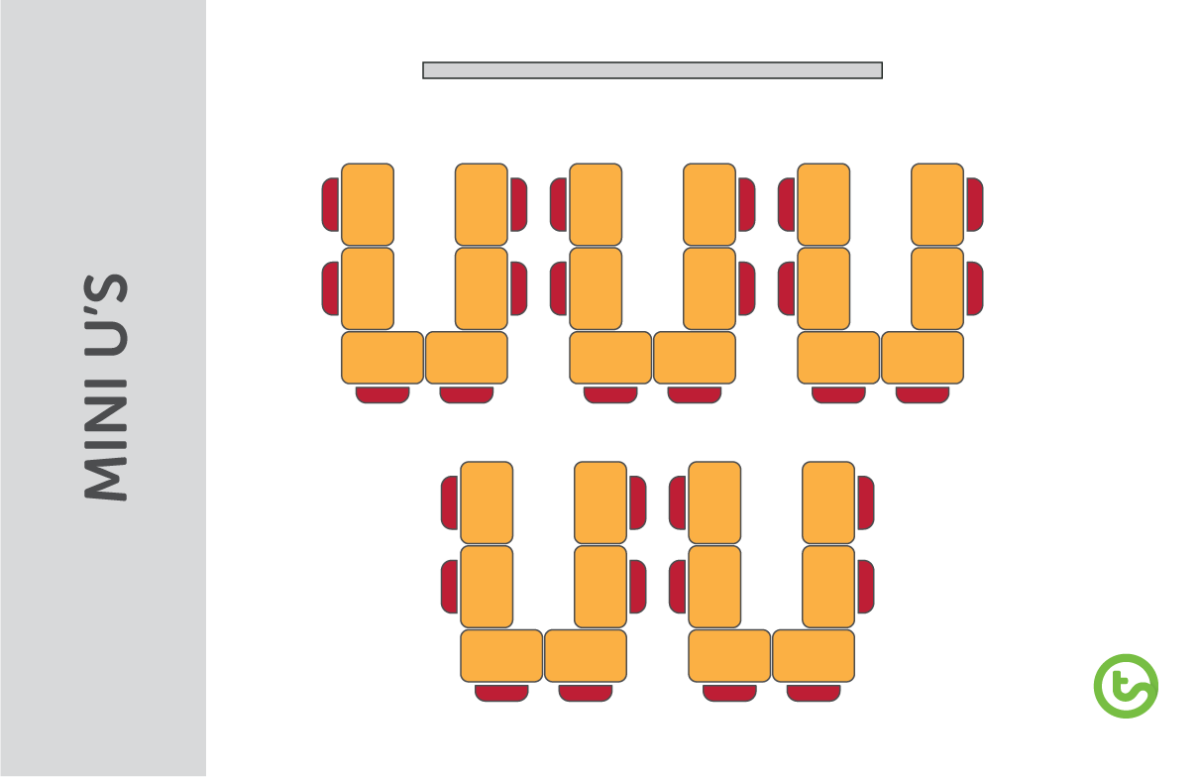 This layout was also beneficial for me, as the teacher, as I could easily go around and mark work and check up on individual students.  I would often sit my chair in the middle of one of the 'U' shapes to have small discussions with each group when needed.
Again, a con to this set-up would be you will have some students not 'facing' the whiteboard and others that are facing the whiteboard, however, may have other students heads in the way of their viewing of the whiteboard.
(5) Simple Rows
The traditional desk in rows is still an option, especially if you do a lot of board work.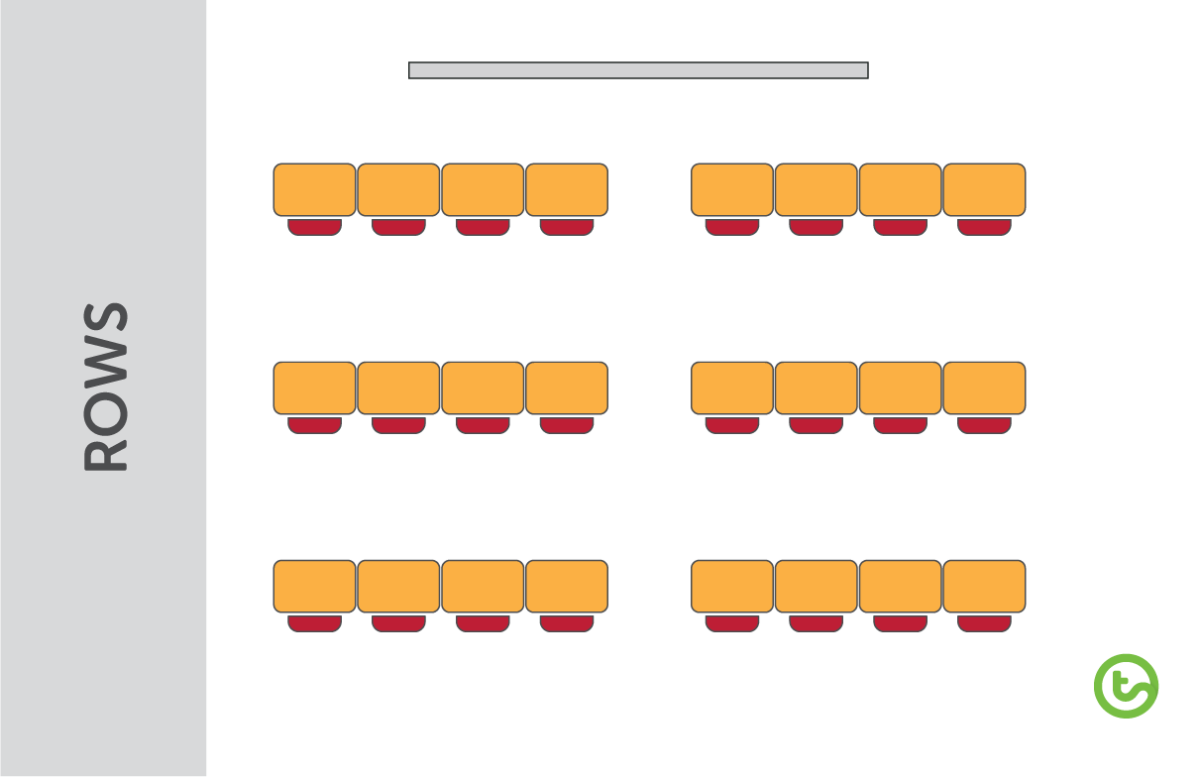 Obviously, this layout doesn't cater very well to small group/collaborative learning. However, if you have space in your classroom, you may be able to set up a variety of other group work areas in the classroom and save the desks for individual work.
All students in this desk layout will face the board and it lends itself to easily move the desks to cater for test conditions if required.
When the desks are in rows it is often easier for the teacher to see who is on task as well. However, if you do have large numbers of students in your class this layout could put some students a fair way away from the whiteboard and the front of the class.
(6) Stadium Seating
A slight deviation to the desks in rows. Stadium like seating is another option that may work – particularly for the older year levels.
This layout again makes it easier for the teacher to see if all students are on task as the desks are angled to one point in the classroom. This layout also uses less floor space and, as we know, some classrooms are very, very small – the more floor space you can get the better! Am I right?
This layout won't suit a classroom that does involve a lot of group work/collaboration.
(7) Large U Shapes
This desk arrangement concept was another one of my favorite layouts for the classroom.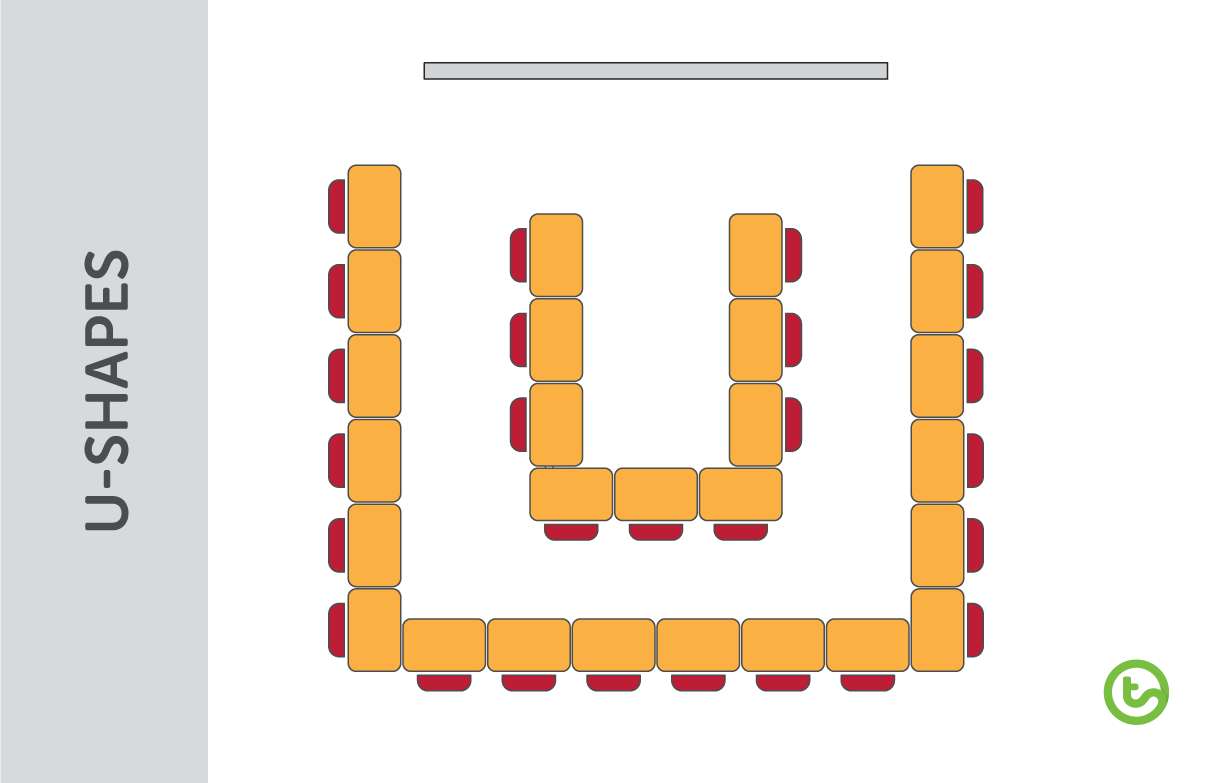 This layout caters well to whole-class discussions and enables students the ability to easily see their classmates and interact with them during discussions.
This layout is similar to the small u-shapes in that each desk is easily accessible by the classroom teacher. Again, this layout doesn't cater well for small group work, but students can still work in partners with the person beside them if required.
(8) Double E
If you are struggling with a small classroom. This Double E shape may just be the desk layout that will work for you.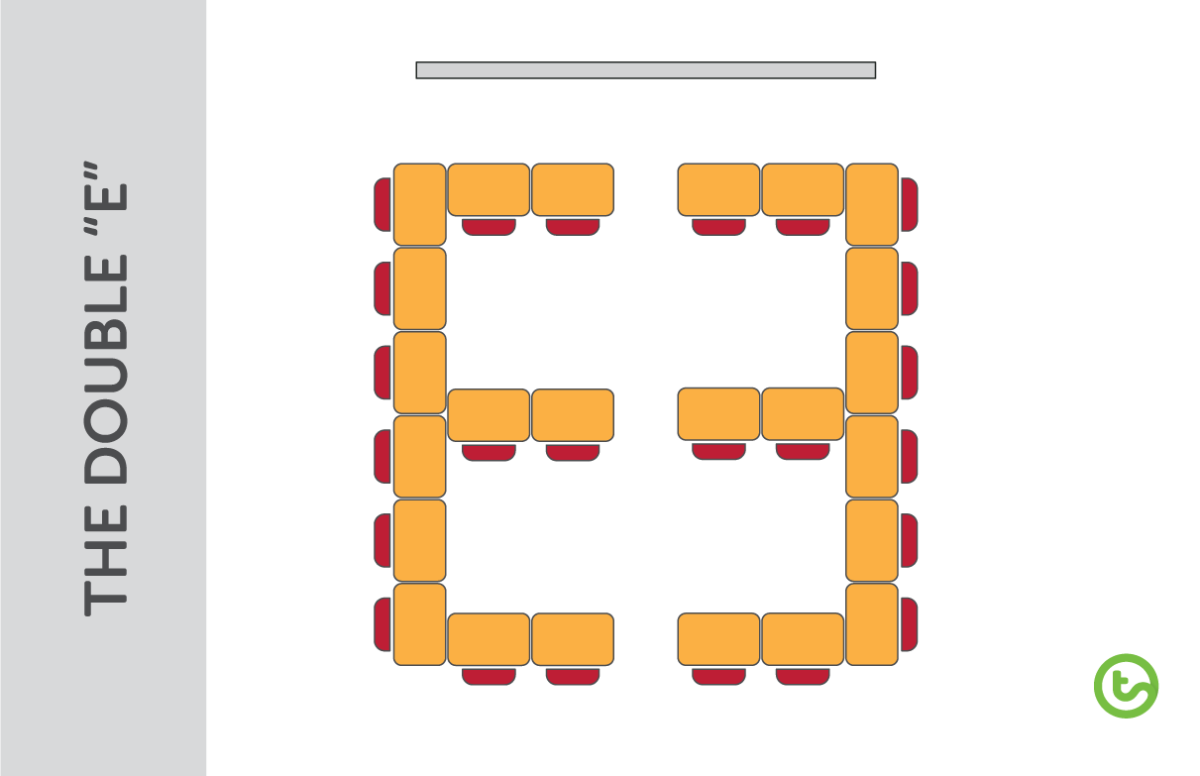 This desk configuration creates two smaller carpet areas in the middle of the desks, which would provide some space for small group work as well.
Again, this layout makes it easier for the teacher to get around and help out individual students. This layout also allows for a little flexibility in that if you have particular students that really need to face the whiteboard you can make sure they are facing the front of the classroom.
We'd love to hear from you! What other desk configurations would you add to this list?