Who would have thought that the simple concept of velcro dots would be a much-needed addition in the classroom? Well, these delightful carpet dots called On Your Marks are fun, purposeful and the perfect burst of colour that you need for your classroom. These hook and loop style coloured dots are perfect for place marking on any short-weave carpet. They are ideal for marking seating positions for carpet time, standing marks for lines or standing work and also the perfect addition to some fun classroom games!
The options are endless…
Classroom Games Using Velcro Carpet Dots
We have carefully constructed our Learn and Play Spots games to fit perfectly with the Elizabeth Richards On Your Marks velcro dots. We have called them Learn and Play – because, there isn't really anything better than combining learning with playing, right?
They cover a range of topics including sight words, number facts, digraphs, blends and shapes.
Tips for using this resource:
Cut out the templates and laminate them to ensure they last longer.
Attach the rings for each game by simply placing the velcro dot on top, in the middle, of each circular template.
Remove the rings easily by gently pulling the slit (found on the ring) at one corner. This will allow you to leave the dot in position.
Play these games in a small group.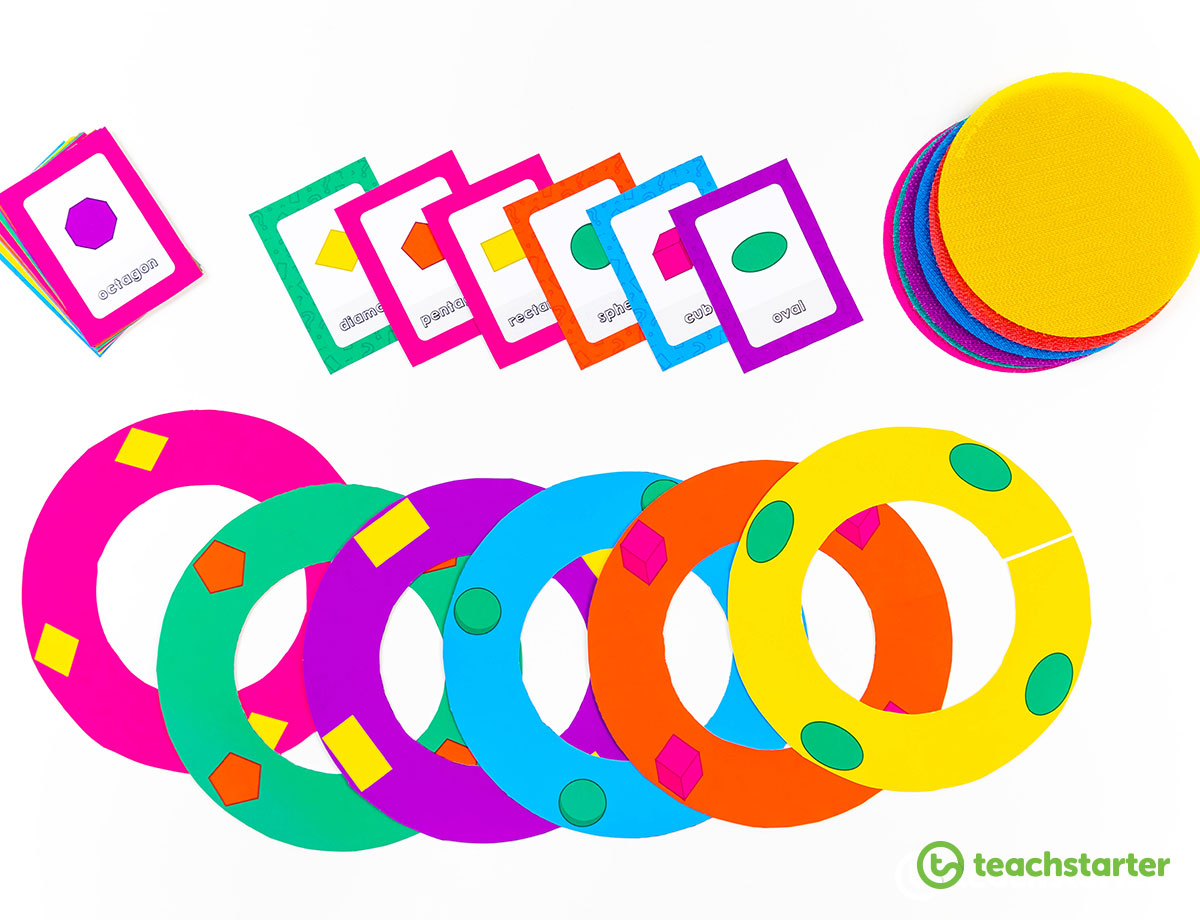 Creative Classroom Games in the Classroom
Shapes and Objects Classroom Game
Use our Learn and Play Spots – 2D Shapes and 3D Objects to play a fun and instant recognition game with your students.
Choose the shapes that you would like your students to consolidate. You may use all of the spots or a handful of them depending on your students' capabilities.
Use the flashcards to call out different names of shapes and/or nets and ask your students to find the corresponding image on the carpet. For more able students, try describing the properties of 2D shapes and asking the students to identify the corresponding dot.
Lots of fun and just check out the colours!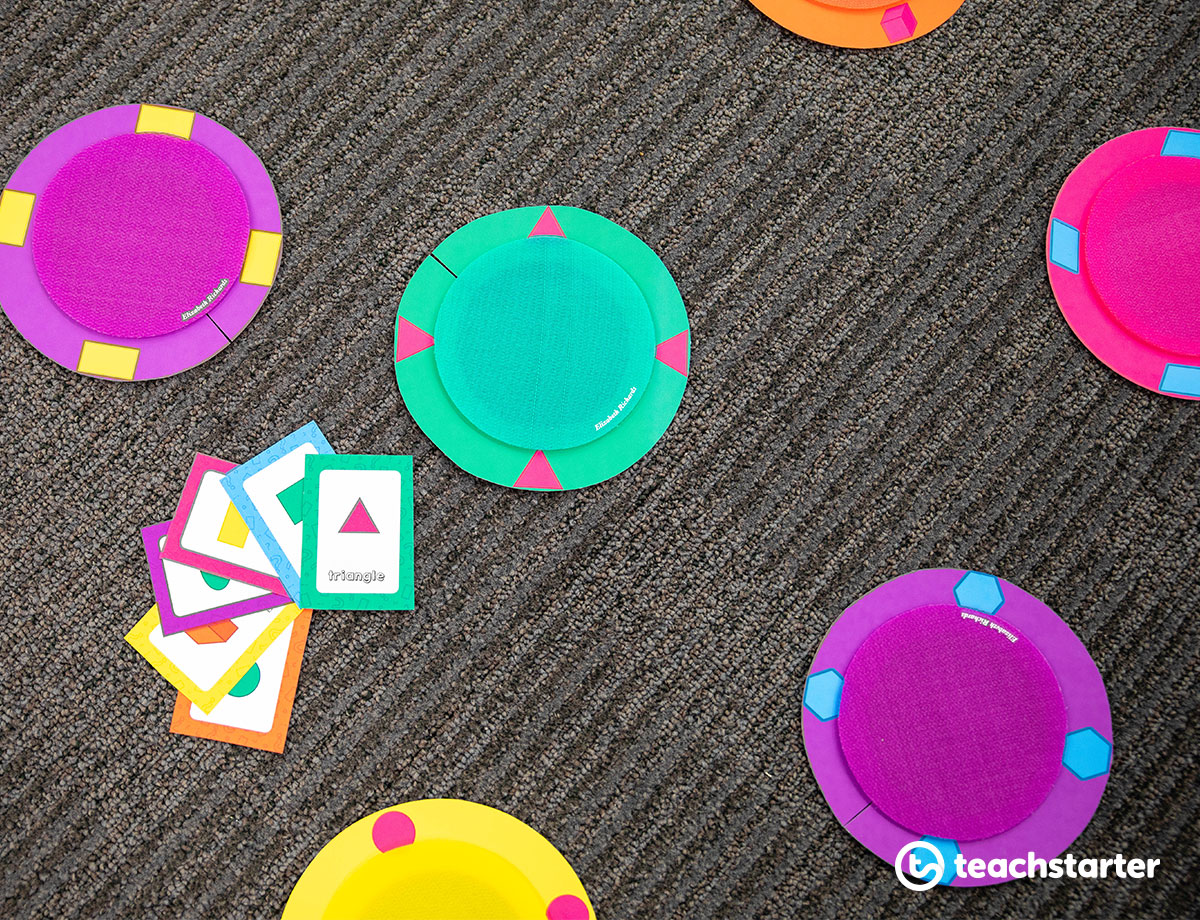 Basic Number Facts Classroom Game
Now, this would have to be one of my favourite classroom games! How can a colourful spinner and fun dots to jump on not be a fun concept??
Our Learn and Play Spots – Simple Addition and Subtraction is the perfect addition to your maths activity toolbox.
In this interactive maths game for the classroom, students spin two spinners, then they add the two numbers together and find the total on one of the spots and go and jump on it!
An active, fun and engaging game that is perfect for a maths warm up or to use during maths rotations. Subtraction can easily be used in this game as well!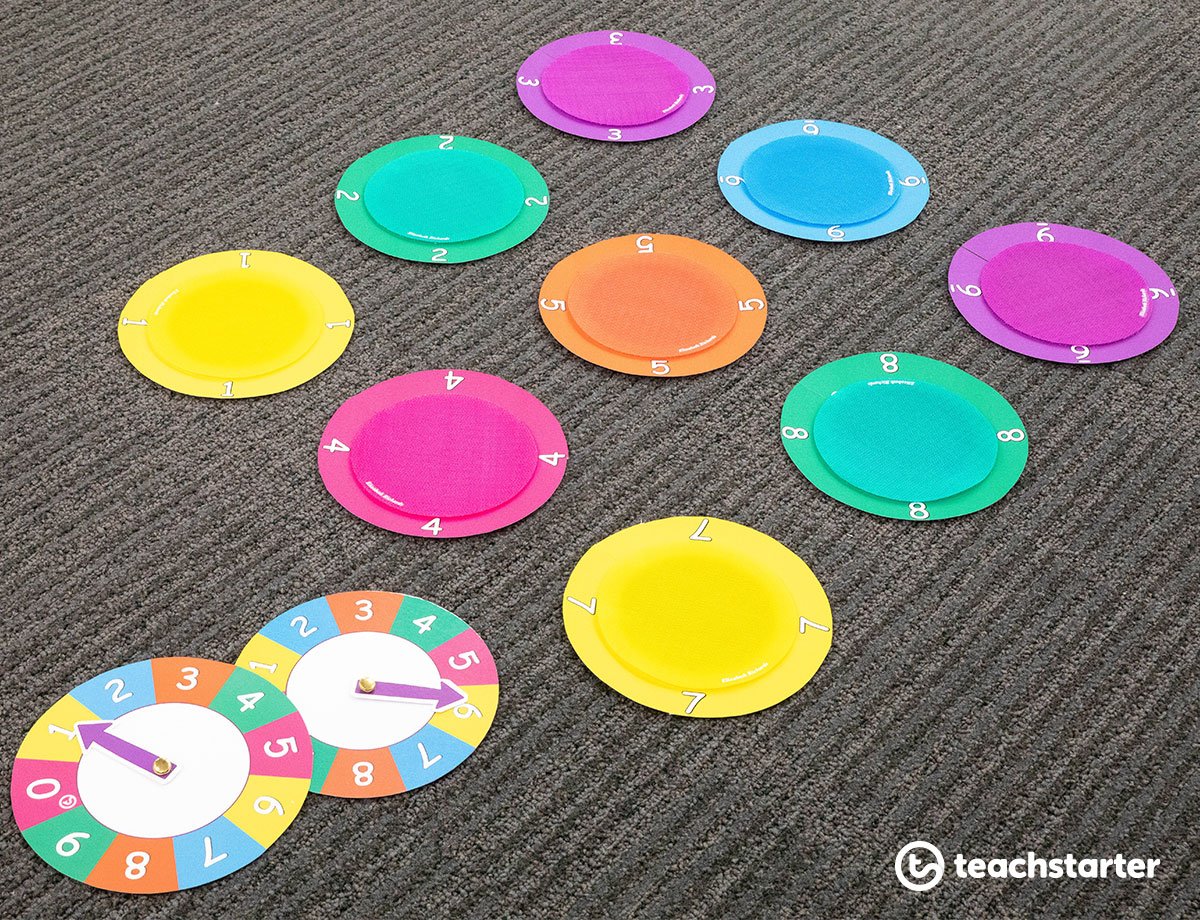 Sight Words Classroom Game
Coming up with new and innovative ways for your students to instantly recognise their sight words can be tricky.
Well, here is another idea! Check out our Learn and Play Spots – Sight Words. Choose the sight words you want a small group of students to learn or practise. Set the rings up under your velcro dots and call them out to individual students who then need to find that particular word.
Common Digraphs and Blends Classroom Games
Just like sight words, students need to be able to recognise different letter combinations and their sounds, how do you do this? By repetition of a concept over and over again in all sorts of hands-on and exciting ways.
Using our Learn and Play Spots – Vowel Digraphs and Learn and Play Spots – Common Blends and Digraphs you can allow your students' time to consolidate their knowledge of particular sounds in a fun and active way.
In small groups, students take turns in picking up a flashcard that will feature either a common blend or digraph. They then need to find a picture, featured on the spots that contain that particular letter combination.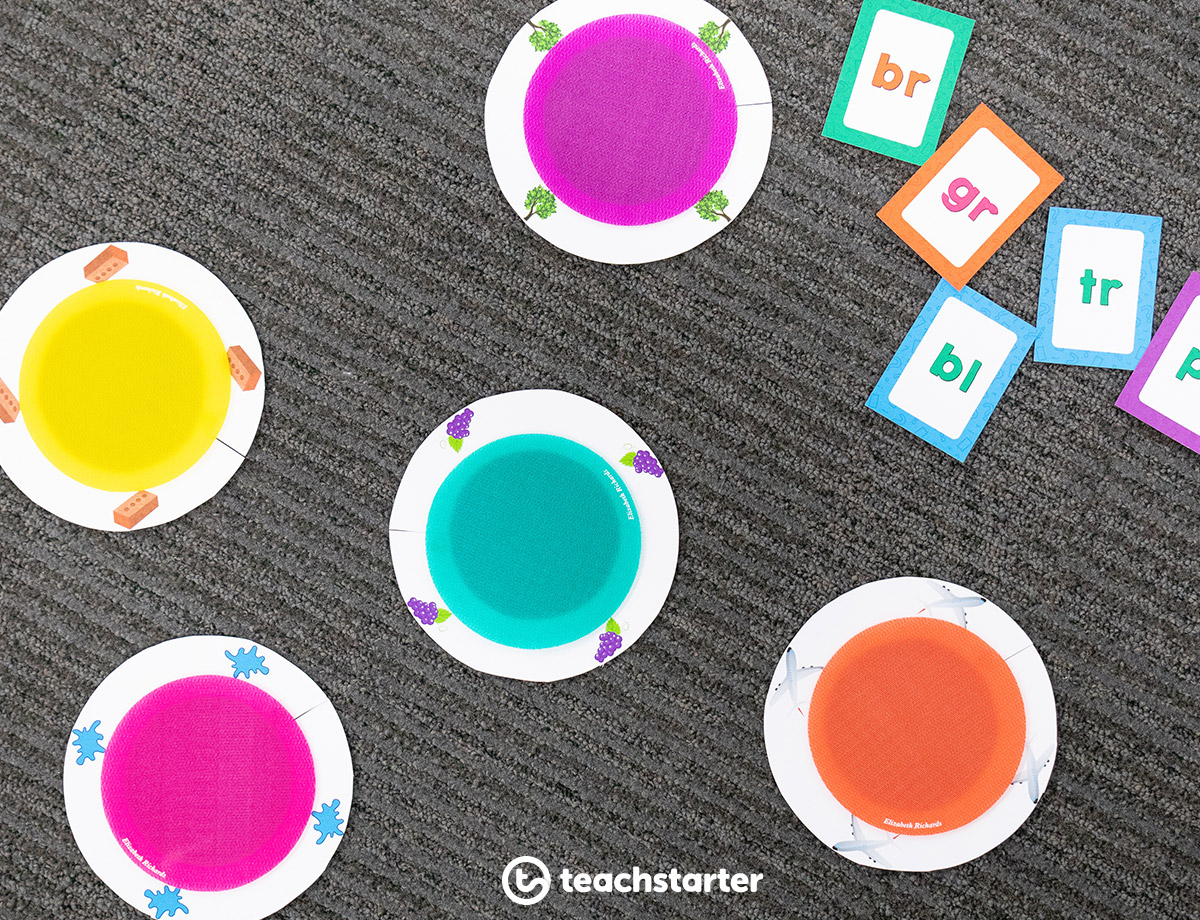 Want To Create Your Own?
Just in case you want to create your very own set of these awesome Learn and Play Spots. We have created an editable version of the Learn and Play Spots – Blank Template.
Check out our full collection of Learn and Play spots to download today.