World Refugee Day is held on June 20. It provides us with a great impetus to begin or to continue raising our students' awareness of how different people's experiences are around the world. Teaching kids about refugees build upon qualities like compassion, kindness and understanding. Three things we all know the world can do with a little more of! Here are some wonderful World Refugee Day activities and ideas for your classroom.
Before You Begin
Before beginning, it's so important that you consider the students with refugee experiences at your school or in your class. Think about the sensitivities you need to take and look carefully through the content of videos, PowerPoint presentation, websites and picture books before sharing them with your class.
There are four aspects of the refugee experience that you may like to consider exploring with your class. They are:
What is a refugee?
Why do refugees leave their own country?
What is life like in a refugee camp?
What is it like to be a newly settled refugee in a new country?
1. What is a Refugee?
What does 'refugee' mean? How is being a refugee different from being a migrant?
These are important questions for students to know the answer to, especially when they may be exposed to these terms and ideas through the media and other experiences outside of school. The following classroom activities, ideas and resources will help you to explore this with your students.
World Refugee Day PowerPoint Presentation
We have created a World Refugee Day PowerPoint Presentation that explains these terms in a sensitive and age-appropriate way.
Below is a preview of the presentation, though you can download the entire World Refugee Day Teaching Presentation with a Teach Starter account.
---
2. Why Do Refugees Leave Their Own Country?
The World Refugee Day PowerPoint above touches on the many and varied reasons that people leave their own countries and become refugees. In addition to this, the following books and video can help to further students' understanding of why people become refugees.
Picture Books About Refugees
Picture books are one of the most powerful modes of storytelling. And, for issues that are complex and sometimes very confronting, picture books can be one of the best ways to encourage empathy and understanding. Many people post YouTube videos reading picture books, which may be a great option if your access to a printed edition is limited.
The following are wonderful picture books that explore the refugee experience and other related issues in a way that is suitable for most primary school students.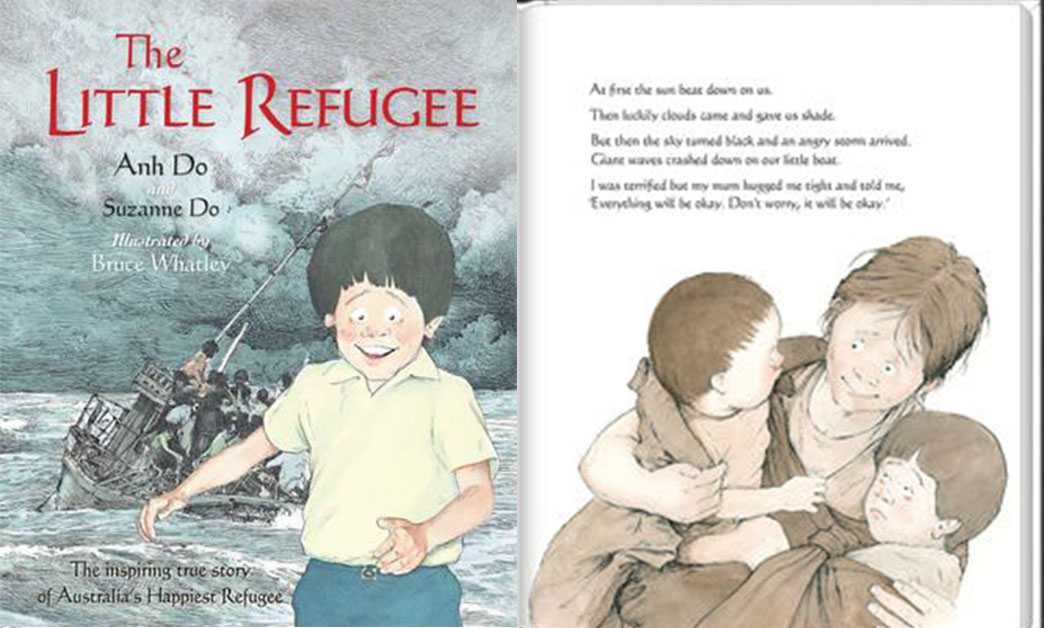 The Little Refugee
Written by Anh Do & Suzanne Do
Illustrated by Glen Whatley
This book tells the story of a young Vietnamese boy who came to Australia as a refugee after the Vietnam War. The book contains realistic illustration by Glen Whatley, and is written from the perspective of the young boy. It is a moving story that explores why the family left Vietnam, how difficult it was to be in a boat on the ocean, and some of the challenges of settling into a new life in Australia.
A note, this book does make reference to war and tells the story of pirates threatening the family and a baby.
Both the hardcover and eBook editions of "The Little Refugee" are available through Booktopia.
---
3. Life in a Refugee Camp
Some students might not know that many refugees live in refugee camps for many years before being resettled in a new country, or returning home. This wonderful video from Behind the News gives students a glimpse into what life is like for kids in the Zaatari refugee camp on the border of Syria and Jordan.
A Picture Book About Living in a Refugee Camp
 
Four Feet, Two Sandals
by Karen Lynn Williams & Khadra Mohammed
Illustrated by Doug Chayka
Four Feet, Two Sandals tells the story of two Afghani girls living in a refugee camp in Pakistan. During the scramble when relief workers throw donated clothing off the back of a truck, Lina find one sandal that fits her perfectly, but she cannot find the other. As the story progresses, Lina meets Feroza who found the matching sandal. The two become friends as they decide to share the sandals.
"As the girls go about their routines washing clothes in the river, waiting in long lines for water, and watching for their names to appear on the list to go to America the sandals remind them that friendship is what is most important. Four Feet, Two Sandals was inspired by a refugee girl who asked the authors why there were no books about children like her. With warm colors and sensitive brush strokes, this book portrays the strength, courage, and hope of refugees around the world, whose daily existence is marked by uncertainty and fear." (Booktopia)
Please note, this makes gentle reference to having lost immediate family members in war.
Check out Booktopia, Amazon or Book Depository for the hardcover edition.
---
4. What it's Like to be Newly Settled
My Place: Episode 3 "1988: Lily"
The wonderful ABC television series "My Place" has an episode that explores what it's like to settle into a country. This dramatisation makes some of the challenges and issues faced by newly settled refugees easily accessible to primary aged students.
"1988: Lily" is Episode 8 of Season 1 of "My Place" which can be purchased through the Australian Children's Television Foundation online shop and may also be available at your school or local library.
---
Additional Classroom Activities for World Refugee Day
There are many activities and ideas that you can do with your students on World Refugee Day. The following activities help to celebrate all that refugees bring to their new countries, including skills, cultures and languages.
Learn a Few Words in a Different Language
Students can find out who in their class speaks a language other than English and learn a few words. "Welcome!" is a great one!
Our Diverse Community Paper Chain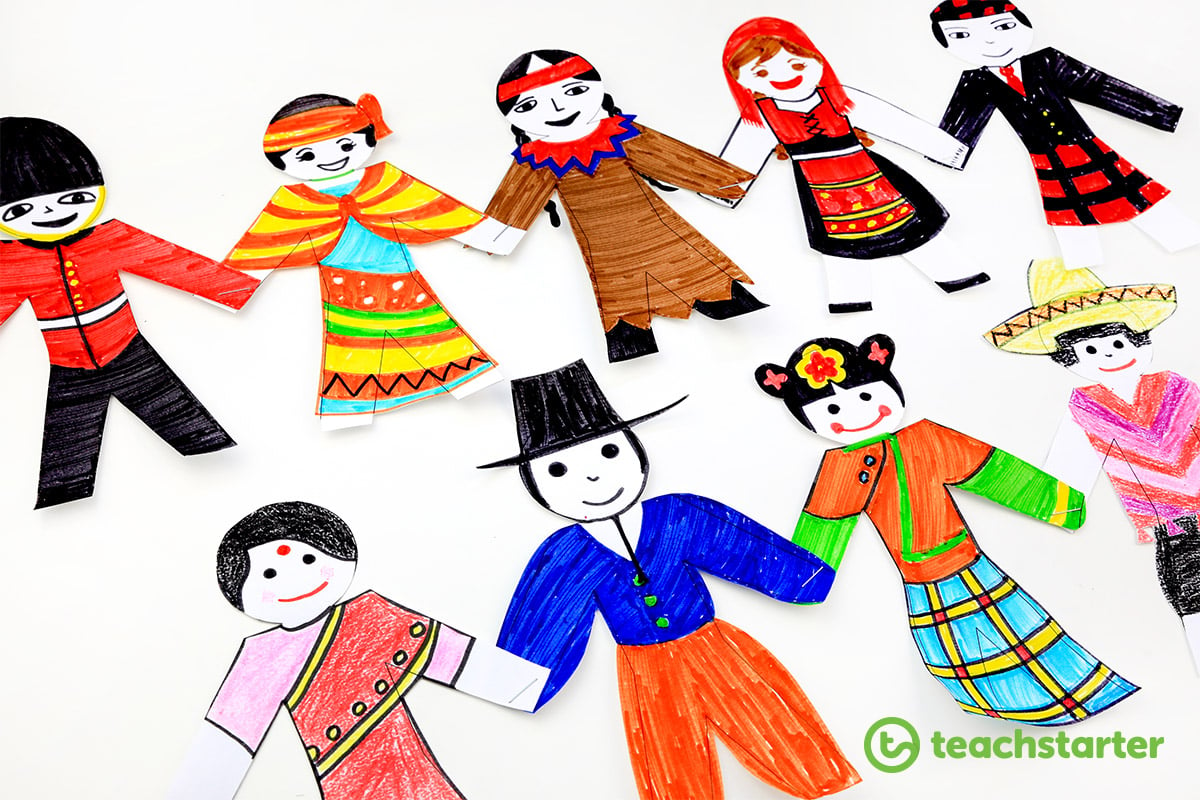 Use this Paper Chain Craft Activity Template! Students can each colour in one person to represent their cultural heritage and make a display that celebrates the diversity of their classroom.
20 Simple Acts | Refugee Week Website
Take a look at the great list of 20 Simple Acts on the Refugee Week website. Each are exactly that, simple acts that help to change the way we see refugees, and ourselves! They include things like finding five facts about refugees, writing a 20 word poem or creating and sharing a 'refugees welcome' banner.
Connect with Your Community
If supporting refugees is something that you and your students are passionate about, there are so many ways you can help.
Task your students with finding out about organisations who run programs and provide aid for refugees. Look at the work of global organisations like Amnesty International and UNICEF, but also find out what's happening in your own community.
You may be surprised to find out about local groups who support newly settled refugees by providing them with clothing, food and household goods, as well as organisations who raise money and provide legal support for families who undergoing their own applications for refugee status and legal living rights.
---
Introducing topics like human rights and refugee issues can seem a little daunting. However, with the wealth of books, videos and other resources available, it's easier than ever to explore these topics in an age-appropriate and sensitive way.
Encourage kindness, understanding and empathy by engaging your students in one of these simple World Refugee Day classroom activities!