Let your students' beautiful selves shine using this personalised Harmony Day colouring activity.
Celebrate Diversity with Our Harmony Day Craft
Everyone belongs. 
On Harmony Day, we celebrate the cultural differences that make us stronger as a community—in our schools and workplaces, sports, activities and more. Because when we embrace inclusivity, we come together as a nation of people proud to be Australian!  
This community & culture Harmony Day resource includes teacher instructions with an example image of the finished product, and our person cutout template.
Students use colouring tools to represent themselves and their cultural backgrounds on their templates. When their artwork is complete, join the person cutouts together to create a paper chain to display in your classroom! 
Scaffolding + Extension Tips 
In addition to being a Harmony Day colouring page, repurpose this activity for a range of lessons and class needs, including:
✋ back to school
✋🏻 World Heritage Day (18 April)
✋🏼 friendship
✋🏽 kindness
✋🏾 all about me
✋🏿 biography activities.
How To Prepare This Resource
Use the dropdown icon on the Download button to choose between the PDF or Google Slides version of this resource. 
Print on cardboard for durability. 
NEXT: Harmony Day Ideas and Classroom Teaching Resources for Kids
Prompt thoughtful discussion about Australia's diverse peoples with these Harmony Day activities and teaching resources: 
resource pack
A collection of Harmony Day resources suitable for all grades when teaching students about cultural diversity.
teaching resource
A connecting display for students to list their favourite things and where in the world each comes from.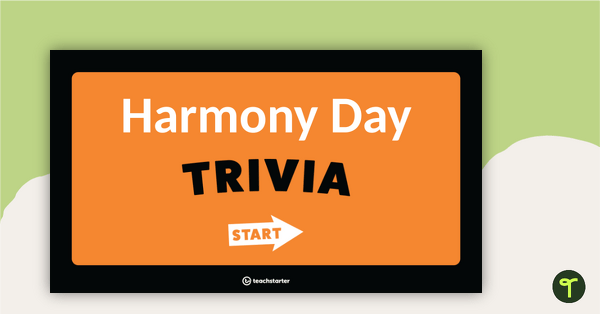 teaching resource
An interactive multiple choice quiz to prompt thoughtful discussion about Australia's cultural diversity on Harmony Day.