A set of 12 task cards to practice working with figurative language.
Figurative language can be a tricky concept for most students which means they need a lot of practice! Why not add this resource to your arsenal?
Print out the resource on thick card and cut out the task cards along the dotted lines. Store in a resealable bag to be used over and over, year after year!
Use the task cards as a literacy rotation activity, or as a formative assessment activity. Why not add an interactive element by hiding the task cards around the classroom for the students to find and complete?
The types of figurative language used in this resource include:
simile
metaphor
personification
idiom
hyperbole
onomatopoeia.
Need a one-stop resource to teach your students about figurative language? We have you covered with this comprehensive teaching presentation: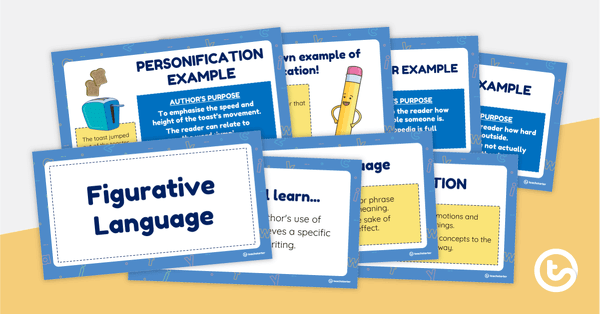 teaching resource
An editable PowerPoint template to use when teaching figurative language.
---
This resource was created by Kelli Goffredi, a Teach Starter Collaborator.