A 13-slide editable PowerPoint template providing a comprehensive overview of the history of the Olympic Games.
Do you know the fascinating history of the world's most famous sporting event? We have created the ultimate Olympic Games history lesson in one convenient PowerPoint presentation!
Nearly 3000 years of history, perfectly packaged in PowerPoint!
This PowerPoint presentation answers many of the questions your students may have about the Olympic Games, both then (the ancient Games) and now (the modern Games)! Some of these questions include:
What are the Olympic Games?
When and where did the Olympic Games originate?
Who participated in the ancient Olympic Games?
What events were held at the ancient Olympic Games?
What did the victors in the ancient Olympic Games win?
Why were the ancient Olympic Games discontinued?
How did the modern Olympic Games come about?
As a follow-up activity, why not have your students complete a comprehension activity about the history of the Olympic Games?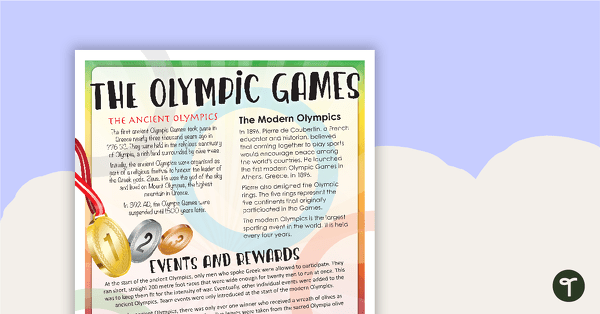 teaching resource
A comprehension task that encourages students to apply a range of comprehension skills when finding out interesting fun facts about the Olympics.