Why do teachers love Kmart hacks so much? I guess it's because they are innovative, creative, clever and affordable. So, I've teamed up with Instagram teacher and influencer, Tam from @misslearningbee, to share some of the best Kmart hacks around.
Miss Learning Bee is passionate about nurturing kind kids who love learning. Thanks, Tam for being the I in Kind and sharing your ideas.
We'll show you how to create your own seriously cool hands-on materials, teaching resources, behaviour management tools and classroom displays!
---
#1 Neon Rainbow Light: Number Facts
Want to light up your life with a rainbow? This bargain Neon Rainbow Light is the perfect teaching tool for learning rainbow number facts. This cheery rainbow number fact light can be used as a bright visual learning scaffold during maths groups or as a classroom display.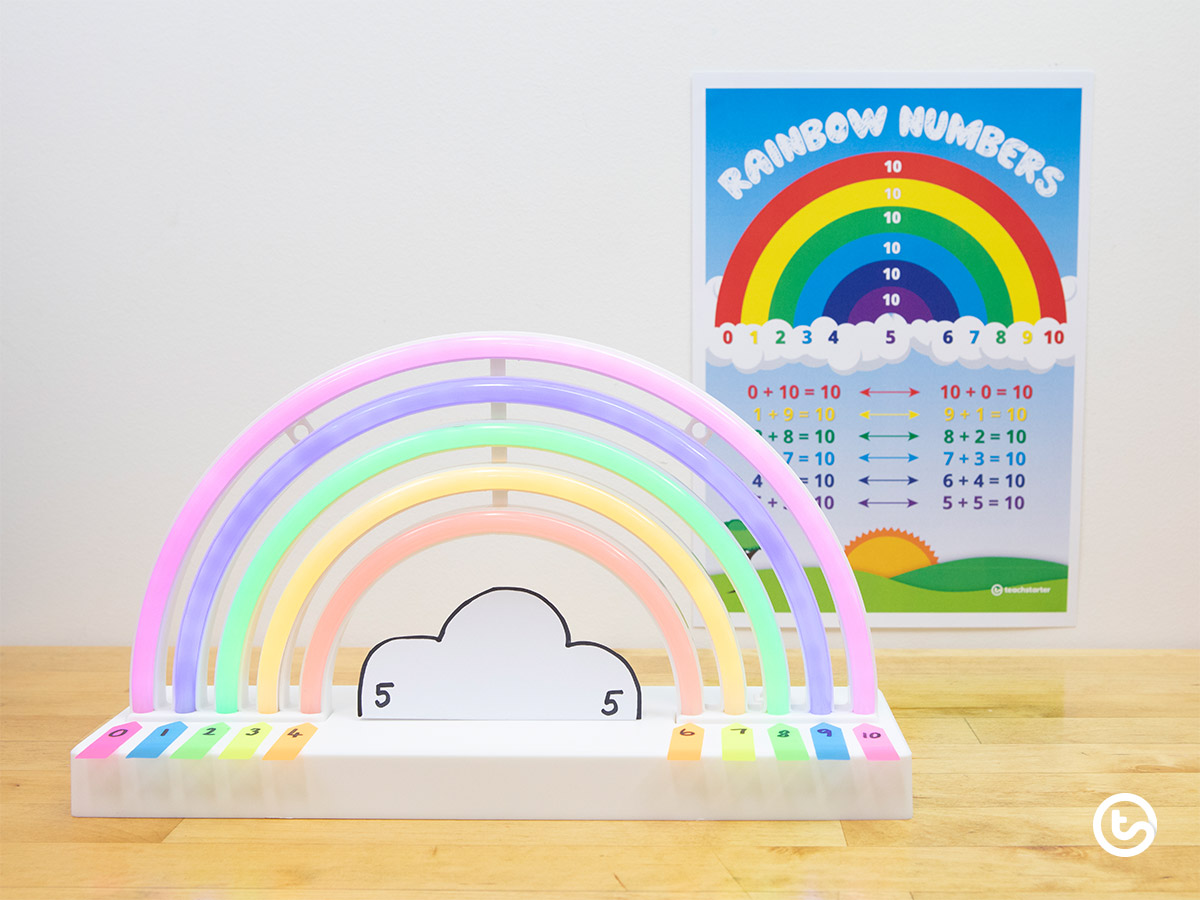 I teamed this Kmart hack up with our Rainbow Numbers Poster from our Rainbow Number Facts Teaching Resources collection.
So what else do you need? I used some fluorescent sticky note bookmarks (flags) that match the colours of the rainbow. Plus a small piece of white card for the cloud.  Oh, and don't forget you'll need  3 x 1.5 v AAA batteries.
---
#2 Noughts and Crosses
Check out this brilliant idea from @misslearningbee using $2 Wooden Noughts and Crosses from Kmart. Tam says that this Kmart hack is a big fav of hers because it's so versatile and kids love it!
As you can see, in this example, Tam uses the concept of the noughts and crosses game to teach and learn decodable words. But you could use it to teach sight words, sounds, numbers or whatever you fancy!
---
#3 Train Table
Are you looking for a solution to the overzealous rolling of dice and the noise that it makes?
Maybe that's just me! But regardless of your tolerance to the rattle of dice, this wooden train table is perfect for a corner of your classroom! This Kmart teacher hack is so hot that you may find the table hard to find in store.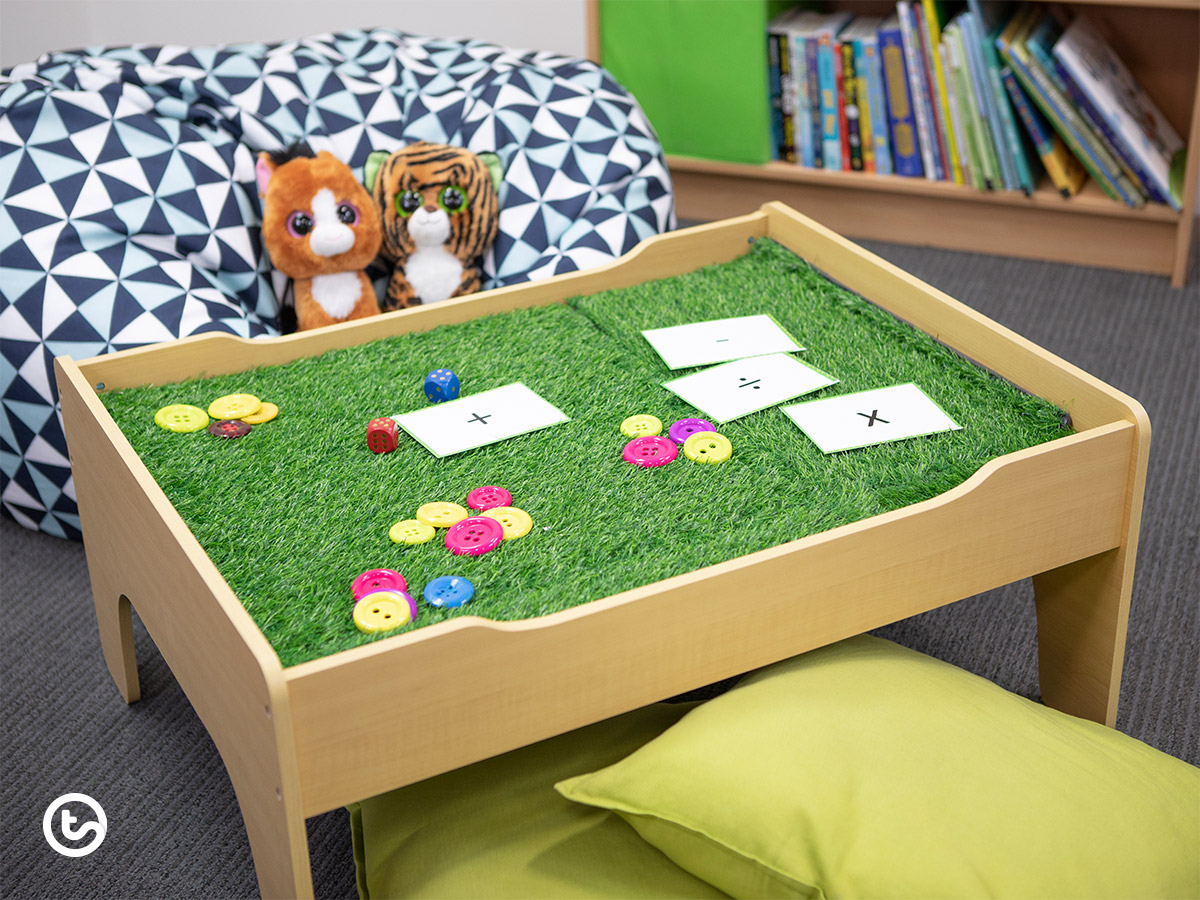 Tam and I agree that this wooden train table is a classroom essential for lower years. As you can see it's an ideal size for a small group of students to kneel around on soft cushions.
Firstly, I should mention that Kmart hacks aside, this cute train table provides the perfect invitation to develop fine motor skills, cognitive thinking and imagination. It includes 70 pieces (track pieces, bridges, streets signs and more)!
Secondly, there are so many ways that you can adapt the table to create engaging learning experiences. For example, you could create a:
board game station
hands-on maths station
hands-on word building station
creative play area
sensory play table.
We used the 2 Pack Artificial Grass Tiles that you can find in the Active section of Kmart to cover the table. Thanks, @misslearningbee for sharing your top tip to buy larger grass squares and to cut them down to size.
For more information and ideas on how to create a sensory play experience, read Holly's blog Sensory Play Ideas | Using Tray Activities in the Early Years
---
#4 Space Makers
How adorable are these funky space makers that have been created by @misslearningbee!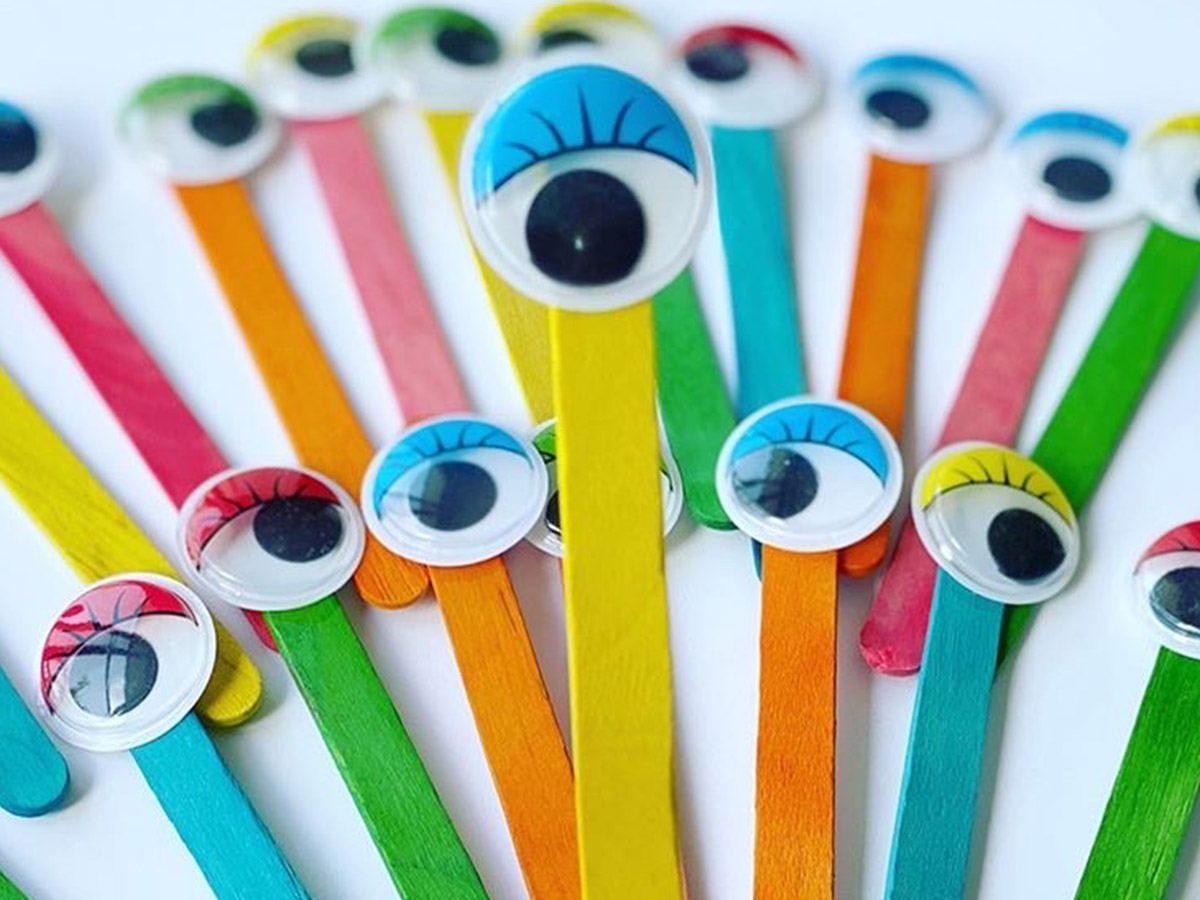 Head to the Kmart craft section and pick up a $3 100 Pack Googly Eyes and $2 pack of 30 Piece Jumbo Pop Sticks. If you want to add a splash of colour, give your pop sticks a coat of acrylic paint. Or,  make life even easier and search your local discount store.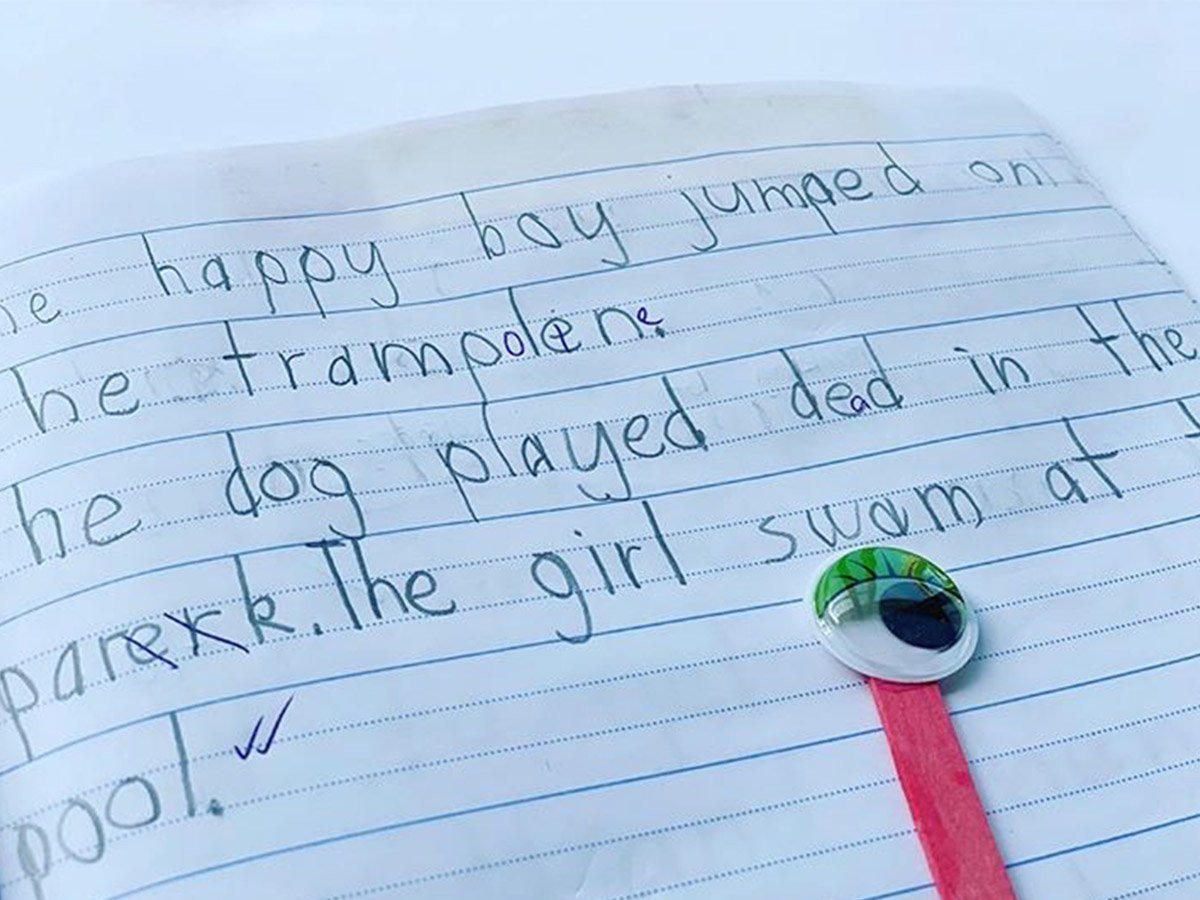 Tam uses these in a few different ways. Her students find it helpful to use these googly spacers to create finger spaces in their writing and also as re-readers (reading back to check their writing).
---
#5 Voice Level Switches
Thanks, @misslearningbee for sharing this genius Kmart hack to guide and monitor voice levels in the classroom. I know what you're wondering… where in Kmart can I find them?
And the answer…just head to the camping section. These simple and effective LED Light Switches are brilliant value at $2!  What's more, batteries are included. So, whats' not to love?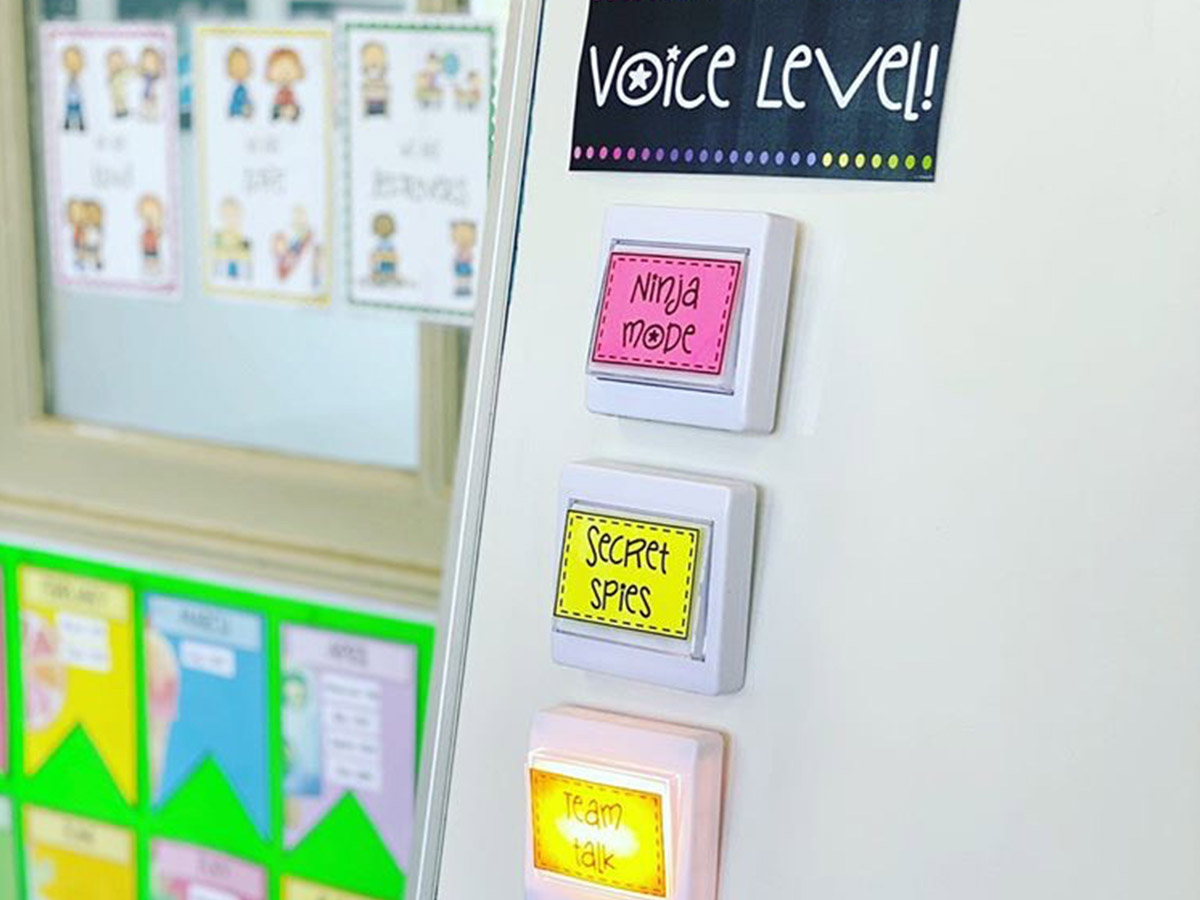 We had a play around with other ways to use the switches. Check out this nifty idea to promote Higher-order Thinking in your classroom…
I used the switches in conjunction with our Higher-order Thinking | Blooms Taxonomy Poster.  For more Higher-order thinking teaching resources head to our Higher-order Thinking collection.
---
#6 Talking Sticks
When I asked Tam for her Kmart Hack favs she included these essential Talking Sticks. Ok, so they look pretty, but how are they used in the classroom?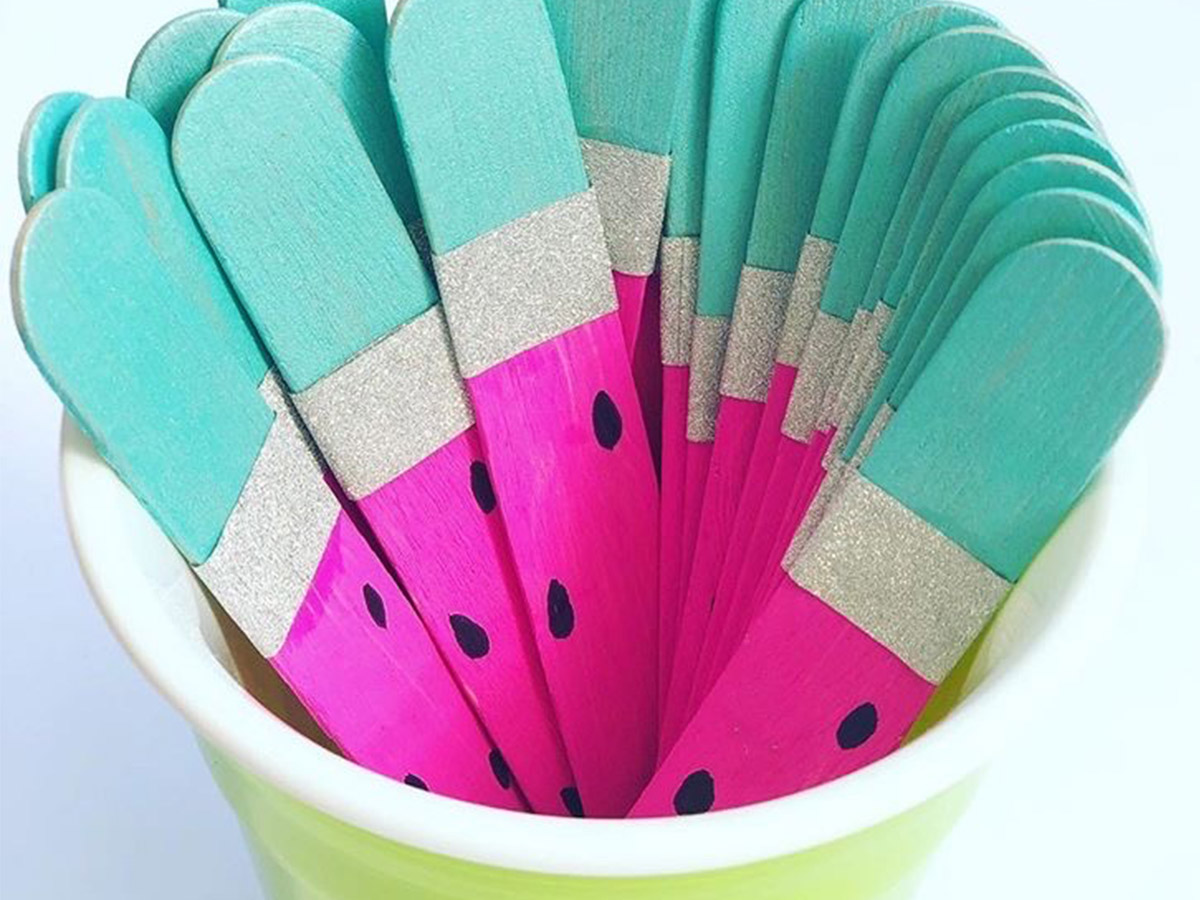 Tam uses them as part of her formative assessment focus. During a no hands-up session, Tam suggests that you select a name stick from the cup (when you ask a question), and encourage that student to respond. Tam finds, that this learning approach:
sets the expectation that everyone needs to think of an answer
encourages passive learners to take part
increases motivation and engagement in the classroom
supports her formative assessment and informs her future planning.
---
#7 Teacher Name Display
Next, take a look at how easy it is to create a warm and fuzzy teacher name display for your desk!
I used a Kmart Neon Rainbow Light and our editable Blush Blooms – Tray Labels to create a name tag. As you can see, with the click of a switch, you'll be feeling bright, breezy and ready to begin the school day! What's more, your students will never ask you how to spell your name again (well, here's to hoping).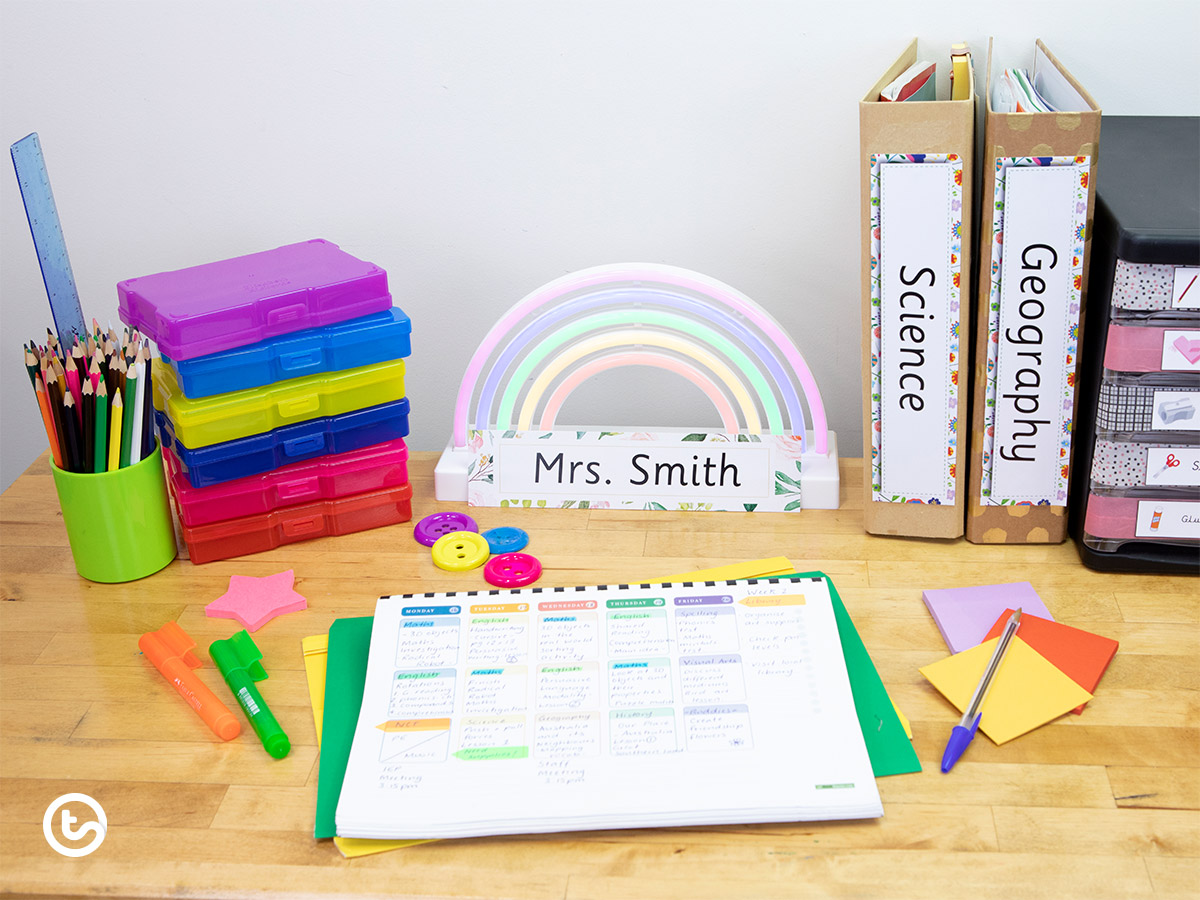 Maybe with the help of this Kmart hack, you'll find a pot full of gold coins after all??!
---
#8 Letter and Sound Rack
We are loving this fun hands-on idea for teaching and learning letters and sounds. All you need to do is head to the Home & Living section of Kmart to find a wooden or wire rack that works for you. My top pick is the $4 Wire Spice Rack and a pack of wooden pegs.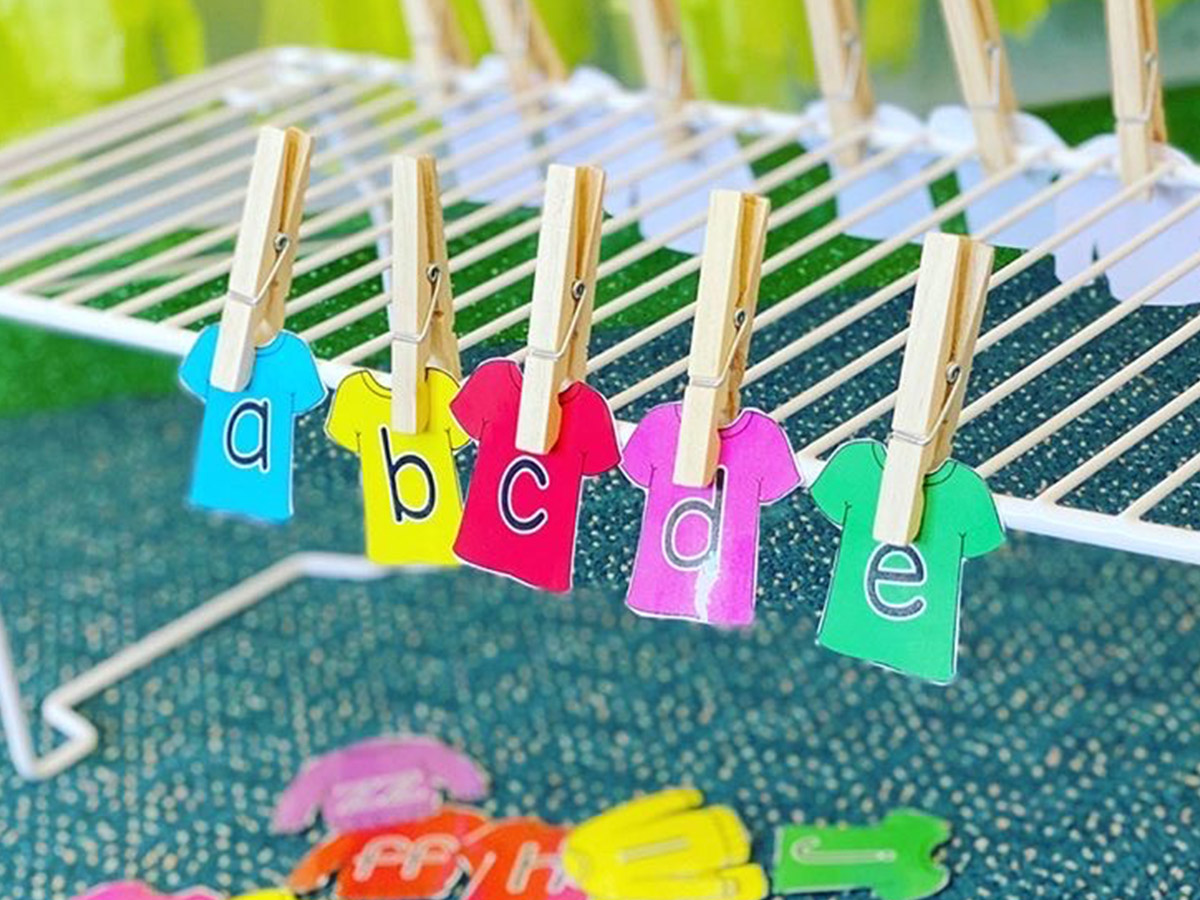 Next, to complete this Kmart hack, head to our phonics collection and download our Jumble Mania – Circle Letters with Blends, Digraphs and Phonemes.
---
#9 Classroom Makeover
Are you looking to give your classroom walls a makeover? We love Tam's brilliant idea to use Kmart vinyl adhesive roll to give any classroom a stylish look.
Whether you prefer a modern marble look, a fresh palm print or an earthy concrete look, you'll be amazed how this clever Kmart hack can transform your classroom.
---
So there you have it! Nine incredible Kmart hacks that are sure to bring a buzz to your classroom! Join the Kmart hack movement and get down to your local Kmart store! A massive thank you to Tam from @misslearningbee for sharing her ideas and photos. Follow her for more inspirational ideas and support.
Got your own brilliant Idea? Share a Kmart hack with your teacher tribe in the comment section below!
Share your photos on Instagram #teachstarter