Are you looking for ideas to engage your primary classroom in citizen science projects or simply trying to find out, 'What is citizen science?' Either way, we're here to help shed some light!
It's still a relatively unknown term in the general public, but citizen science is making big waves in the science world. Not only is it helpful for the broader scientific community, but implementing citizen science in the classroom helps our young students develop a passion for science and an understanding of the scientific process.
The Teach Starter teacher team has donned their lab coats and research hats to develop a heap of citizen science ideas to integrate into your lesson plans. Read on to get the low-down on citizen science and find ways to make it fun for your little learners.
What Is Citizen Science?
Citizen science is scientific research conducted by members of the general public. It involves volunteers or non-professional scientists – like our school kids – to collect and analyse data in collaboration with real scientists and researchers. In a nutshell, volunteer scientists like our students can take on a research challenge set by a scientific organisation and submit their findings back to help develop necessary research. Pretty cool, right?
Also known as backyard science, this method enables professional researchers to gather data over a wider geographical area. It frequently uses technology, such as apps, to help scientists collect data from people in communities worldwide.
Engaging Citizen Science Projects For Kids
Birdwatching for Australian Native Birds
Get your class out in the fresh air and observe some of Australia's beautiful native birds while contributing to scientific discovery. Birdwatching can be conducted on school grounds, at a national park or beach.
A fabulous initiative to engage your class is the annual Aussie Bird Count, where your students can count and identify the different types of birds observed before submitting your results. This research task aims to connect students with their natural environment. In doing so, it will help them expand their scientific tool kit and learn about the life cycles, habitats and adaptations of birds in their area.
This year, the Aussie Bird Count will be held from 16 October to 22, 2023.
Alternatively, you could set up a DIY bird feeder in the school to help attract birds for observations. Students can note the types of birds that visit, their behaviours and the frequency of visits before graphing the data.
Weather Watching
Weather watching is an easy and beneficial way for your little learners to contribute to citizen science. To get started, work with your class to measure and record daily weather data such as temperature, cloud cover, rainfall and windspeed.
You can use your mobile to report the results to organisations such as Climate Watch, which uses the data to understand how changes in temperature and rainfall are affecting the seasonal behaviour of Australia's plants and animals. The Climate Watch app is free, and your students can be part of shaping climate change science!
Of course, students can broaden their knowledge of weather conditions and their impacts, all while supporting the broader science community.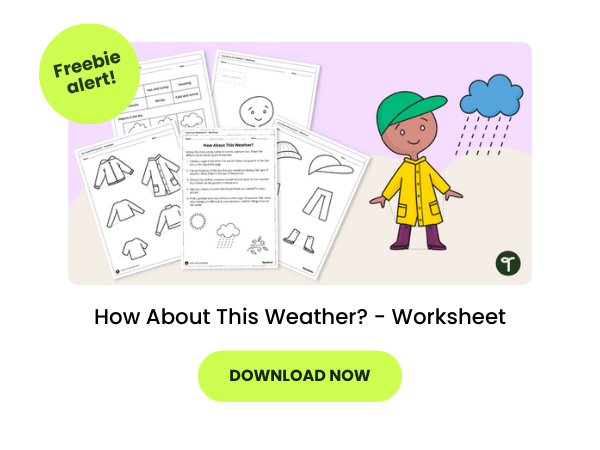 Globe at Night Campaign
Encourage your students to absorb the beauty of the night sky and stargaze in the name of science! Globe at Night is an international citizen science campaign that raises awareness of light pollution's impact.
By observing and measuring the brightness of the stars and sky, students can contribute to a global cause while learning more about constellations and the solar system.
Bring space into the classroom with these printable Objects in the Sky Vocabulary Cards!
Koala Tracker Program
If you plan to share our 20 fun koala facts with your class (hint, hint!), why not supplement your lesson with a koala spotting excursion? By participating in citizen science projects such as QWildlife app by the Australian Government Department of Environment and Science, your little learners can track signs of koala habitats, record koala populations, and contribute to protecting this native species.
Although koalas are not currently considered an endangered species, the folks behind Koala Tracker hope that information gathered by citizen scientists like those in your science classroom might be able to help convince the authorities to provide more resources to protect the population of marsupials.
FrogID Initiative
Another great citizen science initiative for primary school students to take part in is FrogID, run by the Australian Museum.
By downloading the app, you can work with your class to help identify and count frogs found around your school area. It is a beneficial way to help protect declining frog populations and teach kids more about these fascinating amphibians and their habitats.

Wild Pollinator Count
Try to stop and smell the flowers, and count some bees along the way! While thousands of pollinators are native to Australia — including bees, butterflies, beetles and ant species — there's a lack of information on the ecology of many of these insects, such as what flowers they pollinate or where they're found.
That's where community-driven initiatives such as Wild Pollinator Count come in, and it's super easy for your class to join in on the research – observe flowering plants and trees on school grounds for insects interacting with the flowers and submit your findings on their website. Just remember to be careful around bees!
Marine Life Tracking
Fancy a class excursion to the beach? If your school is close to the coast, let your students become marine biologists for the day! While learning more about aquatic ecosystems and looking for different species, you can log and map your findings to submit to organisations such as Redmap or Reef Map Survey.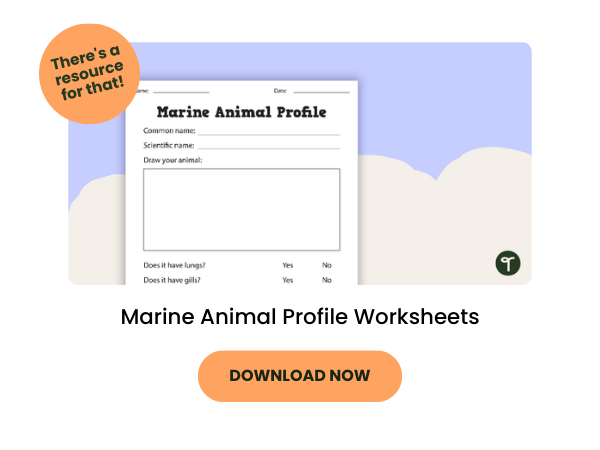 Waterbug Blitz Program
Monitoring our waterways and wetlands for water-dwelling critters is crucial, and it's work that kids can join in on too! Waterbug Blitz is a citizen science program aimed dedicated to ensuring our waterways are clean and healthy. You can involve your class by visiting a local river, stream, pond or wetland, observing different waterbugs, and recording data through the program's app.
Once back in the classroom, you can encourage a discussion about how water gets from a waterway into bottles for our consumption with a resource such as our Water Sources Teaching Slides and Workbook.
Looking for more Australian Curriculum science resources? Check out our fully-stocked science hub with worksheets, lesson plans,  experiments and more — all created for teachers.