Have you heard the news around Teach Starter? We have created this amazing comprehension strategy classroom game!!
Out of The Book – Comprehension Board Game is a great addition to any literacy block! Students work towards the finish line by reading small passages from a variety of strategy cards and answer multiple choice comprehension questions.
The first student to reach the finish is the winner! Each Strategy and Pop Quiz card have the answer on the back for students to refer to when playing.
The board game includes comprehension cards for the following strategies:
making connections
making inferences
facts & details
sequencing
facts & opinions
main idea
compare & contrast
author's purpose
summarising
cause and effect
predicting.
It is flexible with what you are teaching, perhaps you want to focus on only a small number of the above strategies. Alternatively, use all the cards as a fantastic way to reinforce different comprehension strategies!
Another idea is to have the whole class play! Project the game board onto the classroom whiteboard and use two round magnets as each team's counter.
---
Hints & Tips
Here are some little hints and tips for creating this amazing resource for your classroom!
Once you have printed out the resource, cut each of the strategy and pop quiz cards out. Each card should have two sides – one with a book and worm on it, the other with a small piece of text and question.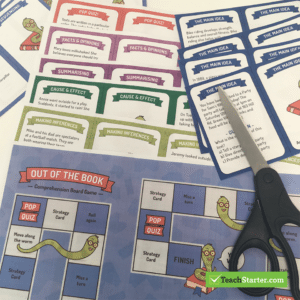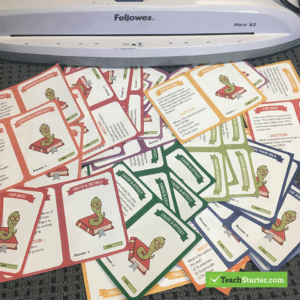 Once you have cut all the cards out, fold them in half, and place them in a laminating sheet.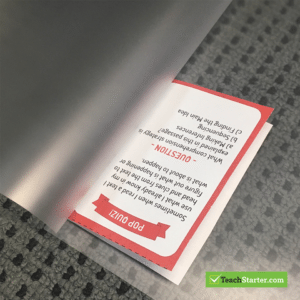 You need to make sure there is enough laminating sheet around each of the cards. I could only fit six of the cards in one laminating sheet.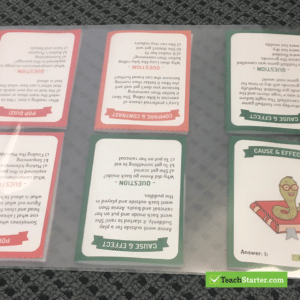 Carefully, place the laminating sheet into the laminator. You may need to hold it and guide it in to make sure the playing cards don't move around.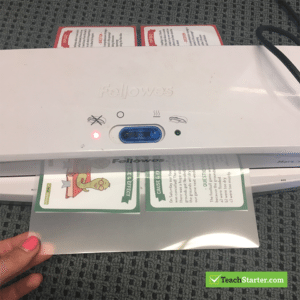 Next, cut the cards out making sure there is a border of laminating sheet around each card to keep it secured.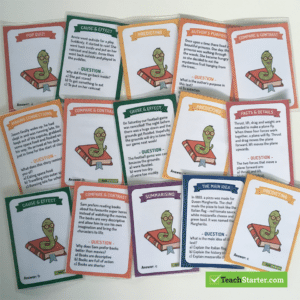 Finally, laminate the board and sort the cards into their different strategies!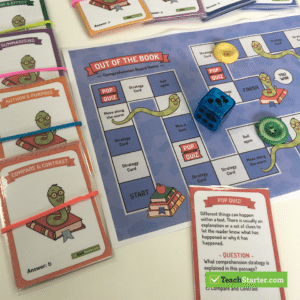 Have a laminating session and reap the benefits of this amazing teaching resource!
We would love to hear from you – have you used this game in your classroom yet?