When it comes to respecting and honouring the traditional owners of the land on which we play, walk and live, there's something special about young children understanding the meaning behind an Acknowledgement of Country, and being able to work together to write their very own. This understanding also allows them to show respect, appreciation and a willingness to learn more.
So, we chatted with some of our wonderful teacher Ambassadors – Jordyn living on Kombumerri Country (@learning_to_ngangaanha) and Tramain from the Bundjalung people (@themurriteacher) for some hints and tips on how to write an Acknowledgement of Country with kids.
How gorgeous is this simple display featured at a Pre-School? It's a great reminder for all visitors to pay their respects to the land they walk on. Plus, the simple vocab means that the younger children understand the vocabulary!
Thanks for this great image @kooricurriclum.
---
What's the Difference Between Acknowledgement to Country and Welcome to Country?
Before we explain this sort of information to our students, it's particularly important that we fully understand and appreciate the difference ourselves.
The teachers in the Teach Starter office completed a certificate through Queensland University of Technology (QUT) called – Embedding Aboriginal and Torres Strait Islander Perspectives in Education. It was through this course that I watched this TED Talk that really resonated with me and I just had to share it with you all. It's worth a watch…
Now, this is certainly a video that older students can watch and appreciate. But, how do you explain the difference between an Acknowledgement of Country and a Welcome to Country to our little learners?
I love how Scott Kneebone explains the difference in a kid-friendly way.
"A Welcome to Country is like you're hosting a birthday: you do a welcome and say thank you for coming to my birthday. And an Acknowledgement of Country is like if you're a guest at the birthday: you would say thank you for having me." 
---
How to Write an Acknowledgement of Country with Kids
This fabulous Acknowledgement of Country Play School episode created during NAIDOC week is an informative episode that explains the Acknowledgement of Country in kid-friendly language.
What to Include In an Acknowledgement of Country
You must specify and describe the Country you are on (e.g. 'pay respects to Elders who have cared for the mountains, rivers, sea and sky where our school is located on ______ Country.') –
Always name the Mob in the Acknowledgement. If the land is contested (eg. Brisbane) always name both or all Mobs.
Use traditional names (instead of English names – where possible) for significant areas important to you and your local Aboriginal community.
Pay respects to Elders (past and present).
"Elders are the backbones of our communities, and the knowledge keepers of our culture. So, acknowledging them is important. but it doesn't need to be in those exact words." – Jordyn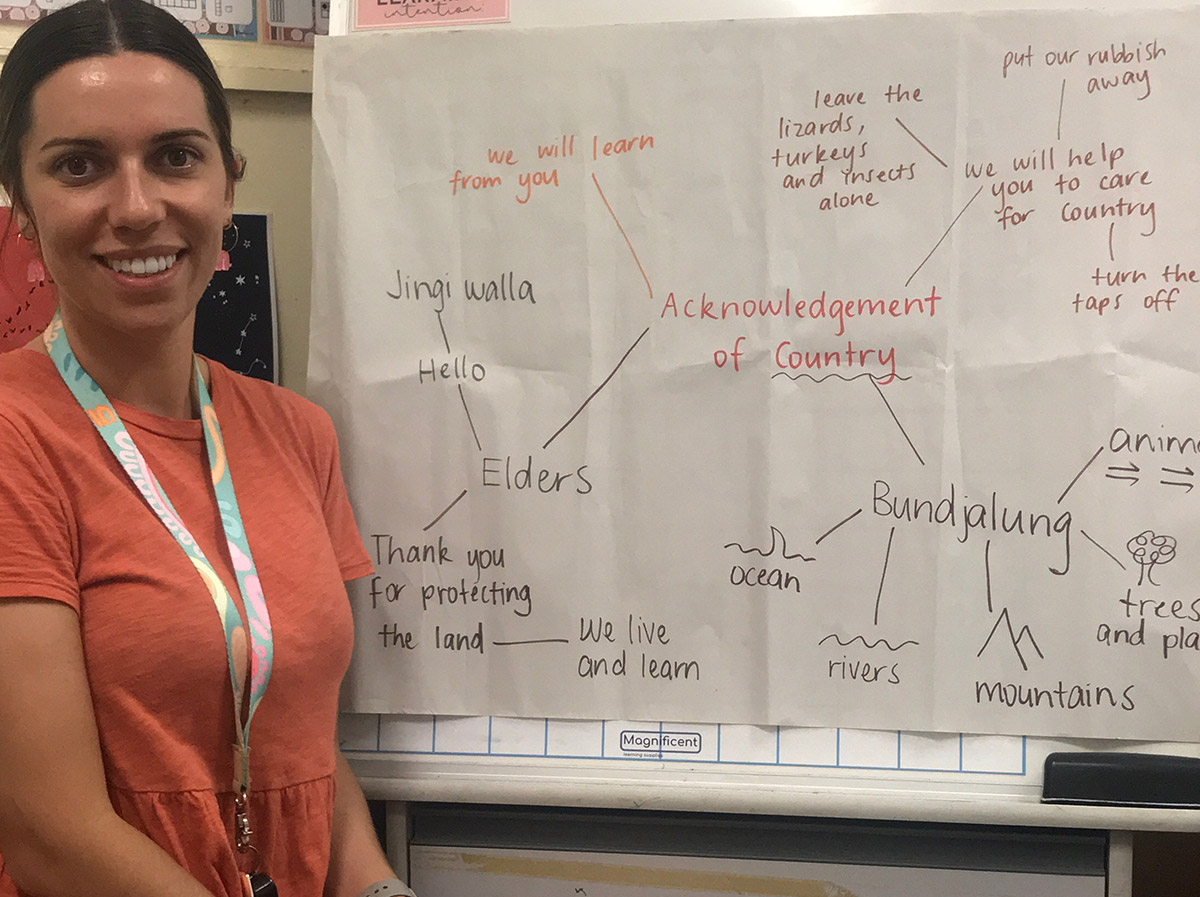 Hints and Tips for Writing your Acknowledgement of Country.
Ask the local community how they would like to be acknowledged before discussing with your class. You can contact your local AECG (Aboriginal Education Consultative Group). Jordyn did this when she moved interstate and was given a wealth of information about the local area and the preferred way to refer to the traditional custodians in the area.
Jordyn also suggests deconstructing an already written Acknowledgement of Country with your class before re-creating your own class Acknowledgement of Country.
Tramain takes her students for a walk around the school and talks about all the natural elements (we're acknowledging more than land e.g. sky, waterways etc) and the stories connected to them.
Jordyn expresses that Acknowledgements don't need to be limited to assemblies and special events where Aboriginal people are expected to attend. They should occur as a sign of respect whether Aboriginal people are present or not – including classrooms!
Some already created Acknowledgement of Country resources to inspire you:
How to Display your Classroom Acknowledgement of Country
Once you have written your special class Acknowledgement of Country, it's important to display it in the classroom as a reminder.
How gorgeous is this Acknowledgement of Country display? Thanks for this gorgeous idea @mrsturnerteaches.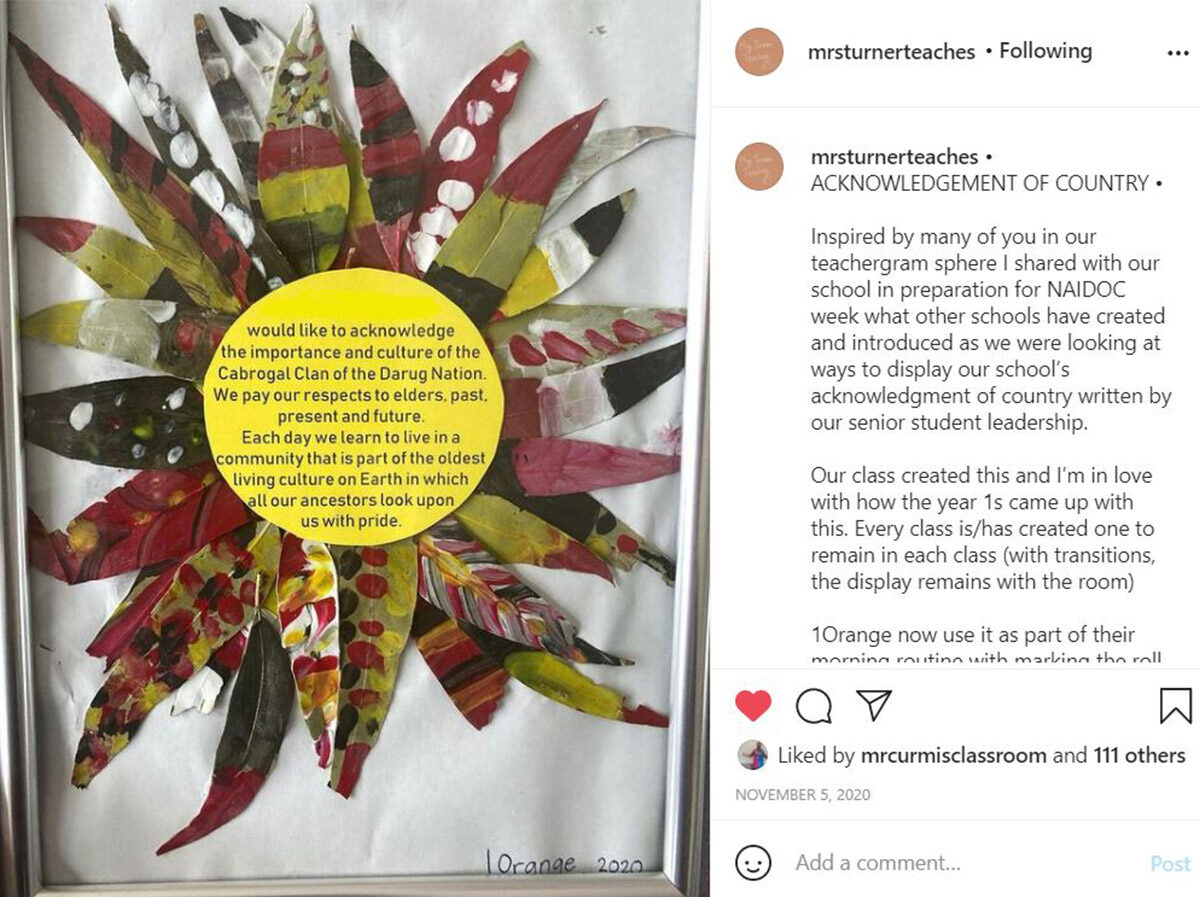 Depending on what words you have used for your own Acknowledgement of Country – some of these editable page borders may also be nice to use.
Has your class created their own Acknowledgement of Country?
We'd love to see them – share the photos in our Facebook Group – Teacher Talk.