Next week brings with it the International Women's Day celebrations for 2018. It's a day that is gaining more and more momentum each year as communities all over the world realise the importance of celebrating the skills and achievements of women. Teach Starter are excited to be creating a host of amazing (and FREE!) International Women's Day teaching resources. However, in conjunction with these, we want to share with you some of the other wonderful stories, ideas and illustrations that make wonderful teaching resources too! Without further ado, here are 8 amazing children's books that you can share with your students on International Women's Day (and all throughout the year!).
---
#1
Rosie Revere, Engineer
by Andrea Beaty and David Roberts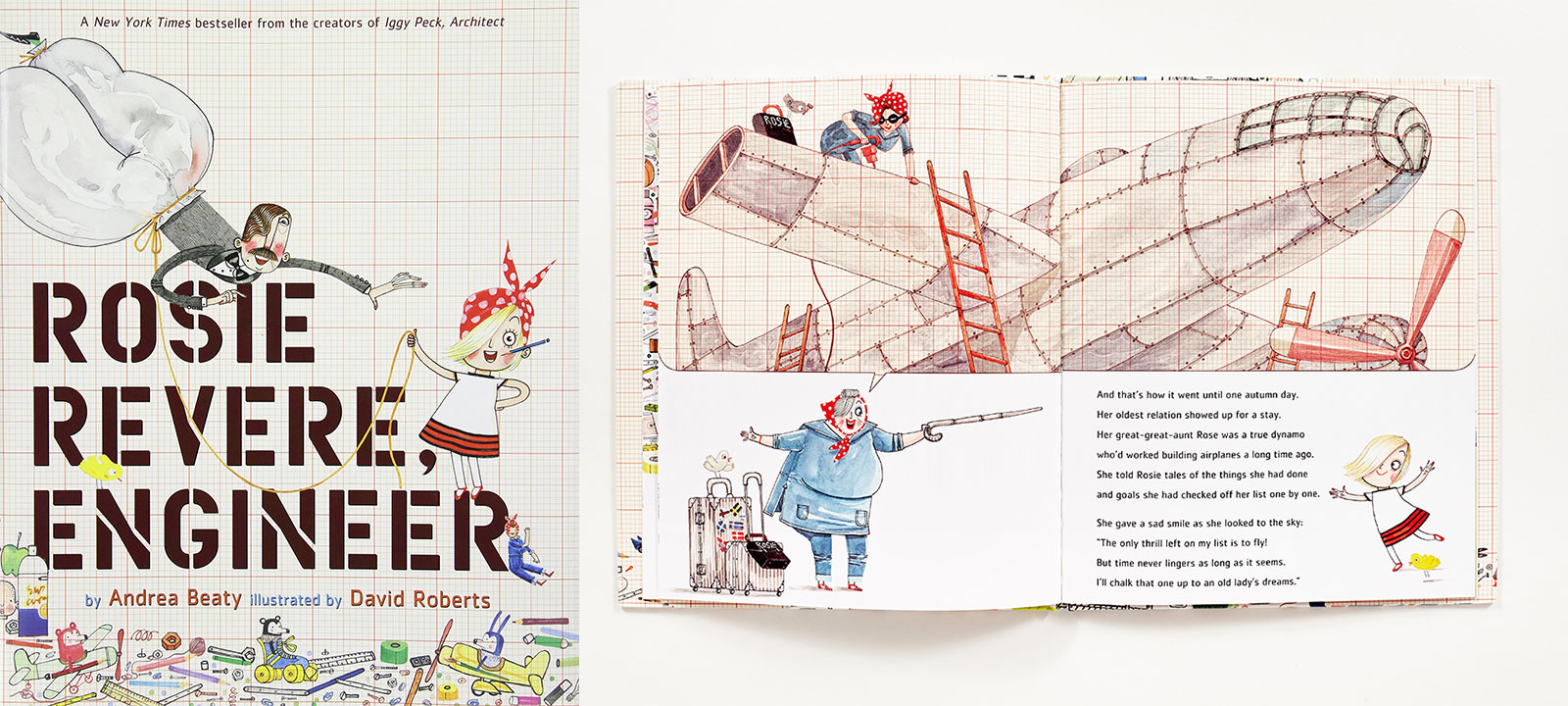 Ages: 5-7
Published in 2013 by Harry n Abrahms Inc.
Hardcover available at Booktopia
eBook Edition on iBooks and Google Play, Kindle edition on Amazon
With beautiful illustrations and a simple message, this book is a personal favourite of mine. It tells the story of Rosie, a girl who is quiet throughout the day but builds amazing gadgets and gizmos by night.
"Rosie Revere, Engineer" by Andrea Beaty Activity Idea
One of the best messages in this book is that we are limited only by our imagination! This fun activity uses recycled materials to create a gizmo or gadget.
'Build a Recycled Gizmo' STEAM Activity
You will need:
recycled materials (e.g. boxes, bottle tops, clean aluminium foil)
craft materials (e.g. googly eyes, pipe cleaners)
sticky tape and glue
pens, pencils
other bits and bobs!
Tell students they are going to enter a competition called "Gizmos of the Future". The competition requires them to build a gizmo that helps make something easier than it usually is.
Ask students to think about their regular day and identify something that they find hard to do. It could be something like pouring milk out of a heavy milk bottle, tying shoe-laces or carrying their school bag upstairs.
Students can then come up with an idea for a machine or gizmo that would make that task easier. For the purposes of this activity, the gizmo doesn't need to work within the laws of nature – the idea is to encourage unbridled creativity!
Provide them with access to recycled, craft and building materials to create their gizmo.
Offer students with the chance to show their gizmo to the class, explaining what their problem was and how their gizmo solves it!
Our STEM Planning and Reflection Sheet for Lower Years or STEM Planning and Reflection Sheet for Upper Years are great resources to support your students in this activity. And, they are both FREE downloads!
---
#2
You Forgot Your Skirt, Amelia Bloomer
by Shauna Casey and Chelsea McLaren

Ages: 5-8
Published in 2000 by Scholastic
Hardcover and Paperback available at Amazon
Have you ever thought about the brave women who made it possible for women in the West to stop wearing skirts and be "allowed" to wear pants? This wonderful picture book tells the story of one such woman, Amelia Bloomer. With fun text and wonderful illustrations, this picture book helps children engage with what it took for women throughout history to instigate this important cultural change.
"You Forgot Your Skirt, Amelia Bloomer" by Shauna Casey Activity Idea
This activity is a great way for students to see the connection between fashion and equality.
Timeline of Women's Fashion Activity
Choose a Western country and use the Internet to find images that show the typical dress of women or girls at the following times:
1500s
1700s
1800s
1900s
1920s
1950s
1960s
Today
Print out the images and create a timeline of Western women's fashion throughout history. We have a few different resource you can use to help students complete this activity:
Mark on the timeline when Amelia Bloomer brought 'bloomers' to the West. See how long it was before pants were a common and accepted part of clothing options for women and girls.
Write a list of the activities girls and women would not be able to do in big, long skirts and dresses!
---
#3
Good Night Stories for Rebel Girls
by Elena Favilli and Francesca Cavallo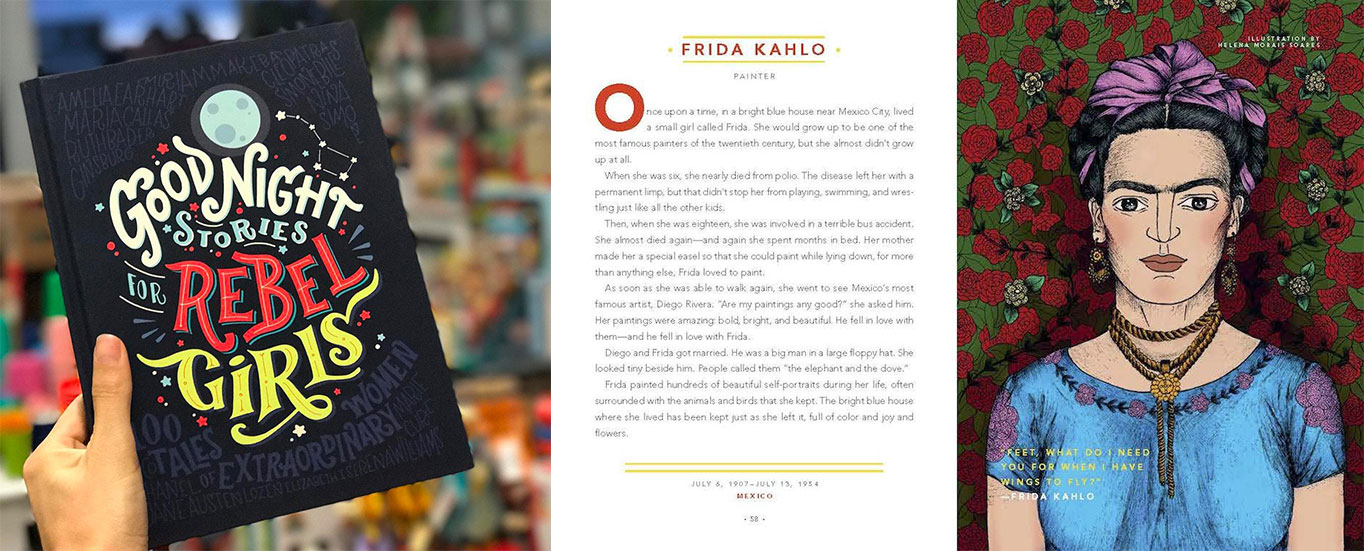 Ages: 5-12
Published in 2017 by Penguin
Hardcover and eBook available at Booktopia

If you don't already have this book in your teaching resource stash, then it's time to add it to your collection! Each double page features a beautiful illustration and a single page mini-biography about a phenomenal woman from history, written in the "style of a modern fairytale".
"Good Night Stories for Rebel Girls" Activity Idea
There are SO many amazing women in this book who provide the impetus for research and inspiration. This activity allows students to choose one and learn about them in more depth.
Inspirational Woman Presentation Activity
Students select a woman from the book. Use a graphic organiser to guide further research into the life and experiences of the woman. Research could be guided by finding information about the following points:
biographical information
early life experiences
passions, causes or personal interests
social, political or cultural changes they have contributed to.
Some great printable graphic organisers include:
Students then develop a digital presentation that presents key facts about the woman's life. Writing and recording a narration to go over a slideshow of images is a great way for students to articulate the information they have found.
---
#4
Little People, Big Dreams Series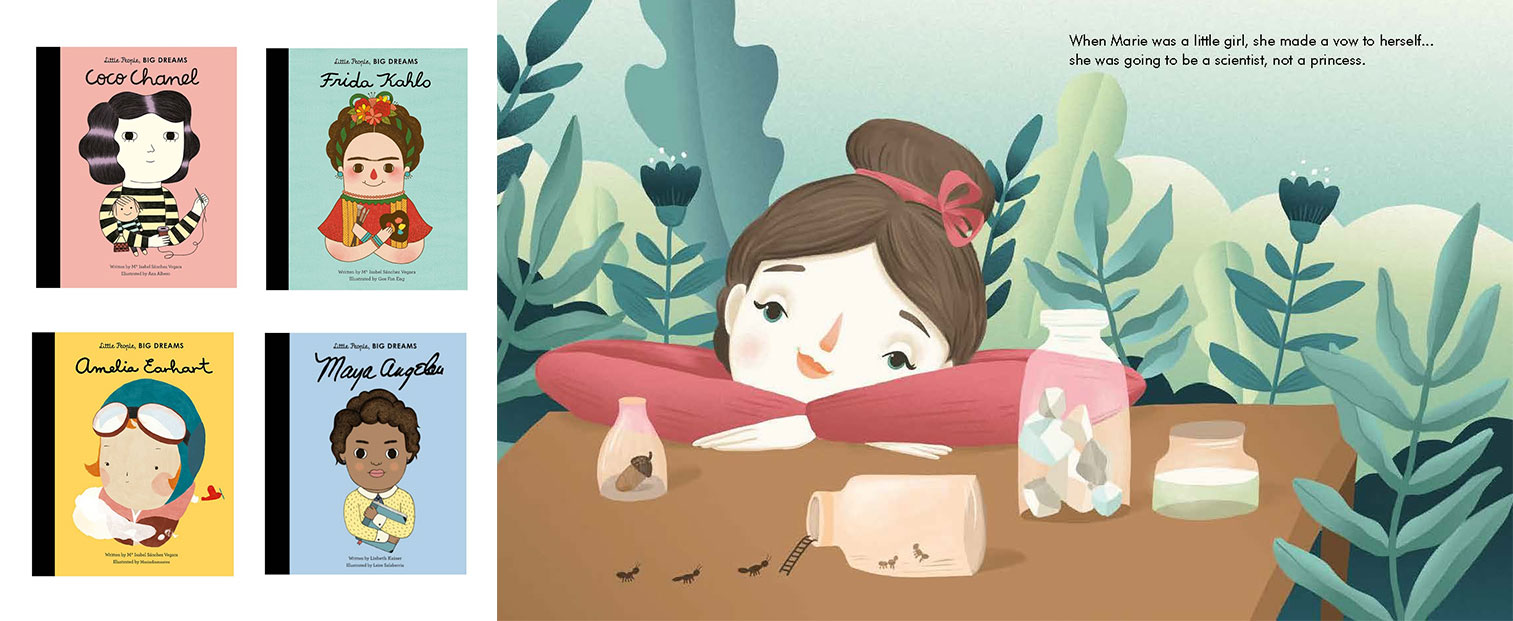 Ages: 5-12
Published in various years by Francis Lincoln
Various versions available at Amazon
This series is SO wonderful for lower years students. It introduces the lives and experiences of inspirational women throughout history with simple text and great illustrations. The Little People, Big Dreams series includes books about:
Rosa Parks (African American student activist)
Emmeline Pankhurst (Suffragette)
Coco Chanel (Fashion Designer)
Marie Curie (Scientist)
Audrey Hepburn (Actress and UNICEF Ambassador)
Amelia Earhart (Pilot)
Frieda Khalo (Artist and Political Activist)
Maya Angelo (Writer)
Agatha Christie (Writer)
Ella Fitzgerald (Singer)
Ada Lovelace (Mathematician).
Titles coming soon, as at March 2018, include:
Anne Frank (Writer)
Mother Theresa (Humanitarian)
Harriet Tubman (Railroad Conductor)
Jane Goodall (Primatologist)
Lucy Maud Montgomery (Writer)
Simone de Beauvoir (Philosopher)
Georgia O'Keeffe (Artist)
Jane Austen (Writer)
Josephine Baker (Entertainer and Activist).
Little People, Big Dreams Series Activity Idea
Use this beautiful poster and simple activity to encourage your students to dream big.
This simple activity from our First Week of School Activities collection is the perfect accompaniment to books in the Little People, Big Dreams series. In this activity, students draw a self-portrait in the middle of the page and draw or write their big dreams or goals in the surrounding shapes.
Positivity Posters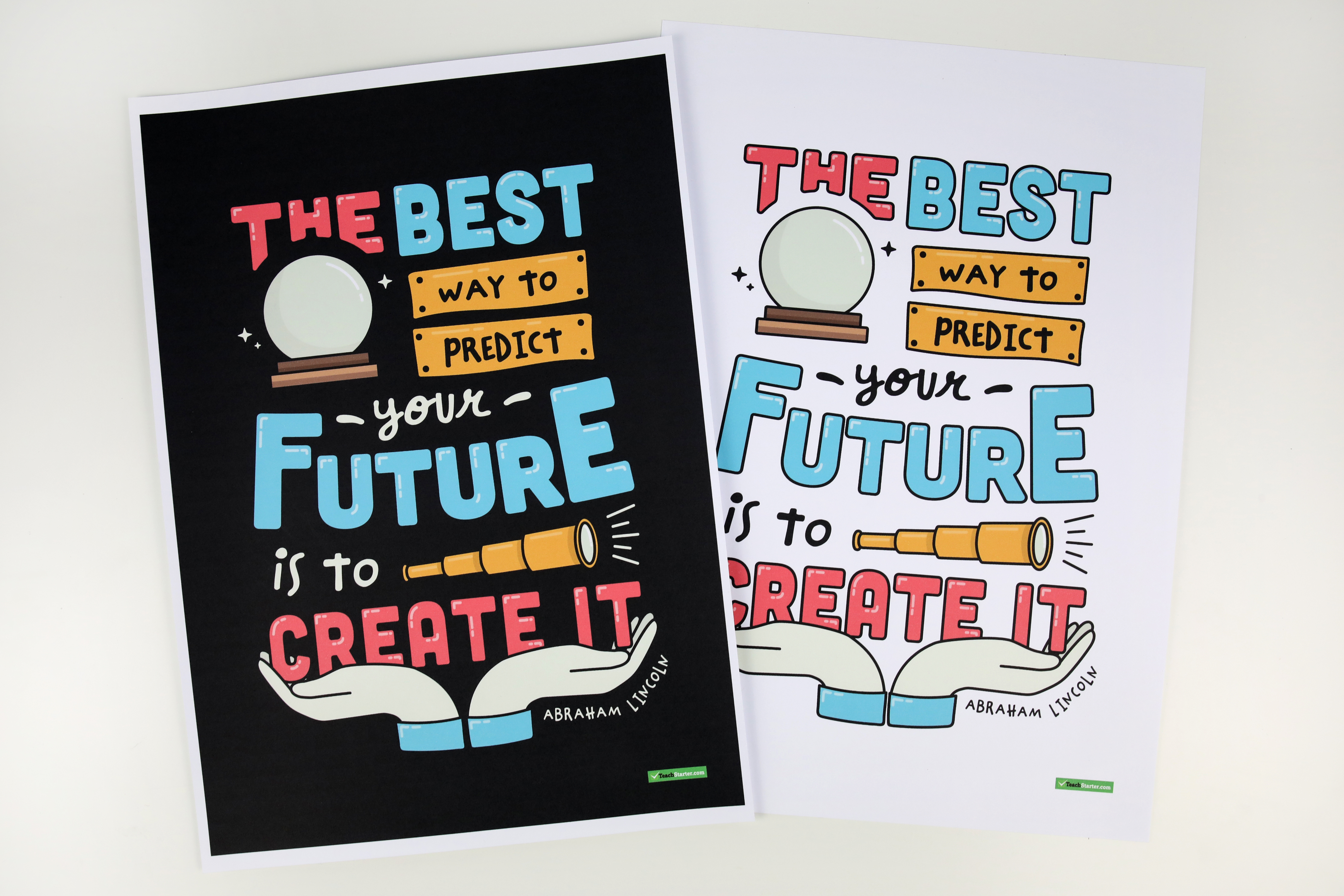 Displaying positivity posters in your classroom is a wonderful way to have students continually reminded of their potential. We have a HUGE collection of printable positivity posters – here are some of our favourites:
---
#5
Women in Sports: 50 Fearless Athletes Who Played to Win
by Rachel Ignotofsky

Ages: 5-12
Published in 2017 by Ten Speed Press
Hardcover available at Booktopia
This book's concept and layout is similar to that of "Good Night Stories for Rebel Girls", but tells the stories of 50 amazing female athletes from the 1800s to today.
Women in Sports Activity Idea
Use this activity to help students make connections between the perseverance of a female athlete they admire and their own life.
A Letter to an Athlete I Admire
Students can use this template to create a profile of a famous female athlete that they admire. Then, after researching the woman, students can write a letter to her explaining what it is that they admire and how the woman inspires them.
---
#6
Malala's Magic Pencil
by Malala Yousafzai
Ages: 5-7
Published in 2017 by Penguin
Hardcover available at Booktopia
Told in her own words, this is a story inspired Malala Yousafzai's dream – that girls and women around the world have the same right to education as their male counterparts.  The book is wonderful for younger students, told gently and with illustrations that help understand the power of one person to make a real difference.
Malala's Magic Pencil Activity Idea
Extend upon the beautiful concept in Malala's Magic Pencil by asking students to complete this little think, pair, share activity.
If I Had a Magic Pencil
After reading the book, ask students to think about what they would do if they had a magic pencil.
Students can write a sentence, or draw a picture that shows what they would do.
Place students into pairs and get students to share their thoughts and drawings with their classmate.
---
#7
The Princess in Black
by Shannon Hale and Dean Hale, illustrated by LeUyen Pham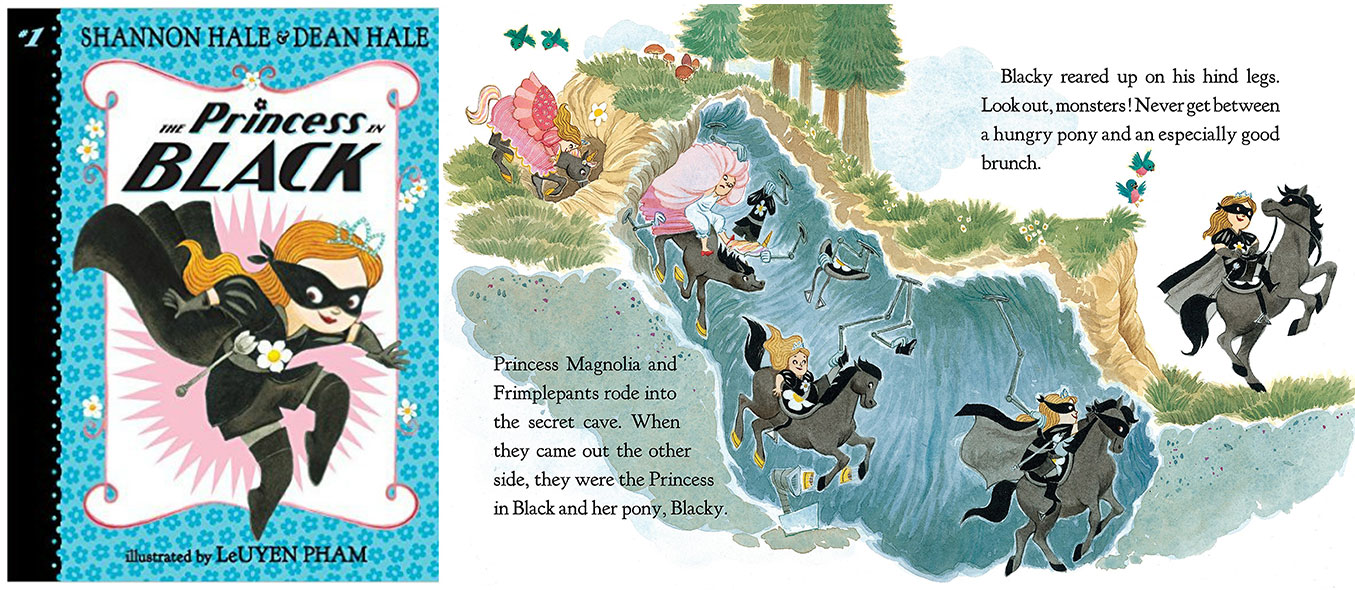 Ages 7-12
Published by Candlewick Press
Available at Booktopia and Amazon
The Princess in Black is a chapter book series for young people. It is described as being "for young readers who like their princesses not only prim and perfect but also dressed in black". The Princess in Black thinks nothing of having tea and scones with the Duchess Wigtower interrupted to stop a monster.
The Princess in Black is a "girly girl", who is also a superhero!
The Princess in Black Activity Ideas
LeUyen Pham's illustrations in The Princess in Black are amazing. Let your students be inspired by this graphic novel and embrace their inner artist!
I'm a Super Hero Drawing Activity
1. Show students the following video of LeUyen Pham drawing a monster from The Princess in Black.
2. Provide students with paper, pens, pencils and any other drawing implements they'd like to use.
3. Ask students to think about their greatest strength. Whether it be a physical strength, an emotional strength or something else that makes them special.
4. Students can then draw a picture of themselves as a superhero, creating a superhero name for themselves and writing it as the title of their artwork.
---
#8
Pippi Longstocking
Gift Edition by Astrid Lindgren, Lauren Childs and Tuna Nunnally

Ages 4-7
Published in 2007 by Oxford University Press
Hardcover available at Booktopia
Pippi Longstocking is a nine year old girl who moves into a new town. She lives by herself with a horse, a monkey and a suitcase full of gold coins.
This is one classic story that all boys and girls should get the chance to know.
Why? Because "the grown-ups in the village try to make Pippi behave in ways that they think a little girl should, but Pippi has other ideas. She would much rather spend her days arranging wild, exciting adventures to enjoy with her neighbours, Tommy and Annika, or entertaining everyone she meets with her outrageous stories. Pippi thinks nothing of wrestling a circus strongman, dancing the polka with burglars, or tugging a bull's tail."
Isn't that the best kind of inspiration for children who we hope will learn to trust their own ideas, instincts and impulses?
Pippi Longstocking Activity Ideas
Pippi Longstocking is a character with so many wonderful characteristics. One of the most wonderful things about this book is the combination of Astrid Lindgren's wild imagination and Lauren Child's funky and familiar illustrations. Given this combination, the activities you could do with lower years students after introducing this book are endless!
Here are two of our favourites:
Pippi and Me
Show students one of Lauren Child's illustrations from the 2007 edition of Pippi Longstocking.
As a class, complete a Y Chart analysis of the illustration – what does it look like, feel like and sound like?
Provide students with drawing, colouring and collage materials.
Ask students to create a picture of themselves in an adventurous situation, in the style of Lauren Child.
Become a Thing Finder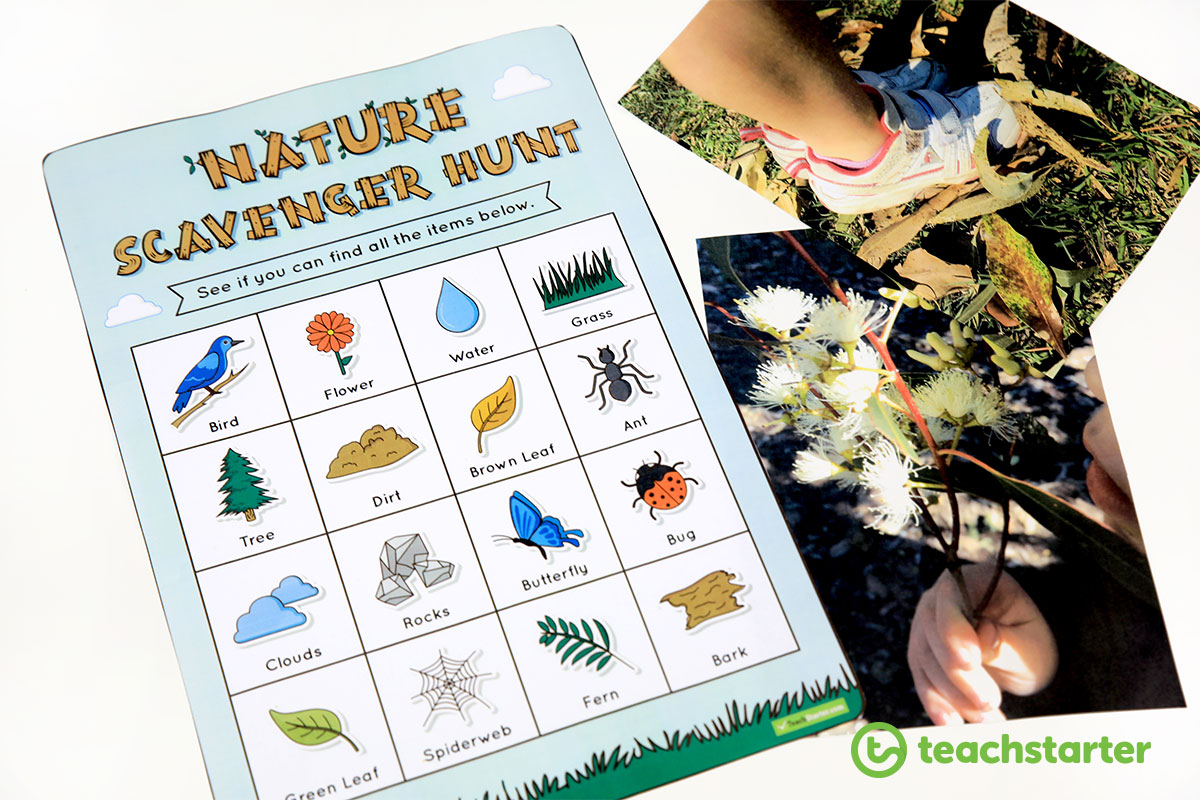 Students may also enjoy exploring nature with Pippi Longstocking-esque interest! Use these wonderful Nature Scavenger Hunt resources and send your students out into the 'wild' to see what they can find.
When students return, as them to share wild stories about the natural object that they found and how they found it.
---
Books are just one amazing way to engage your students in conversations and learning experiences that reinforce gender equality and debunk traditional gender stereotypes!