While conversations about gender with primary and elementary school-aged kids can often centre around ideas like "that (sport, toy, piece of clothing) is just for boys" or "pink is just for girls", International Women's Day gives us a great impetus to explore gender issues and ideas in a different (and equally valuable) way. This year, we've teamed up with the organisation behind International Women's Day to create a collection of amazing (FREE!) primary school teaching resources that will help you and your students celebrate and explore the achievements and experiences of women and girls around the world.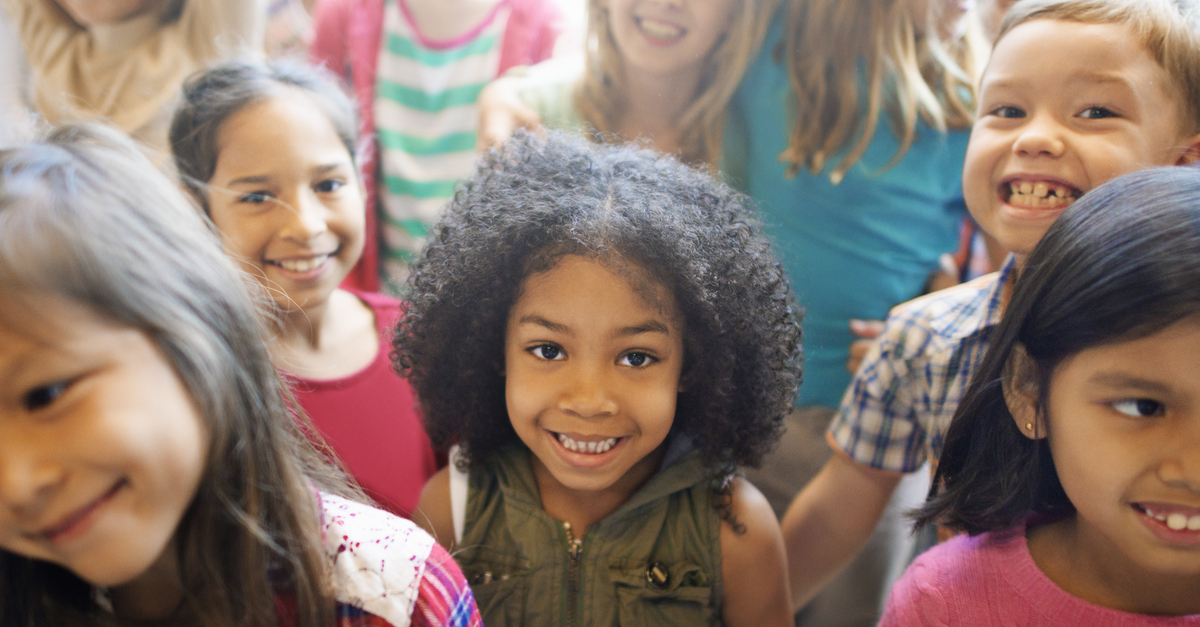 Debunking traditional gender constructs is something that most teachers do quite naturally; it's easy for us to remind students that "colours/sports/books are for everyone" when those kinds of statements or perceptions arise in classroom conversation. We encourage girls to participate equally in sciences, physical education and mathematics, we support boys who love library time and the Arts, select children's books that empower girls and celebrate the potential of all humans, equally.
International Women's Day encourages us to go beyond these somewhat 'incidental' moments, taking the opportunity to actively engage our students in the topics and issues related to the day, increasing their understanding and awareness. Making the effort to complete International Women's Day classroom activities with students is an excellent way to help #pressforprogress.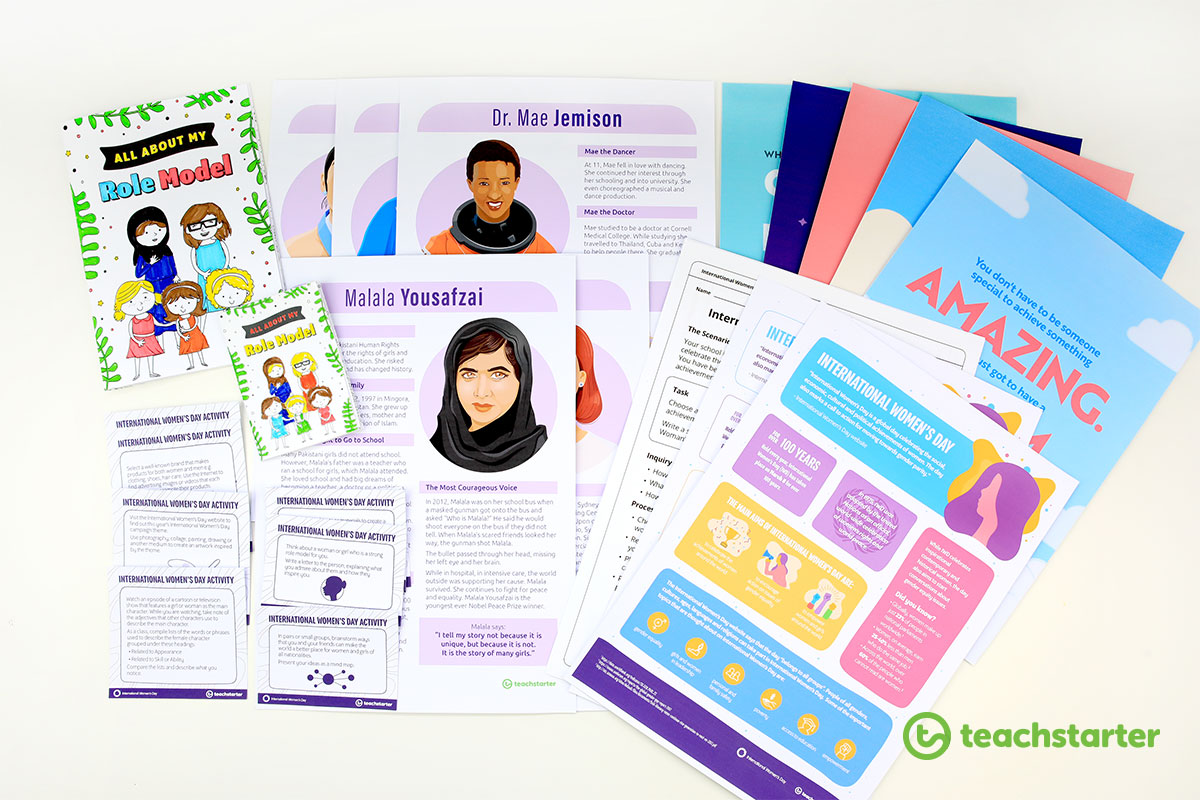 So, guess what we've made for you!?
Here are free printable activities and International Women's Day classroom display resources for lower, middle and upper years primary, elementary and middle school students.
All About My Role Model Activity Book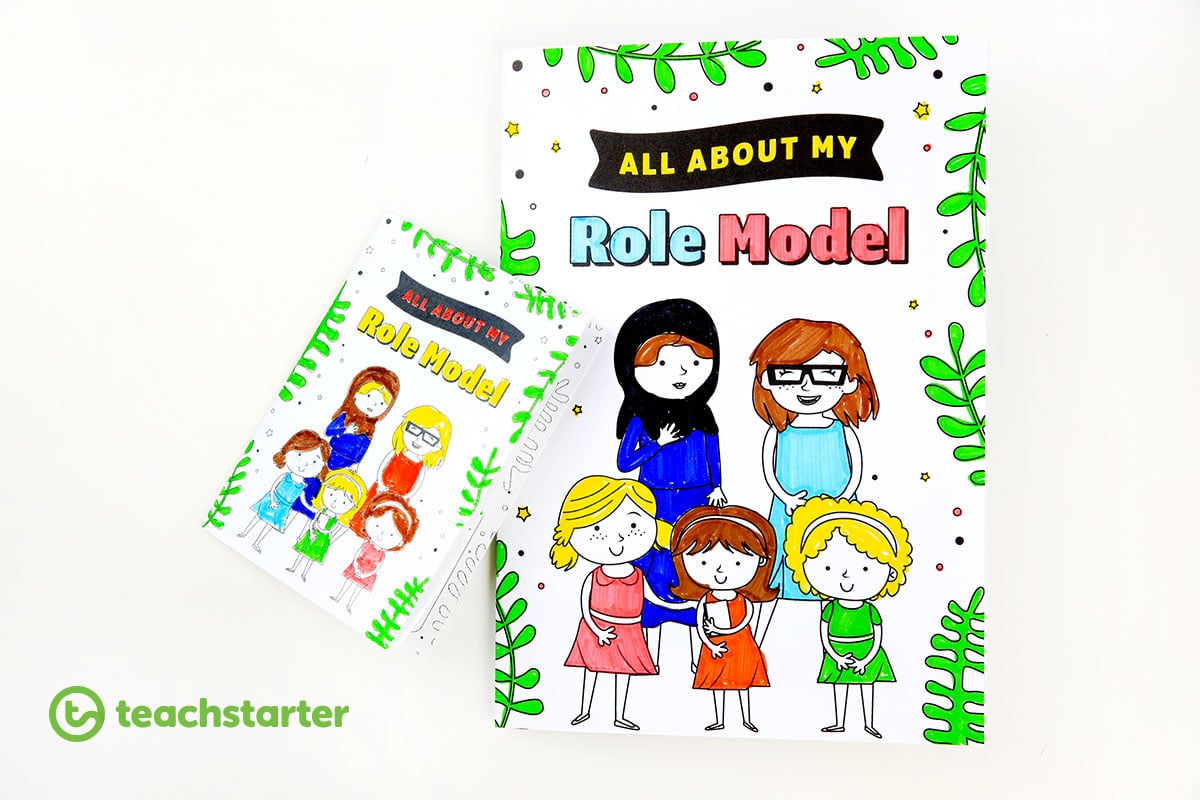 One of the most empowering messages you can provide your students with is that girls and women are inspirational! Use this awesome free teaching resource to introduce the concept of role models to your lower years students. Then, support students in making connections between what they learn about role models and the women who inspire them in their own lives.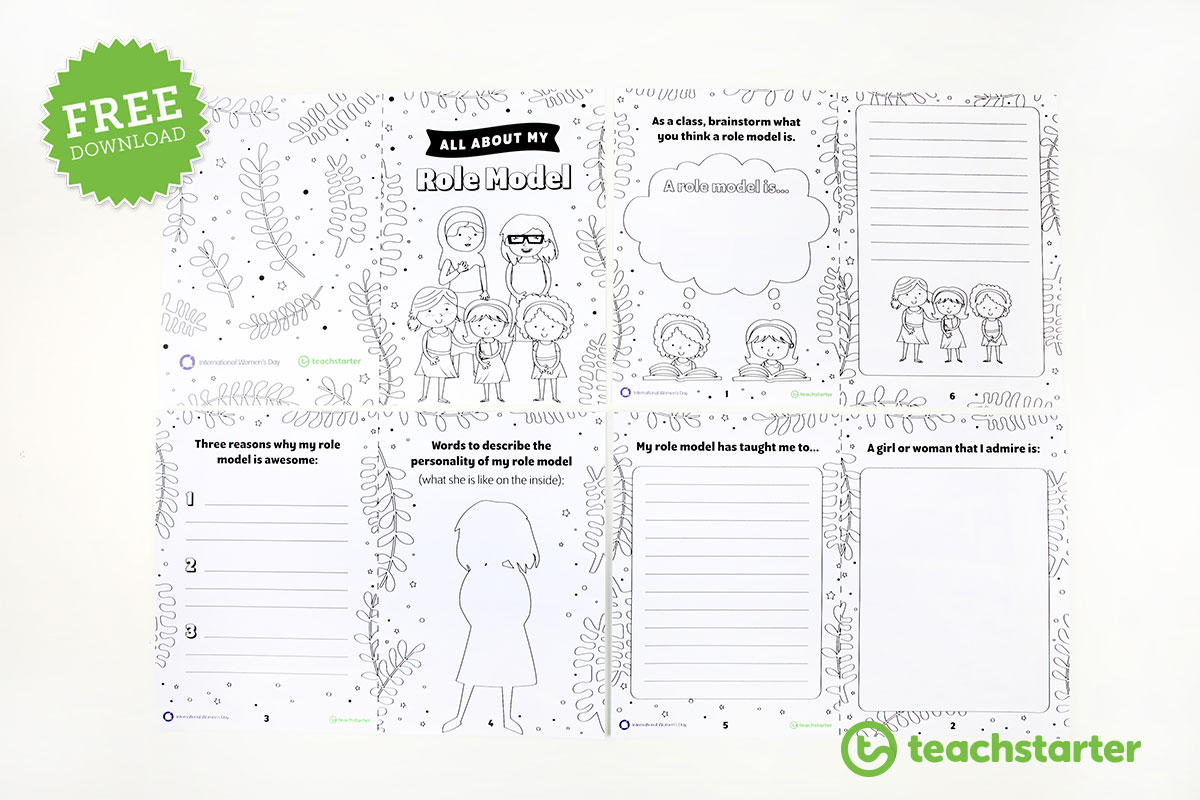 This fantastic International Women's Day activity is available in two formats. You can download the All About My Role Model Activity Booklet, which can be photocopied back to back and stapled to form a booklet.
Also available are the same activities in a single-page All About My Role Model Mini-Book. Enlarge this to A3 size for your students to complete. They can colour the pages and then follow the instructions in this video about how to fold a mini-book.
---
International Women's Day Fact Sheet and Activity Task Cards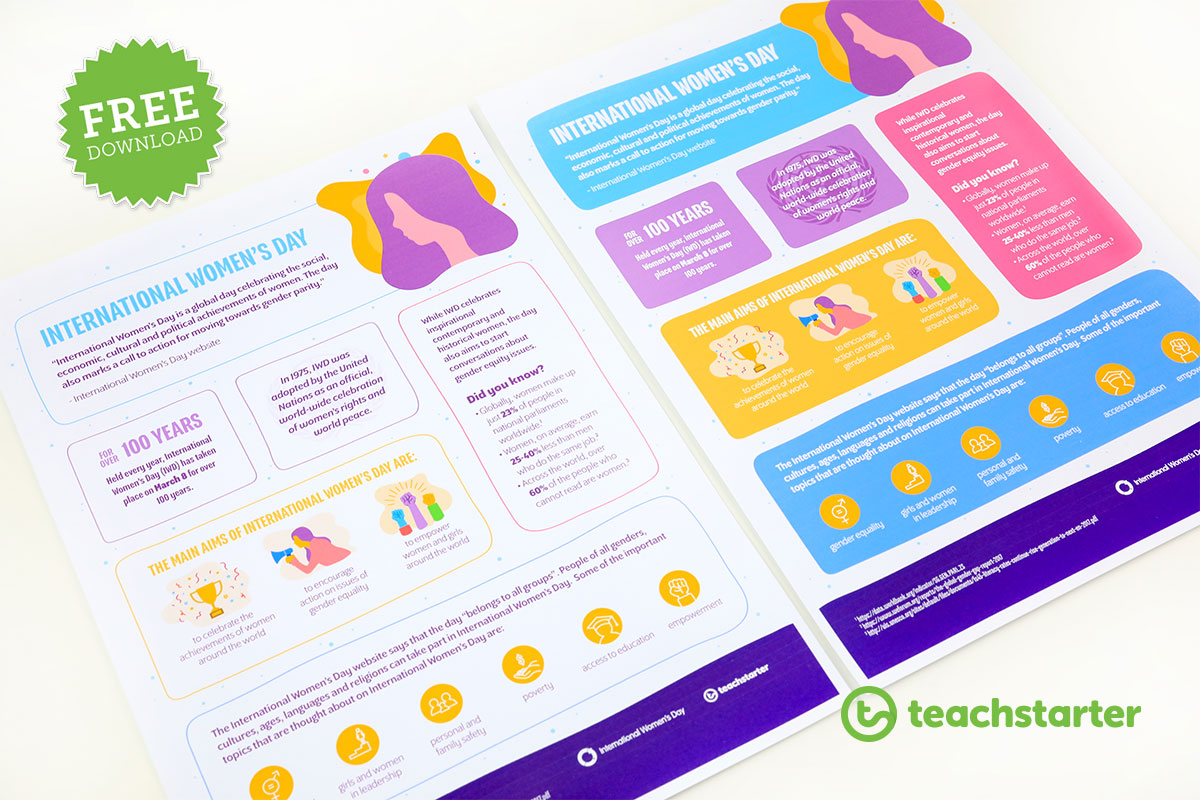 How amazing does this free printable International Women's Day Fact Sheet look?! This is a wonderful resource to help you introduce the history of and issues related to International Women's Day.
Not to mention these awesome International Women's Day Activity Task Cards. With 14 activities suitable for many age groups – you can pick and choose a selection of activities for your students to complete, or let students choose their own.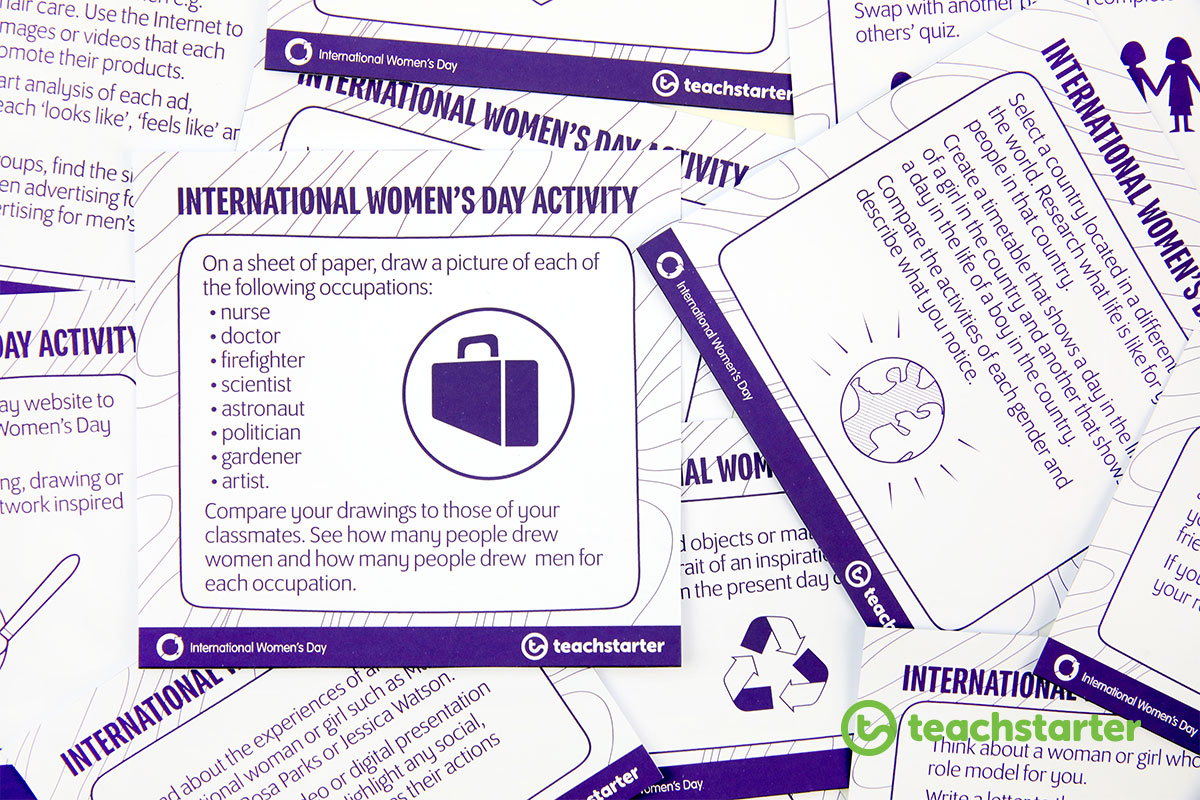 With activities that help students learn about inspirational women, examine how gender is 'taught' to us through things like television shows and ads, and explore the experiences of women and girls around the world, this IWD teaching resource makes it easy to introduce these 'complex' topics to your students.
---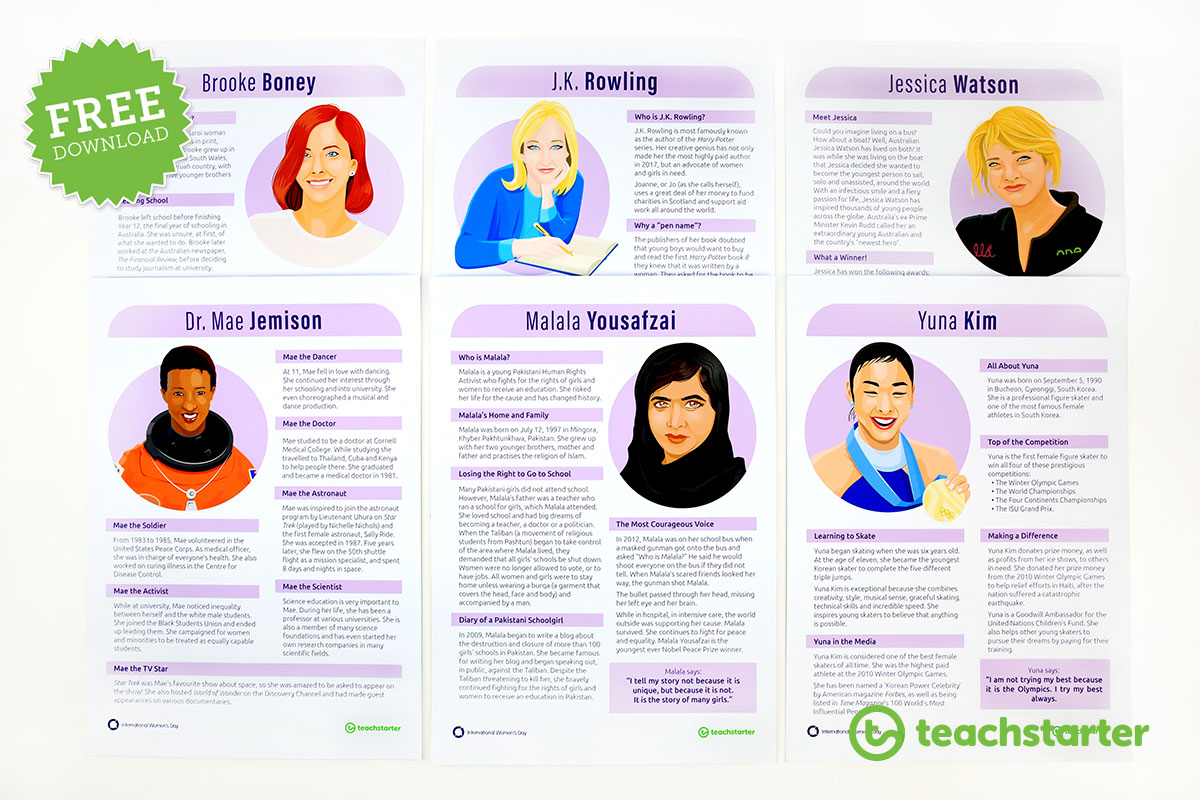 We've carefully selected six contemporary women who your students will love to learn about. While you can easily access wonderful profiles and illustrations of many women from history, we know that it's not always as easy to find printable profiles about contemporary inspirational women.
This set of six Inspirational Women Profile Posters have been carefully illustrated and designed by one of our newest team member, Boaz. I think you'll agree that his drawings add something to these resources that is inspiring in itself! The posters are available for you to download in full colour, low colour and black and white.
---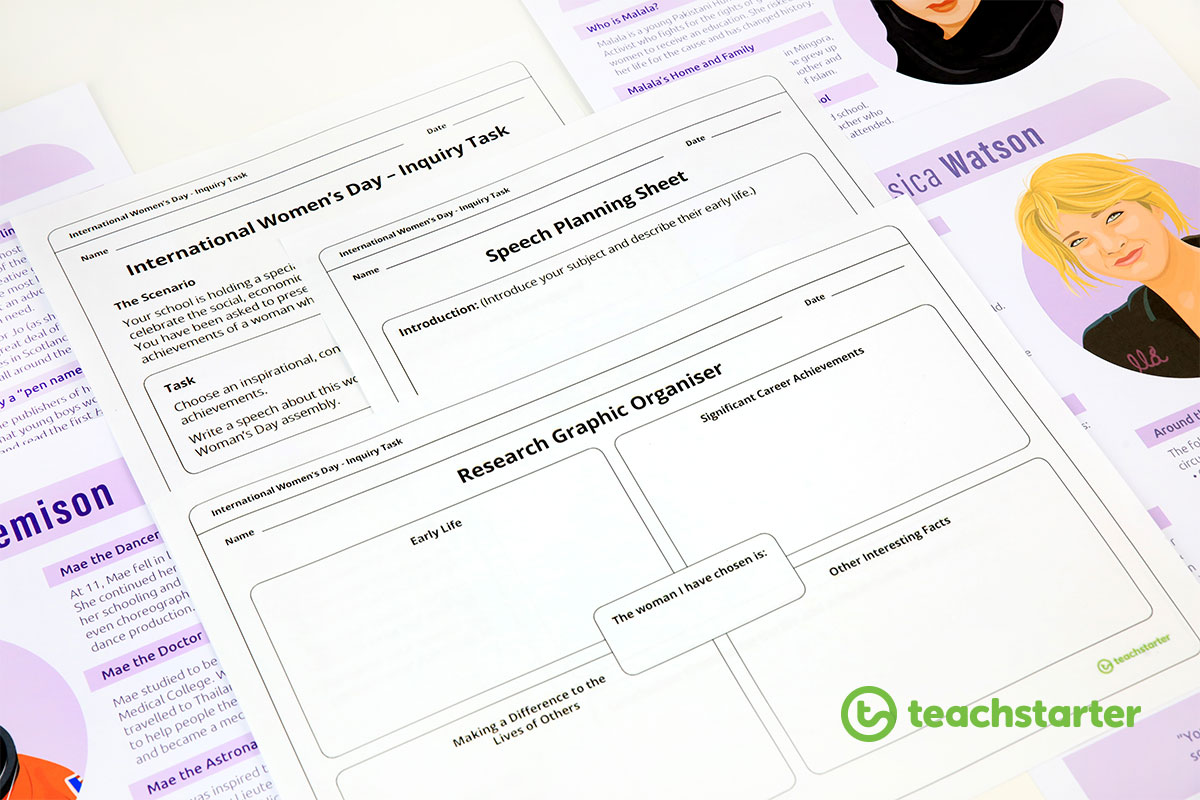 Students can use these profiles with the Inspirational Women Inquiry Task. This task provides students with a hypothetical context which requires them to research an amazing woman and presents a speech about their life and achievements.
[resource:1633650][resource:1633586][resource:1633570][resource:1633634][resource:1633550][resource:1633526]
---
The 2018 International Women's Day campaign message is #pressforprogress.
Don't just post a selfie with words of solidarity this year, use these free teaching resources to plant a seed and make your contribution to progress a significant one!