Ahoy there, ye meagre landlubbers! Scupper ye iPad, and batten down the hatches. We've some piratin' to do!
The count down is on! September 19th is International Talk Like a Pirate Day 2017 and we have some amazing new pirate themed teaching resources for you. So, it's time to throw that iPad overboard and prepare to fire up the photocopier for some extraordinarily awesome pirate classroom activities.
---
1. Paper Bag Pirates – A Puppet Making Activity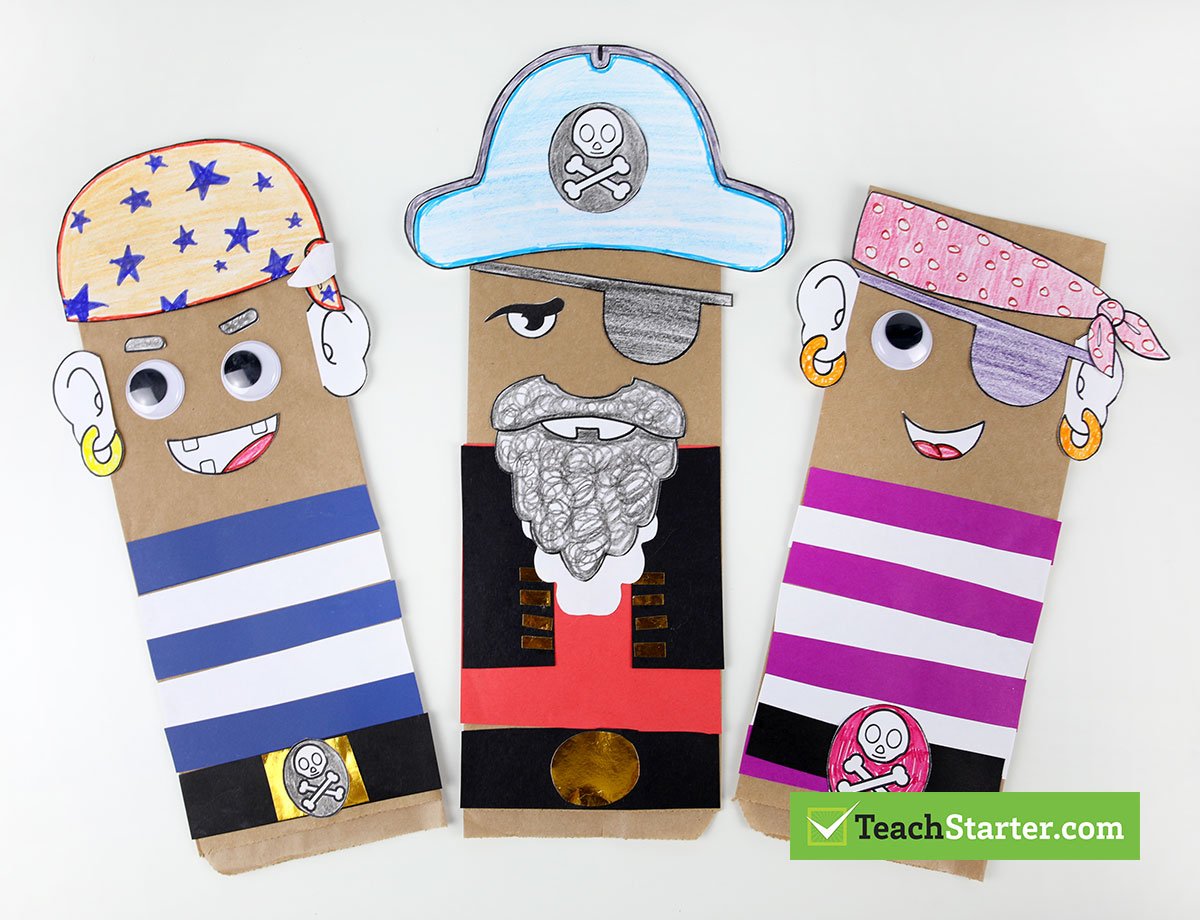 All you need to make these fun paper bag pirates are:
regular sized brown paper lunch bags
colouring pens, pencils or crayons
coloured paper, googly eyes or other collage materials
scissors
glue.
Students can create their own pirate style with the various cut outs available on the template sheets. In fact, there are so many little illustrations on each template that your students may even be able to share one between two!
Simply fold the lunch bag in half, glueing one side to the other, in order to create the perfect size puppet for these fun pirate templates.
---
2. Write Your Own "Adventure on the High Seas"
Mini Story Book Template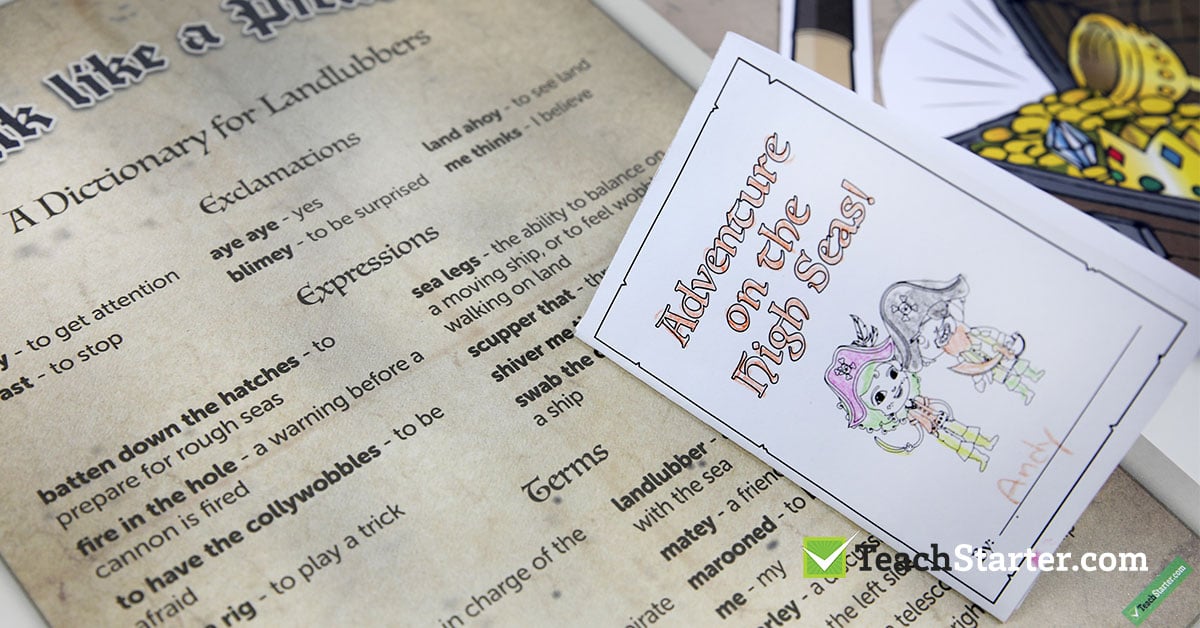 This single A4 page mini-book template can be folded into a six-page mini story book! It provides students with the title, and a few small pirate themed pictures throughout. The rest is up to them!
Lower years students may enjoy drawing their pirate story in pictures, while older students can use the "Talk Like a Pirate" dictionary and glossary when writing their story.
How to Make a Mini-Book From One A4 Page
Write or draw the story onto the numbered pages.
Fold along all of the vertical lines.
Fold the sheet of paper in half vertically and cut along the dashed line.
Open out, then fold in half again, horizontally this time and pinch both ends of the paper.
Push the ends towards the centre, making a diamond shape before pressing the pages into place.
Rearrange so that title is the front cover and the ship drawing is the back!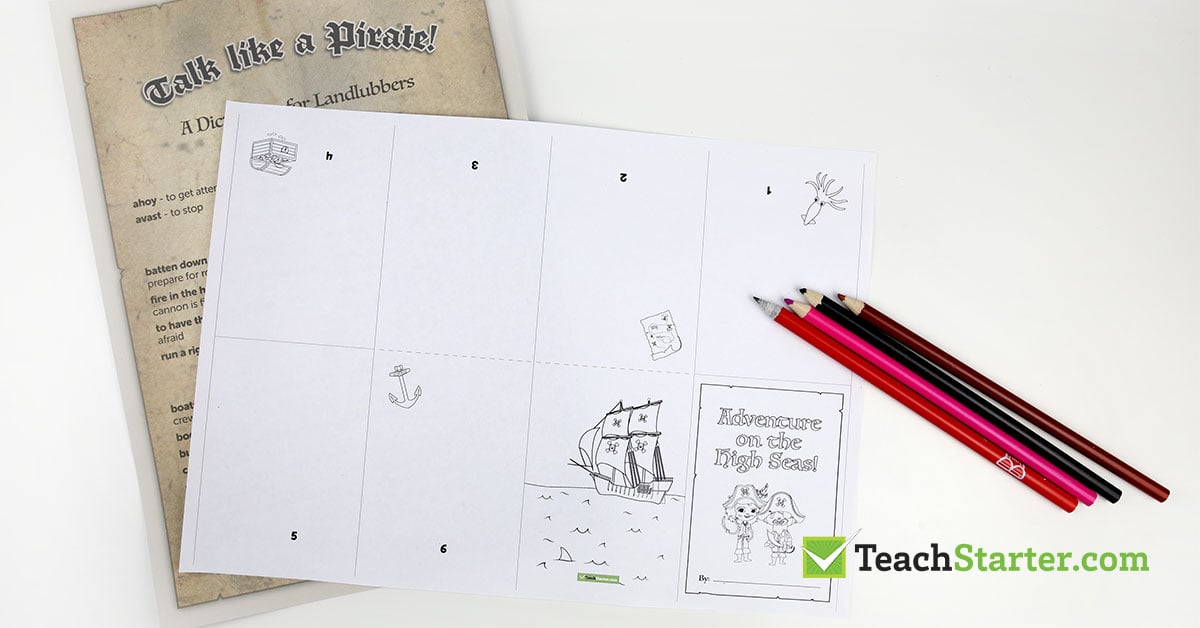 ---
3. Build a Pirate Ship – Model Building Activity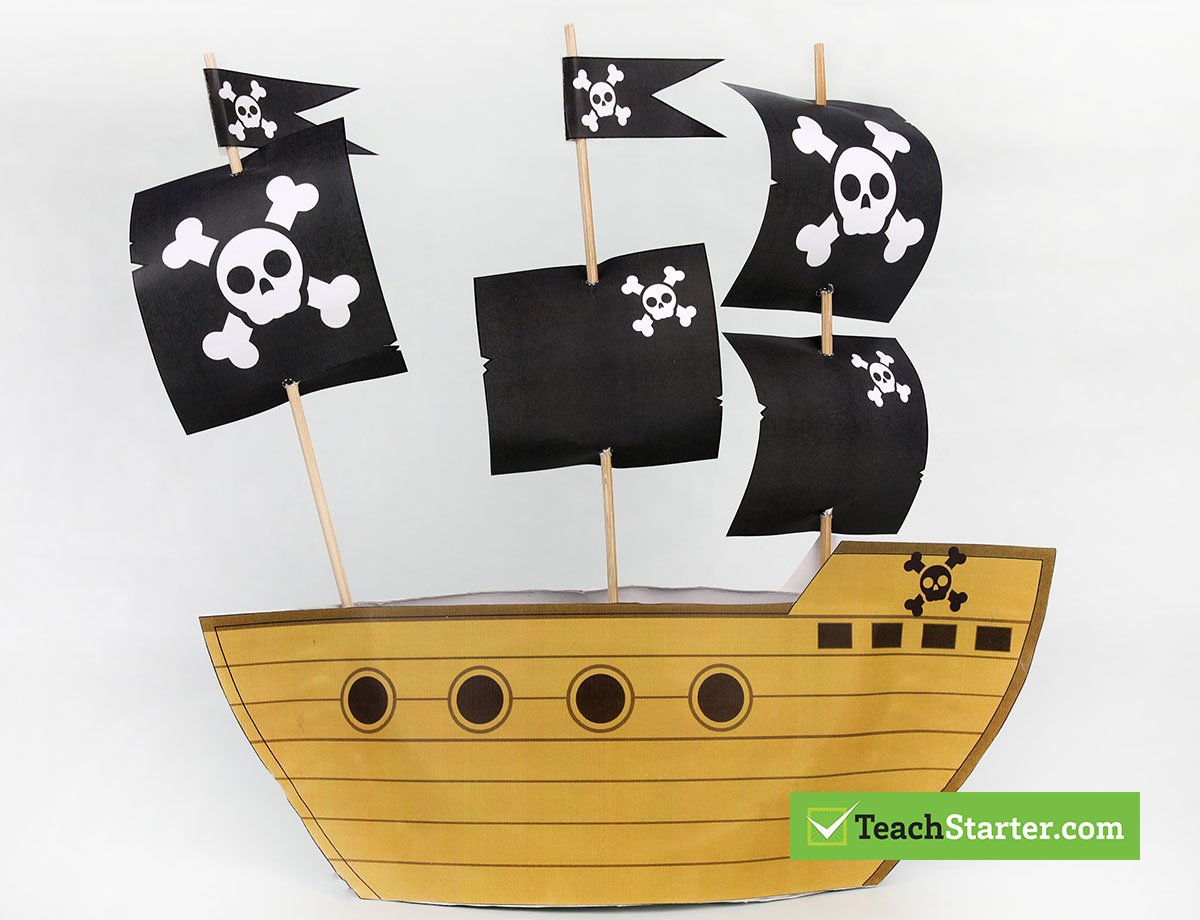 "Man the cannons!
There be Bluebeard's ship approaching the starboard side!
Fire in the hole!"
There's every chance these pirate ship models will become the pièce de résistance of your Talk Like a Pirate Day 2017 activities. Our downloadable template contains both full colour AND black and white pages for your students to cut out and assemble their boats.
The only materials your students will need are:
1 x paper plate
3 x bamboo skewers
Sticky tack
Tape
Scissors
Full instructions are included in the download. Students might also like to use these Pirate Cut Out Decorations to create their own pirate scenes!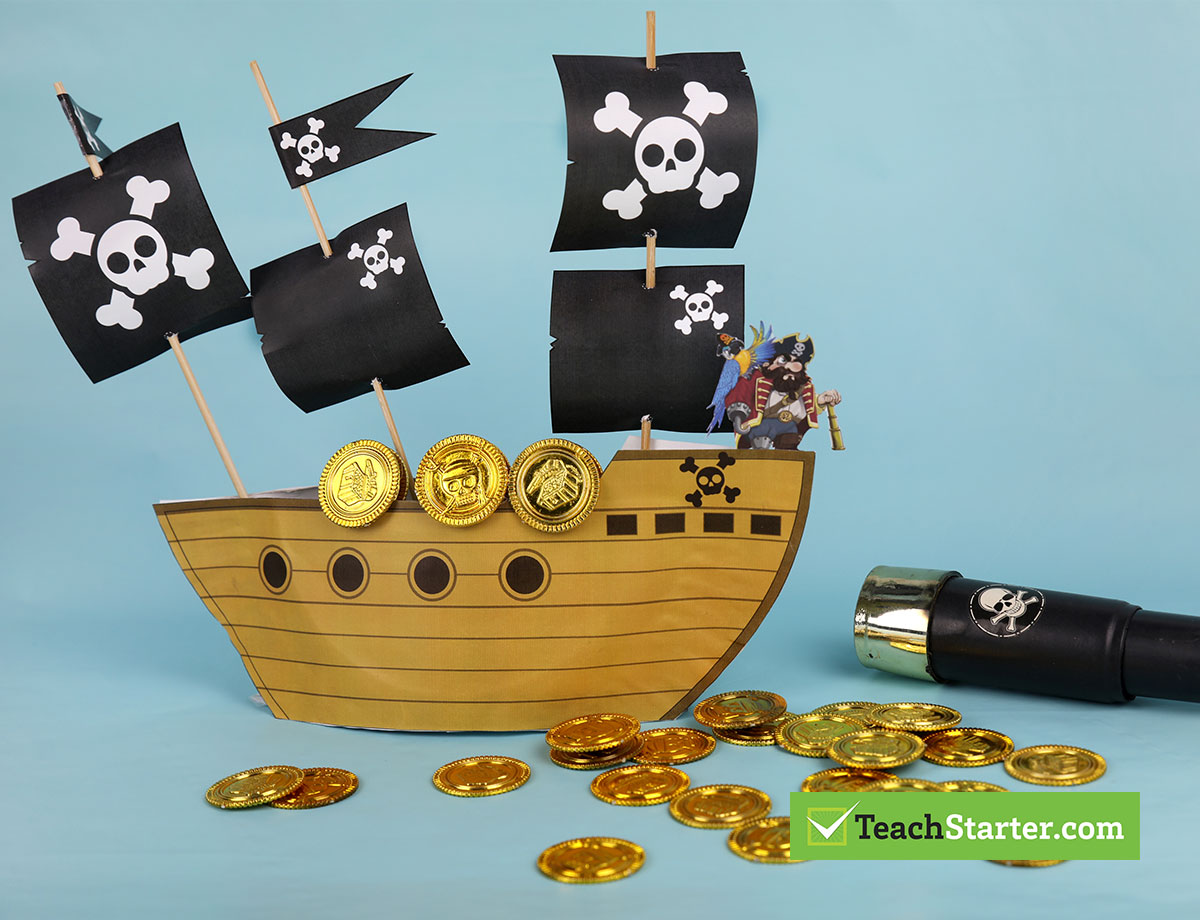 ---
4. Captain Calloway and Pirate Pearl
Colouring In Sheets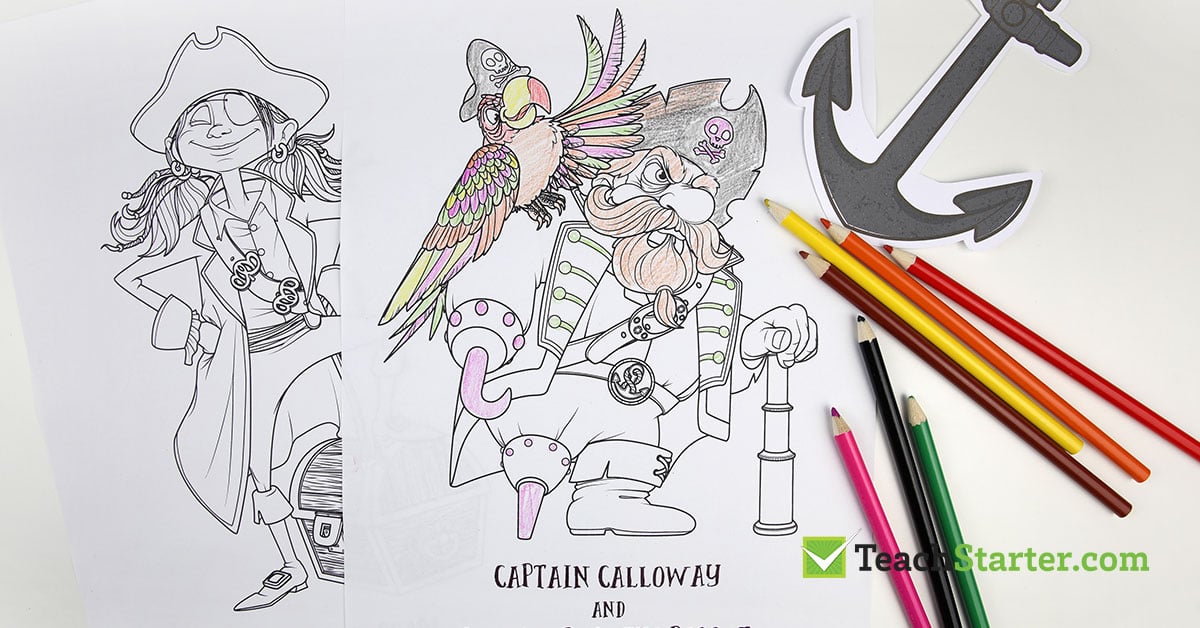 Introducing Captain Calloway, Sneaky Pete the Parrot and Pirate Pearl! These two beautiful illustrations are available to download in black and white, making them perfect pirate themed colouring in sheets. You can also download these in full-colour posters. These three fun characters make a fantastic prompt for a pirate themed writing activity!
---
5. Pirate Themed Writing Activity
Print out this great "Shiver Me Timbers" writing template for your students. The template alone, with its themed illustration and title, makes a fun story prompt. However, for more exciting visual stimuli you can provide your students with a "Talk Like a Pirate" dictionary and glossary and introduce them to Captain Calloway, Sneaky Pete the Parrot and Pirate Pearl with these colourful pirate character posters.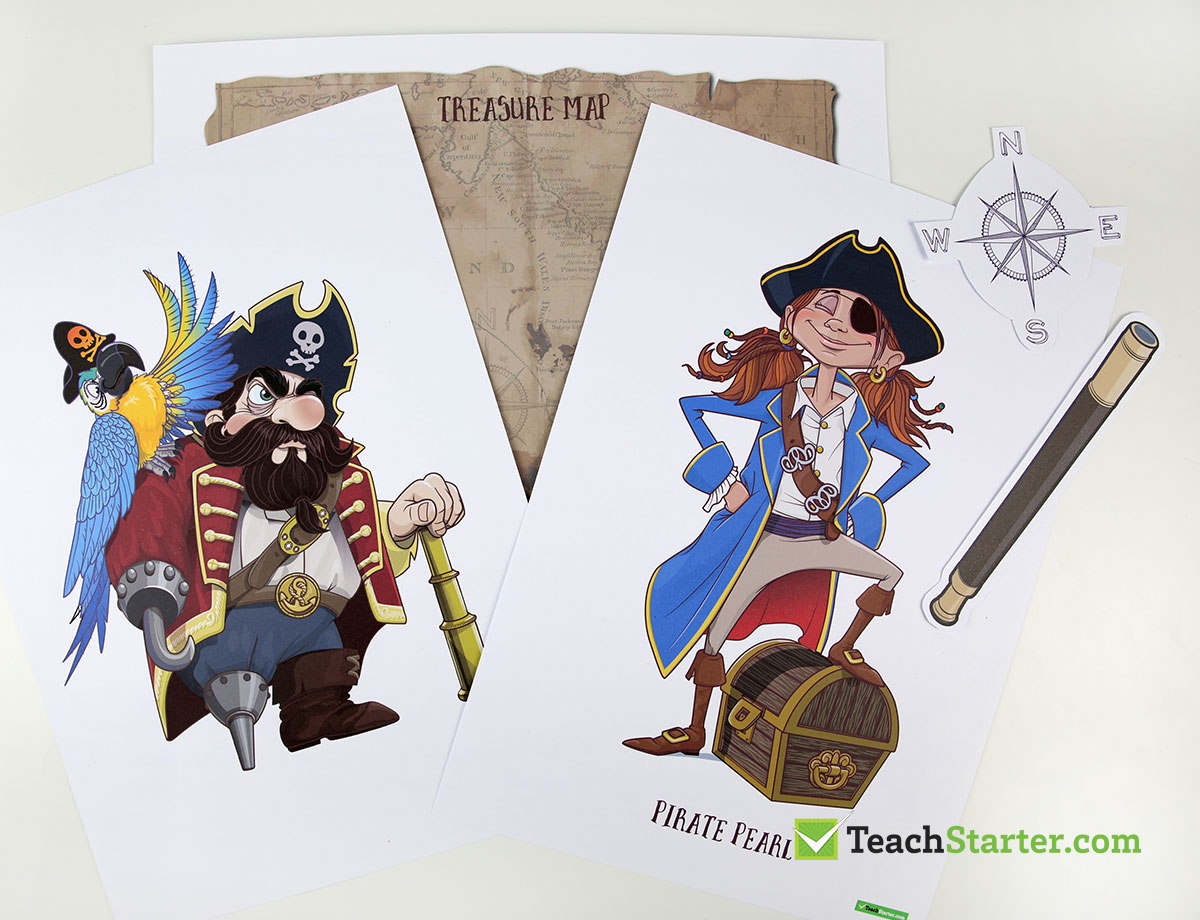 So landlubbers, tell me what ye think! Will any of these activities fall into the hands of your student's this week?
Check out more of our pirate themed teaching resources below: