There's no surprise that #feetupfriday or #teacherfeetupfriday on Instagram is covered in photos of teacher's feet propped up on their desks celebrating the end of another exhausting, but rewarding week. There is no denying how totally Insta-worthy these snaps are as well! It got us thinking, what shoes are teachers wearing? Here's your ultimate shoe guide to comfort, fashion and a splash of teacher fun to boot! (see what I did there?).
Did you know that on average a teacher takes 12, 564 steps a day? Shoes are important!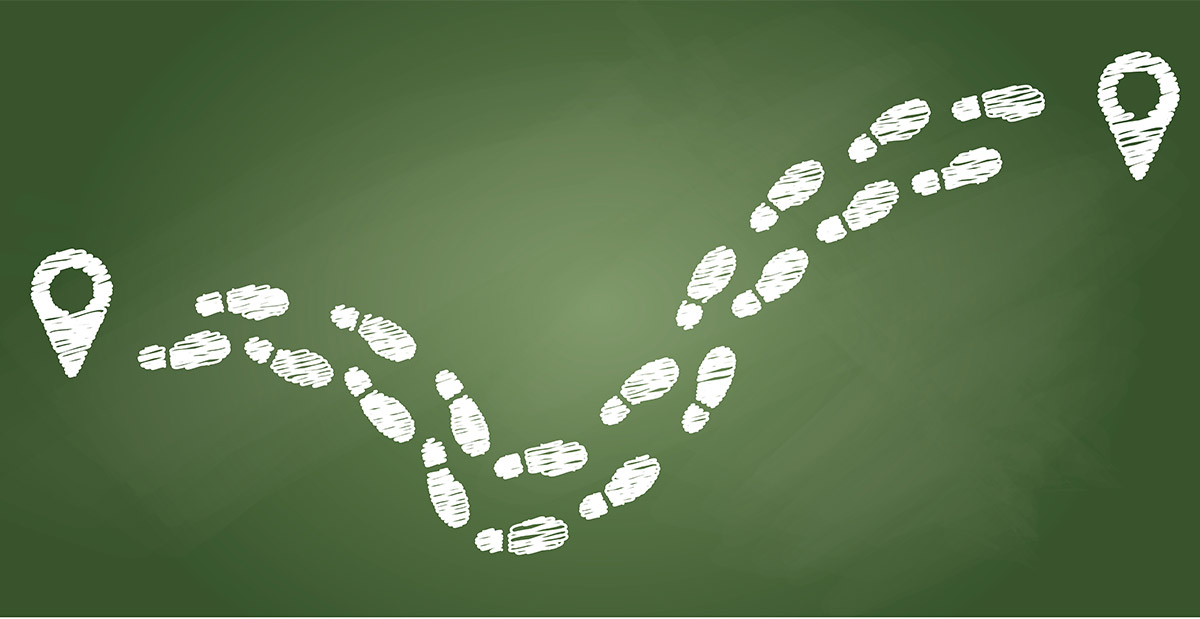 ---
The A-Z of Teacher Shoes
Most schools have a policy that shoes must be closed in for workplace health and safety. So, we have decided to feature some of the most popular teacher shoes we can find on Instagram. They are comfy, they are fun but most of all they are totally stylish!
Toms for the Win
So it appears that Toms shoes are a popular choice among teachers…. and we're not surprised! Their focus on comfort is spot on and the designs are just as good!
Toms are #shoecompanygoals – not only are they a Certified B Corporation, the founder – Blake Mycoskie created TOMS shoes after travelling to Argentina in 2006 witnessing the hardships faced by children growing up without shoes. So, when he created TOMS shoes, he decided to match every pair of shoes purchased with a new pair of shoes for a child in need.
TOMS have given over 60 million pairs of shoes to children in need.
We couldn't go past this gorgeous shot of @ladya1128 wearing her TOMS. "This #teacherfeetupfriday is so on brand, my #crazyplantlady heart is happy".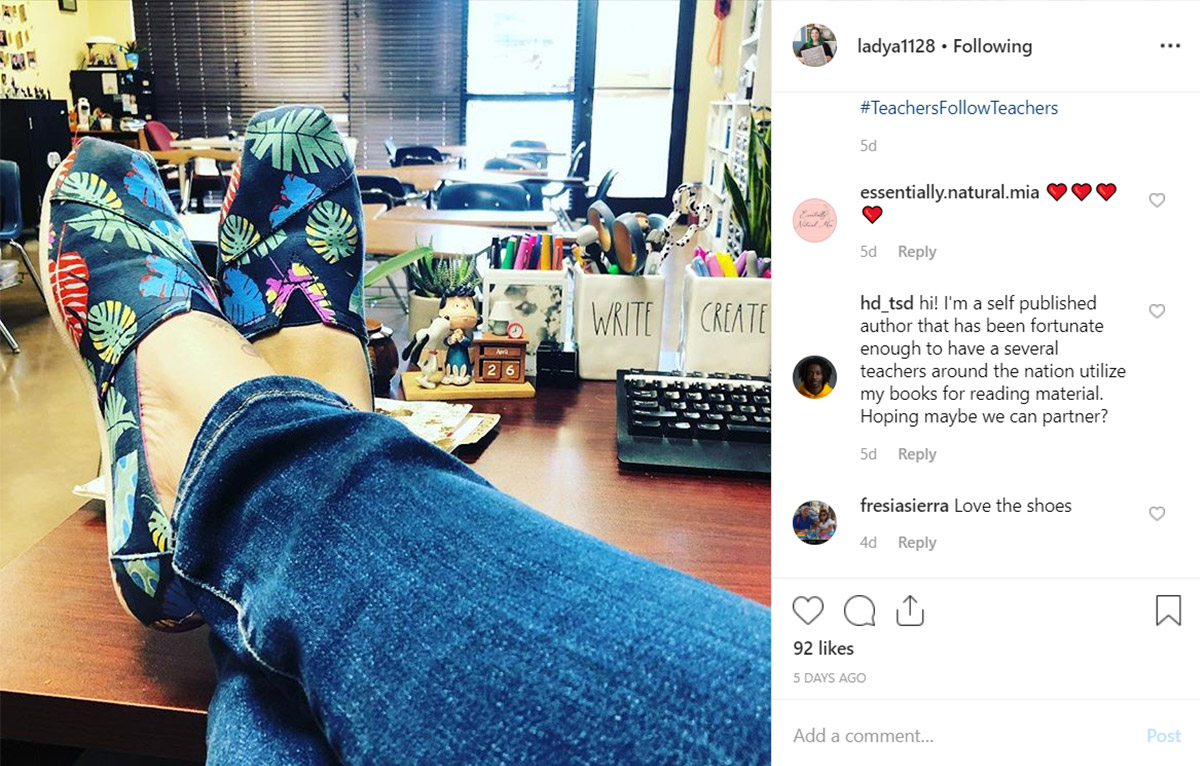 ---
Groovy Shoes from Groove Bags
These shoes caught our eyes when scrolling through Instagram – we couldn't help but notice them! How groovy are they?
Whether you are a teacher, know a teacher, or just want to show your appreciation for your child's teacher, get them the best teaching gift from Groove Bags. They have a huge selection of unique teacher inspired shoes.
This photo knocked our socks off! Great one @amandasclassroom!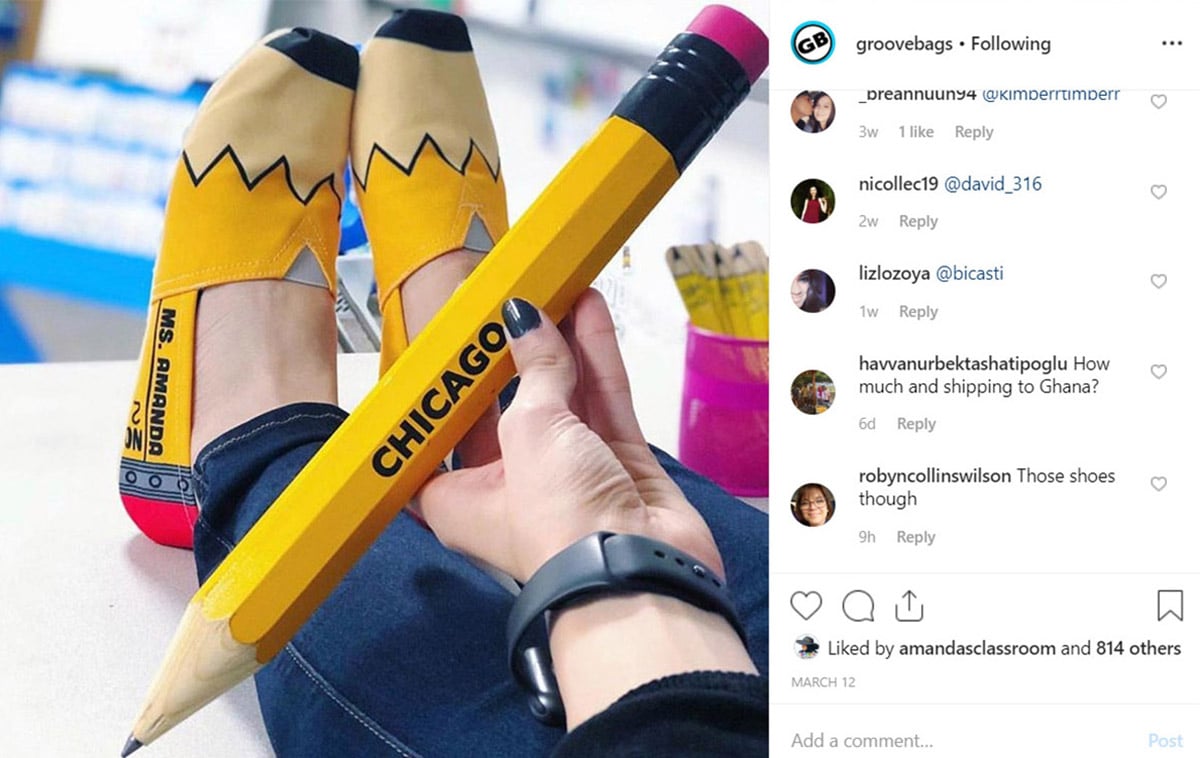 ---
Sparkles to Brighten Your Day
All you have to do is scroll through the comments featured on this photo to realise it's not just us that love these shoes!
Sensible but sparkly…
Gorgeous shot @mrs.cuervo_in_the_classroom.
---
Comfort + Cool Converse Style
You can't deny the coolness factor of a pair of converse shoes for a teacher. Apart from the comfort factor, they literally go with everything!
We absolutely adore this photo by @mooreinmiddle – everything about it yells style, especially those gorgeous platform converse shoes!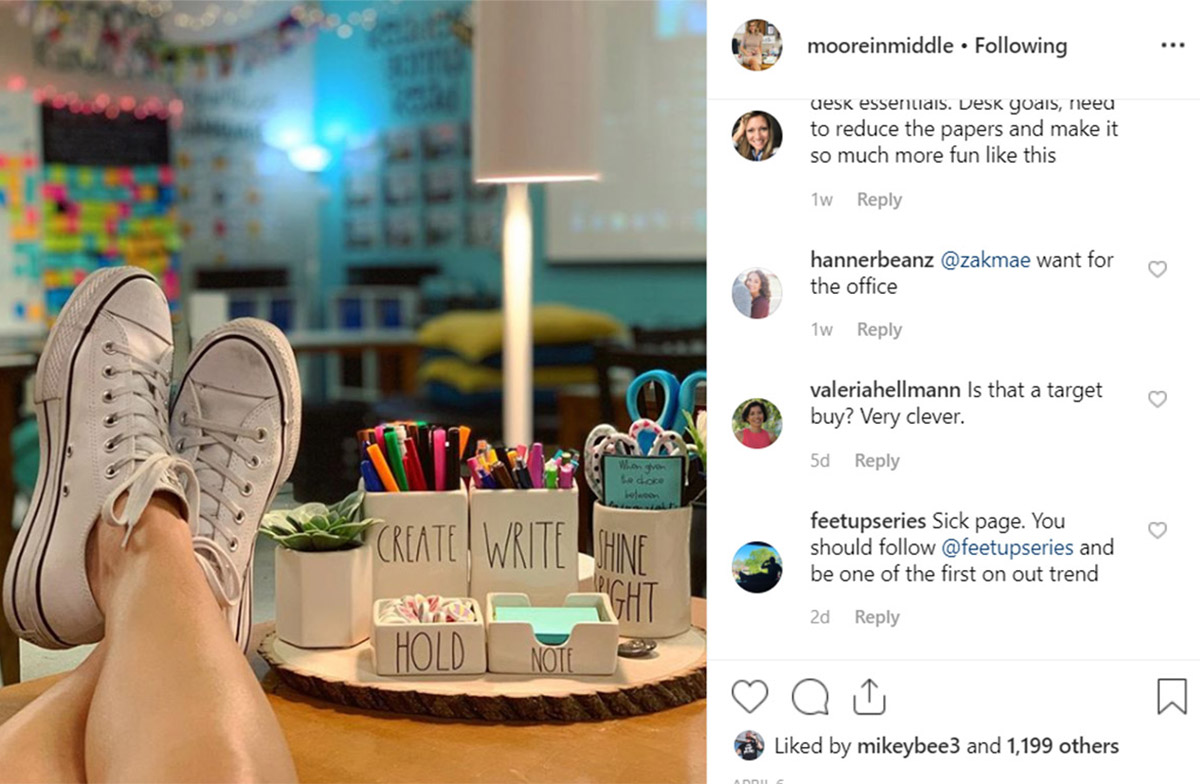 ---
Teachers Loving Rothy's
Walk into your classroom in comfort and style, knowing you aren't adding to waste and landfill with Rothy's.
Rothy's are made from recycled water bottles once destined for the landfill.
These shoes are super comfortable, and best of all – they are machine washable! Brilliant!
@laura_heath_becker has four pairs of Rothy's… Because they are comfortable and yet still look fashionable!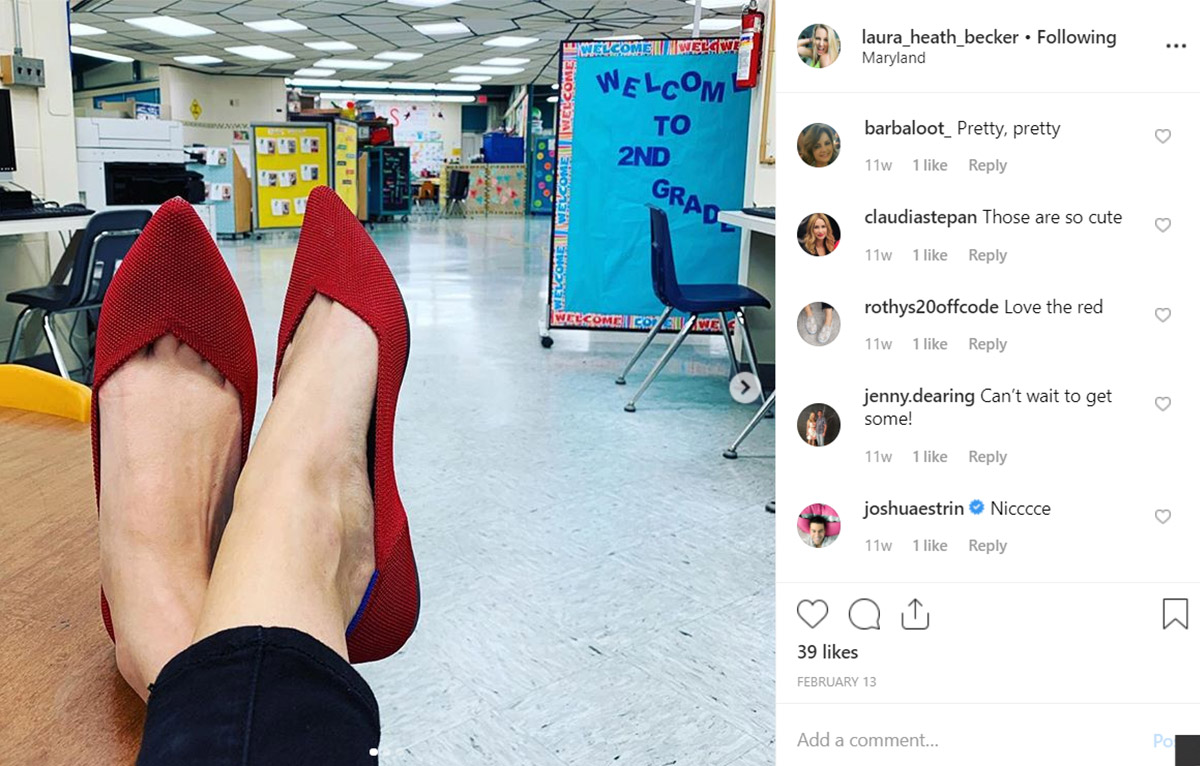 ---
Elephant and Confetti – What a Mix!
Toms have done it again with this gorgeous and cheery printed shoes!
"Toms are my favourite teacher shoes and these elephant and confetti printed ones have jumped to the top of my favourite list! They also make me want to eat iced animal cookies!" – @thebrightsideofteaching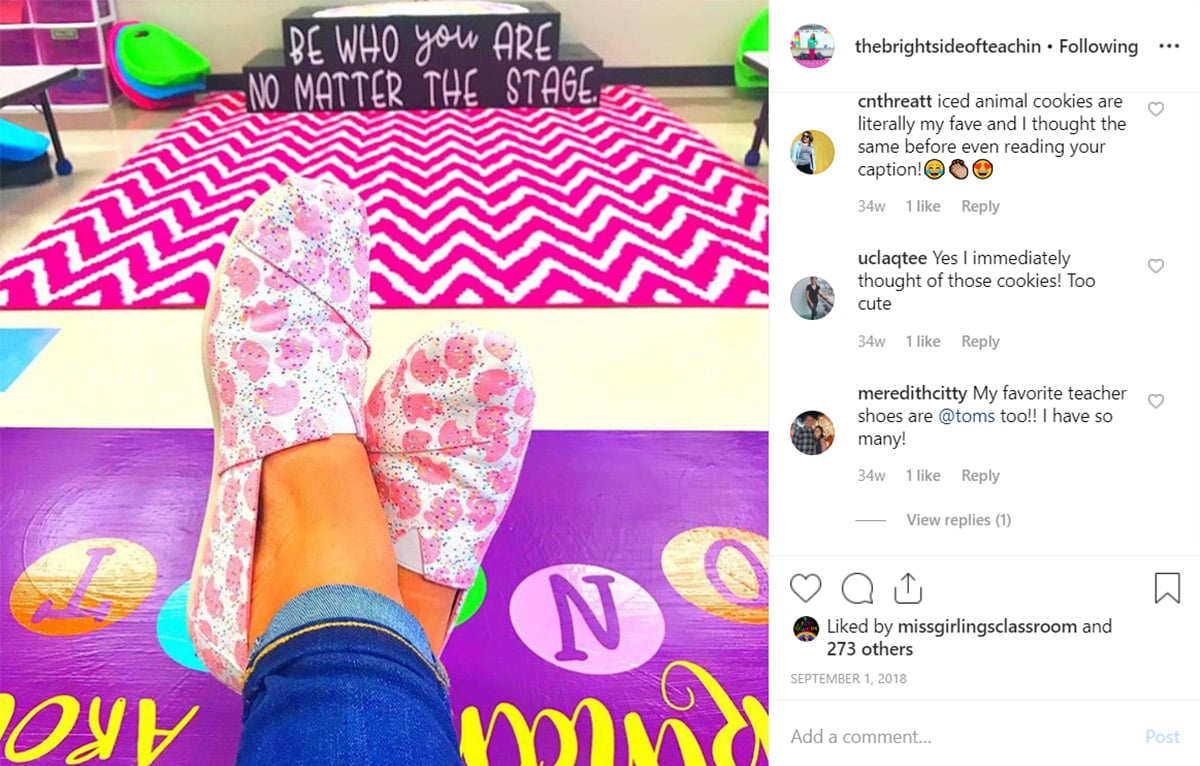 ---
Bow-tiful Shoes for Style
Sometimes, as teachers, wearing something special or dressing up a bit can make you feel like you can conquer the day and handle anything that gets thrown your way! These mules are perfection.
Mules are a style of shoe that are suitable for any season. Plus, they are super trendy too!
This image makes our teacher heart sing! Thanks @caffienatedandeducate.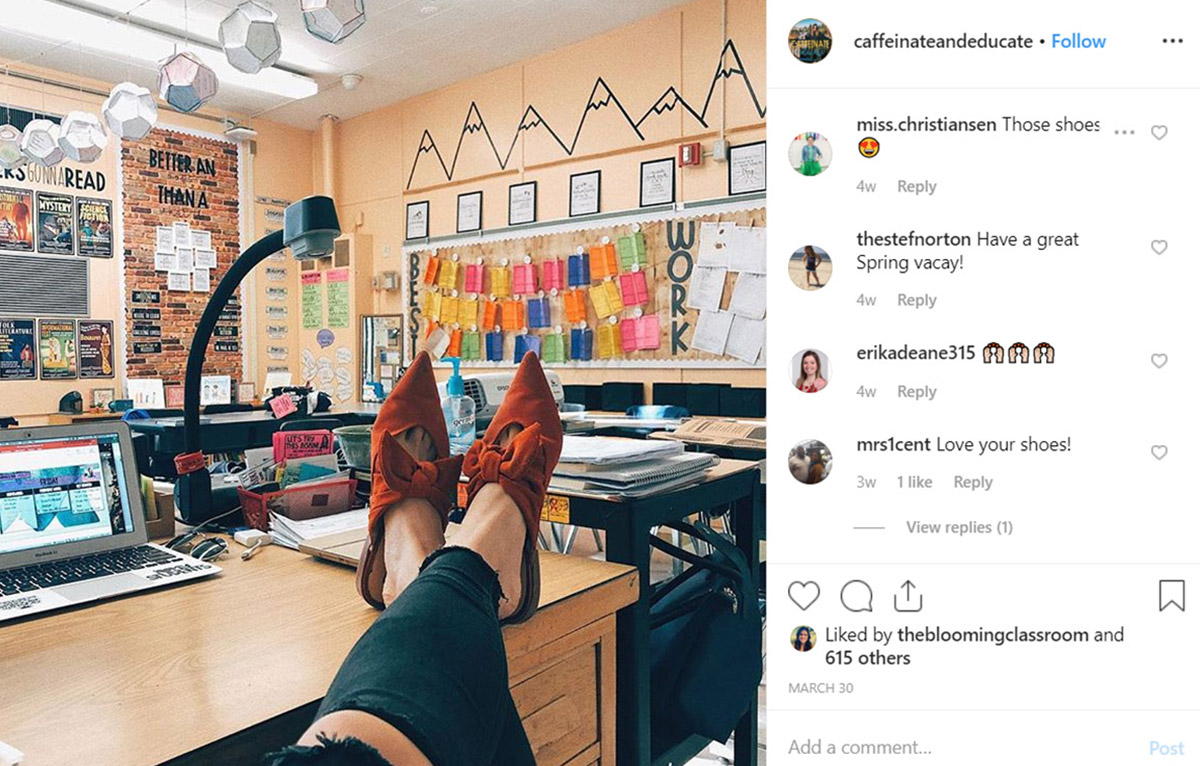 ---
Fabulous FRANKiE4 Footwear
We couldn't write a blog about teacher shoes without including the fabulous FRANKiE4 Footwear range! Founded by podiatrists and physiotherapists, FRANKiE4 footwear is the healthier option to fashion footwear. Perfect for the busy teacher who is on their feet all day!
Plus, they offer teachers 10% off for up to 6 pairs per year. Check out their page about how they support professionals at Frankie Footwear.
Here's the lovely Monique from @teachingincanberra, who states that:
"…after trying @frankie4footwear shoes I have never worn any other shoes!! They have literally fixed and saved my feet! I have no pain whatsoever anymore."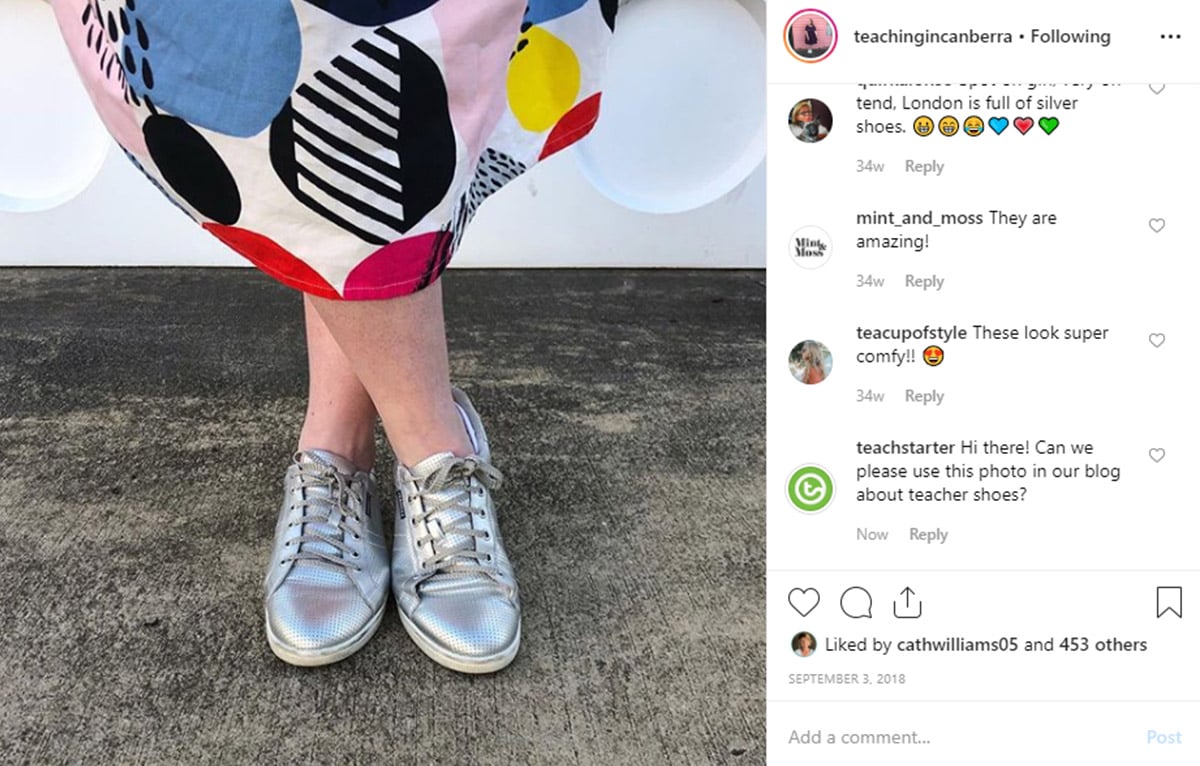 ---
Keds Kicks – Very Comfy Shoes
We can't get enough of these Keds shoes. Keds as a brand started designing sneakers for women in 1916 with a simple, yet chic take on canvas footwear.
Their goal – to empower women to be who they want to be and go where they want to go – genius!
Their current crush: glitter! You should check out their glitter range – amazing!!
Thanks to the wonderful @barbellsandlessonplans for this stunning photo!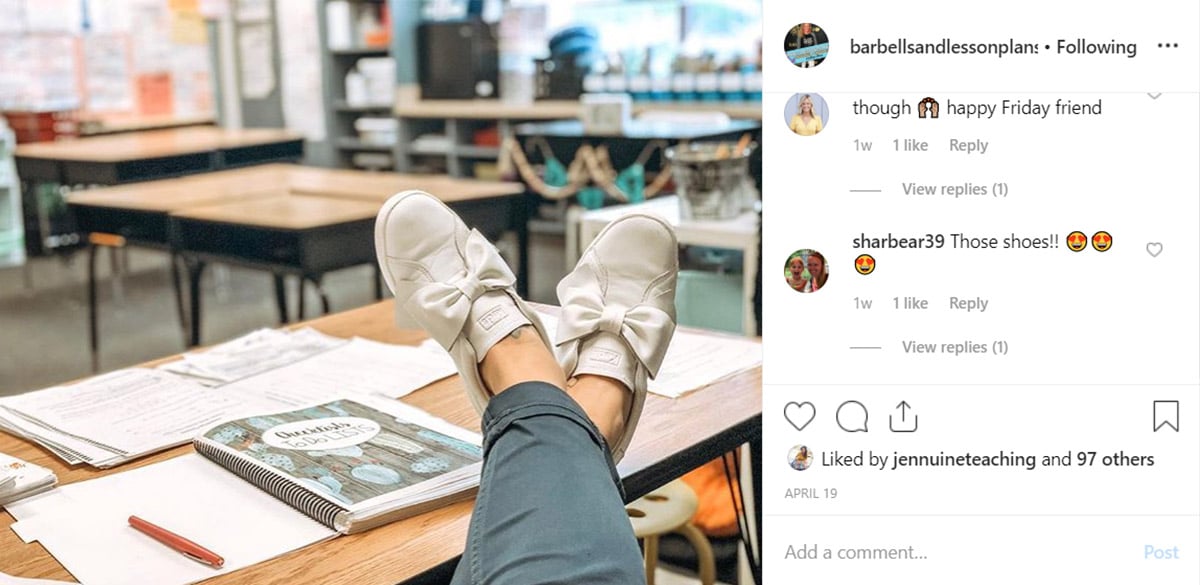 ---
The Cuteness Factor is Next Level
Custom teacher shoes all hand painted just for you. Plus the paint is waterproof!
Kelly has her very own Etsy store and with 167 ratings of 5 star. You must check out her store – MyHeartToYourSole.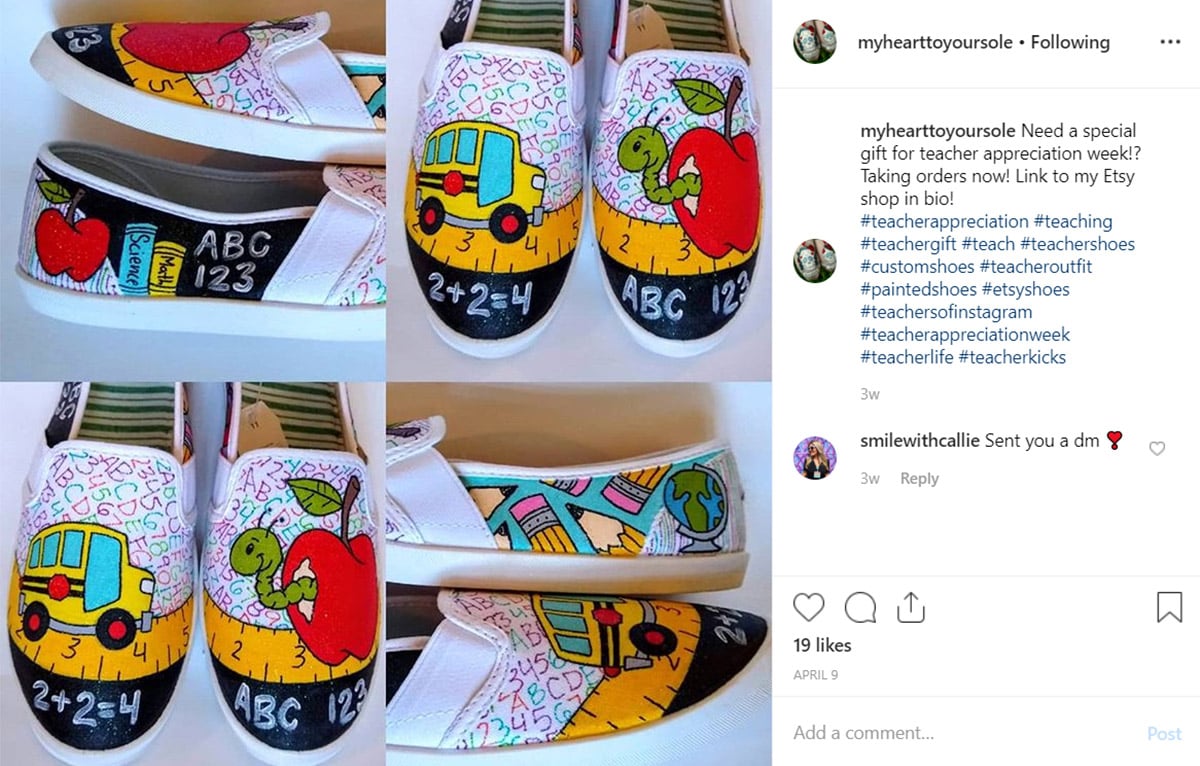 We'd love to see your #teachershoes!
Don't forget to #teacherfeetupfriday and tag @teachstarter.