Did you know that Friday, June 5th is World Environment Day? Run by the United Nations, it is a day designed purely to celebrate the environment! World Environment Day aims to raise awareness about the issues the environment currently faces and encourage people to take action.
In 2020, the World Environment Day topic is 'Biodiversity'.
I thought I would try to explain the complex topic of Biodiversity in one short paragraph. But, then I decided to outsource so that you could get a better picture, and I'm glad I did!
Who could better sum up Biodiversity, than the great Sir David Attenborough?
Doesn't it just give you goosebumps?! Put your hand up if you're ready to help the environment!
Because we think the environment is amazingly special we've put together some fun classroom activities to help you and your students learn about the Earth and explore biodiversity this World Environment Day.
---
World Environment Day 2020 Classroom Activities and Resources
There are activities for every age to help you to raise awareness amongst your students. Once they've learned all they can with some biodiversity classroom activities, they'll be moved to act on and share their knowledge!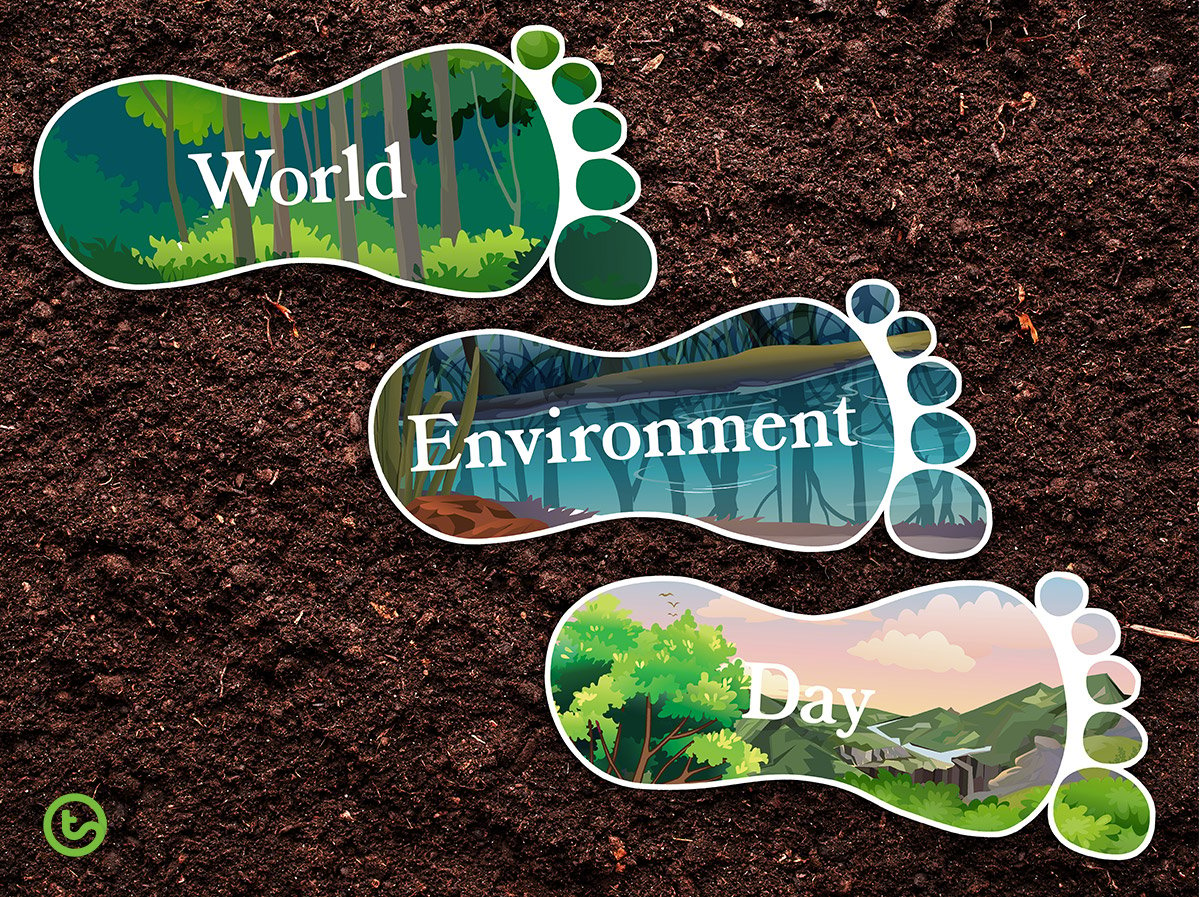 Create a classroom display to introduce the topic to your students. Why not start with a simple title (using resources such as our Sustainability Footprints Word Wall). Then, let your class fill the rest of the display as their knowledge grows!
---
Learn about Biodiversity
We get it! Biodiversity is a hugely important topic, but it's also pretty complicated (especially for little minds who find the world a pretty big place!). So, to give your students a brief introduction to this fascinating concept, take a look at our NEW resource – Biodiversity Poster.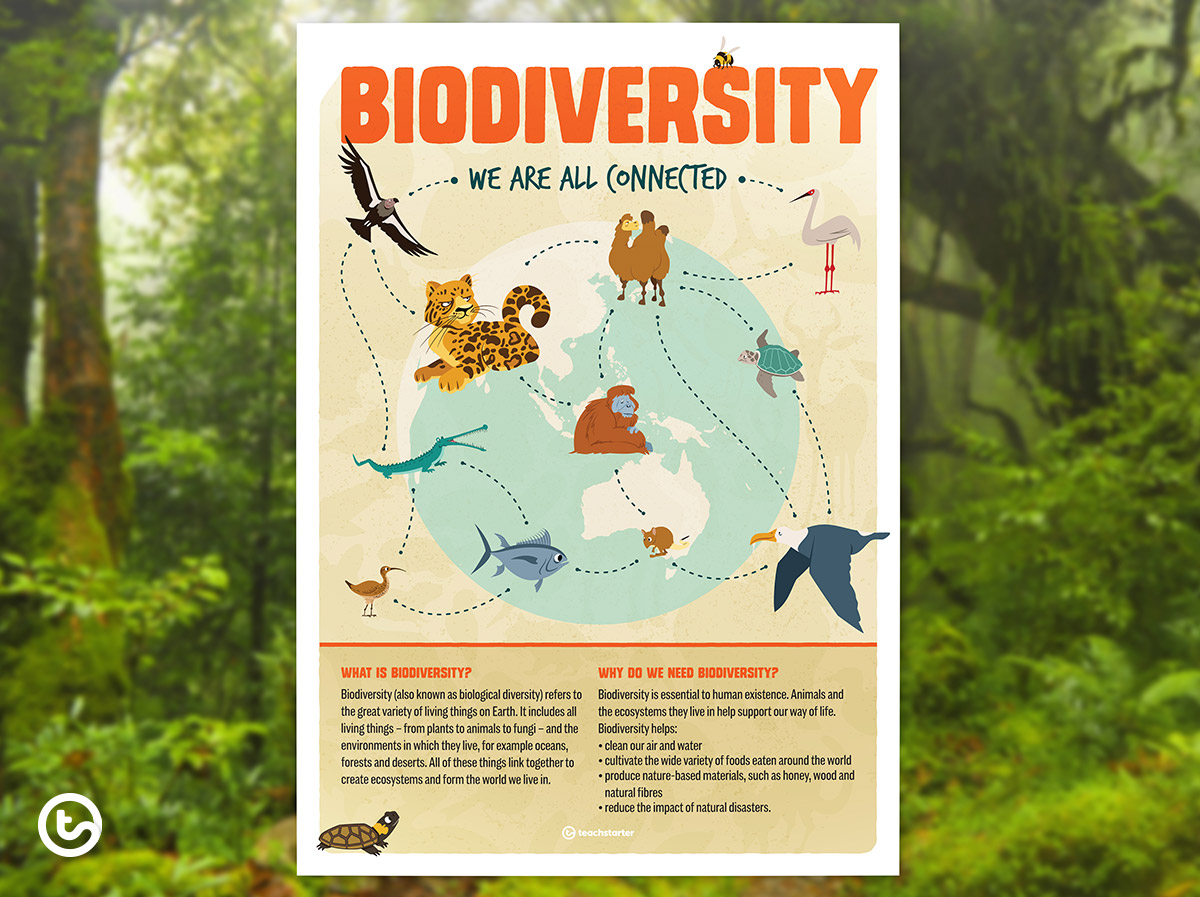 Once you've taken a look at exactly what biodiversity is, your students will be ready to zoom in on some of the big issues.
Our amazingly talented designer, Boaz Paz, has created a Critically Endangered Species Map – Poster and some Endangered Species Facts – Task Cards to help your students explore endangered animals.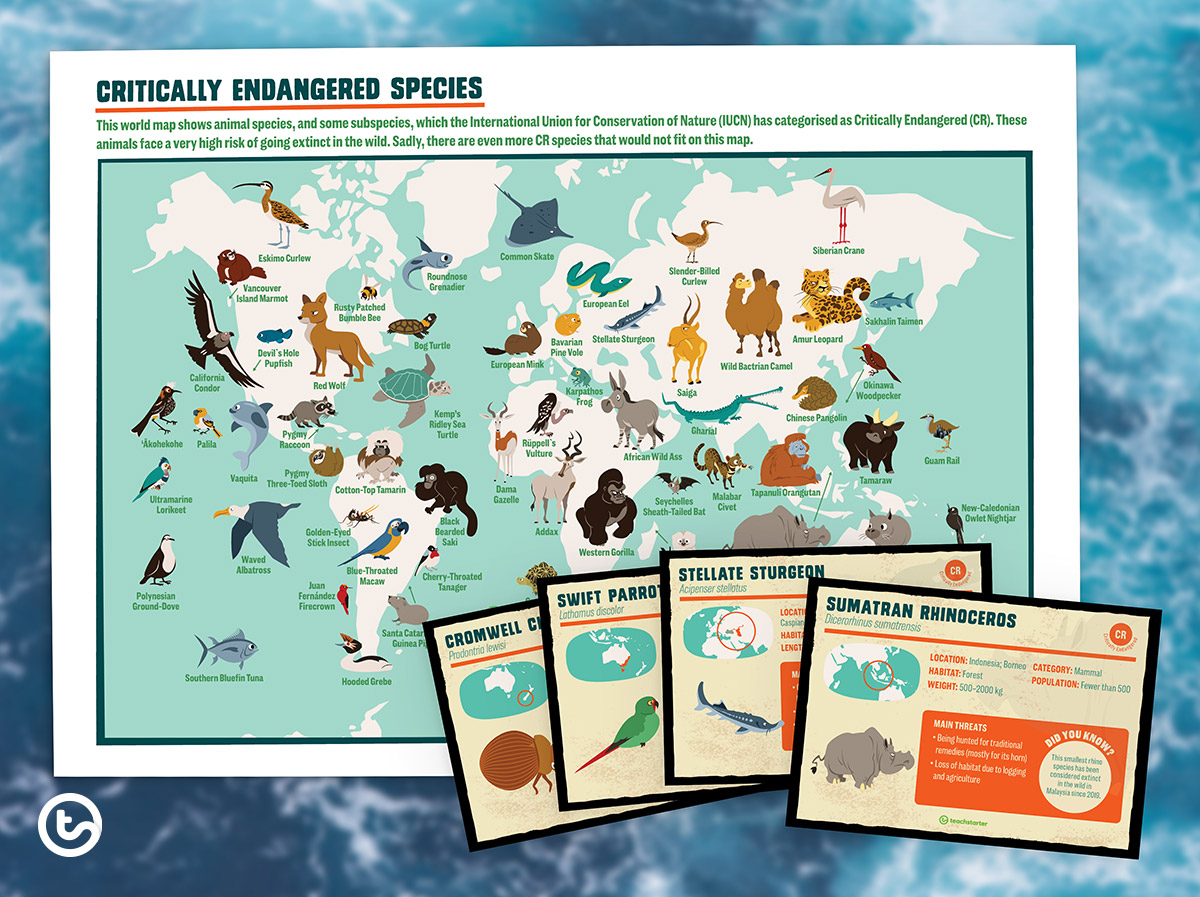 Animals that have been driven to extinction show just how delicate our world is. Use this resource to discuss how society has negatively impacted animals and their habitats. This is a great place to start a discussion on what action can be taken to stop harming the world's ecosystems.
Your students may not understand exactly why the eradication of species is a big deal. They need to learn the important role each and every animal in our world plays! Take a look at our Producer, Consumer, Decomposer – Poster with them and learn about how plants and animals all rely on each other for survival (including humans!).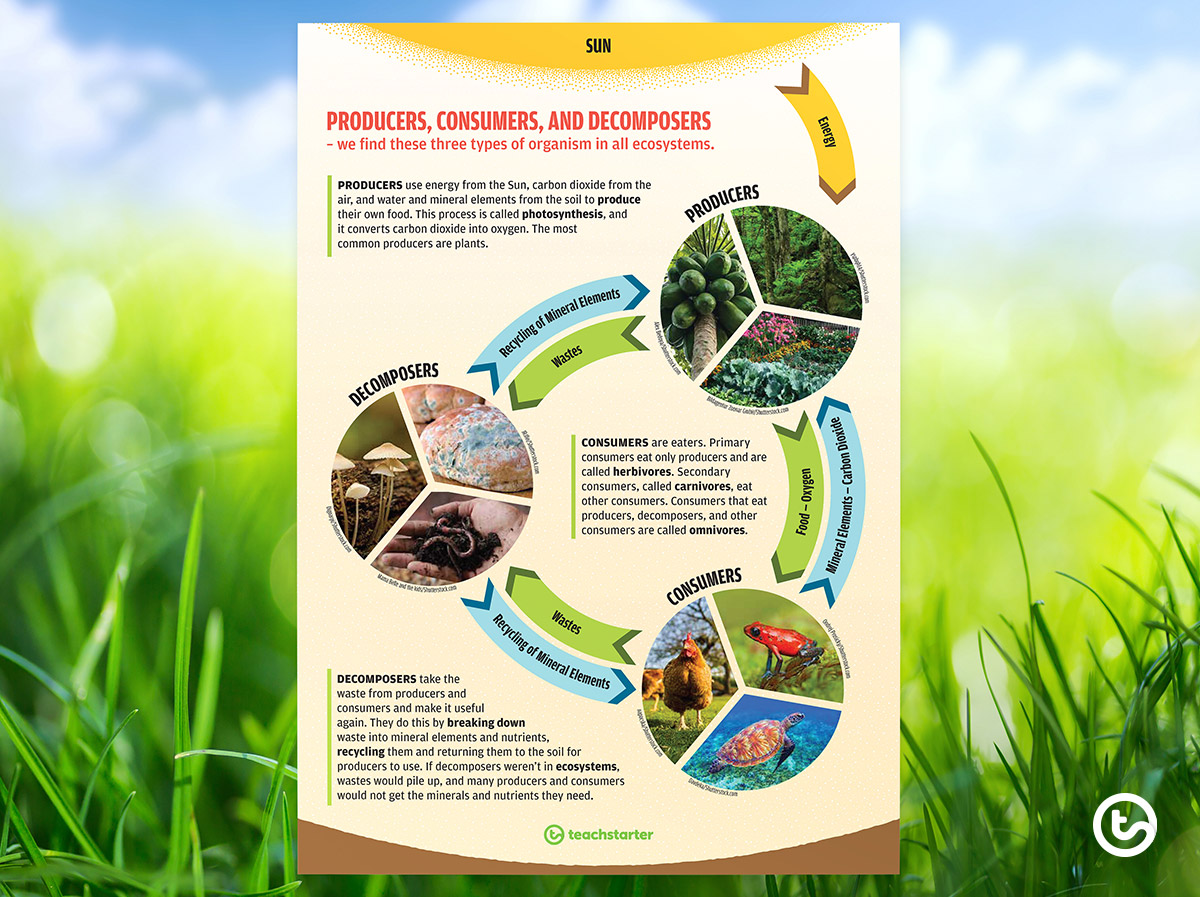 For those teachers wanting some more in-depth biodiversity classroom activities, look at the importance of different habitats with our unit plan – The Importance of Environments.
These 11 lessons will take your class through each of the unique environment types found on Earth, as well as ways in which they can be protected.
---
Go to Earth School
Of course, you can always go to Earth School!
A collaboration between TEDEd and the United Nations, Earth School invites your students to embark on a whole month of daily quests.
These adventures take you through real-world concepts, from the t-shirt making process to how food reaches our plates.
Help your students develop empathy and connect with nature with interactive resources, videos, quests and activities. We really can't recommend them enough!
---
Act on Biodiversity
Don't let the complexity of biodiversity make your students feel like it's out of their hands.
There are so many small things you and your class can do to help celebrate World Environment Day 2020!
Take the pledge to become a wildlife hero! Once your students have been spurred to action, encourage them to commit to being a part of the solution. Our Wildlife Hero Pledge Worksheet is a great way for your students to come up with a tangible action that they can take.
"My pledge is to take care of the plants and animals in my environment by not littering and leaving insects in peace!"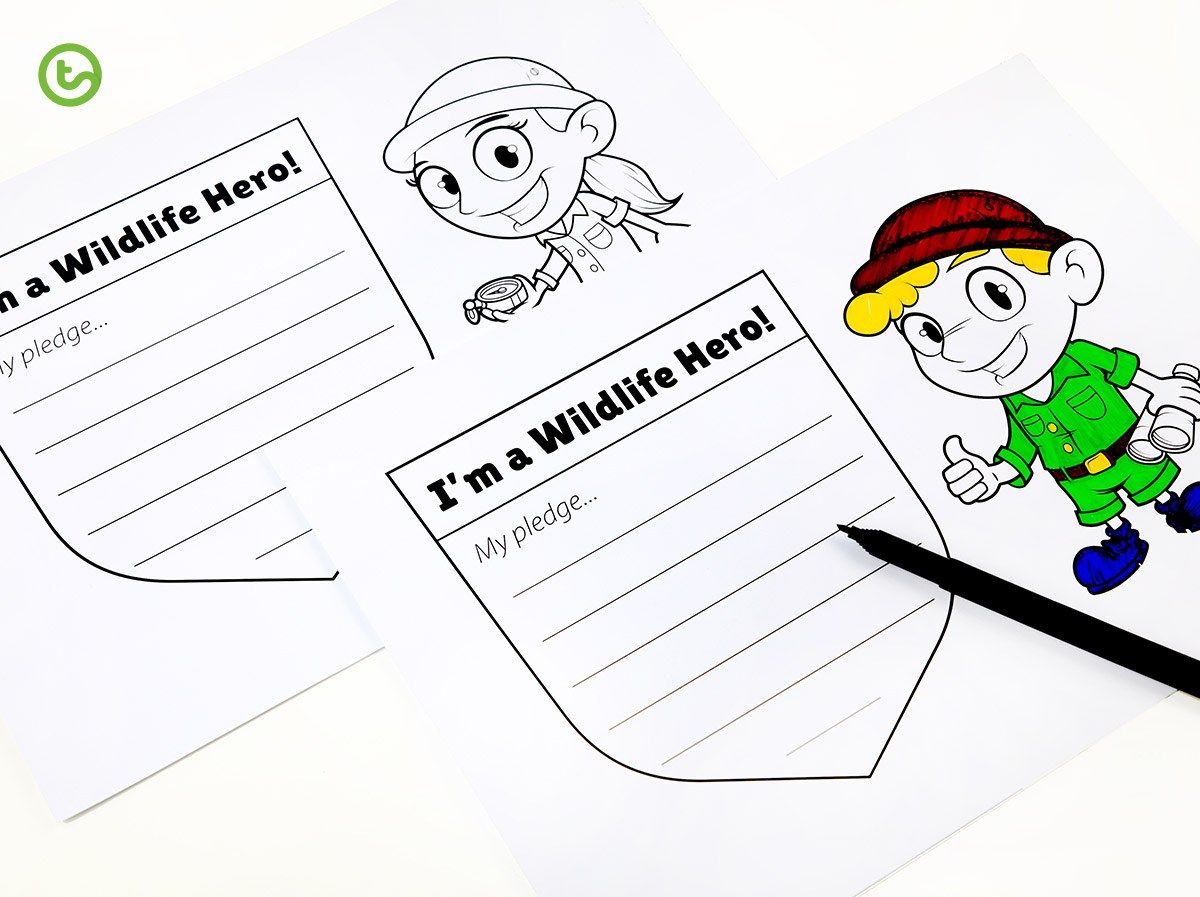 Your students might want to create something to visually represent their pledge to being a wildlife hero. So, why not create a class garden?
Your students will love the opportunity to contribute to the biodiversity of the school grounds by creating a brand new habitat for plants and animals!
The scale on which you do this task is completely up to you. Our Garden Design Project is perfectly suited for the early to middle years classroom. For more advanced learners, take a look at the Develop a Habitat – Garden Project.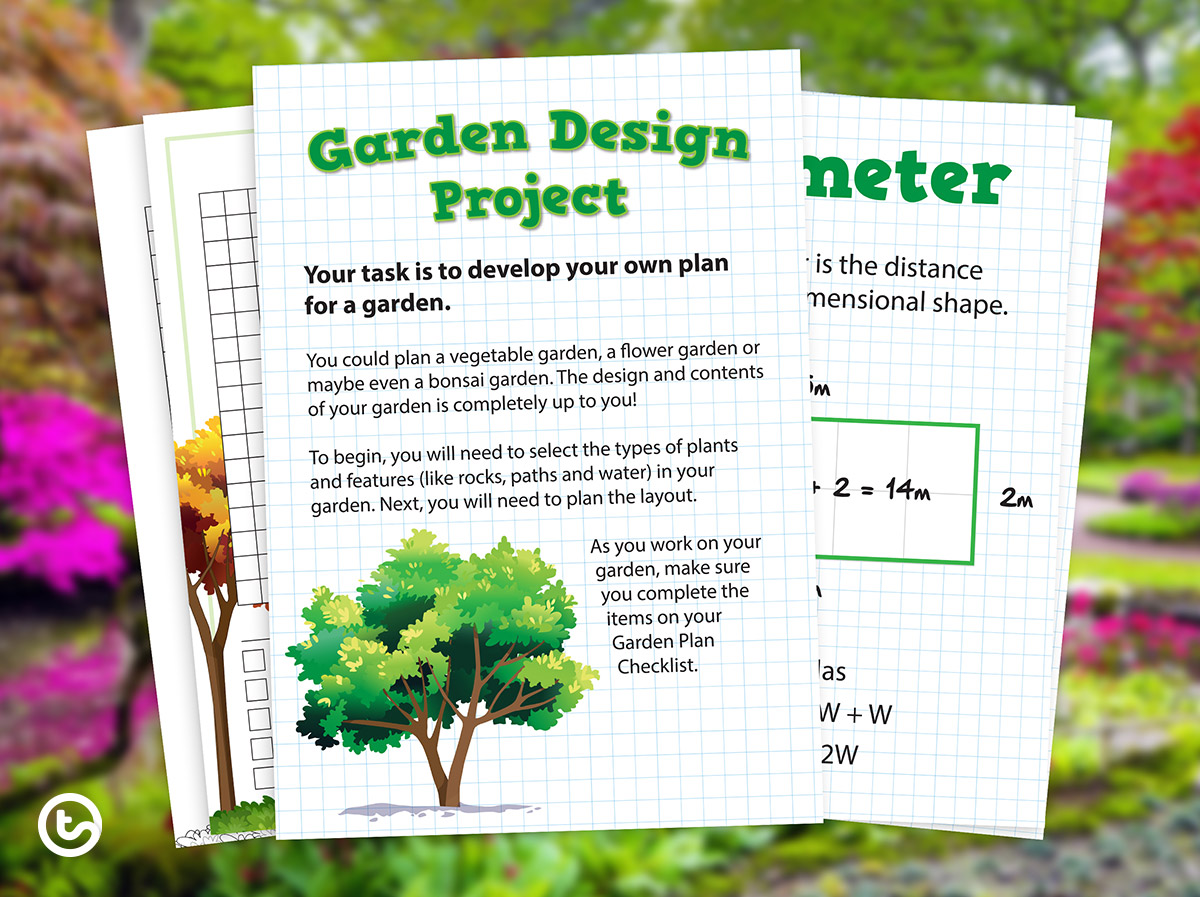 These resources encourage your class to think about the natural environments outside their classrooms. Plus, they are also great for basic mathematics, design and creative thinking!
---
Share What You've Learned for World Environment Day
Hold an exhibit to spread the message of biodiversity! Invite your school community into your classroom to take a look at your class garden. Or, any other activities you've completed on your biodiversity learning journey!
Older students may want to take it a step further! Encourage them to demonstrate their new knowledge of different habitats and endangered animals.
Make a diorama of different habitats, featuring a variety of animals and plants. Then, present your diorama and information about the unique ecosystems you've chosen!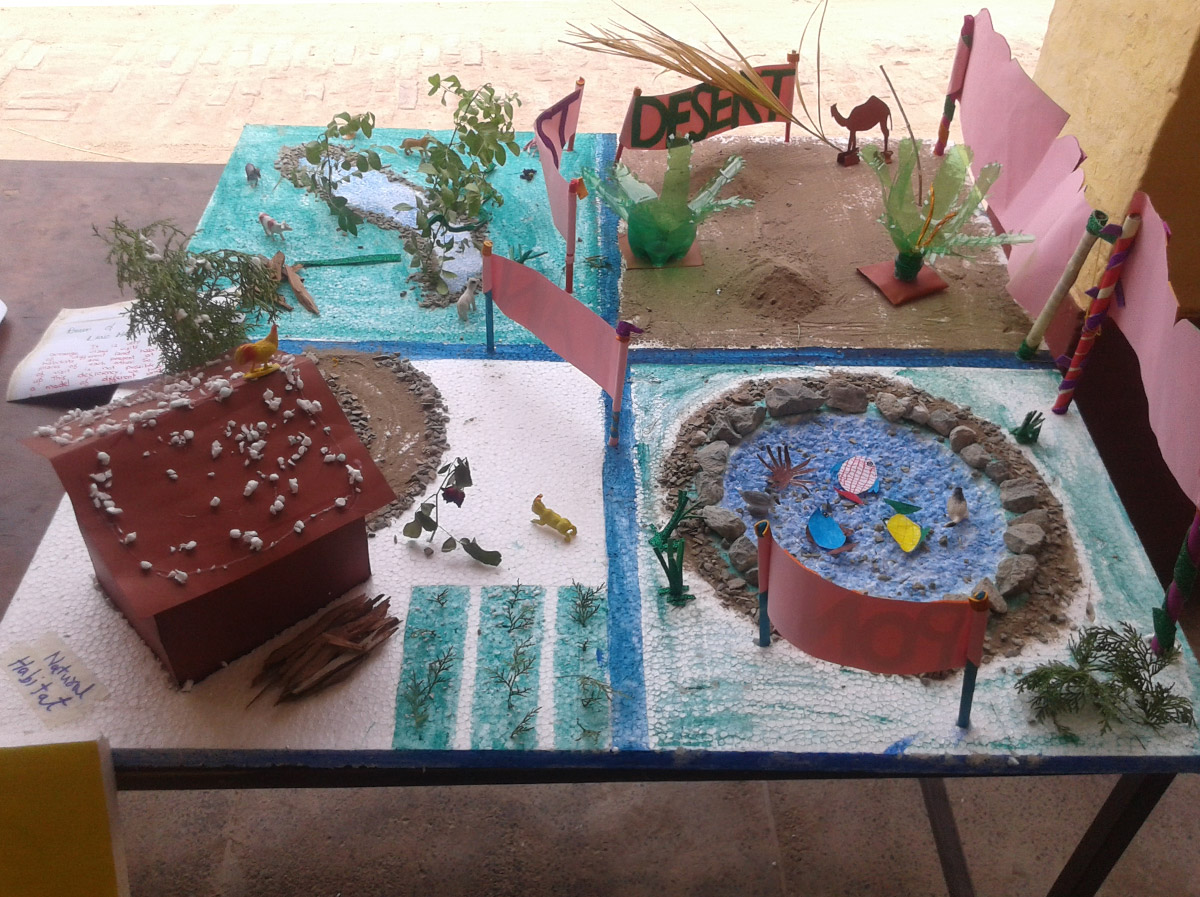 Muhammad Mansoor Waqas/shutterstock.com
Your students might not have access to the materials needed to make a diorama. So, why not encourage them to create a PowerPoint to demonstrate their knowledge? There are so many beautiful photos of the incredible plants, animals and landscapes on the internet, or you can use our Natural Environments – PowerPoint.
---
How will you explore World Environment Day with your students?
Comment your ideas below and spread the message of biodiversity!