A set of 10 worksheets for students to practise completing simple sentences.
These worksheets are ideal for beginning writers who are keen to practise writing CVC words.
Each worksheet includes:
four cloze sentences for students to complete
an unjumbling sentence activity.
In the unjumbling activity, students write the words provided in the correct order. Each sentence has four words.
Most of the words used in this resource are common CVC words – making the worksheets easily decodable.
In some of the cloze sentences, more than one of the supplied words could be used. Critical assessment and discussion of all the options will help direct the choices made.
Why Use Cloze Sentences?
Cloze sentences provide an opportunity for students to demonstrate their reading comprehension as well as their decoding ability. In order to decide on the missing word, students rely on contextual clues and meaning.
Help support your beginning writers' language skills as they fill in the blanks and restructure jumbled sentences on these simple worksheets.
If you're looking for another similar resource for 'beginner' writers, try this one: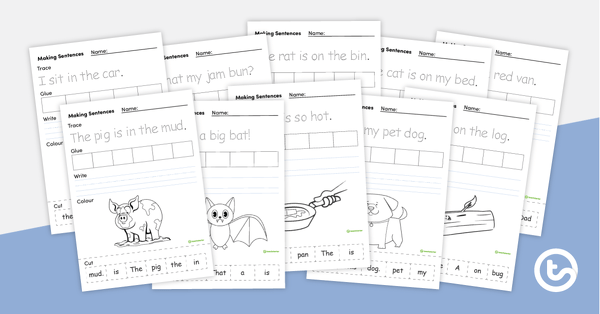 teaching resource
A set of 10 cut and paste worksheets for making short sentences.