Do you find it hard to choose children's books to share in the classroom? Perhaps you find the choosing part easy, but just don't have the time?
Because we are passionate about nurturing a love of reading in the classroom, we have teamed up with award-winning teacher librarian Megan Daley to create the ultimate Recommended Books: Middle Years book list. It includes 20 must-read books for you to share and explore with your students!
Listen to Megan Daley talk about why schools need teacher librarians on our podcast.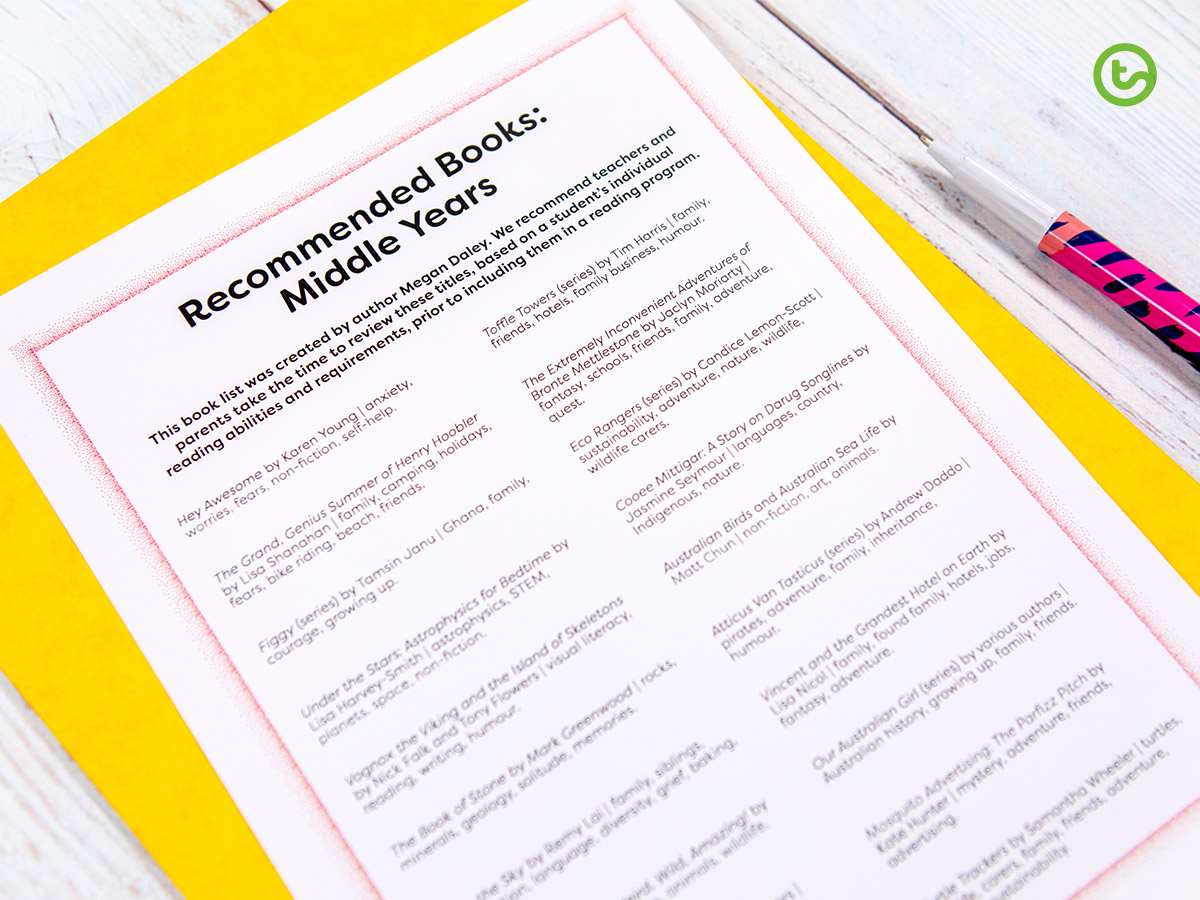 The children's books on this list have been chosen to showcase exceptional writing, illustrating and diversity in all forms. We hope that this invaluable teaching resource will introduce you to authors and illustrators that you otherwise would not have found.
---
How to Use the Children's Book List
So, you're probably wondering how to get the most out of this teaching resource? This blog outlines a number of helpful ideas to get you started…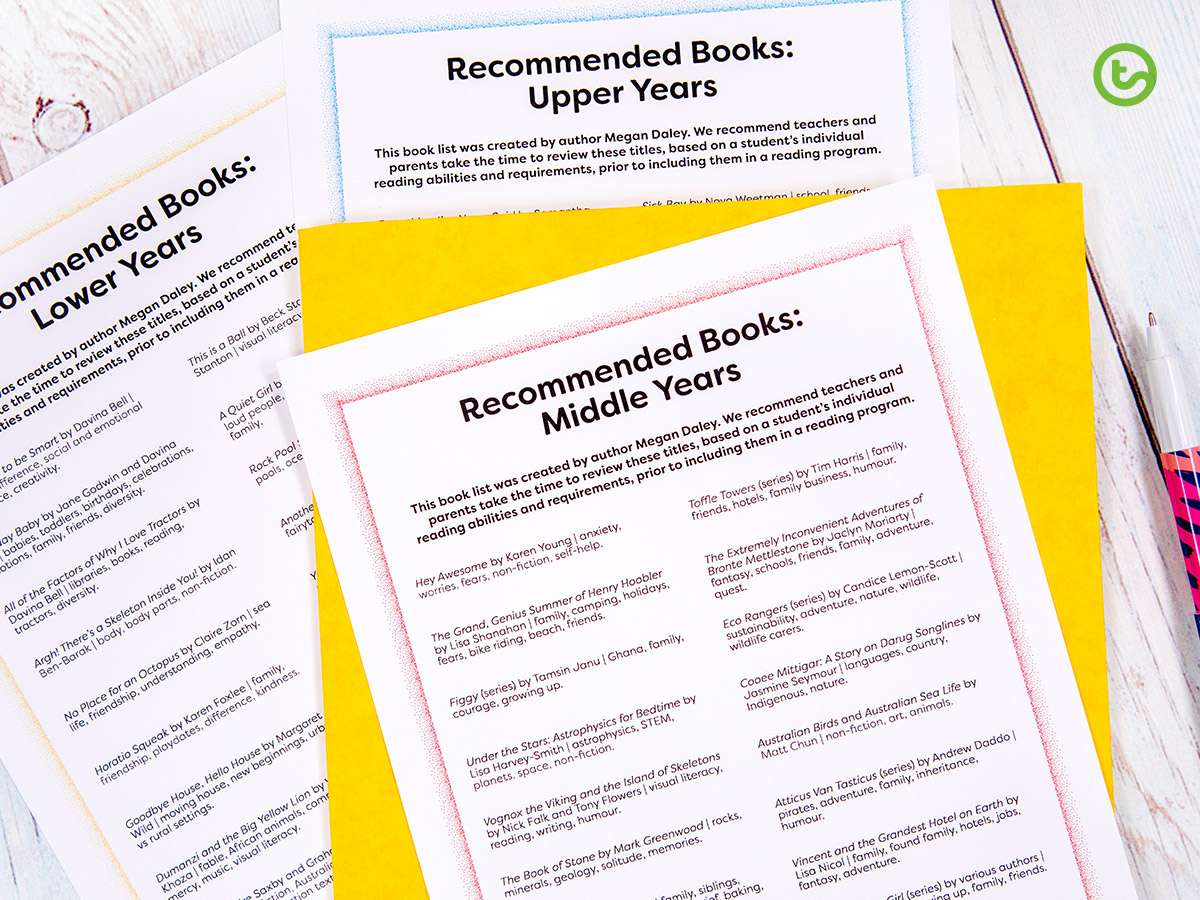 Here are a few ways that you can use these insanely useful booklists:
Use as a reference for planning daily modelled reading in the classroom.
Select from book titles and make links to your teaching programme.
Share with parents and guardians to encourage reading at home.
Display in the school library as a reference for colleagues and parents.
Present as a wish list to your school librarian (if you are lucky enough to have one).
Use as a helpful daily go-to whenever you need a good book to share with your class.
---
Australian Birds
Title: Australian Birds
Illustrator: Matt Chun
Author/Design: Ella Meave and Pooja Desai
Publisher: Hardie Grant Egmont 
Themes: Australian native birds, bird habitat, bird behaviour and bird biology.
If your students love nature and appreciate beautiful illustrations, then this is the children's book for you and your students. 'Australian Birds' was shortlisted on the  Children's Book Council of Australia (CBCA) Award for New Illustrator and it's a must-have for your reading corner!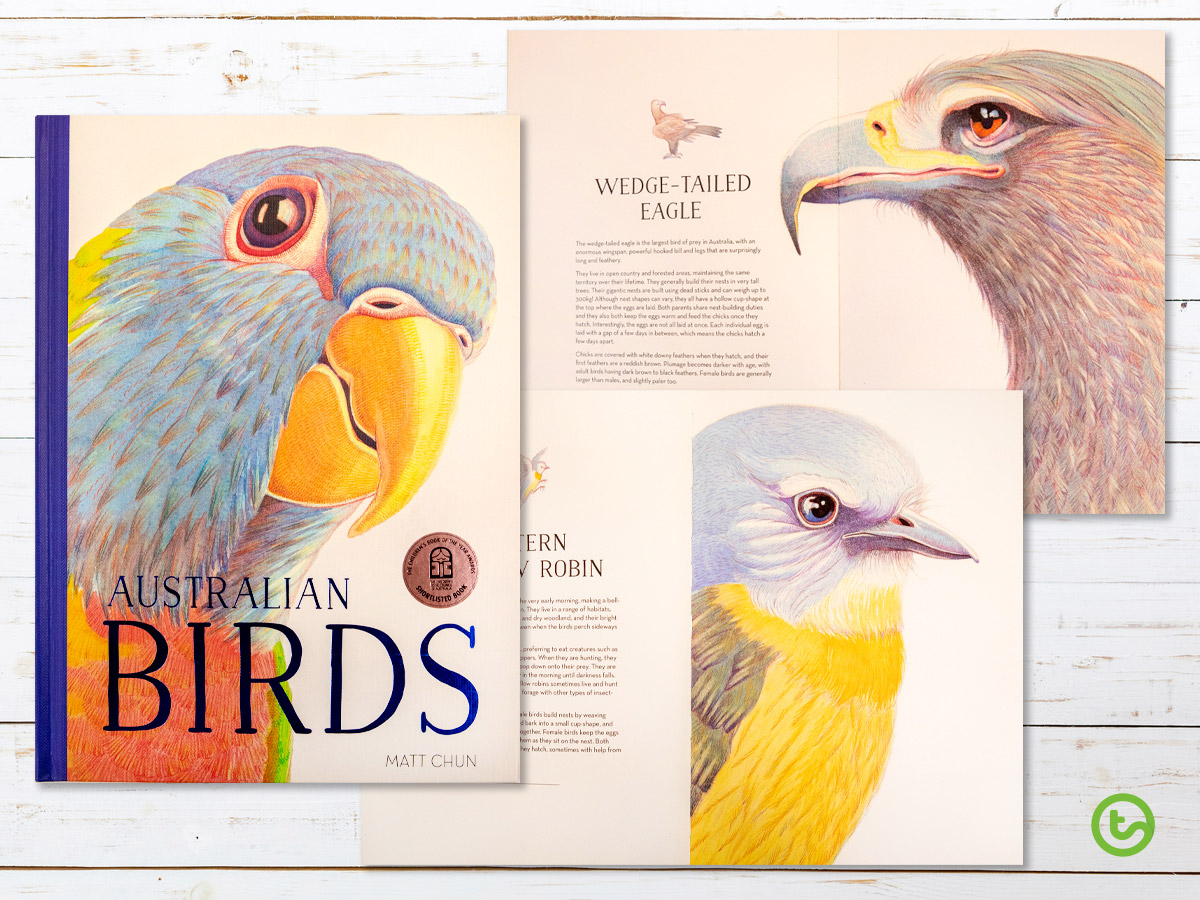 Australian Birds is a children's book that showcases exceptional illustrations of some of Australia's most well-known birds. From the iconic cockatoo, to the endangered Cassowary, Australian Birds is a must-have for your reading corner.
As a teacher, this children's book offers huge potential for exploring informative writing and descriptive language. Make sure you scaffold your students' vocabulary acquisition, reading and writing by using our Bird Word Wall Vocabulary.
Also, don't miss the opportunity for an art project! Matt Chun's illustrations shout out for an art project that explores the elements of line, colour, shape, form, and texture. On that note, do you need a helping hand with planning a visual arts unit? Head to our Visual Arts Collection where you'll find a Visual Arts Elements Resource Pack – Middle Years. 
For more ideas on how to use children's books to inspire art, read my blog Classroom Art Projects Inspired by Children's Books
---
Hey Warrior
Title: Hey Warrior
Author: Karen Young
Publisher: Hey Sigmund Publishing
Age Range: middle to upper years
Themes: anxiety, empowerment, mindfulness
Kids can do amazing things with the right information. Understanding why anxiety feels the way it does and where the physical symptoms come from is a powerful steip in turning anxiety around.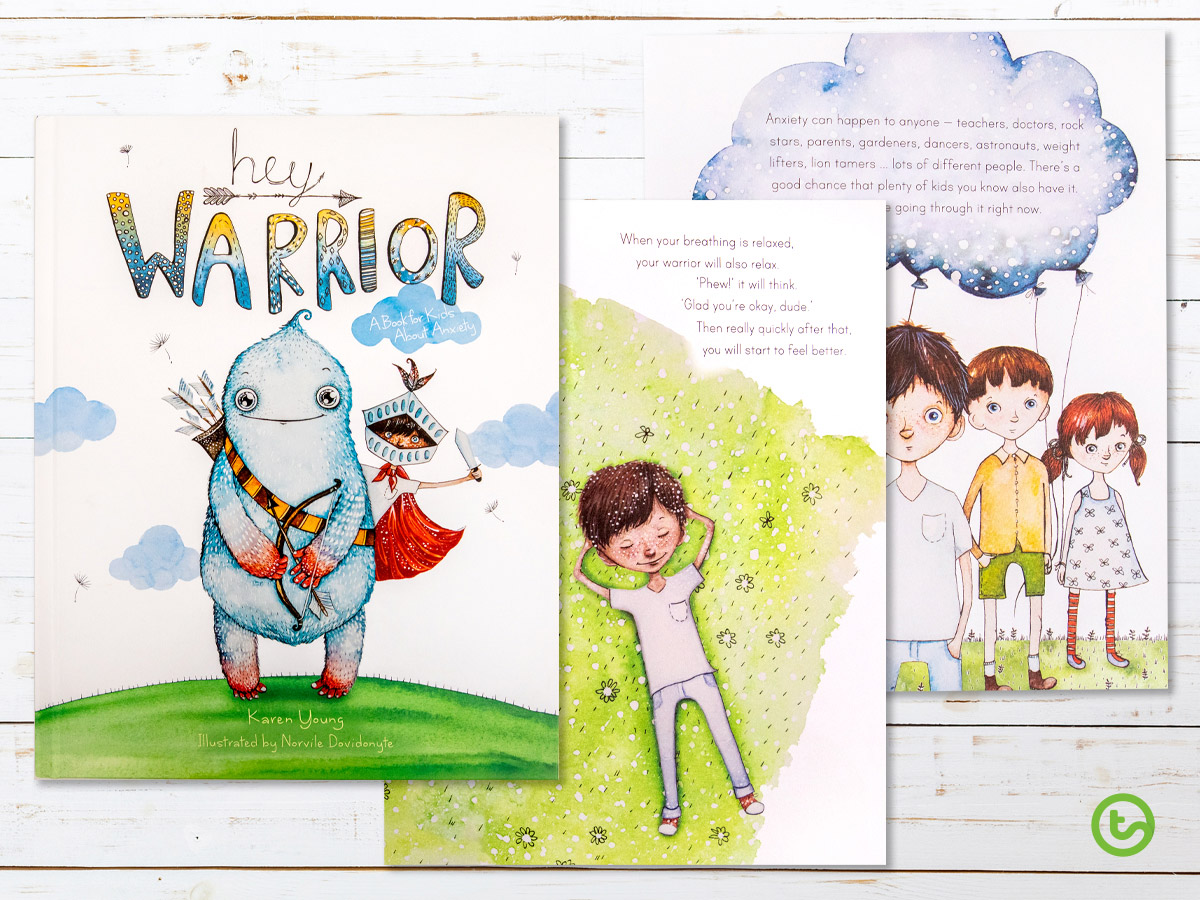 So, why is this book so significant and important to share with your students? Well, as I'm sure you are aware, an increasing number of primary students experience anxiety to some degree. As a result, it is critical that we empower young children with information and useful tools to manage anxiety.
When my son and I opened the pages of this book, we instantly fell in love with the fierce warrior character (central to the narrative). What's more, as we read on, we befriended anxiety and started to look at things differently. As you'll see, the author, Karen Young describes anxiety as being like your own fierce warrior, always there to protect you.
Hey Warrior is also an important reminder to incorporate mindfulness into our teaching practice. A five or ten-minute daily mindfulness practice can see students reduce stress and anxiety, increase concentration and engagement, and much more. Head to our Mindfulness Teaching Resources Collection and Mindfulness Teaching Resource Pack to find everything that you need.
---
Under the Stars
Title: Under the Stars – Astrophysics for Bedtime
Author: Lisa Harvey-Smith, Mel Matthews
Publisher: Melbourne University Press
Age Range: middle to upper years
Themes: solar system, astrophysics
Under the Stars transports curious kids on an interplanetary journey through the night sky!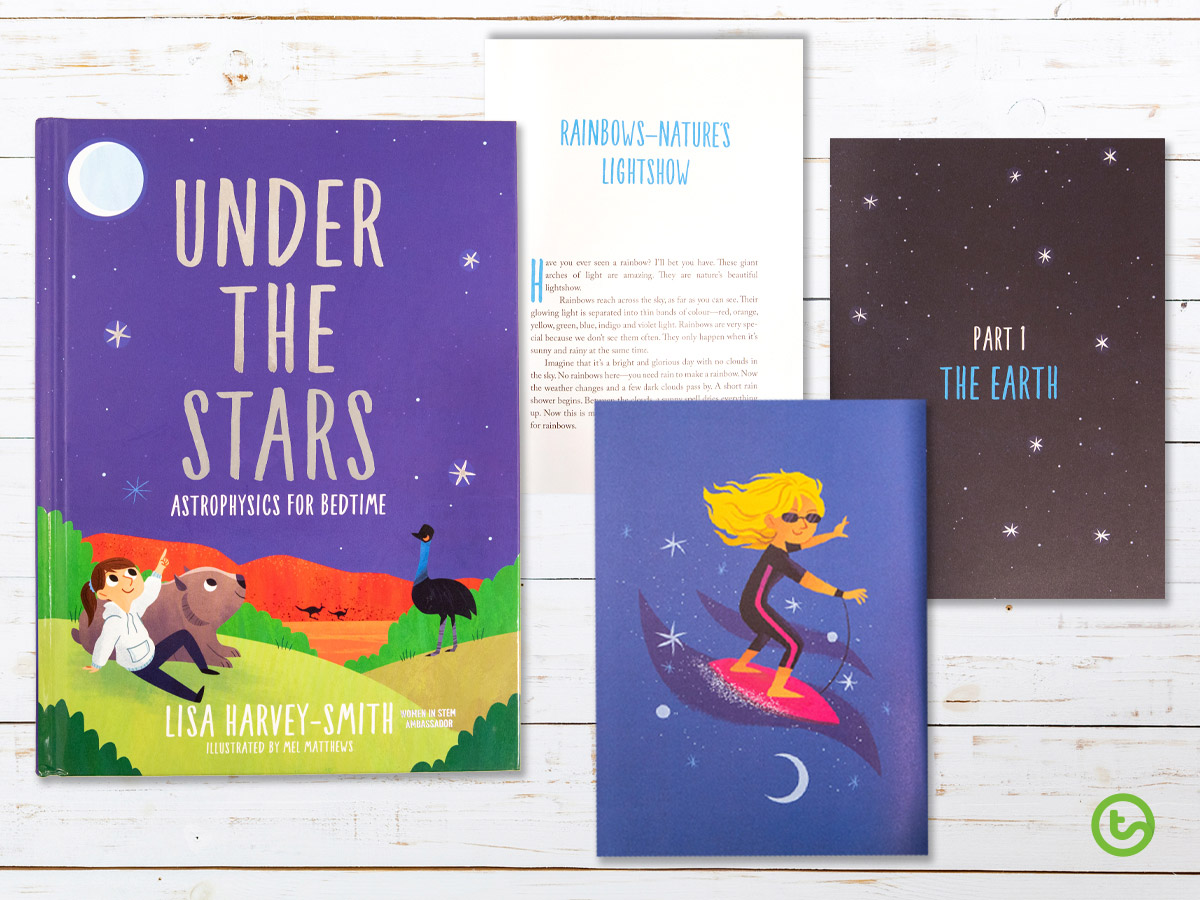 Don't be afraid of exposing your students to the sophisticated language in this children's book. Because, believe me, they will lap it up and acquire a breadth of vocabulary to take their reading and writing to a new level.  This children's book is ideal to explore over a term and is ideal to incorporate into your Earth and Space Science unit.
Need an Earth and Space unit plan? Check out our curriculum-aligned The Interplay of the Sun, Earth and Moon Unit Plan. And don't forget to check out our Earth and Space Teaching Resource Collection.
---
Cooee Mittigar
Title: Cooee Mittigar Story on Darug Songlines
Author: Jasmine Seymour, Leanne Mulgo Watson (Illustrator)
Publisher: Magabala Books
Age Range: middle to upper years
Themes: Aboriginal stories, Country, land, respect, language.
Tread softly on our lands. Know that this dreaming was here. Is still here. Will be forever.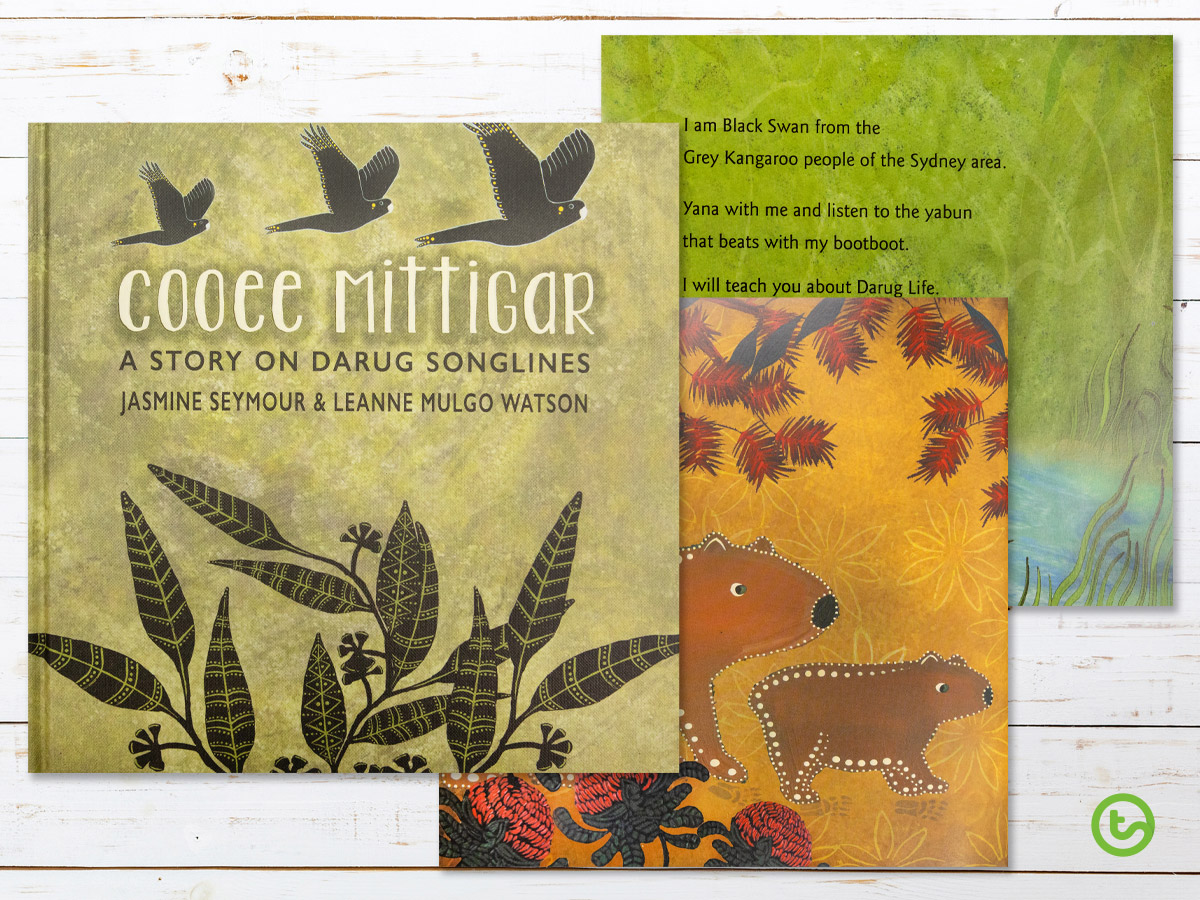 Are you looking for Aboriginal stories to share and explore with your students? This beautifully written book is one of our top picks because of its underlying message to respect and remember Darug Nura (Country), its traditions and language.
So, what does Cooee Mittigar, mean? It means Come Here Friend. And so, this children's book is a welcoming invitation to yana (walk), on Darug Country. The Darug people are the Indigenous Peoples of the Sydney basin area. The Darug Peoples have a hugely significant link to a culture that spans more than 60 000 years.
The reader follows Mulgo along the Songline path; learning how to take notice of Country's beauty, seasons, animals, plants, weather and skies.
I love the glossary of language at the back of this book! I have no doubt that your students will have fun exploring it too!
---
Explore Your World Weird, Wild, Amazing
Title: Explore Your World Weird, Wild, Amazing
Author: Prof. Tim Flannery, Sam Caldwell (Illustrator)
Publisher: Hardie Grant Egmont
Age Range: middle to upper years
Themes: animals, the natural world
Get your class ready for a whole new look at the world! Your students are going to love meeting the weirdest, wildest and most spectacular animals on the planet.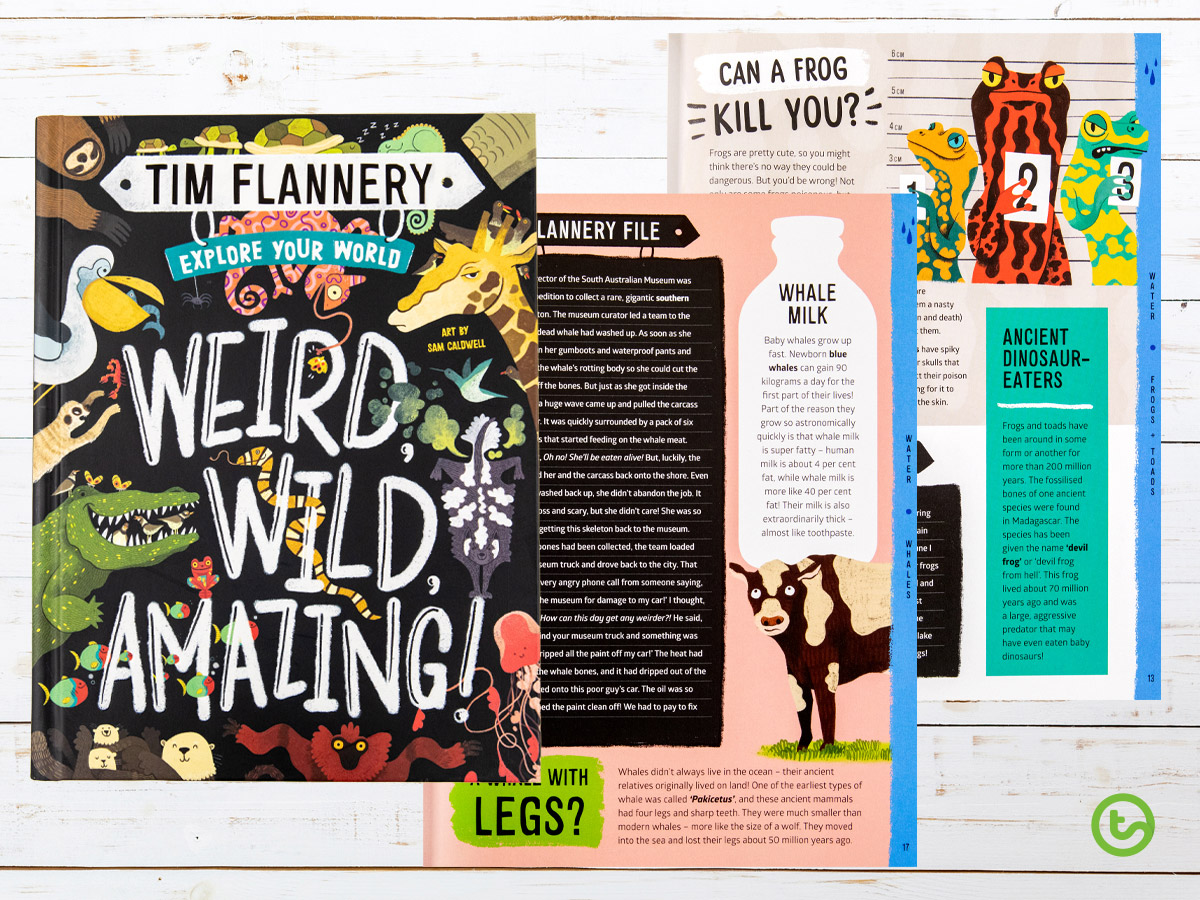 So, before you share this weird wild and amazing book with your students, get their imaginations racing by asking…
Are zombie jellyfish real?
Do frogs like opera?
Which animals eat poop? (And more importantly, WHY?!)
What's it like to wrestle a python?
This fascinating children's' book is going to make you and your students laugh out loud… and feel a little bit squirmish!
---
So, after a quick preview of just five of the twenty children's books the  Recommended Books: Middle Year, I think you'll agree with me that this teaching resource is seriously useful.
If you're looking for children's books for lower or upper years we have this covered too! Take a look at our Recommended Books: Lower Years and Recommended Books: Upper Years. 
Happy reading!
Finally, don't forget to build and maintain a strong relationship with your teacher librarian (if you are fortunate enough to have one). Teacher librarians are an incredibly useful resource and are there to help you find these books and other quality literature.
Share your love of children's books on Instagram #teachstarter.