Light boxes have been trending in classrooms around the globe for some time now, and to our de-light, it looks like they're here to stay! In light of their popularity (see what we did there?) we've added 21 downloadable light box insert designs to our collection of teaching resources. You'll find them all in our Light Box Insert Resource Pack!
Any teacher who has spent a minute or more on Instagram will have seen the popularity of these luminous lovelies! They're affordable, accessible (sold in stores like Kmart, Target and even in Officeworks!), and they have the ability to brighten someone's day! What's not to love?
As teachers we are always on the lookout for new ways to deliver the curriculum in interesting and engaging ways. Here are 21 ways to use a light box in your classroom!
Light Box Basics
I bought our light box at Officeworks for less than $20 and it came with lots of different punctuation marks and a full set of capital letters.
As teachers, it's our job to be particular about grammar and punctuation! It's worth noting that light box kits usually don't include lower-case letters, nor all of the punctuation marks, which can be extremely frustrating when you're planning to use your light box in a classroom!
We have created a downloadable set of upper- and lower- case letters for you (which will be helpful in literacy and handwriting lessons)!
How to Print Your Light Box Inserts
Okay. Real talk time. Getting these set up takes a bit of preparation, but once your students are gathering around your light box marveling at your messages, you'll know it's worth it.
You'll need either transparent or translucent paper. Overhead projector transparencies are traditionally used to create light box inserts, due to their durability and the fact that they're the correct (A4) size. We found translucent vellum paper (often used for wedding stationery) to be very effective as it gives a more saturated effect to the colours. I'll talk a bit more about paper choices below.
Check your printer out. You'll need a laser printer for these – we tried the office inkjet and the ink soaked the paper. If you can hijack the staff room all-in-one colour copier and laser printer, that's your best bet. Otherwise, a home laser printer will do just as well.
Select your settings:
Print in landscape format.
Set the scale at 'actual'. The designer of this resource has carefully measured the dimensions to the millimeter – if you print to fit the page, it'll throw off the measurements and the strips will slip out of your light box.
I found that using the manual feed tray for our printer worked best, as it ensured that other jobs sent to the printer wouldn't be printed on my precious transparent sheet.
To do this, in your printer settings, got to 'paper source' and select 'manual'.
Yay! You're good to go!
Minimising the Environmental Impact of Your Light Box
Here at Teach Starter, we're looking forward to a green future, which means we're passionate about sustainability. Some ways you can reduce the environmental impacts of using your light box are:
using rechargeable batteries
recycling spent batteries
buying a USB light box
switching on your light box only intermittently
printing your inserts on environmentally friendly paper (like this Vellum paper, bought at Officeworks).
Customisable Inserts for your Classroom
These great inserts can be customised with your own letters and numbers, so you'll be able to use them time and again!
Use the pre-designed strips to set the scene, then add your own elements as required. You may choose to slide in the plain letters and numbers, or alternatively, write on the inserts themselves in whiteboard marker.
[resource:2055734][resource:2055770][resource:2054130][resource:2053758]
Learning the Seasons with a Light Box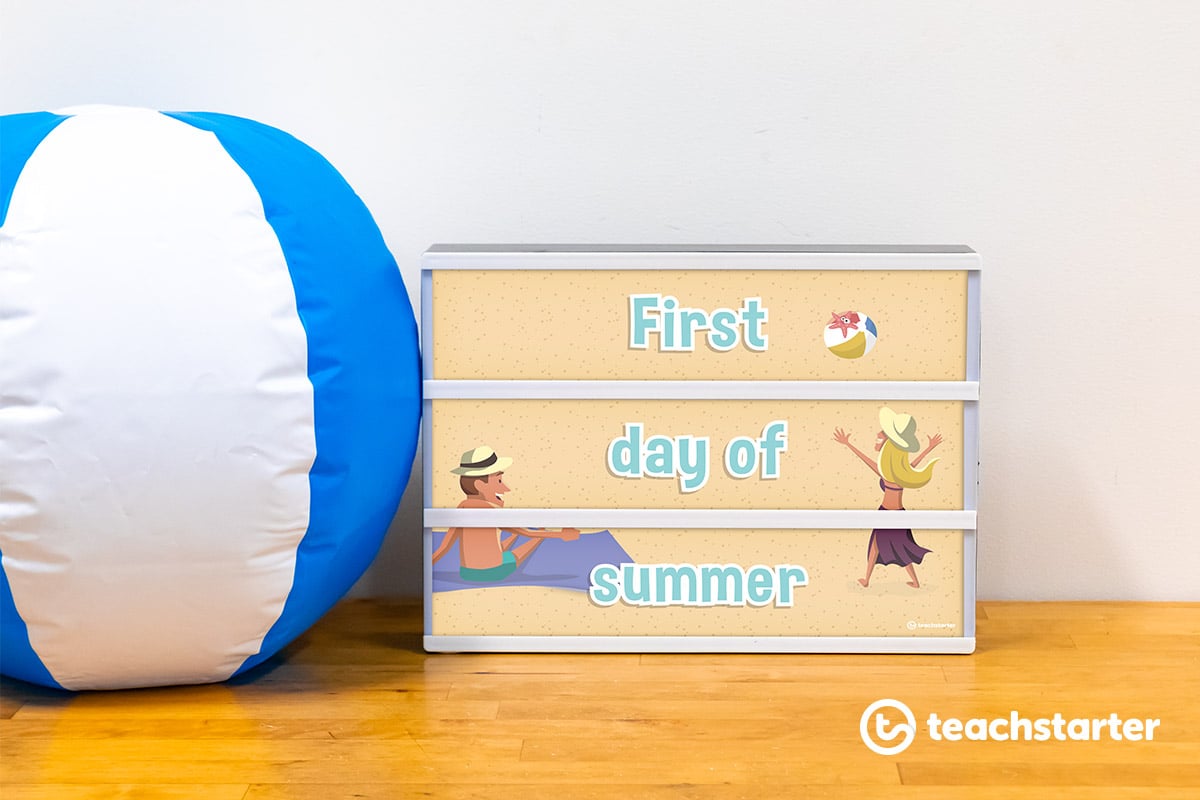 Our Seasons Light Box Inserts were specifically designed to display to welcome the new season.
Hands-On Learning with a Light Box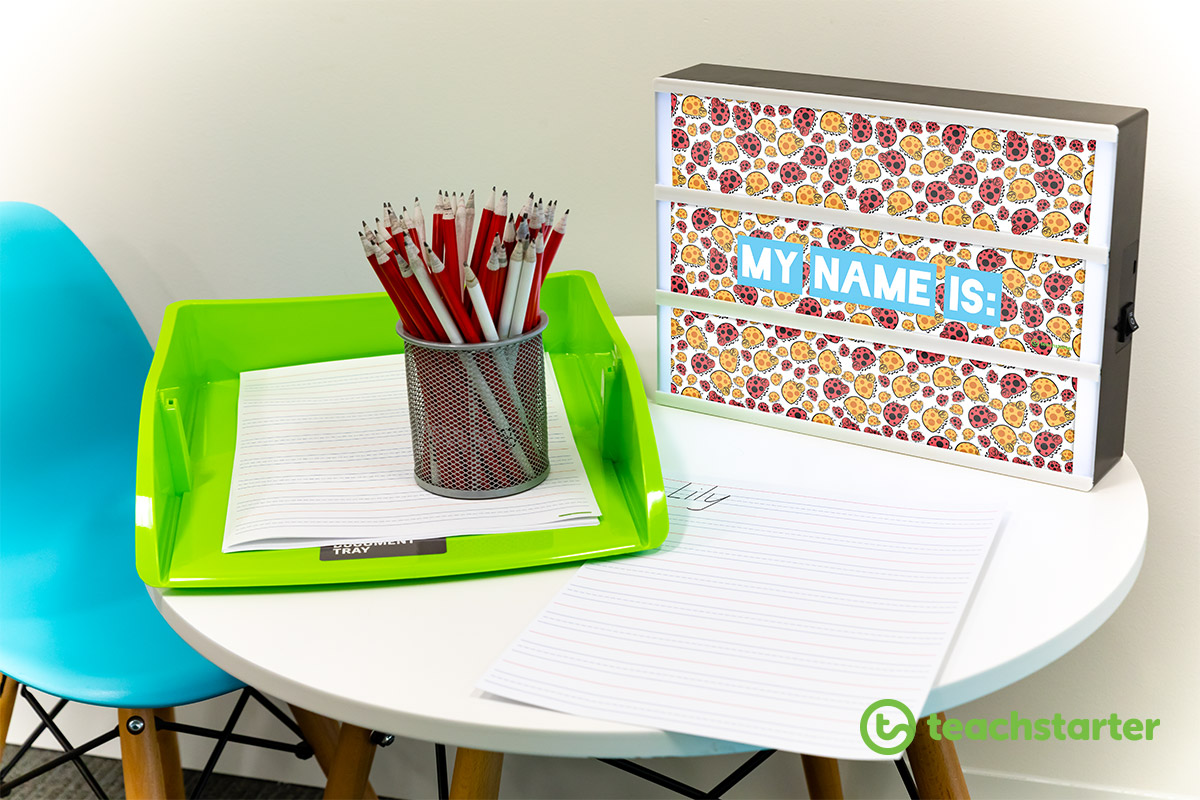 These light box inserts are great for students to use themselves. They can spell out their own name using the My Name Is inserts, or copy their name from a bright display set up on their writing table.
The Rainbow Fact Flip inserts can be used with our set of letters and numbers, which also includes the mathematical operations symbols. Your students can practice writing the rainbow facts and their 'turn-arounds'!
Celebrating with Your Light Box!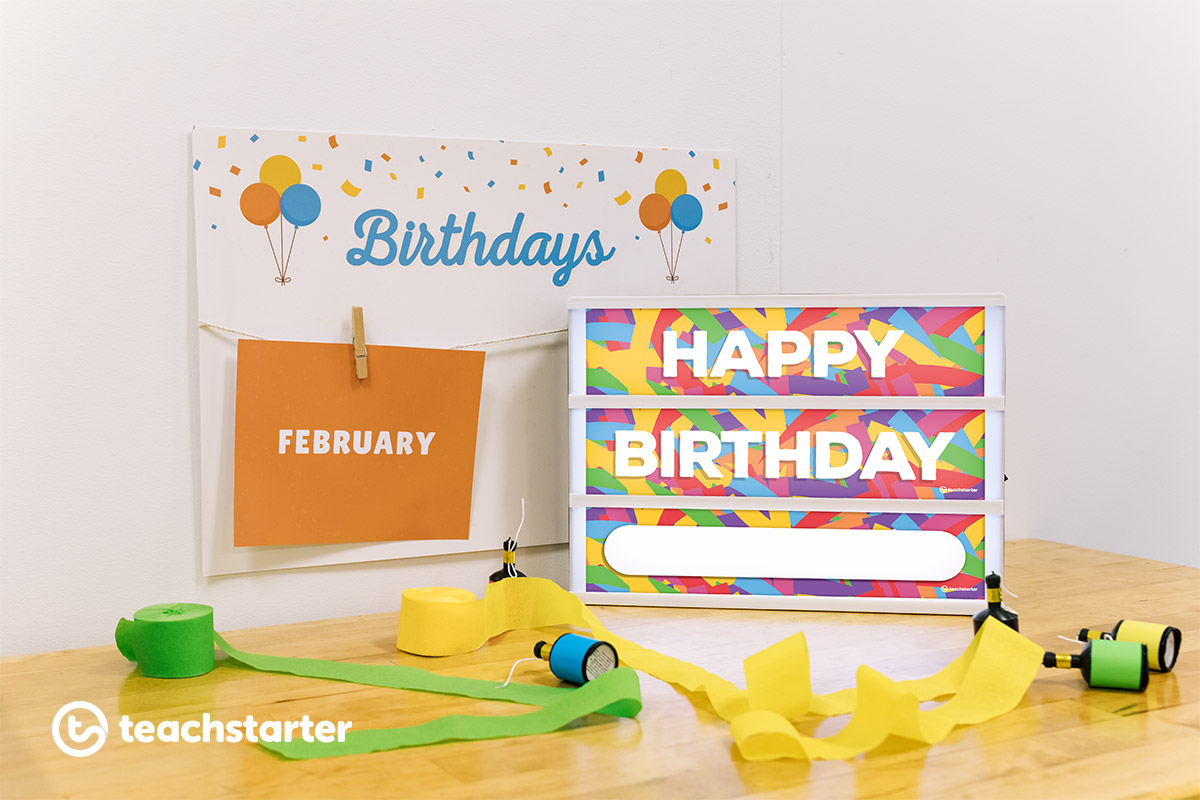 Celebrate important times with your class using these awesome light box inserts:
Happy Birthday
Happy Easter
Happy St Patrick's Day
Happy Valentines Day
Festive Season Set
[resource:2054086][resource:2055722][resource:2055702][resource:2055658]
Photo Prop for First Day Memories
If you're a foundation level teacher, the first day of school will bring lots of parents with cameras and phones to your classroom door.
Set up your First Day of School photo booth with your light box ready to make memories!
Motivate and Inspire Using Your Light Box
Even the most enthusiastic of classes sometimes needs a little gee-up! Get your kids buzzing with our awesome motivational inserts!
Our Believe, Achieve, Succeed! and Don't Stop Until You Are Proud inserts are positive and uplifting.
Spotted on the Socials!
Keen for more ideas for using your light box in the classroom?
Check out how these teachers are making use of their light boxes!
Using Your Light Box in Your Warm-Ups and Transitions
Particularly in the early years, we establish routines to teach repetitiously. We've made this lovely interchangeable 'Days of the Week' insert set.
When teaching days of the week, I had two favourite songs to sing to my prep students. I used to write the previous, current and following day on my little whiteboard – a light box with this info displayed would have come in super handy! Check out our brilliant Days of the Week inserts!
Songs:
Days of the Week (to the tune of Frère Jacques)
Today is (Tuesday), Today is (Tuesday), 
All day long! All day long!
Yesterday was (Monday), tomorrow will be (Tuesday).
Oh, what fun! Oh, what fun!
Days of the Week (to the tune of The Addams Family theme song)
Light Box Insert Resource Pack
Want it all?? Check out our whole collection of light box inserts for the classroom in our resource pack.