Do you want to see your students shine and your classroom burst with excitement for learning a new language?
More and more schools are teaching Auslan (Australian Sign Language) in their classrooms. And not just to students who are Deaf or hard of hearing but to all students. So we have created a unique series of Learn Auslan videos and they are FREE. Take a look…
Read on to find out how fun it is to teach and learn this phenomenal language with our FREE Learn Auslan Videos on YouTube!
---
The Benefits of Learning Auslan
So why should you teach Australian Sign Language? Well, one reason is that many deaf children today are educated in inclusive school settings. But also, learning Auslan creates opportunities to interact with the wider Deaf community. And most importantly, it's fun!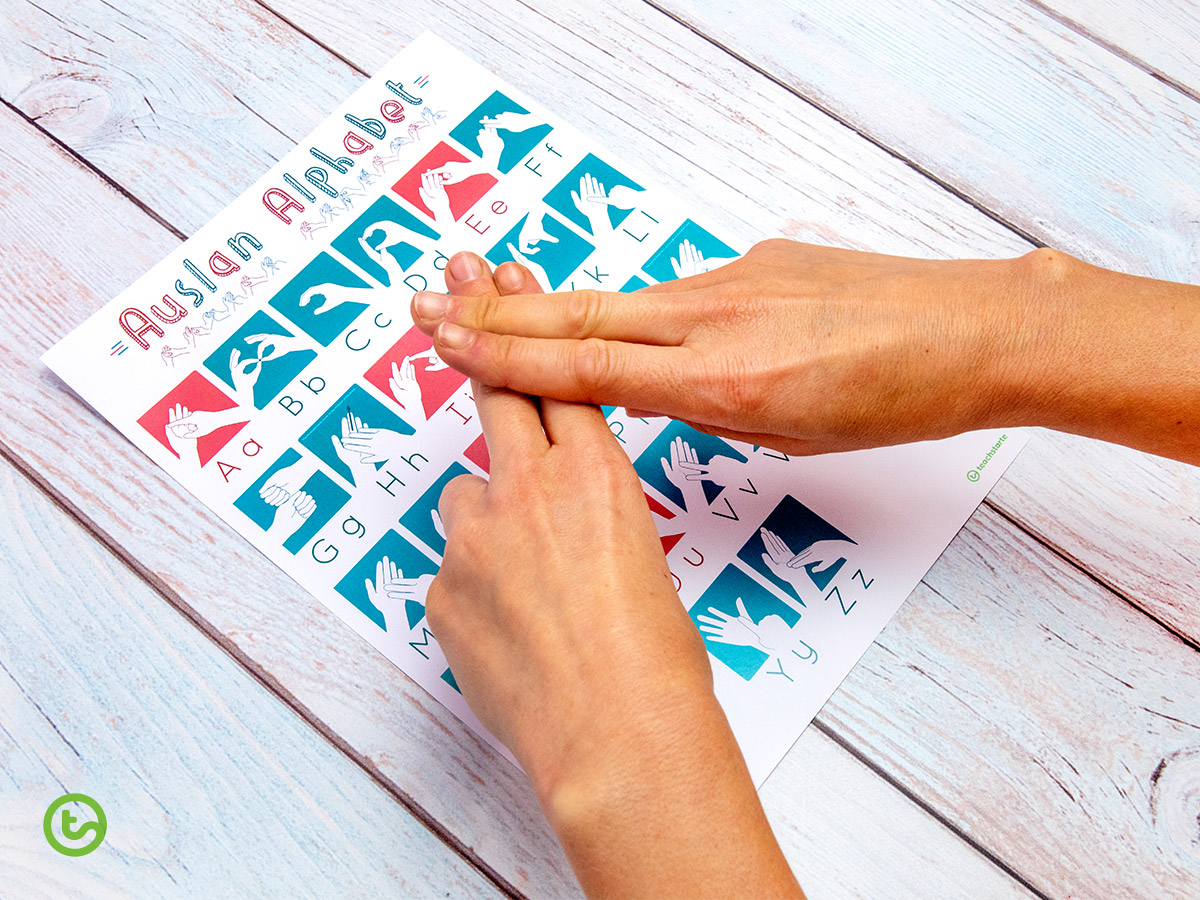 Auslan is part of the Australian Curriculum and for good reason! The benefits of learning Auslan include:
promoting an inclusive classroom culture
increasing memory retention
improving motor skills
stimulating brain development
boosting enjoyment in communicating for both hearing and Deaf children.
Check out our Auslan teaching resource collection for useful teaching resources, posters, games and classroom displays.
---
How to Use Auslan Learning Experience Videos
Our FREE Auslan Video Collection includes a series of 5 easy to use instructional videos. Our FREE Learn Auslan Video series includes Learn Auslan:
Introduction
Fingerspelling the Alphabet
Fingerspelling Names
Greetings
Meeting and Greeting Game
You can use the videos as a fun brain break or as part of a structured teaching and active learning programme. As you can see, the videos are interactive, kid-friendly and easy to follow. And the best news is that you can replay the videos as often as you and your students need.
---
Meet Tegan!
So who is the warm smiley face behind the video camera? Meet Tegan Blanch! Tegan was born profoundly deaf and is passionate about creating inclusive classrooms. In the video – Learning Auslan Introduction, Tegan introduces herself and invites students to join her in a fun learning experience.
Tegan is a fun-loving member of Deaf Services and works as an Auslan translator. As you can see, she has the gift of lighting up a room with her smile. Tegan is the perfect role model for kids! When she isn't translating, she represents Australia in NRTA (National Rugby Touch Australia). She's fun, inspiring and makes learning Auslan easy!
While the majority of the signs in these videos are used Australia wide, some signs may differ according to area or region. We encourage you to cross-reference using resources within your local community.
---
Fingerspelling the Alphabet
What is fingerspelling? Fingerspelling is a way of spelling words using hand movements. Usually, Auslan fingerspelling is used to spell out names of people and places for which there is not a sign. But it's also used when the signer is unsure of how to sign a word or to clarify meaning.
In the video – Learn Auslan Fingerspelling the Alphabet your students learn how to make handshapes to fingerspell the 26 letters of the alphabet. There's lots of repetition and time to practise. And the best news is that you can replay and revisit it as many times as you need to!
When you and your students feel confident to fingerspell the 26 letters of the alphabet, why not have an Auslan Fingerspellathon?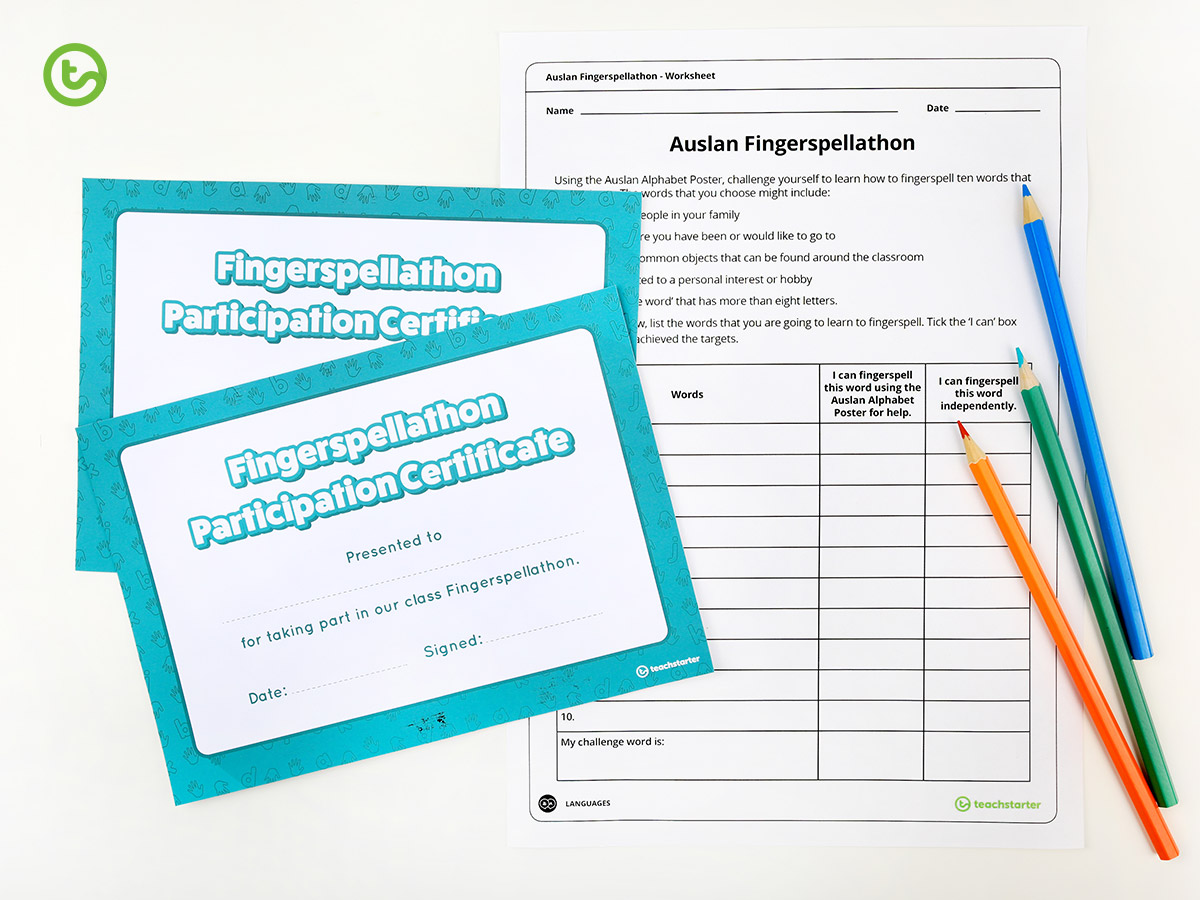 ---
 Fingerspelling Names
Next, in the video – Learn Auslan Fingerspelling Names, you and your students will learn how to use knowledge of fingerspelling to sign your name. Before you know it you'll see your students signing their names to each other on the playground!
Why not display our Auslan Fingerspelling Alphabet Bunting in the classroom as a visual reminder of how to fingerspell each letter of the alphabet.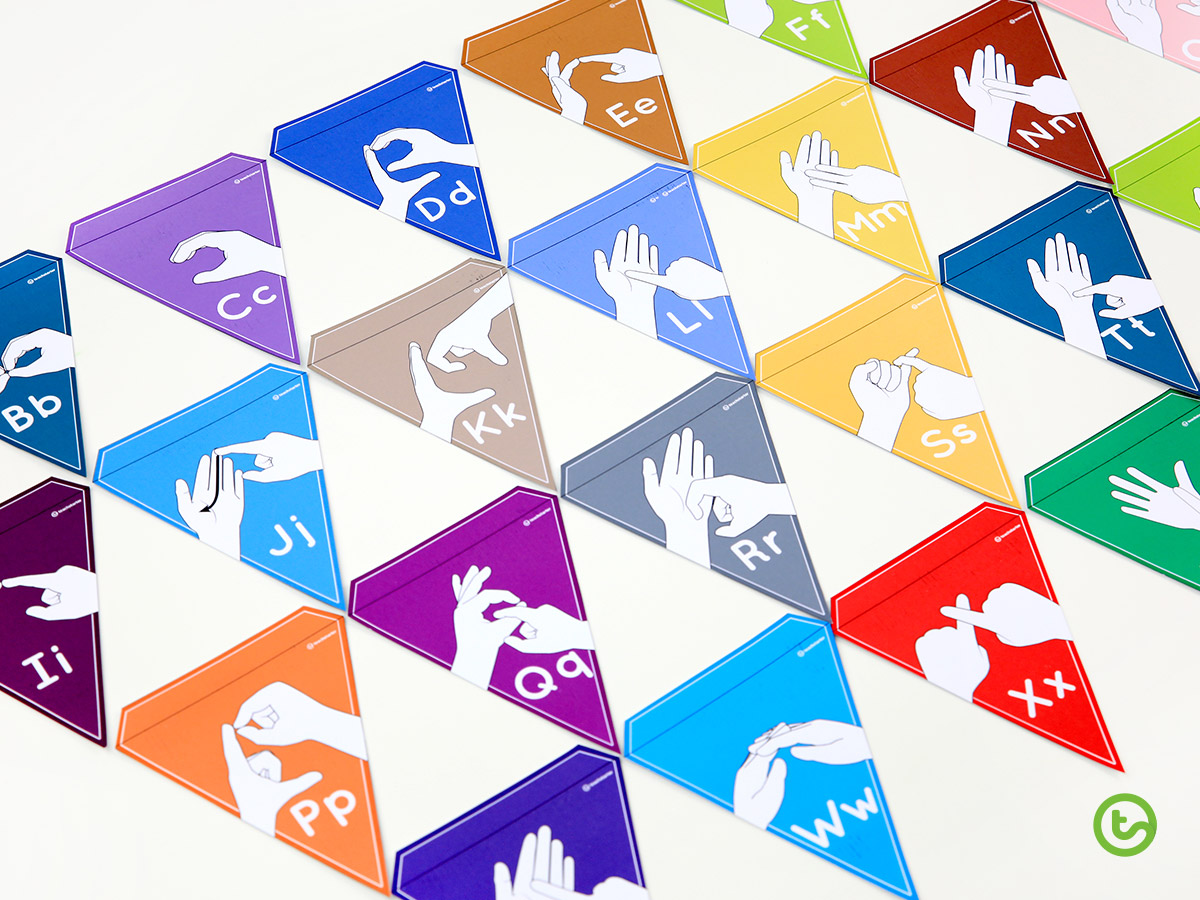 ---
Greetings
Next, your students will love to learn how to sign everyday greetings!
As we all know, the best way to learn any language is to use it daily. So, make sure that you get into the habit of signing greetings to your students as part of your daily teaching practice.
Please note that Tegan uses Northern dialect for 'Good morning' and 'See you later'.
---
Meeting and Greeting Game
Finally, the last video in the series, Meeting and Greeting Game helps you and your students to put it all together with a fun game!
Encourage your students to work with a partner to introduce each other and meet and greet!
For some more fun, why not have a game of Auslan Alphabet Bingo (With Letters).
---
And all there is left to say is… head to YouTube and check out these one of a kind videos! Share them far and wide and do your bit for inclusion in the classroom.
Deaf Services has been providing Australian Sign Language (Auslan) courses since 1985 and has a team of experienced teachers.
If you are interested in completing Auslan education, head to the Deaf Services website. Here you will find a range of Community Auslan classes aimed at introducing basic Auslan conversational skills. I have completed a two day Community Auslan Class and absolutely loved it!
Now, this bit is important… have fun!!!
And finally, a massive thank you goes out to Tegan Blanch for helping us bring Auslan fun to classrooms all over Australia.
Share your love for these videos on Instagram #teachstarter