Bullying No Way Day 2023 has been moved to August this year, but Australian schools are being invited to register now and get involved. Are you almost ready to take action in your primary classroom but looking for the right ideas and activities for your students?
It's estimated that every one Australian student in four reports bullying occurring in person, and one student in five reports online bullying — although exact numbers of how prevalent this is in the student population are hard to come by. Regardless, there's little question that bullying has a devastating impact on any student who encounters it, and as teachers we are in a powerful position to face the issue head-on. How do you do that?
The teachers of Teach Starter know you've got a lot going on already, so we've built this guide to fighting bullying in your classroom whether it's on Bullying No Way Day — also called the National Day of Action against Bullying and Violence (NDA)— or any other time throughout the year!
Short on time? Head over to see our teachers' favourite social and emotional learning resources now!
What Is Bullying No Way Day?
It goes by two names, which can be confusing, but National Day of Action Against Bullying and Violence or Bullying No Way Day are the same thing — a time for all Australians to stop and focus on the problems of bullying and how to prevent them. It's considered Australia's key initiative against bullying and violence.
While teachers and schools do play a crucial role in this event, it's important to note that this is not just a school problem. Everyone in Australia can help play a role in bullying prevention.
So, how big is the problem of bullying anyway? Research is ongoing, but a study in 2009 revealed that:
One in four Year 4 to Year 9 Australian students (that's 27%) reported being bullied every few weeks or more often.
Frequent school bullying was highest among Year 5 (32%) and Year 8 (29%) students.
83% of students who bully others online also bully others in person.
84% of students who were bullied online were also bullied in person.
As you can see, it's critical that we stand together and take action to create safer communities for everyone.
When Is Bullying No Way Day 2023?
Although the event has typically been held in March, Bullying No Way Day is moving! It will be held on 18 August 2023, which is a Friday.
What Is the Theme for National Day of Action Against Bullying and Violence for 2023?
There's typically a theme for this event, but as of yet, none has been announced. Bookmark this guide and come back as our teacher team will update as soon as we know!
Bullying No Way Activity Ideas for Kids
Explain What It Means to Be a Bully
There's a difference between what it means to be mean to another person and bullying — one that can be hard to parse when you're a kid. It's worth sitting down with your class to discuss the different levels and why none of them are OK.
Try this kid-friendly way of explaining what bullying means: Bullying is when someone repeatedly hurts, threatens, or makes fun of another person. It can be physical — like hitting or pushing —or emotional — like teasing or spreading rumors.
This is a short one-minute animated video that is perfect for the younger year levels and introduces the term 'bullying' to young children and reminds them it's important to remember that bullying is not okay, and everyone deserves to be treated with kindness and respect.
This next video is a great one for the older year levels. Elvis, the student, narrates a video explaining exactly what behaviour qualifies as bullying and discusses the difference between conflict and bullying.
Download printables for teaching kindness to kids from prep through year 6.
Try the Wrinkled Heart Activity
The Wrinkled Heart Activity is a brilliant way to show how bullying and hurtful words can cause irreversible damage and the impact of bullying. Just like a human heart, once a paper heart has been wrinkled, it's almost impossible to return it to its flat and smooth original state. This provides a great visual representation to teach students that they can't take back the mean things they might say to a classmate.
All you'll need for this activity is a copy of our free heart template and different coloured pieces of paper.
Instructions:
Print a copy of the heart template on the different coloured papers — one each for the students in your class.
Write the following on your white board: "Before you speak, think and be smart. It's hard to fix a wrinkled heart!"
Ask students to share what they think the saying means.
Direct each student to create a small ball with their heart template, and then ask them to smooth it out.
Explain how this relates back to the mean words we sometimes say to one another — just like the wrinkles that they can't get out of the heart, they won't be able to take back those words.
For lower years, this anti-bullying activity can be done in conjunction with the children's book Chrysanthemum written by Kevin Henkes. Chrysanthemum is a thought-provoking tale of a little girl who loves her name and has all the confidence in the world until she starts school and encounters bullies.
Lower Years Wrinkled Heart Activity
Provide each student with a printed paper heart.
Watch Chrysanthemum on YouTube.
Encourage your students to listen carefully.
When the characters in the story use mean words, encourage your students to scrunch up their paper hearts.
Every time Chrysanthemum's parents use kind words, encourage your students to try and smooth out their paper hearts.
As a class, discuss the irreversible damage that harmful words and bullying can cause.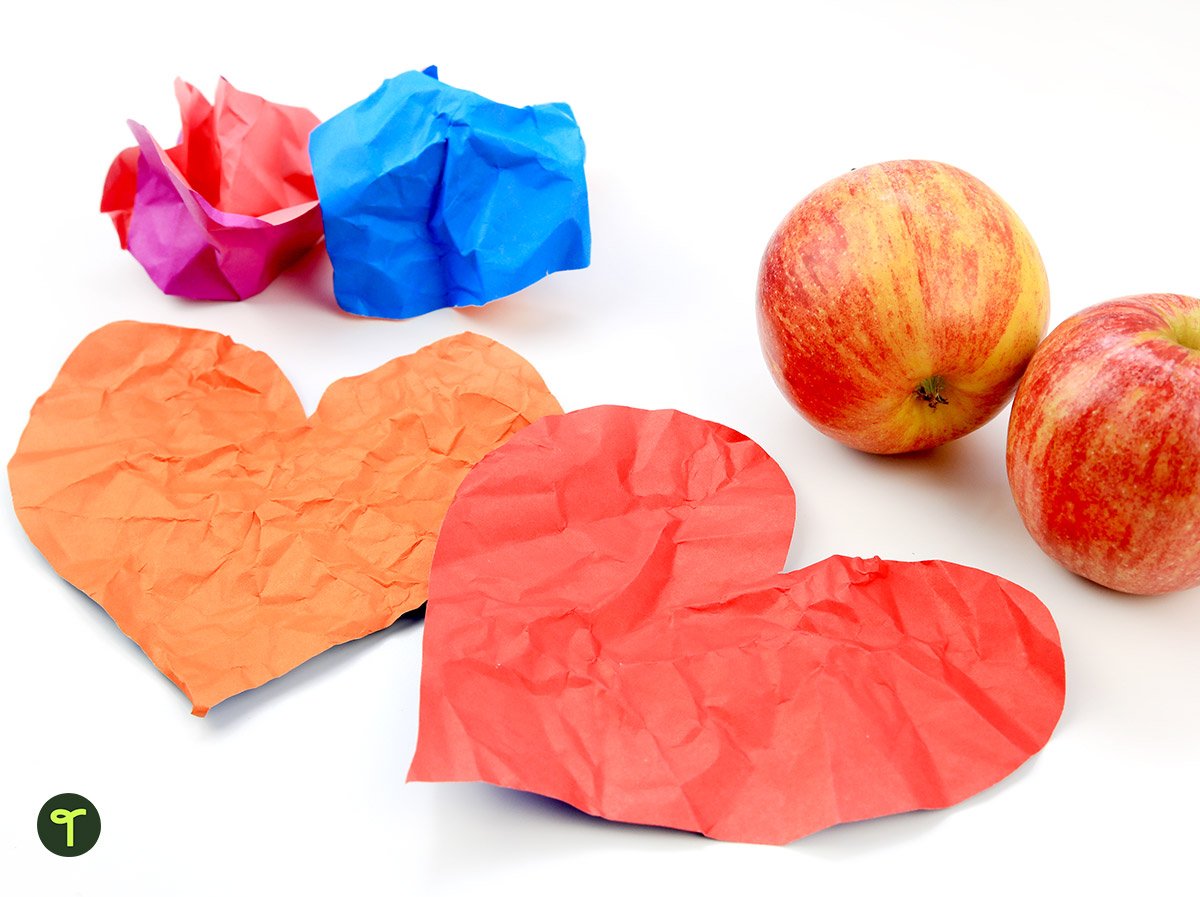 Make Anti-Bullying Wrist Bands 
Having students pledge not to bully their classmates and take a stand against bullying is a powerful way to have students take ownership of the problem. But simply saying it isn't enough — you'll want students to make more of a commitment.
Enter personalised wrist bands that students can create to show their friends and family that they're serious.
All you need for this simple activity is strips of purple and orange card and velcro dots! After you've led a class discussion on what it means to be against bullying, challenge students to write out their personal pledge on a wristband, which they can then wear for the rest of the day.
Check out our huge collection of persuasive writing teaching resources to help your students write powerful messages on their wrist band. You can extend this beyond wristbands to even bigger shows of support for the cause: Perhaps students can create their own posters, banners or flags to take action and help to stamp out bullying.
Make a Strong Message Chain
Not sure wristbands are right for your class? Why not make an anti-bullying paper chain with messages from students about the ways they will work to prevent bullying in your school? Work with admin and the other teachers in your school to create a chain that can incorporate messages from students in various year levels.
Encourage your students to write an anti-bullying message on a strip of coloured paper. Then secure them together to show a united stand against bullying. The links of the chain can be spread across the classroom or across a common area in the school.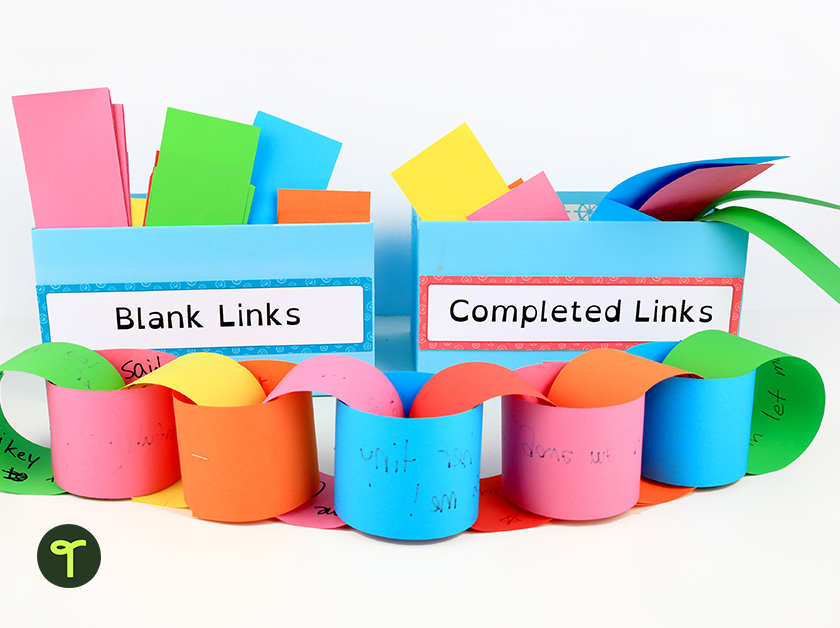 Teach Students How to React
As much as we would like, we may not be able to completely eradicate bullying. But we can help our students feel more empowered when they face cruelty from a classmate or a mate, and that could actually help cut down on the rates of bullying incidents in your school.
It turns out that when kids are equipped with strategies to respond to bullying, children feel more confident and in control of their situation, and children who know how to respond effectively are less likely to be targeted. What's more, simply educating our students about bullying can raise awareness and promote a culture of empathy and respect in your class, helping to prevent bullying from occurring in the first place.
Set time aside for a social and emotional lesson on what to do when you feel that you are being bullied.
This printable resilience poster is a must-have for the classroom as it teaches students each of the steps to take when they feel that they are being bullied!
Practice Mindful Communication
Being empathetic, tactful, thoughtful, and compassionate when communicating is a learned skill, and it can be challenging for primary-aged children to understand, particularly when they are still developing social skills, their vocabularies, interpersonal skills like empathy, as well as finding their own unique voices.
Working on mindful communication in your classroom is helpful for cutting down on bullying as this practise is all about being conscious of what you say and how you say it! This sort of lesson falls under Personal and Social Capability, one of the Australian National Curriculum's general capabilities.
Teach students the THINK strategy of mindful communication which asks students five key questions to filter out inappropriate comments:
'Before I speak, write or type, I think. Is this…
True?
Helpful?
Important?
Necessary?
Kind?'
Print a THINK strategy poster for your classroom here.
Try Bruised Apple Activity
This powerful lesson definitely deserves a place in your plans for regular learning experiences about bullying. By using a tangible symbol (two apples that look the same on the outside but when cut in half reveal the 'hurt' inside), students can easily understand the impact of unkind words. For this anti-bullying activity, you'll need two apples that look similar. Take one apple and bang it up — you can toss it on the ground a few times — but make sure you don't do any outside damage!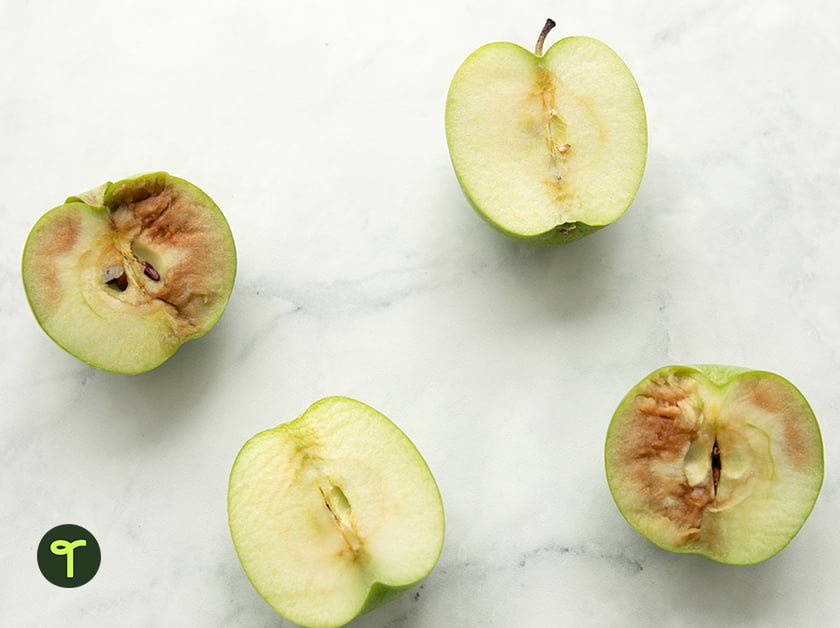 During your lesson, show students two apples which look the same, and ask them if either one is damaged (based on appearance only). Toss your damaged apple on the ground and tell the students (and the apple!) that this is the bad apple. Praise the other apple, and encourage the students to do the same.
Next, slice each 'perfect' apple down the centre, and expose the cross-sections. The undamaged apple will be perfect, but the dropped apple will be bruised on the inside, underneath the skin. Use this visual to help students understand that unkind words and actions can and will cause lasting emotional damage, which will remain unseen from the outside.
For more help with Bullying No Way Day activities, visit this collection of anti-bullying teaching resources!
Banner image via Shutterstock/CGN089