Summary
Today I'm joined by Clarissa, one of RMHC's teachers in Brisbane, to talk about an exciting annual event organised by Ronald McDonald House Charities, Dance for Sick Kids.
Ronaqld McDonald House Education Services assist school-aged children affected by serious illnesses and injuries.
All services are free to families thanks to funding from RMHC's generous supporters.
Teach Starter proudly provides RMHC with our full range of teaching resources to support their teachers and young learners.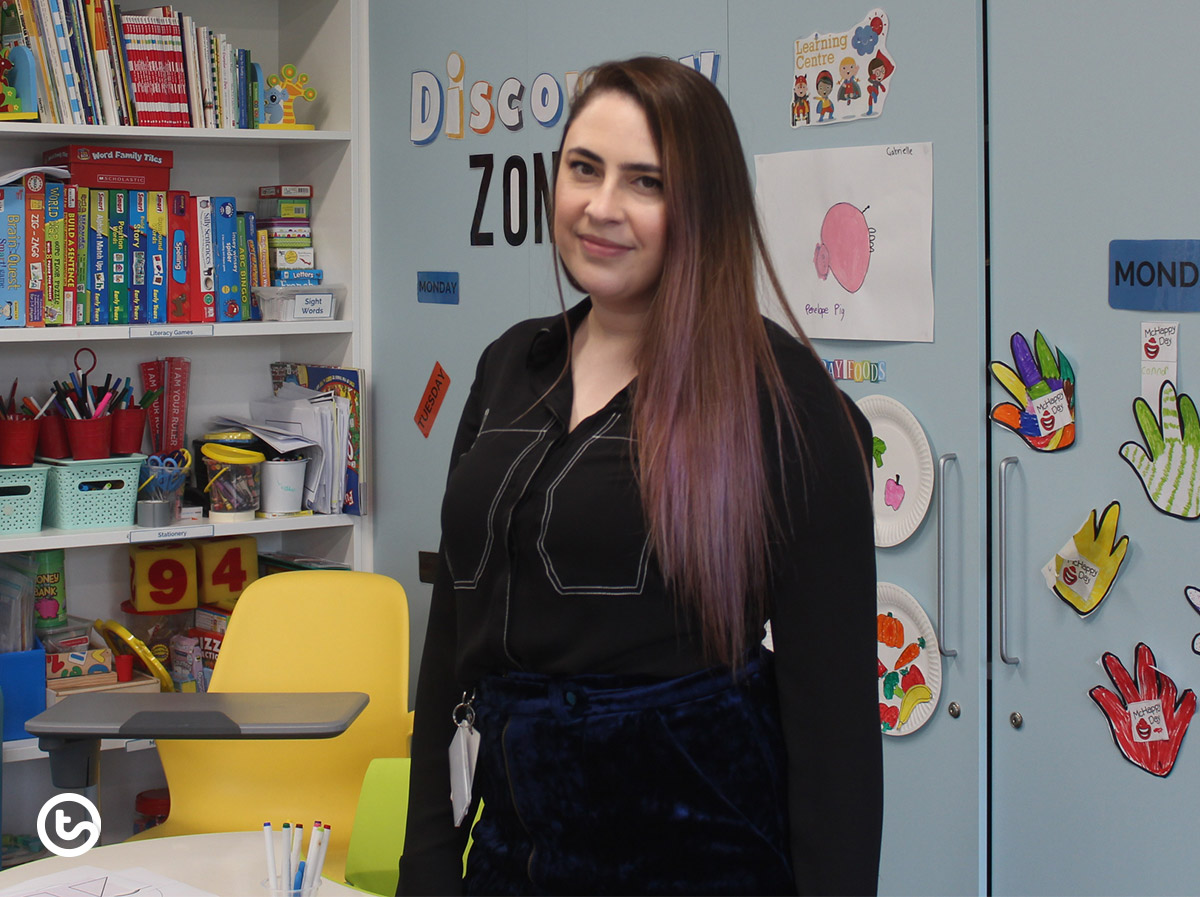 Do you love For the Love of Teaching? Don't forget to subscribe on your fave podcast app to get all the latest updates and newest episodes!
For the Love of Teaching is a podcast by Teach Starter. We save teachers hours each week by providing quality, downloadable teaching resources for their classrooms. To make your classroom buzz, visit Teach Starter.
We also have a student-facing podcast with curriculum-aligned audio resources for kids! Check out Love Learning wherever you get your podcasts!
Bron: So Clarissa let's have a chat about Dance for Sick Kids. So tell us what is the Dance for Sick Kids all about?
Clarissa: Okay. So Dance for Sick Kids is all about coming together to have fun and make a difference for families with seriously ill or injured children. It's pretty much like one big virtual dance party for the whole of Australia.
Bron: How fun.
Clarissa: Yeah, I know. And if you saw any of the posts for this year's Dance for Sick Kids yeah. It was incredible how many individuals and dance troups and dance companies got together and just danced, raised money for our families and, you know, it, it was amazing all honestly, so it continuing that happiness during National Families Week, which is from the 15th to the 21st of May, 2021.
So it's free to register schools can get on board and they can sign up via danceforsickkids/schools and all schools who register will receive a unit of work and teaching resources aligned to the Australian and the New South Wales curriculums, as well as a range of online dance tutorials presented by some of Australia's best-known dancers and choreographers as well.
Bron: That is so cool. What an amazing offer from you guys and Clarissa as a teacher yourself within the program, you helped develop those curriculum-aligned materials and unit plans and things. Now teachers might be thinking, "Okay, it's pretty early on to be thinking about May", but teachers are great planners, and we always put things in and this is going to be a term one kind of thing to start looking at, into isn't it?
So, um, it's a great time to get on board and start looking at how you can fit these lessons into your weekly schedule and how long sort of like what sort of timeframe are they looking at to teach the unit in?
When to Start Planning Your Dance Unit
Clarissa: So like you said, we're encouraging schools to start teaching in term one because National Families Week actually falls into term two, early term two. So if the teachers in schools start teaching it, then the kids will have the contextual understanding of, you know, dance, the elements of dance, and then can use that when they are actually taking part of the fundraiser. So I've developed six to seven weeks of lessons in each unit of work, including an assessment task. Um, and like you said, I am a teacher, I know how difficult it is to, you know, plan units of work. And every moment is precious. So I definitely had that in mind when developing the units and the lessons, a super user friendly, essentially read the lesson plan, you pick it up, you teach it and, you know, the resources have been provided for the teachers. There are some lessons that require, you know, some extra bits and bobs, but they're super easy to find. So it's really easy to deliver user-friendly and, um, you know, I know how busy teachers are. I am one, we try to make it as easy as possible.
Dance for Sick Kids Curriculum Aligned Resources
Bron: And also like, I love how you say it's user friendly because we get a lot of requests here at Teach Starter for HPE resources, particularly relating to that dance strand because people don't necessarily feel comfortable teaching it, or they don't have access to a specialist PE teacher that had, can just teach dance. So it falls on the classroom teacher who may feel inexperienced and under prepared, but with resources like this, it just makes it so much easier. And then term one, like you get it out of the way you help fundraise. It's like perfect. That's right. Yeah. So, um, Clarissa what's included in that resource pack, are you, you kind of touched on this before six to seven weeks worth of lessons. Are there digital resources? Are there downloads? What kinds of things are the teachers getting?
Clarissa: Yeah, so just, uh, in essence, the units of work are programmed initially for stage three. So use five and six and stage four years, seven and eight. So we've done that first and then hopefully we can provide more resources for more grades and more stages later on. So the units of work are aligned to the New South Wales, PD, HPE and creative arts syllabuses, and the Australian Curriculum in the arts dance and health and physical education movement and physical activity. The units of work themselves have six to seven weeks of lesson materials, including an assessment task. And the lessons are linked to videos to supplement the theory essentially. So there's a theory aspect of the lessons and then a practical aspect of the lessons as well. There's also an opportunity for, for teachers to reflect on each lesson in the unit of work.
So if something worked great, write it down.  If it didn't, we can always use the feedback when we're, you know, developing resources for the future.
Assessing at the End of Your Dance Unit
And then at the end of the lesson, um, you know, like I said before, I know how, how time-poor teachers can be. I've created the assessment tasks. There's even an assessment rubric as well. You know, teachers can print one off per student and, you know, tick it off. Then they can determine whether the child is, you know, demonstrating the outcomes or where they can improve for future lessons. So that's all done for them.
In addition, we've developed a student learning journal as well to supplement the theory aspect. So there is a record of the student's achievement in their own student learning journal as well. And I've also developed a Dance for Sick Kids slide presentation to go along with every lesson. So for example, in one lesson, you'll have a video component, you'll have the lesson slides to put up on the smart board or the TV, if you have one in the classroom.
You have your page in the unit of work. And then the child has the page in the student learning journal. So it's all connected, it's all labelled super easy to follow. And, um, you know, it should take about six to seven weeks to complete. So almost the term, but then again with, you know, dance and PE/HPE, um, you know, sometimes if you do have a 10 week unit of work, it can be very overwhelming. So having that flexibility allows teachers to kind of slot it into their weeks and, you know, really make the most of the unit and really give the kids an opportunity to immerse themselves in dance and in PE as well.
Bron: That sounds so great. I love it. Um, so we already talked about timing is probably a term one excellent activity. And I love how you say it's six to seven weeks, because there's always that getting to know you kind of time at the start of the term, and then there's assessment and parent teacher interviews at the end of term one often. So kind of right in the middle there, it's the perfect time during this and then get ready for the fundraiser in term two. So what actually happens during that fundraising week?
Culmination Activity: Fundraising Week
Clarissa: So during that fundraising week, what we're encouraging schools to do is essentially determine what they want to do with Dance for Sick Kids. And some suggestions that we've come up with is, you know, schools can do a whole school dance for 10 minutes every day for that week.
Um, so having, you know, essentially everyone stop what they're doing, get up, do 10 minutes of movement and dance, and then continue on with the handwriting lesson, for example. Or, schools might want to do a school disco at a time in the term when it suits them, it can be in the middle or towards the end of the term. Um, and then kids can fundraise and condense and contextualise what they've learnt. Or we can also have schools register a school page and ask students and staff to dance daily during the week with their family and friends at home.
So it's a very flexible delivery. We're giving schools the opportunity to kind of determine how they can best deliver Dance for Sick Kids within their schools. Yeah, but you know, obviously the, the theme is to dance, have fun and fundraise for seriously ill children as well.
Bron: Lovely. All it sounds amazing. And thank you so much for explaining that to us. And thank you so much for joining me on the podcast today. It's been lovely to talk to you and hear about for teaching these amazing little kids who have got a lot of challenges in their lives. And it's very important for them to have some amazing adults like you helping them with their learning.
Clarissa: Yeah, that means a lot. Thank you.