Learn how energy flows through food webs in different biomes with this set of classroom posters.
Looking For Food Web Examples? We Hear You!
Are your students learning how to describe the flow of energy through food chains and food webs? If so, this resource is for you!
This set of classroom posters visually represents the food webs in six different biomes using real-life images. Using these posters, students will learn about producers and consumers and the role each organism plays in maintaining a balanced and harmonious ecosystem.
The biomes included in the poster set are:
Rainforest

Tundra

Desert

Ocean

Savannah

Freshwater
Multiple Applications for These Food Web Posters
While these posters will look wonderful displayed on your classroom wall, their versatility extends far beyond a mere classroom display! Use these food web posters to enhance your students' learning through whole-class lessons, small-group activities or independent research.
Whole-Class Discussion
Display the posters in turn on your interactive whiteboard. Use guiding questions to explore the flow of energy through each food web, such as:
What are the producers in this food web?

What are the primary consumers in this food web?

What are the secondary consumers in this food web?
Explore the interconnectivity of the organisms in the biome by asking students to predict what might happen if a particular producer or consumer was removed from the food web.
Small-Group Activity
Divide the class into groups and provide each group with a different food web poster. Have the students work together to write an explanation of how energy flows through the food web on their poster. Have the students take turns to share their presentations with the class.
Individual Assessment
Provide each student with a food web poster. Allow the students to research organisms in the chosen biome, then expand the food web on the poster by adding additional organisms. Have the students write an accompanying paragraph to explain the flow of energy throughout the food web.
Easily Prepare This Resource for Your Students
Use the dropdown icon on the Download button to choose between the PDF or Google Slides version of this resource.
---
This resource was created by Kaylyn Chupp, a Teach Starter collaborator.
Click below for more great resources to enhance your Biological Sciences lessons!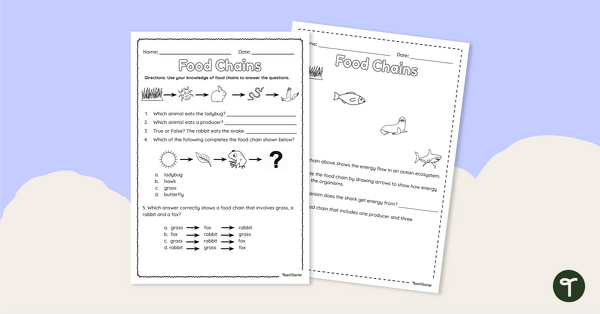 teaching resource
Use this worksheet to identify and describe the flow of energy in a food chain.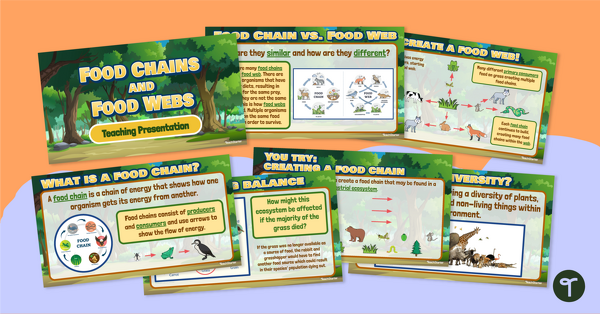 teaching resource
Learn about the difference between a food chain and a food web with this 18-slide teaching presentation.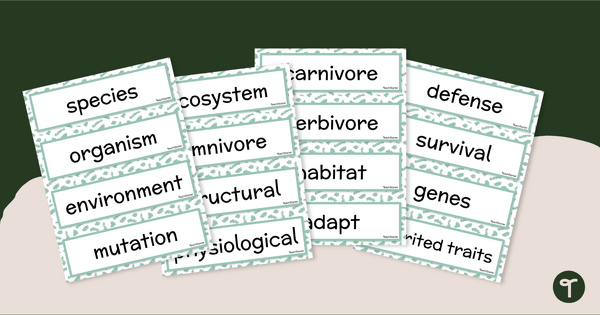 teaching resource
Build scientific vocabulary skills with a printable display of words relating to plant and animal adaptations.