Print a fun camera-themed last-day-of-school activity for students to reflect on their school year.
Celebrate the Last Day of School With a Look-Back Activity
The last day of school is a happy one for students and teachers alike, but what do you have planned for the day? You can't let the end of the year come and go without allowing your students the time to sit back and review all they've learned, all they've done and how far they've come! So how do you fit yet another activity in amongst all the assessments, reports, assemblies and Christmas craft?
This fun camera-themed snapshot template is a perfect last day of school activity. Students will get to look back on the entire term or even the whole school year to reflect on how much they have grown up and changed in a year!
Though it looks simple, this activity packs a big punch! Simple enough for students to do independently, yet involved enough that they can take their time to complete it. They can finish it in their own time or even collaborate with their whole class.
Included in the resource is a printable camera template, as well as blank snapshot templates with prompts on each so students can draw pictures of what they learned this year, friends they made, a highlight of the school year and more.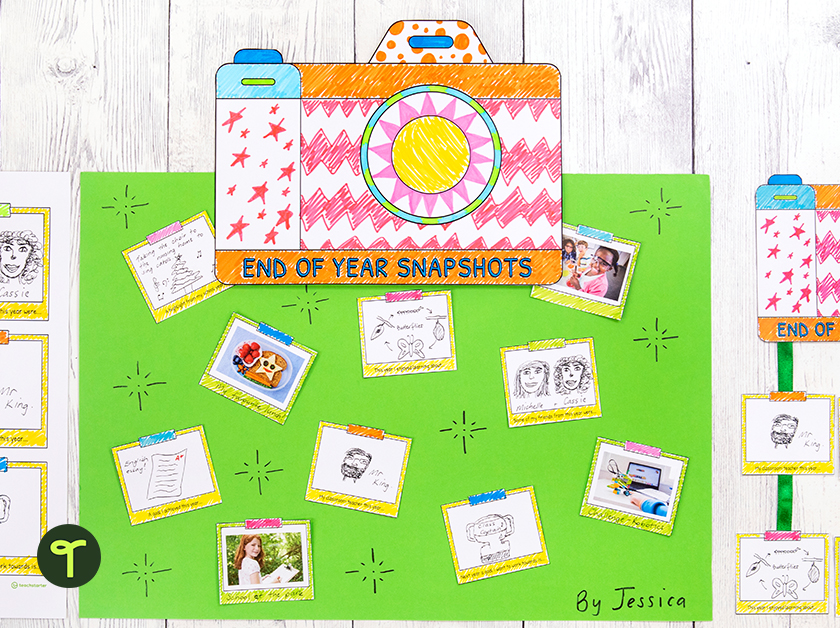 There's also blank page of snapshot templates for you to tailor to your class's unique experiences.
Not sure what to add? Leave it up your students, or perhaps use some suggestions from our teacher team to put on this page:
My biggest challenge this year…
The best lunch food this year…
The funniest moment from this year…
I'll never forget when…
Use This Snapshot of Student's Personalities
Select the dropdown beside the download button above to choose from this printable resource's PDF or Microsoft Word version.
Give students their own camera and photo template, and let them each let that creative side loose!