A template for creating an ice cream themed birthday display wall.
Use this printable birthday chart template to create a fun and unique ice cream themed birthday board or birthday wall in your classroom.
The template includes:
12 waffle cup 'months' (two cups per A4 page)
Blank ice cream scoop templates (two scoops per A4 page)
A matching "Happy Birthday" sign.
To use this teaching resource:
Laminate the waffle cup 'months' and the "Happy Birthday" sign before you create your birthday board.
Provide each student with one blank ice cream scoop on which they can write their name, write their birthday and decorate it as they wish.
Attach the waffle cup 'months' the scoops and the "Happy Birthday" sign to the birthday board using blue tack.
When you take down your display the main templates can be reused for the next year (or passed on to another teacher who loved this birthday board idea!) and you can print more blank ice cream scoops for your new student group.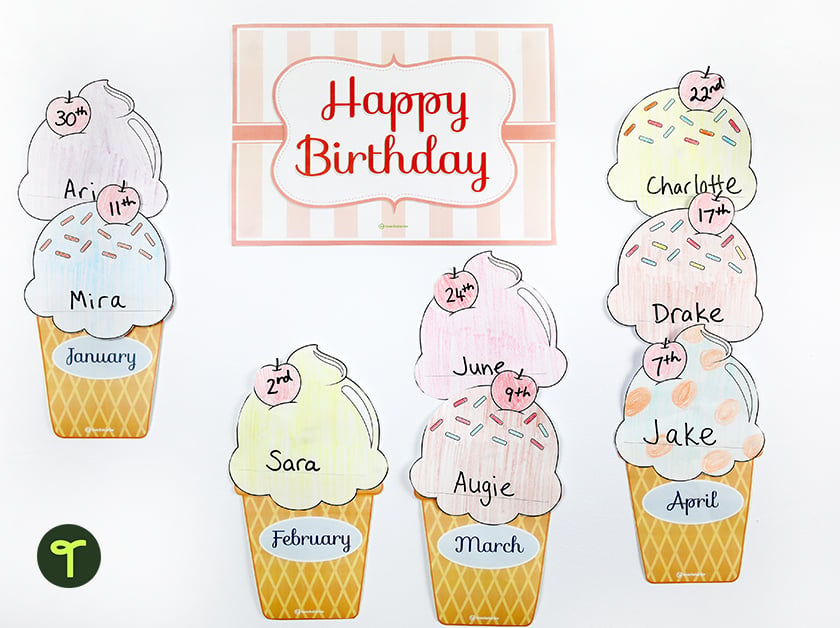 Hints and Tips:
Print all pages of the Ice Cream Birthday Display Template at full size.
If you'd like to create a smaller or a larger display, make sure you print both the cups and the scoops at the same reduced or enlarged size so the proportions remain the same.