Explore information about the planets in our solar system and their position in relation to the Sun.
🪐 Let's Identify the Planets in the Solar System 
How well do your students know the planets of our solar system? This teaching presentation takes an in-depth look at each of the planets. During this 21-slide presentation, students will not only learn information about each planet but also have opportunities to turn and talk to their classmates to discuss questions and participate in an interactive activity. During the presentation, students will learn about:
number of moons

diameter

number of days in a year

length of day

average temperature

type of planet.
In addition to planet facts, students will learn a fun mnemonic device to remember the order of the planets! Mnemonic devices are a great way for students to remember sequences or the order of several items, such as planets!
Remember the Order of the Planets with a Mnemonic!
Students will be given a mnemonic device to remember and then an opportunity to demonstrate it. The one used in the presentation is as follows:
My – Mercury

Very – Venus

Eager – Earth

Mother – Mars

Just – Jupiter

Served – Saturn

Us – Uranus

Noodles – Neptune
Through this activity, students will show they can identify the planets in Earth's solar system and their position in relation to the Sun.
How to Use Our Teaching Presentation in Your Classroom 
A team of dedicated, experienced educators created this resource to support your science lessons. 
🧑‍🏫 Group Lesson
Project the slides onto a screen and work through them as a class by having students record their answers in their notebooks or mini whiteboards. Additionally, if projecting on an interactive whiteboard, students can be invited up to the board to move the interactive pieces on slides 18 and 20.
🗣️ Turn & Talk 
Invite students to pair up with someone in the seat nearest to them for a 5-minute Turn & Talk. Keep students engaged and on task by directing them to focus on a specific topic or let them freely discuss the content. Use this Turn & Talk session to encourage students to make space for each other by actively listening, asking questions and practising empathy. 
Easily Prepare This Resource for Your Students
Use the drop-down menu next to the Download button to access this resource's PDF or PowerPoint version.
---
This resource was created by Jennifer Hall, a Teach Starter Collaborator. 
Don't stop there! We've got more activities and resources that cut down on lesson planning time: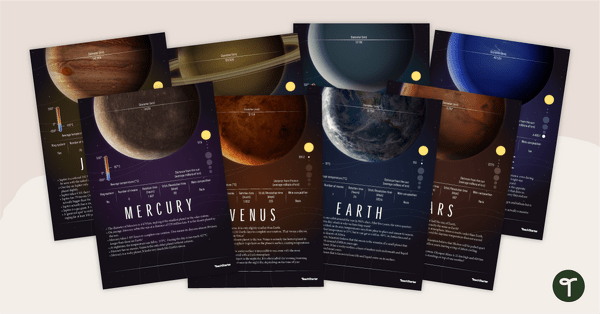 teaching resource
A set of visually striking and informative posters about the planets of our solar system.
teaching resource
A worksheet that can be compiled into a factbook containing information about the planets in the solar system.