Reflect on Remembrance Day with this poppy template and reflective sentence starters.
Make Room for New Remembrance Day Resources!
We've been busy this year, so get ready for a rapid influx of new and engaging Remembrance Day resources…starting with a fun printable poppy template that your students can use to reflect on Remembrance Day.
This printable poppy template is the perfect activity to complete this Remembrance Day. Students are encouraged to complete the following Remembrance Day sentence starters:
Remembrance Day is…
I see…
I think…
I wonder…
The poppy is a symbol of…
How to Make a Poppy Writing Flipbook
Colour the first poppy outline with the appropriate colour – red.
Cut out the template along the dotted lines so that each petal is able to be lifted.
Glue the cut out poppy flower template to the middle of the second template.
Complete the sentences on the lined petals of the second template.
Display these beautiful Remembrance Day resources in your classroom, or in your school office area. You may like to create a display banner for your poppy reflective writing pieces too.
Download & Print Your Remembrance Day Resources

This resource is prints on two pages, so each student will need to receive both pages to complete the poppy activity. 
---
Looking for More Activities for Remembrance Day

Check these out before you go!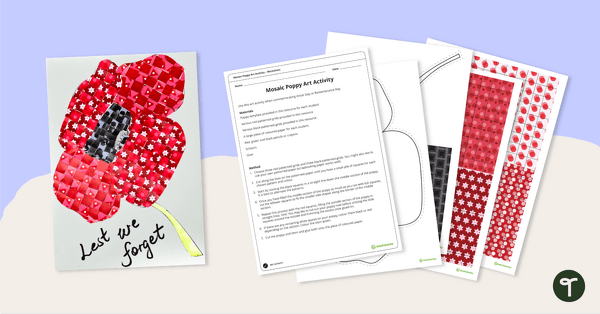 teaching resource
Print a creative poppy art activity to use when commemorating ANZAC Day and Remembrance Day in the classroom or to teach students about mosaics!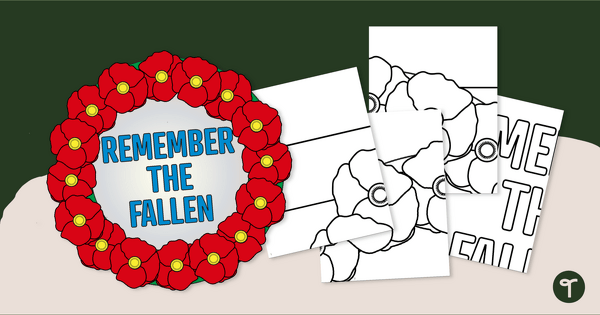 teaching resource
Create a beautiful whole class poppy wreath display with a Remembrance Day collaborative colouring sheet.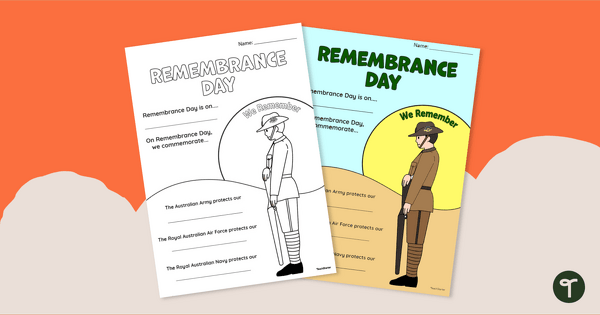 teaching resource
Discover the history behind Remembrance Day with a printable poster template for early years students.