Display this water cycle diagram when teaching about the continuous movement of water above and on the surface of the Earth.
Looking for a Water Cycle Diagram?
Explore the wonders of the water cycle with a poster created by Teach Starter. This colourful and educational poster is the perfect addition to any science classroom. It showcases the various stages of the water cycle, from evaporation to precipitation, in an easy-to-understand diagram. With clear labels and vivid illustrations, students will learn about the continuous movement of water on Earth and its role in our ecosystem. Hang it up and watch as your students discover the beauty and importance of the water cycle!
This poster illustrates the different phases of the water cycle, including:
Evaporation

Condensation

Precipitation

Runoff

Collection

Transpiration

Groundwater flow
How to Make the Most of Your Water Cycle Poster
Print the poster and display it in your classroom for students to reference when doing independent work.

Print the poster, slip it into a clear sleeve and use it in your guided groups as a reminder.

Print the poster, slide it into a clear sleeve and hang it on a ring as a reference tool for a resource centre. 
We've also come up with bonus ways to turn posters into interactive tools that really make your lessons stick! 
📂 Place copies in students' homework folders for reference. 
💻 Provide posters as digital resources for virtual students. 
🧠 Test students' memories by showing them the poster, then hiding it and having them tell you what they remember.
✅ Incorporate posters into your lesson wrap-up: students write on a sticky note what they learned from the lesson and place it on the poster. 
Before You Download
Please use the Download button to access the full-colour version of this resource.
Fill your classroom with more posters and interactive displays!
---
Spend more time lesson-doing and less time lesson-planning when you grab these activities and teaching resources too!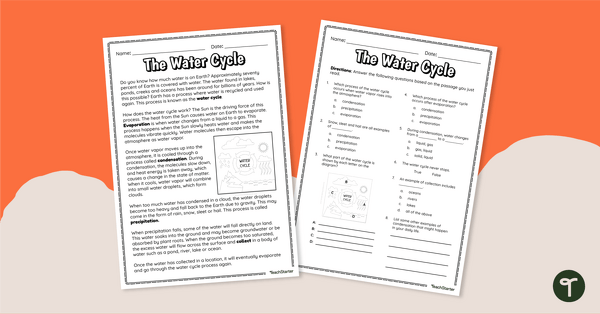 teaching resource
Enhance your students' comprehension and science vocabulary skills with this water cycle worksheet.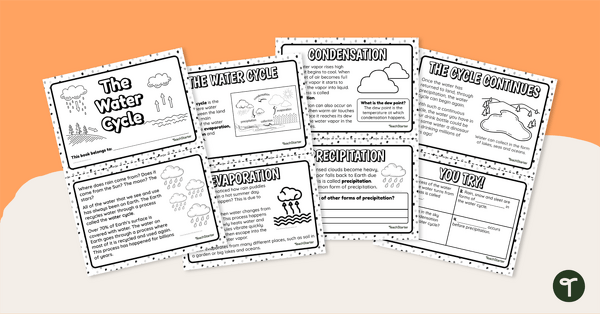 teaching resource
Use this 8-page mini-book when learning about the water cycle.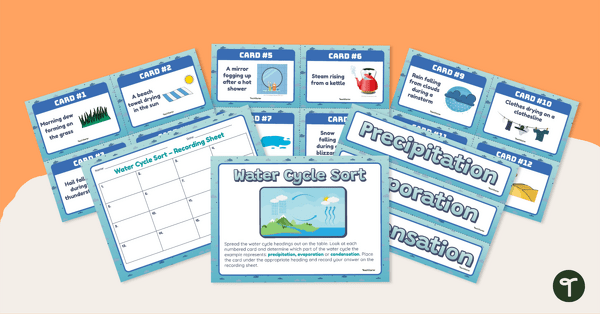 teaching resource
Use knowledge of the steps in the water cycle to categorise examples with this sorting activity.