Bring directed drawing to the classroom, and teach students how to draw an alien with a step-by-step video for kids.
How to Draw an Alien Step-by-Step
Just as there is an undeniable dependency between reading and writing, there is a significant connection between drawing and writing. Some of the most famous fictional characters have been brought to life through drawing! Why not take your class narratives to outer space, and learn how to draw an alien with this directed drawing activity for elementary school students?
You'll find step-by-step instructions for how to draw a cute alien in this video. Don't worry; it's a kid-friendly outer space creature — a cute little cartoon alien with big eyes and a little smiley face.
Draw an Alien Army in Just Five Minutes!
That's right! That classroom full of kids you're looking at each day can create an army of cute alien drawings in just five minutes. Our teacher friends have spoken, and one common pain point in the classroom is that there is never enough time to bring artistic and creative activities into play—but we have an easy solution.
We've put together a collection of quick and easy art lessons for you to teach the kids in your class, and the best part is that all of them take only 5-10 minutes!
You can use this drawing video for kids in conjunction with our How to Draw an Alien for Kids – Task Card.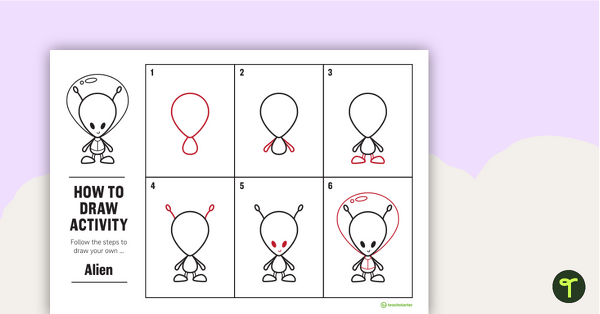 teaching resource
A task card that helps primary school students draw an awesome alien!
By teaching your students how to draw characters, you are also improving their creative writing skills. For more confident students, why not extend their learning by encouraging them to create a comic strip that narrates an alien adventure? Download our useful Blank Comic Strip Template that can be used in conjunction with all of the Teach Starter How to Draw Videos.