When I think back to my time in the classroom – Easter was most definitely one of my most favourite times of the school year! Apart from the obvious… holidays soon approaching, the realisation that you still had three whole terms left to really impact the lives of the students in your class left me feeling all warm and fuzzy. The warm fuzzies continued when I started to think of all of the fun craft activities I could do with my little bunnies. Here are some super easy, yet super cute Easter craft ideas you can use in your classroom.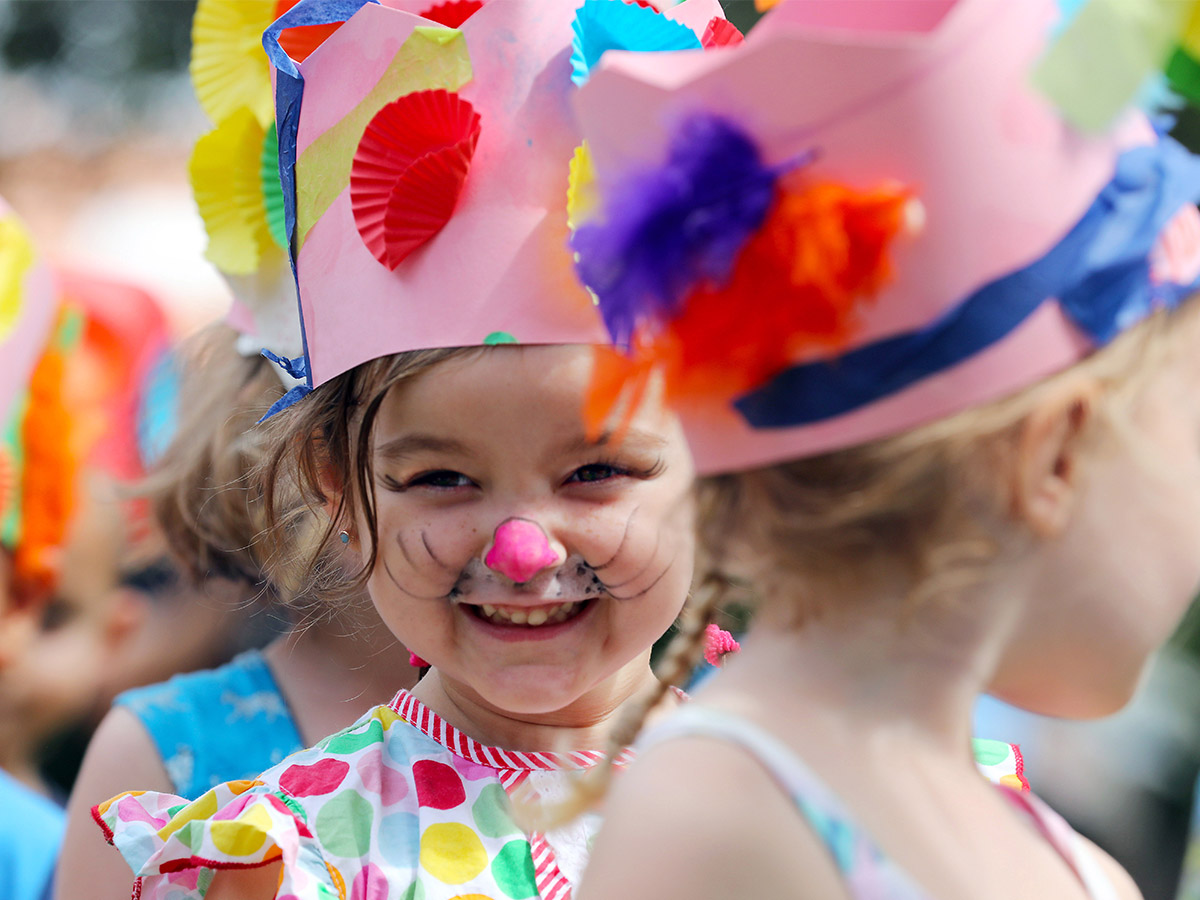 The pure joy on the little cherubs faces during the Easter hat parade always got me!
Are you stuck for time? Perhaps the last week of term has crept up and you've realised you haven't even got any easter craft sorted! Don't stress, you have your own artists and inventors in your very own classroom, all they need is the supplies.
Fill a table with whatever you can find in your arts and crafts cupboard. Give your students the task of creating their very own Easter hat for the Easter hat parade. The littlies may need a bit of help with the main construction of the hat but the decorating is all up to them!
Pop on some fun Easter music and you'll all be smiling from bunny ear to bunny ear!
---
Egg-cellent Easter Craft Ideas Sure to Impress
The colours of Easter craft are always so bright and cheery! All you have to do is scroll through this blog and you'll instantly feel excited to spend an afternoon doing some Easter craft (the kids will too).
Here are some more of our favourite Easter craft activities suitable for the early years classroom.
3-in-1 Funky Easter Craft Fun
You can't put together a list of Easter craft ideas without including these amazing Funky Craft templates. The cuteness factor is undeniable!
From the original Funky Easter Bunny template that had everyone talking to the funky character that is every bunnies friend (see what I did there) – The Funky Easter Egg template.
The best thing about this craft is you don't really need much to get started – and when your students start, they will be fully immersed for ages trying to get all of those patterns just right. You're welcome!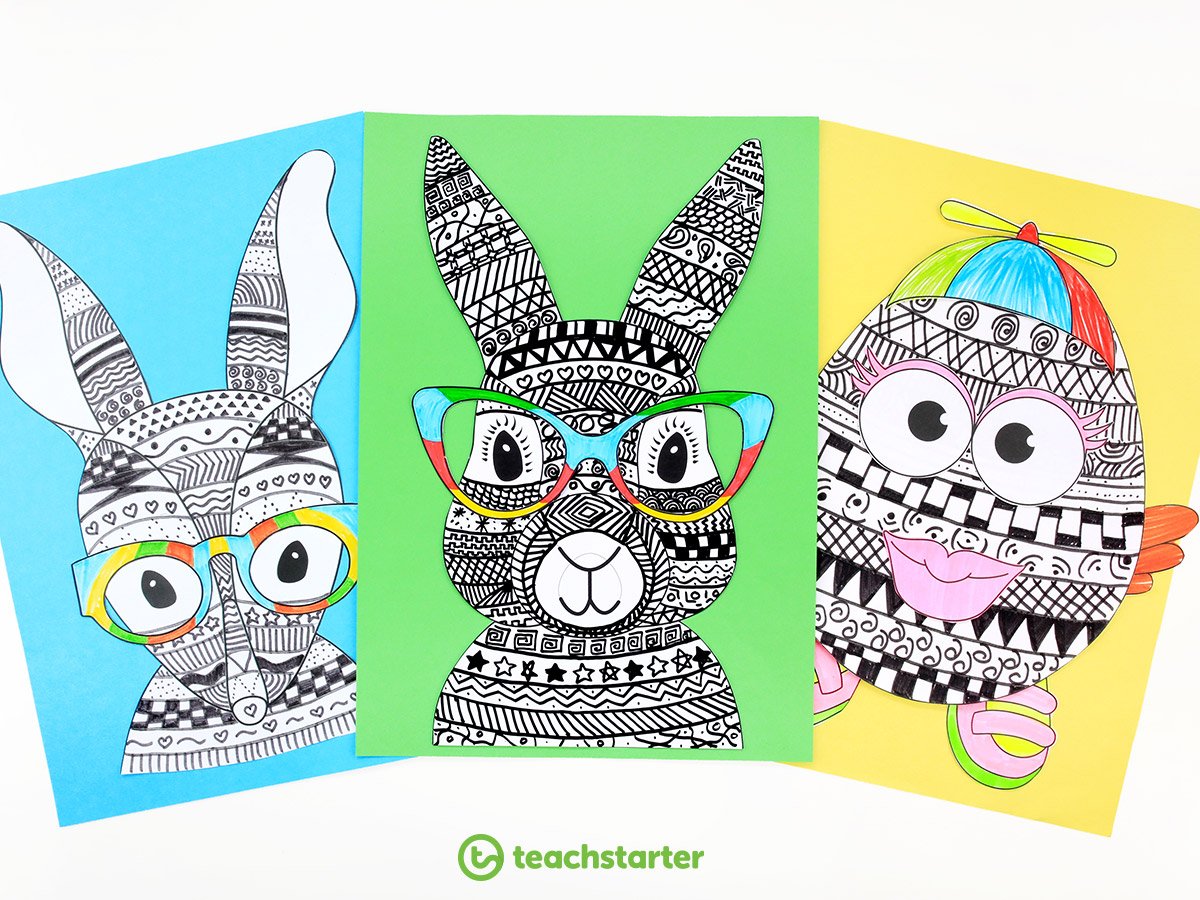 Potato Masher Easter Egg Stamping
Who would have thought, a trusty kitchen utensil used for mashing up potato would be the perfect size and pattern to create some stupendous Easter egg stamping fun?
This is such a super cute and fun art activity for your little bunnies. Again, the materials required are very minimal for this Easter craft.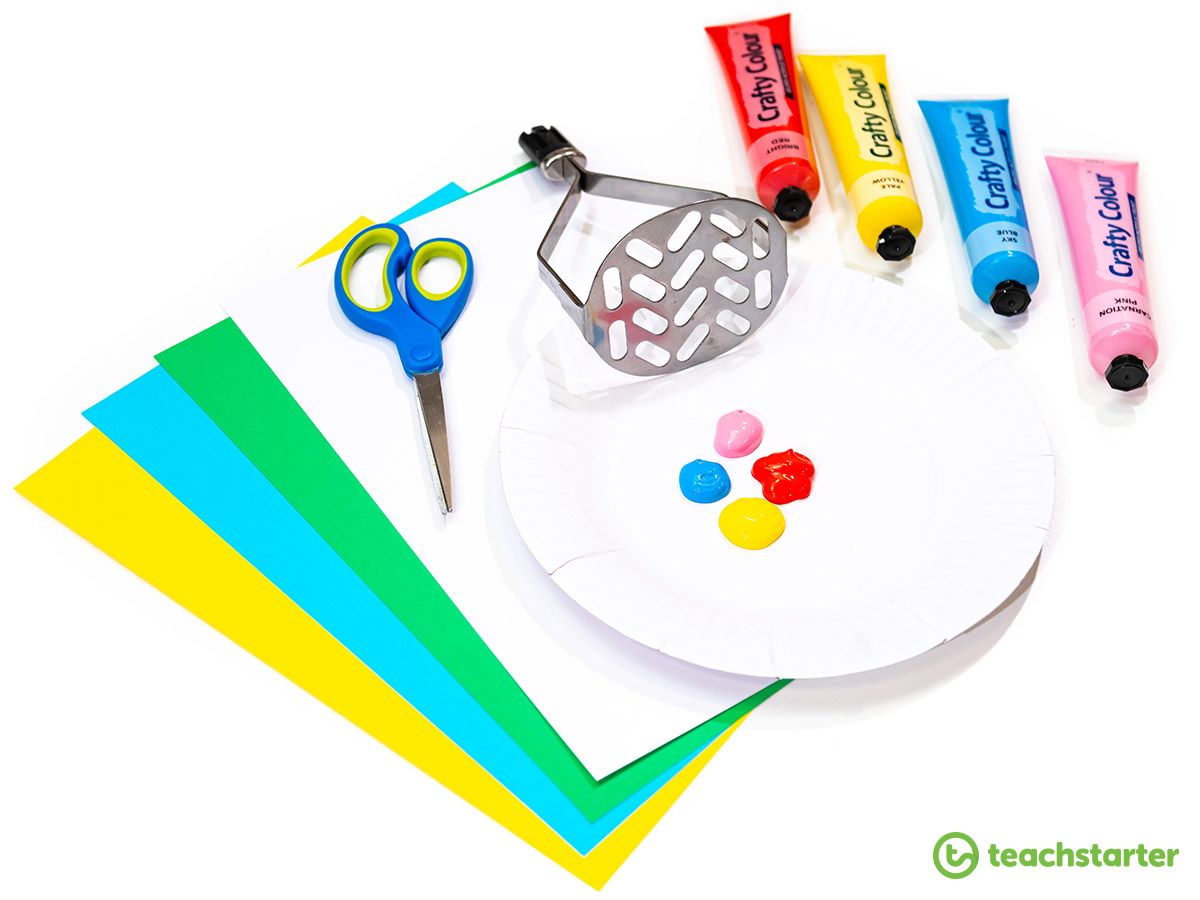 How you use this Easter egg stamp idea is up to you and your students. It may be set up as an art and craft station and your students can experiment with different colours.
We decided to create a lovely Easter card that the students may like to take home to give to someone special.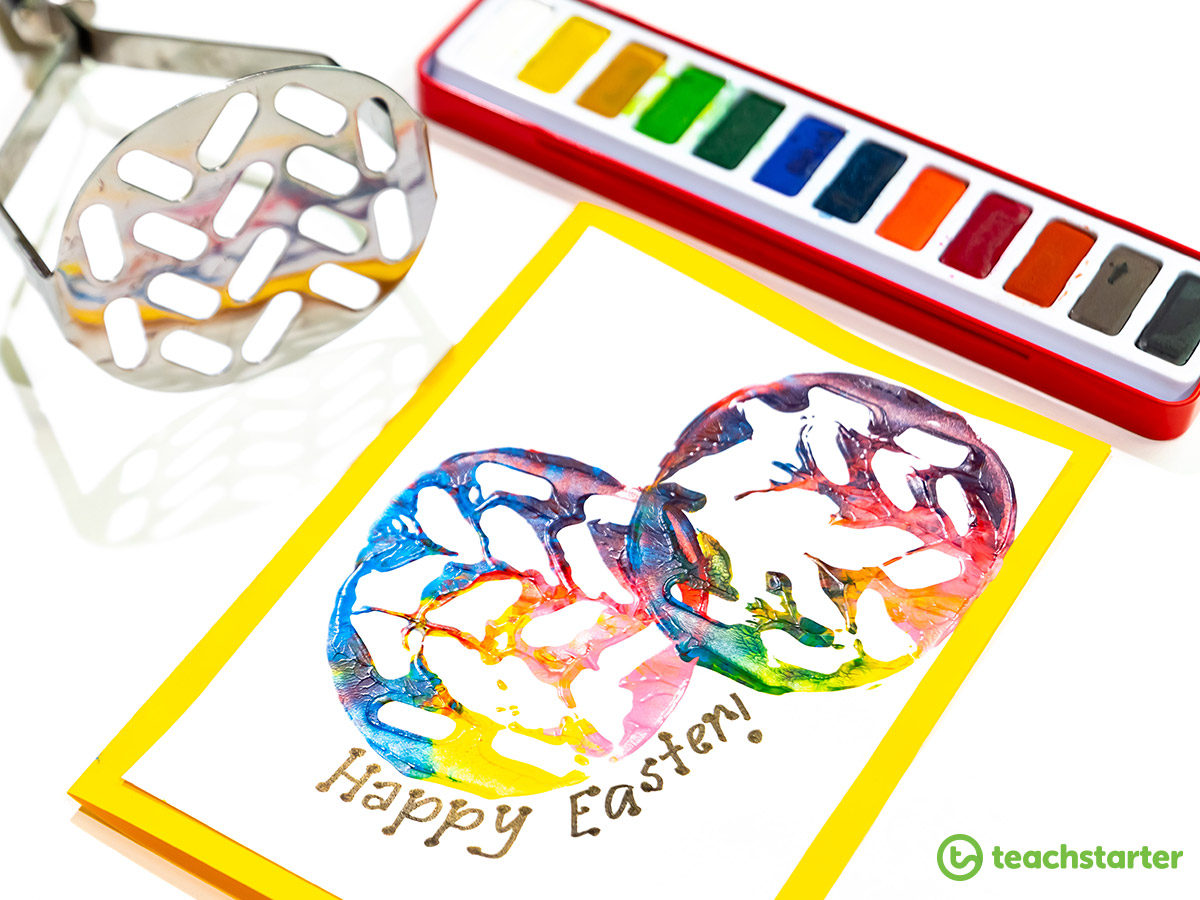 Easter Character Terracotta Pot Craft
This Easter craft is slightly more fiddly but you can't deny the cuteness factor of these gorgeous Easter inspired character pots.
I picked up these cute little terracotta pots from Bunnings for $1.15 each! Most other materials you may find in your arts and craft supplies.
Acrylic paint
Teraccotta pots
Goggly eyes
Coloured paper (pink, white and orange)
Large pompoms (white and yellow)
Feathers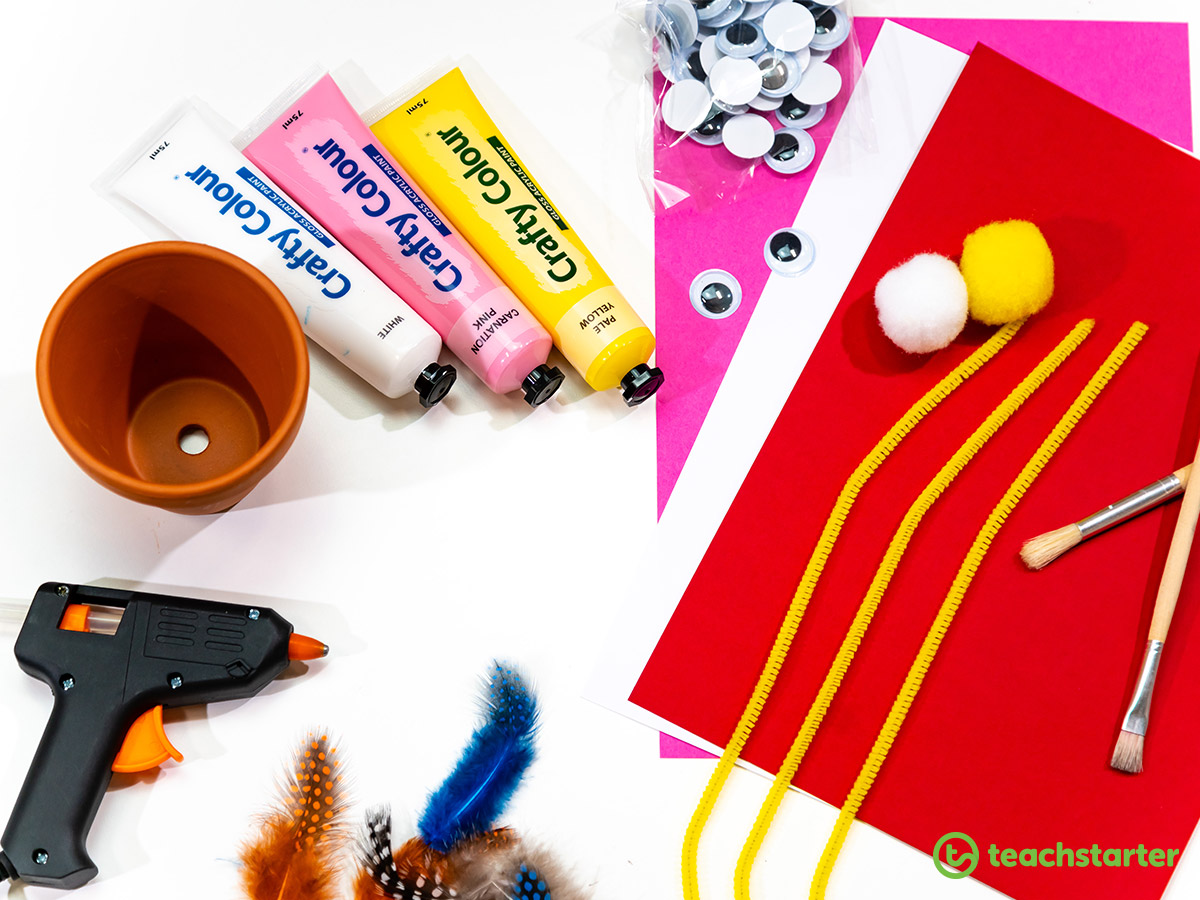 Get painting. White for an Easter rabbit, yellow for a chick or just a cute blue bird for those that may not necessarily celebrate the Easter tradition.
Get decorating. We used cute googly eyes and some feathers, paper or pipe cleaners to create these cute little characters. The best sticking utencil a hot glue gun!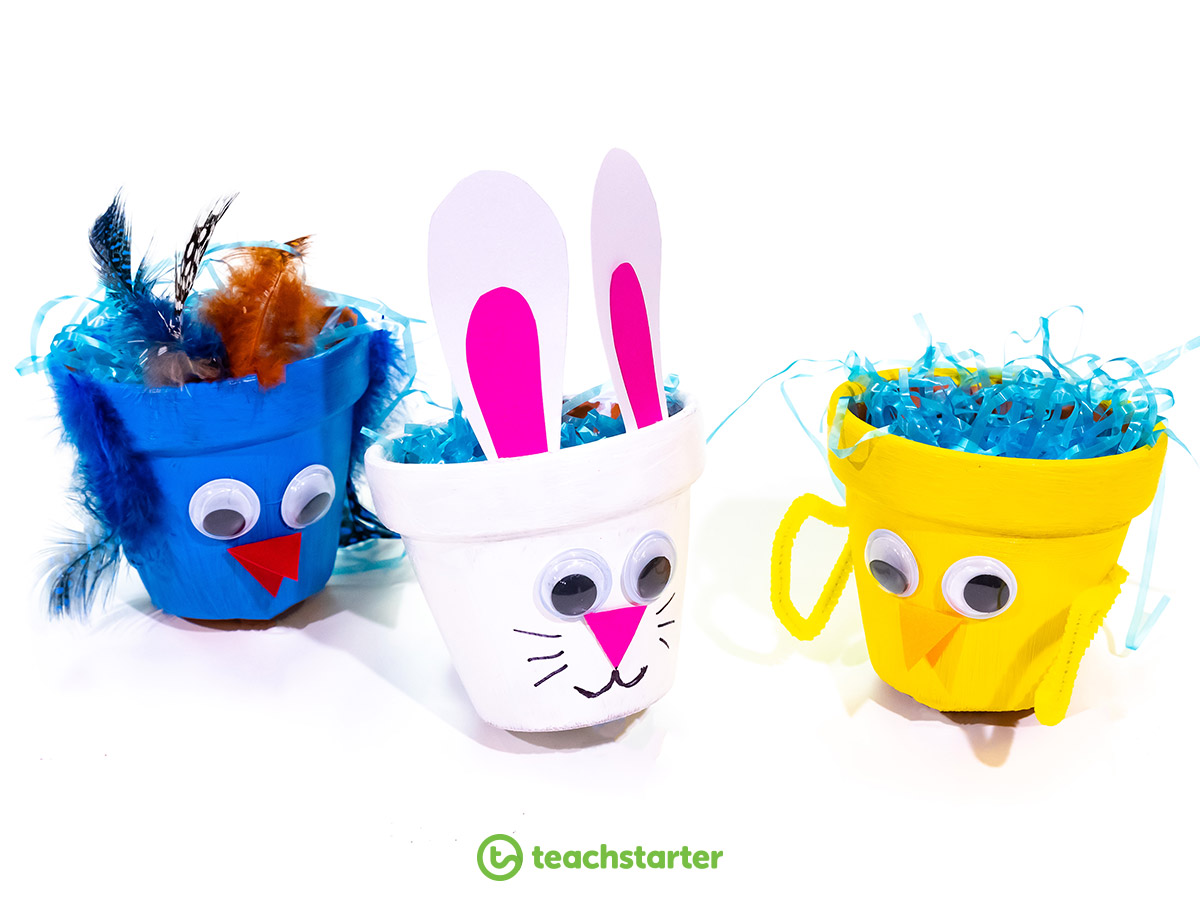 Your students could leave these pots on their desks for when the Easter bunny visits their classroom. Alternatively, they would also look super cute with little succulents in them!
Easter Egg and Chick Template
This super fun Easter craft template is the perfect mix of colouring in, cutting out and assembling!
Materials needed for this craft are minimal too!
Download and print our Easter Egg and Chick Craft Template. We then used paper straws but you can also use two pop stick stuck together to give it the right length for the chick to pop up in between the cracked egg.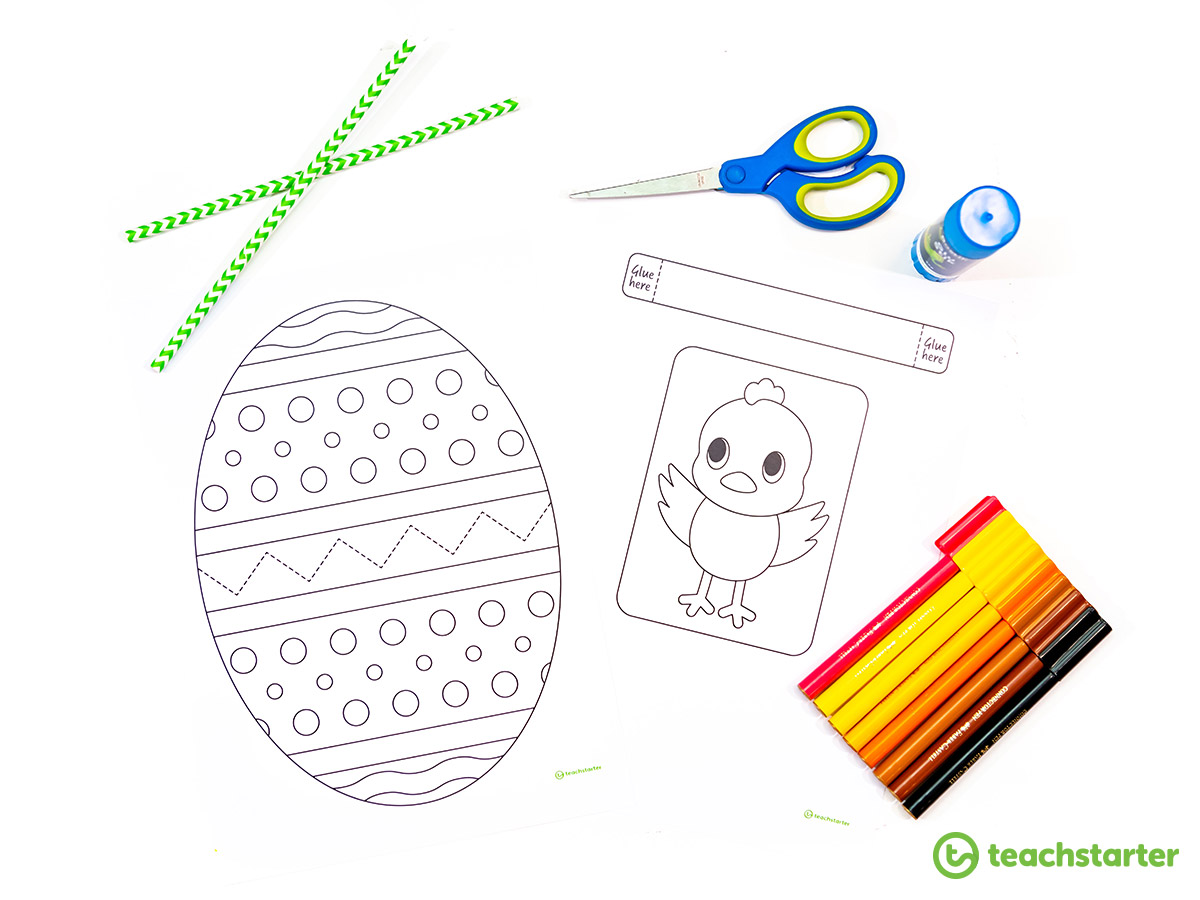 How to use this resource:
Decorate the Easter egg and cut it out (including the zigzagged part in the middle to create a cracked egg).
Colour the chick and cut it out.
Glue the top of the chick to the cracked end of the top piece of the egg.
Glue a paper straw or two large wooden craft sticks to the back of the chick template.
Cut out the strip of paper and glue each end of the strip of paper to the back of the bottom piece of the egg, just below the cracked edge.
Slip your chick and stick between the strip and the back of the bottom of the egg.
Slide the chick up and down as it peeks between the cracked pieces of the Easter egg.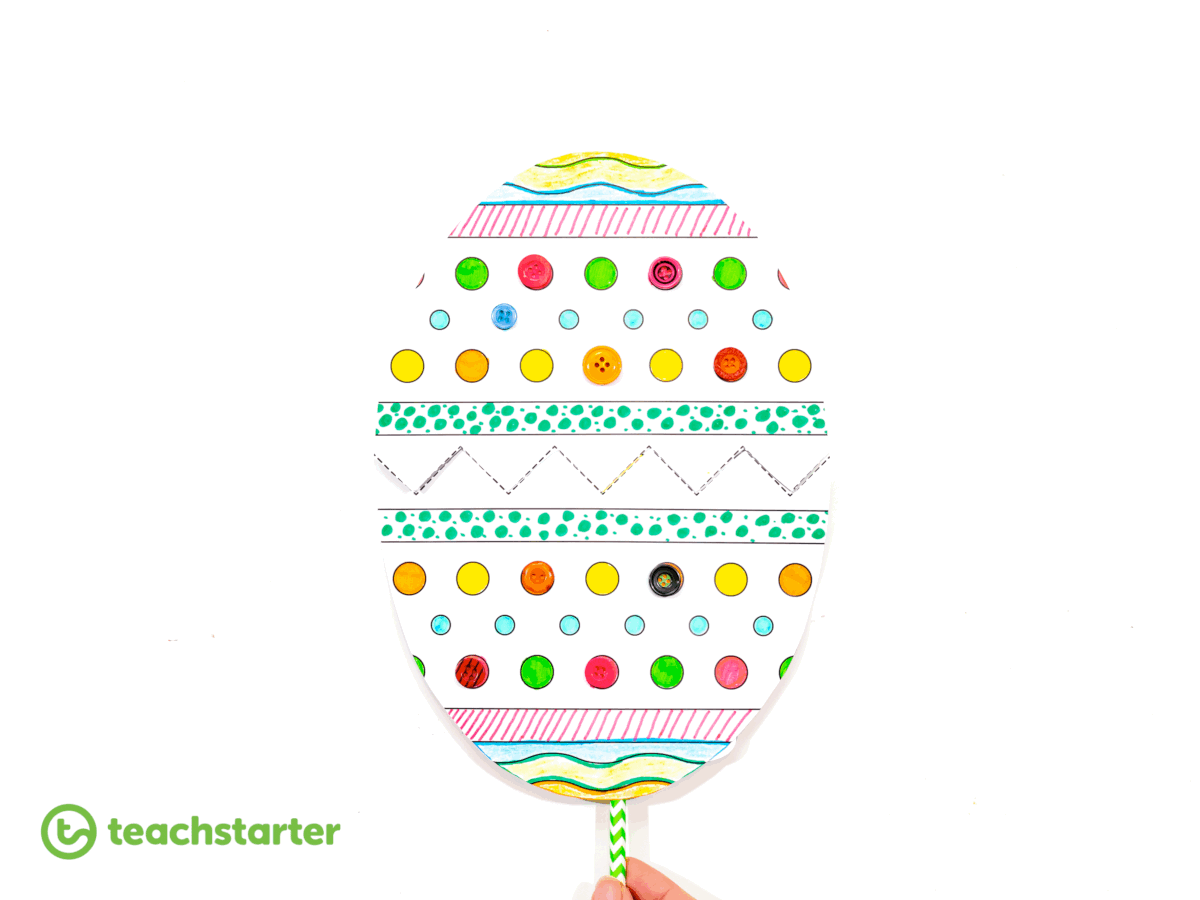 Easter Agamograph Colouring In Template
Did you know that an agamograph is a series of images that change at different angles?
Your students will have lots of fun creating this cool Easter craft. Simply download our Easter Agamograph Colouring In Template and get your students colouring.
Talk to them about how the two different images are separated in the template. Focus on one image at a time to get the colours consistent.
Then, fold the picture like a fan and move from right to left to see the different images! What fun!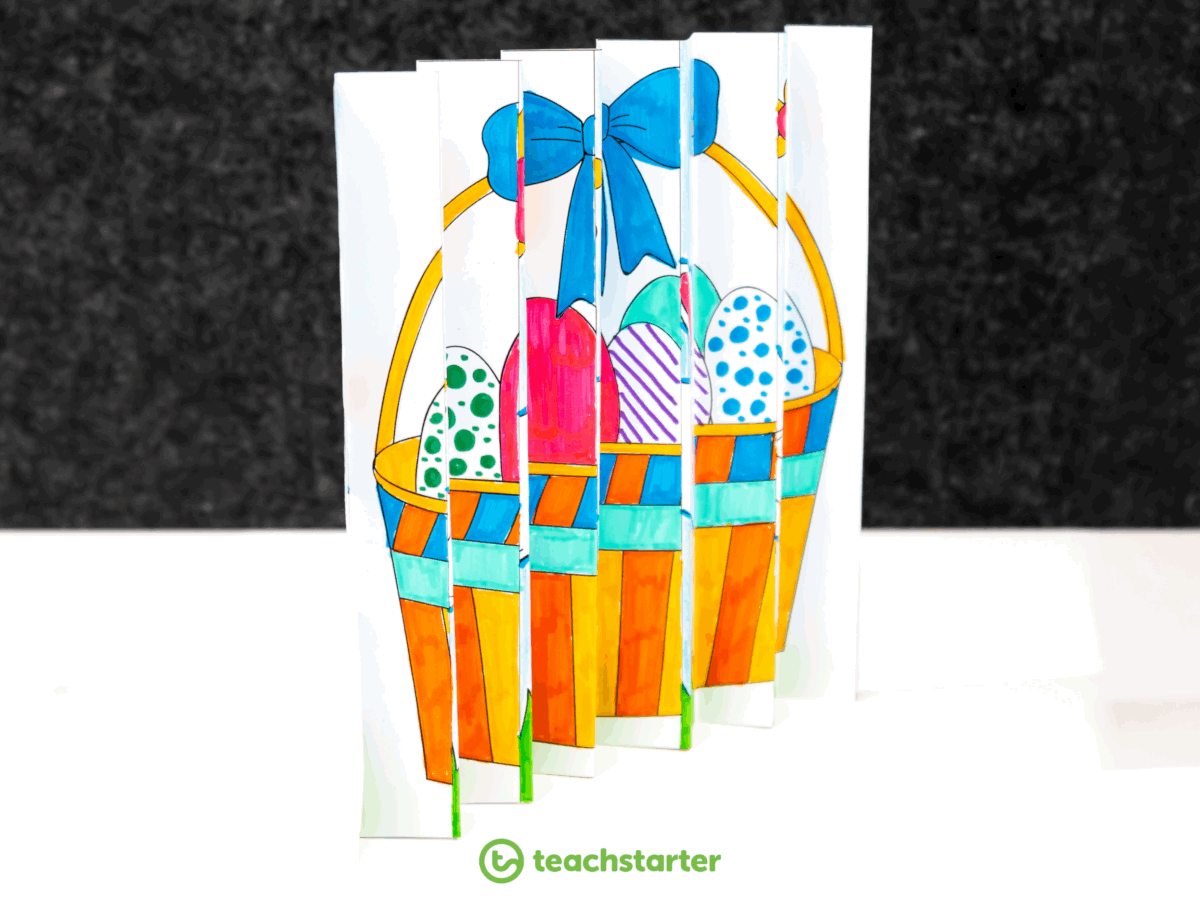 I hope you've been inspired by some of these super cute Easter craft ideas. For even more super cute Easter craft and activity ideas for the classroom, check out our Easter Teaching Resource Collection!
Happy Easter and enjoy your well-deserved break – from the team at Teach Starter.