April 22 is Earth Day and in 2018 the campaign theme is End Plastic Pollution. Teaching sustainability and increasing student knowledge of issues related to the Earth is a passion shared amongst a lot of the staff here at Teach Starter. So, it should be of no surprise that we have a great collection of Earth Day classroom activities and resources that you can use with your students!
Here are ten of the best for Earth Day 2018: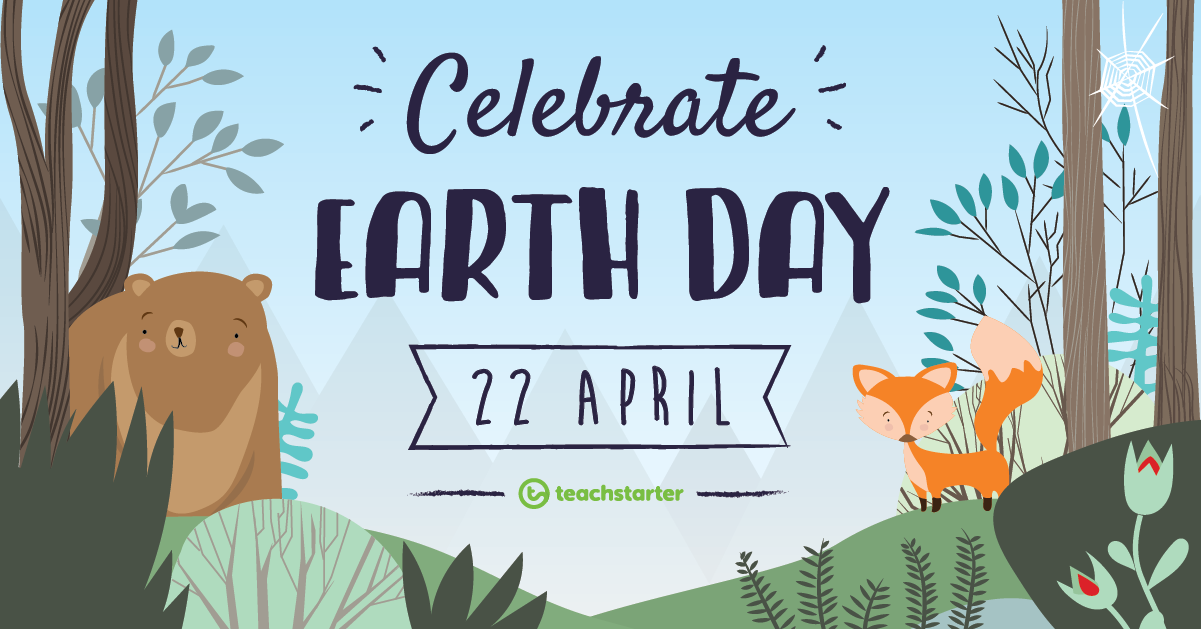 What type of waste is harmful to our planet?
Where does my rubbish go after I throw it in the bin?
If a piece of rubbish blows out of my hand or I throw it onto the ground, where does it go?
Do I really need a new t-shirt and another plastic toy?
Learning about the life cycle of plastic is so important! Reducing plastic pollution is one thing that we can all take action on in our everyday lives through simple measures like using reusable shopping bags and limiting our consumption of single-use plastics.
You can extend your students' understanding of plastic pollution in an engaging way by exploring the impact of excess consumption of plastics like food wrappers, straws, toys and even polyester clothing.
---
(1) Biodegradable or Not? Science Experiment
(Years F to 6)
This simple Science experiment exploring biodegradable and non-biodegradable materials is available across three levels.
Bury six different objects in the ground, or in a container of dirt and leave them for two weeks. Make predictions and form a hypothesis about what might happen to each object. After two weeks, dig them up, observe and record how each object has changed!
Download the supporting teaching resource for:
---
(2) Set up a Classroom Recycling Station
(Years F to 6)
While reducing our use of plastics is the best way to fight plastic pollution, setting up a classroom recycling station is another great way to encourage students to think differently about their waste.
Sometimes school cleaners only take general waste, or if they put all classroom waste into a general waste bin (even when it contains recyclable items). The recycling, soft plastics and compost signs state "Please Do Not Empty" as a reminder to your school cleaners to leave those bins for students to then dispose of properly.
At the end of each week measure the amount of each type of waste that has been generated in the classroom.
Keep a record of the class' waste output each week.
Set a goal or challenge students to reduce the amount of general waste, recycling and soft plastic waste created each week.
Recycling Bin and Soft Plastics Drop-Off Roster
If there are no recycling or soft plastics bins throughout your school, ask your students to create a roster for bringing your recycling and soft plastics bins out into the eating area each day.
You could also get parents involved and create a roster for families to take the class' soft plastics recycling to their local drop off point on a weekly rotation. Here in Australia, you can check out the RedCycle website to find your closest soft plastics drop off point.
---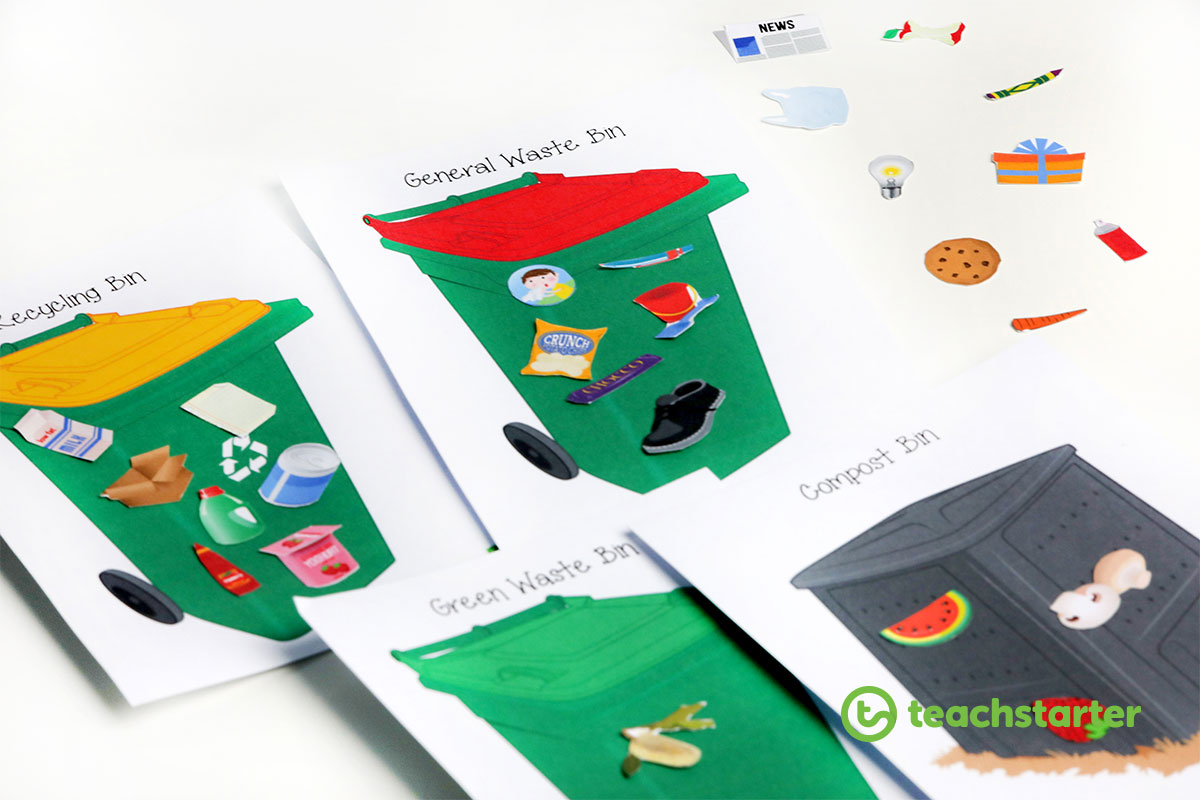 This Rubbish Bin Sorting Activity is such a great, hands-on way for students to develop an understanding of how to recycle. Especially if you've just set up a classroom recycling station!
You can use the food and waste illustrations included in the download, as well as encouraging students to cut up images from catalogues and junk mail.
Students 'rubbish sort' catalogue pictures of items that they already have at home (or want to have!).
Link this activity to a discussion about how many times an item is likely to be used and whether or not it will be recycled or end up in landfill.
---
Have you heard of Molly Steel and her amazing Straw No More campaign? Introduce your students to this inspirational young Australian and her quest to save the Great Barrier Reef from plastic pollution.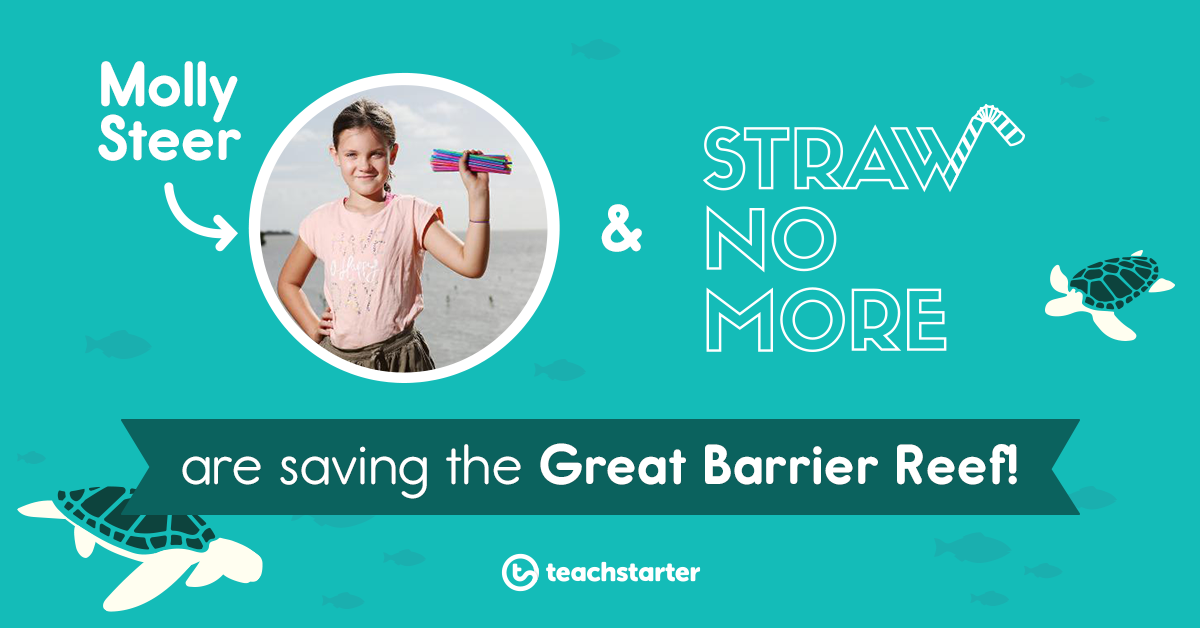 Your school can take the Straw No More Pledge on Molly's website. It's a great idea to get your administration team and P&C Committee on board to help make sure the pledge can be actioned at the tuckshop or canteen, as well as at other events held by your school community. We've made a PDF poster for the Straw No More campaign that you can download and post up around your school.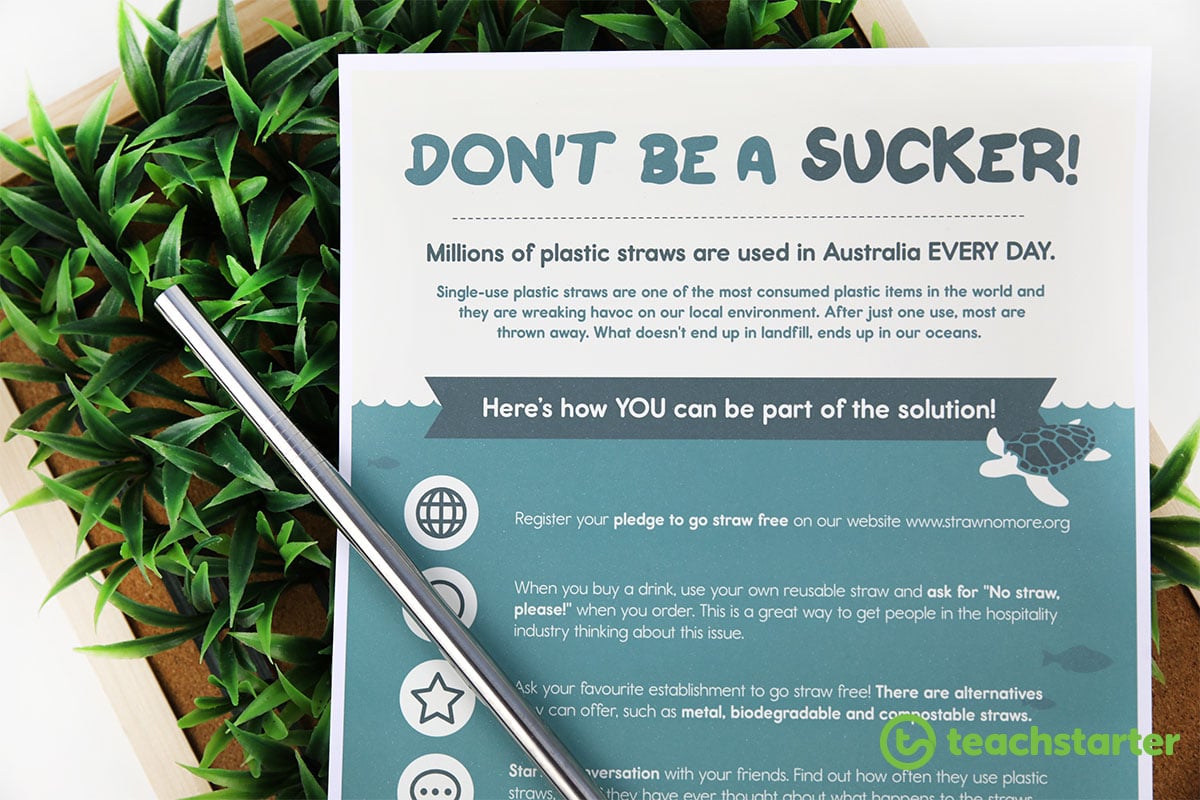 Your school's canteen may want to swap out plastic straws for biodegradable or compostable straws. If you have a school garden, consider having a straw collection bin so that the straws handed out at the tuckshop do make it into the compost.
---
(5) Life History of Stuff Activity
(Years 2 to 6)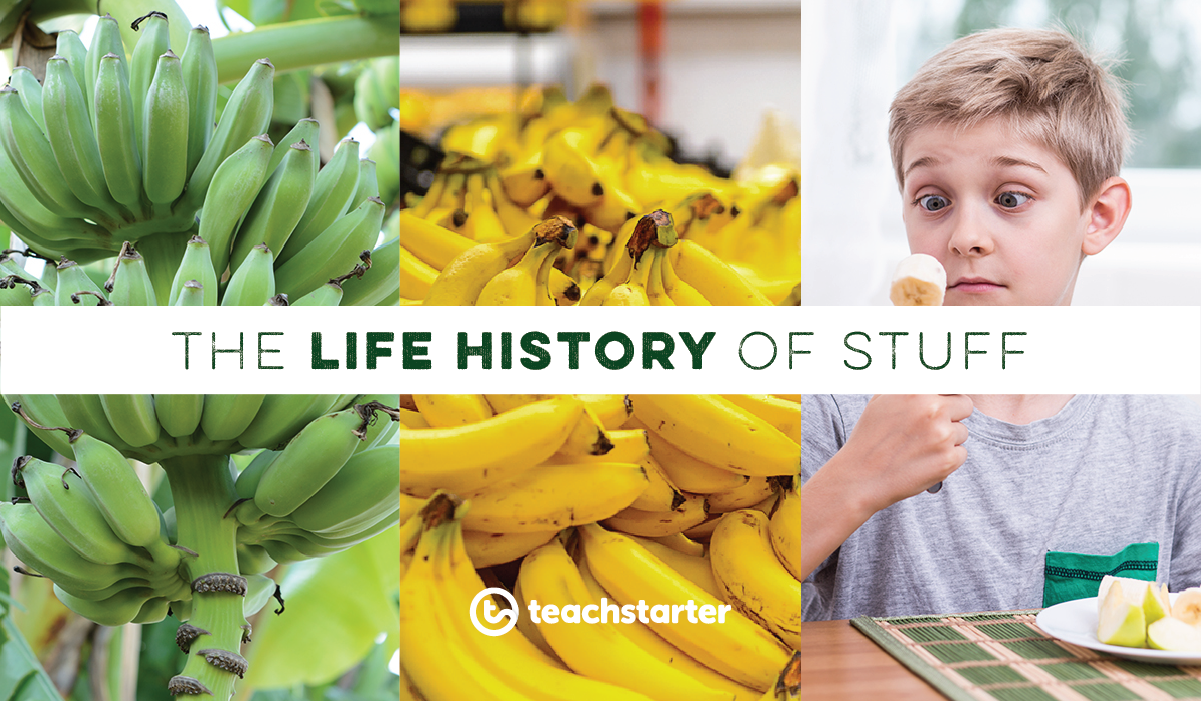 In this sustainability activity, students select a food item and explore the three stages of the item's life.
Production
Sale
Disposal
Plotting the information they find into a "Life History of Stuff" timeline provides both teachers and students with a means to consider and discuss the sustainability issues surrounding the 'life' of the item.
This kind of exploration goes a long way towards encouraging children to think about their own consumption with a more global and sustainable perspective and could be extended for older students as a STEM task. Students can explore the production, packaging and disposal stages of a food items life, as well as develop and present a proposal for more sustainable design options for production, packaging or sale.
Here are some timeline teaching resources to support this activity:
---
(6) Organise a Waste-Free Lunch Day
(Years F to 6)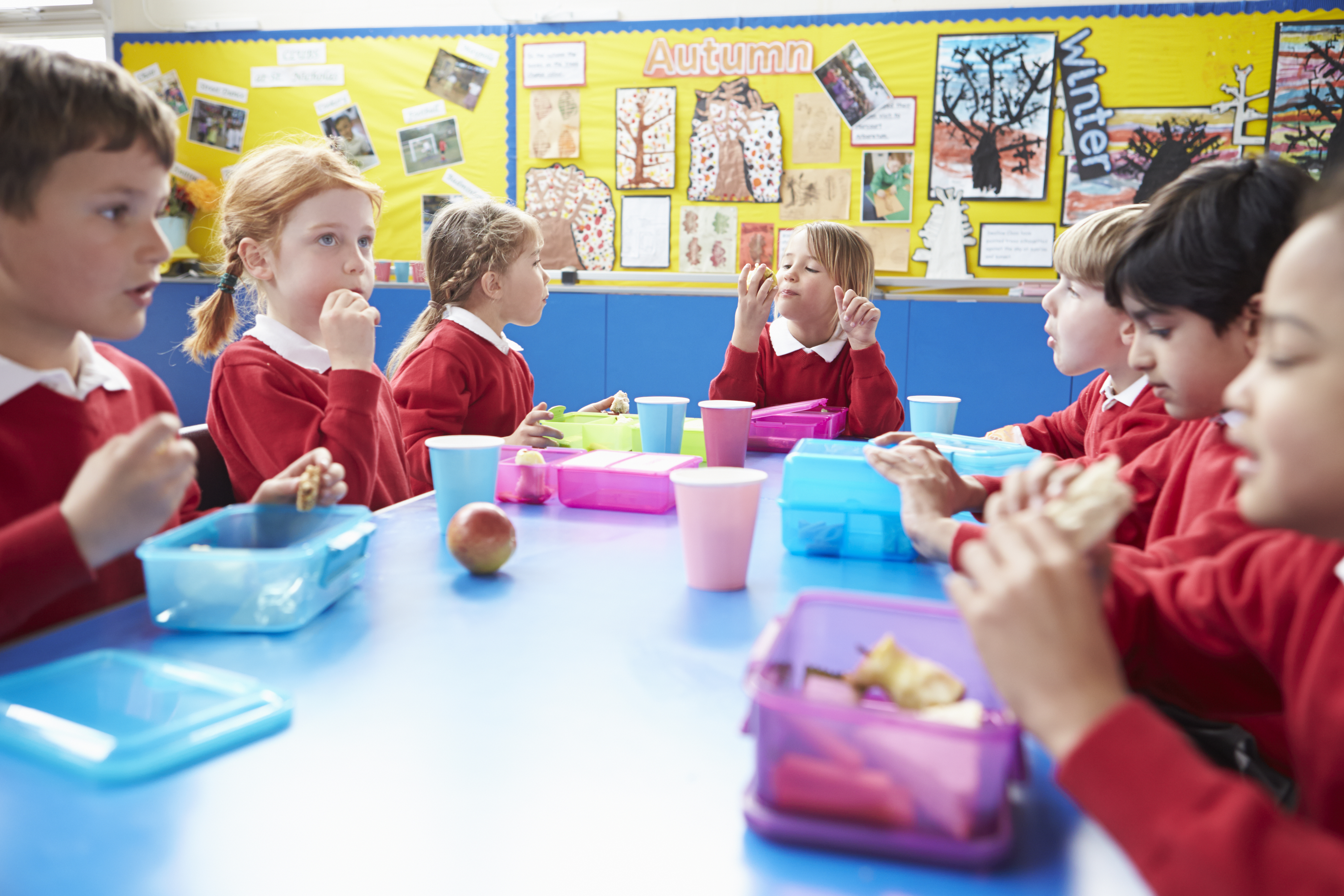 Following on from the Classroom Recycling Station idea, plan a Waste-Free Lunch day for your class, or even the entire school!
Waste free means only packing items that can be composted or recycled and that won't end up in the garbage bin. That means, no plastic wrap, no foil, no zip lock bags and no packaged foods.
– Packing a Waste Free Lunch, Healthy Kids website
In preparation for the day, ask students to look at their lunchboxes and identify the single-use plastics that they might use on a regular basis. Have students come up with alternative ways they can still have the same or similar foods without the single-use plastic waste. These might include:
buying bulk 'packet' foods and bringing them in a reusable container or paper bag
swapping packaged food items for ones without packaging, like fruit, vegetables or homemade sandwiches and muffins.
---
(7) Plastic Object Inspired Short Story
(Years F to 6)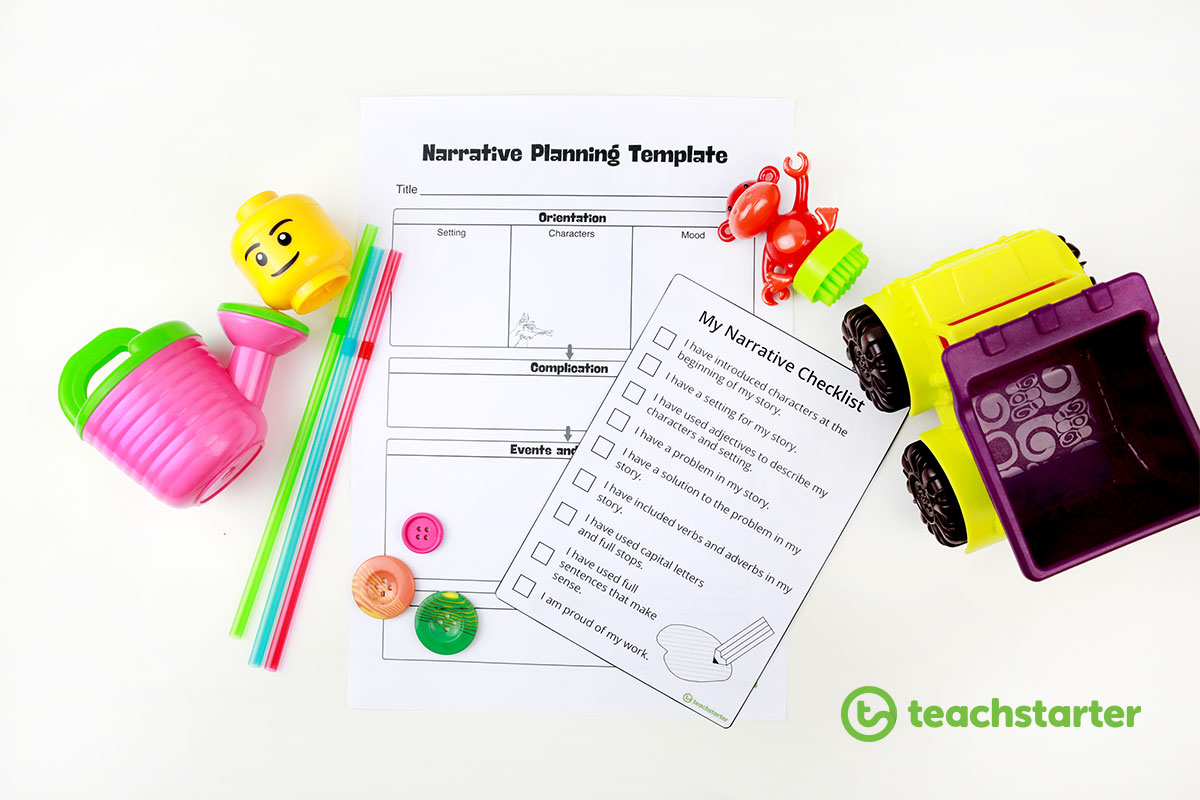 Students choose a plastic found object or item to use as the inspiration for a short story. It may be something a piece of plastic pollution they've collected during a walk, the single-use plastic wrapper for the food product examined in the Life History of Stuff activity (see instructions above), or some other plastic item like a toy or a piece of clothing that they already own.
You may like to show your students a video about plastic pollution as a further stimulus for their writing.
Australian teachers can also stream this great video from Behind the News that tracks the journey of plastic from a piece of rubbish on the side of the road to one of the millions of pieces of plastic floating in Earth's oceans.
The trailer for the film "Plastic Ocean" also provides another compelling introduction to the issue of plastic pollution.
These printable narrative writing resources can help your students prepare for writing:
---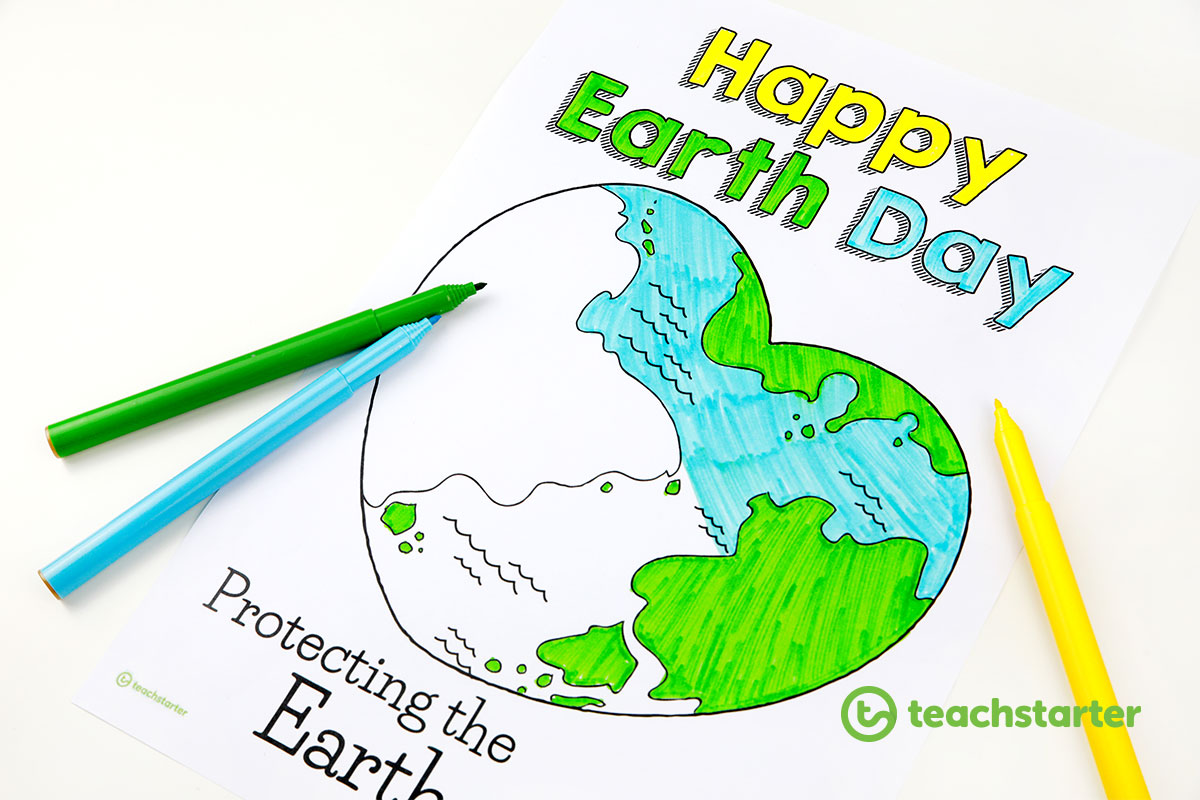 What's a celebration day without a colouring-in page?! Print this out Earth Day Colouring Page for your students to colour and create a display to bring awareness to the Earth Day cause.
---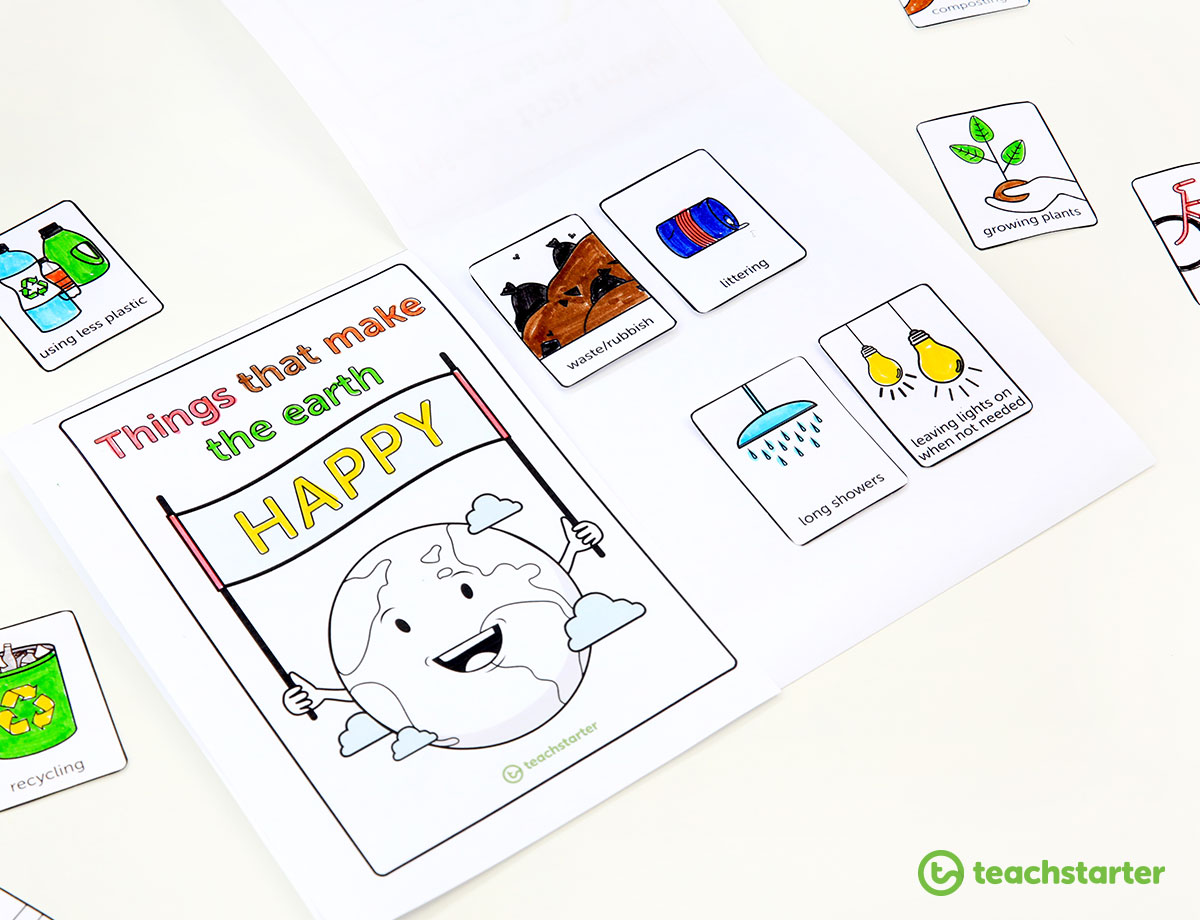 This Environmental Awareness Flip Book helps your students understand what is good and bad for the environment.
Students will love creating this gorgeous flip book, sorting and colouring images of everyday things into what will make the earth happy and what will make the earth sad.
---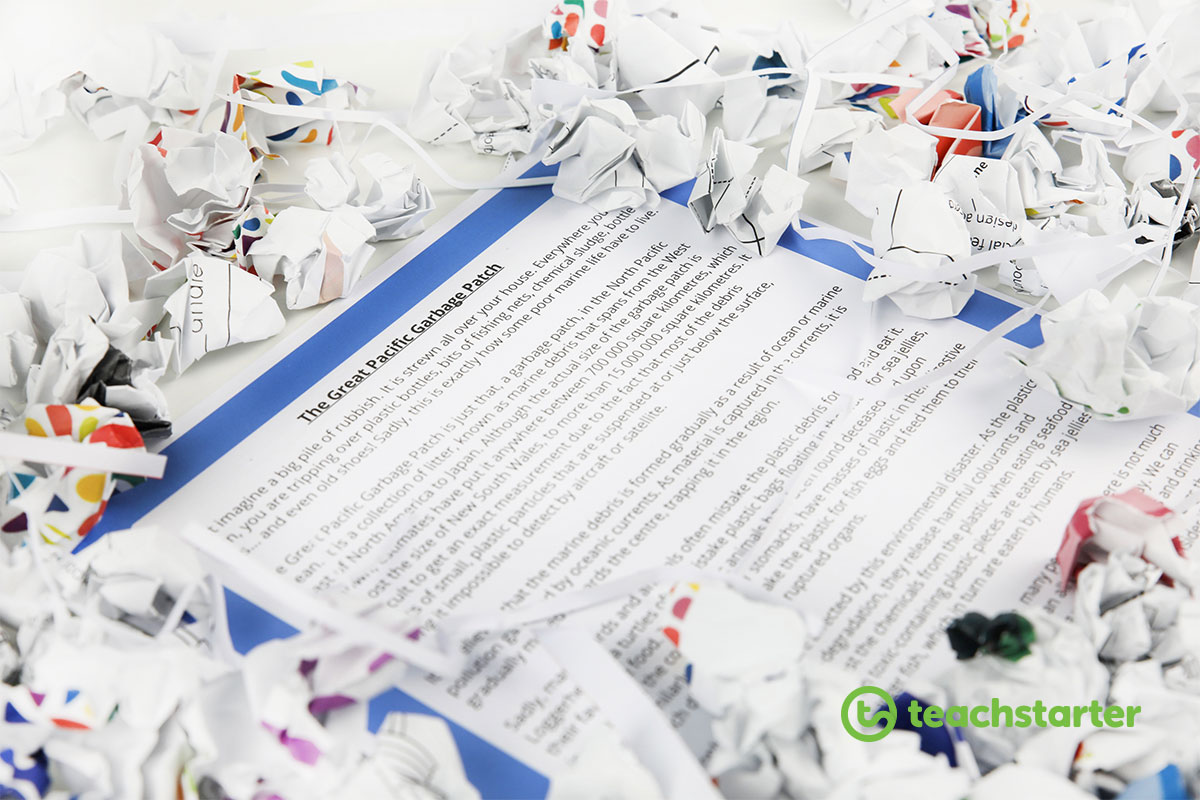 The Great Pacific Garbage Patch provides teachers with the ultimate in contexts for exploring issues of sustainability.
It's huge. It's gross. And it's real!
This downloadable Great Pacific Garbage Patch comprehension sheet is a great teaching resource for Year 5 and Year 6 English that aligns with the Australian Curriculum and the sustainability cross-curricular priority.
---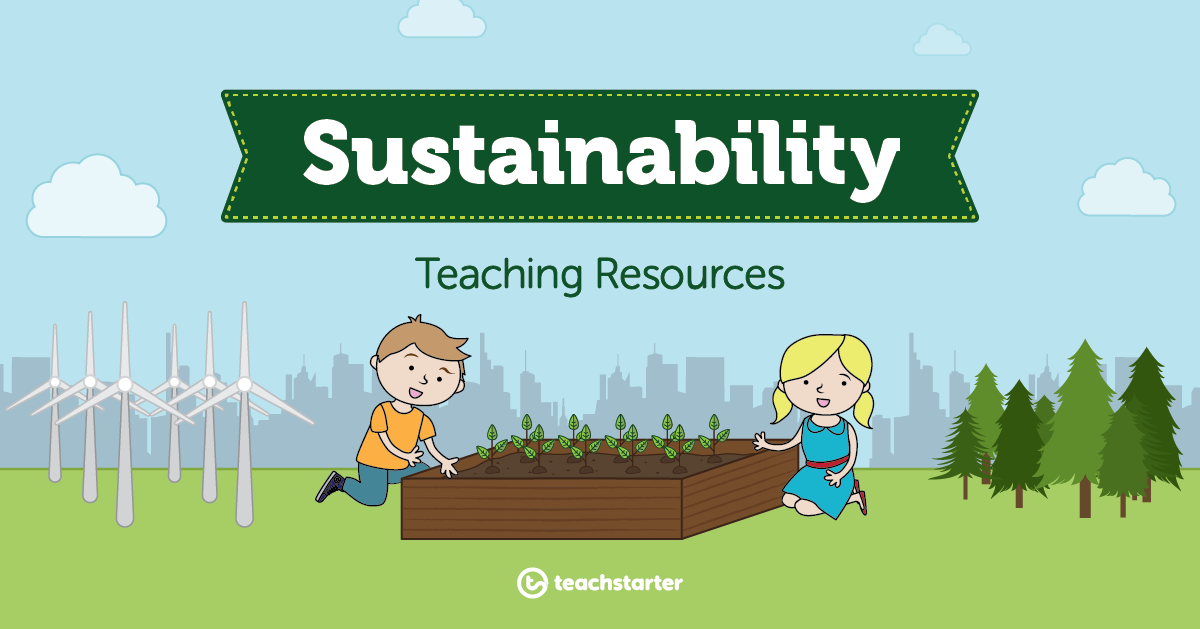 Sure, we put together this list for you to consider in the lead up to Earth Day 2018. However, it is so important to embed the teaching and learning of sustainability and environmental awareness into as many lessons as possible!
Click on the picture above to check out our full Sustainability Teaching Resource Collection.
Remember, education leads to action. And, it's through action that we can start to make a real difference, to reduce plastic pollution and start taking better care of this amazing planet that we call home.
Which of these Earth Day activities do you think your students would enjoy the most?