You've probably heard the saying 'Earth Day is every day' at some point, but let's face it: If we are ever going to make that true, it takes getting the youngest generation involved! With the official Earth Day slated for April 22, there are plenty of ways to get your classroom full of kids excited about being good stewards of our planet.
We've pulled together some of the Teach Starter teacher team's favourite Earth Day activities for kids and ways to carry through on the Earth Day theme, plus some of the best way to help kids connect to the earth and be more sustainable!
What Is the History of Earth Day?
Whether you're incorporating Earth Day into science, social studies, or English lessons this year, talking about the history of Earth Day is ripe for discussion in the classroom. First celebrated on April 22 in 1970, the first Earth Day was founded by Wisconsin Senator Gaylord Nelson and organised by an activist named Denis Hayes. The message was clear: Young people care about our planet.
Of course, the Earth Day movement didn't stop there. By the 1990s, it had gone global, and now more than 190 countries participate — from governments to private citizens, adults to kids.
Earth Day Activities for Kids
Write to Your Local Leader
Take your cue from the Invest in Our Planet theme for Earth Day 2022, and direct older students to write persuasive letters to your local leader asking them to make investing in our planet an anchor of their local activities.
Collect the letters and mail them in one envelope to your local politician, and see if they respond. Many will, opening up discussions about the impact individual citizens can have — even kids — by being proactive and talking to their politicians.
Plant Seedlings in Decomposable Materials
Teach your students about decomposition and reusing materials at the same time by starting seedlings in newspaper cups or empty cardboard egg cartons. The seedlings can be kept in the classroom for charting growth, then planted in a school garden or taken home for students to harvest on their own.
Use our plant growth chart to help students track progress and a "producer, consumer, decomposer" poster to explain the process of how the food chain works and how plants and animals depend on one another!
Learn about Biodiversity
Biodiversity is a hugely important topic, but it's also pretty complicated (especially for little minds who find the world a pretty big place!). We get it! To give your students a brief introduction, print a Biodiversity Poster to post in the classroom.
Once you've taken a look at exactly what biodiversity is, your students will be ready to zoom in on some of the big issues. Add on the Critically Endangered Species Map and some Endangered Species Facts Cards to help your students explore endangered animals.
Animals that have been driven to extinction show just how delicate our world is. You can use this resource to discuss how society has negatively impacted animals and their habitats. This is a great place to start a discussion on what action can be taken to stop harming the world's ecosystems.
Go to Earth School
Of course, you can always go to Earth School! A collaboration between TEDEd and the United Nations, Earth School invites your students to embark on a whole month of daily quests.
These adventures take you through real-world concepts, from the t-shirt-making process to how food reaches our plates. Help your students develop empathy and connect with nature with interactive resources, videos, quests, and activities.
See more free virtual excursions for your students!
Pledge to Become Wildlife Heroes
Take the pledge to become a wildlife hero. Once your students have been spurred to action, encourage them to commit to being a part of the solution. The printable Wildlife Hero Pledge is a great way for your students to come up with a tangible action that they can take, and they can be taken home to share with family members to spur the entire family into action.
"My pledge is to take care of the plants and animals in my environment by not littering and leaving insects in peace!"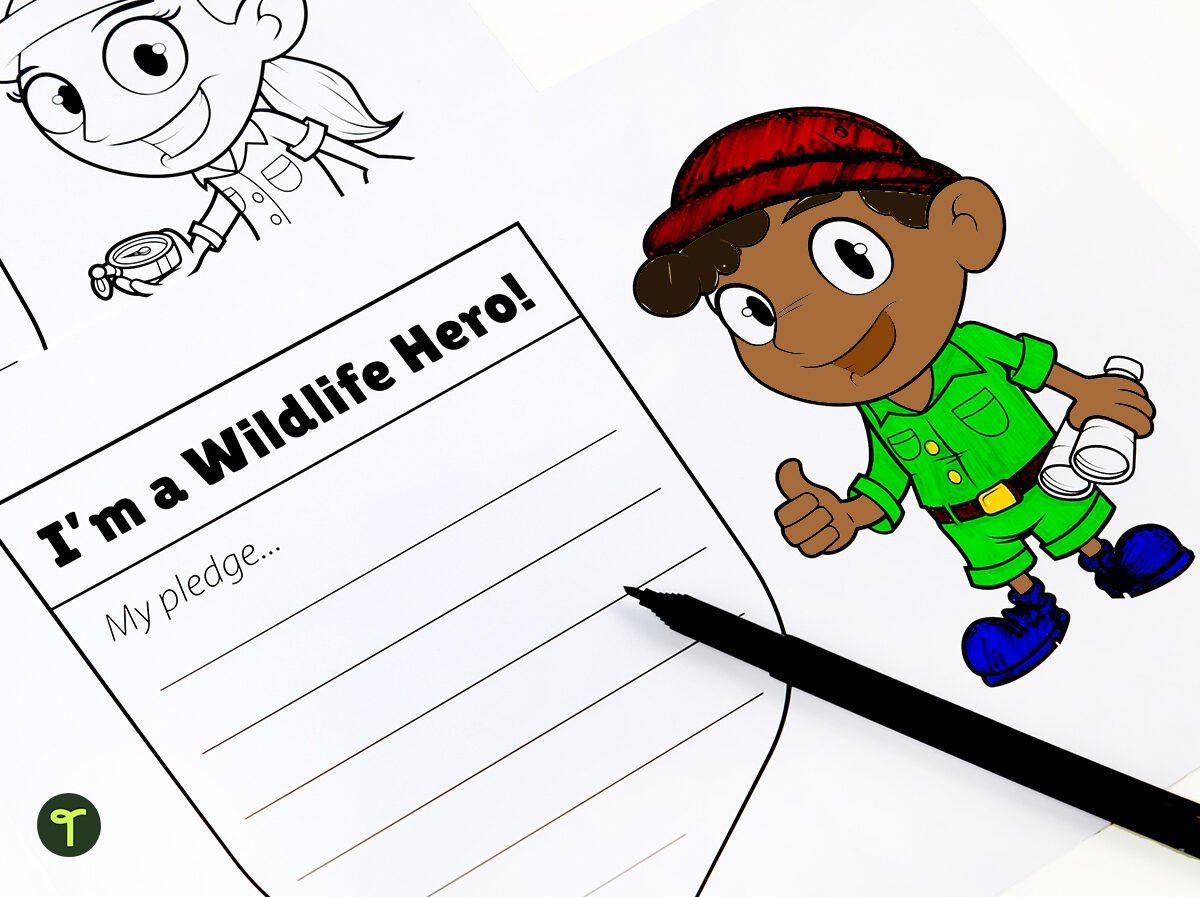 Set Up Classroom Recycling
Did you know as much as 78 percent of school waste could be diverted from landfills if schools had recycling and composting plans in place? If you don't already have one, now is the time to put plans into action with a classroom recycling center.
Set up posters on your bins to remind students where to put recycling and where to put actual trash.
Register Your Classroom Clean-up
Plan a clean-up activity at our near your school, and register it with the official Earthday.org Clean-up list to access resources for your students and help them feel connected to the global movement.
Design a Garden
A Garden Design Project is perfectly suited for upper years students and brings in maths and design skills, as well as creative thinking. For more advanced learners, take a look at the Develop a Habitat – Garden Project.
This ties into your other lessons as an opportunity to contribute to the biodiversity of the school grounds by creating a brand-new habitat for plants and animals.
Write Poems About the Earth
Doing a poetry unit for April? So combine the two for a meaningful writing activity in the class by writing Earth Day acrostics!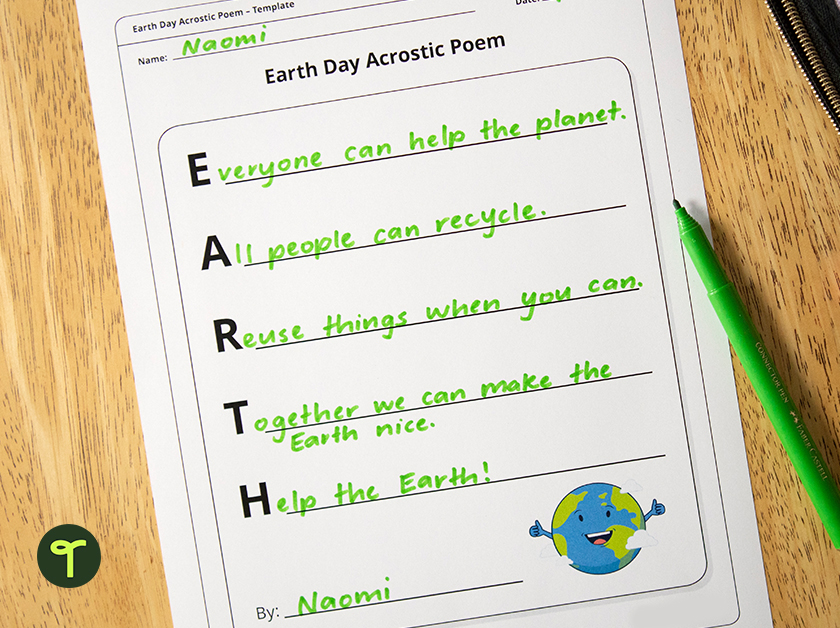 Share What They Have Learned
Encourage students to demonstrate their new knowledge of different habitats and endangered animals by making a diorama of different habitats, featuring a variety of animals and plants. Students can then present their dioramas to the class, along with information about the unique ecosystems they've chosen!
How will you explore Earth Day with your students?