It's the new version of the age old discussion about "kids these days"  – are our students' attention spans decreasing as their exposure to technology increases? With access to information and entertainment almost instantaneous for most, it has been suggested that our kids' brains are literally being rewired to process information in short bursts.
"Brains are being rewired—any shift in stimuli results in a rewiring… The techniques and mechanisms to engage in rapid-fire attention shifting will be extremely useful for the creative class whose job it is to integrate ideas; they relish opportunities to have stimuli that allow them to see things differently."
Acclaimed youth and social media researcher Danah Boyd wrote these words in response to a 2012 survey about perceptions of the changing nature of information delivery and its affect on attention spans and other traditionally important cognitive skills.
How Long is a Student's Attention Span?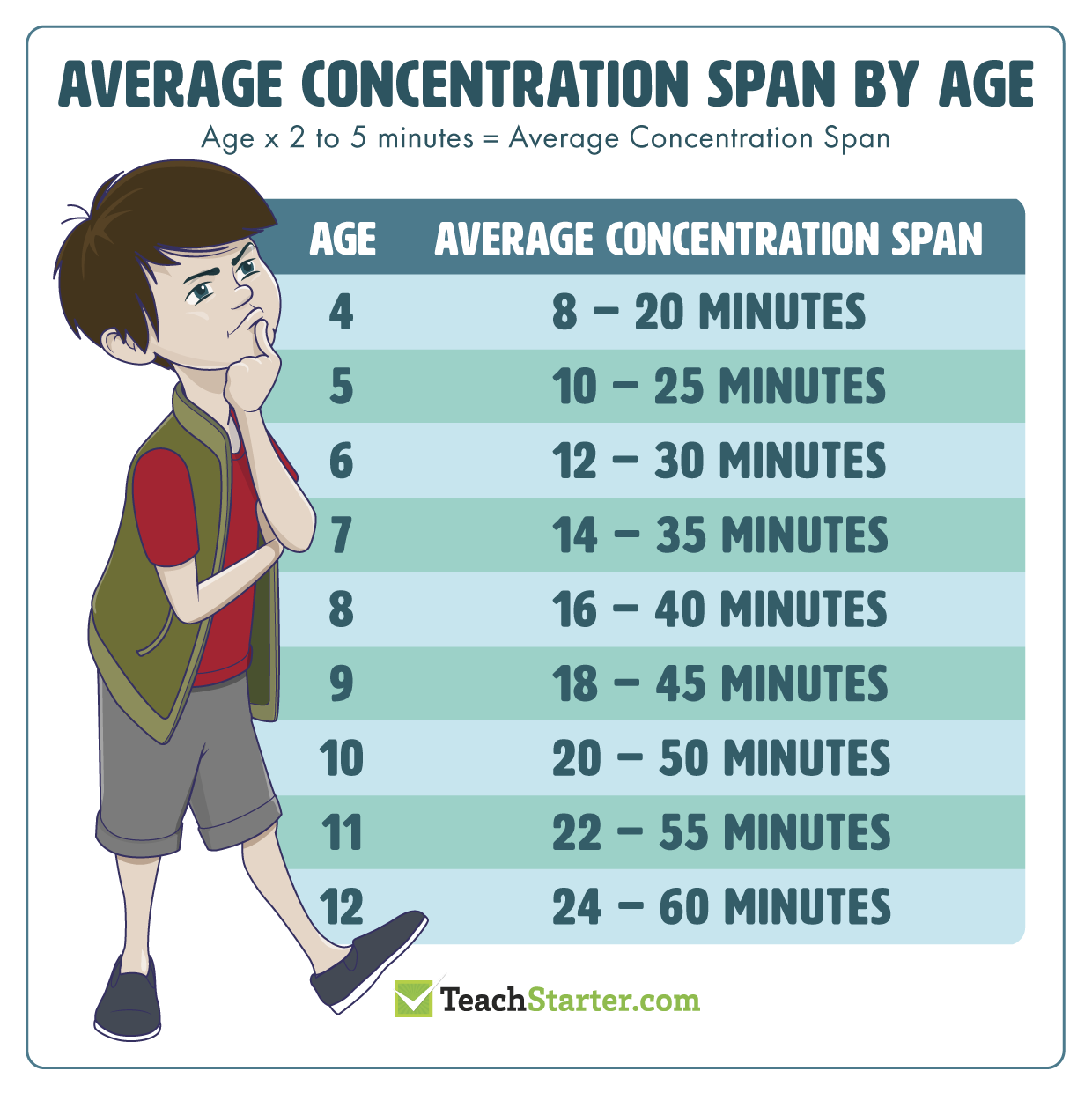 Many sources say that the average length of a child's attention can be calculated by this simple formula:
Age x 2-5 minutes = Average Attention Span
This is, of course, a generalisation. It is one that can help us to understand how best to approach lesson planning and delivery for our students, but we must also remember that every individual student will think, behave and process information in different ways. Not only that but sometimes, just like us, our kids will be having a bad day and perhaps their attention will be more fleeting than what is typical of them.
With that in mind, here are ten ways you can make the most of your students' varying attention spans and improve the quality of learning during a lesson.
10 Ways to Help Improve Concentration in the Classroom
After you figure out the average attention span of the age-group that you teach, think about how you can best deliver lesson content and sequence activities to ensure maximum concentration. These ten tips can help!
---
1. Plan Lessons with Intervals
When planning a single lesson or session consider breaking it down into smaller chunks. If you are teaching a group of 7 year-olds, with an average attention span of 14-25 minutes, plan a kind of cognitive "gear shift" at each 15-minute or 20-minute interval.
These gear shifts can be initiated by a great many things. It may be as simple as changing from direct instruction to pair work, or from individual writing to sharing the work they have completed so far amongst a small group.
Longer activities, ones with a duration beyond the average attention span of your class, can benefit from requiring students to complete a series of steps that require different types of thinking or learning.
---
2. Make Brain Breaks Routine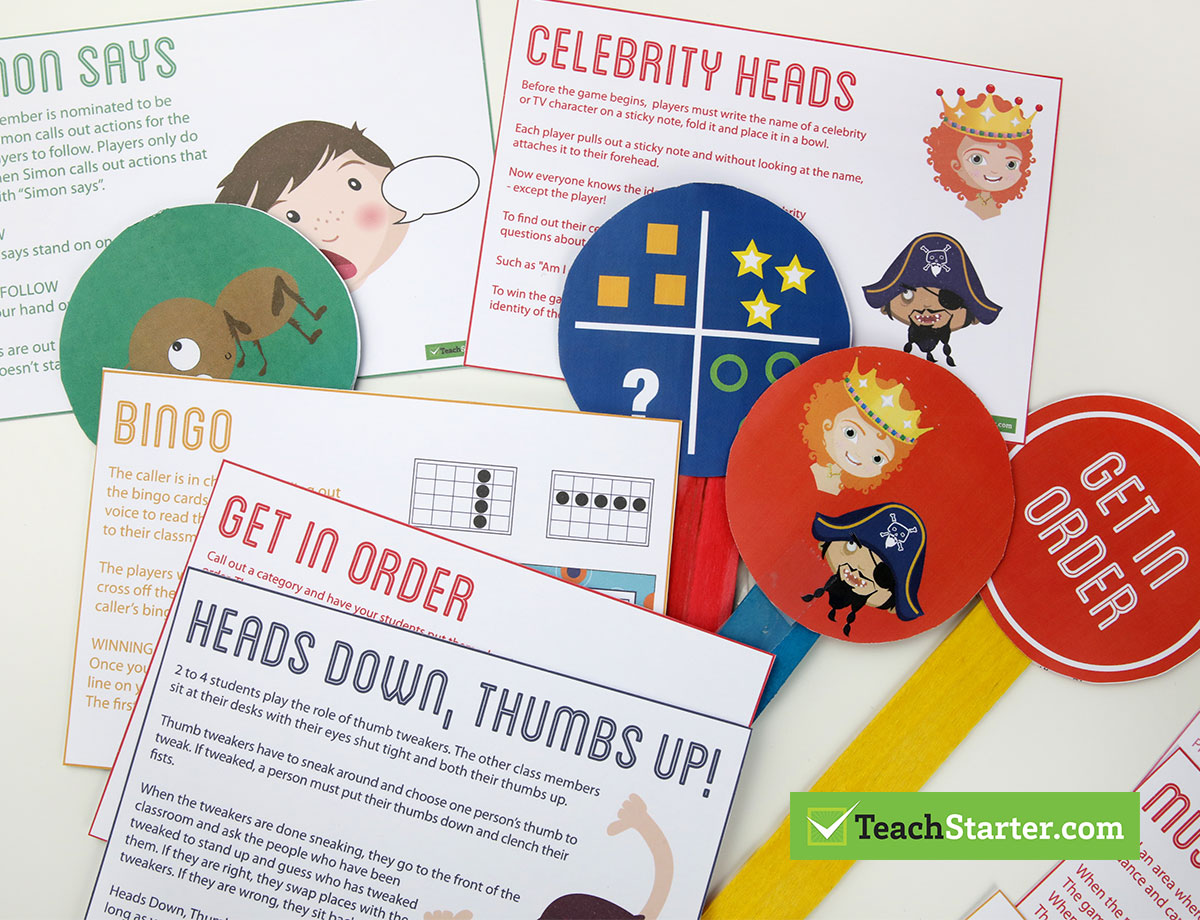 Brain breaks can be a fun part of your classroom routine.
Plan scheduled brain breaks if you are a clock-watcher like me and set some kind of singing alarm on your tablet or phone. When the alarm goes off, select a random card or paddle pop stick from this great Brain Breaks resource to run a fun, short activity with your students.
---
3. Consider the Visual Environment
Now, I know that this might hurt the hearts of those who love a great, fluoro rainbow classroom display (or ten), but it makes sense! Just like it can be hard for some adults to work at a messy desk, or in a messy room, some students will struggle with the sensory overload of a busy classroom space.
Other students will benefit from having inspirational posters, informative displays and artworks display around the room. Resting their eyes on these for a short while during periods of concentration will act as a mini-brain break for some.
The visual environment you create will depend on the specific needs of your class group and the individual students in it.
---
4. Ask Students to Rate Tasks
Edutopia contributor David Reeves has this interesting suggestion for understanding and making adjustments to improve student concentration:
"If you notice a child is constantly avoiding work or seems overly distracted, ask that child to rate the level of challenge found in the activity on a scale of 1 to 10. If the child indicates the activity is an eight or higher, ask what could be done to make the task a two or three. Sometimes, you will get excellent insight into what you can do to help the student decrease his/her level of frustration."
---
5. Create a Daily Mindfulness Practice Routine
This tip for improving concentration in the classroom comes with a host of additional benefits. There are a host of short, easy Mindfulness activities for kids that can be incorporated into your daily routine.
Plan to run a 5-10 minute Mindfulness Practice each and every day, at a time that you know students need a little extra something to help focus and get the most out of the learning experience that is about to occur.
Have a look at our post 18 Amazing Mindfulness Activities for the Classroom for ideas and instructions.
---
6. Keep Your Own Eye on the Time!
Once you begin to increase your awareness of the variety of individual student attention spans in your class, keep an eye on the time that has elapsed since the beginning of an activity.
Ask students that you know struggle with attention to show their work after a certain amount of time. This simple act of entering the world of the student requires them to shift gears from whatever they were doing to communicating with you. It can be an effective way to keep easily-distracted students focused on a task and has the added benefit of giving them the opportunity to ask for help or clarification if needed.
---
7. Set Up Flexible Seating
Flexible seating another proactive approach to improving student outcomes. It is a way of setting up your classroom by ditching the traditional notion of "rows of desks facing the teacher at the front". Instead, aim to provide students with a variety of seating options so they can choose the one that is most comfortable for them.
As one Year 6 student from a flexible seating classroom reflects:
"I also use the wobble boards. I used to always get in trouble at my old school for fidgeting, now I don't. When I use the wobble boards I can focus better."
– E.B, Grade 6
The blog post "Flexible Seating: Unreal or Unrealistic" and accompanying Flexible Seating Posters explain the concept in more detail, exploring the benefits and practical considerations teacher's need to think about when adopting flexible seating in their classroom.
---
8. Play Memory Games
Make memory or other concentration games available to students for them to play at appropriate times. The simple act of focusing for a length of time, while in the mental 'play space' of a game, is a valuable practice of concentration skills.
Familiar card games like Go Fish, Snap and Memory are great. Commercial games like Guess Who, Uno, Battleships and Jenga are also examples of games to help practise the skill of concentration.
You can also explore our collection of educational games, bingo cards and dominos, including the examples below:
---
9. Fast-Finisher Activities
Make sure your students have access to fast-finisher activities that they can begin after completing set work.
You can come up with creative ways for students to access fast finisher activities. I think a twist on this mystery prize board by @thirdgradeparade could be fun!  Put fast finisher cards underneath each of the sticky notes, using a different colour for each subject area.
---
10. Get Your Students Moving!
Finally, the most obvious go to of all, physical activity! Moving our bodies isn't just good for our physical health, but for our mental health and concentration too. Which is why it is so important to incorporate some form of regular movement into your students' days.
These fitness exercise cards will mean you are never short of ideas for movement breaks.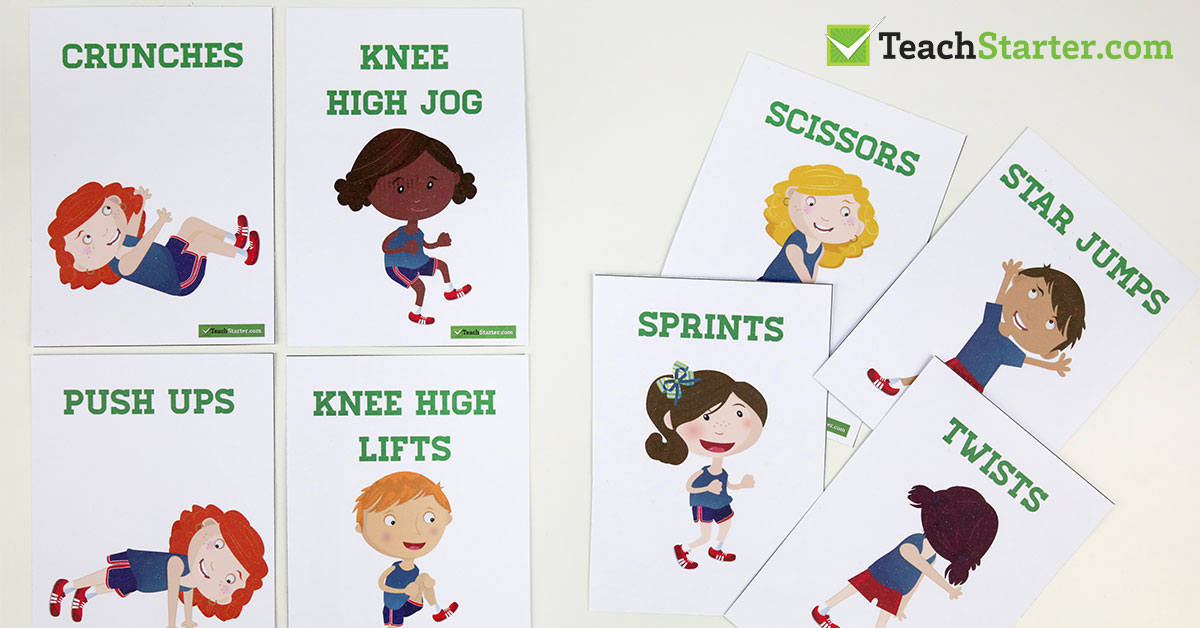 Rather than sending your class for a run across the oval (though this is a perfectly wonderful thing to do), give your students an added context to make movement breaks fun!
These ocean-themed movement cards are a really great way to get your class up and moving.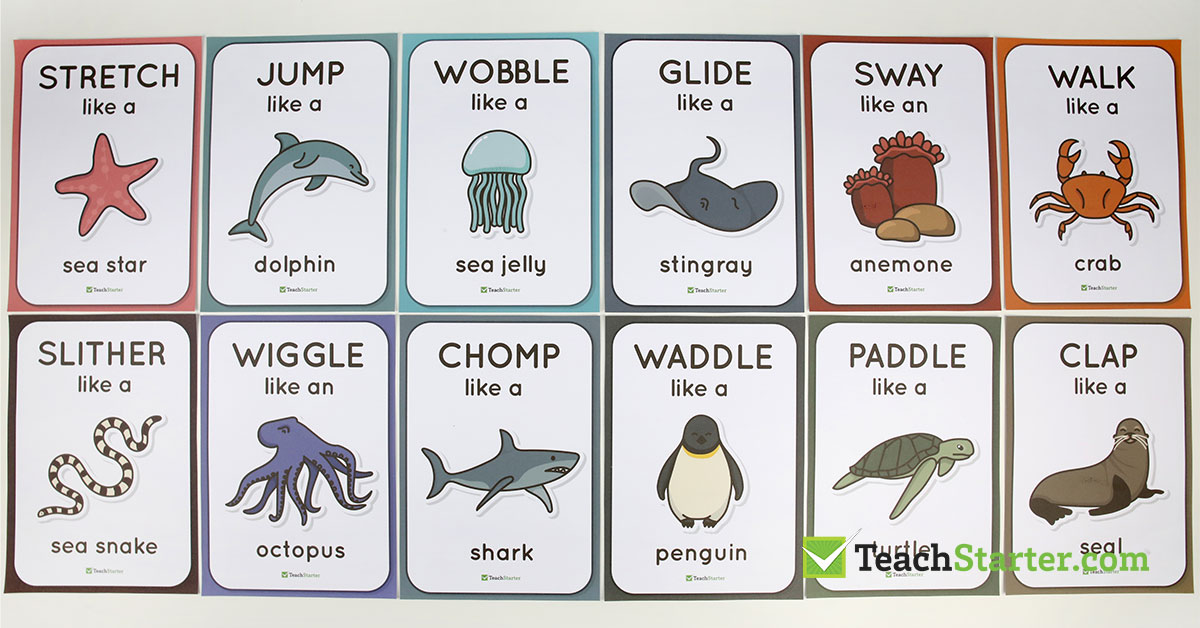 Drama Games can serve as excellent brain breaks as well. Take a look at these blog posts with activities and instructions for a simple but fun Drama activities.
---
There are really so many ways to cater to the varying concentration spans of your class group. The most valuable often being to facilitate hands-on, practical or inquiry-based learning experiences that require creative thinking and problem-solving. These inherently mimic the same kind of cognitive gear shift as the activities and ideas above!
What strategies do you use to help improve student concentration?
Tell us in the comments below!