Students move along board game spaces and use collective nouns in sentences with correct subject-verb agreement.
A pod of whales. 
A flight of stairs. 
A set of tools. 
These groupings are known as collective nouns—what we call certain animals and objects when brought together.

In our Collective Noun Agreement game, students will move along the board spaces as they use collective nouns in sentences. With a rainbow game board and pot of gold at the end, this is a fun game to pull out around St. Patrick's Day (or any other time of the year). 
Practice Collective Nouns
This resource is best used in your writing center or guided small group to practice recognizing and using collective nouns in sentences with correct subject-verb agreement. 
To play, each student rolls a number cube and moves a matching number of spaces on the game board. Then, they must use the collective noun in a sentence with the correct subject-verb agreement. If they are unable to do so, they move their game piece back where they started. Play continues in this same manner until a player rolls the exact number needed to land on the pot of gold. 
More Ways to Have Fun with Collective Nouns Practice 
Get your class of students together to collectively learn about collective nouns with these alternative ways to play: 
Charades
Use the spaces on the board as charades prompts. Divide your class or small group into 2 teams. Teams will take turns sending up 1 student to roll a number cube and move to a space. Each player gets 1 minute to get their team to say the collective noun they landed on. The student who guesses correctly gets 10 seconds to use the collective noun in a sentence with the correct subject-verb agreement, or they have to go back to where they started. Whichever team gets to the pot of gold first wins! 
Knock Off
Have your students stand up and make a line across the room. Project the game board on your screen. Use our Random Name Picker widget to draw a student's name and roll for them to land on a collective noun space. If the student correctly uses the collective noun in a sentence, they tap the person either to their left or right with their elbow. The person who is tapped must return to their seat. If the student can't answer, they must sit out. Play continues until only 1 student is standing.
Group Lesson 
This activity can be used as a post-lesson assessment or exit activity. Using your smartboard or another projection device, present the entire game board. Roll a number cube and move along the board to a collective noun. Give students 1 minute to write a sentence using the collective noun with the correct subject-verb agreement. Collect the papers to see if any students need help understanding the concepts.
Change the Difficulty Level
Have students write their collective nouns and correct subject-verb agreement sentences on a sheet of paper. When the game is over, either as a group or individually, challenge students to write a short story or paragraph using as many of the sentences as they can.
Allow students to refer to visuals from your teaching presentation to help them orally compose sentences using the collective nouns.
Easily Prepare This Resource for Your Students
Print on cardstock for added durability and longevity. Place all game parts in a folder or large envelope for your class writing center. 
Before You Download
Use the dropdown icon on the Download button to choose between the PDF or Google Slides version of this resource. 
Check out our complete collection of learning board games! 
---
This resource was created by Kirstin Sowers, a teacher in Illinois and a Teach Starter Collaborator. 
Watch your students blossom as writers with more fun games, worksheets, and activities!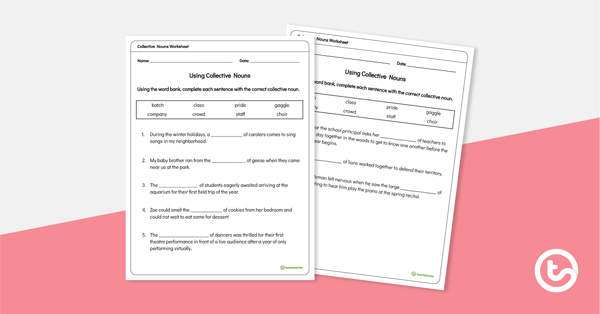 teaching resource
Use this worksheet to review collective nouns with 8 fill-in-the-blank sentences and an accompanying word bank.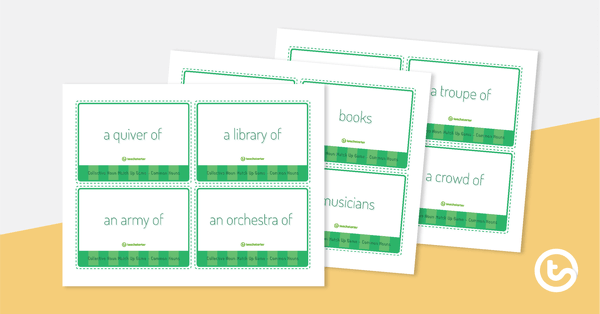 teaching resource
A pack of 32 cards to use when learning about collective nouns.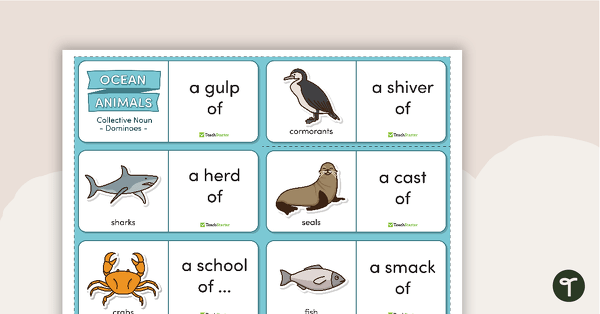 teaching resource
A set of ocean-themed collective noun dominoes.